This post may contain affiliate links. Full disclosure policy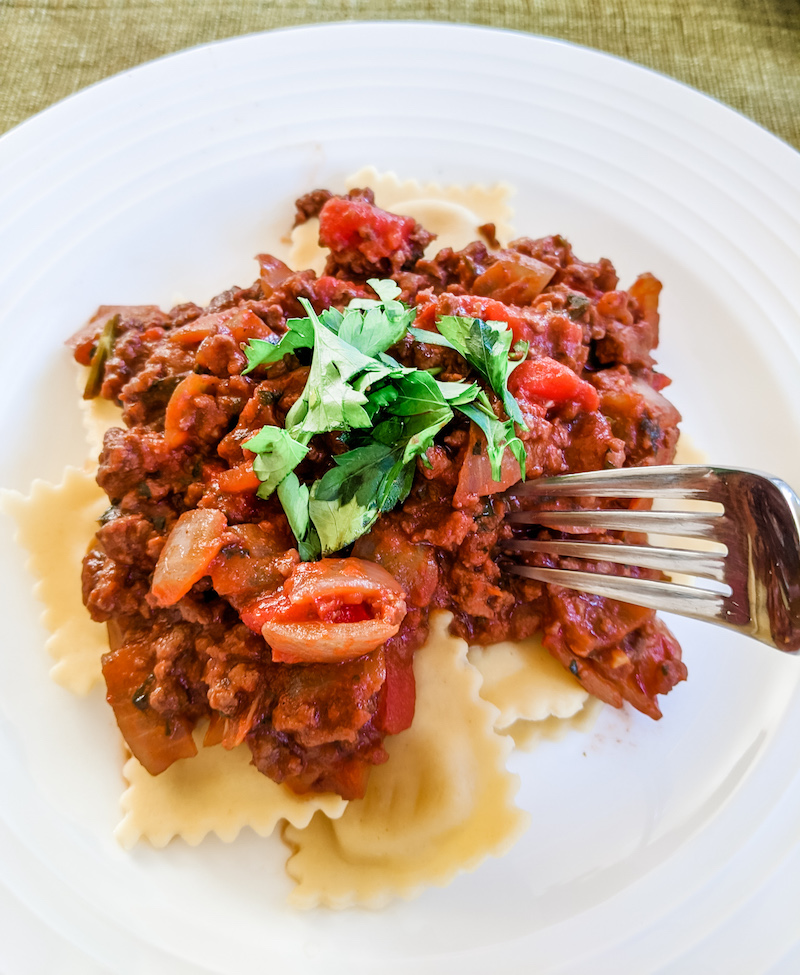 Sometimes the best recipes are born from desperation. That was definitely the case with my Easy Ragu Sauce. It was the accidental but elegant solution to a nearly universal problem: what to make for dinner when time is short?
For me, it's a problem that's always worse this time of year. The closer I get to turning in the rewrites for a novel and the more hours I spend working, the less time I have for cooking.
WHEN YOU CAN'T GO OUT
In previous years, the solution to this problem was simple. We'd just go out to dinner more often. But since most restaurants near me are closed right now, that's not really possible. And no matter how much I try to talk them out of it, my family still wants dinner every night! (Ha! SO unreasonable, right?)
I really do love to cook. If you've been following this blog for any amount of time, you probably figured that out. But there's a difference between pouring my creative energy into preparing a special meal every now and then and having to facing the five o'clock dinner conundrum every single night.
We actually do order in twice a week – I'd never meet my deadline otherwise. But right now I am still faced with a lot more basic, dinnertime cooking than is usually the case. Also, before all this, at least half my cooking was for me alone. If I felt like cooking, I did. If I felt like having popcorn for dinner, that worked too.
Now there are three people to feed and they're not going anywhere. (Neither am I.) I know I'm not the only one who is getting a little tired of trying to come up with three meals a day, every day. This is even more of a challenge if you're trying to limit trips to the store, or your market isn't as well-stocked as it used to be.
PASTA TO THE RESCUE
Not long ago, after a long, tiring, day of work, I was standing in the kitchen and staring at a pound of ground meat. At that moment, I'm sure millions of other home cooks were doing the exact same thing. And I'm sure we were all asking ourselves the same question – how can I turn this into dinner within the next thirty minutes?
Burgers came immediately to mind but I didn't have any buns or cheese. Tacos? No tortillas. A casserole thingy? Maybe. But I'd done that a couple of nights before.
Pasta? Perfect.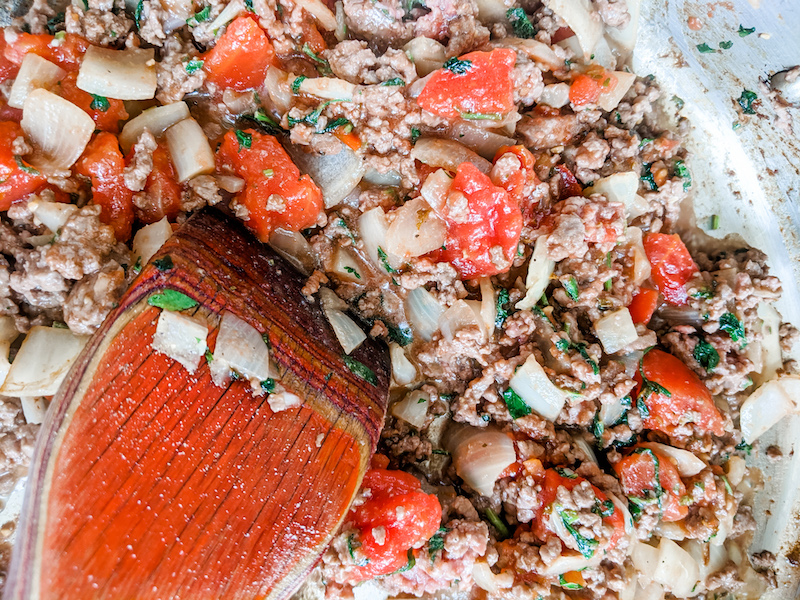 EASY RAGU FROM BASIC INGREDIENTS
We've been trying to limit our trips to the grocery store. That means I have to rely on pantry and refrigerator staples more than I used to. And oftentimes, what's already in my home just has to make do.
My Easy Ragu Sauce is a recipe that was born out of necessity. I ended up throwing it together in a moment of dinner desperation, grabbing whatever I had on hand. However, it was a big hit with my family – a REALLY big hit!
The Easy Ragu Sauce that came together accidentally is now one of my prepared on purpose go-to recipes. I've made it three times in the last three weeks. It's earned praise and empty plates on every single occasion.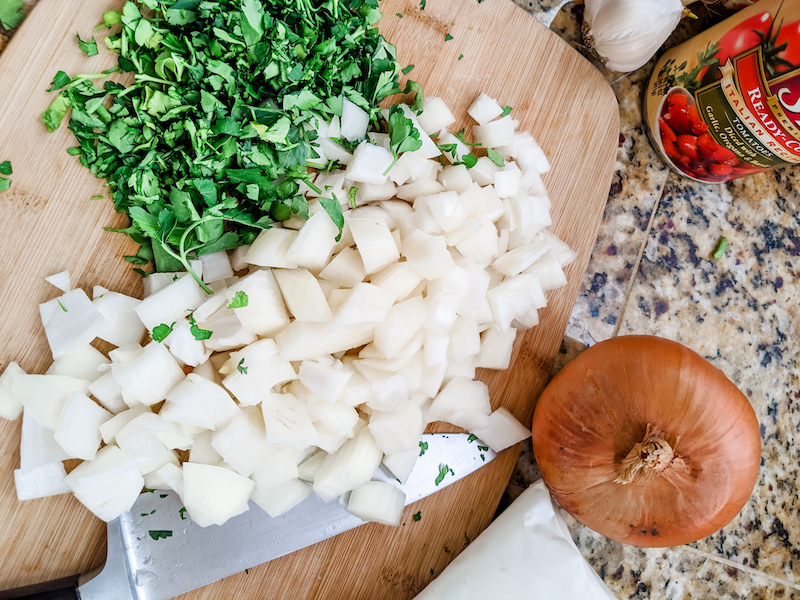 SECRET INGREDIENT FOR SLOW COOKED FLAVOR
There are scads of different takes on Ragu sauce. At its core, Ragu is just a meat-based sauce to put over pasta. Ragu Bolognese is a classic version and one of my favorites. That traditional sauce is rich and complex but it can also be time-consuming and complicated to make.
I love a sauce with that slow-cooked flavor. But at five o'clock after a day of work, I don't have time or energy to prepare a complicated, slow-cooked sauce.
However, the addition of some hearty red wine to an otherwise quick-cooking sauce makes a huge difference!
Lots of chunky, toothsome veggies – beautiful bites of carmelized onions, chunky canned tomatoes – plus garlic and herbs get my Easy Ragu Sauce off to a good start. And the meat makes a difference too. I've prepared this sauce with both ground beef and ground pork. It's delicious either way, or you can mix the two.
But pouring in some hearty red wine definitely takes my Easy Ragu to the next level!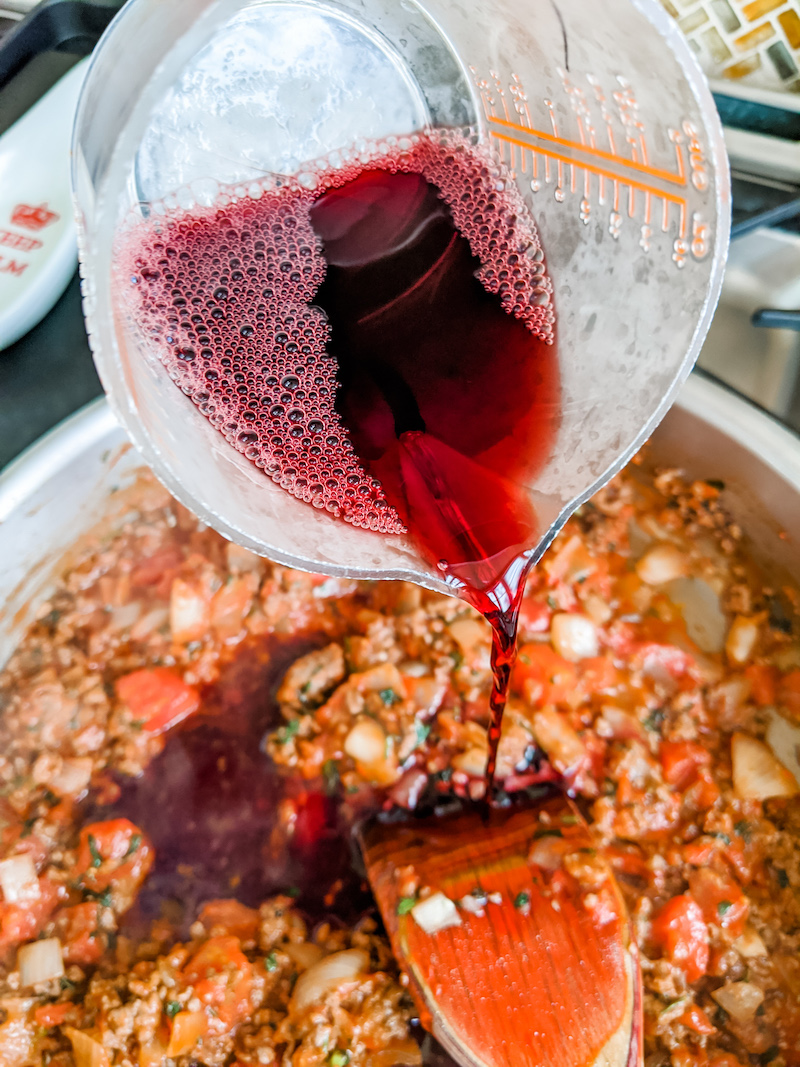 Just about any type of red wine will work for this recipe – burgundy, cabernet, pinot noir, chianti, etc. As long as it's not a sweet wine, it will be delicious. I'd stay away from cooking wine because it isn't very flavorful. You don't need an expensive wine for this recipe, but it should be drinkable. I used good old wine from a box
Oh, and don't worry about the alcohol. It will evaporate during cooking, leaving only that rich, lovely flavor in the food.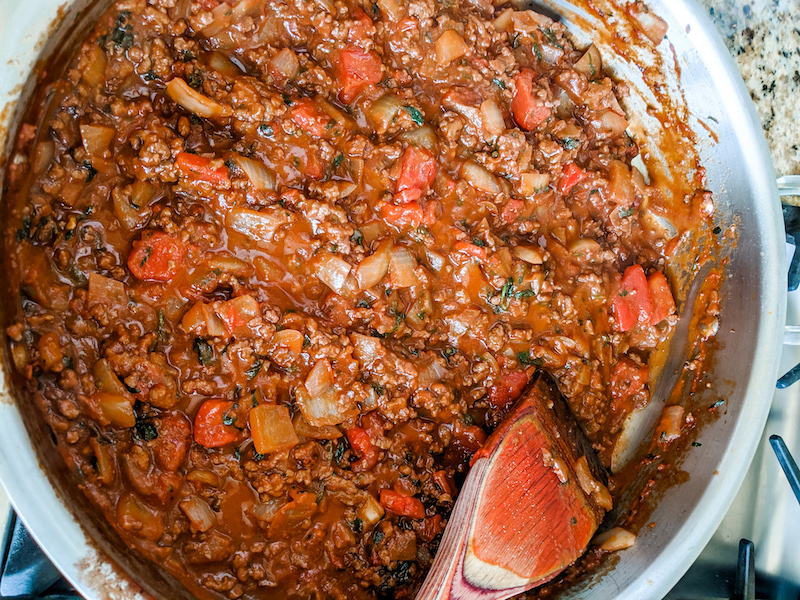 WHAT ABOUT THE PASTA?
My Easy Ragu Sauce is good over any kind of pasta you've got on hand – spaghetti, fettucine, or even macaroni. It would also be a great sauce to use if you're making lasagna.
However, my new favorite way to serve Easy Ragu Sauce is over a plate of pre-made cheese ravioli. You can find some ready to go in the refrigerated section of most supermarkets. Frozen raviolis will work too. I like to keep a couple of bags in the freezer for dinnertime emergencies.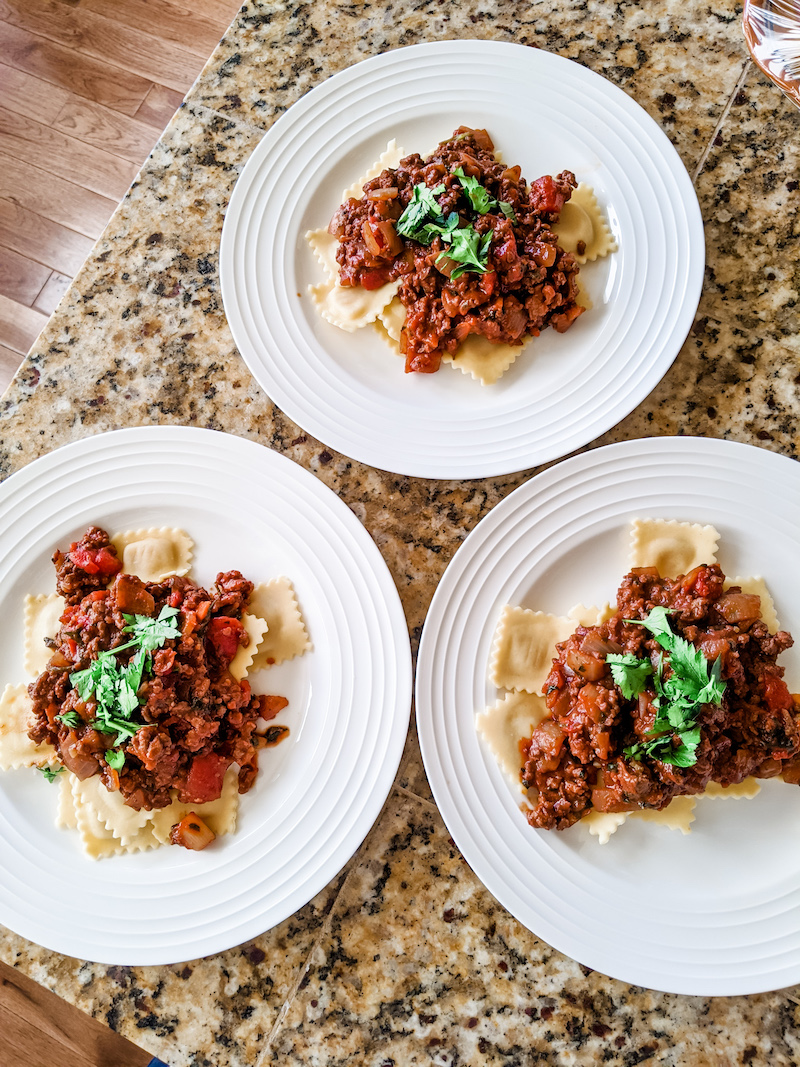 Just pop the raviolis into boiling water, cook, drain, and then top with a generous helping of Easy Ragu Sauce. In about thirty minutes, from start to finish, you'll have a delicious dinner that tastes like Nonna spent all day in the kitchen!
Ready to give my Easy Ragu Sauce a try? Here's the recipe.
Print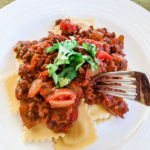 Easy Ragu Sauce
---
Author:

Total Time:

30 minutes

Yield:

4

servings

1

x
1

medium yellow onion, peeled and chopped into medium-sized chunks

1

–

2

T olive oil (plain or herb flavored)

½ cup

chopped fresh parsley, divided (If you don't have fresh parsley, use

1

to

2

T dried)

2

t. minced garlic

2

t. dried Italian seasoning

1

lb ground meat – beef, pork, or a mixture of the two

1

t. salt

1

14.5 oz can diced tomatoes (preferably with garlic and oregano)

1

6oz can tomato paste

¾ cup

red wine
Salt and pepper to taste
---
Instructions
Heat olive oil in large, heavy saucepan over medium-high heat. Add chopped onions and cook until soft and translucent, stirring often, about 4-5 minutes.
Add chopped parsley (reserving a little for garnish) and Italian seasoning. Cook an additional 2 minutes.  Add minced garlic. Cook an additional minute, stirring constantly.
Add ground meat to pan. Break up into small pieces and cook thoroughly, until no pink is visible.
Add canned tomatoes, tomato paste, and wine to pan. Stir to mix ingredients. Lower heat and simmer for 10-15 minutes.
Taste and adjust salt and pepper as needed.
Serve over your favorite pasta. (We love it over packaged ravioli.) Mangia!