This post may contain affiliate links. Full disclosure policy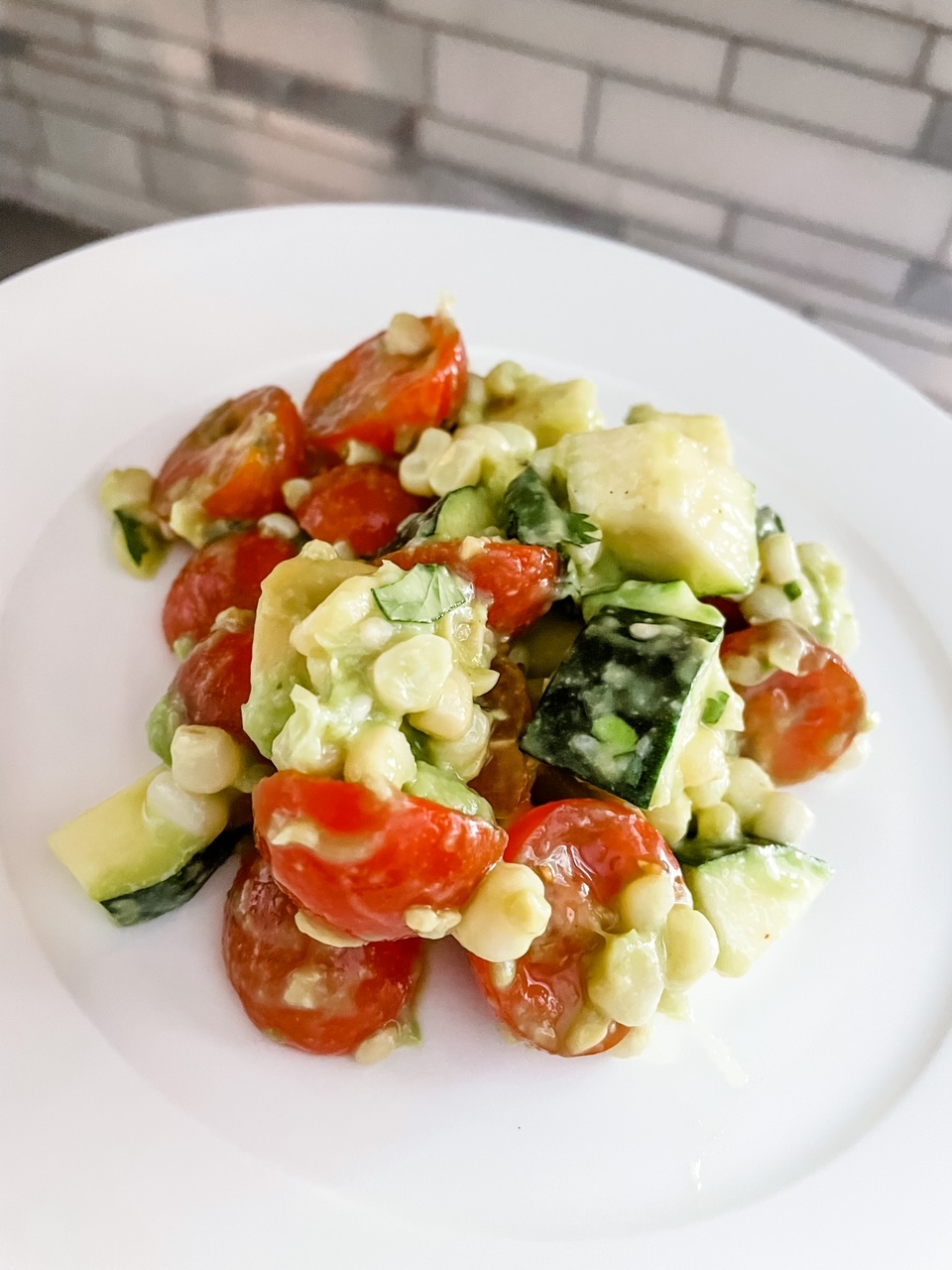 My Corn and Zucchini Salad with Avocado Dressing celebrates summer's bounty! Filled with garden-fresh vegetables and married with a deliciously creamy avocado dressing, this healthy salad is a summertime favorite.
Gardens are Bursting with Goodness, and so is My Corn and Zucchini Salad!
For me, the kitchen is the heart of the home. That's why I decided to inaugurate my kitchen by coming up with a new recipe only one day after moving into our new house.
Almost all of my kitchen utensils and dishes were still in boxes, so I knew I'd need to make something fairly simple. And since we'd been eating more fast food than I'd have liked during the move, I also wanted to make something healthy.
An exploratory trip to a local fruit and vegetable stand near our new home provided me with all the inspiration I needed! I filled my basket with lots of delectable seasonal veggies including corn on the cob, zucchini, cherry tomatoes, fresh cilantro, and a nice ripe avocado.
Honestly, I wasn't quite sure what I intended to do with all of it. But with so many yummy, garden-fresh ingredients on hand, I knew it would be pretty hard to go wrong no matter how I prepared them.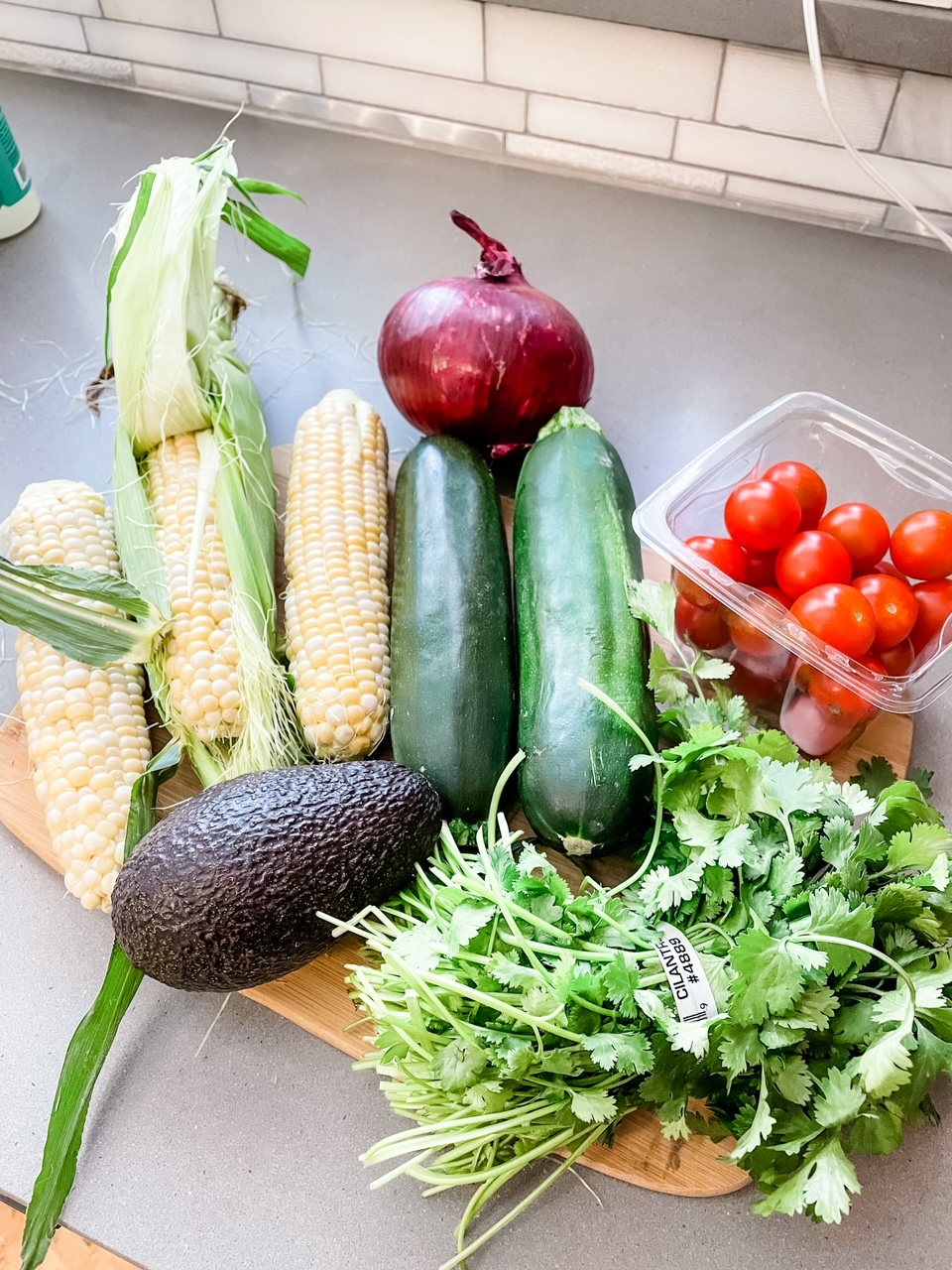 Better Than I'd Hoped – Everything is Better with Avocado!
I have to say that this salad turned out to be even more delicious than I'd hoped, and it's all because of the avocado!
Avocados really are one of my favorite foods. They taste so good and add such a rich, creamy texture to so many dishes. I knew they'd add color and flavor to my salad, and play nicely with the corn, zucchini, cherry tomatoes, and cilantro so I put some nice big chunks of avocado into the bowl.
Originally, I had planned to make a simple vinaigrette for my corn and zucchini salad. But at the last minute decided to use part of the avocado for the dressing and wow! It really made the whole dish come alive!
I really shouldn't have been surprised. After all, just about everything is better with avocado.
Tips For Making My Corn and Zucchini Salad with Avocado Dressing
I'm a firm believer that the simplest dishes are often the best. My Corn and Zucchini Salad with Avocado Dressing proves the point. The most important thing is to make sure your ingredients are as fresh as possible. It makes a huge difference in the flavor. Bonus points if you buy locally grown vegetables in season. Nothing beat fresh picked!
Unless you live in California or Florida, that avocado isn't going to be fresh-picked. And that's where things get tricky. When you're deciding on an avocado, the one you should choose depends on how soon you're going to use it.
If you're not going to use the avocado for three to five days, buy an avocado with a skin that feels hard when you press on it. The skin of an avocado that's ready to use that day should leave a small indentation when you press on it, halfway between firm and soft. Avoid fruit that is very soft and mushy to the touch. They're probably spoiled inside and turning an unappetizing shade of brown.
But let's get back to the simple things about this recipe.
The only real cooking you have to do here is to boil the corn for about four minutes, just long enough to get rid of the starchiness. After taking it out of the pot, immerse the corn into cold water to stop the cooking process. Once it cools, use a sharp knife to slice the kernels from the cob and set them aside.
You chop the cilantro, cut the cherry tomatoes in half so they're easier to eat, cut half an avocado into chunks and add it to the other ingredients, then you toss it all together with the dressings.
See what I mean? Simple!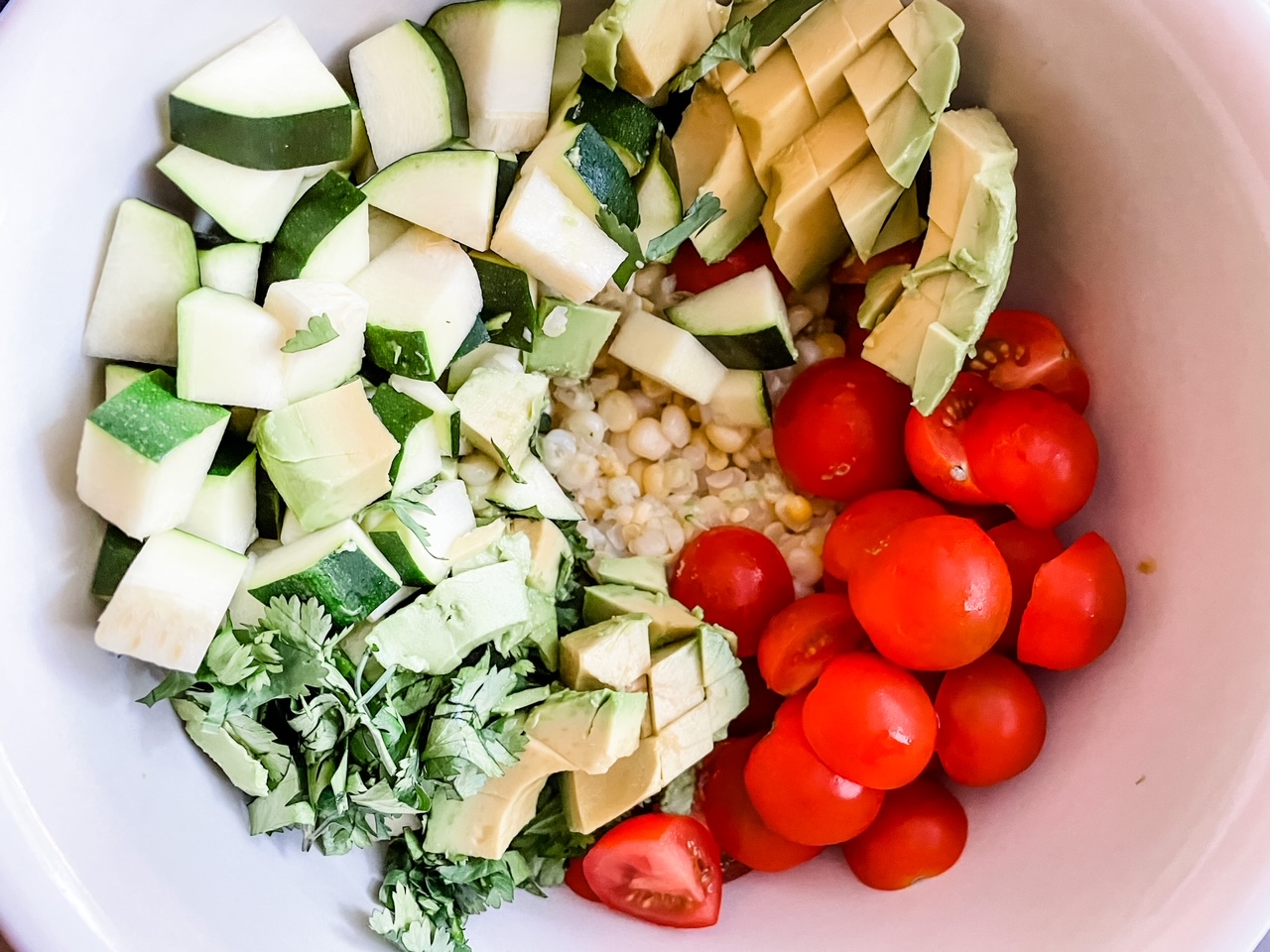 Corn and Zucchini Salad with Avocado Dressing – Side Salad or Main Course
If you cover the bowl and use fresh ingredients, this salad will keep in the refrigerator for up to three days.
It's a wonderful side salad for just about any meal and is perfect to serve with grilled meat, poultry, or fish. And if you'd like to serve it as the main course, add some cubes of smoked chicken breast or grilled shrimp. For a vegetarian version, add small balls of fresh mozzarella cheese, cut in halves or quarters.
Whether you serve it as a side dish or let it take center stage as the main course, my Corn and Zucchini Salad with Avocado Dressing is a delicious addition to any summertime meal. Give it a try this week!
Print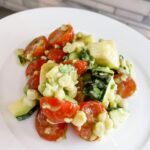 Corn and Zucchini Salad with Avocado Dressing
---
Author:

Yield:

6

servings as a side dish

1

x
3

large ears of husked corn on the cob

2

medium zucchini, cut into chunks approximately 1.5 inches

1 pint

cherry tomatoes, sliced into halves

2

T chopped fresh cilantro

1/2

ripe avocado, cut into

1

-inch chunks
For the Avocado Dressing
1/2

ripe avocado

2

T extra virgin olive oil

2

T white balsamic vinegar

1

–

2

T fresh lime juice (amount depends on how tart you like your dressing)

½ tsp

kosher salt

¼ tsp

fresh ground pepper
---
Instructions
Put a large pot of salted water on stove and bring to a rolling boil. Place corn into post and boil for 4 to 5 minutes. Remove cobs from pot and plunge into cold water.
When corn is cooled, use a sharp knife to slice kernels from the cob.
Place corn, zucchini, tomatoes, chopped cilantro, and avocado chunks into a medium sized bowl and set aside.
Make the avocado dressing by whisking olive oil, white balsamic vinegar, lime juice, salt and pepper together in a small bowl. In a separate bowl, use the back of a fork to mash the half avocado until fairly smooth. Add mashed avocado to the oil and vinegar mixture and whisk thoroughly to combine.
Pour the avocado dressing onto the vegetables and stir with a wooden spoon to distribute dressing evenly. Serve immediately or keep covered in the refrigerator for up to three days.