This post may contain affiliate links. Full disclosure policy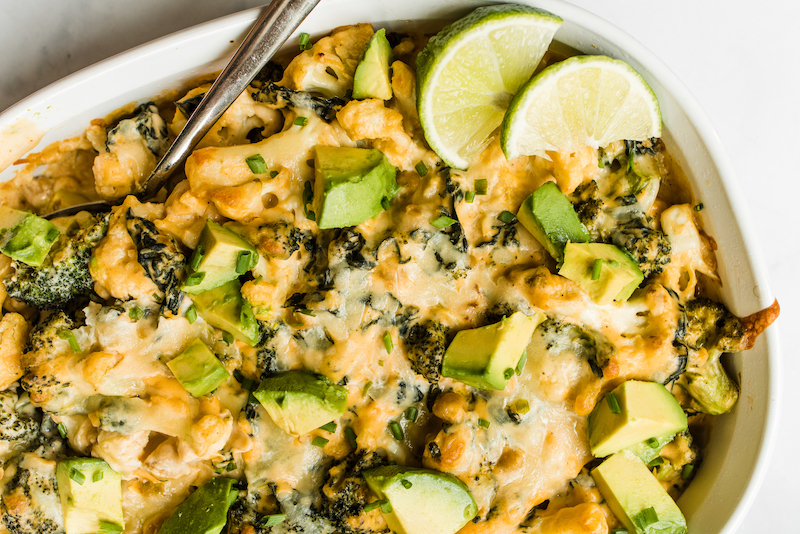 My sister came to visit a couple of weeks ago, which was great. We had almost a week to catch up and get some quality bonding time. Still, as much as we have in common, there is one thing that we don't share – I'm definitely a carnivore and my sister has been a vegetarian for the past forty years.
Having someone so close to me who has been dedicated to the vegetarian lifestyle for such a long time can at times be challenging. While there are definitely plenty of benefits to a vegetarian diet and I'm always very intrigued by the idea of Meatless Monday, there are only so many meat-free dishes I have on hand that the whole family enjoys. A person can only serve pasta for so long before the household has had enough (although I have to say, I also have a killer pesto recipe that my sister and husband love!).
But I did a little experimenting in preparation for my sister's visit, and came upon a real winner with my Meatless Monday Buffalo Veggie Casserole. Everybody absolutely loved it. This is a dish I will definitely be making again, and not just when I have vegetarian guests at the dinner table. I'd be happy to dig into the casserole any day of the week.
A MEATLESS MONDAY CASSEROLE WONDER
One of the issues I've found with vegetarian dishes in the past is that they just aren't satisfying – and no, not even with the addition of meat substitutes. With this recipe, I added in just enough of a variety of cheeses – cream cheese, gouda, cheddar, and just a touch a blue – which definitely helps fill you up. But to top things off, I also added in an ingredient that's somewhat new to me, oven-roasted chickpeas. Both ingredients bring a hearty serving of protein that'll leave you feeling satisfied.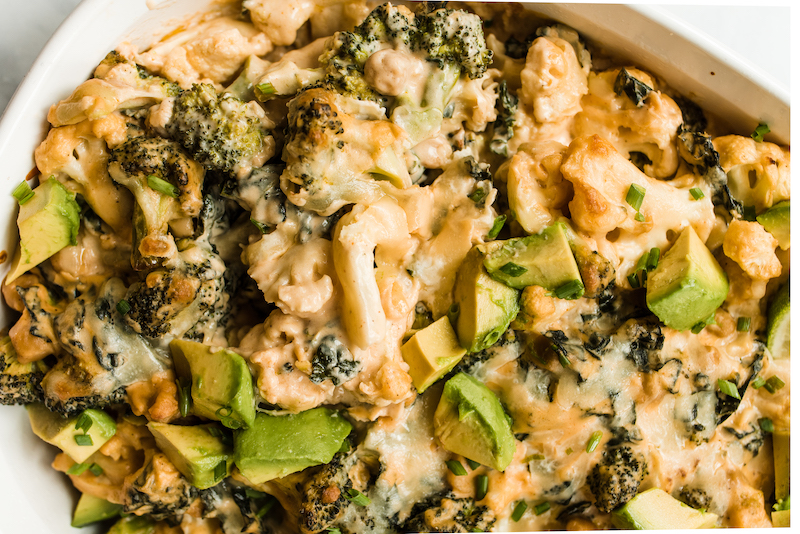 Of course, this casserole can also easily accommodate some shredded chicken if that's what you're looking for. So if it really doesn't feel like dinner unless it includes meat, go ahead and add the optional chicken.
Beyond the protein, my Meatless Monday casserole also provides a heaping helping of veggies with broccoli, cauliflower, and kale, as well as healthy fats and oils from the olive oil and optional avocado. And because I was judicious in the use of cheese and kept to lower fat options when it made sense, it's a lot lighter than you might guess just by tasting it. A serving actually clocks in at just 7 Weightwatchers points (without the addition of the optional avocado). Not bad!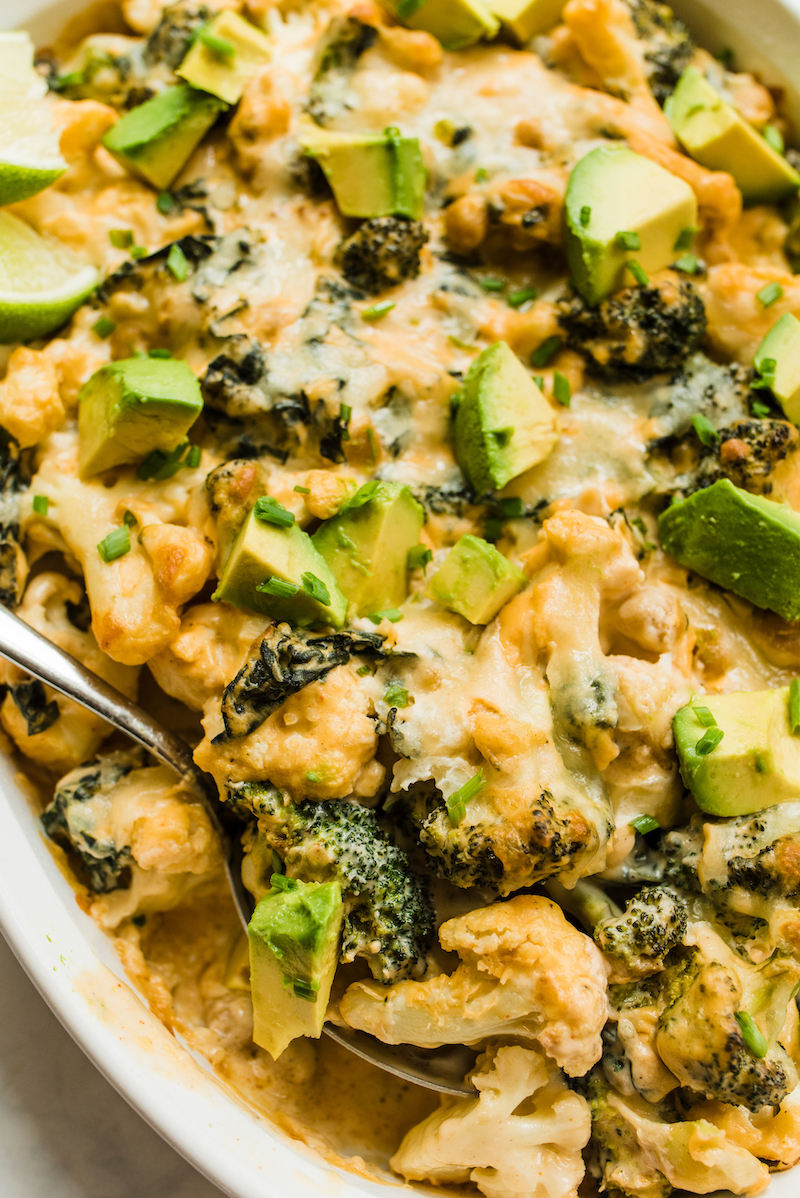 MISSING MEAT, NOT FLAVOR
What really makes this dish special is the sauce. It starts off with a basic white sauce, which is just a sauce made with flour, butter, and milk that provides a creamy and nutty base. Once that's made, I add in all those delicious cheeses and a generous amount of my favorite hot sauce – buffalo sauce.
I know that many people can be a bit nervous when it comes to spice, but the addition of both the milk and cheeses really helps mellow the heat of the buffalo sauce without loosing that sharp and tangy flavor. Bottom line, it's a really terrific sauce and just hot enough. And when you add in some slices of avocado, a dash of lime juice, and just a couple of chives, you really have a Meatless Monday casserole that's simply bursting with flavor.
Are you convinced? Here's the recipe.
Print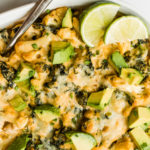 A Meatless Monday Casserole: Buffalo Veggie
---
Author:

Yield:

8

Servings

1

x
Description
Preheat oven to 400 degrees F.
Line a large baking sheet with foil and spread out the broccoli florets and chickpeas. Coat the  broccoli and chickpeas with 1 tbsp olive oil, 1 1/4 tsp kosher salt, and fresh cracked pepper—mix and massage with hands to distribute oil and seasonings. Bake for 12 minutes, or until broccoli is tender, but firm.
Remove from the oven and place chickpeas and florets into a bowl.
Prepare the cauliflower florets on the same lined baking sheet with 1 tbsp of olive oil, 1 tsp kosher salt, and fresh cracked pepper. Mix with your hands, and return to the oven for another 12 minutes.
When the veggies and chickpeas are roasted, set them aside.
Next, make the white sauce. In a medium sauce pan, heat the butter on medium low. After it has melted and begins to gently bubble, add the flour and stir with a whisk to incorporate. Smooth out any bumps and continue stirring frequently until the flour turns an off white color and emits a nutty fragrance. Stream the warmed milk into the pan slowly and continue to stir. Whisk gently over low heat until the sauce is smooth and thickened, about 5-7 minutes.
When sauce is smooth, remove from the heat and whisk in hot sauce, blue cheese dressing, sharp cheddar, gouda, and kale. Stir to incorporate and allow the kale to wilt slightly before adding in the roasted veggies and chickpeas. If you are using chicken, add this in with the veggies. Sprinkle the top with 2 tbsp of sharp cheddar.
Spread into a 9X13 or similar sized dish and bake for 30 min at 400 degrees, or until the sauce is bubbling and the cheese on top has browned.
To serve, add sliced avocado, chives, and fresh lime juice. Enjoy!
---
1 1/2

lb broccoli, cut into

2

'' florets

1

head cauliflower, but into

2

'' florets

1

can chickpeas, drained and rinsed

1

bunch tuscan kale, stalks removed, washed, cut into

2

'' pieces

2

t. extra-virgin olive oil

1 1/2

t salt

1 1/2

c shredded chicken (optional)
Buffalo White Sauce:
3 T unsalted butter
3 T flour
2 1/2 c 1% warmed milk
MIX IN AFTER REMOVED FROM HEAT
6 oz

. reduced fat cream cheese, softened

1

medium head broccoli, cut into

2

'' florets

1

small heat cauliflower, cut into

2

'' florets
Kosher salt
Freshly ground black pepper

1/4

c hot sauce

1/4

c reduced fat blue cheese dressing, plus more for drizzling

1/4

c sharp cheddar, shredded, plus 2 T to top

1/4

c gouda, shredded or cut into

1/4

'' cubes
Avocado, chives, lime to serve
---