This post may contain affiliate links. Full disclosure policy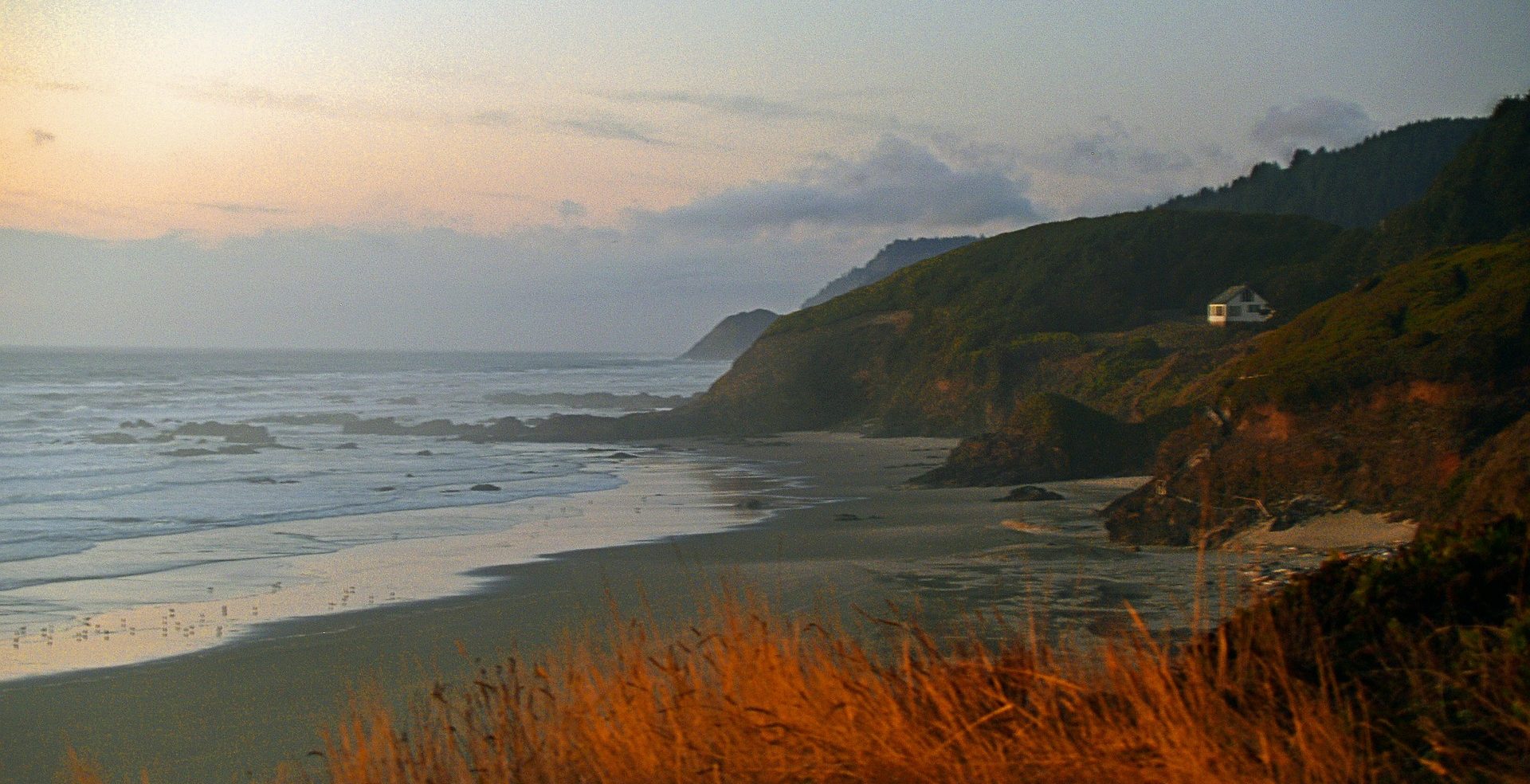 In August of 2015, my husband had what he thought was a brilliant idea.
"Let's drive cross country from Connecticut to Oregon! It'll be fun!"
Being trapped in a Prius for 3,000 miles sounded like the opposite of fun to me, but he seemed really pumped about it so I went along with the plan – reluctantly. If I had known what his real motives were, I doubt I'd have gotten in the car. About a hundred miles into the journey, I realized he had more on his mind than sightseeing.
"Honey, I would really love it if we could live together now, in Oregon."
Okay, this is where you probably need some background.
Returning to Our Roots
A couple of months before, he'd taken a job in Oregon. I was living in Connecticut and had every intention of staying put, just as I had during his frequent career changes and transfers over the years. This was something we'd done in order to provide stability for our children. But by 2015, the last of our fledglings had flown the nest so his suggestion made sense, especially since we were both born in the Pacific Northwest.
Still, I was not enthusiastic about the prospect of moving. I'd lived in Connecticut for fourteen years. I had friends, children, and grandchildren there. It was home.
However, as the miles wore on, and on, and on, it was clear that my husband really, really, really wanted me to move to Oregon. Finally, somewhere in the middle of Nebraska, I gave in and said I would, on one condition. "I can't live in Portland. I'd end up jumping out the window of a tall building. You know it's true."
He did know. And it wasn't because either of us has anything against Portland, quite the contrary. It's a lovely city. (If you haven't visited, you should.)
But living in Portland, a city that's overcast for much of the year, would be a real problem for me. Like so many other people, I suffer from seasonal affective disorder. A big part of the reason we ended up moving to Central Oregon instead of Portland is that it much more sun during the winter and that helps me deal with my annual onset.
WINTER MAKES ME SAD
Seasonal Affective Disorder is commonly known as SAD. In my opinion, this is one of the more appropriate acronyms in the medical lexicon. That's exactly how Seasonal Affective Disorder makes me feel – gloomy, listless, and just plain sad.
I'm not the only one. Approximately 10 million Americans suffer from SAD. Another ten to twenty percent of the population may have mild SAD. It's much more common in women than in men. For most people, symptoms of SAD appear in late fall and continue until summer. However, a smaller subset of people who have SAD experience symptoms in the summer.
Lots and lots of people experience the "winter blues" when the days get short and gloomy. But SAD is different than that.
If you're feeling depressed day after day, if you've lost interest in things you normally enjoy doing, if you're experiencing low energy, weight gain, sleep problems, feelings of hopelessness, guilt, or frequent thoughts about death or suicide, and these symptoms appear annually at about the same time, it's possible that you're suffering from SAD.
SOLUTIONS TO SAD
The first thing I want you to know is that SAD isn't a result of any character flaw or some sort of weakness on your part. It's wrapped up with your biology and the unique way that you're made – like having curly hair or straight hair. It's just how you are.
The second thing I want you to know is the situation is not hopeless! There are things you can do to alleviate the impact of SAD. I know this because I've been dealing with SAD for many years and have come up with some strategies that help me cope. Maybe they'll help you too.
ME AND MY HAPPY LIGHT
If you drop by my house on a winter morning, chances are excellent that you'll see me sitting near a SAD therapy light. I got mine years ago and was the best hundred dollars I ever spent. My family refers to it as my "happy light". My daily thirty minutes exposure to this very bright, white light doesn't exactly make me giddy with joy but it does take the edge off my seasonal depression.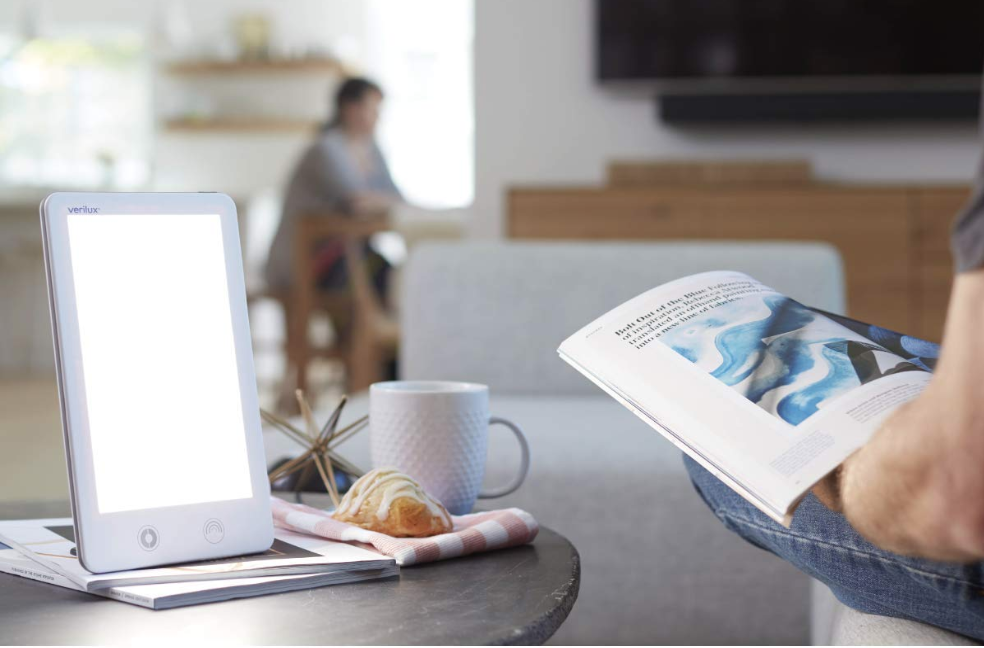 The lights that are available now are even cheaper than the one I purchased and come with more features. I really like this model, which allows you to adjust the brightness of the light and set a timer for your session.
Therapy lights for SAD are very easy to use. Simply place the light to one side (be it your desk, favorite sitting chair, kitchen table) and sit near it. Be sure not to look directly into the light! Start with twenty minutes a day. Try it for several days and see if it helps. You can increase the time if need be. I use my light while I'm doing my morning Bible reading and going through email, so it really requires no extra effort on my part. SAD lights make great reading lamps.
Additionally, get outside as much as you can. Even when the skies are gray, there is UV light coming through the clouds, the kind of light that can help lift your mood.
DOING THE STUFF YOU ALREADY KNOW YOU SHOULD
Another important weapon for combating SAD is simply taking good care of myself.
The weight gain that accompanies SAD is often a result of carbohydrate cravings and lack of exercise that comes from feeling so sluggish. Low energy can also sap my motivation to see friends or engage in activities that make life more enjoyable.
Of course, it's easy for me to tell you to eat right, exercise, and make sure to maintain your social contacts. But when you're dealing with SAD that's probably the very last thing you want to do. Believe me, I get it! But, friend to friend, I am telling you that you just have to power through and make yourself do all of the above. It will help. Really.
One little trick that helps me battle the carb cravings is to make one of my daily meals a really big salad. It fills me up with the good stuff so I'm less able to indulge in the not so good stuff. One of my favorites is this kale salad recipe with fennel, butternut squash, and an orange vinaigrette

Something else I do is enlist the help of friends and family. Be honest about your struggles. Ask people to help encourage you to take better care of yourself in the winter months. Find a walking or workout buddy. That'll help hold you accountable and knock off two SAD birds with one stone – getting some exercise and maintaining social contacts.
LEAVING ON A JET PLANE
I realize this isn't an option for everyone, but if you do have the ability to travel to a sunnier location during the worst of the winter, it can help you cope with SAD. Even a few days can make a difference.
I just returned from a ten-day trip to Florida. The first half of the trip was spent at a hotel, editing my next book for fourteen hours a day. That probably doesn't sound like much fun (and it wasn't) but I sat outside for much of the day. It really helped me to break out of my SAD. (The second half of the trip was spent seeing my kids and grand darlings. That part really was fun!)
After talking with my husband, we have decided we need to be more proactive next year and schedule more short trips to sunnier climes during the winter months.
WHEN ALL THAT ISN'T ENOUGH
Using a therapy light, taking good care of yourself, and possibly taking trips to sunnier locales will probably help you deal with the symptoms of SAD.
But if it doesn't, if your depression is getting worse or is accompanied by frequent thoughts of death or suicide, I urge you to find a therapist and get help for your disorder. Medication and/or talk therapy can help people who suffer from severe onsets of SAD. Your doctor or health care provider should be able to point you in the right direction. Don't hesitate to ask for help if you need it!
SPRING IS ON THE WAY!
If there's a bright side to SAD, it's that it is seasonal. As winter turns to spring and then summer, people who experience SAD will start to feel better.
But, as someone who spent years simply trying to hang on until spring, I can tell you from experience that the strategies outlined above can start helping you today. So give them a try, friends.
Winter is long, but life is too short to have it shadowed by SAD.