This post may contain affiliate links. Full disclosure policy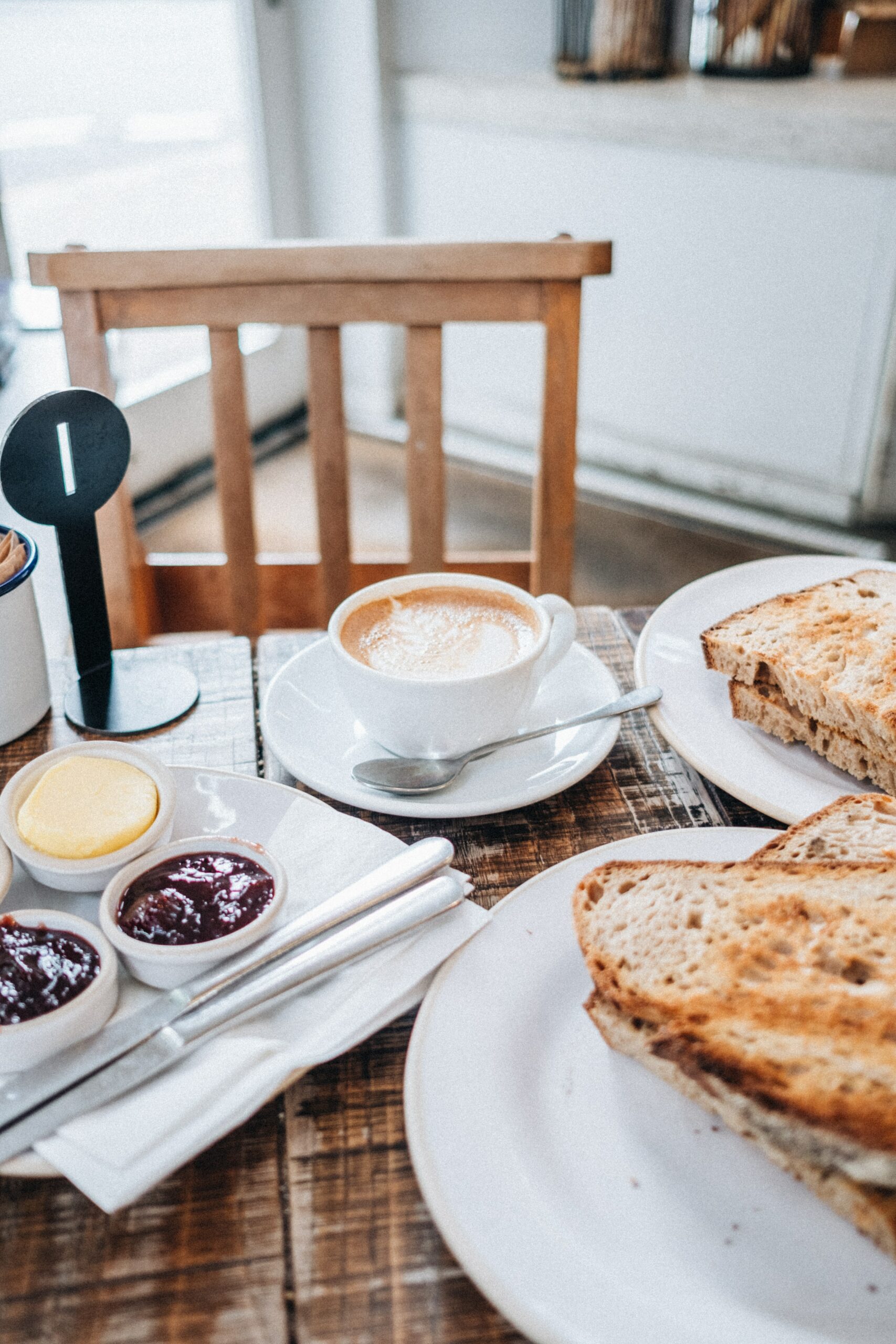 Tired of eating the same old blah breakfast day after day? Shake up your routine with these ideas for 5 Quick and Healthy Breakfasts. They're a deliciously great way to start your busy day!
You and Your Body Deserve a Quick and Healthy Breakfast
Your mother wasn't wrong, breakfast really is the most important meal of the day.
Breakfast kick-starts your metabolism, which will help you burn calories more efficiently throughout the day. It also supplies your body with the nutrients and glucose it needs to stay energetic and alert.
Skipping or skimping on breakfast adds to brain fog and can leave you feeling sluggish. It can also leave you feeling hungry, which can set you up for making less healthy food choices later in the day. If you've ever given in to that 10 am jelly donut craving (and haven't we all?) you know what I'm talking about.
Who Has Time to Make Breakfast?
But if you're anything like me, morning is your busiest time of day. The second the alarm goes off, your brain is filling up with all the things you want, or should, or need to get done. And that's just life, isn't it? Always more to do than time to do it in.
So it's understandable that so many of us fall into a breakfast rut. We roll out of bed, grab a cup of coffee or tea, pour some cereal from the box, and wolf it down without even tasting it. Or maybe just grab the coffee and run out the door. I mean, who actually has time to make a healthy breakfast?
Believe it or not, you do.
Read on for 5 Quick and Healthy Breakfast Ideas that are tasty, good for you, and will get your day off to a great start. And the best part? Most can be made in less time than it takes to go through the jelly donut drive-thru.
Quick and Healthy Breakfast Recipes: Yogurt Parfait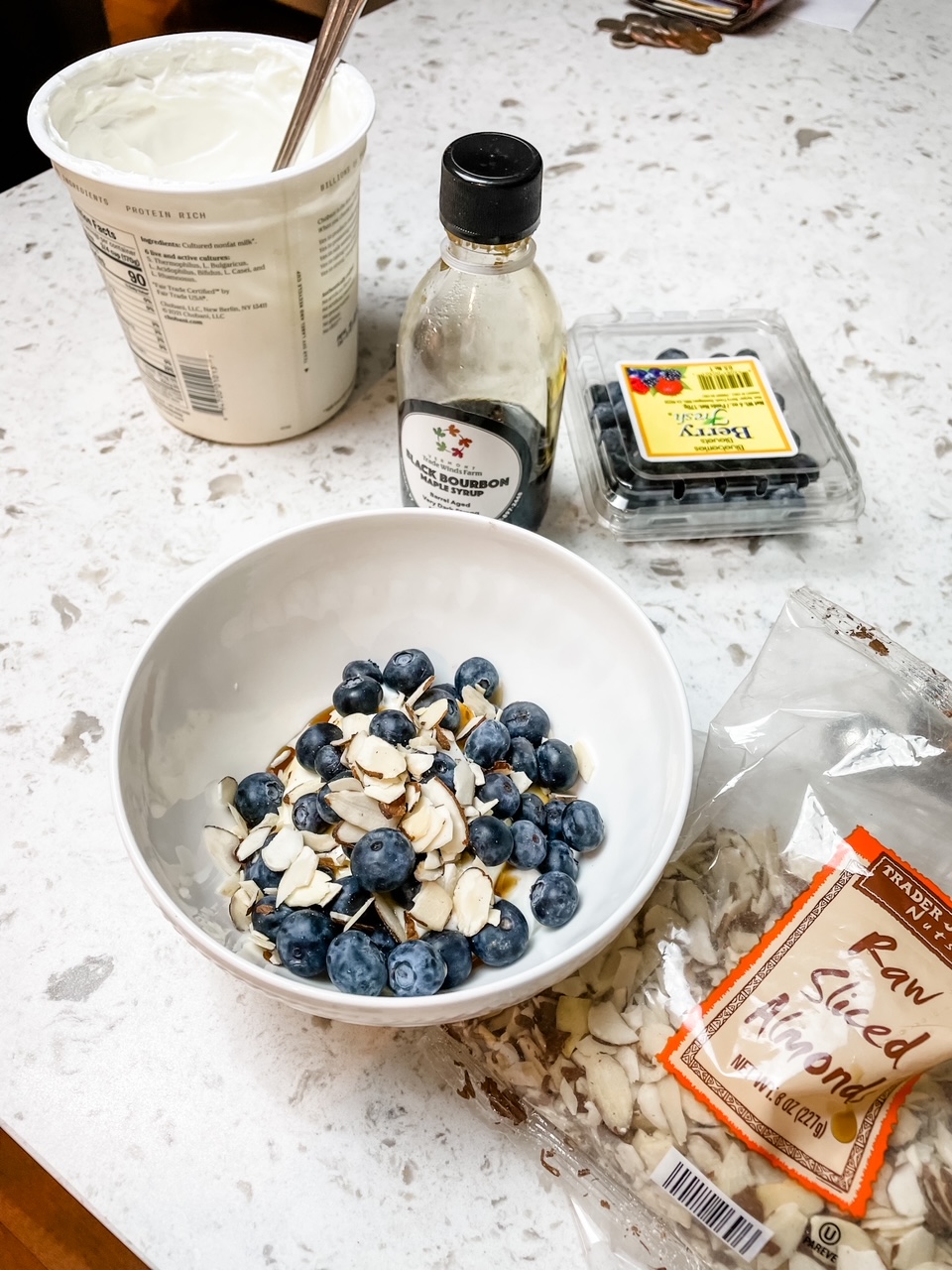 Lots of people's idea of a quick and healthy breakfast is grabbing a carton of yogurt on the way out the door. While that's not a terrible choice, most flavored yogurts include a lot of sugar, as well as artificial flavorings.
Making a quick yogurt parfait is a much healthier and more satisfying choice.
Put a half cup of Greek Yogurt in a bowl (whole or nonfat, according to your preference). Drizzle a teaspoon of real maple syrup over the yogurt, then top it with a half cup of fresh berries, and a tablespoon of sliced almonds.
It's a slightly sweet, slightly crunchy, high-protein breakfast that will see you through until lunchtime. Yogurt parfaits only take minutes to make. But if you're really in a hurry, toss everything in the blender and drink your smoothie in the car.
Quick and Healthy Breakfast Recipes: Peanut Butter and Strawberry Sandwich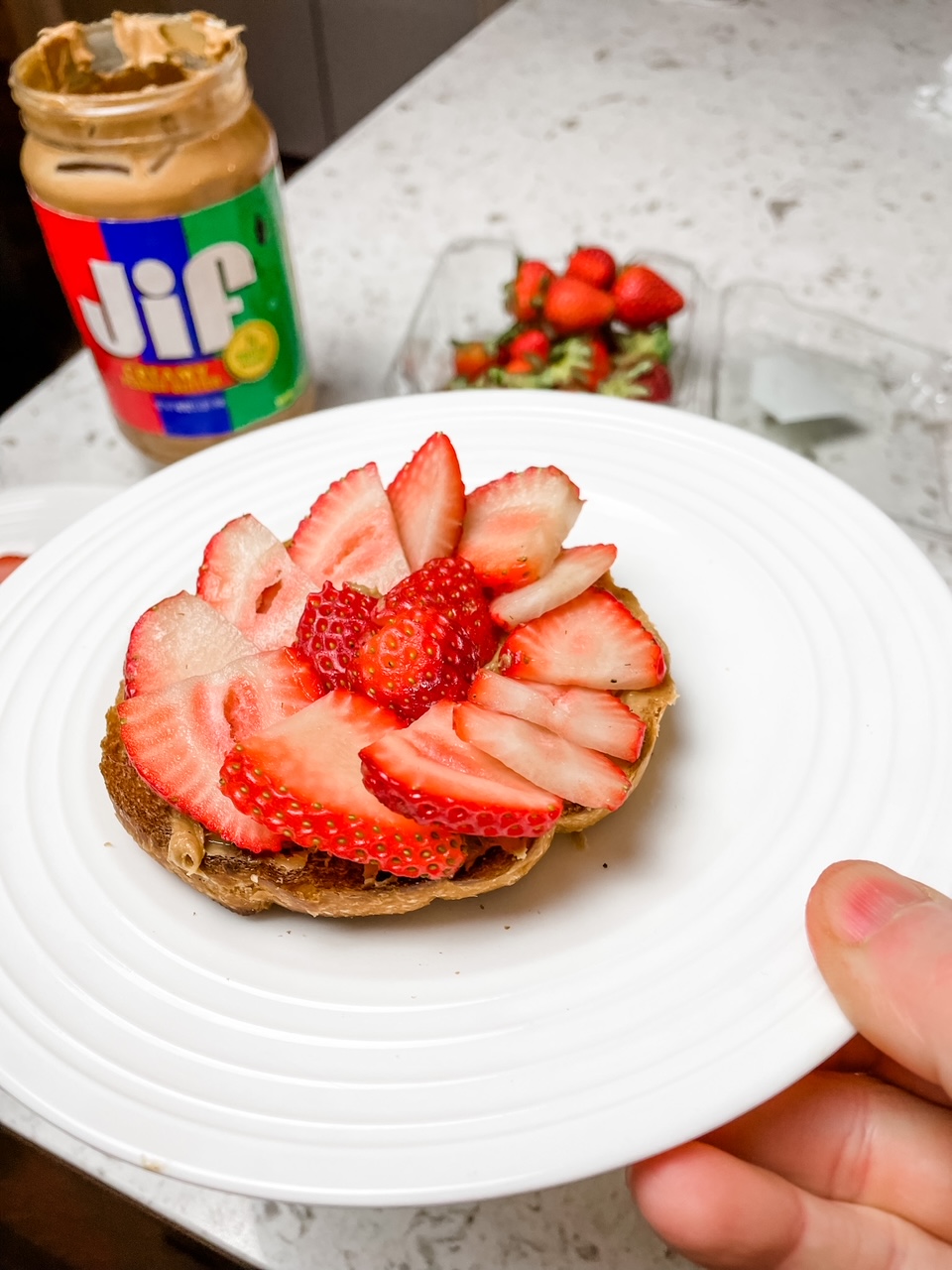 One of my very, very favorite breakfasts is also one of the easiest to make.
Pop a piece of bread into the toaster. Rinse a few fresh strawberries and slice them thin. When the toast is done, spread it with a tablespoon of peanut or almond butter, then pile on the berry slices.
It's a little taste of heaven! A little like the peanut butter n' jelly sandwiches you loved as a kid but even better.
Quick and Healthy Breakfast Recipes: Miracle Muffins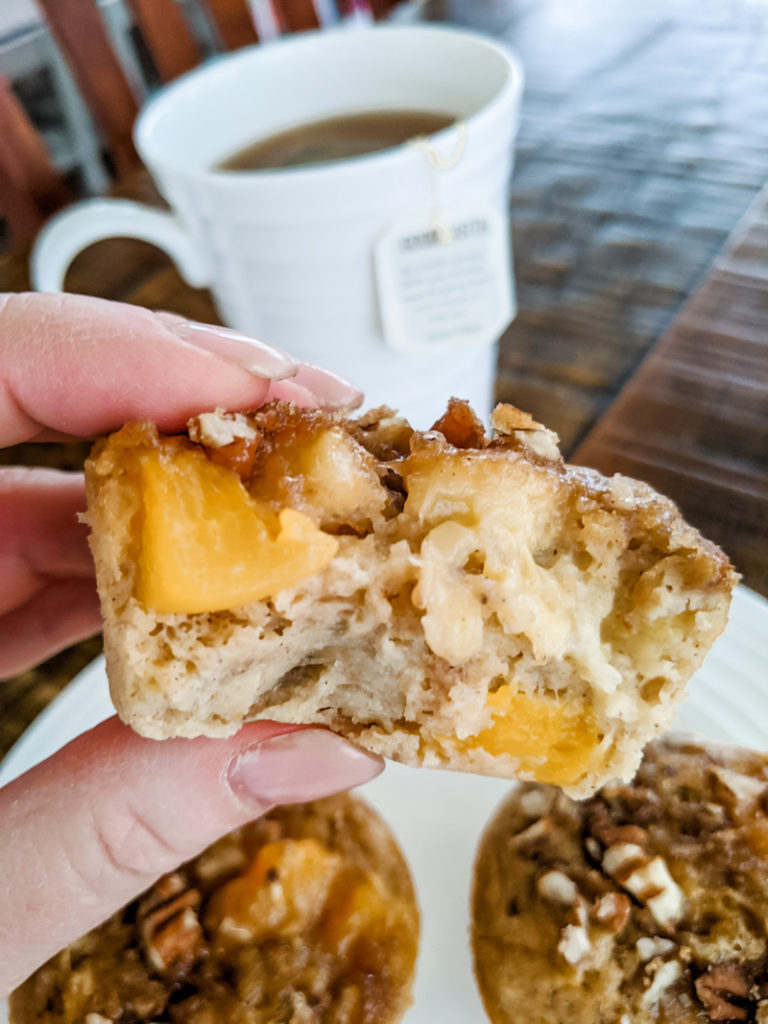 Back in 2019, I published my recipe for Miracle Muffins.
They're crazy easy to make, with only 3 ingredients in the basic recipe plus whatever add-ons you want to include in the batter. Miracle Muffins are also a lot healthier than standard muffins, with more protein and fiber, and less sugar and carbs. So, I figured they might be popular.
But I could never have imagined HOW popular!
Over the years, hundreds of thousands of people have downloaded my recipes for Miracle Muffins. Even after all this time, they're still the most popular recipe on my blog. They're also one of the most popular quick and healthy breakfast options here at Casa Bostwick. We have them almost every week.
Baking Miracle Muffins does take a little time but if you make them ahead, you'll have a quick and healthy breakfast that you can grab on the way out the door. Check out my original Miracle Muffin recipe here. Or give some of the fancier versions I developed later a try. (The Ginger Peach variation is my favorite!)
Quick and Healthy Breakfast Recipes: Veggie Scramble Pitas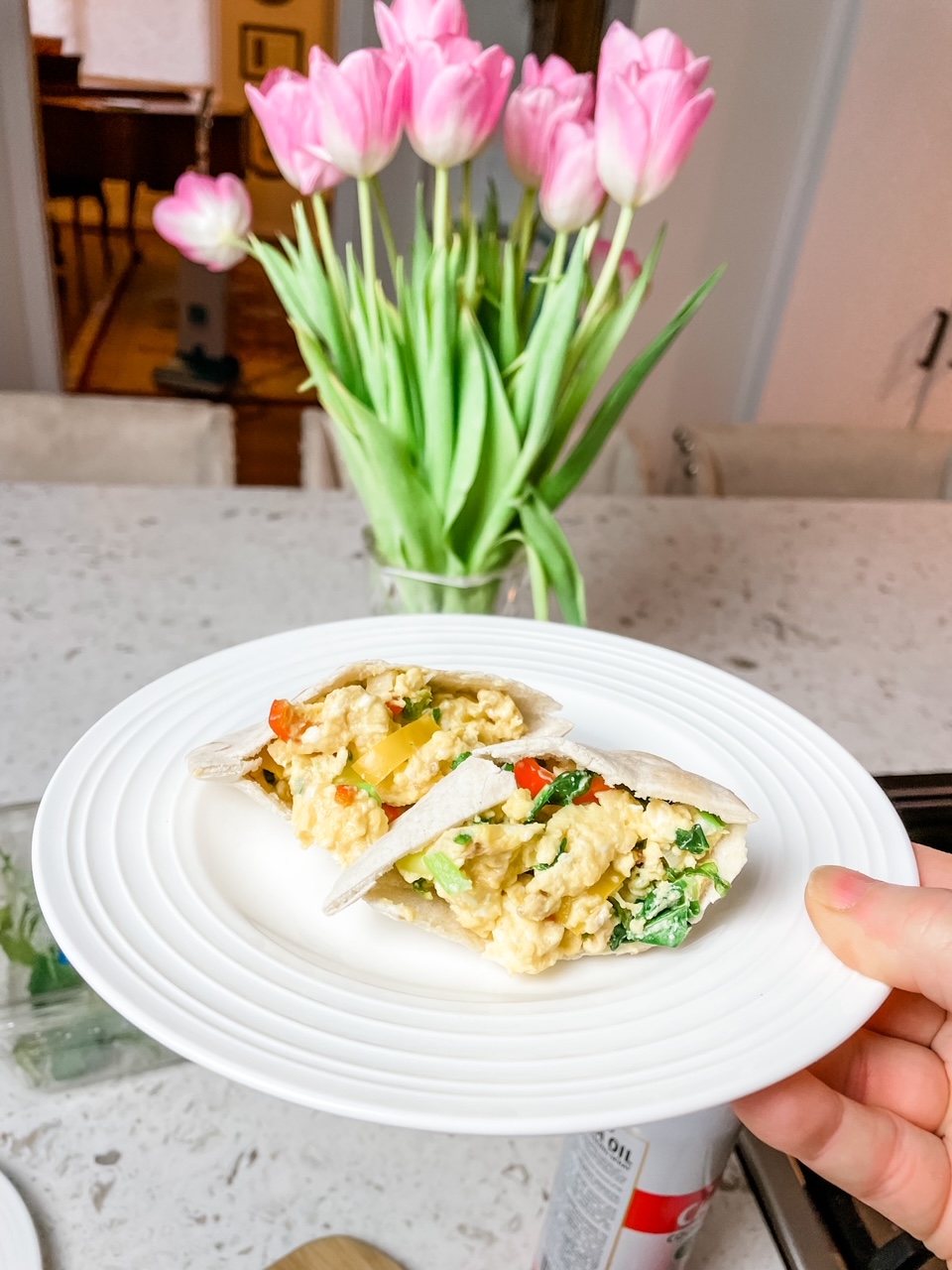 These yummy little pitas are a quick and delicious breakfast, and a great way to get a few more veggies into your diet. They're also super easy to make.
Place a half cup of your favorite chopped, fresh vegetables (I used sweet peppers, onion, and kale) in a nonstick pan with a teaspoon of oil. Cook over medium-high heat until soft, about 5 minutes.
Crack two eggs into a bowl with little water and salt and whisk with a fork. Stir two tablespoons of shredded cheese into the eggs. Pour the egg mixture into the pan with the cooked veggies and scramble.
Spoon the veggie scramble into two halves of a mini pita bread. It's a quick and healthy breakfast you can eat at home or on the go!
(PRO TIP: To save time, buy pre-chopped vegetables at the grocery store and keep them in the refrigerator. Or, prep your own in advance.)
Quick and Healthy Breakfast Recipes: Overnight French Toast with Banana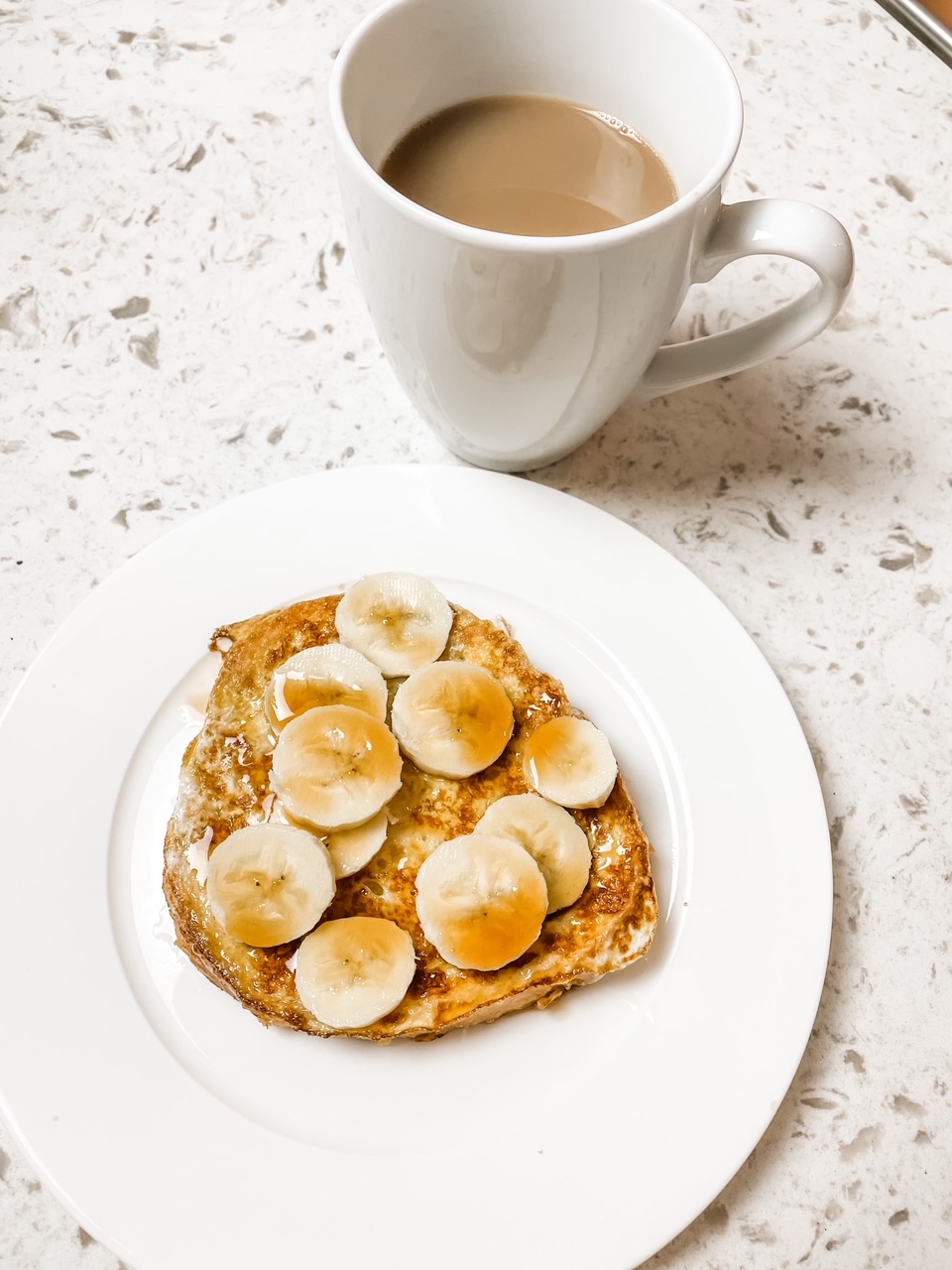 Mornings can be crazy. But with a little advance planning, you've still got time for a yummy slice of French toast before you hit the ground running.
Before you go to bed, crack an egg into a shallow dish or plate, add a little milk, and whisk with a fork. Lay a piece of bread onto the egg mixture. Cover the plate with plastic wrap and leave it in the refrigerator overnight.
In the morning, cook your French toast in a nonstick pan until golden brown. Top with sliced bananas and a teaspoon or two of real maple syrup.
Yum!