This post may contain affiliate links. Full disclosure policy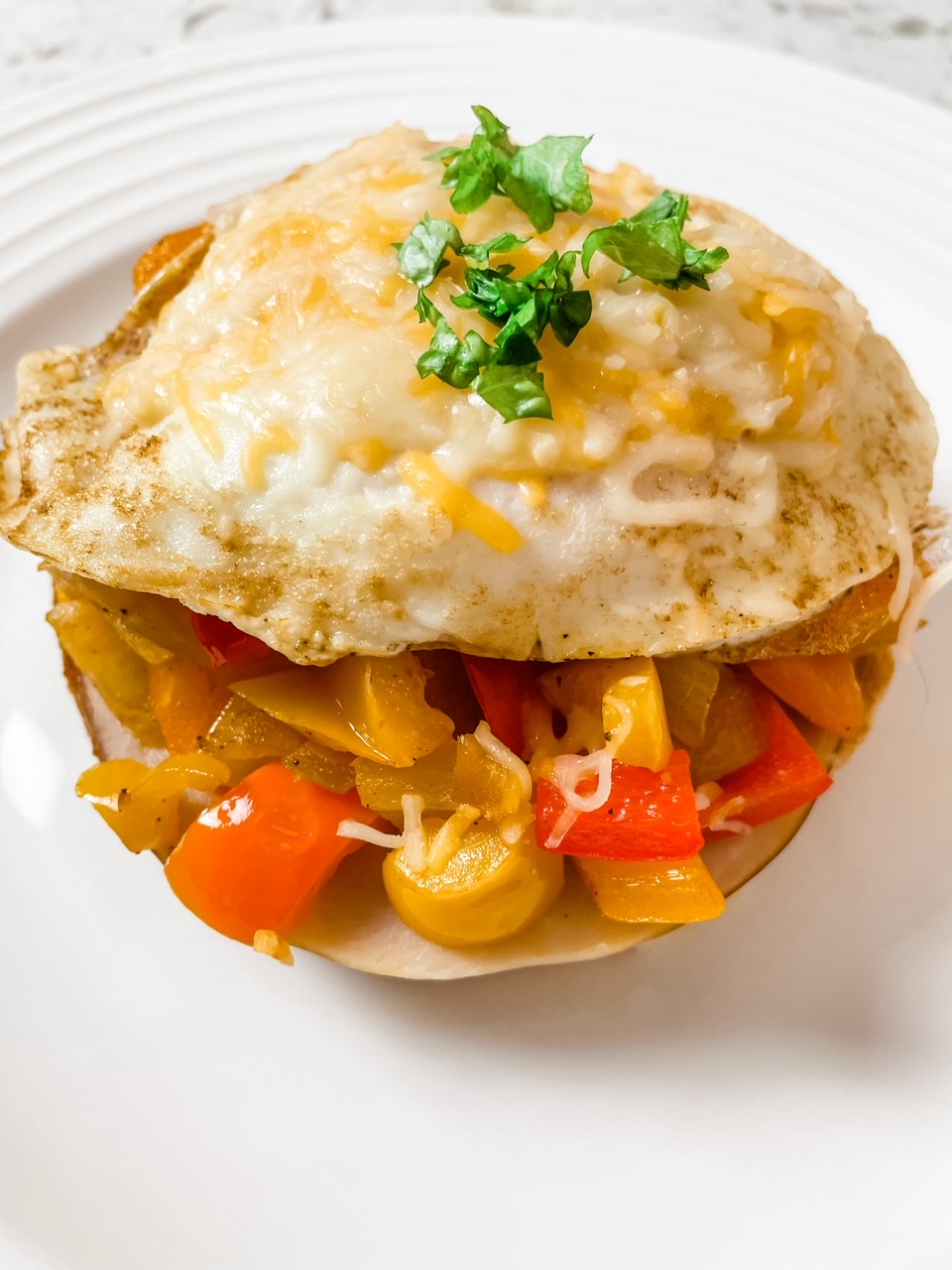 Looking for healthy brunch recipes to kick off the weekend? Give my Healthy Brunch Benedicts a try! Overflowing with colorful veggies, eggs, smoked turkey, and just enough cheese. So good! And so good for you!
Starting the Weekend Off Right: Healthy Brunch Recipes
Saturdays are sacred to me. It's generally the only day of my week that isn't packed with to-dos, should-dos, and must-dos. That's why Saturday morning breakfast or brunch matters around here. It's a chance to indulge myself a bit and kick the weekend off right.
For me, "kicking the weekend off right" does not mean kicking healthy eating habits under the bus. There's nothing wrong with treating yourself to the occasional cinnamon roll, side of crispy hash browns or perhaps my Blueberry Lemon Breakfast Casserole, but the operative word is occasional. (And to be clear, every Saturday is not occasional, at least not in my book.)
When Saturday morning rolls around, I like to spend a little extra time in my pajamas. And when I finally roll into the kitchen, I like to spend extra time there too, making a brunch dish that's delicious, indulgent, and good for me.
That's where my Healthy Brunch Benedicts come in. Of all my healthy brunch recipes, this one is my favorite way to treat myself on a leisurely Saturday morning.
A Benedict by Any Other Name Can Still Taste Terrific
Let me state upfront that my Healthy Brunch Benedicts have only a few things in common with classic eggs benedict.
My recipe does include eggs with lovely soft yolks that ooze into the rest of the dish. And the dish is served on top of an English muffin. Or in my case, a round slice of toasted sourdough bread. But that's where the resemblance ends.
Instead of Canadian bacon or ham, I used smoked turkey breast. Also, I pile on lots and lots of gorgeous sauteed vegetables to up the flavor and nutrition. You won't find any hollandaise sauce here either. But that soft, buttery egg yolk is a good stand-in, especially when you combine it with a little melted light cheese.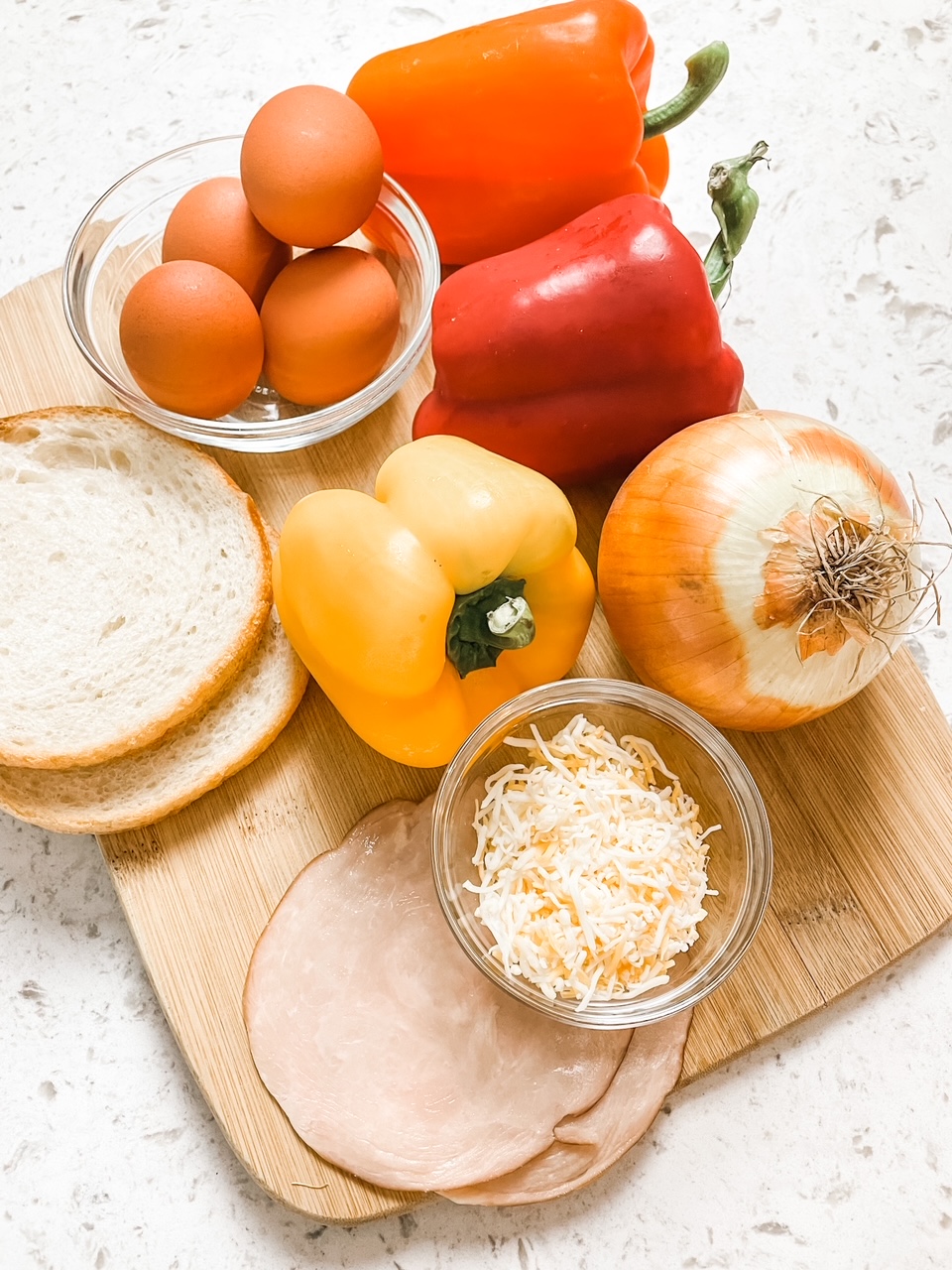 So Why Do I Call it 'Healthy Brunch Benedict'?
First off, because I had to call it something and "benedict" has become kind of ubiquitous for breakfast dishes that involve bread or English muffins and eggs. It also indicates that you're in for something special, delectable, and a little indulgent.
And when it comes to special, delectable, and slightly indulgent, this Healthy Brunch Benedict ticks off all the boxes.
Healthy Brunch Recipes, Healthy Brunch Benedict
During the week, I hit the ground running and don't have much time to spend cooking breakfast. In fact, most weekdays see me spending no more than ten minutes making breakfast.
(You can actually make a very tasty healthy breakfast in under ten minutes, and I'll be sharing some ideas about that in another post soon.)
But the leisurely pace of the weekend leaves me with a little extra time. Lucky me for (and for you) a little extra time is all you'll need to make Healthy Brunch Benedicts. It only takes about 20 minutes, twenty-five tops.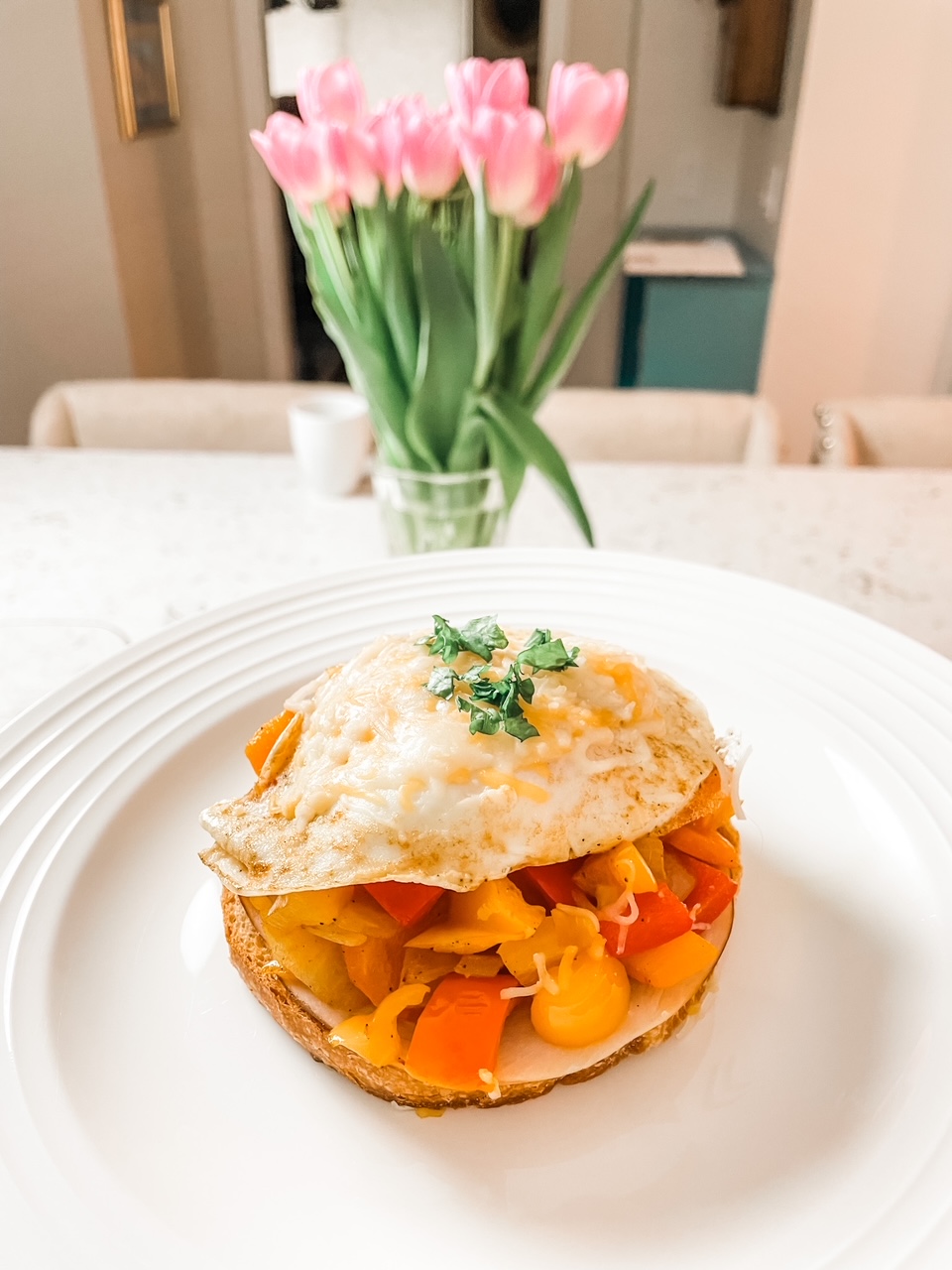 You'll start by chopping your pepper and onions. Then you'll cook them in a little oil until they're nice and soft and the onion is starting to caramelize a bit. While the veggies are cooking, toast your bread.
Recently, I discovered these fabulous sourdough sandwich rounds from Seattle Sourdough Baking Company. As the name indicates, they're perfect for sandwiches but I love them for benedicts too. But you can use traditional English muffins too, or any other kind of bread you fancy.
After the bread is toasted, you layer on the smoked turkey breast and top with the cooked veggies, then pile on a couple of eggs with soft yolks and sprinkle on a little cheese.
The Key Ingredient: Eggs
Traditionally, you'd use poached eggs for benedicts. You can do that here if you want to. However, I prefer to fry my eggs over easy in a nonstick pan. It's just quicker. Boiling the eggs for no more than 5 minutes would work too.
The important thing is not to overcook the yolk. Because when you break it open, all that gooey, eggy goodness is going to melt down into your veggies and bread and taste amazing!
No matter how you make your eggs, the bottom line is that Healthy Brunch Benedicts are delicious and one of the best ways I know you start a Saturday, or any day. Try making some soon!
Print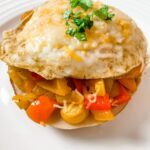 Healthy Brunch Recipes: Brunch Benedicts
---
Author:

Yield:

Serves

2

- 4

1

x
4

eggs, prepared as you wish – poached, soft boiled, or fried over easy

½ cup

each of sweet red, yellow and orange peppers

½ cup

chopped onion

2

–

4

slices round sourdough bread or English muffin halves, toasted

2 tsp

olive oil

2

–

4

slices deli-style smoked turkey breast

¼ cup

light shredded cheese
Salt and pepper to taste
Optional chopped parsley to garnish
---
Instructions
Turn on your oven broiler.
Place 2 tsp olive oil in a nonstick pan over medium high heat. Add the peppers, onions, and a pinch of salt and pepper. Cook until the peppers are soft and the onion is translucent and beginning to caramelize.
While the vegetables are cooking, toast your bread of muffins. Place them on a baking sheet and top each one with a slice of smoked turkey breast. Layer half the cooked veggies on the bread or muffins and set aside. (There will be a generous amount of veggies. If you're hungry, you can pile two half the vegetables and serve two eggs for each person. You can also toast four muffin halves or slices of bread instead of two, and divide the eggs and veggies among four people.)
Prepare eggs according to your favorite method – fried over easy, poached, or boiled. Whatever method you use, make sure the egg yolk remains fairly soft. Place eggs on top of vegetables.
Sprinkle the cheese over the benedicts in equal amounts. Place the baking pan under the broiler for a minute or so, just until the cheese melts. Remove pan from oven. If using, sprinkle on a little parsley to garnish. Serve immediately.