This post may contain affiliate links. Full disclosure policy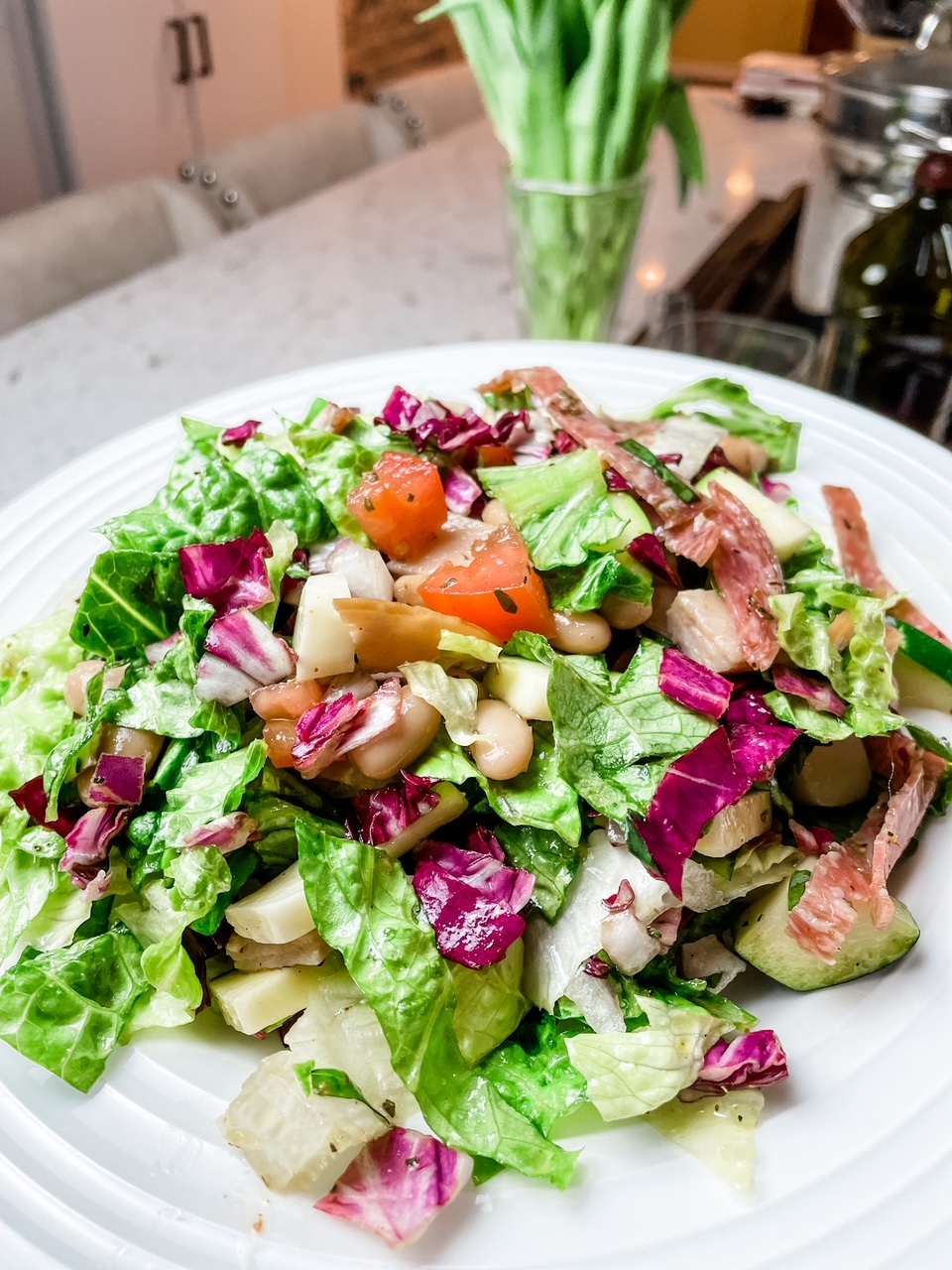 Love to order chopped salads at your favorite steakhouse or Italian restaurant? Good news. making your own at home is easy! This Mediterranean Chopped Salad recipe is hearty, healthy, and so delicious!
Restaurant Inspired, Made at Home
Salad for supper is one of my favorite light, warm-weather meals. However, during the winter, I tend to choose entrees that are hot, heavier, and sometimes not quite as healthy. That is, unless I see a really good chopped salad on the menu.
You know the kind I'm talking about, right? A chopped salad that's got such a huge variety of ingredients that every bite is a discovery of flavors.
A restaurant in my neighborhood makes just such a Mediterranean Chopped Salad. There's so much going on in that chopped salad! It tastes so great that I order it almost every time.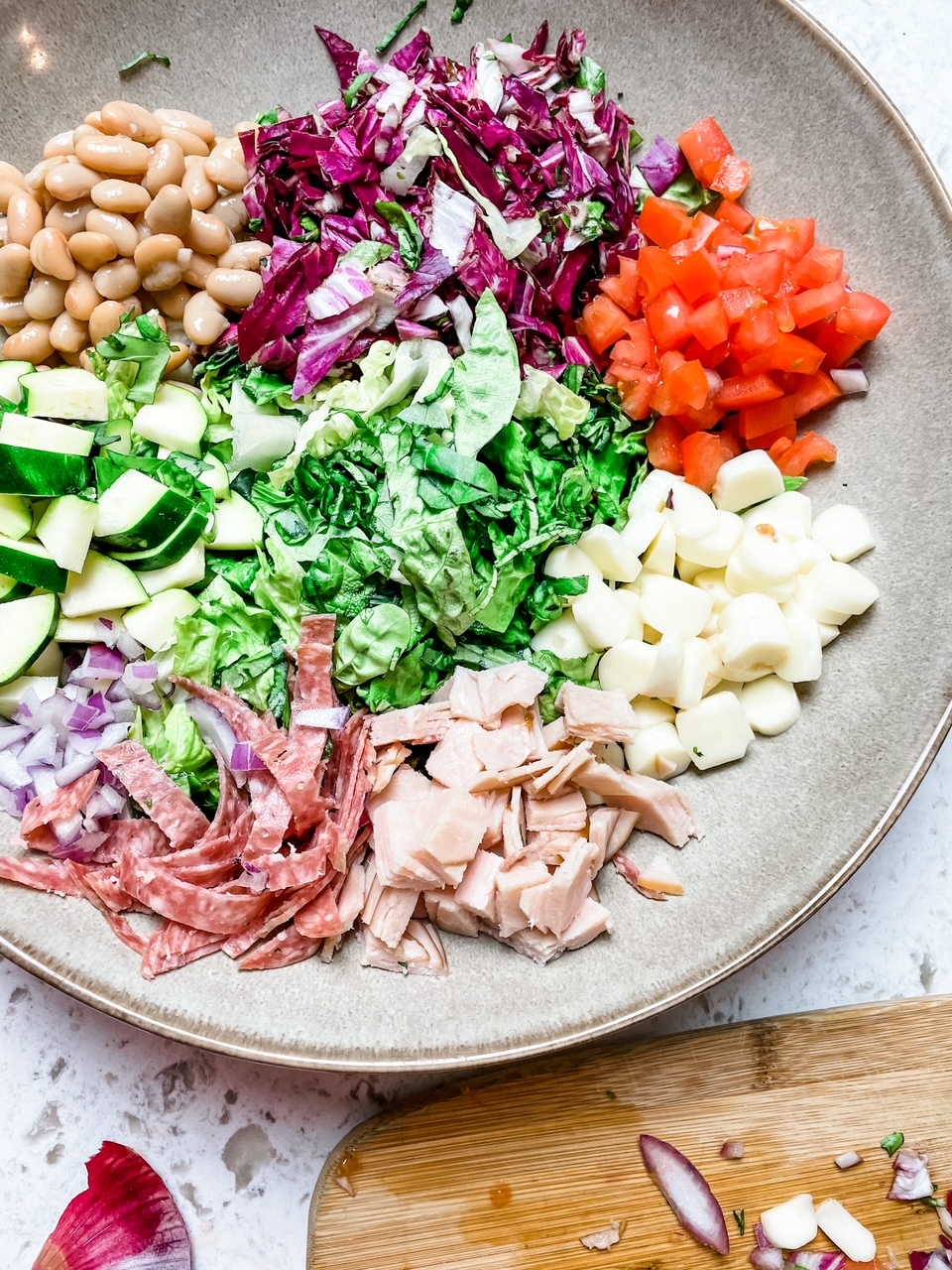 Recently, I decided to try and recreate it at home. And if I do say so myself, it turned out just as well as the restaurant version. It's healthy, hearty, and SO good!
And as an added bonus, it didn't cost me twenty dollars a plate.
Making a delicious, restaurant-quality Mediterranean Chopped Salad recipe at home is easy. All you need is a big bowl and the right ingredients.
What Do You Need to Make Your Mediterranean Chopped Salad Recipe?
When it comes to making a terrific chopped salad, variety is key. It's one of those situations where more is definitely more! Because you can't get a lot of flavors if you don't have lots of different and very flavorful ingredients.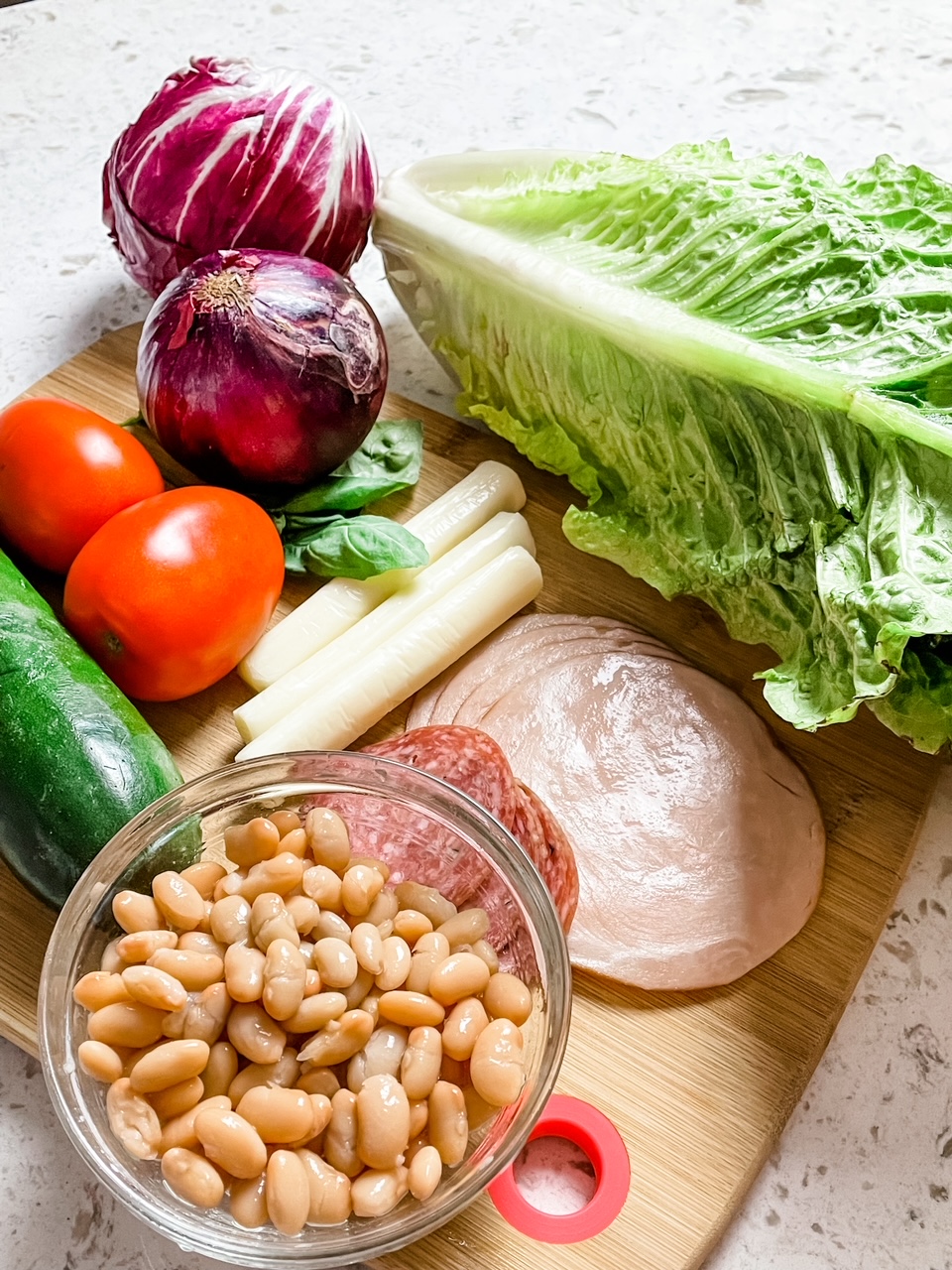 Of course, lettuce is the key ingredient for any salad. For a good chopped salad, romaine is a must because it's got enough crunch and texture to hold its own among the hearty ingredients. But you want to choose your romaine carefully.
Pick the freshest, greenest head of romaine you can find. And be sure to use a whole head, with beautiful, flavorful green leaves as well as the white romaine heart. Also, bring in some other lettuces and herbs to add taste and color. My favorites are radicchio and fresh basil.
A good Mediterranean Chopped Salad recipe requires lots of the kinds of ingredients used in Mediterranean dishes. That includes healthy and tasty vegetables like tomato, zucchini, and red onion. It also includes protein-packed white beans, such as cannellini or garbanzo, and chunks of creamy mozzarella cheese.
My recipe also includes tasty ribbons of genoa salami. You don't use very much of it because more than a little would overpower the other ingredients. But even a little bit of salami adds a ton of taste to this fantastic salad.
What about the Dressing?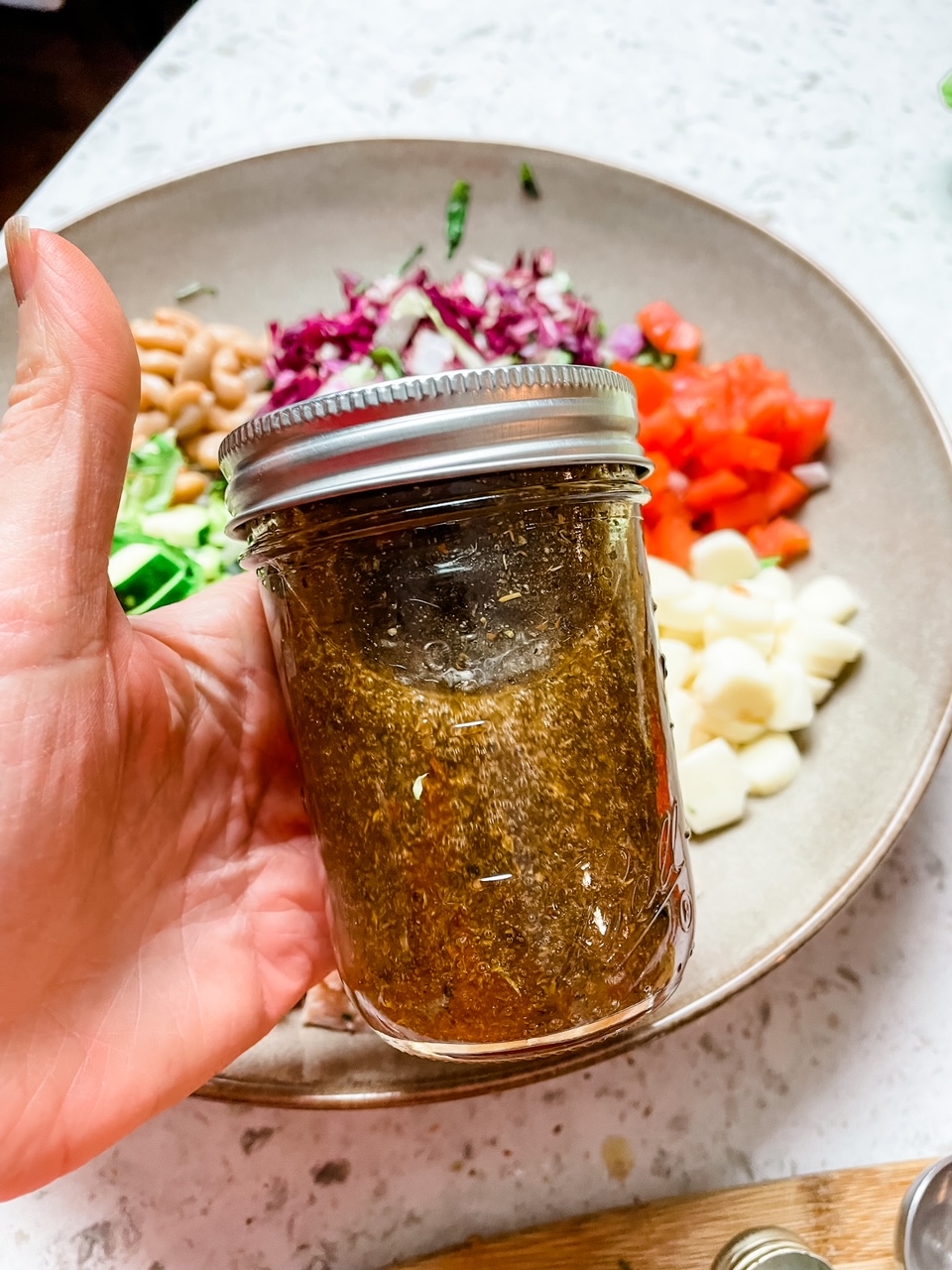 If you're in a rush, you can use your favorite bottled Italian dressing. But I've included a recipe for an easy Italian dressing with this recipe.
Making your own salad dressing is so simple and much cheaper than buying it. All you have to do is put the oil, vinegar, and spices into a jar and give it a good shake.
However, the dressing really should be made at least a day in advance. It takes some time for the dried spices to open up and for the flavors to meld. If you've got the time to plan ahead, it's definitely worth doing. My recipe makes more than you'll need for one salad, so you'll have extra for next time.
Whether you buy dressing or make your own, this Mediterranean Chopped Salad recipe is a winner! Give it a try soon.
Print
Mediterranean Chopped Salad Recipe
---
Author:

Yield:

Serves

2

for a hearty dinner, 4 to 6 as a first course

1

x
For the salad
4 cups

chopped romaine lettuce

2

T shredded fresh basil

1 cup

chopped radicchio

½ cup

zucchini, quartered and sliced

2

Roma tomatoes, seeded and chopped

2

T chopped red onion

2 oz

deli-style smoked turkey breast

1 oz

genoa salami, sliced into thin ribbons

3

part-skim mozzarella cheese sticks, sliced into

1/4

inch rounds

½ cup

canned white beans, drained (cannellini, garbanzo, or great northern)

4

T Italian dressing (bottled or made from the recipe below)
For the Italian dressing
½ cup

olive oil

½ cup

red wine vinegar

2 tsp

dried Italian seasoning

1 tsp

garlic powder

½ tsp

red pepper flakes

1 tsp

salt

½ tsp

fresh ground pepper

½ tsp

sugar

1 tsp

lemon juice
---
Instructions
Place the romaine, basil, and radicchio in a large bowl and toss to distribute. Top with remaining ingredients and dressing. Toss the salad, plate, and serve.
For dressing:Place all the ingredients in a lidded jar. Close the lid tightly and shake vigorously for about thirty seconds. Allow dressing to sit in refrigerator for at least a day. Shake jar again before adding dressing to salad.