This post may contain affiliate links. Full disclosure policy
Have you ever noticed how much of those travel programs on television are devoted to eating? At first glance, it seems kind of strange. But it makes more sense when you think about the fact that whether we're at home or on the road, most of us eat three times a day.    
Eating at home doesn't require much more effort than opening the refrigerator. When you're traveling, figuring out where to eat is tougher.  It forces you to make choices. It requires thought, and effort, and research.  Lots and lots of research. 
Fortunately, this type of research happens to be one of my favorite parts of travel.
I haven't tried every restaurant on the Kona Coast of Hawaii's Big Island, but with four visits in as many years I've certainly made a stab at it.  
Here are a few of my favorites.
Cheap Eats
Be forewarned, good "cheap eats" are hard to come by in a place where much of the food is shipped in by boat.  While a meal that comes in at under $20 isn't what most people would consider inexpensive, that's the definition I'm using for this category.
However, I've got a few tips that will help you avoid sticker shock when dining out in Kona.
Happy hour can be the favorite hour of the budget-minded traveler. Many popular spots offer reduced prices on adult beverages and a delicious but usually limited menu of appetizers that you can make a meal of.  Also, remember that even the most expensive spots often feature lunch dishes that are just as tasty (and frequently identical) to their dinner menu. 
Finally, when you book your Hawaiian vacation, consider renting a condo. Having a kitchen where you can prepare at least some of your own meals can be a huge savings.  It makes watching your weight easier as well.  When we exit the airport in Kona, our first stop is always the grocery store.
FoodLand
This grocery store in the Shops at Mauna Lani has a little bit of everything, including liquor, a good selection of fresh produce, and a deli case with a variety of prepared items. (Do check it out. On this trip, I found delicious prepared salmon in citrus marinade for three dollar a pound less than uncooked fillets). The prices are expensive by mainland standards but they have some excellent weekly specials. If you allow the cashier to enter your phone number into the system, all the sale prices will apply to your bill. Doing so saved me 11% this trip.
Technically, Da Fish House is not a restaurant.  It's a takeaway poke shack on the north end of the Kohala Coast.  You can order plain poke, or a bowl (with rice) and either eat it outside or take it with you.  But before I get too far, I should probably back up and explain a few things. 
First off, pronounciation. It's POH-keh. Not poke. Not poki. What is it? Poke had it's origins in Hawaii and is basically raw fish or shellfish that's cut into little chunks and marinated in a sauce – everything from shoyu and spicy mayo to ginger and garlic.  There are lots of varieties.  Poke can be eaten plain but I like mine over rice because it soaks up the sauce nicely.
Da Fish House serves amazingly fresh, delicious poke that's really a bargain. The bowl I bought for less than $14 was big enough for my husband and I to share.
Lava Lava Beach Club (Happy Hour)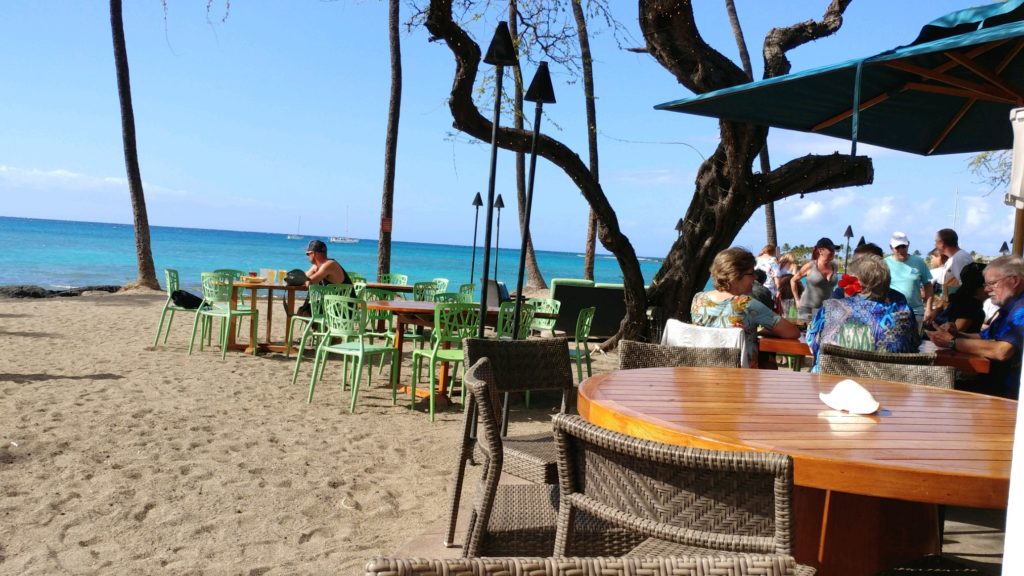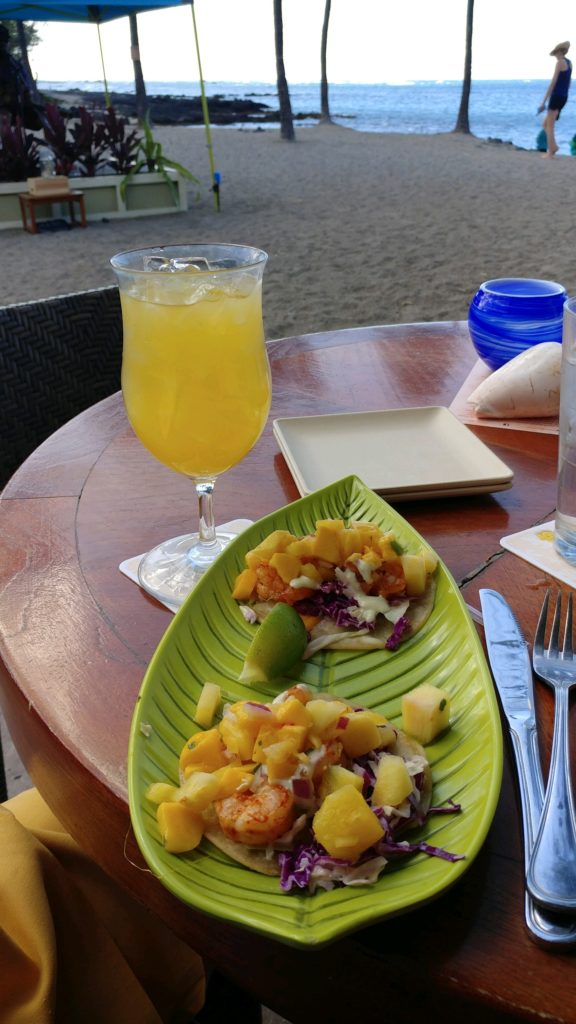 With its breathtaking beachfront setting, open air dining room, live music, and even lawn games, this fun and friendly spot in Waikola is one of my favorites. Much of the menu is devoted to what I would call "Island pub fare" but the ingredients are fresh and the food is delicious.  The only downside? It can be a little pricey.
The good news is that Happy Hour happens twice a day at Lava Lava –from 3 to 5 and 9 to 11.  You'll find reduced prices on "pupus" (appetizers), beer and wine, a couple of $7 signature cocktails.  Even happy hour can run a little steep here ($11 for two small but delicious shrimp tacos) but the setting is so worth it. If you're really hungry, order the Tipsy Tots – loaded with cheese, bacon, and green onions.
I'll tell you more about Merriman's later but the long and short of it is that this is my absolutely, hands down favorite place to eat on the Big Island.  Having dinner here definitely qualifies as a splurge but on Friday, Saturday, and Sunday from 2 to 5pm, you can enjoy this culinary paradise for a pittance.
The menu is upscale "pub grub" but you won't find a better burger on the island, especially not for $10. The Kalua pork will bring tears to your eyes – but in a very good way.  Be sure to order one of their incredible salads – you'd have to go out and pick the lettuce yourself to find anything fresher. 
Also, until you've had a mai tai made with fresh lime juice and topped with honey-lilikoi (passion fruit) foam, you haven't really lived.
We normally stay on the "dry" Kona side of the island. However, last year we drove to Hilo and had lunch at this delightful restaurant. The atmosphere is open-air and island-casual, the staff is really friendly, and the prices are hard to beat.
The menu reflects mélange of Asian/Polynesian/Portuguese/American influences that make up local cuisine.  On any given day you might enjoy bacon wrapped meatloaf, saimin with wontons, broiled salmon with garlic shrimp, Korean chicken, or a NY strip steak. And almost every for less than $20. And for breakfast?  Just say yes to banana and macadamia nut pancakes.
Mid-Price Menus
I already explained much of what is so great about Lava Lava Beach Club. But a good Happy Hour isn't the only reason I love this spot.  The food is fresh and delicious at any hour and the location incomparable.  At $40 or more, many of the dinner entrees are overpriced. But there are a few good selections in the $20 to $34 range and the lunch menu is much more reasonable.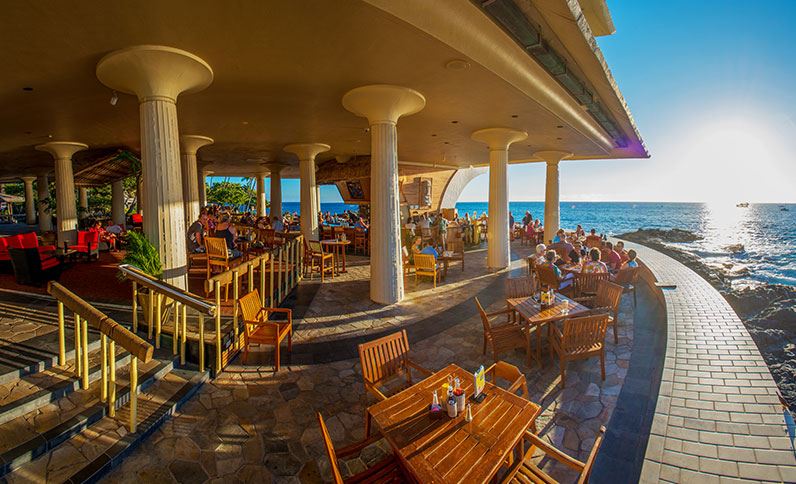 When it comes to great views and incredible sunsets, it's hard to beat Don's Mai Tai Bar.  The Royal Kona Resort in downtown Kailua Kona offers a 180-degree ocean view.  There's no better spot to sit have enjoy a beverage and a nice meal while watching the waves, preferably while holding hands with someone you love.
Overall, I'd say the food is good but not amazing. Most of the menu falls under the heading of substantial pupus – definitely hearty enough to make a meal of. However, on my most recent visit I enjoyed an ahi tuna burger that was excellent.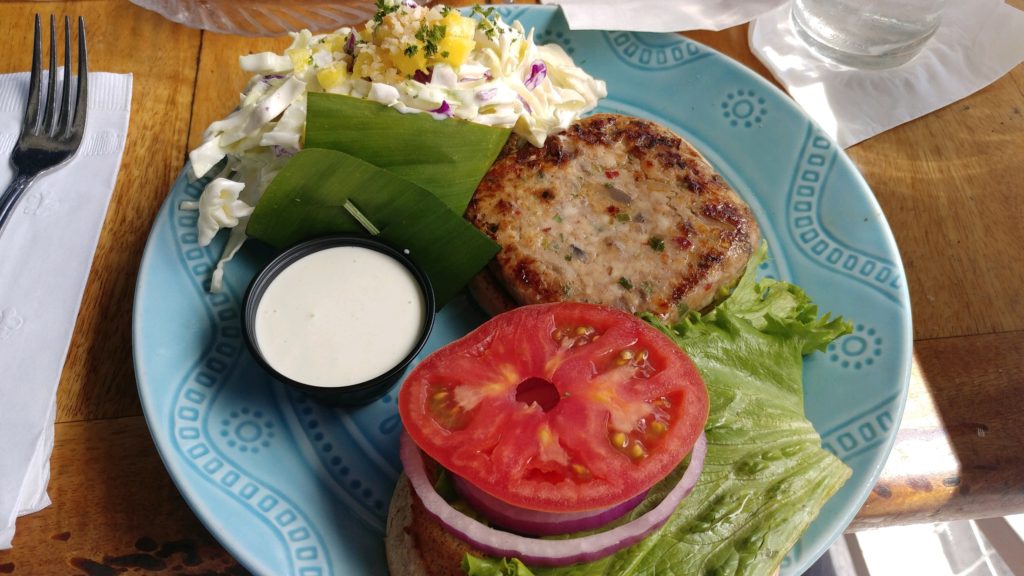 What can I say about the Seafood Bar and Grill? It offers good, fresh, well-priced food in a really weird location.  The restaurant sits directly across from some kind of industrial port/warehousing thing. If you take a table on the deck, you'll have a lovely view of shipping containers and gravel. Weird.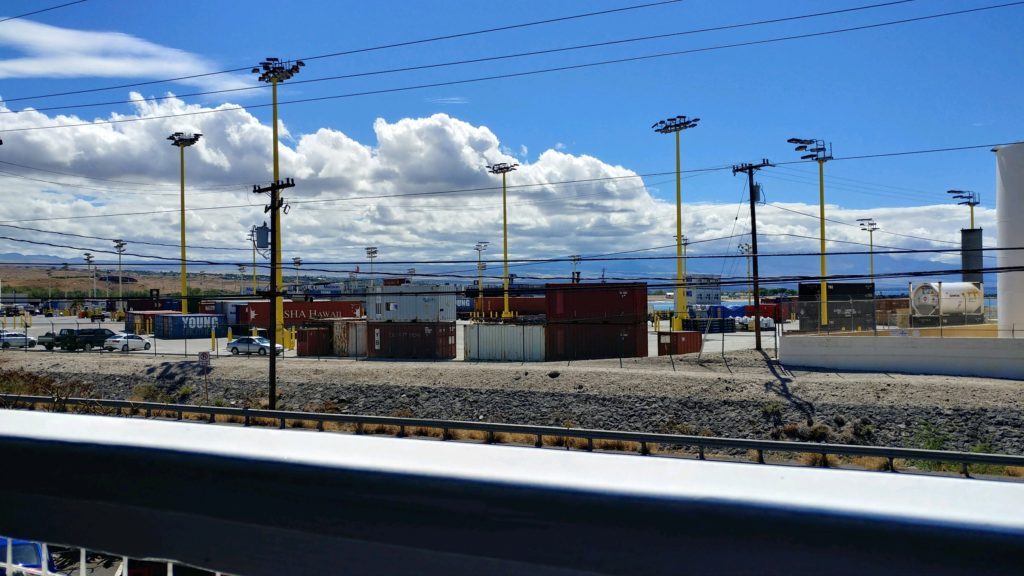 Even so, it's easy to see why this casual, friendly restaurant toward the north end of the Kohala Coast is a favorite spot for locals and tourists alike. The fish selections are delicious and fresh.  My husband, who is something of a coconut shrimp snob, gave them a big thumbs up. My seared poke burger, served with pineapple macadamia nut coleslaw, was delicious. We'll definitely be coming back!  
Splurge
When I'm traveling (and even when I'm not) I try to stick to independently owned and operated restaurants.  However, sometimes you just want to go someplace where you know what you're getting yourself into before you walk in. Yes, Tommy Bahamas is definitely a chain restaurant but it's a good one. 
The atmosphere is always cheerful and buzzing, but not overly loud (though I do recommend sitting outside and away from the bar if possible) and the waitstaff is always friendly, helpful, and well-trained. The food quality is just as consistent.  Whether we're ordering steak, chicken, or the fresh catch of the day, I know that we're in for a delicious meal in a very pleasant evening.    
When it comes to pure atmosphere and romance, I don't think there is a restaurant in Kona that tops Kamuela Provision Company, located in the Hilton Waikola Village. If you want to propose, celebrate a birthday or anniversary, or just gaze deeply into each other's eyes – this is the spot for it. 

Be sure to reserve in advance and request an outdoor table. The food here is very good but less than spectacular and, yes, quite expensive. But, hey, this is your splurge! The waves crashing nearby, the breeze blowing gently through the palm trees, and glow of scores of will make this a night you'll long remember and, quite possibly, one of the peak experiences of your Hawaiian vacation.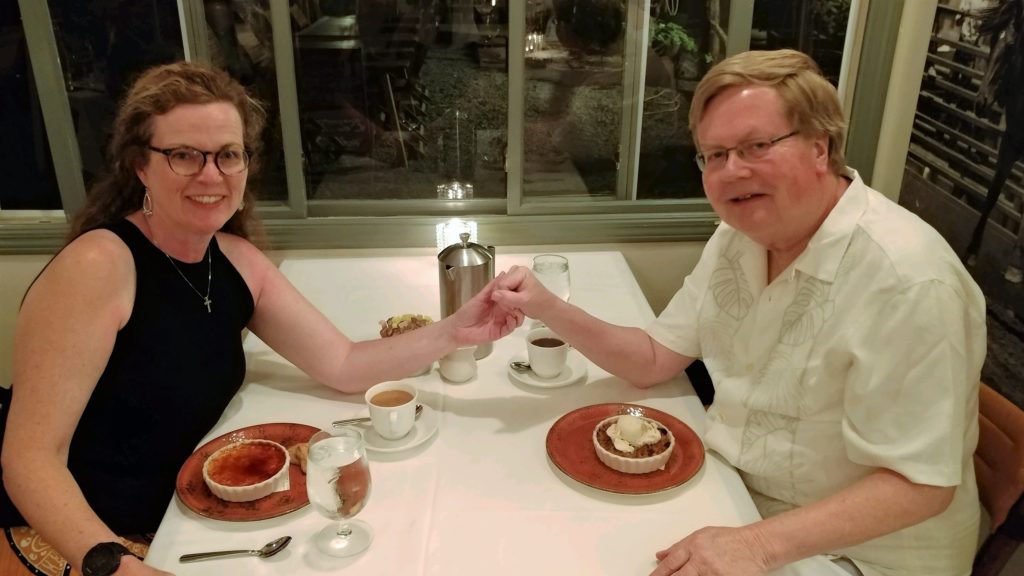 A while ago, I saw a movie about the professional restaurant world. In it, the slightly bonkers chef/protagonist says, "People eat because they're hungry. I want to make food that makes people stop eating."
Merriman's is that kind of place – a restaurant with food so divine that putting that first bite into your mouth, you will actually stop eating (emitting an involuntary groan of pleasure as you do) to savor the pure, exquisite delight of such culinary perfection and reflect on how lucky you are to be in that place, at that moment, eating that meal.
There are now several Merriman's in Hawaii. We dined in Waimea, the original location where Peter Merriman brought farm to table cuisine to Hawaii, about 30 years ago.  Waimea sits at about 2500 feet above sea level in cattle ranching country, so there are no breathtaking vistas here. The large, pretty dining room has high ceilings and beautiful wood floors, and the tables are topped with white cloths and candles and dinner but the emphasis here is definitely on the food. And what food it is!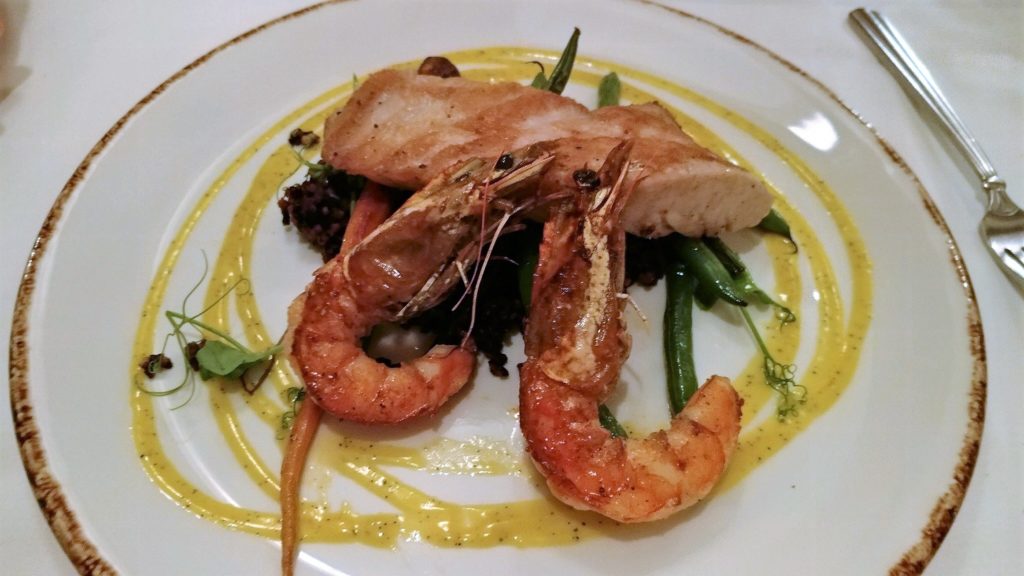 What I loved most about this place, where 90% of the food is locally sourced, is that the actual flavor of the food takes center stage.  The incredibly fresh salad was dressed with nothing more than olive oil, lemon, a little salt, and complemented with the most delicious chevre I'd ever tasted. The mushrooms tasted like mushrooms, not something unidentifiable smothered with butter and garlic. My lamb chops were tender and perfectly prepared, accompanied by a wonderfully flavorful but not overwhelming chimmichurri sauce and jalapeno mashed potatoes.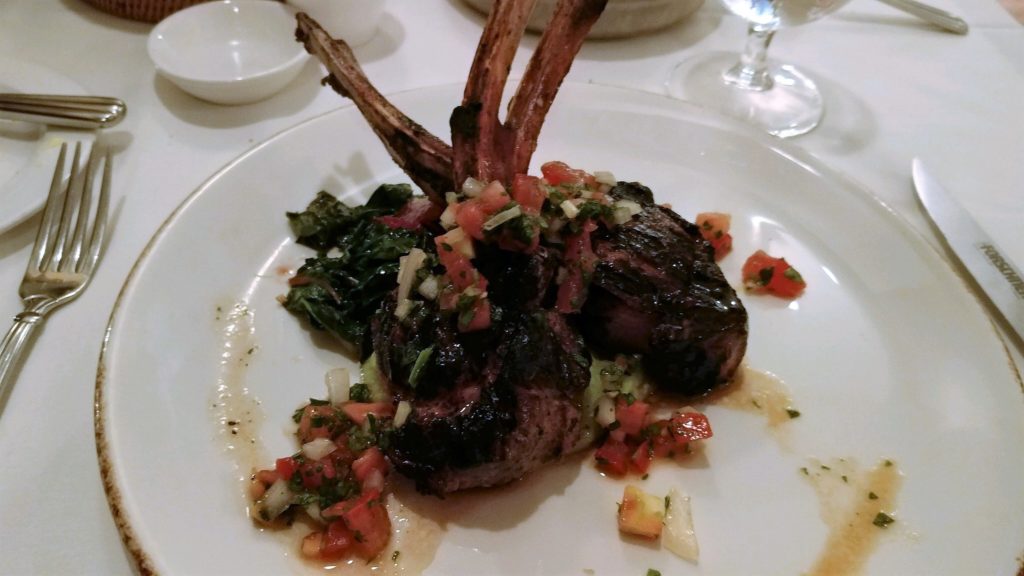 My coconut crème brulee was worth every calorie and every sweaty mile I ran the next morning to work it off.  My husband's fresh pineapple and strawberry crisp was just as good. On top of all that, the wait staff was as well-trained, pleasant, and efficient as could possibly be hoped for. Our server anticipated my husband's need for just a little more sauce for his fish even before he did.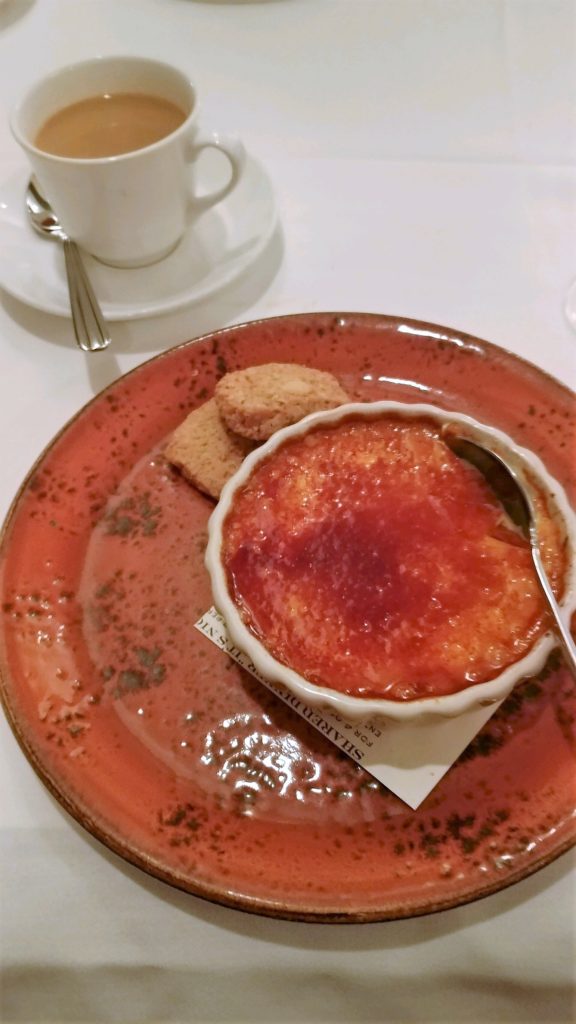 If I could find one fault with Merriman's it would be that the kitchen is perhaps too efficient.  Dishes were delivered very quickly. Of course, many people like that but I would have preferred to dine at a slightly more leisurely pace. Another 5 to 10 minutes between courses would have been just perfect.
Bottom line is this; to my way of thinking, Merriman's is the best restaurant on the Big Island and a must try for any seriously dedicated foodies.