This post may contain affiliate links. Full disclosure policy
THIS POST MAY CONTAIN REFERRAL LINKS. IF YOU CLICK THROUGH AND TAKE ACTION, I MAY BE COMPENSATED, AT NO ADDITIONAL COST TO YOU.
Aloha!
Guess where we are.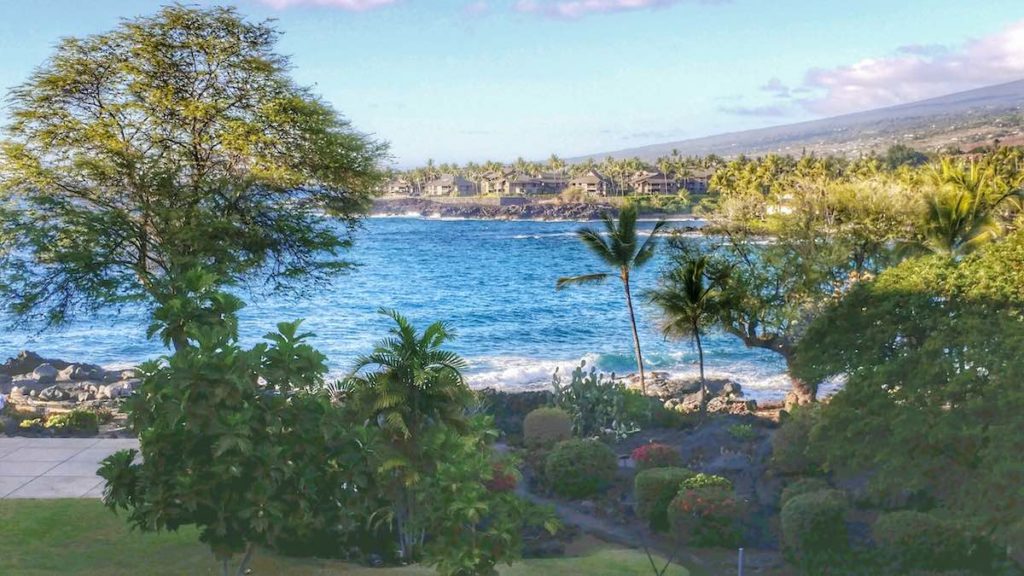 Yes.
Hawaii. The Kona Coast to be exact.
My husband and I narrowly escaped the polar vortex and are in the magical land of Hawaii to recharge, decompress, and celebrate The Chairman's birthday a little early.
Vacation Mode
Flying from Oregon to Hawaii only takes about five hours. It took me even less time than that to adapt to island time. I've morphed into the tropical version of my former self and may never come home. I now wear flowers in my hair, sleep without setting the alarm cock, enjoy drinks that come in coconuts, and mostly don cabana-wear throughout the day.
It's glorious and I've only been here two days.
All of this beach gazing got me thinking about a few things. We are incredibly lucky to have sojourned to Hawaii on many occasions throughout our marriage. I'm not sure I'd advise anyone to buy a timeshare but, for us, it's been really great way to visit the Hawaiian islands several times. It's always been our favorite place to kick off our shoes and take a break from "the real world."
When I come to Hawaii, I choose to be the best, most relaxed, most adventurous, and most fun version of myself. It's easy to do when you are surrounded by tropical breeze and food you've never heard of and mai tais and hula.
And then I try to bring some of that home with me. Breaking away from the day to day grind and the stress that goes with it is important for everyone. Whether it's a long weekend at the lake or a road trip with your new glamper or a beach getaway, or just a quiet afternoon with a book and picnic at a local park, schedule in breaks for yourself. This is too important to skip.
What Not to Bring With You on Vacation
While the perfect packing list is important, a list of things to leave at home – both literarily and figuratively – is just as crucial to the success of your trip.
If you approach your vacation just as you would at home – answering emails in real time, stressing over deadlines, worrying about things beyond your control, or limiting your activities and meals to what you are comfortable with, your vacation won't feel like a vacation after all.
That's why I thought it was important to chat about what doesn't need to go in the suitcase.
Here's what to leave behind.
The expectation that you are fully connected every second of every day. One of the great things about my job is that my work is portable. I can and do bring it with me everywhere.  Rather than watch the movie on our flight, I wrote five pages in a new book.  And while I'm here in Hawaii, I'll devote the hours between breakfast and lunch to writing (including this blog!)  These days, a lot of people take working vacations. Nothing wrong with that. But don't neglect the vacation part of your vacation!  Yes, it's wonderful to FaceTime your grandkids from the beach. It's a good idea to touch base with your family. But don't carry your phone around like a flotation device. You can put it down for a few hours. And you can stop scrolling Facebook. You aren't going to miss anything on social media. What you will miss is the most beautiful sunset, or the sweetest moments with your spouse, or the rainbow that transformed the sky and was gone in a nanosecond. Check. Out.
Leave your fear at home. Let me explain. You know that voice that says "You are too old for this" or "I never could do anything like that" or "I only eat chicken salad sandwiches" or "You are literally going to fall down that hill?" Yes. That voice. The one that limits you're options. The one that holds you back. Yes, in some cases it's the voice of reason. But beyond the issue of say, personal safety and the integrity of your bank account, tell that voice to take a hike. You are not too old for a new adventure. You are not so set in your ways that you can't try a new type of food you've never heard of and can't pronounce. I read recently that getting out of your comfort zone is when you make memories on vacation. You might, in fact, be an incredible hula dancer! So dance, Fierce friend. Go for it.
The curse of perfectionism. We've all seen the movies where the couple reaches a beautiful vista and it starts pouring down rain. Or they reach the end of the three-day trail only to realize the destination is an actual nudist colony in the mountains. Maybe that last one wasn't a movie. It was real life. Anyway, my point is to leave your inner perfectionist at home. Something on the trip isn't going to go as planned. Embrace the unexpected instead of letting it ruin your well-earned time off. Those unexpected moments are sometimes the most magical.
Alright, enough with the pep talk.
What to Pack for a Trip to the Tropics
These first three are non-negotiable and gracefully apply to any destination.
Arrive with a plan. You don't need an itinerary for every second of your trip but it's nice to have a few reservations put together, a list of things to do, and an idea of when a certain attraction is really crowded or if there's a local holiday where everything closes down for the day.
Arrive with a budget. This can be a ballpark. But be on the same page with others you are traveling with. There's nothing wrong with a reserving a little cash for a splurgey meal in fancy restaurant or an amazing massage. But one of my favorite vacay games is called "How Much Cool Stuff Can We Do For Free Or Almost?" Some of the best memories from my past vacations have been a result of that game.
Arrive with a good attitude. 'Nuff said.
Okay, let's talk about something fun.
One thing I love about coming to Hawaii is the excuse to adapt a completely new, tropical style. In Central Oregon, I typically don't wear bright floral prints or glamorous sun hats, not even in the summer. So when I go on a trip to the tropics, I make sure to bring some fun accessories and outfits that are perfect for the occasion (plus gallons upon gallons of sunscreen for my porcelain skin).
Here are my top picks for things you need for an island vacation in the dead of winter.
The Right Gear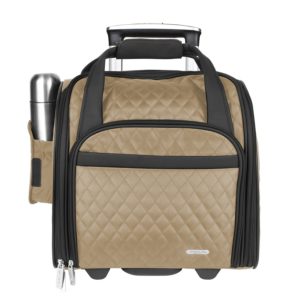 I always try to fit most of my stuff into the cutest and most efficient carryon. It has pockets and inner dividers and is just the right size to slide under the seat in front of you. Plus its adorable.
A truthful disclaimer: I didn't pack my entire two week vacation into a carryon.  My carryon is magical, but not as magical as say, a Mary Poppins bag. But, I did keep my packing pretty efficient with the help of the right carryon, a small suitcase to go with it, and my three tips for smart packing. 
Of course you can't go to the beach without a proper beach bag. Look at these lovelies.
Oh, and since I was beach bound, HELLO pretty beach towels!
A Glamorous Beach Hat
Look like Sophia Loren. Check.
Protect your baby face from the sunshine. Check.
Hide what happened to your hair in all this humidity. Check.
Fierce Cabana-Wear
When you're in a place like Hawaii, people just stroll the streets in their bathing suits. That is wonderful that they have the confidence to do that. Go for it, you bold souls. If you've got it, flaunt it. When it comes to my philosophy on bathing suit wearing, I only like to wear them if I am by the pool or beach. Like, if I'm actually going to be swimming. So to leave a little more to the imagination, I layer on fun caftans, sarongs, and coverups. Tassels, bright colors, crisp whites, pom moms, bold prints – I love it all. Seriously, when is a better time to flaunt your personality than with bright, tropical flair?
Other Practical Advice
Let's do a math problem with a little bit of physics and a little bit of common sense. When you estimate the number of books you need for the plane ride to and from your destination, plus the number of books you need for your quiet mornings with coffee or hours spent poolside, remember that you can save your poor husband's back by just bringing a Kindle or even using Audible, where you can listen to books on the go.
Math isn't my forte but my estimate for my trip was around 47 books, and the poor Chairman, while he is fit as a fiddle with the muscles of a 20 year old, just can't be expected to tote all of those books around.