This post may contain affiliate links. Full disclosure policy
THIS POST MAY CONTAIN REFERRAL LINKS. IF YOU CLICK THROUGH AND TAKE ACTION, I MAY BE COMPENSATED, AT NO ADDITIONAL COST TO YOU.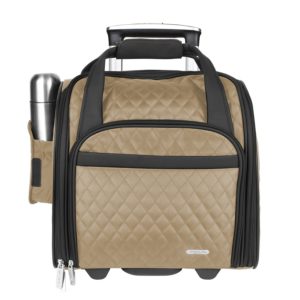 I'm about to go on tour again for my new book, HOPE ON THE INSIDE, and I've rolled out this tried and true carry on and needed to take a moment to sing its praises.
The second I saw it, I was pretty sure that the Travelon Underseat Carry-on was going to be my new favorite travel accessory. After an entire year of dozens of flights and so many hotels that I've lost count, I can state unequivocally that my instincts were spot-on.
This bag is fierce, fabulous, and basically the greatest piece of luggage I have ever owned. And I've owned a LOT.
Like most women, I love sharing a good thing.  Still, I never imagined I'd be writing an entire blog post about a single piece of luggage. However, the Travelon Carry-On warrants the honor.
Here's why.
IT FITS
When you buy an underseat carry-on, the general idea is that you want the bag to fit under the airline seat, right? In spite of this, my frequent experience with underseat bags has been that they often don't.
I can't guarantee you that the Travelon Carry-On will fit under the seat of every aircraft but I've had great luck with it.  So far, I've brought it on flights with United, Southwest, Alaska, and even a little Horizon Air prop plane and had no trouble sliding it under the seat in front of me.
Since, I really like having access to my bag during flights, that feature alone could make the Travelon Carry-On my new favorite. But there's a lot more to love about this bag.
POCKETS. SO MANY POCKETS.
During my book tours, I really am a road warrior, traveling to a new city or state nearly every day.  All that moving around can be a bit disorienting. Keeping my luggage organized by having a place for everything and everything in its place, helps save my sanity.
My new Travelon Carry-On is beautifully organized with tons of pockets that make it easy for me to find exactly what I need when I need it.
The top interior pocket zips up and has a clear plastic front so I can quickly spot what's inside. That's where I keep breath mints, antiseptic wipes, medications, tissues, glasses, and anything else I might need during my flight.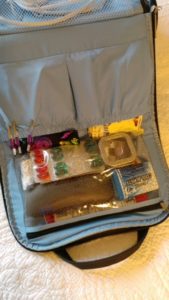 Beneath that, there are two good-sized elastic fabric pockets. I use one for my protein bars (always have a healthy snack available when you're traveling!) and the other for my pens and homemade fabric pouch with an assortment of my favorite teas (a nice cuppa is so comforting when you're on the road!).
The final interior pocket is generously sized, made from mesh, and zips at the top. I use that to store my computer and phone power cords. I love having easy access to those cords so I can power up my devices between flights or events.
All told, the interior of the Travelon Carry-On has five easy access interior pockets.
Five!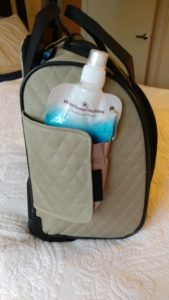 EASY ACCESS ON THE OUTSIDE
If that weren't enough, there are three more on the exterior.
The front of the bag has two easily accessed zippered compartments. The smaller one is the perfect size for a magazine, notebook, or journal.  The larger compartment is actually subdivided into two more compartments, making it easier to keep your papers organized, with an additional zippered mesh pocket that would be great for pens, phones, e-readers, or tablets.
The exterior compartment I have used most is the Velcro side pocket specially designed to hold a water bottle. Keeping hydrated during travel is so important. This handy water bottle caddy makes that much easier.
SO MUCH SPACE, MARY POPPINS WOULD APPROVE
Did you ever see that old Disney movie, Mary Poppins?  Do you remember the scene when Mary Poppins moves in with the Banks family and pulls everything she needs, even a floor lamp, from her seemingly bottomless carpet bag?
If Mary Poppins were around today, I'm pretty sure she'd scrap her carpet bag for a Travelon Carry-On.
Currently, the main compartment of mine is packed with the notebook where I keep assorted papers, notepads, and magazine articles, three books, my noise cancelling headphones, extra underclothes and socks (in case my checked luggage doesn't arrive when I do), my tablet, a knitting project, and my laptop computer.
That last item is particularly amazing because my laptop, while thin, is a very wide 17 inches.  Because if its size, many computer bags can't accommodate my laptop.  However, my computer slides into the bag vertically without a problem.
In spite of the diminutive dimensions, this bag holds a ton of stuff! Even with all I put into it, I actually have room to spare. It's crazy! But in a very good way.
CLEVER DETAILS
In addition to all of the above, the Travelon Underseat Carry-On has two more features I love.
The back of the bag has a sturdy fabric sleeve so you can slip it onto the handle of another suitcase. I'm traveling pretty light this tour but if you've got a lot of luggage, this features makes life so much easier.
Also, the Travelon bag comes with an extra, very large and very sturdy matching zippered shoulder bag.  This can be useful if you end up doing a bit of unexpected retail therapy on your trip and need a way to transport those treasures back home.
If your checked bag is a couple of pounds over the limit, you can offload a few items into the shoulder bag to avoid the overweight baggage fee.
THE BEST CARRY ON BAG? PRETTY CLOSE.
As I said before, I would never have thought I'd do an entire blog post on a piece of luggage but I am so thrilled with this bag that I really want people to know about it.
However, in the interest of being even-handed, I tried to think if there was anything that could make the Travelon Underseat Carry-On better. I could only come up with two things, both pretty nit-picky.
I do wish the bag had "spinner" wheels, that would turn in all directions. That would make it roll even more easily. However, spinner wheels are taller so I don't think that's an option because then the bag couldn't fit under an airline seat, which is kind of the whole point.
Also, while the Travelon bag comes in a variety of colors, I wish they offered a nice paisley fabric to match my suitcase.
See? I told you I was nit-picky.
Bottom line: the Travelon Underseat Carry-On is far and away the best designed piece of luggage I've ever owned.  Every road warrior I know needs this bag. That includes you!