This post may contain affiliate links. Full disclosure policy
In the hours and days since completing my second sprint triathlon, I have been basking in my accomplishment and enjoying the rewards of all that hard work. (You can read about my first foray into triathlons here.)
Eating absolutely anything I wanted after the race was high on the list. Because, let's face it, this is one of the primary benefits of running a tri. I've also spent time admiring my finisher's medal. It's big, and pink, and super-girly, exactly befitting of swag for the so-named "Girlfriends Triathlon".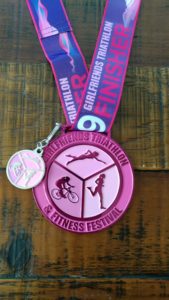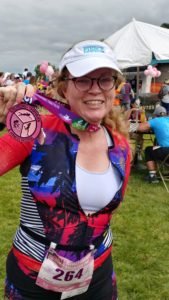 Look at my pink swag! Thanks Girlfriends Triathlon & Fitness Festival!
I've spent quite a bit of time sharing dramatic stories and humorous anecdotes about the race with friends and family. The story of how I simply can NOT seem to swim in a straight line is a particular favorite. If the nice man in the yellow kayak wasn't there to guide me back onto the course, I would have swum across the river instead of down it and ended up in a different state!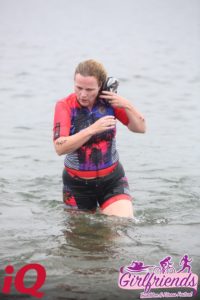 Wringing water out of my hair and silently thanking yellow-kayak-man
But the thing that people keep asking me is this, "So what is it really like? I mean, what happens when you compete in a triathlon?"
Very good question! And one I thought would be worth addressing today. Fair warning: there is a lot of information here, so buckle up for a long post! This was my second triathlon ever so, so combined with what I learned at my first triathlon, I have some good information to share here!
Here's what to expect at a triathlon.
WhAT TO EXPECT AT A TRIATHLON: THE LEAD UP TO RACE DAY
Race Day is the Big Day, of course, but there's a lot that goes on leading up to it. Obviously, there will be months of training beforehand, whether you are a veteran athlete or are learning to run a mile for the first time. But things really start to get real, and exciting, in the day or two prior to the race.
Some races allow you to pick up your race packet a few days before the event. I really recommend that. This will give you plenty of time to review the rules and procedures, everything from safety concerns and the location of parking lots and port-a-potties. Also, it's one less thing to worry about on race day which is good because you'll probably be nervous enough as it is.
Be sure to eat well, avoid alcohol, and get several good night's sleep in the week before your race. It's likely that you won't get much sleep on the night before the race. But if you've slept well for a few nights before, you should be fine.
THE MORNING OF THE BIG DAY
It's here at last! Race day!
Chances are good that you'll be so excited you'll wake up before the sun all on your own. But just in case you doze off, set your alarm to go off at least 3 hours before your start time. That will give you time to eat breakfast, aiming to take in about 400 calories of food that's easy to digest. A banana and a whole grain bar is perfect for me. Put on your race gear (I wear a triathlon suit that I can swim, bike and run in) and check at least twice to make sure you have absolutely everything you need.
It's a good idea to arrive at the race venue about 90 minutes ahead of your start time. Unload your gear and check the tire pressure on your bike one last time. If you didn't pick up your race packet ahead of time, go to registration when you arrive. Most races have a mandatory safety briefing. Be sure to attend so you understand all the rules and procedures. After all this work, it would be awful to be disqualified for breaking a rule you weren't aware of!
Inside your packet, you'll find three items with your competitor number printed on it. There will be two stickers; the small one is to put on your bike helmet, the larger is for your bike. The race bib is pinned to your back during the bike race, and your front during the run. I attach mine to an elastic race belt, so I can quickly turn it around. Your race bib will probably have tear off tabs for a post-race meal, beverage, or other goodies. Don't lose them! You're going to be very excited about that victory taco after you cross the finish line!
You will also be given a colored swim cap. That color will indicate which age group, or wave, you will swim with. You'll also receive a strap with a timing chip inside. This will be strapped around one of your ankles to measure your time. Once you've put it on, be careful NOT to cross any of the timing mats at the various exits and entrances to the course until the race actually starts.
Once you've got your packet, you'll head off to body marking. Volunteers will use Sharpie markers to write your age, event, and competitor number on your legs and/or arms. (Don't worry, a little scrubbing with soap and water will remove them later.). Once you've got your body marks, it's time to bring your gear to the transition area.
TRANSITION IS WHERE THE MAGIC HAPPENS
Transition is a roped off area with lots and lots of bike racks. Only athletes are allowed inside so blow a kiss to your spouse/cheerleaders/pit crew before you enter. It's probably better that you're on your own because now is the time you really need to focus. This is more of the logistical portion of what to expect at a triathlon and is so important!
You will be assigned a spot on a bike rack that corresponds with your race number. Hang your bike on the rack by the seat. The area immediately under that is where you'll set up the rest of you gear. It's a teeny weeny space on the bar, only about 18 inches. Use a small towel to lay out your gear. Resist the urge to spread beyond this. Nothing will earn the ire of your fellow racers more quickly than being a space hog. I carry my gear in plastic 5-gallon bucket and turn it over to serve as a seat when I'm changing shoes.
Lay out your equipment carefully for each event. You'll need your colored cap and goggles for the swim. For the bike portion, you'll need your helmet, bike shoes, and race bib turned to your back and, obviously, your bike and water bottle. I also include a spray bottle and wash cloth to clean off my feet. For the run, I have my running shoes and socks, sun visor, and a note to remind me to turn my bib to the front. I also have "race food", either Gu or Shot Blocks to wolf down between events. You really do need to feed your body during the race.
Spend time double-checking your equipment and mentally going over your transition procedures. The clock will be running even while you're in transition, so making sure your changes are quick and efficient can make a big difference in your overall finish time. Be sure to take some time to familiarize yourself with the various exits and entrances. They may be different for each portion of the race.
READY, SET, GO SWIM!
Your first event will be the swim. Some events take place in pools but open water swims, held in a lake, river, or ocean, are more common. Though length of swims can vary, the distance for a sprint triathlon is usually half a mile. Olympic Triathlon swims are usually one mile. Many people wear wet suits for open swims but they're only required if the water is very cold. Wetsuits can be pricey but sometimes they can be rented. I prefer to stick with events that don't require one. If you have time, it's a good idea to get into the water and swim a few warm up strokes.
For open swim events, you'll enter the water with other swimmers in your age group. You'll all be wearing the same colored cap. Some races start on the beach or bank, with competitors running into the water. More often, your group will be instructed to enter the water and line up behind a buoy or rope until the start announcement.
If this is your first triathlon or you're not a very strong swimmer, it's smart to stay at the back of the pack. Otherwise, there's a good chance you'll get kicked in the face! Buoys will mark the course. There will also be safety officials in kayaks or paddleboards nearby.
It's nice to know that help is close if needed, but chances are you won't need it. You've got this! Just swim at a good steady pace, similar to your training pace. Remember, you need to save energy for the bike and run. That's some of the best advice I can give when sharing what to expect at a triathlon.
…AND NOW BIKE…
When your swim is finished, you'll exit the water into the transition area. There will be mats for you to walk on to protect your feet. If you're feeling energetic, you can jog in – remember that the clock is ticking – but transition is also a time to catch your breath. If you're feeling winded, just walk. Put on your bike shoes, gloves, race bib, and helmet. Eat something quickly, unrack your bike, and WALK your bike to the start line. Volunteers will tell you where and when you can mount your bike.
The distance for biking a sprint triathlon is usually 12.5 miles. For an Olympic, it's 25. Most biking will take place on roads that are closed to traffic. However, sometimes there may be limited car traffic so be sure to pay attention. In either instance, you will ride on the right side of the road unless you are passing. Different races may have different rules about passing and drafting, so be sure to familiarize yourself with the rules ahead of time. Again, it really would stink to be disqualified at this stage!
Ride at a good, steady pace but don't go all out just yet. Remember, you still need to save your legs for the run! At the end of the ride, you'll probably dismount your bike at or near the same place you mounted it. It's important to follow the dismount instruction and walk your bike into transition to avoid disqualification.
Run To The Finish Line!
After returning to your transition space, you'll re-rack your bike, remove your helmet and gloves, turn your race bib to the front, and change into your running shoes. It's a good idea to have some water and eat something before the run. Some people like to bring a water bottle on the run, but there will likely be water stops along the course.
Getting to this final leg of the tri is exciting! Run and done! (Sprint triathletes will run 5K, or 3.1 miles. Olympic distance is 10K, or 6.2 miles.) But don't let that excitement steer you too far away from your strategy. Pushing too hard in the first mile might mean you hit a wall in the last mile. Stick to a good steady pace. Enjoy the scenery, the presence of your fellow athletes, and the moment.
When it comes to water, my motto is this: if someone offers it, take it. Volunteers will be standing by the course holding cups of water or sports drink. Tell them which you prefer as you approach. Some people run as they drink but I prefer to walk. Otherwise, the water ends up on me instead of in me. When you are finished drinking, toss the cup into a nearby trash can.
Hopefully, you've saved some juice for that last quarter mile because now is the time to turn on the speed! Nothing feels quite as great as sailing across that finish line as the crowd applauds and the announcer calls out your name.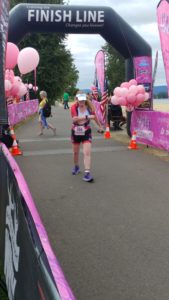 Only one full step over the finish line, already walking
Getting your finisher's medal is a big moment too. Smile for the pictures and hold it high!
TIME TO PARTY
Did you think I was done with my advice for what to expect at a triathlon? Stick with me – this part is important!
After you collect your medal, it's time to bask in the glow of your accomplishment. It's also time to eat! Most races will have a post-race buffet for competitors. This a good thing because chances are you'll never have felt so hungry.
Many races also feature and adults-only area with beer or wine. (My last race offered mimosas. I thought this was brilliant.) You've definitely earned a victory toast but remember that alcohol is dehydrating so don't overdo it. What your body needs after a race is lots and lots of water.
Many races will have booths for sponsors that feature products of interest to athletes, so be sure to check those out, thank the vendors, and perhaps make a purchase. After all, they helped make this event possible.
There will probably be a tent with computer screens or tablets that can give you instant information about your ranking and times for the race overall and each of the separate events.
Maybe you are thrilled by your time. Maybe you feel like you should have been faster. Remember, no matter where you finished, you finished and that is huge! Give yourself a big pat on the back.
You did it! You are a triathlete!
Yes, YOU!
Thanks for reading this post on what to expect at a triathlon! I hope it helps others in the same boat as me. If you are a new or aspiring triathlete and need to buy a bike, check out my Bicycle Buyers Guide. 
Make sure to share this post on what to expect at a triathlon with any of your friends that are thinking about trying a try!
THIS POST MAY CONTAIN REFERRAL LINKS. IF YOU CLICK THROUGH AND TAKE ACTION, I MAY BE COMPENSATED, AT NO ADDITIONAL COST TO YOU.