This post may contain affiliate links. Full disclosure policy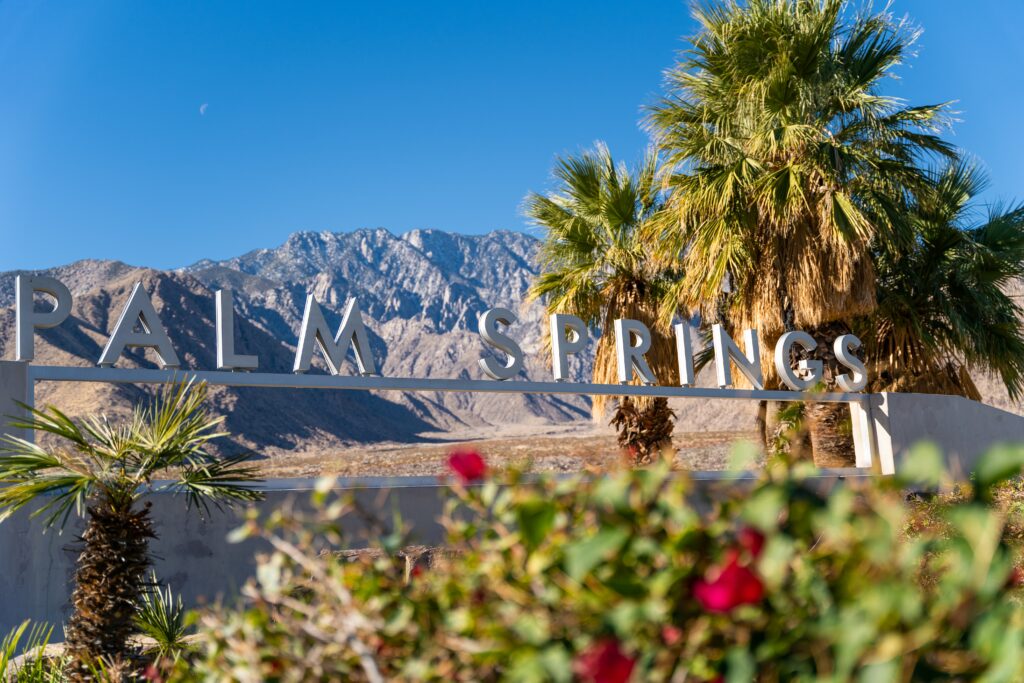 Palm Springs is known as a golfer's haven. But there's a lot to do in Palm Springs besides golf! Read on for a list of fun activities and adventures to try during your next – or first – visit!
A Non-Golfer's Guide to Fun In Palm Springs
My husband and I are just wrapping up an extended stay in sunny LaQuinta, California.
Along with Palm Springs, Palm Desert, Indian Wells, and others, La Quinta is a town in the warm and sunny Coachella Valley that's become a haven for snowbirds. A whole bunch of those birds come to play golf.
But what about the rest of us? Is there anything on the fun docket for visitors to Coachella Valley who don't swing a club?
Yes! Plenty!
Outdoor and indoor activities and adventures abound in this beautiful desert region. Honestly, there's much more to do in Palm Springs besides golf than I can possibly cover in one post. There's even more to do than I could try in a month-long visit!
But here are a few suggestions to get you started.
Take A Hike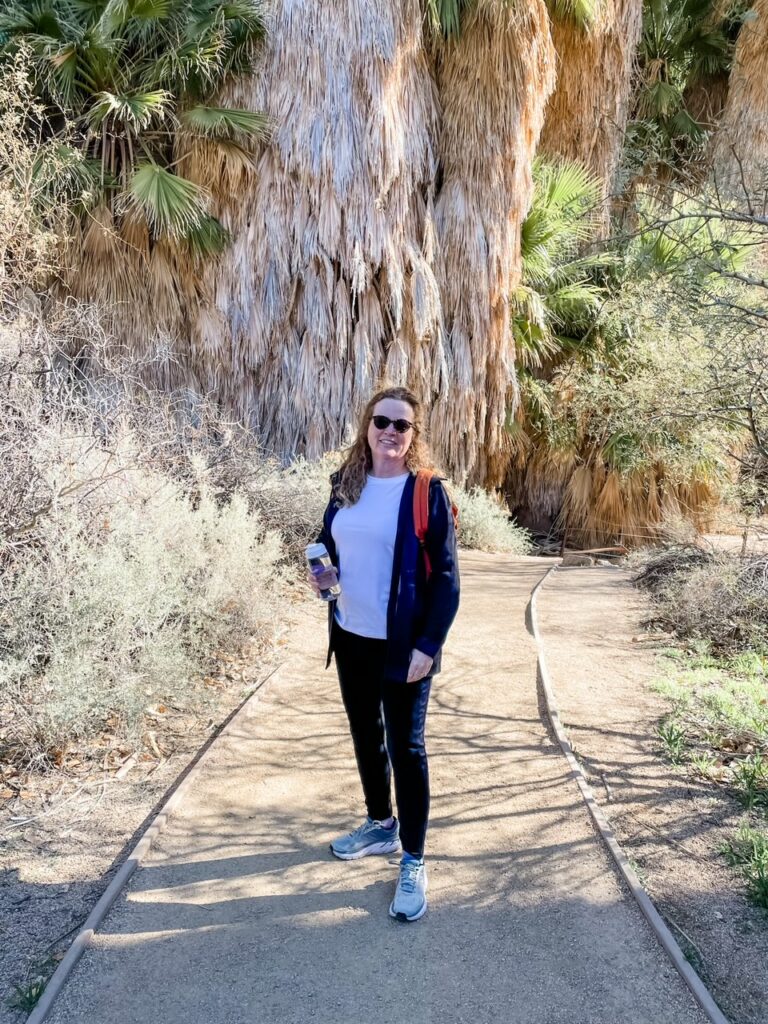 Until we arrived, I had no idea how many hiking trails we'd find in Palm Springs and the Coachella Valley area. If you've only got time for one, definitely make it hike through the incredible landscapes of Joshua Tree National Park. There are plenty of hikes to choose from, from short to long and easy to strenuous.
We made two visits to Joshua Tree to hike the Cottonwood Spring trail and the Barker Dam trail. Both were fairly easy, about a mile long, and just beautiful! I definitely want to return. But dog lovers should know that four-legged friends are not allowed on trails at Joshua Tree.
Dogs are welcome at the Bear Creek and Cove Oasis trails in La Quinta. These are wonderful spots to walk with dogs. The Bear Creek trails are fairly flat, mostly paved, and have water fountains along the route.  Dogs are required to stay on the trails, so they don't disturb wildlife habitats.
No matter where you're hiking, bring water and let people know where you'll be. Also, stay on the marked trails! It can be easy to get lost in the desert. For more hikes in Palm Springs, check out this article from the Desert Sun.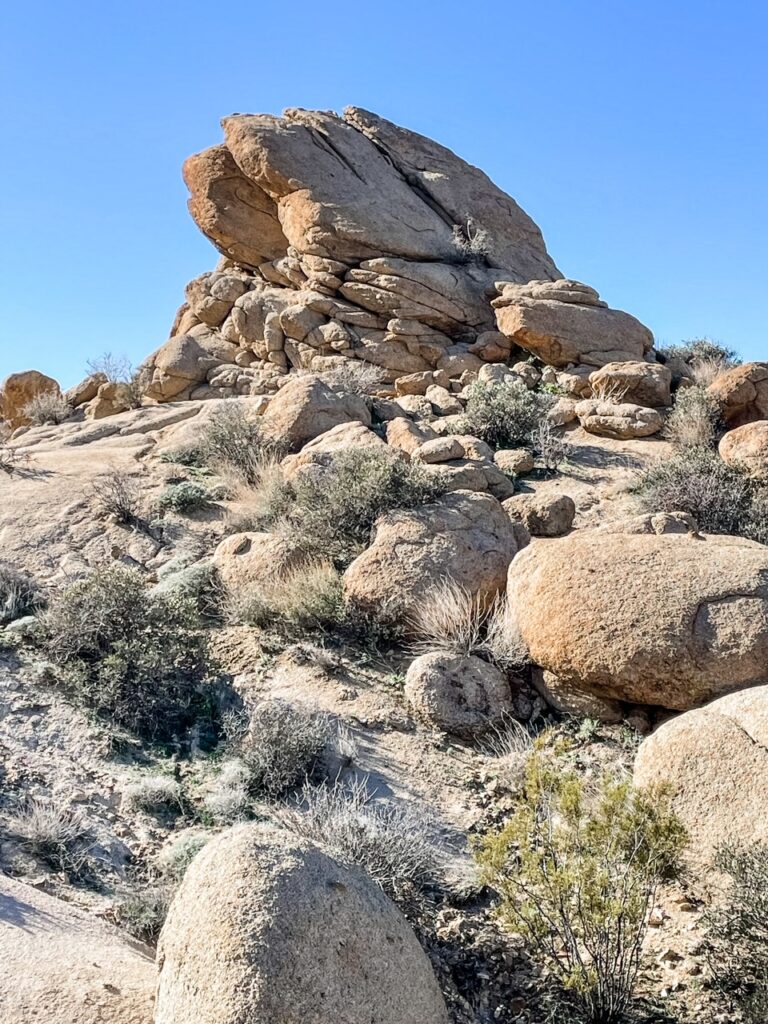 Ride A Bike
We were so impressed by the many bike lanes and bike trails in the area. If you're looking for something to do in Palm Springs besides golf, make time to hop on a bike. It's a great way to get some exercise while getting to know the area.
Bike rental companies abound in Palm Springs and Coachella Valley. A quick google search will show you plenty of options in the town where you're staying.
You can rent for a month, a week, a day, or even an hour. And most companies offer a wide variety of bikes, from plain Jane cruisers and competition road bikes to e-bikes. If you're in the market for a new bike, renting can be a great way to try out a new model.
Soak In A Spring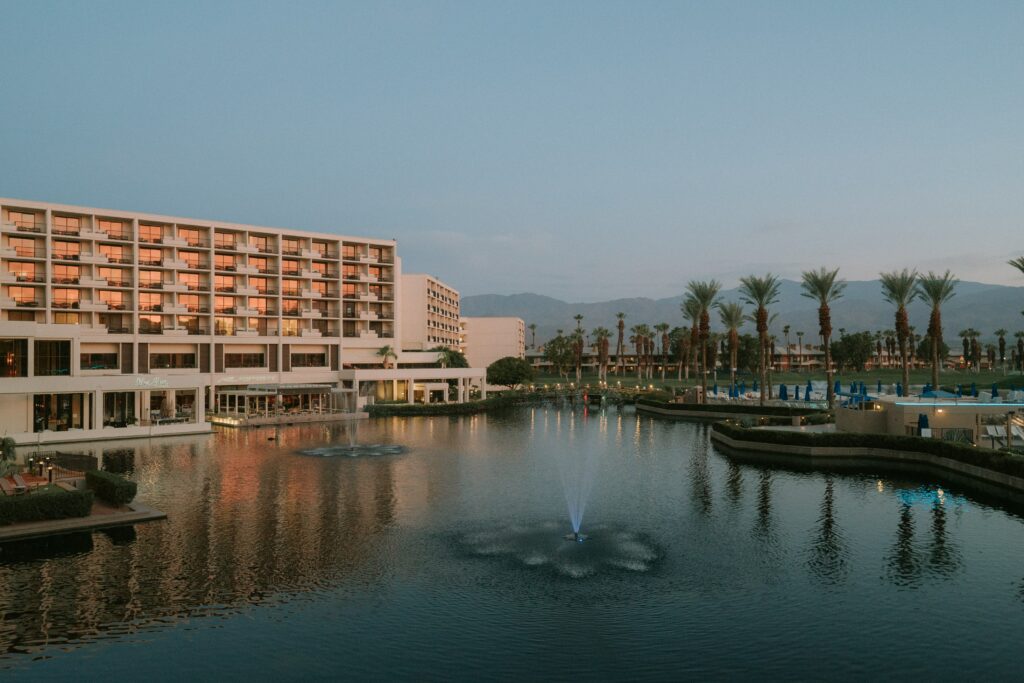 Hotels and resorts boasting spas with hot springs and mineral pools for their guests are one of Palm Springs's many attractions.
But you don't necessarily have to book a hotel stay to enjoy a relaxing soak in a hot spring. Quite a few area resorts offer hot spring and pool day passes. It might be just the treat your aching muscles need after a long hike or bike ride.
Feed A Giraffe!
We did so many fun things during our visit to La Quinta. But one of the highlights was a visit to the Living Desert Zoo and Gardens.
This well-laid out, non-profit desert botanical gardens and zoo is home to more than 500 animals. I was fascinated by the see-through dens of the naked mole rats and impressed by the hospital, where you can actually see animals being treated and cared for.
But my absolute favorite was the opportunity to get up close and personal with a giraffe! Feeding the giraffes costs a little extra, but it was an experience I'll never forget.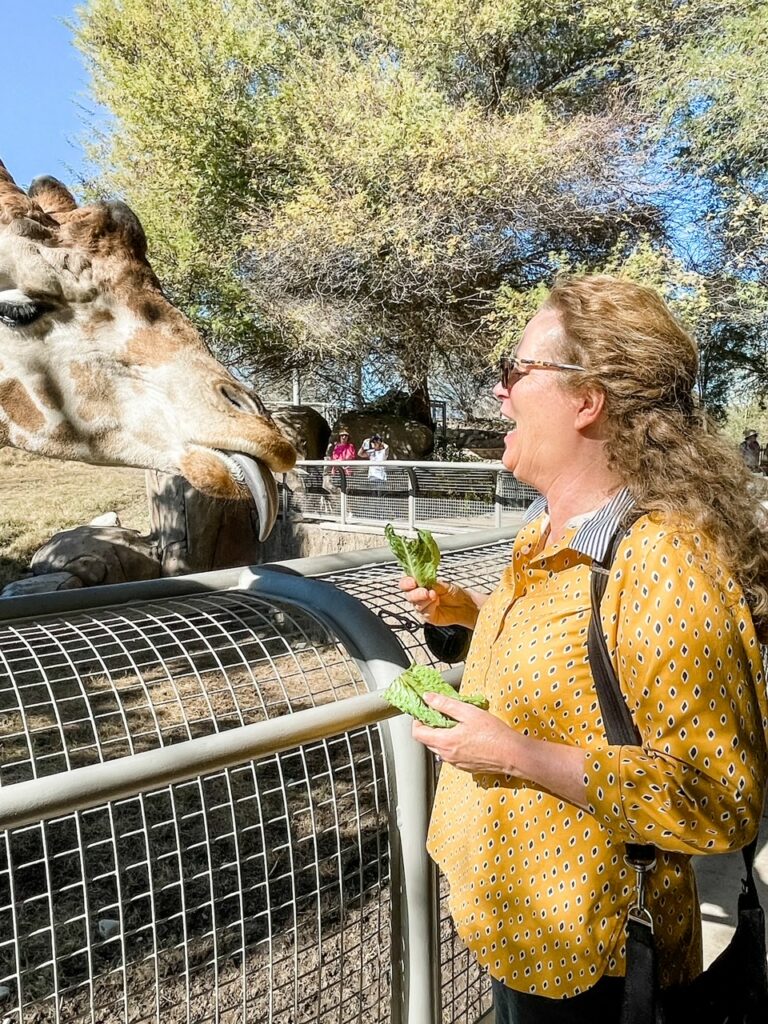 See A Show
We weren't able to score any tickets this time, but the McCallum Theater in Palm Desert has a huge roster of concerts and shows from Broadway touring companies.
The nearby Agua Calliente and Morongo Casinos host any number of musical headliners. And if you're so inclined, you can try your luck at the slots or tables before or after the show.
Learn To Cook
As all of you who have been following my blog know, cooking is one of my favorite pastimes.
So I was excited to stumble upon Cooking With Class in La Quinta, which offers two-hour demonstration-cooking classes. My excitement grew when I discovered a class centered on Thai cuisine, something I would really like to know more about.
I signed up for the class and showed up right on time but…24 hours late. So disappointing! I don't know how I managed to write Thursday down in my calendar instead of Wednesday, but I did.
Oh, well. I bet it would have been a terrific class. I'll definitely try Cooking With Class on my next visit to Palm Springs. Because when it comes to things I'd like to try besides golf, learning to cook something new tops the list.
Speaking of food…
Dine Al Fresco
Palm Springs has so many wonderful restaurants that dining out really does qualify as an activity, especially dining al fresco!
Snowbirds and locals alike love enjoying a meal outdoors, even if the weather turns a little chilly. And by chilly, I mean under 67 degrees. Restaurants in the area have mastered the use of outdoor heaters, so it's pleasant to dine al fresco practically all year round.
It would really be impossible for me to list my favorite restaurants in the area, but if you're looking for a special occasion restaurant offering delicious food and great service in an incomparable setting, try Lavender Bistro in La Quinta.
Dining under a green canopy of trees wrapped with lights reminded us of the old Tavern on the Green in New York. It's a very elegant spot to celebrate a special day or just being together.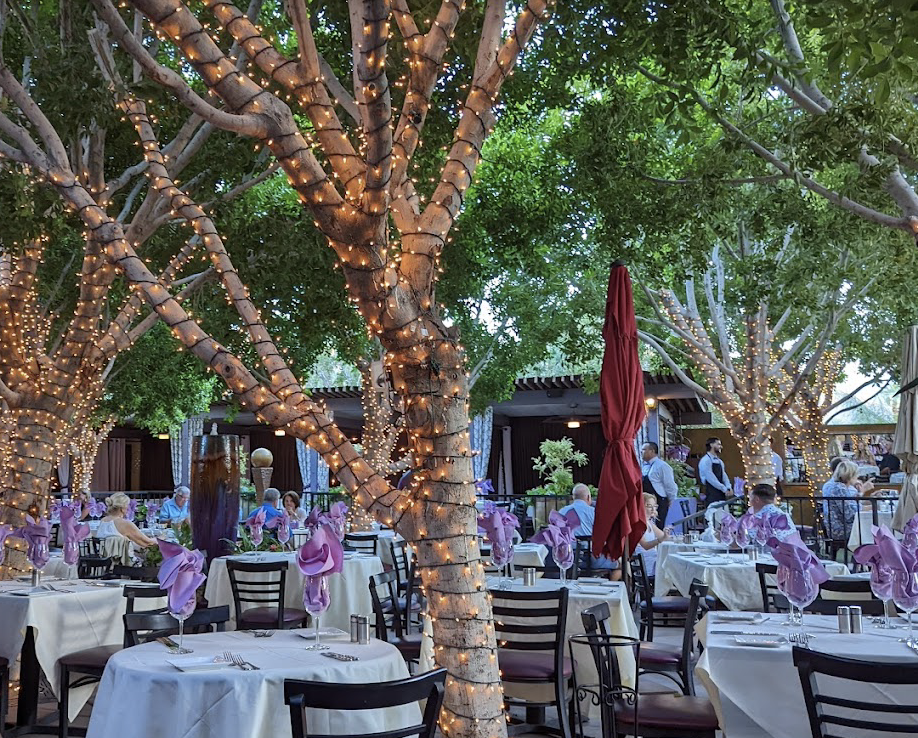 Visit An Outdoor Market
Almost every town in Palm Springs has a weekly farmer's market, and a quick online search will give to the date and hours for markets near you. I went to the La Quinta Farmer's Market three times during our stay, buying fresh produce, locally grown dates, cheese, and other items. I paid a bit more than I would have in the supermarket, but the freshness and quality of the goods were worth it!
We also went to Art on Main events twice during our stay. On alternate Saturdays during the winter and spring, Old Town La Quinta Village is closed to motor traffic as the streets become home to booths hosting a huge variety of extremely talented local artists.
There's so much to see! It's a wonderful way to spend an afternoon. And who knows, you might just go home with a one-of-a-kind piece of art as a memento of your trip!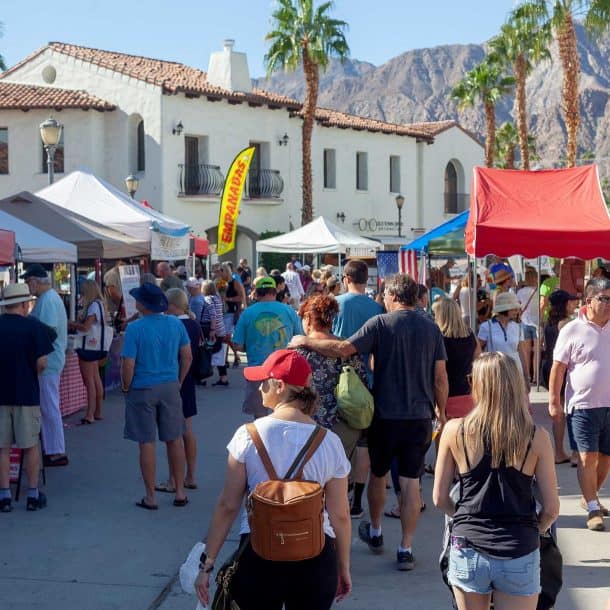 Take In the View
An activity that comes highly recommended as something to do in Palm Springs besides golf is to take a ride on the Palm Springs Aerial Tramway.
The 10-minute tram ride carries you through the vistas of Chino Canyon to Mt. San Jacinto State Park, an elevation of more than 8,000 feet. Once there, you can enjoy a meal or a drink at the summit, hike around the park, or just enjoy the view.
At least, that's what I hear. The tram is a very popular attraction, and you really do need to purchase tickets in advance. I didn't realize that on this trip, but I'll be prepared next time. It's always good to have something to look forward to!
Update Your Wardrobe
If shopping is your idea of a good time, you're going to love Palm Springs! There are boutiques and gift shops on almost every corner, each more adorable than the last. A friend and I had a wonderful time browsing through the unique shops in Old Town La Quinta.
Are you up for a full-on shopping marathon? Then you might want to visit the Desert Premium Outlets, north of Coachella valley, with dozens of high-end, designer stores. And if you're looking for quality that's more affordable, check out the Cabazon outlets that are right next door.
So Much to Do In Palm Springs Besides Golf!
As you can tell, there are all kinds of things to do in Palm Springs besides golf!
My list really did just scratch the surface. But if you ever have a chance to visit, I hope you'll try a few of my suggestions.