This post may contain affiliate links. Full disclosure policy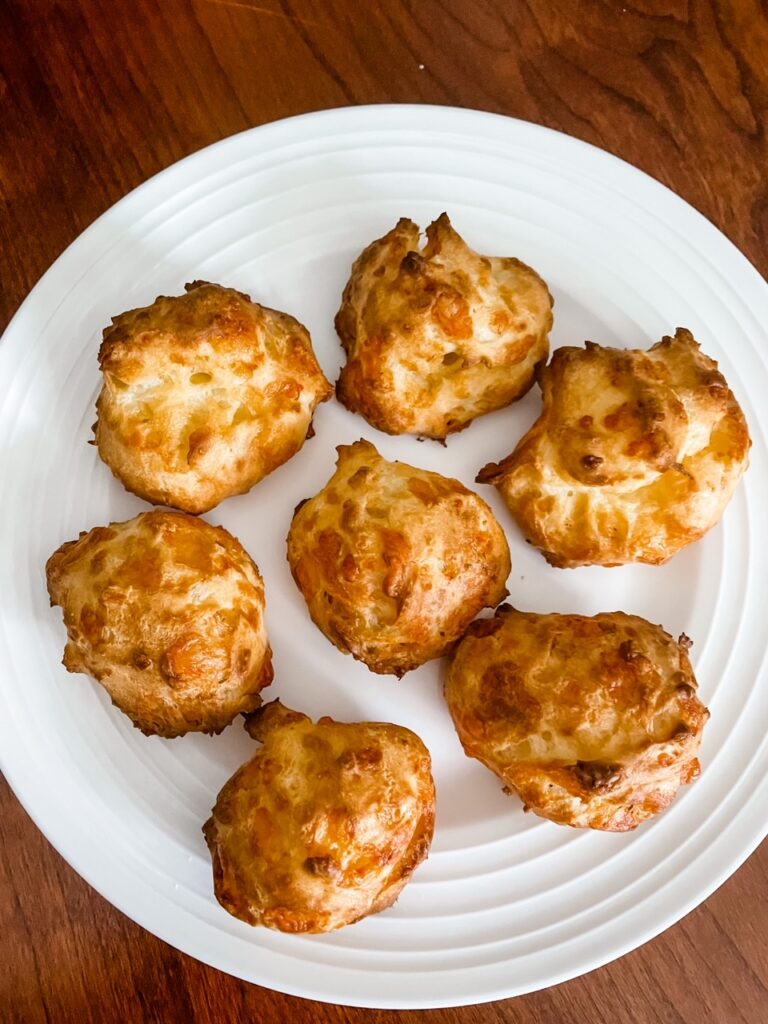 These decadent, buttery little morsels are a classic of French cuisine. Surprisingly simple to make –and to make ahead – Easy Gougeres are one of my favorite appetizers. You'll love them!
Easy Gougeres – My Go-To Appetizer Since Back in The Day
Easy Gougeres appetizers have been a secret weapon in my entertaining arsenal for a long time.
A VERY long time.
Weddings tend to be far more lavish and expensive than when my husband and I married more than four decades ago. But even by the standards of the time, the budget for my wedding to the Chairman was decidedly modest.
Basically, I had a guest list of one hundred and twenty and no money. What I did have was a love for cooking and entertaining, so I catered for our wedding myself.
Of course, it wasn't just me. My family pitched in too.
My dad – a butcher and avid fisherman – supplied crayfish and several salmon he'd caught himself and some beef tenderloins. And my mom and sisters helped organize and serve the cold buffet because the girl wearing white really couldn't be the same girl who refilled the potato salad bowl.
However, in the weeks before the wedding, I cooked and cooked and cooked and cooked.
The thing I cooked the most of was these Easy Gougeres. Only I didn't know they were called gougeres at the time. Back then, my sisters and I referred to them as Cheese Wangos. Sometimes we still do.
But gougeres by any other name are still scrumptious and surprisingly simple to make. Then and now, these rich, cheesy, buttery, melt-in-your-mouth morsels are my go-to appetizer.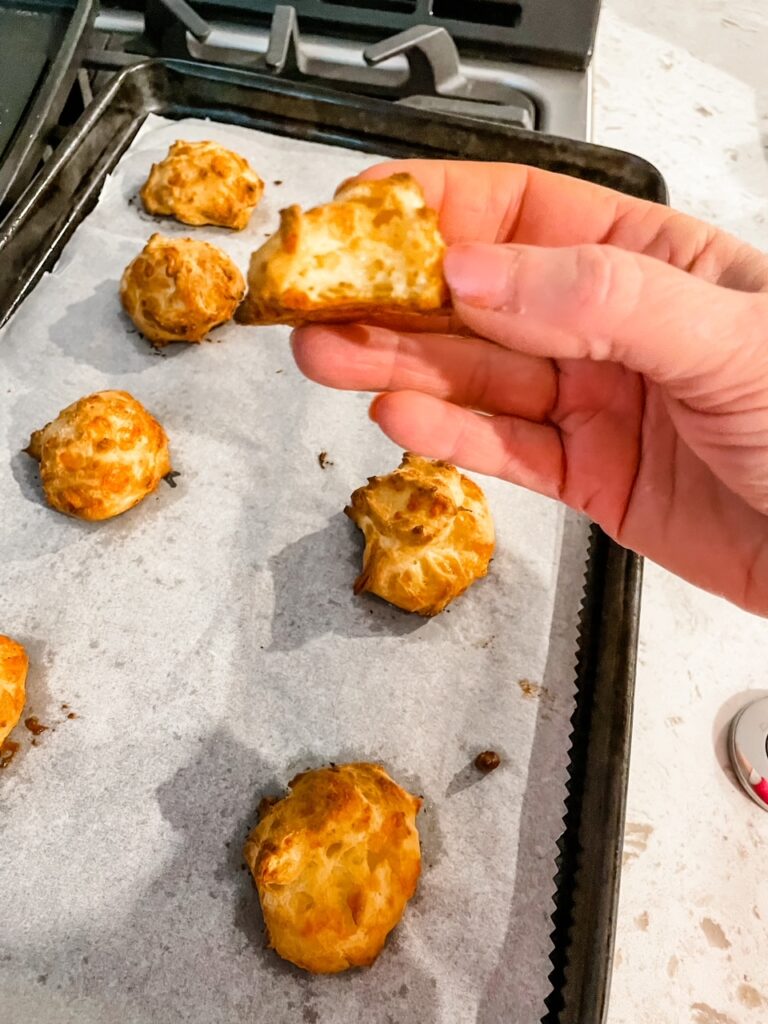 What Are Gougeres and What Do You Need To Make Them?
Gougeres, a classic of French cuisine, are made by combining choux pastry dough with cheese and baking them in the oven until they are puffed, crisp on the outside, tender on the inside and golden brown.
Essentially, gougeres are to-die-for cheese puffs that aren't at all difficult to make.
There are quite a number of variations available, but my easy gougeres recipe calls for just seven ingredients…
Milk
Butter
Salt
Flour
Eggs
Dijon mustard
Gruyere cheese
Making Easy Gougeres
The process of making gougeres starts by melting the milk, butter, and salt together on the stove, then quickly mixing in all the flour to make a smooth and sticky dough.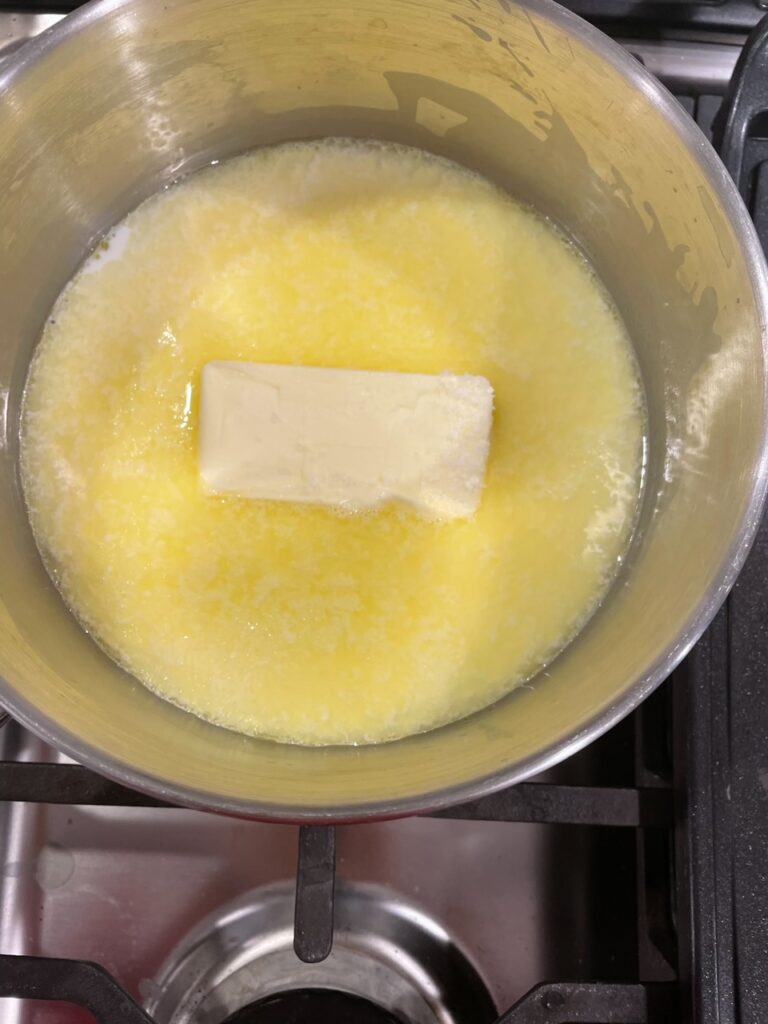 After letting the dough cool for a bit, you'll mix in eggs and egg white until they're well combined into a smooth but very wet dough, then add mustard and cheese.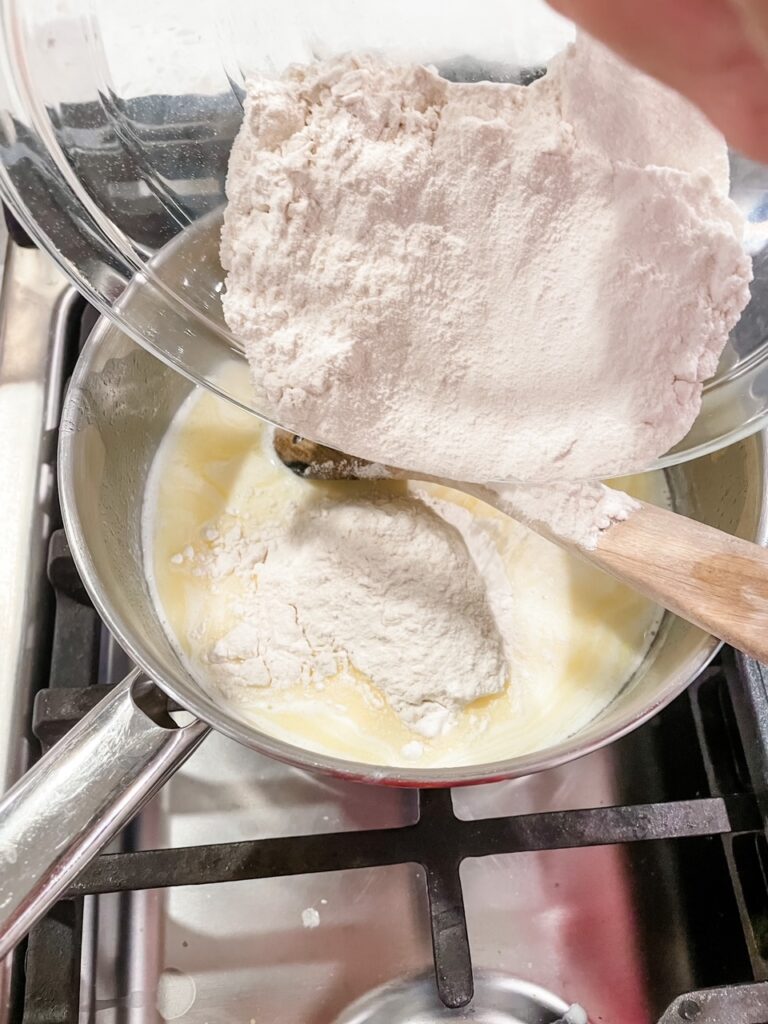 My preferred cheese for gougeres is Gruyere. You can also substitute Parmesan, Swiss, Manchego, Asiago, etc. A cheese with a lower moisture content will result in lighter gougeres but, really, they'll taste good no matter what cheese you use.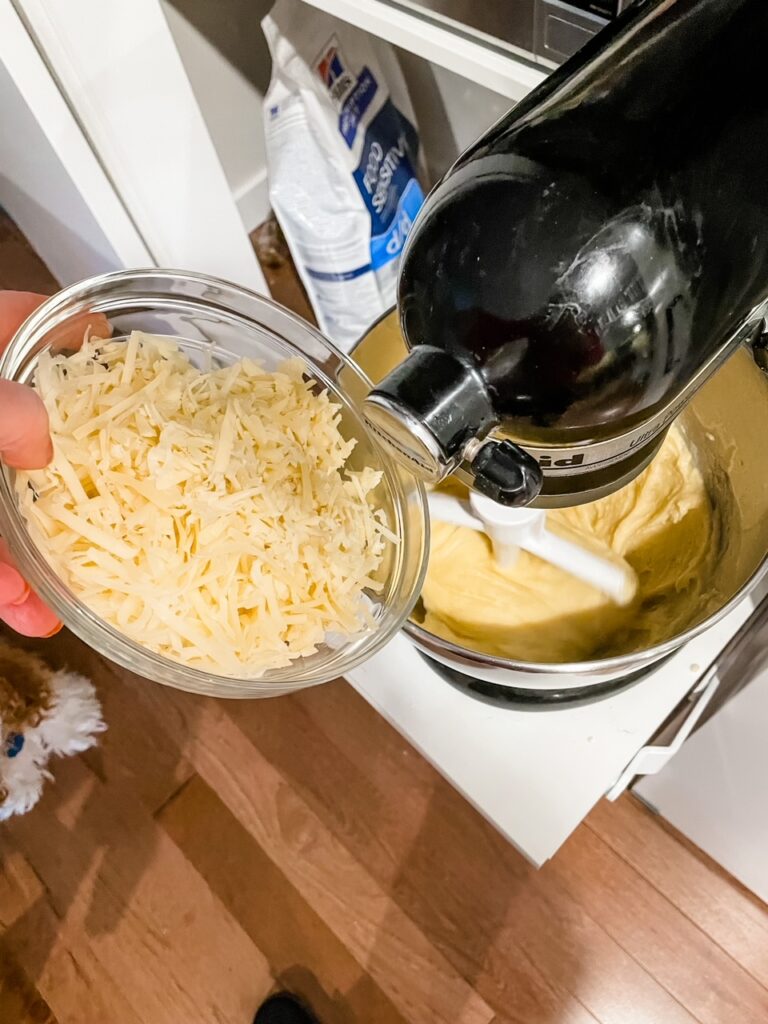 When the dough is ready, you simply scoop generous teaspoonfuls onto a parchment lined sheet for baking.
It's that easy!
A hot from the oven gougeres is a little taste of heaven. So, I like to coordinate the cooking time with the arrival of my guests. But one of the other things I love about gougeres is the fact that they're easy to prepare in advance.
Making Easy Gougeres Ahead of Time
If I'm hosting a small dinner or family party, I'll often bake my gougeres earlier in the day and then warm them up in a preheated oven for 3 to 4 minutes after my guests arrive.
And if that feels like too much trouble or if you forget to reheat, they're also delicious served at room temperature.
But guess what?
You can also scoop the unbaked gougeres dough onto baking sheets, freeze them thoroughly, then store them in plastic zipper bags in the freezer for up to two months!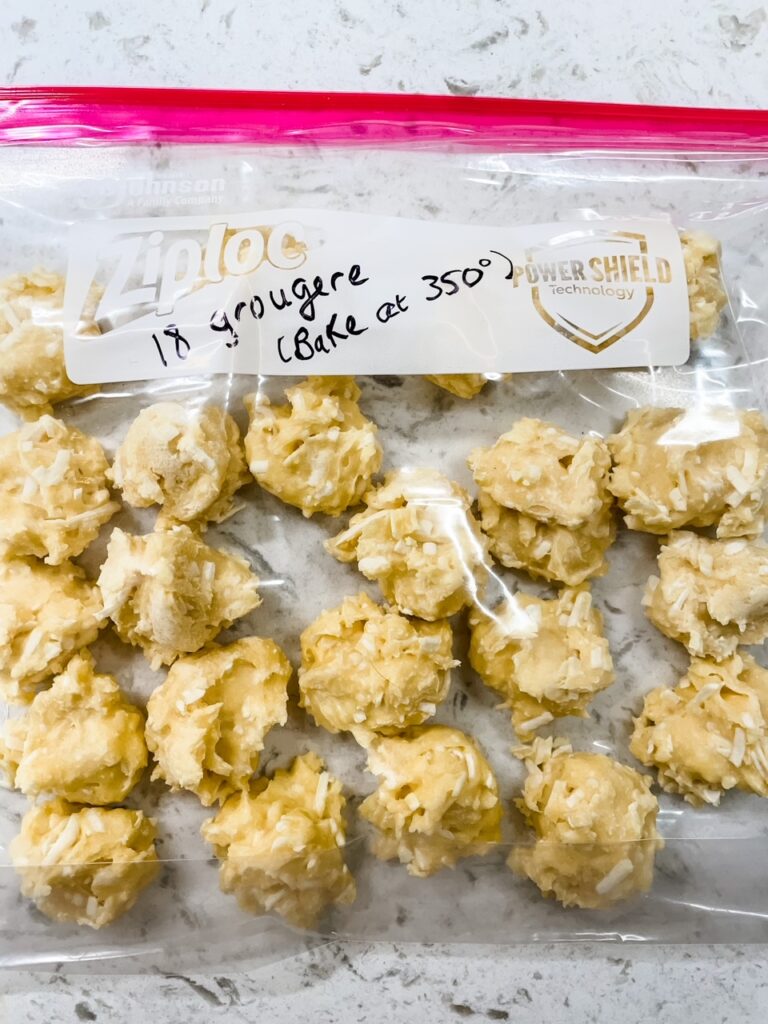 That means, if you're having a big party, you can make and freeze dozens, scores, and even hundreds of gougeres ahead of time, then bake and serve them on the big day!
That's what I did as a bride on a budget all those years ago. My easy gougeres were a big hit, and the marriage has lasted for more than four decades.
Nothing not to love about that, am I right?
Print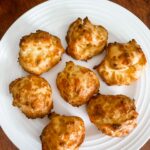 Easy Gougeres: French Appetizers
---
Author:

Yield:

45

servings

1

x
1 cup

milk

½ cup

unsalted butter

3/4 tsp

salt

1 cup

white all purpose flour

4

whole large eggs, room temperature

1

egg white

1

T Dijon mustard

2 cups

shredded gruyere cheese
---
Instructions
Preheat oven to 350. Line a baking sheet with parchment paper.
Place milk, butter, and salt in a heavy bottomed pan over medium heat. Melt butter and bring mixture to boil.
Add the flour all at once. Stir vigorously with a wooden spoon until well combined and then continues stirring for another full minute, until the dough is perfectly smooth but still sticky. Take off heat and cool for 5 minutes.
Place dough in mixer with a paddle attachment. Beat in whole eggs, one at a time, then the egg white. Keep mixing until the eggs are well combined and the dough is smooth. (The dough will be quite wet at this point). Mix in the mustard, and then the cheese. Remove the mixer from the bowl and use a spatula to scrape the sides of the bowl and stir the dough my hand one last time. (If you don't have a mixer, all of the above can be done by hand with a spatula and a strong arm.)
Scoop heaping teaspoons of the dough on the prepared baking sheet, about two inches apart. Bake in preheated oven for about 16-18 minutes or until they are pulled and golden brown, turning sheet halfway through. (Additional dough can be scooped onto baking sheet as above, frozen on tray, and then placed in Ziploc bags for later use. Bake as usual, but increase the baking time about 4 minutes.)