This post may contain affiliate links. Full disclosure policy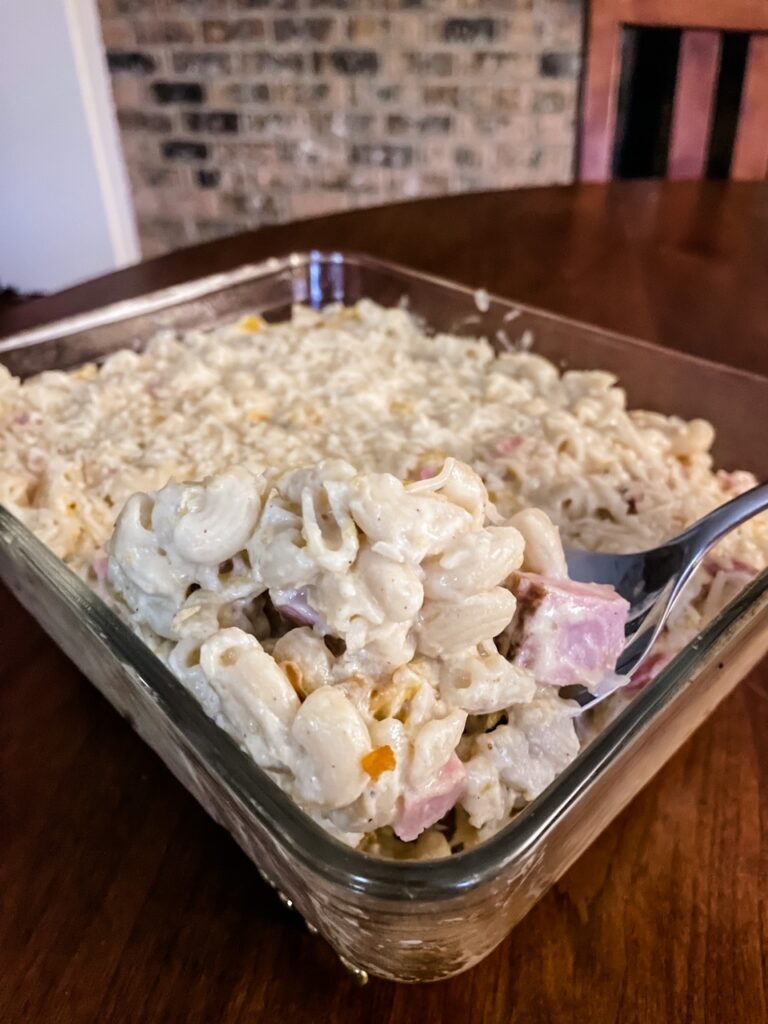 This gluten-free Butternut Squash Mac and Cheese recipe is the perfect comfort food for cold winter days. Gluten-free or not. It's a tasty one-dish dinner your whole family will love!
Healthier, Gluten Free (or not) Butternut Squash Mac and Cheese Recipe
This recipe came about when I was making some freezer meals for a friend who was going to be undergoing surgery.
She has celiac disease, so I knew that whatever I cooked needed to be gluten-free. And since she also has two small children, it also needed to be a dish that the kids would eat that was reasonably healthy. That meant trying to sneak in some veggies.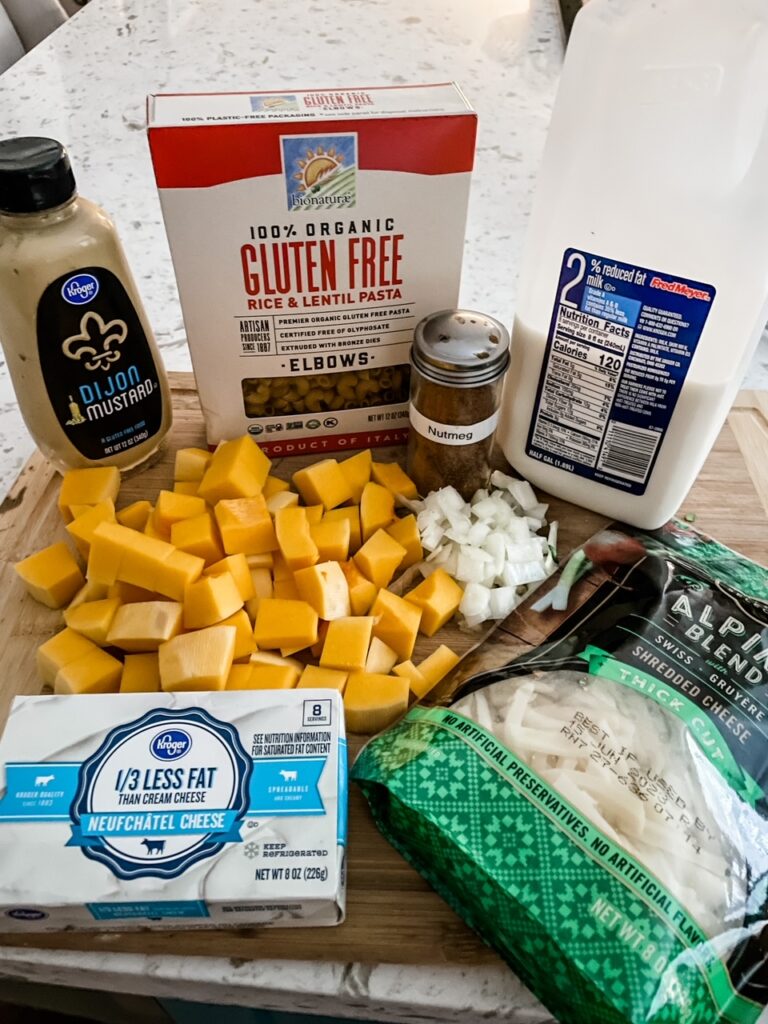 Though I thought of going with my Sweet Potato Enchiladas, I wanted something milder. Butternut squash's slightly sweet but subtle flavor is a vegetable that even picky eaters enjoy. Since the cheese is the star of the flavor show here, I thought they might not even notice it. But it's there just the same, adding a savory sweetness to the mac and cheese, plus plenty of nutrients and fiber.
Making my Butternut Squash Mac and Cheese recipe gluten-free was easy. All I had to do what buy some gluten-free macaroni and cook it according to the package directions.
Sometimes, gluten-free products have a different texture or taste than those with gluten, but I honestly couldn't tell the difference this time. But if eating gluten isn't a problem for you, you can use regular macaroni or even the whole wheat variety.
Gluten-Free Butternut Squash Mac and Cheese – Have It Your Way
This is a flexible recipe. Because I'm trying to keep a lid on fat and calories, I made a few adjustments to nudge my mac and cheese in a somewhat healthier direction.
For instance, my recipe calls for two percent milk and a reduced-fat cream cheese. The end result was still rich and creamy. However, you can certainly use full-fat milk and cream cheese if you prefer.
My cheese of choice here was Swiss. It has a very mild flavor which I enjoy, but I jazzed it up a bit with the addition of some Dijon mustard and nutmeg. If you'd like a stronger cheese flavor, you might use sharp cheddar instead, skip the nutmeg, and either cut the mustard in half or leave it out entirely.
A sprinkle of Parmesan cheese is the finishing touch on my Butternut Squash Mac and Cheese recipe. I only used a quarter cup here, but you could easily double the amount if you'd like.
Chopped ham gives my recipe a boost of flavor and protein, but it's entirely optional. Whether you use the ham or not, you'll still have a terrific one-dish dinner that the whole family will love!
Making Gluten-Free Butternut Squash Mac and Cheese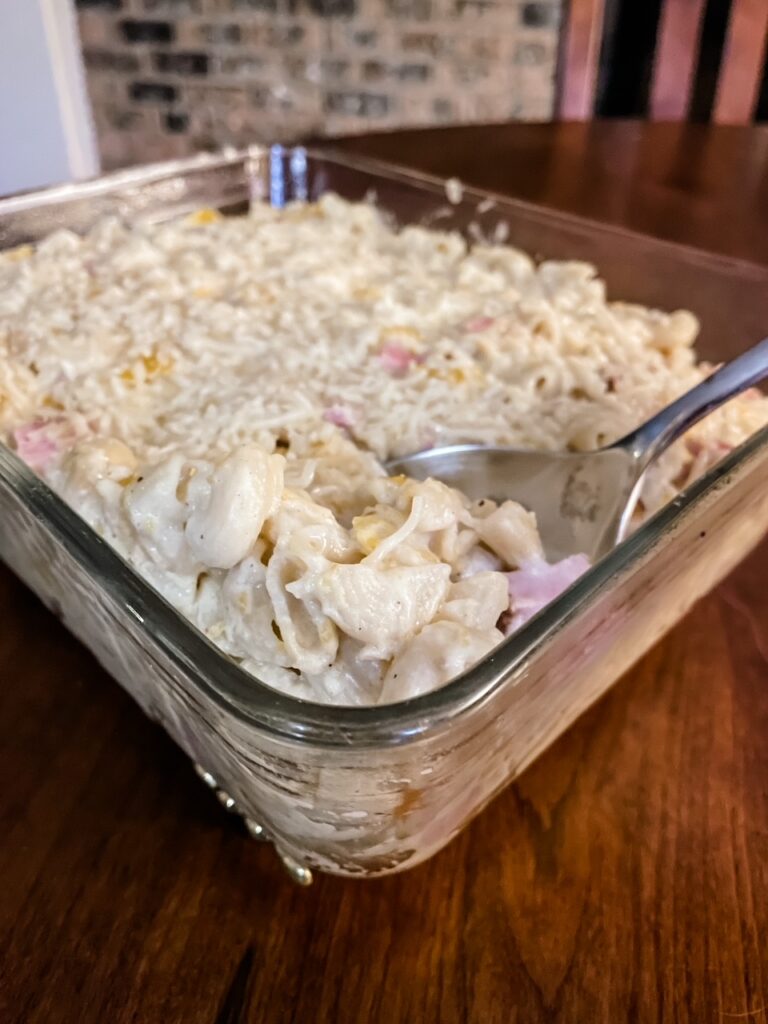 Is this recipe as easy as the mac and cheese from the blue box? No. But it's tasty, healthier, and very simple to make.
To start with, you'll boil the macaroni according to the package directions and set it aside. Next, you'll roast some butternut squash and onion in the oven and mash it after cooking.
(If you're feeding kids that are very veggie-phobic, you might boil the squash instead, then puree it in the blender. After the puree is mixed with the cheese sauce, they probably won't even know it's there. Sneaky, right?)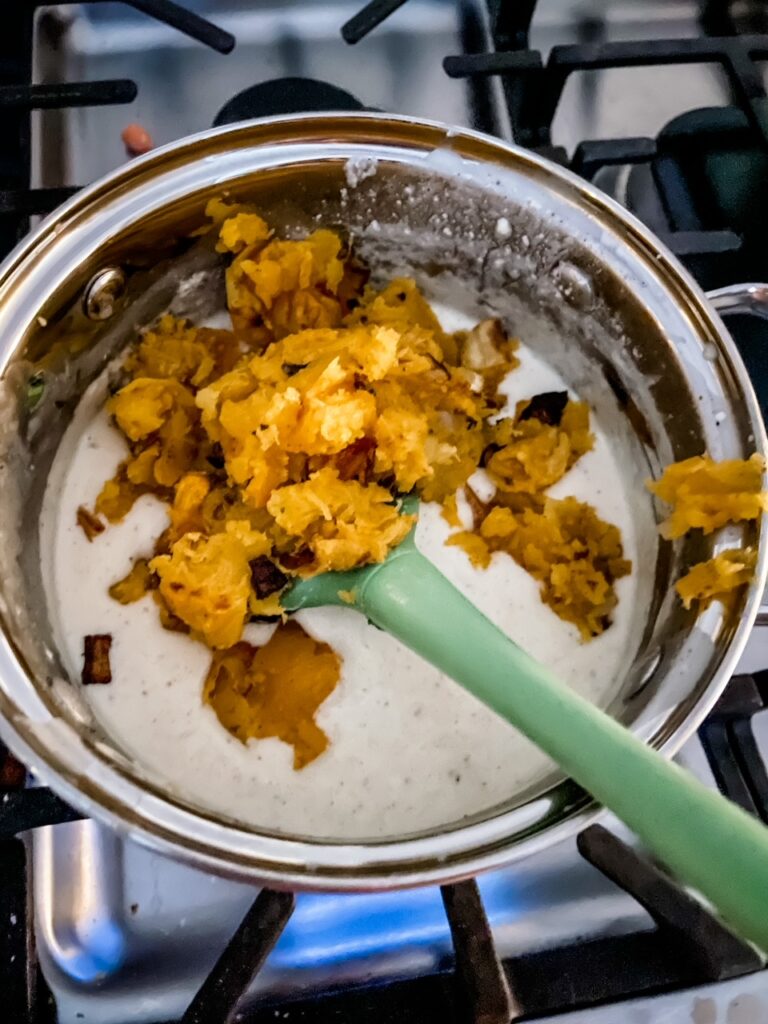 While the squash is roasting, you'll make a simple stove-top cheese sauce. You'll stir the mustard, nutmeg, and mashed squash into the sauce, pour over the macaroni, add the ham if using, and stir.
After placing the mac and cheese in a baking dish, top with the parmesan, heat in the oven, and serve.
Easy!
This Butternut Squash Mac and Cheese recipe is a gluten-free (or not!) alternative that the whole family will enjoy. Try making some this week.
Print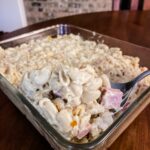 Gluten-Free Butternut Squash Mac and Cheese Recipe
---
Author:

Yield:

4

servings

1

x
12 oz

gluten free macaroni, cooked according to package directions (can sub regular or whole wheat macaroni)

1

lb butternut squash, 1-inch chunks

½ cup

chopped onion

1

T olive oil
Salt to taste
Pepper to taste

1.5 cups

2% milk (can use regular milk)

2

T Dijon mustard

1/2 tsp

ground nutmeg

4 oz

reduced fat cream cheese (can use full fat)

2 cups

shredded Swiss cheese (can sub sharp cheddar or other cheese)

8 oz

chopped ham (optional)

¼

to

½

cup shredded parmesan cheese
---
Instructions
Preheat oven to 400. Cook macaroni according to package instructions. Lightly spray and 8×8 oven proof casserole dish with cooking sprays. Line a rimmed baking sheet with foil and coat lightly with cooking spray or olive oil.
Place squash and onion onto foil lined baking sheet. Pour oil onto veggies, stir to coat. Sprinkle with salt and pepper to taste, stir. Bake in preheated oven for 20 minutes, until squash is soft.
Place milk, cream cheese, and Swiss cheese into a heavy-bottomed sauce pan over medium low heat. Stir until cheese melt, making a thick cheese sauce. Stir in mustard and nutmeg, then set aside.
Remove roasted veggies from oven. Lower oven temperature to 325. Mash squash with a fork or potato masher until fairly smooth. Stir into cheese sauce.
Stir cheese sauce and ham, if using, into the macaroni. Place mixture into prepared 8×8 casserole. Sprinkle with parmesan. Place casserole in oven for about 10-15 minutes, until macaroni is warmed through and the parmesan is melted.