This post may contain affiliate links. Full disclosure policy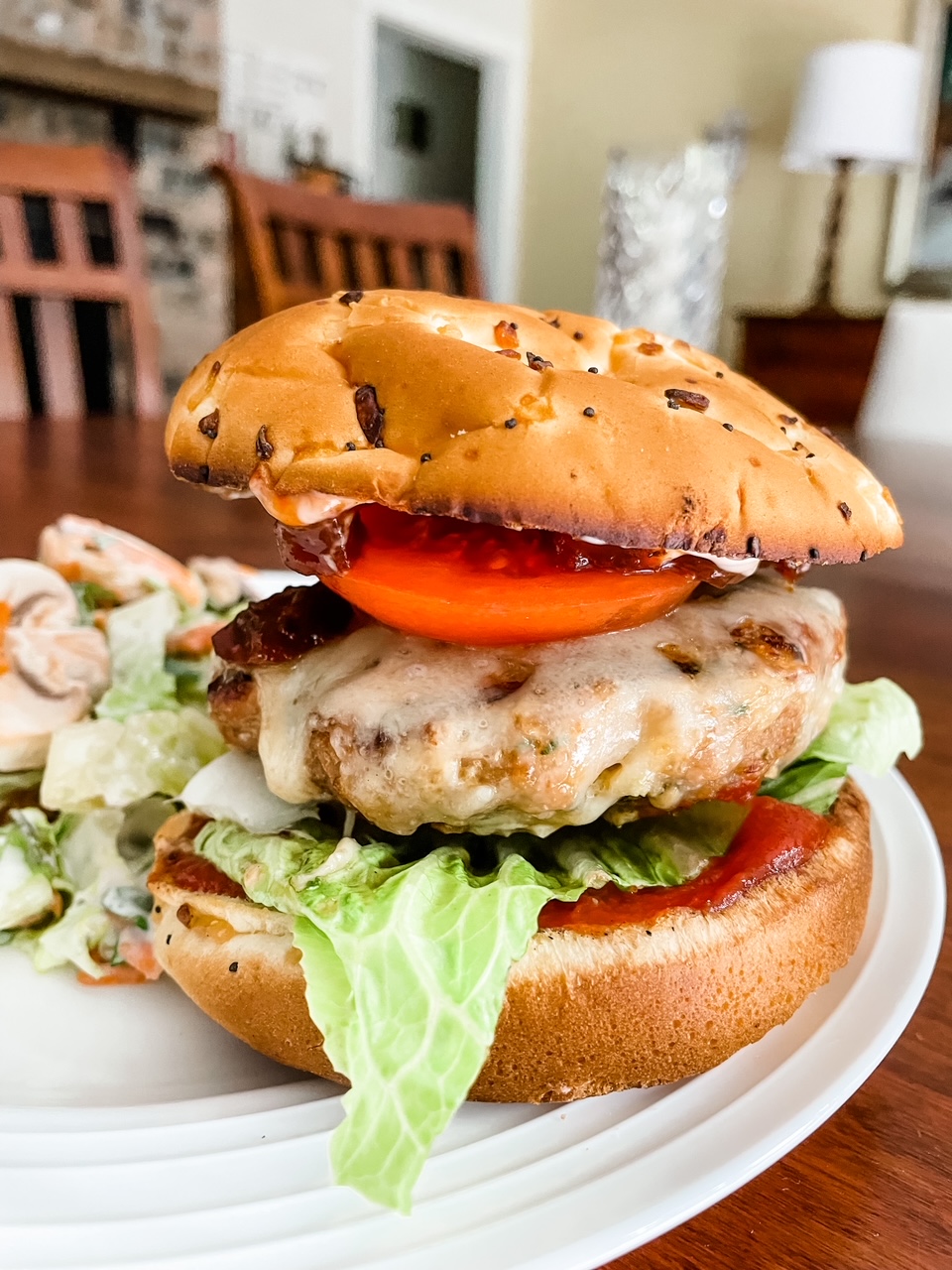 Juicy and tender, filled with fresh herbs, savory spices, and a hint of smokey flavor. My Best Grilled Turkey Burgers will be your favorite new burger and the star of your next backyard barbeque!
Raining of Not, Summer is Here: Time to Break Out the Grill
While much of the country endures record-breaking heat waves, the Pacific Northwest has had one of the coolest and wettest springs in memory. Unless something changes soon, it looks summer will be wet as well.
Even so, summer officially arrived this week, and, raining or not, I've made up my mind. Nothing is going to stop me from embracing the joys of summer. If I have to picnic with a sweater on, so be it. If I have to watch the local Fourth of July parade from under an umbrella, that's just the way it's got to be.
And if I have to pull my gas grill under the eaves to protect myself from rain while I'm cooking burgers, then by golly, I will.
My Best Grilled Turkey Burgers – Great for Holidays or Any Day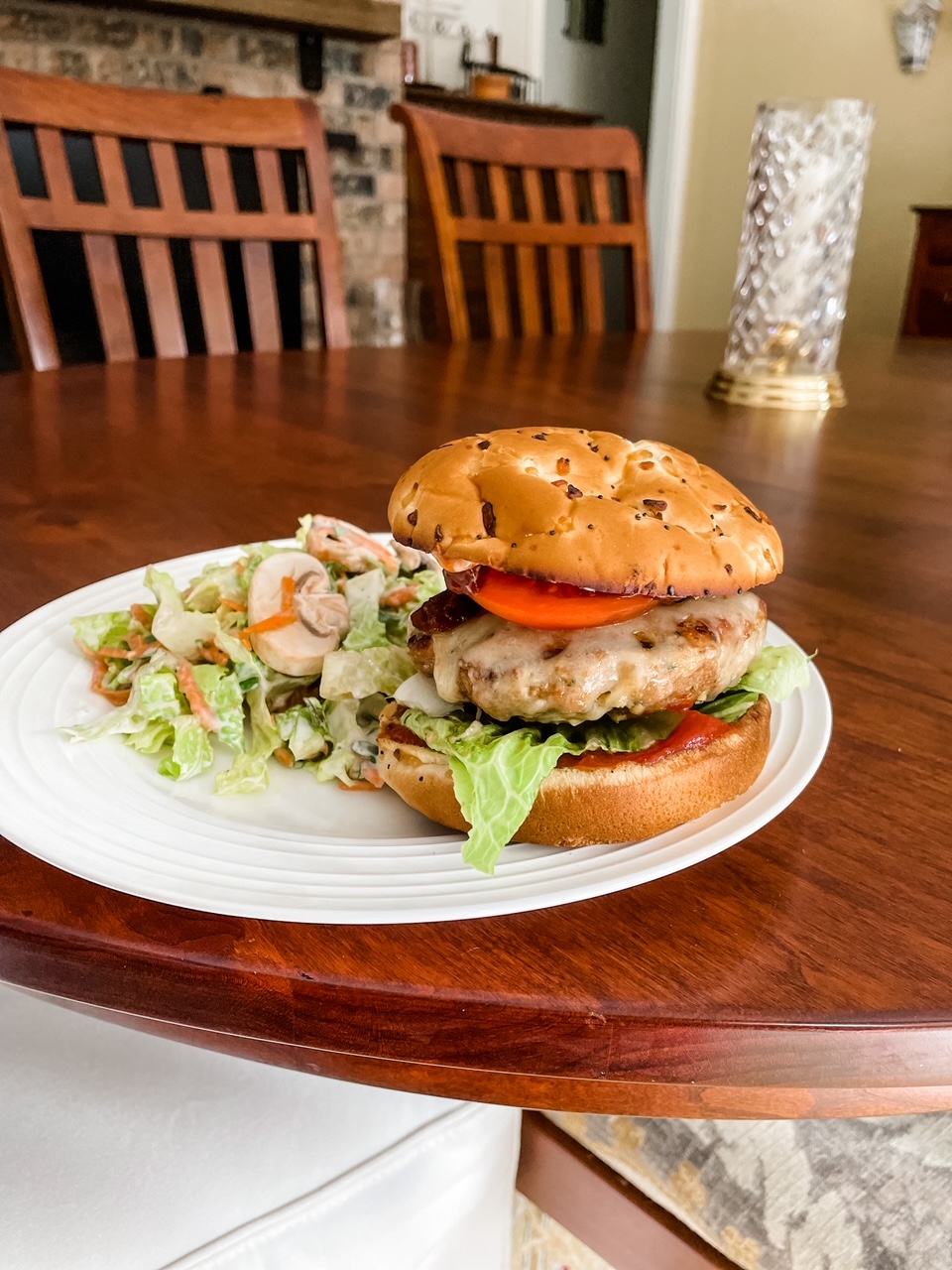 No matter the weather, there's something festive about a meal that's prepared out of doors. Cooking on the grill always takes me back to the campouts and family gatherings of my childhood.
Then and now, my favorite foods for summer grilling are burgers. Since I'm trying to eat a little healthier these days, I prefer to make burgers with leaner proteins like chicken or turkey.
Don't get me wrong; I still enjoy a good beef burger. But when you include the right herbs and spices, a burger made with poultry can be just as delicious as the hamburgers you grew up eating as a kid.
Last week, while thinking ahead to our holiday cookout, I came up with a grilled turkey burger recipe that's tender, juicy, and full of flavor. These Best Grilled Turkey Burgers are good enough to serve at your Fourth of July barbeque, and so delicious you'll want to them to your regular summer dinner rotation.
Herbs, Spices, and a Hint of Smokey Flavor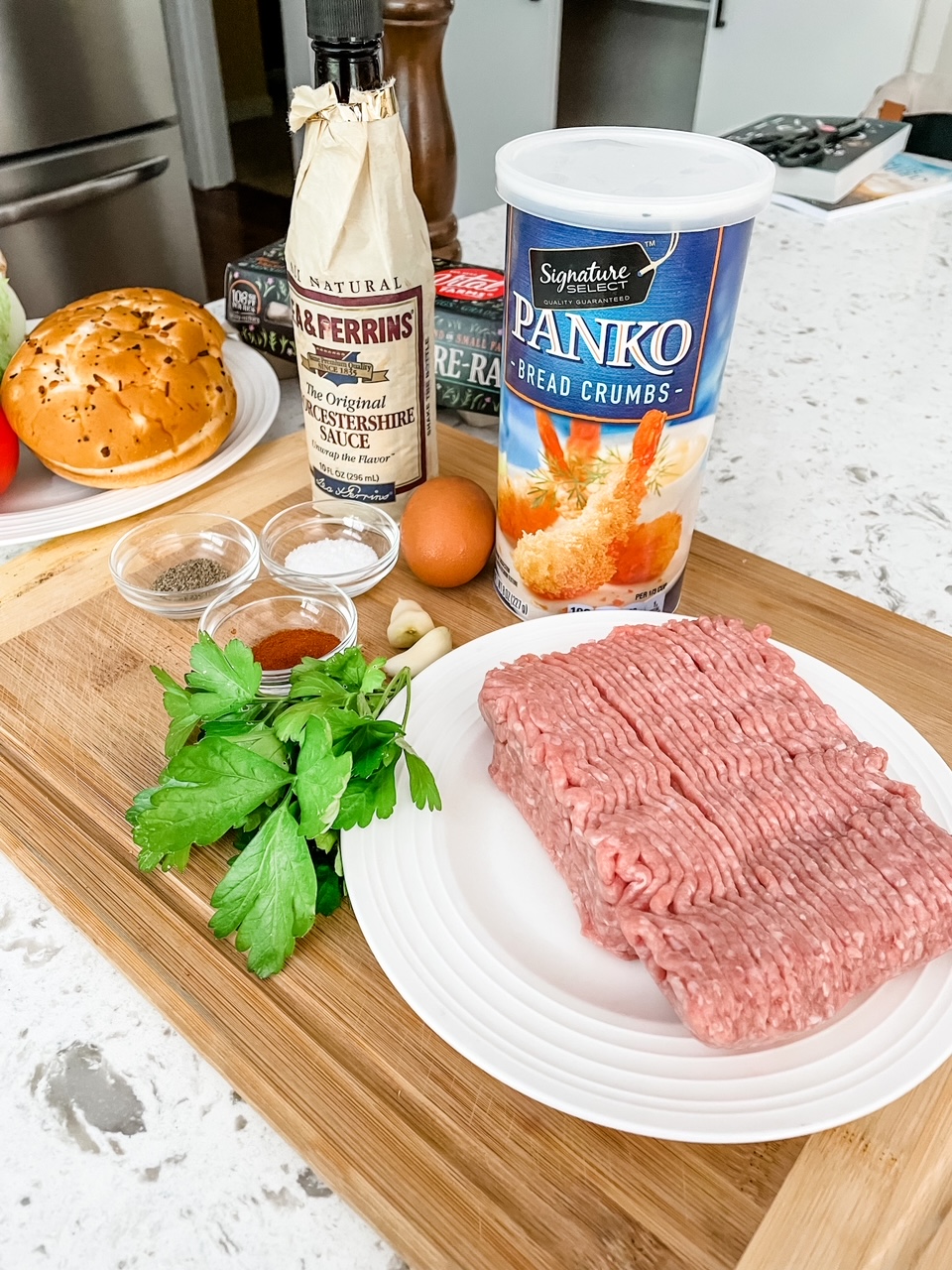 Left to its own devices, ground turkey can be a little bland. That's why I decided to go heavy on the flavorings for these Best Grilled Turkey Burgers.
Plenty of fresh garlic and parsley, plus a bit of Worcestershire sauce, as well as salt, pepper, and a generous amount of smoked paprika make these grilled turkey burgers extra tasty.
Smoked paprika is one of my go-to ingredients, especially when I'm grilling. That subtle hint of smokey flavor adds a savory depth to all kinds of recipes, including grilled burgers.
Mixing some egg, panko breadcrumbs, and a little oil into the turkey mixture helps these burgers hold their shape and keeps them tender and juicy.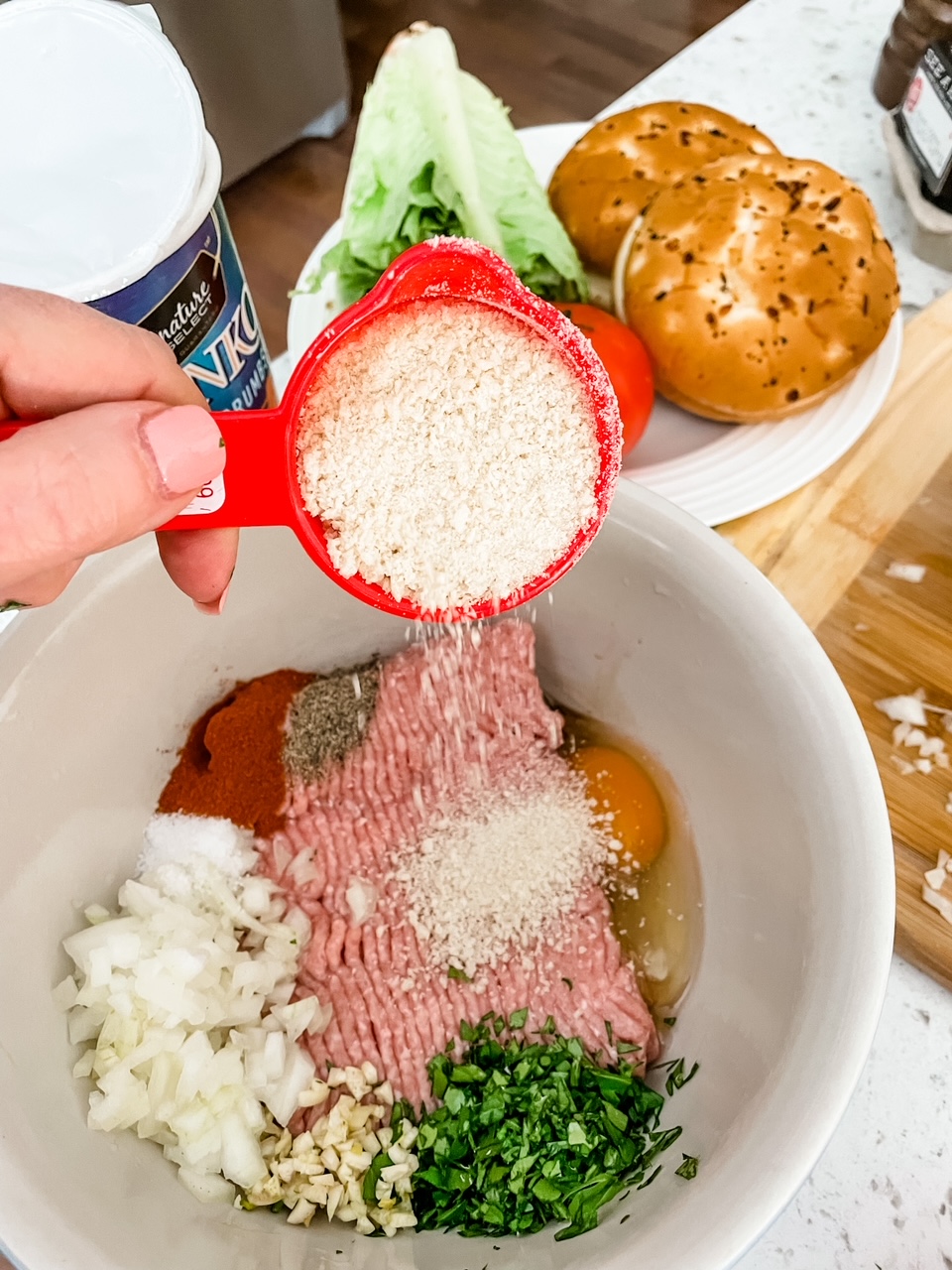 Tips for Making the Best Grilled Turkey Burgers
One of the reasons people love burgers is they're just so easy to make. You just toss the ingredients into a bowl, mix everything together, make the patties, and grill them.
For years, I always made my burger patties by hand. However, my son brought me a patty press a couple of years back and I really like it. Patties that are the same size not only look better, but they also finish cooking in the same amount of time. Also, a patty press is a big help if you're making batches of burgers for the freezer.
Here's a patty press works like mine and even comes with non-stick papers to make freezing easier.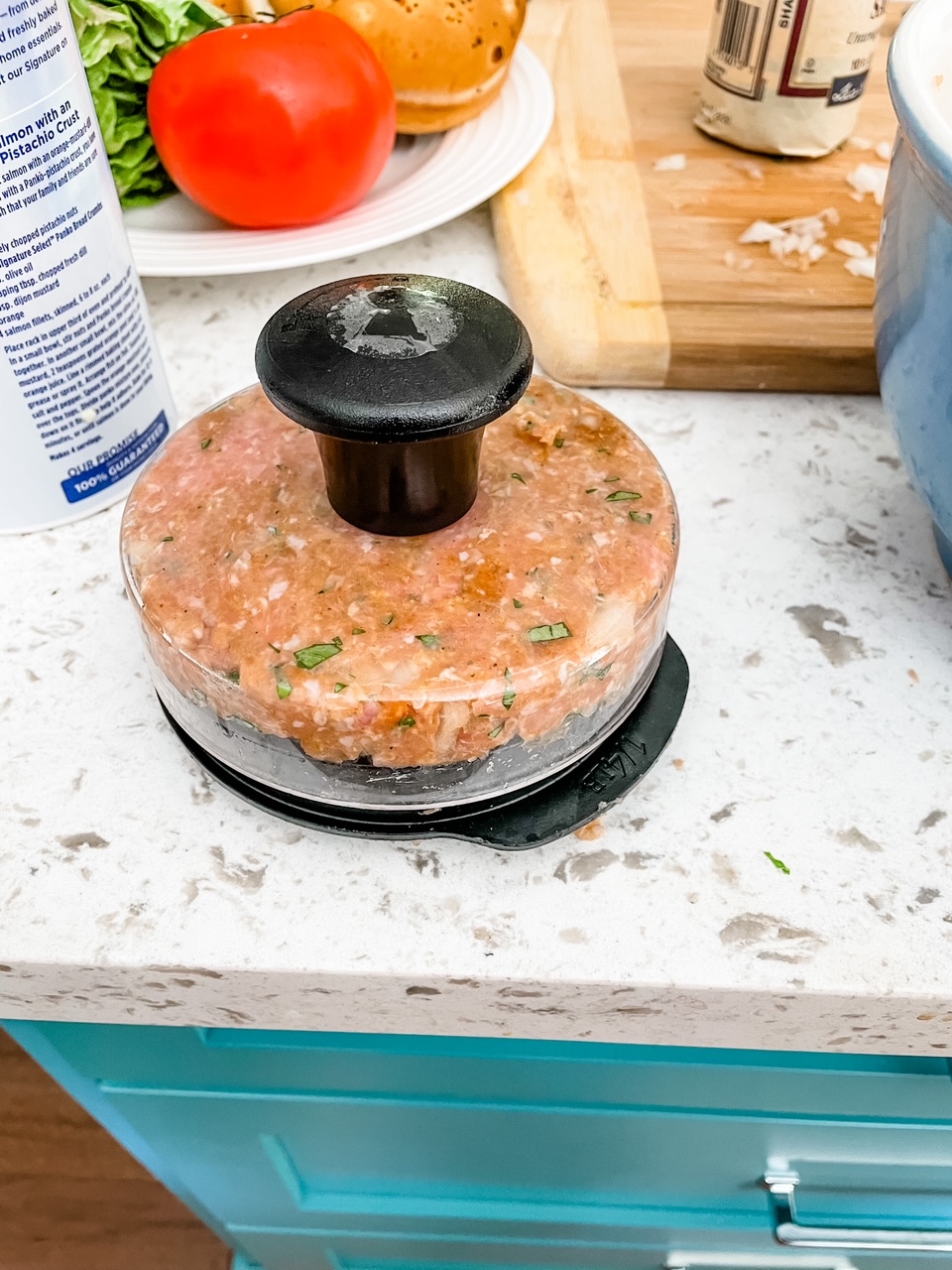 Once you've prepared the patties, leave them in the refrigerator for about thirty minutes. This will help them hold together better during cooking and give you time to heat up the grill. Grilling your turkey burgers at the right temperature is key! Preheat your grill to 450 degrees before putting on the burgers on the flame. Cook them for 4 to 5 minutes on each side.
Poultry, including ground turkey, should reach an interior temperature of 165 degrees before being eaten. That's where one of my other favorite kitchen tools, my digital instant-read meat thermometer, comes in. It really takes the guesswork out of grilling – no more over or under-done meat!
How to Serve My Best Grilled Turkey Burgers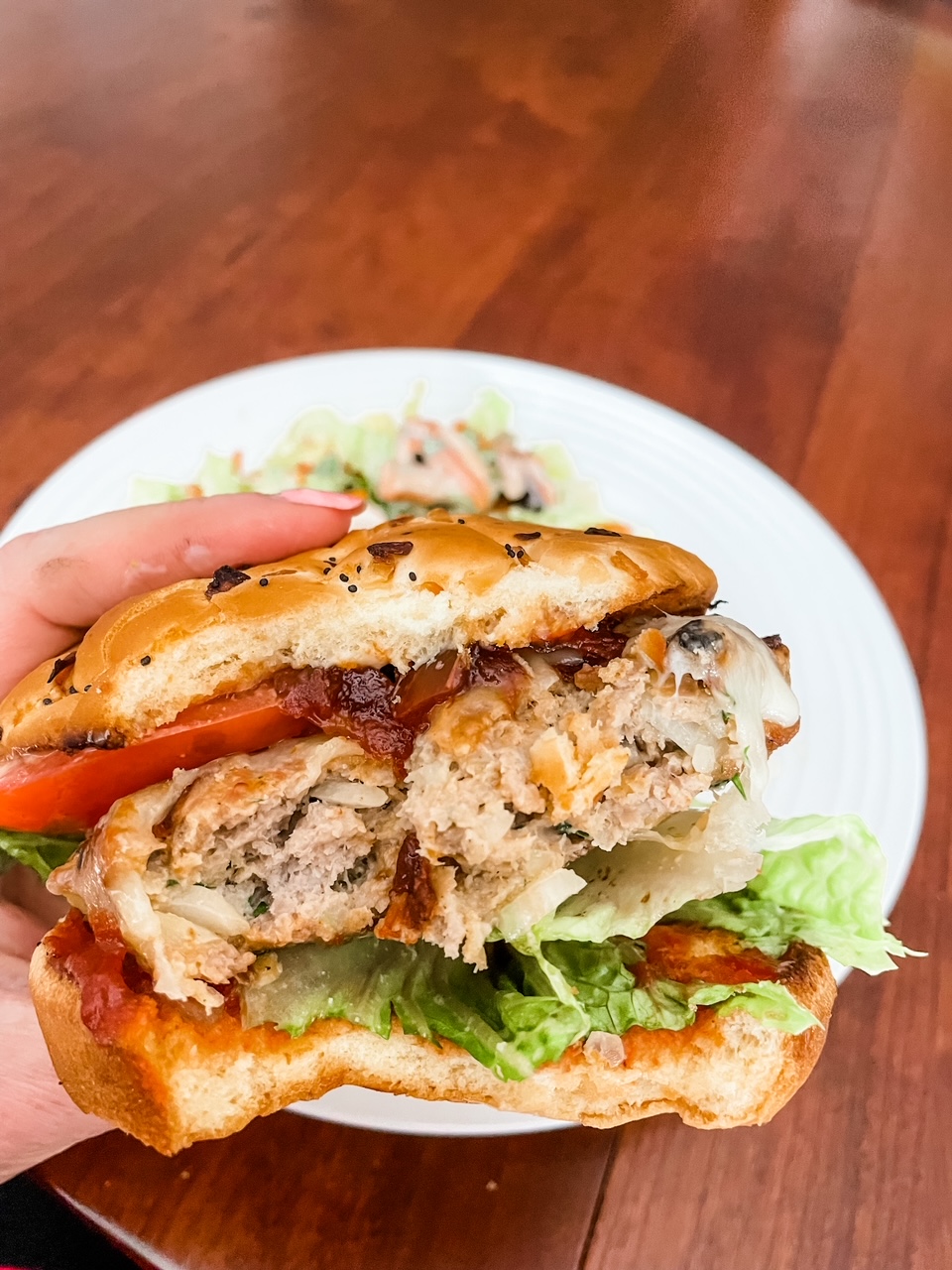 These turkey burgers are delicious as is. However, a little cheese makes them extra tasty.
After you flip the burgers, put a slice of cheese on top and let it melt. Baby Swiss or smoked gouda are fabulous on these burgers. Sharp cheddar or pepper jack would be great too. I served ours on toasted onion buns. Yum!
When it comes to condiments, you can't go wrong with the classics – mustard, mayonnaise, and ketchup. Fresh lettuce and a big slice of tomato are a must for me, and pickles are great if you like them. Just to gild the lily a bit, I added a generous dollop of homemade Easy Tomato Jam with Maple to the top. So good!
Whether you doll them up with loads of extras or serve them plain and simple, these Best Grilled Turkey Burgers are a summertime dining delight!
Print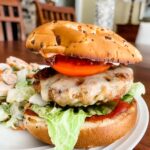 The Best Grilled Turkey Burgers
---
Author:

Yield:

4

servings

1

x
1

lb ground turkey

½ cup

chopped sweet onion

2

cloves garlic, minced

2

T chopped fresh parsley

1 tsp

Worcestershire sauce

2 tsp

olive oil

1 tsp

Kosher salt

1 tsp

smoked paprika

½ tsp

fresh ground pepper

1

egg

1/3 cup

panko bread crumbs
---
Instructions
Place all the ingredients into a medium to large sized mixing bowl. Mix ingredients together well with clean, bare hands and a wooden spoon, until mixture is well combined and ingredients are evenly distributed throughout.
Form mixture into four equally sized patties. Place patties onto a tray, cover with plastic, and allow to rest in refrigerator for at least 30 minutes before cooking.
Preheat grill to 450 degrees (lightly oil grill beforehand if concerned about sticking). Place burgers onto grill, close cover and allow to cook for 4 to 5 minutes. Flip the burgers, add a slice of cheese if desires, and grill for an additional 4 to 5 minutes, until the interior temperature of the burgers reaches at least 165 degrees.
Remove cooked burgers from grill and serve on toasted bun your favorite condiments.