This post may contain affiliate links. Full disclosure policy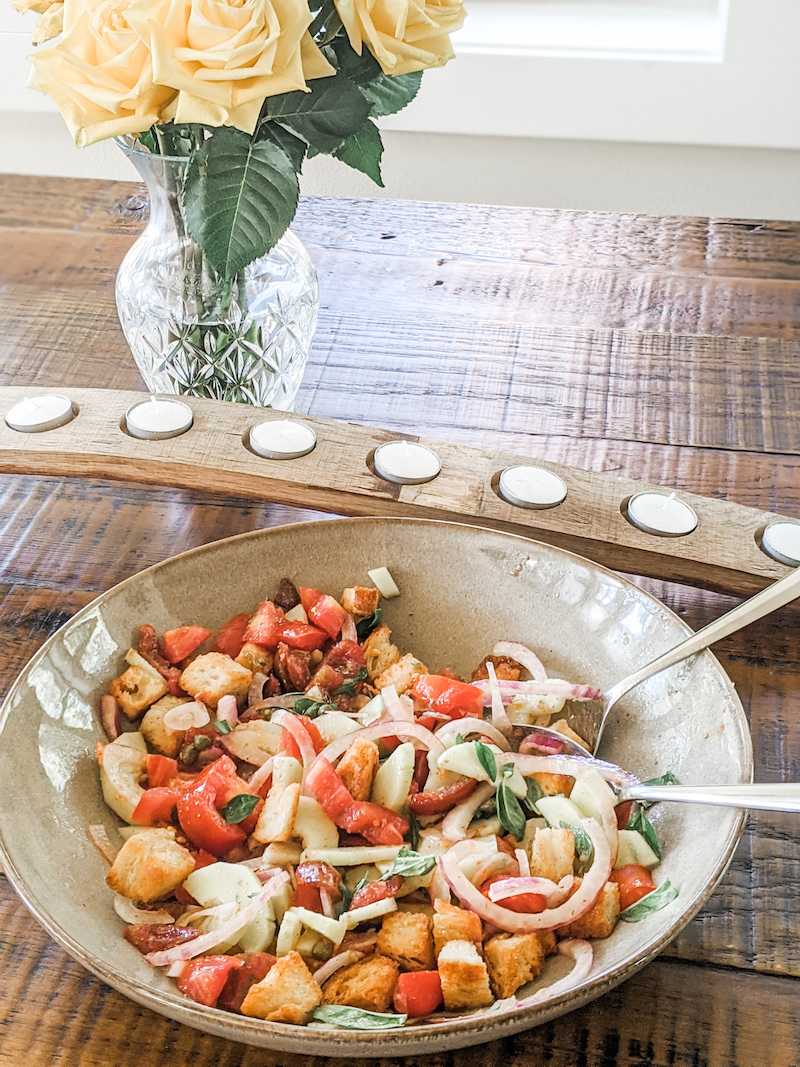 Like the majority of my most successful culinary experiments, my summer Panzella salad recipe was born of necessity and inspiration.
The necessity involved the leftover half-loaf of a sourdough boule I'd bought at Trader Joe's. What should I do with it? I wasn't in the mood for a sandwich but I couldn't let it go to waste. The inspiration involved the arrival of tomato season!
Tomato season is a big deal in my house. There is no greenhouse tomato on the planet that comes close to matching the flavor of a locally and outdoor-grown tomato, ripened on the vine. The flavor is incomparable but the season is short, especially here in Central Oregon. Imagine my delight when I went to pick up my CSA share and found that the first of the summer tomatoes were in!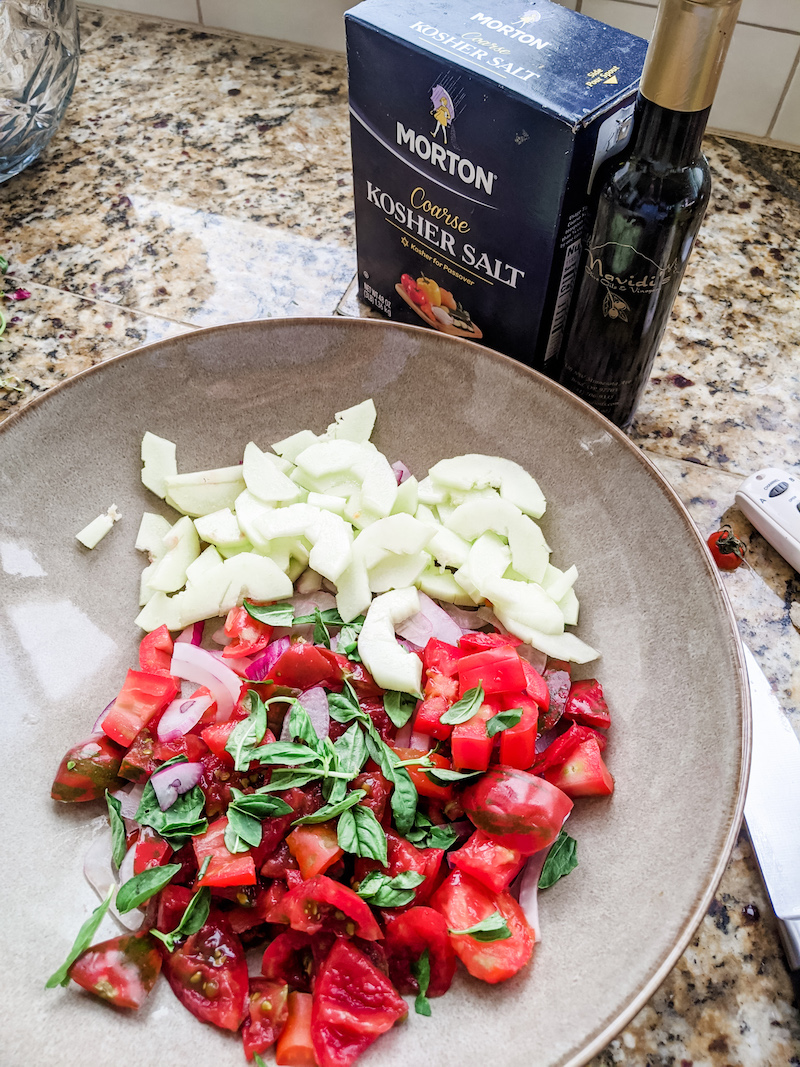 Such a momentous occasion called for a special recipe, one that would let the lovely, sun-ripened flavor shine through. While I was considering my options, I saw that little half-loaf of sourdough sitting on the counter and knew what I needed to do. A summer twist on the Classic Panzella Salad was the answer to everything.
What is a Classic Panzella Salad?
In case you've never made or tried one before, Panzella is a classic Italian salad made with fresh tomatoes, garden vegetables, and crispy bread croutons, tossed with a simple, light vinaigrette.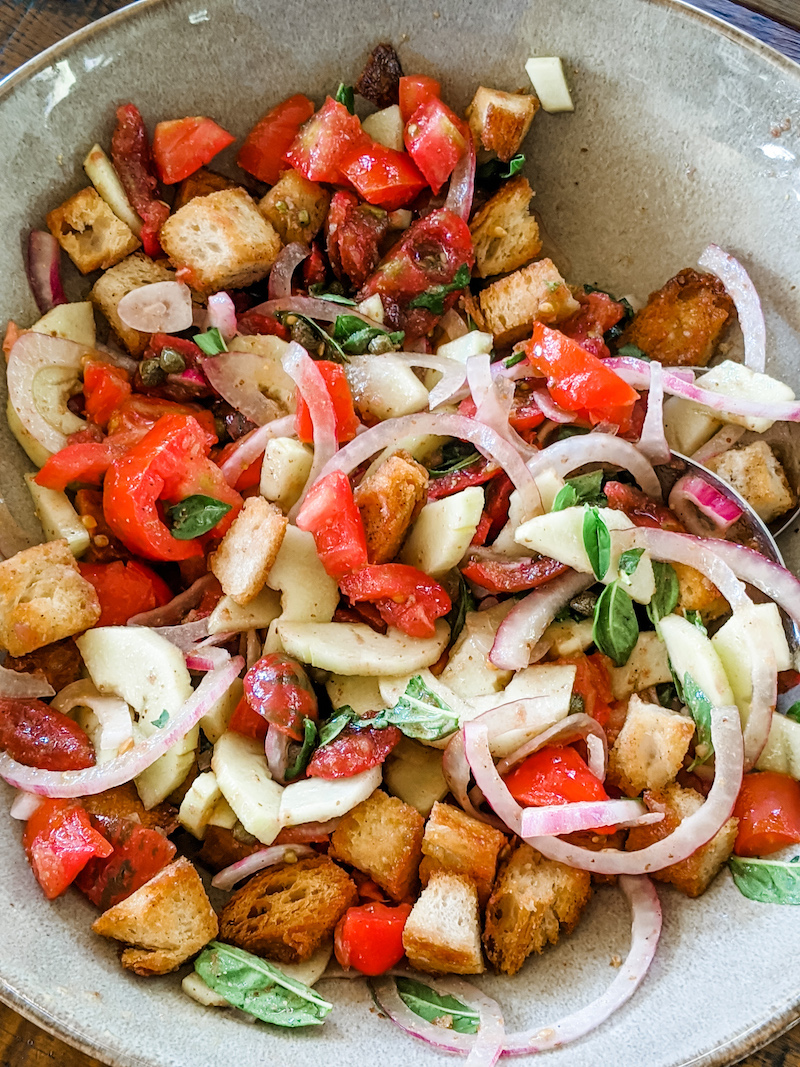 The Italian word for bread is pane, which where the salad gets its name. Though the vegetables in a Panzella salad might vary a bit, the tomatoes and bread croutons are a must. The croutons have to be nice and crisp so they don't turn into big soggy lumps of dough after the vinaigrette is added. What we're looking for is a crouton that's absorbed the beautiful flavors from the tomatoes and dressing, but still has some crunch when you bite into it.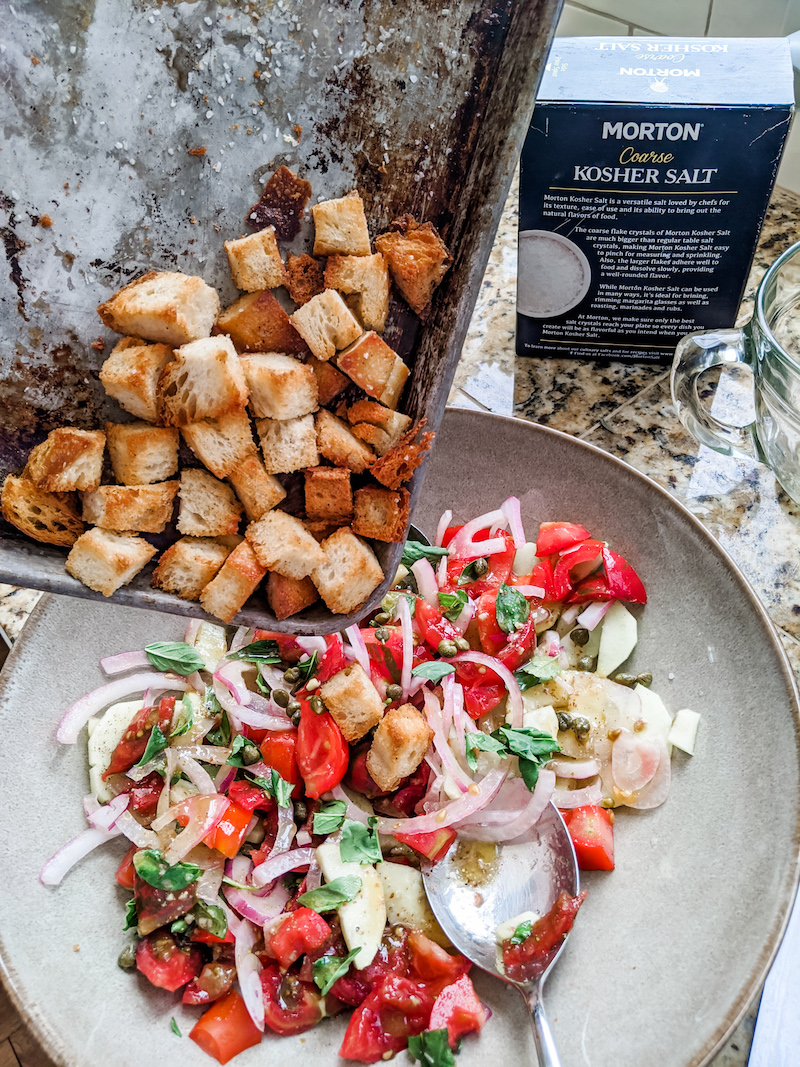 Paradiso! (That's Italian for Heaven!)
My Summer Panzella Salad – Classic, But a Little Healthier
As I said, crispy croutons are a key ingredient for a good Panzella salad. Most recipes achieve this by frying the bread cube in olive oil – LOTS of olive oil.
Don't get me wrong, I love olive oil. It's heart-healthy and tastes great. But a little olive oil goes a long way. The croutons for my Summer Panzella Salad are tossed with about half as much oil as you'd need for frying, then baked in the oven to a crispy, golden brown. Even after an hour of soaking, they held up beautifully in the salad.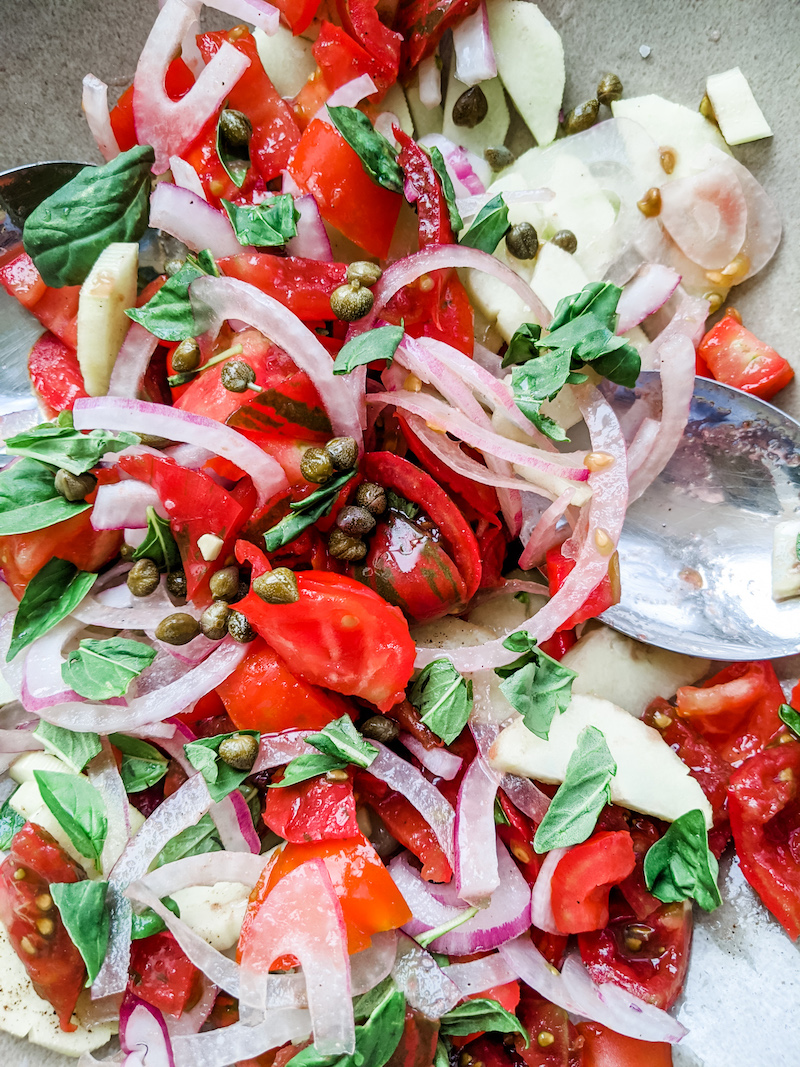 The rest of my Summer Panzella Salad is a classic preparation, the kind that lets fresh seasonal vegetables take center stage – tomatoes, cucumbers, red onion, and fresh basil. Delicious!
A Summer Panzella Salad Calls for Easy Prep
This is a flexible salad. Tomatoes are a must. But when it comes to additions, use whatever is growing in your garden. Peppers, green onions, or even thin slices of zucchini would be lovely in my Summer Panzella Salad.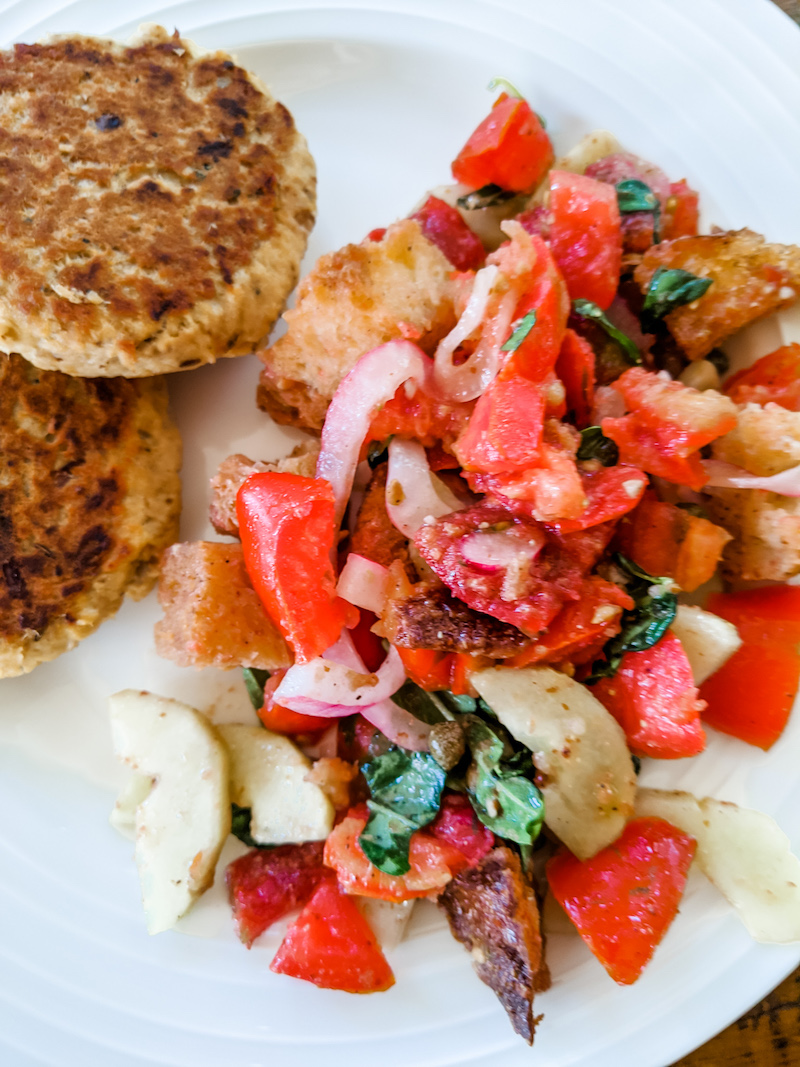 Toss it all together with a simple to make vinaigrette, and you've got a perfect side dish for all kinds of summer meals. Too hot to cook? Toss in some buffalo mozzarella cheese to turn your Panzella into main-dish salad that your family will love!
Print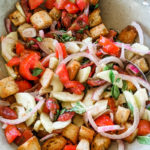 Summer Panzella Salad
---
Description
Preheat oven to 350 degrees.
Place bread cubes on a rimmed baking pan. Drizzle cubes with olive oil, then use hands to gently mix cubes. Spray bread cubes lightlywith cooking to spray to ensure each cube has a little oil on the surface. Sprinkle a little salt and fresh ground pepper over bread cubes, then mix again with hands.  Place baking pan in preheated oven.  Bake for 7-10 minutes, until bread croutons are a deep golden brown in color.
While the croutons are baking, whisk olive oil, wine vinegar, mustard, and garlic together in small bowl. Whisk in salt and pepper to taste. Set aside.
Place tomatoes, cucumbers, onion, basil and capers in bowl. Drizzle vinaigrette over vegetable mixture and toss lightly. Add baked croutons to bowl and toss again. Allow salad to sit at room temperature for 30 minutes to one hour before serving.
---
Ingredients For Salad
1

lb fresh tomatoes, seeded and cut into chunks or large dice

½

large red onion, cut into thin slices

½

large cucumber, peeled, halved, seeded, and sliced

¼ cup

loosely packed fresh basil leaves, torn

2

T capers, drained

3 cups

sourdough or Italian bread cubes

1

T olive oil
Cooking spray (preferably olive oil spray)
Kosher Salt
Pepper
Ingredients For Vinaigrette
¼ cup

extra virgin olive oil

2

T wine vinegar, red or white

1 tsp

Dijon mustard

½ tsp

minced garlic
Salt and pepper to taste
---