This post may contain affiliate links. Full disclosure policy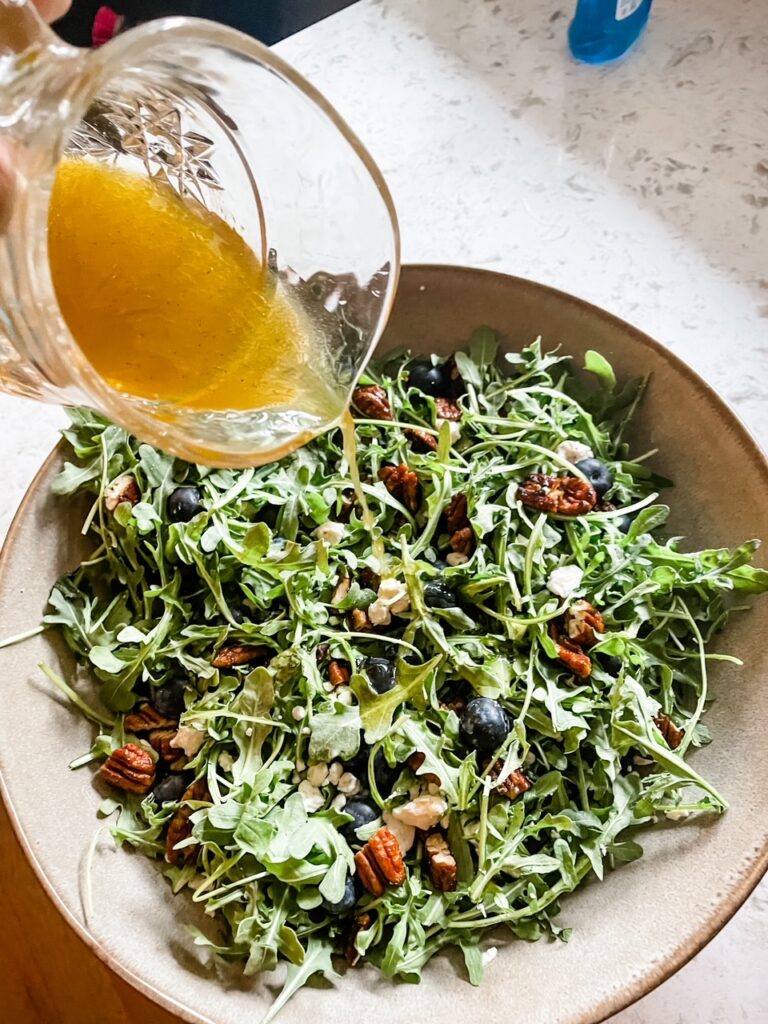 When it comes to flavor, this Summer Arugula, Feta, and Blueberry Salad has it all! Sweet blueberries, salty feta cheese, beautifully bitter arugula, and crunchy candied pecans served with a light and tangy lemon vinaigrette.
Meet My New Favorite Salad – Arugula, Feta, And Blueberry
This year, I was invited to join a book club that's kind of a dream come true for me.
At the Foodie Book Club, we read books with food-related themes and then make recipes from or inspired by the book to enjoy during our meetings. But we're flexible. if you're not feeling the dishes that were served in the book, you can wing it and make whatever you want.
The bottom line is, the Foodie Book Club brings together two things I'm crazy about – great books and great food. Getting to spend time with the wonderful women who are part of it is just icing on a very delicious cake.
At our last meeting, one of the members brought an arugula, feta, and blueberry salad that might be one of the MOST delicious things I've ever eaten.
Even if salad isn't a thing that you usually get excited about, you're going to love this one. There was just so much going on in that salad – sweet, salty, bitter, and tangy. Honestly, it was just divine!
The first thing the following day, I popped off to the market and bought the ingredients to make my own version. The satisfying and utterly delicious result is my new favorite salad.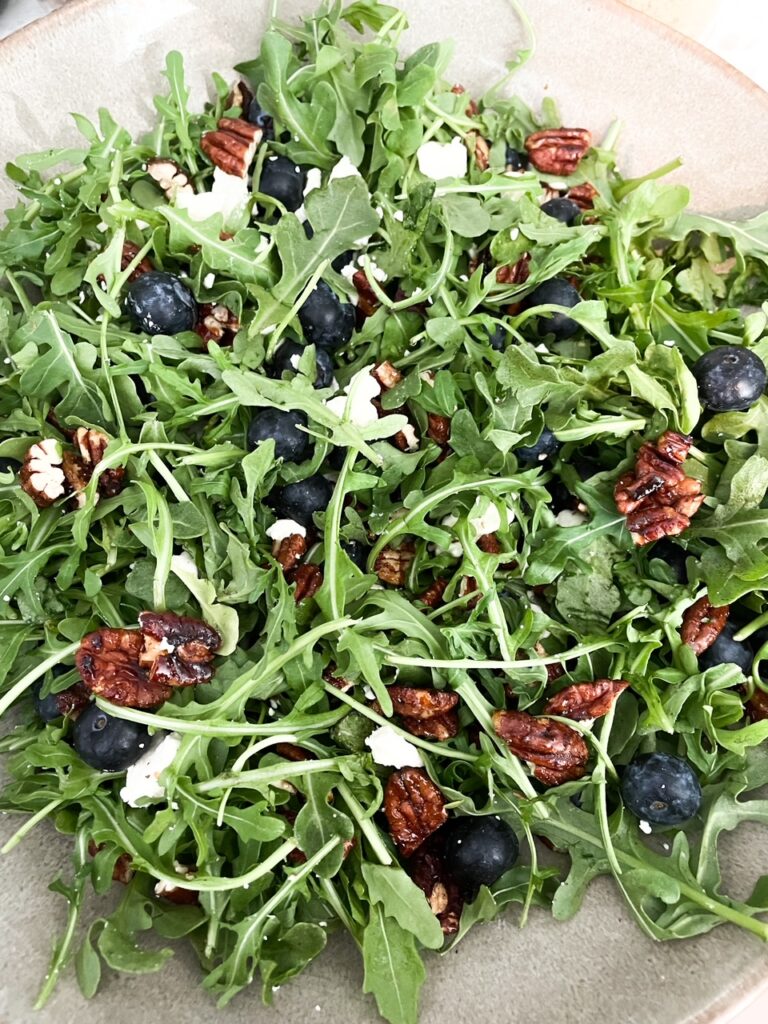 Summer Arugula, Blueberry, And Feta Salad – Let's Talk Ingredients
You won't be surprised to learn that this arugula, blueberry, and feta salad requires…well, arugula, blueberries, and feta cheese. It also calls for candied pecans.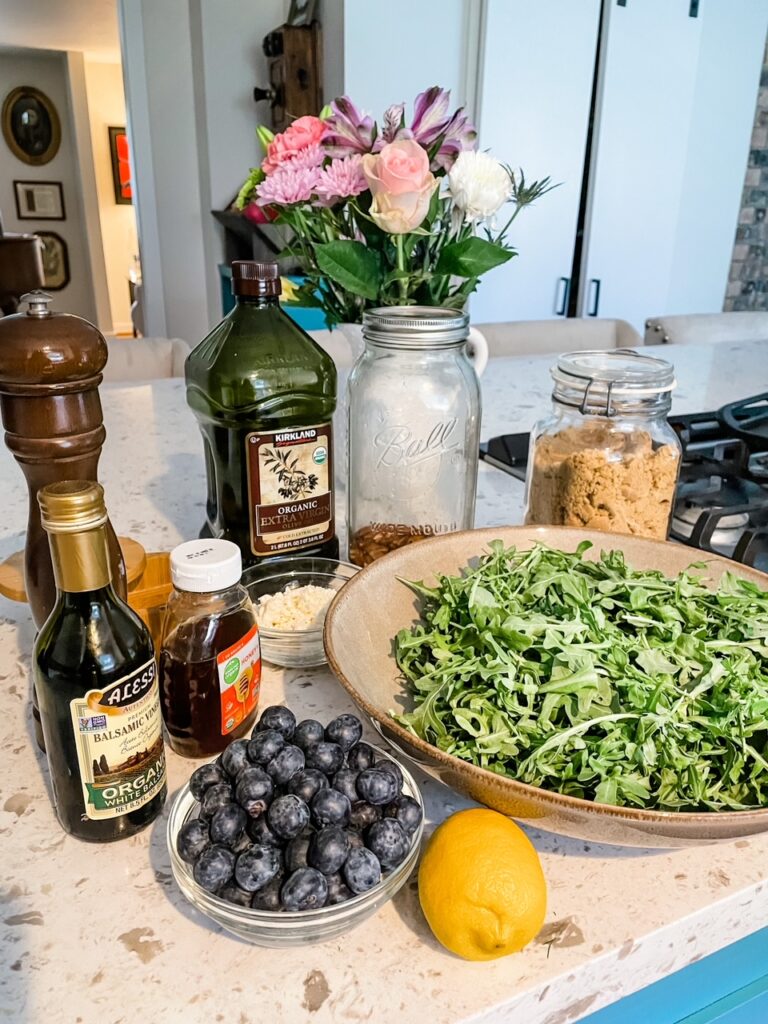 Pretty straightforward, right? But let's go into a little more detail about why they work together and any potential substitutions – or not.
Arugula has a slightly bitter taste that works well here. It's a perfect foil for the salty feta, juicy sweet blueberries and sugary pecans. I think you should stick with it.
If you simply cannot stand or cannot get arugula, you could use baby kale or spring mix. However, I'd then recommend adding some fresh basil, endive, or dandelion greens to the lettuce to give it a little more bite.
When it comes to the blueberries, buy the biggest, plumpest berries you can find. In a pinch, you could substitute sliced strawberries, but I think blueberries are best here.
The same can be said of the feta cheese. Its slightly salty flavor pairs perfectly with the sweet berries and bitter arugula. If you dislike feta, you could substitute chevre. The texture is similar, and chevre does have a nice tang to it, but the flavor is much milder than feta.
Candied pecans bump up the sweetness while adding texture and a satisfying, savory crunch. You can purchase candied pecans, but making your own is incredibly easy and a money saver.
I'll explain how to do it in the recipe, but all you'll need is pecans, brown sugar, a little water, and five minutes. So, really, do yourself a favor and make a batch. You'll thank me later. And if you don't care for pecans, you can easily substitute walnuts.
Summer Arugula, Feta, And Blueberry Salad – Making The Dressing
With so much yumminess going on here, I didn't want to bury the flavor under a heavy salad dressing.
Instead, I whipped up a simple vinaigrette with olive oil, fresh lemon juice, white balsamic vinegar, honey, salt and pepper. It's absolutely delicious and helps enhance the other ingredients rather than overpower them.
Though most of the ingredients are things you probably have on hand already, the white balsamic vinegar can be a little harder to find and somewhat pricey. Personally, I think it's worth the effort to find some.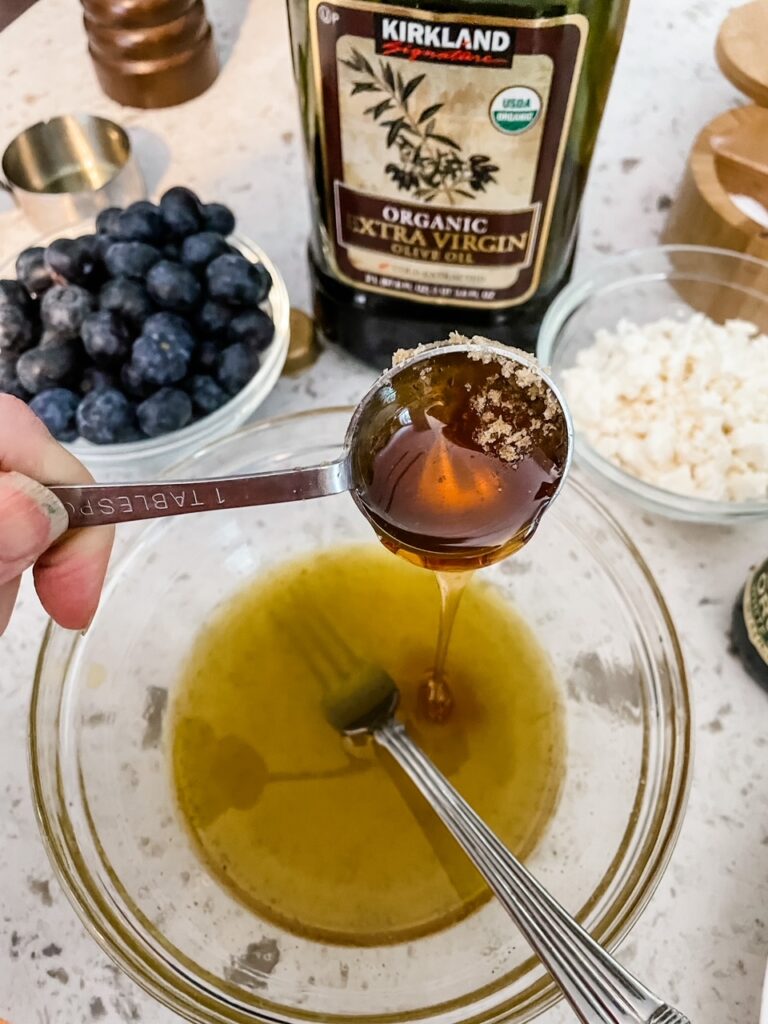 But you could substitute apple cider or rice vinegar, then add a touch more honey to keep the dressing from being too tart. I don't recommend using regular balsamic vinegar. The flavor is good, but the dark color will leave unattractive stains on the cheese.
And while you can use bottled lemon juice if you have to, I recommend fresh if at all possible. It just tastes better.
Making the vinaigrette is simply a matter of whisking all the ingredients together, then tasting to adjust the seasonings, and adding the amount of salt and pepper that suits you. Simple!
As I said, this Summer Arugula, Feta, and Blueberry Salad has become my new favorite. Give it a try soon! I bet you'll feel the same way.
Try my other salad recipes here!
Print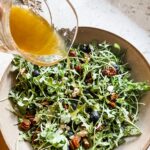 Summer Arugula, Feta, and Blueberry Salad
---
Author:

Yield:

Serves

4

to

6

as a side

1

x
For the salad:
1 cup

pecans (can sub walnuts)

2

T brown sugar

2 tsp

water
Pinch of Kosher salt

5 oz

baby arugula

9 oz

blueberries

1 cup

crumbled feta cheese
For the vinaigrette:
¼ cup

olive oil

½ cup

white balsamic vinegar (can sub apple cider or rice vinegar, with extra honey to taste)

½

lemon, juiced (about

2 tablespoons

of juice)

1

T honey

¼ tsp

Kosher salt
Fresh ground pepper
---
Instructions
Mix brown sugar, water, and pinch of salt together in a small bowl. Set aside.
Place the pecan in a nonstick pan on the stove over medium heat. Stirring constantly, toast nuts for 2-3 minutes, until they begin to brown slightly and smell nutty. Take the pan from the heat. Immediately pour the brown sugar and water mixture onto the warm nuts and stir to coat. Place the candied nuts onto a waxed paper or a plate and allow to cool.
While the nuts are cooling, make the vinaigrette. Whisk the olive oil, vinegar, lemon juice, and honey together in a medium sized bowl. Add salt and pepper, then whisk again. Taste and adjust seasonings.
Roughly chop the cooled candied pecan halves. Place the arugula, feta cheese, blueberries, and candied pecans in a large serving bowl. Toss with the desired amount of vinaigrette and serve.