This post may contain affiliate links. Full disclosure policy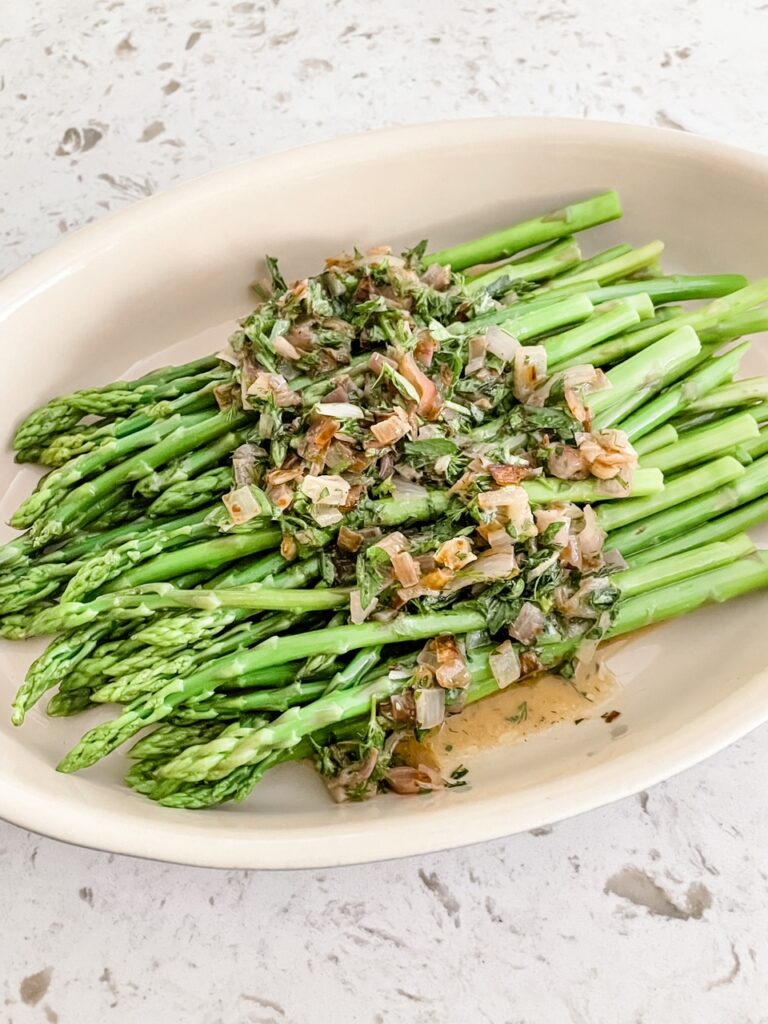 With plenty of lemony, herby, fresh-as-springtime flavor, this Asparagus in Lemon Herb Vinaigrette is a fabulous way to dress up spring's favorite veggie! Fresh, delicious, and easy to make ahead!
Spring Is Here, Bring On The Asparagus!
Back in the day, before out-of-season produce could be shipped all over the planet, asparagus season was a big deal.
Those lovely, tender shoots of asparagus were often the first fresh green vegetable that people got to eat after months and months of storehouse potatoes and carrots. Can you imagine how wonderful that first bite must have tasted back then?
Though we're lucky enough to have a year-round variety of veggies these days, the arrival of spring and asparagus season is still connected in my mind. Here at my house, the new asparagus crop is welcomed with a special recipe that highlights the fresh, bright flavors of spring – Asparagus in Lemon Herb Vinaigrette.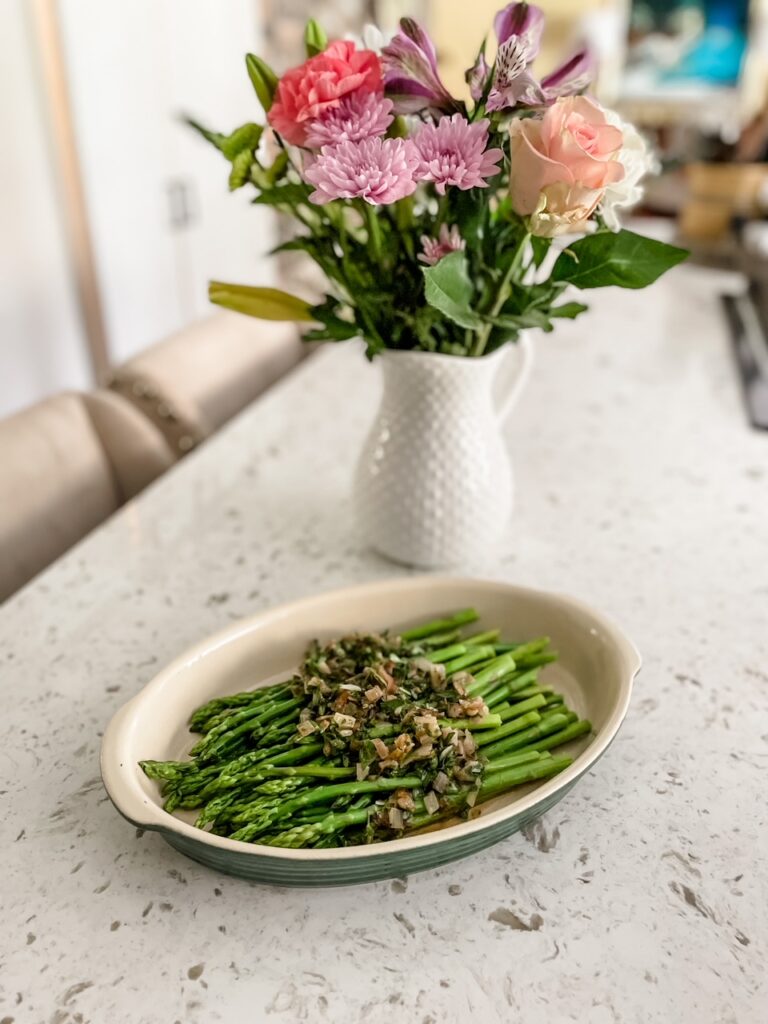 Green, Fresh, Bright, And More Than Just Beautiful
There is a lot of love about this recipe. To start with, it's just so darned pretty! Since we eat with our eyes as well as our stomachs, my Asparagus in Lemon Herb Vinaigrette brings a lot to the table simply by virtue of good looks.
But in this case, beauty is more than skin deep.
Perfectly prepared, al dente spears of asparagus are pretty darned terrific all by themselves. It's flavor like none other. But the lemon herb vinaigrette adds even more bright, slightly tart, beautifully fresh flavor to an already tasty vegetable.
My Asparagus in Lemon Herb Vinaigrette is meant to be served as a side dish, but I've been known to make a meal of it. It's that good. Something else I love about this recipe is how easy it is to make ahead.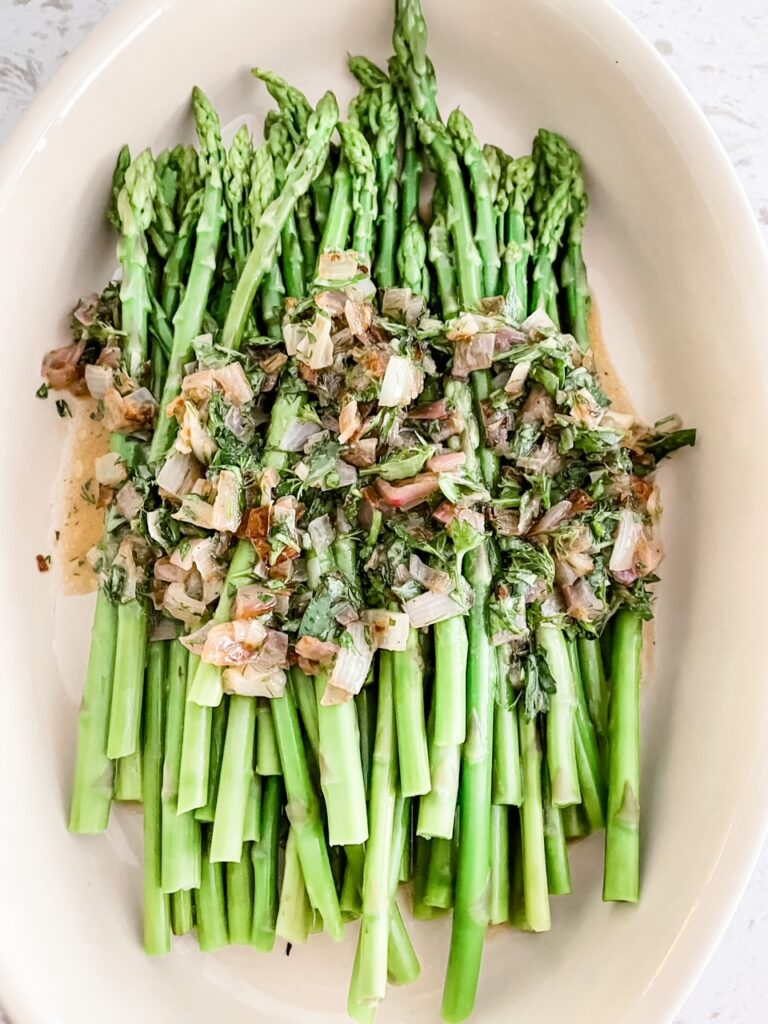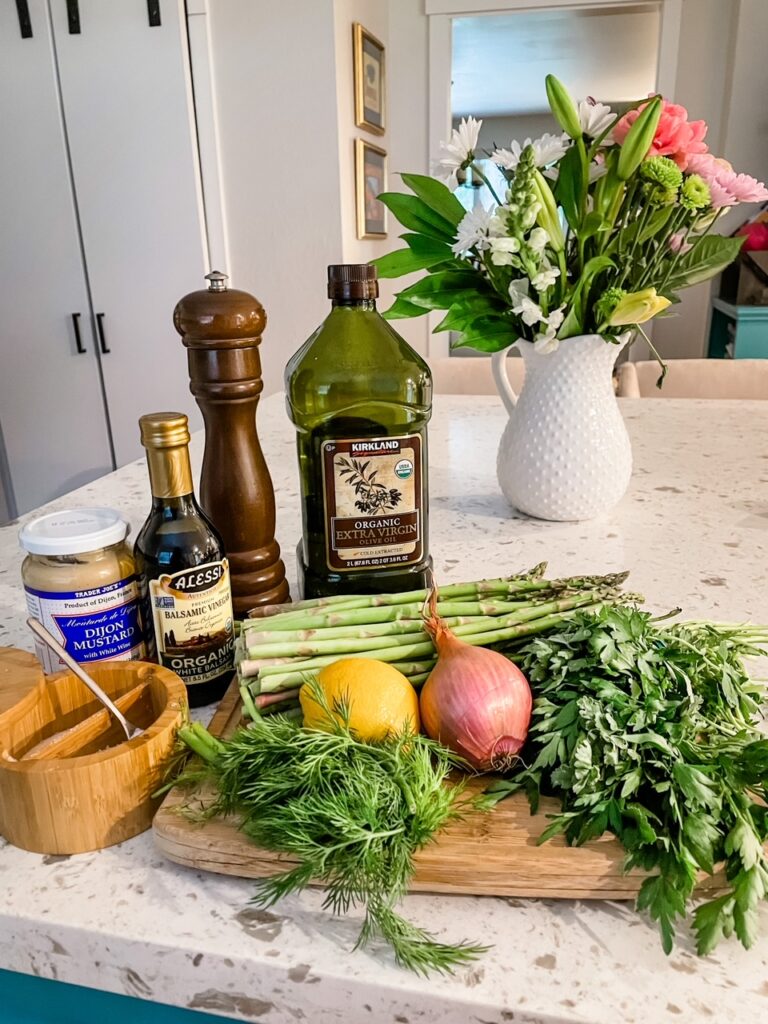 And who doesn't love that?
Make ahead recipes are the secret weapon of busy cooks everywhere. Especially when entertaining, having at least one dish ready to go well ahead of time helps me breathe easier. And since this asparagus recipe is meant to be served chilled, all you have to do is pull it out of the fridge, put it on the table, and you're good to go.
By the way, that's also what makes Asparagus in Lemon Herb Vinaigrette a perfect dish to take to a potluck, picnic, or neighborhood gathering.
If you have any leftovers, it's really good chopped up and served on a salad.
Blanching The Asparagus
Lots of people like to steam their asparagus. You can certainly do so for this recipe if you'd like. However, I prefer to blanch because it's easier to keep from over or undercooking the asparagus.
Blanching is a little more work than steaming, but not much. You'll start by trimming off the ends of the spears, cutting away parts that are tough or woody. This is something you'd have to do if you were steaming too.
Next, put a big pot of salted water on the stovetop and bring it to a vigorous boil. While the water is heating, get out a large bowl and create a water bath with cold water and ice cubes, and set that aside.
Once the water is boiling vigorously, you can blanch the asparagus. That's just a fancy way of saying you'll boil it very quickly. How quickly it boil comes down to two things; how thick the spears are and your personal preference for how al dente or not you like your asparagus.
I usually blanch my asparagus in batches, boiling thicker spears in one batch and thinner ones in another. That will help ensure they're about the same in terms of doneness.
For thin spears, I find that two to three minutes does the trick. For medium spears, three to four minutes should be enough. A very thick spear may take more than five minutes. My preference is for asparagus that is tender and fairly easy to bite into but not at all mushy. When in doubt, grab a spear from the pot and take a bite.
When the asparagus is done blanching, immediately plunge it into the ice water bath. That will stop the cooking process and help the asparagus retain that bright green color.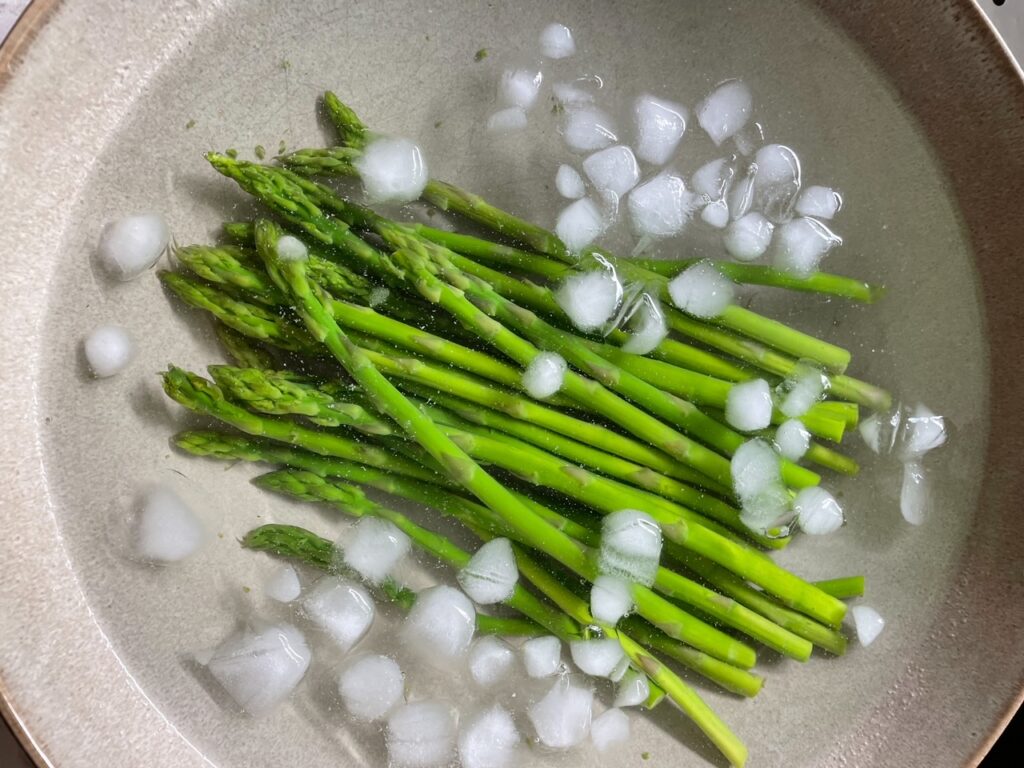 Making The Vinaigrette
Though you could substitute onions in this recipe, I do prefer shallots. They've got a beautiful, mellow flavor that adds to the dish but doesn't overpower it, especially after they're cooked.
Cooking the shallots in olive oil until they're just beginning to brown and caramelize brings out a subtle sweetness that balances out the tartness of the lemon and vinegar, so don't skip that step.
A couple of thoughts about the ingredients.
I do think fresh herbs are best here. But if you must use dried herbs, then use one teaspoon of dried for each tablespoon of fresh. Also, let the vinaigrette sit covered on the counter for two to four hours so the flavors have time to meld.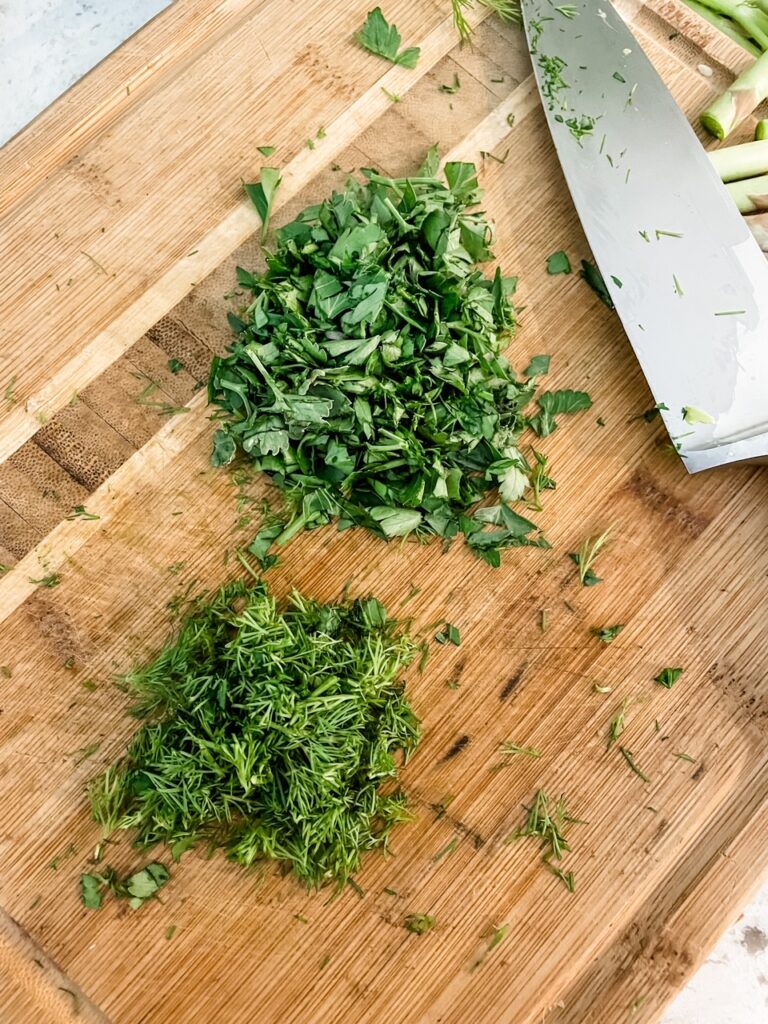 My recipe calls for white balsamic vinegar. It's a favorite of mine, but it can be a little pricey and sometimes difficult to find. You can substitute apple cider vinegar or rice vinegar combined about 1.5 teaspoons of honey if need be.
Once you've cooked and cooled the shallots, all you'll need to do is whisk together the remaining ingredients and pour them over the cooked and chilled asparagus. Easy!
Asparagus in Lemon Herb Vinaigrette is a great spring and summertime side dish. Give it a try soon, or try out another favorite asparagus recipe of mine, Asparagus with Toasty Bread, Lemon, and Feta!
Print
Asparagus in Lemon Herb Vinaigrette
---
Author:

Yield:

4

-

6

servings as a side

1

x
1

lb asparagus, trimmed and blanched (see post for tips on blanching)

4

T olive oil, divided

1

large shallot, peeled and diced

3

T white balsamic vinegar (can sub equal amount of apple cider or rice vinegar with

1.5 tsp

honey)

1

T fresh lemon juice (juice from

½

lemon)

2 tsp

Dijon mustard

2

T minced fresh parsley

1

T minced fresh dill

½ tsp

Kosher salt

¼ tsp

fresh ground pepper
---
Instructions
If you have not blanched the asparagus, do so now. Place cooked asparagus on serving platter and set aside in refrigerator to cool. (See post for tips on blanching. Can steam it if you prefer.)
Place 1 T olive oil in a small nonstick pan over medium heat on stove. When oil is hot and shimmering, add the diced shallots. Cook, stirring frequently, until shallots are soft, translucent, and just beginning to turn brown – about 5 minutes. Remove pan from heat and allow shallots to cool.
In a medium sized bowl, whisk together remaining olive oil, vinegar, lemon juice, mustard, minced herbs, salt and pepper. Stir in the cooked, cooled shallots, together with any oil left in the pan. Taste and adjust seasonings.
Pour vinaigrette over the cooked asparagus. Can serve immediately or cover with plastic wrap, place in the refrigerator, and serve later. Can be made up to 6 hours in advance.