This post may contain affiliate links. Full disclosure policy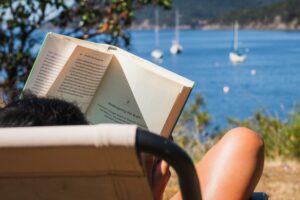 Whether you do it beachside, lakeside, poolside, while relaxing on the porch, or grabbing a few precious minutes during your lunch hour, summer is a GREAT time for reading.
But…now that I think about it, when is it not a great time for reading?
Answer: Never.
But there's something extra special about summertime reading. It's the time when, at least in theory, the pace of life slows down a little and we have more time for hobbies, like reading. That's why beach reads are so popular, even if the "beach" in question is your patio, deck, balcony, or break room (and perhaps paired with a tasty treat).
Wherever you do it, summer is the perfect time to enjoy a book.
And, let me tell you, there are a LOT of great books coming out this summer. It can be hard to sort through so many terrific titles!
That's why I decided to share my Summer 2021 Reading List. There's something here for just about everybody – history, mystery, women's fiction, romance, suspense, and books that simply defy genre.
If you're trying to figure out what to read this summer, take a look at the books I have read, am reading, or plan to read as part of my Summer 2021 Reading List.
Summer 2021 Reading List June Releases
Joshua and Lauren are the perfect couple. Newly married, they're wildly in love, each on a successful and rewarding career path. Then Lauren is diagnosed with a terminal illness.

As Lauren's disease progresses, Joshua struggles to make the most of the time he has left with his wife and to come to terms with his future–a future without the only woman he's ever loved. He's so consumed with finding a way to avoid the inevitable ending that he never imagines his life after Lauren.

But Lauren has a plan to keep her husband moving forward. A plan hidden in the letters she leaves him. In those letters, one for every month in the year after her death, Lauren leads Joshua on a journey through pain, anger, and denial. It's a journey that will take Joshua from his attempt at a dinner party for family and friends to getting rid of their bed…from a visit with a psychic medium to a kiss with a woman who isn't Lauren. As his grief makes room for laughter and new relationships, Joshua learns Lauren's most valuable lesson: The path to happiness doesn't follow a straight line.

Sometimes heartbreaking, often funny, and always uplifting, this novel from New York Times bestselling author Kristan Higgins illuminates how life's greatest joys are often hiding in plain sight.
Seventeen-year-old Lenni Pettersson lives on the Terminal Ward at the Glasgow Princess Royal Hospital. Though the teenager has been told she's dying, she still has plenty of living to do. Joining the hospital's arts and crafts class, she meets the magnificent Margot, an 83-year-old, purple-pajama-wearing, fruitcake-eating rebel, who transforms Lenni in ways she never imagined.
As their friendship blooms, a world of stories opens for these unlikely companions who, between them, have been alive for one hundred years. Though their days are dwindling, both are determined to leave their mark on the world. With the help of Lenni's doting palliative care nurse and Father Arthur, the hospital's patient chaplain, Lenni and Margot devise a plan to create one hundred paintings showcasing the stories of the century they have lived—stories of love and loss, of courage and kindness, of unexpected tenderness and pure joy.
Though the end is near, life isn't quite done with these unforgettable women just yet.
On a perfect June day, Vivian Howe, author of thirteen beach novels and mother of three nearly-grown children, is killed in a hit-and-run car accident while jogging near her home on Nantucket. She ascends to the Beyond where she's assigned to a Person named Martha, who allows Vivi to watch what happens below for one last summer. Vivi also is granted three "nudges" to change the outcome of events on earth, and with her daughter, Willa, on her third miscarriage, Carson partying until all hours, and Leo currently "off again" with his high-maintenance girlfriend, she'll have to think carefully where to use them.
From the Beyond, Vivi watches "The Chief" Ed Kapenash investigate her death, but her greatest worry is her final book, which contains a secret from her own youth that could be disastrous for her reputation. But when hidden truths come to light, Vivi's family will have to sort out their past and present mistakes—with or without a nudge of help from above—while Vivi finally lets them grow without her.
Thaddeus Walker Bowman Owens, the backup quarterback for the Chicago Stars, is a team player, talented sideline coach, occasional male underwear model, and a man with a low tolerance for Divas.
Olivia Shore, international opera superstar, is a driven diva with a passion for perfection, a craving for justice, too many secrets—and a monumental grudge against the egotistical, lowbrow jock she's been stuck with.
It's Mozart meets Monday Night Football as the temperamental soprano and stubborn jock embark on a nationwide tour promoting a luxury watch brand. Along the way, the combatants will engage in soul-searching and trash talk, backstage drama, and, for sure, a quarterback pass. But they'll also face trouble as threatening letters, haunting photographs, and a series of dangerous encounters complicate their lives. Is it the work of an overzealous fan or something more sinister?
This is the emotional journey of a brilliant woman whose career is everything and a talented man who'll never be happy with second place. Tender and funny, passionate and insightful, this irresistible romantic adventure proves that anything can happen…when two superstars collide.
Summer 2021 Reading List: July Releases
It's been nearly six years since Julia Jones had her heart broken. After her husband became involved with another woman, she did everything she could to save their marriage, to no avail. Their two daughters continue to stand by Julia in the wake of their father's behavior—and they've had a tough time getting along with the "other woman" who became their stepmother. Distraught after selling the family home, Julia moves into a condominium complex that offers the warmth and charm of a fresh start. Now, having settled into her new community and sold her successful interior design business, she's embraced a fulfilling new life, one that doesn't seem to need a man in it. Her beloved father's trusty saying is ringing truer than ever: It's better this way.
But when Julia meets a handsome new resident in the building's exercise room, she can't help but be drawn to him. Heath Johnson is a welcome change from the men she's encountered on the occasional—mostly disastrous—dates her sister has eagerly planned for her over the years. As she and Heath, a divorcé himself, begin to grow close, their friendship blossoms into an unexpected love. However, they soon realize that combining families proves to be a challenge, even though their four children are adults.
When a dramatic revelation threatens the happiness they've found, Julia and Heath must reconcile their love for their children with their love for each other. If they can't, their bright future together may be nothing but a dream.
A Fifth Avenue address, parties at the Plaza, two healthy sons, and the ideal husband: what looks like a perfect life for Katharina Edgeworth is anything but. It's 1954, and the post-war American dream has become a nightmare.
A born and bred New Yorker, Katharina is the daughter of immigrants, Ivy-League-educated, and speaks four languages. As a single girl in 1940s Manhattan, she is a translator at the newly formed United Nations, devoting her days to her work and the promise of world peace―and her nights to cocktails and the promise of a good time.
Now the wife of a beloved pediatric surgeon and heir to a shipping fortune, Katharina is trapped in a gilded cage, desperate to escape the constraints of domesticity. So when she is approached by the FBI and asked to join their ranks as an informant, Katharina seizes the opportunity. A man from her past has become a high-level Soviet spy, but no one has been able to infiltrate his circle. Enter Katharina, the perfect woman for the job.
Navigating the demands of the FBI and the secrets of the KGB, she becomes a courier, carrying stolen government documents from D.C. to Manhattan. But as those closest to her lose their covers, and their lives, Katharina's secret soon threatens to ruin her.
After being stolen from her wealthy German parents and raised in the unforgiving wilderness of eastern Europe, a young woman finds herself alone in 1941 after her kidnapper dies. Her solitary existence is interrupted, however, when she happens upon a group of Jews fleeing the Nazi terror.
Stunned to learn what's happening in the outside world, she vows to teach the group all she can about surviving in the forest—and in turn, they teach her some surprising lessons about opening her heart after years of isolation. But when she is betrayed and escapes into a German-occupied village, her past and present come together in a shocking collision that could change everything.
Twenty-five-year-old Alice Paul returns to her native New Jersey after several years on the front lines of the suffrage movement in Great Britain. Weakened from imprisonment and hunger strikes, she is nevertheless determined to invigorate the stagnant suffrage movement in her homeland. Nine states have already granted women voting rights, but only a constitutional amendment will secure the vote for all.
To inspire support for the campaign, Alice organizes a magnificent procession down Pennsylvania Avenue in Washington, DC, the day before the inauguration of President-elect Woodrow Wilson, a firm antisuffragist.
Inspired by actual events, The Women's March offers a fascinating account of a crucial but little-remembered moment in American history, a turning point in the struggle for women's rights.
Summer 2021 Reading List: August Releases
Phronsie Linnelle was conceived at Woodstock in a serendipitous liaison between a free-spirited hippie and a farmer's son and was born with magical wonder flickering in her DNA and rationality knit into her bones. All her life she's been torn between the two. But now that she's been betrayed by both love and the mother she once idolized, her rational side is winning.
So when her best friend from childhood proposes that they give up on romance and marry each other, Phronsie agrees. Who better to spend your life with than your best friend? Maybe the connection they already have is love. Maybe there's no falling to be done. But immediately after they announce their engagement, she encounters someone who makes a very charming and compelling argument for revisiting romance.
While her even-keeled stepmother argues for the safety that comes with her new engagement and her mother relays messages from the universe to hold out for true love, Phronsie must look to her own heart to find the answers that have been there all along.
When twenty-nine-year-old Sunday Brennan wakes up in a Los Angeles hospital, bruised and battered after a drunk driving accident she caused, she swallows her pride and goes home to her family in New York. But it's not easy. She deserted them all―and her high school sweetheart―five years before with little explanation, and they've got questions.
Sunday is determined to rebuild her life back on the east coast, even if it does mean tiptoeing around resentful brothers and an ex-fiancé. The longer she stays, however, the more she realizes they need her just as much as she needs them. When a dangerous man from her past brings her family's pub business to the brink of financial ruin, the only way to protect them is to upend all their secrets―secrets that have damaged the family for generations and will threaten everything they know about their lives. In the aftermath, the Brennan family is forced to confront painful mistakes―and ultimately find a way forward, together.
Widower Mukesh lives a quiet life in Wembley, in West London after losing his beloved wife. He shops every Wednesday, goes to Temple, and worries about his granddaughter, Priya, who hides in her room reading while he spends his evenings watching nature documentaries.
Aleisha is a bright but anxious teenager working at the local library for the summer when she discovers a crumpled-up piece of paper in the back of To Kill a Mockingbird. It's a list of novels that she's never heard of before. Intrigued, and a little bored with her slow job at the checkout desk, she impulsively decides to read every book on the list, one after the other. As each story gives up its magic, the books transport Aleisha from the painful realities she's facing at home.
When Mukesh arrives at the library, desperate to forge a connection with his bookworm granddaughter, Aleisha passes along the reading list…hoping that it will be a lifeline for him too. Slowly, the shared books create a connection between two lonely souls, as fiction helps them escape their grief and everyday troubles and find joy again.
It starts innocently enough.
While the residents of the Québec village of Three Pines take advantage of the deep snow to ski and toboggan, to drink hot chocolate in the bistro and share meals together, the Chief Inspector finds his holiday with his family interrupted by a simple request.
He's asked to provide security for what promises to be a non-event. A visiting Professor of Statistics will be giving a lecture at the nearby university.
While he is perplexed as to why the head of homicide for the Sûreté du Québec would be assigned this task, it sounds easy enough. That is until Gamache starts looking into Professor Abigail Robinson and discovers an agenda so repulsive he begs the university to cancel the lecture.
They refuse, citing academic freedom, and accuse Gamache of censorship and intellectual cowardice. Before long, Professor Robinson's views start seeping into conversations. Spreading and infecting. So that truth and fact, reality and delusion are so confused it's near impossible to tell them apart.
When a murder is committed it falls to Armand Gamache, his second-in-command Jean-Guy Beauvoir, and their team to investigate the crime as well as this extraordinary popular delusion.
And the madness of crowds.
Summer 2021 Reading List: That's a Wrap
As I dive into my Summer 2021 Reading List, I certainly hope you find a few that pique your interest – leaving you with plenty of summertime companions and adventures!