This post may contain affiliate links. Full disclosure policy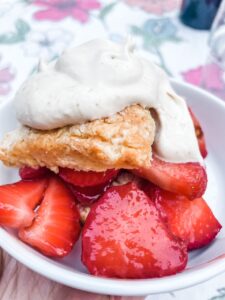 The best strawberry, blueberry, or summer fruit shortcakes start with homemade biscuits. My recipe for Homemade Shortcake Biscuits is crumbly, perfectly textured, and just sweet enough.
Homemade Shortcake Biscuits and Summer Goes Together
Summertime is shortcake time!
Whether you serve yours with strawberries, blueberries, peaches, nectarines, or just about any berry or soft summer fruit, a really great shortcake starts with a really great shortcake biscuit.
And when it comes to tastes and texture, there's simply no comparison between homemade shortcake biscuits and the store-bought version.
If you don't do a lot of home baking, making homemade shortcake biscuits might seem intimidating. But it's really not that hard and the extra effort is so, so worth it!
However, before we talk about baking techniques, let's talk about what you'll need to make Homemade Shortcake Biscuits. Chances are good that you already have them on hand!
Homemade Shortcake Biscuit Ingredients
Flour
Butter
Sugar
Milk
Lemon juice
Baking soda
Baking powder
Salt
Cream
That's it!
The equipment you'll need for homemade shortcake biscuits is pretty basic too. If you have a food processer or a pastry cutter, that's helpful but not required. You can accomplish the same results with a simple mixing bowl, a couple of knives, and a little more effort.
However, you will need a rolling pin to roll out the dough. If you don't have one, I bet one of your neighbors has one you can borrow. Don't be shy about asking! The opening scene of more than one happily-ended romance began with one neighbor borrowing a cup of sugar or a kitchen tool from another. So, who can say what might come of it?
But it a real pinch, you can even roll out the dough by using a glass or jar, or just about any tall cylinder with a smooth surface. It's not ideal, but it can be done.
Making Homemade Shortbread Biscuits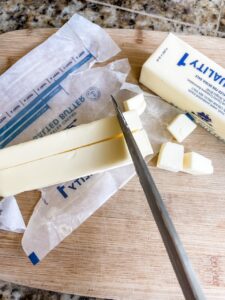 Baking homemade shortbread biscuits is really very easy. You simply whisk together the dry ingredients in a mixing bowl. Then you cut the butter into them until the butter is the size of small pebbles and the flour mixture looks a little like sand. After that, you mix in the wet ingredients, roll out the dough, cut the shortbread biscuits, and bake.
Simple!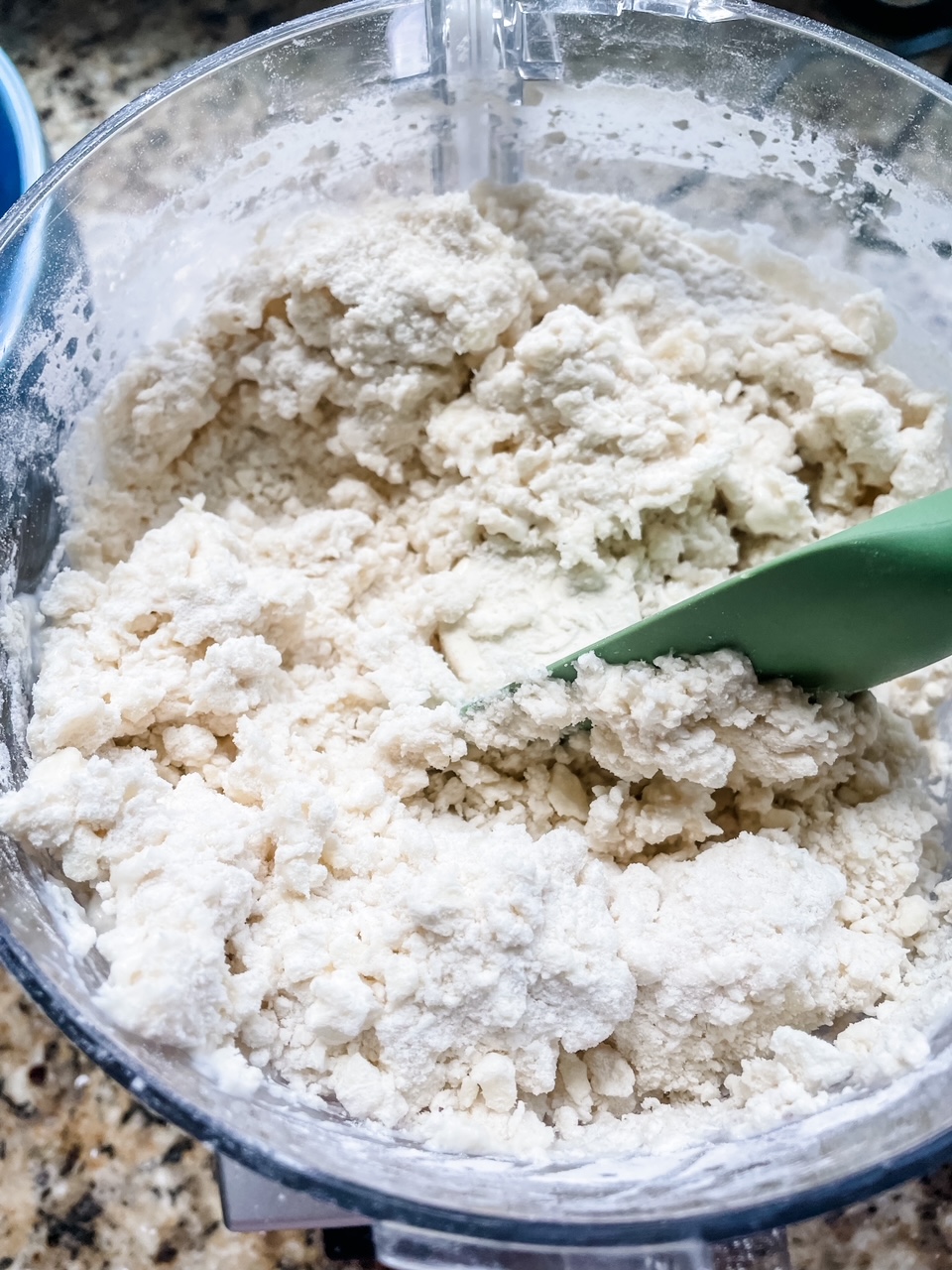 Tips for Perfect Shortbread Biscuit Dough
However, the key to making sure your shortbread biscuits come out with a nice, crumbly texture is making sure the butter is cold – really cold – and starting with small pieces of butter. That way, you can cut it into the flour mixture more quickly.
I like to quarter the butter cubes lengthwise, then make half-inch slices across the butter so the bits of butter are pretty small to begin with. Then, I put the already cut-up butter into the freezer for about 5 to 10 minutes. The butter won't be completely frozen but it will be very cold, and that's the key to making flaky pastry.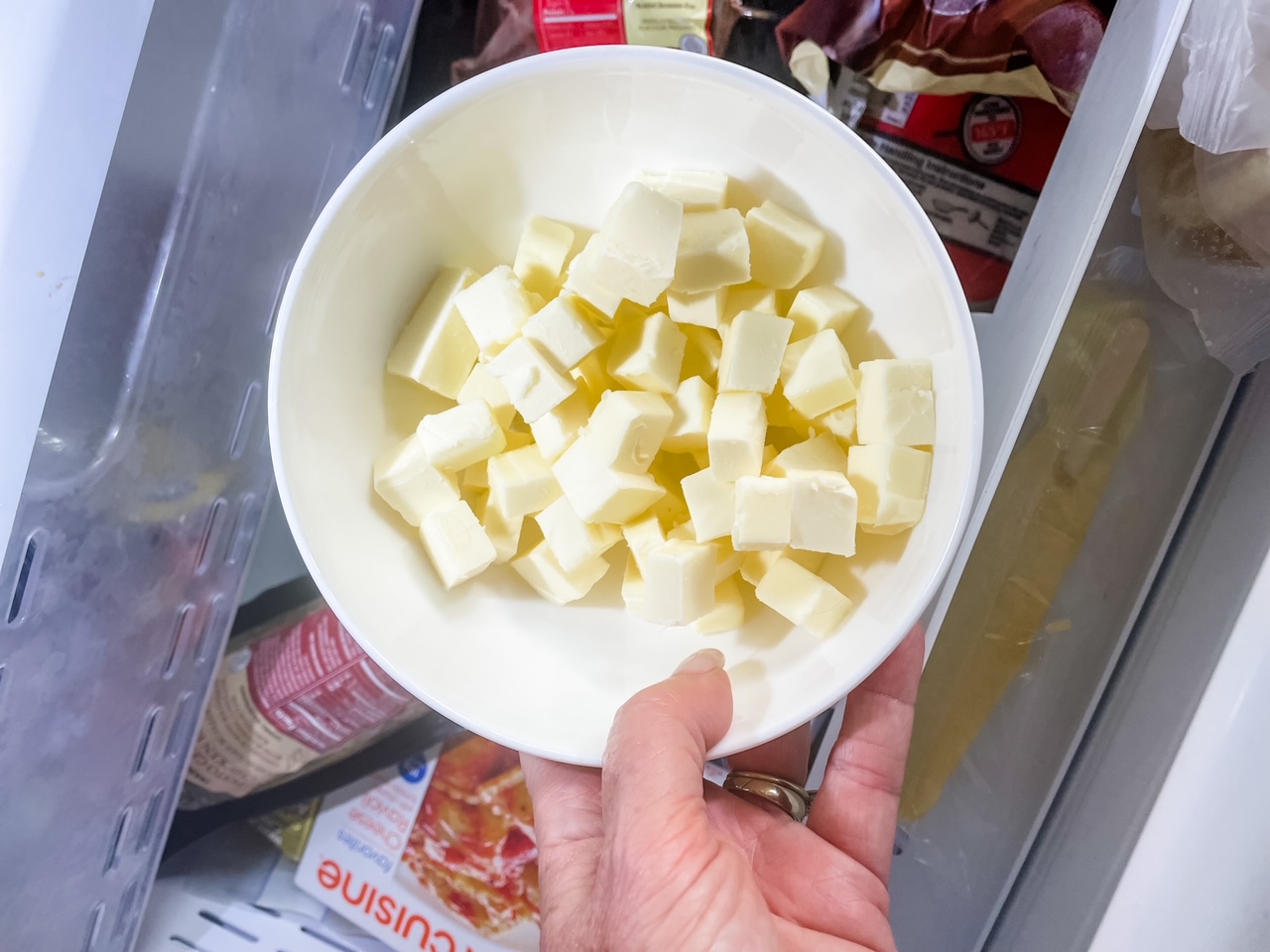 Try to work as quickly as you can when butter into the flour so the butter doesn't have time to warm up. If you've got one, a few quick pulses of the food processer should be enough to get the flour mixture to the pebble and sand stage. You can also use a pastry cutter and do it by hand, or use two knives and cut crossways and quickly until the butter is pebble-sized.
The final step in making the dough is to add the wet ingredients and stir until it just comes together.
Many biscuit recipes call for buttermilk. However, that's something I rarely have on hand, so I use milk and a little lemon juice. It works just as well and you won't have to make an extra trip to the store to give your shortbread a subtle tang.
Rolling Out the Homemade Shortbread Biscuits
Generously flour the countertop or baking mat before rolling out the dough. Again, you want to prevent the butter from getting warm, so make sure your hands are cool before you work with the dough. If necessary, run your hands under cold water for a few seconds and then dry with a tea towel before you begin.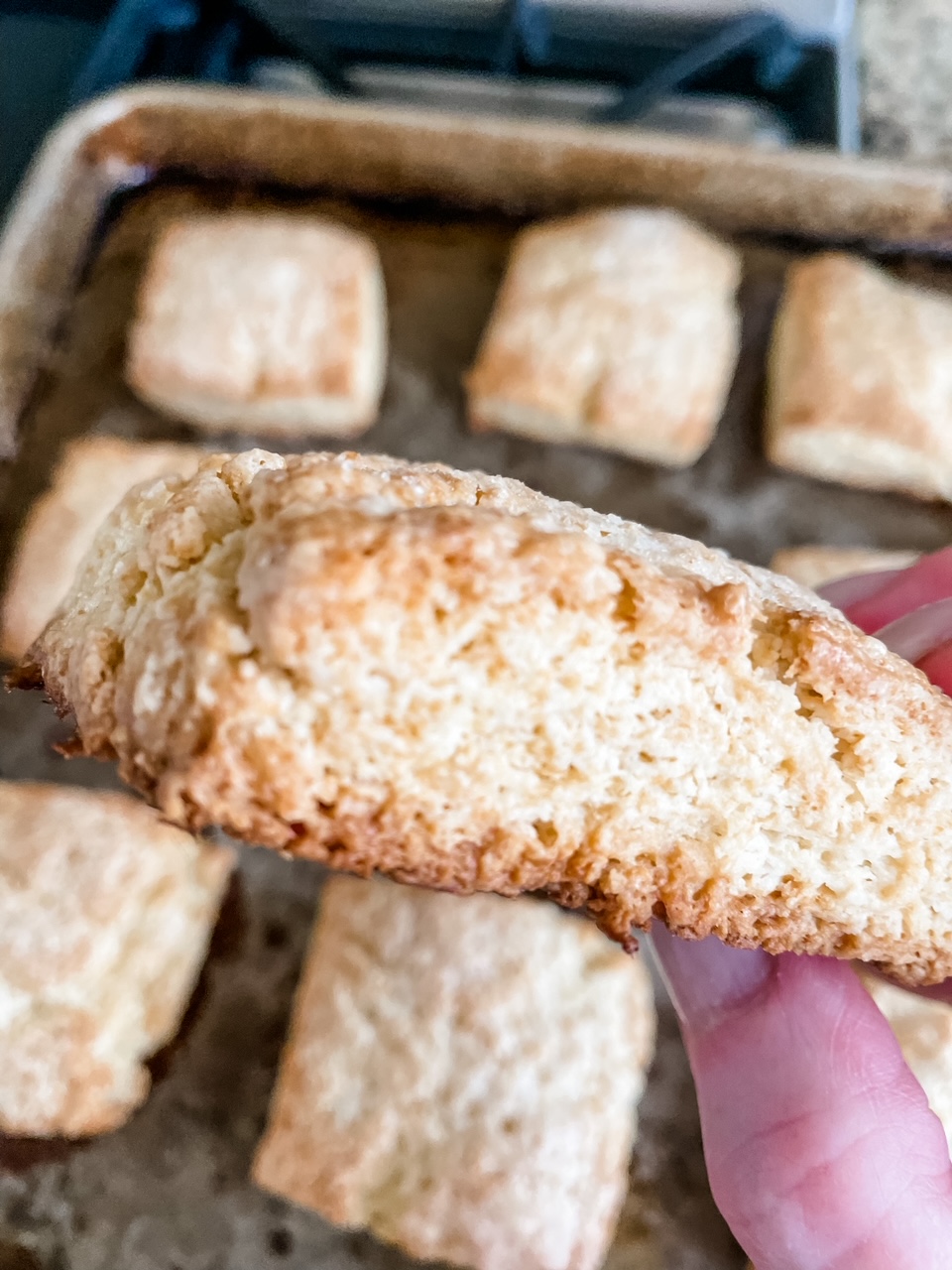 When you dump the dough out onto the floured surface, the dough will be sticky. Don't worry. It will become dryer and easier to handle as you roll it out.
Flour your hands, then work quickly to shape the dough into a rectangle that's about 1 inch thick. Sprinkle a little flour over the top, then fold it in half. Use a floured rolling pin to roll the dough back into a 1-inch thick rectangle again. Repeat the folding and rolling three more times, or until the dough is dryer and stops sticking to the surface.
Finally, use a sharp knife to cut the dough into 8 squares, transfer to a baking sheet, brush the tops with cream and sprinkle with sugar, and bake.
After cooking, cut your Homemade Shortbread Biscuits in half and serve with your favorite berries, soft summer fruit, and plenty of whipped cream. They're a delicious base for a terrific summer dessert!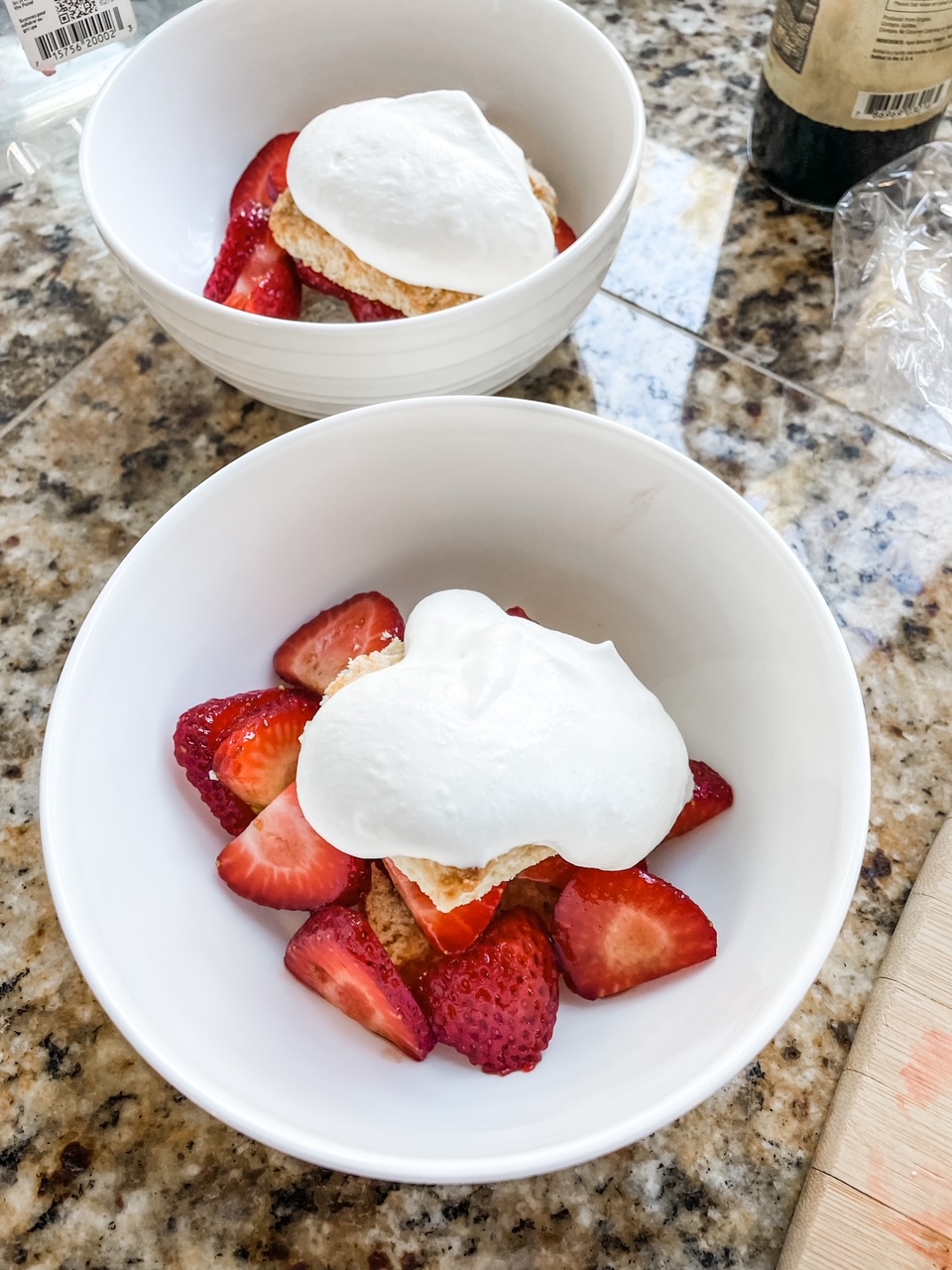 Print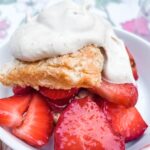 Homemade Shortcake Biscuits
---
2 ¾ cups

flour, plus more for rolling out dough

¼ cup

sugar, plus more for sprinkling

1

T baking powder

¾ tsp

baking soda

1 tsp

salt

¾ cup

very cold, unsalted butter, cut into small pieces

1 cup

whole milk

1 tsp

lemon juice

1

T heavy cream (can substitute melted butter)
---
Instructions
Preheat oven to 400.
Place flour, sugar, baking powder, baking soda, and salt into a medium sized mixing bowl. Whisk dry ingredients together.
Using a food processor, pastry cutter, or two knives cutting crosswise, cut cold butter in flour mixture until the butter pieces are the size of small pebbles and mixture resembles coarse sand.
Pour milk and lemon juice into a small bowl and stir together. Pour milk and lemon juice mixture into dry ingredients and stir with wooden spoon or spatula until all the ingredients just come together into a sticky dough.
Turn the dough out onto a floured surface. Flour your hands, gather the dough into a ball, and press into a rectangle, about 1 inch thick. Flour the top the dough and fold in half. Sprinkle more flour over the dough and roll into a rectangle again. Repeat the folding and rolling three more times, until the dough is dryer and stops sticking to the surface.
Use a sharp knife to cut the dough into 8 squares. Transfer the shortcake biscuits onto a lightly greased baking sheet. Brush the tops of the biscuits with cream or melted butter and sprinkle with sugar.
Place baking pan into preheated oven and bake for 20 to 24 minutes, until the shortcake tops are golden brown.
Remove shortcake biscuits from the oven, cool thoroughly on a baking rack. Cut shortcakes in half and serve with berries or fruit mixed with a little sugar and whipped cream.