This post may contain affiliate links. Full disclosure policy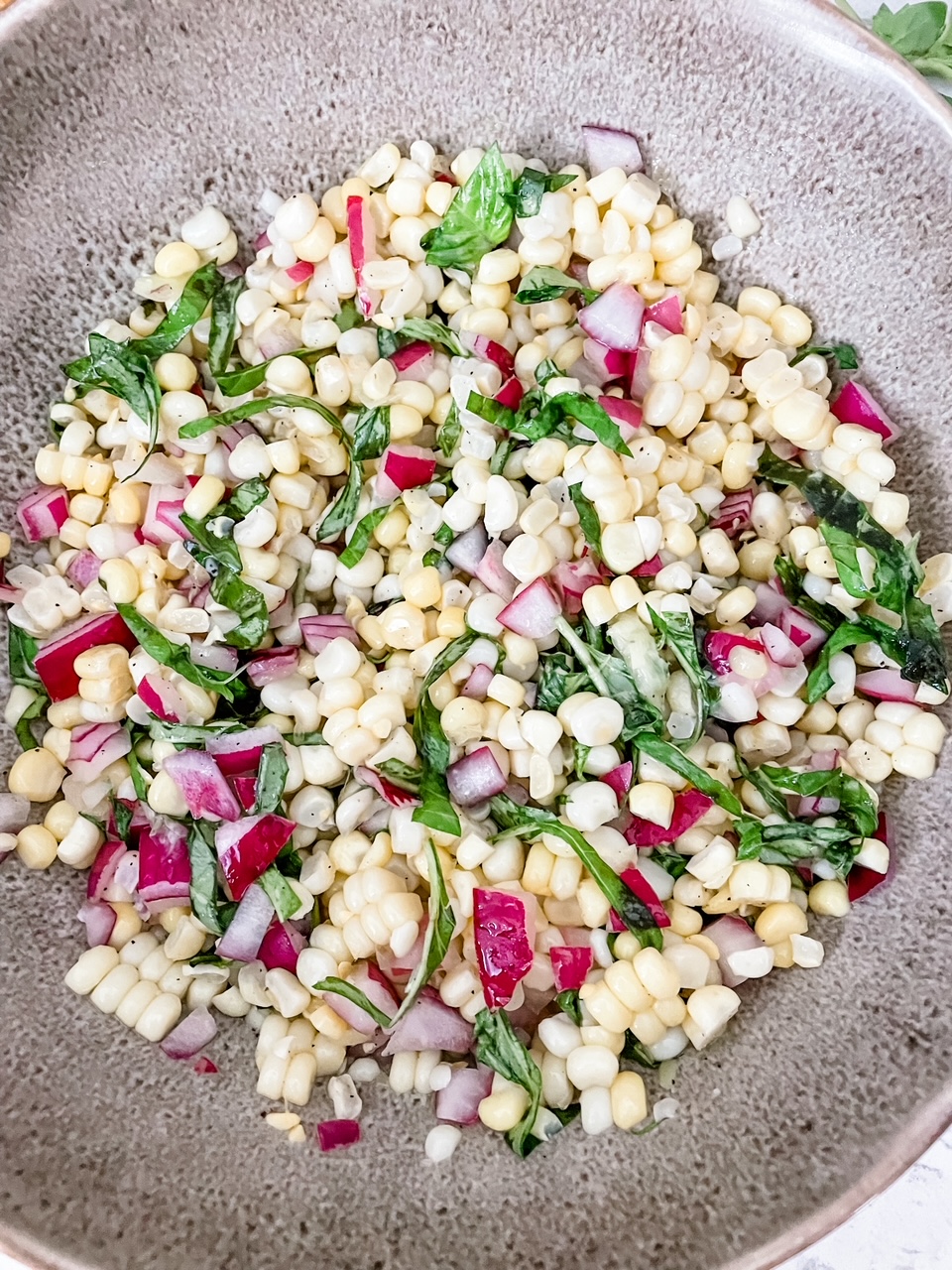 Though I love creating recipes or changing up classics to suit my own taste, some things really can't be improved upon. The Barefoot Contessa's BEST Corn and Basil Salad is one I wouldn't dream of changing. In fact, I make all this time. Give it a try and you'll see what I mean.
Barefoot Contessa: Chef of the Best Corn and Basil Salad & My Celeb Crush
Have you ever had a celebrity crush?
I think a lot of us have fantasies about meeting a famous person we admire and really hitting it off. Usually, those fantasies center on sports figures or movie stars. Judging from the number of fake Keanu Reeves profiles that keep trying to friend me on Instagram, I'd say he's an especially popular choice among women my age.
Keanu's okay, I guess. Personally, I'd rather spend a day with Simon Baker. (Yes, I DO happen to have a throw pillow emblazoned with his devastatingly handsome visage. What of it?) But the problem with my fantasy is that if Simon ever did walk up to me and say hello, I'm pretty sure I'd be too stunned to speak.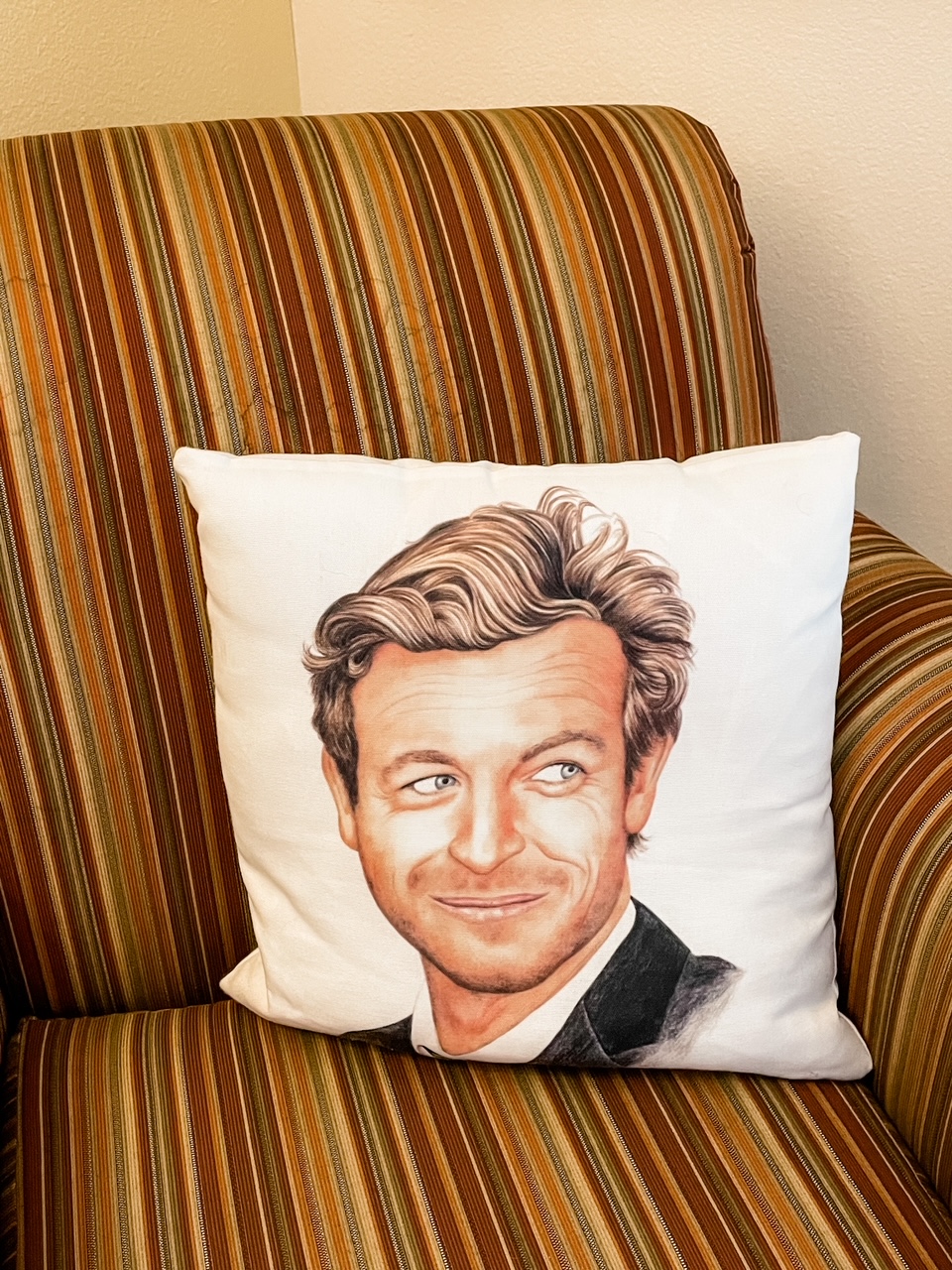 Not so with celebrity chef Ina Garten, known as The Barefoot Contessa.
La Contessa and I have so many common interests. So should I ever be lucky enough to experience an Ina Encounter, I know we'd fall right into talking about favorite recipes and cooking techniques and probably become best friends for life.
And should that happen, I know that the very first recipe we'd discuss would be her Corn and Basil Salad.
Barefoot Contessa's Best Corn and Basil Salad: Don't Mess with Perfection
Way back in 1999, I bought my first Ina Garten book, The Barefoot Contessa Cookbook. I instantly fell in love and have purchased a copy of every cookbook she's published since. I can't say that about any other chef in my cookbook library.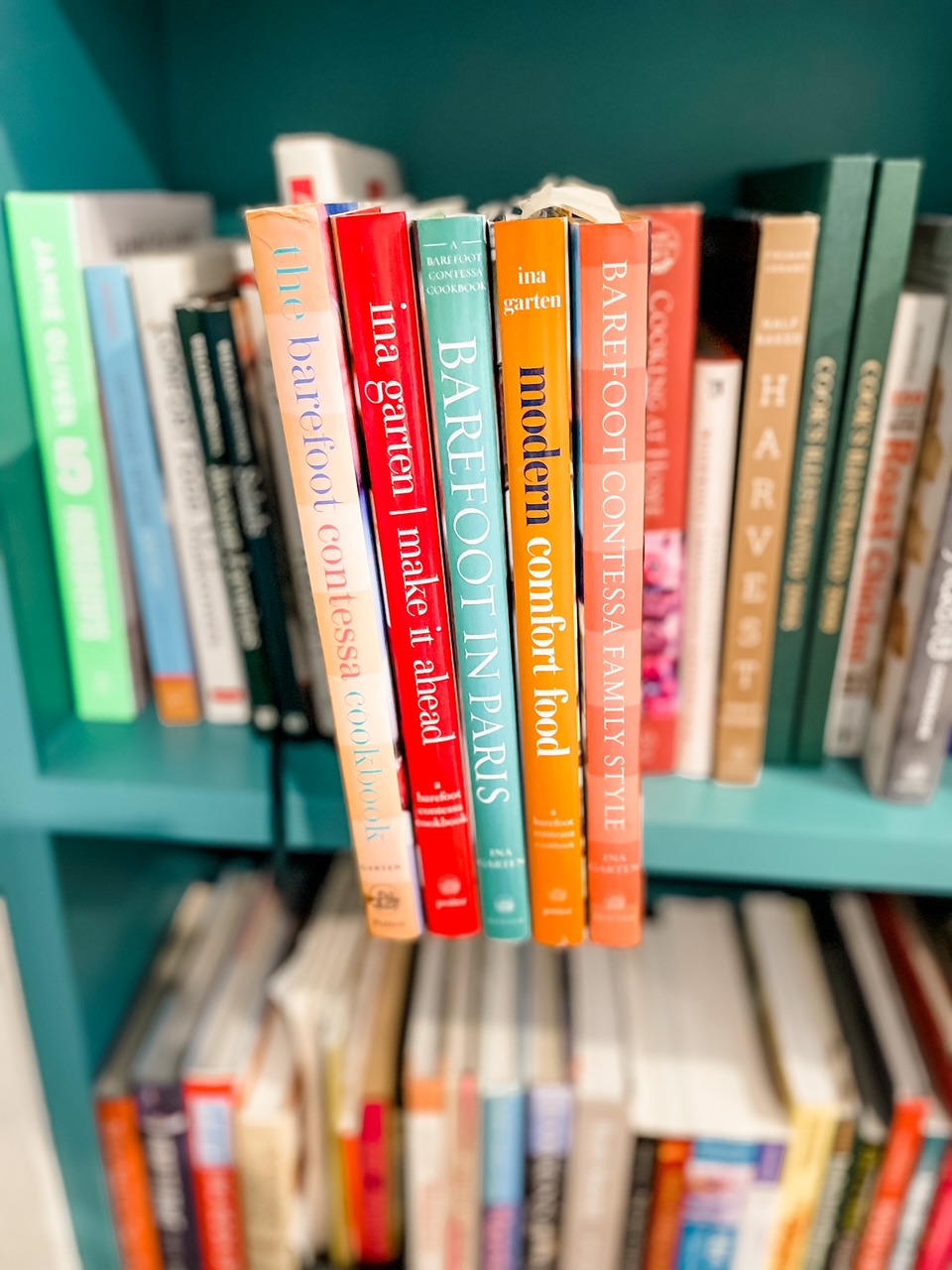 But even though I have loved Ina's simple, accessible recipes that emphasize fresh ingredients and look as good as they taste, I usually change them up a bit.
Sometimes I'll eliminate ingredients that just seemed like gilding the lily or add others to kick up the flavor, or perhaps cut down on the oil or butter (Ina loves oil and butter) to make it a little healthier.
But I have never messed with Ina's corn and basil salad recipe.
It is perfection. It's simple, fresh, flavorful, and a salad that I've made again and again.
Barefoot Contessa's Best Corn and Basil Salad: Soon to Be Your Favorite
There are a lot of Barefoot Contessa fans out there, so many people are already familiar with this corn and basil salad recipe.
But if you haven't heard of this recipe, you've really been missing something. That's why I wanted to share it with you. Especially at this time of year, when fresh corn is plentiful and sweet as can be, this is the recipe you need!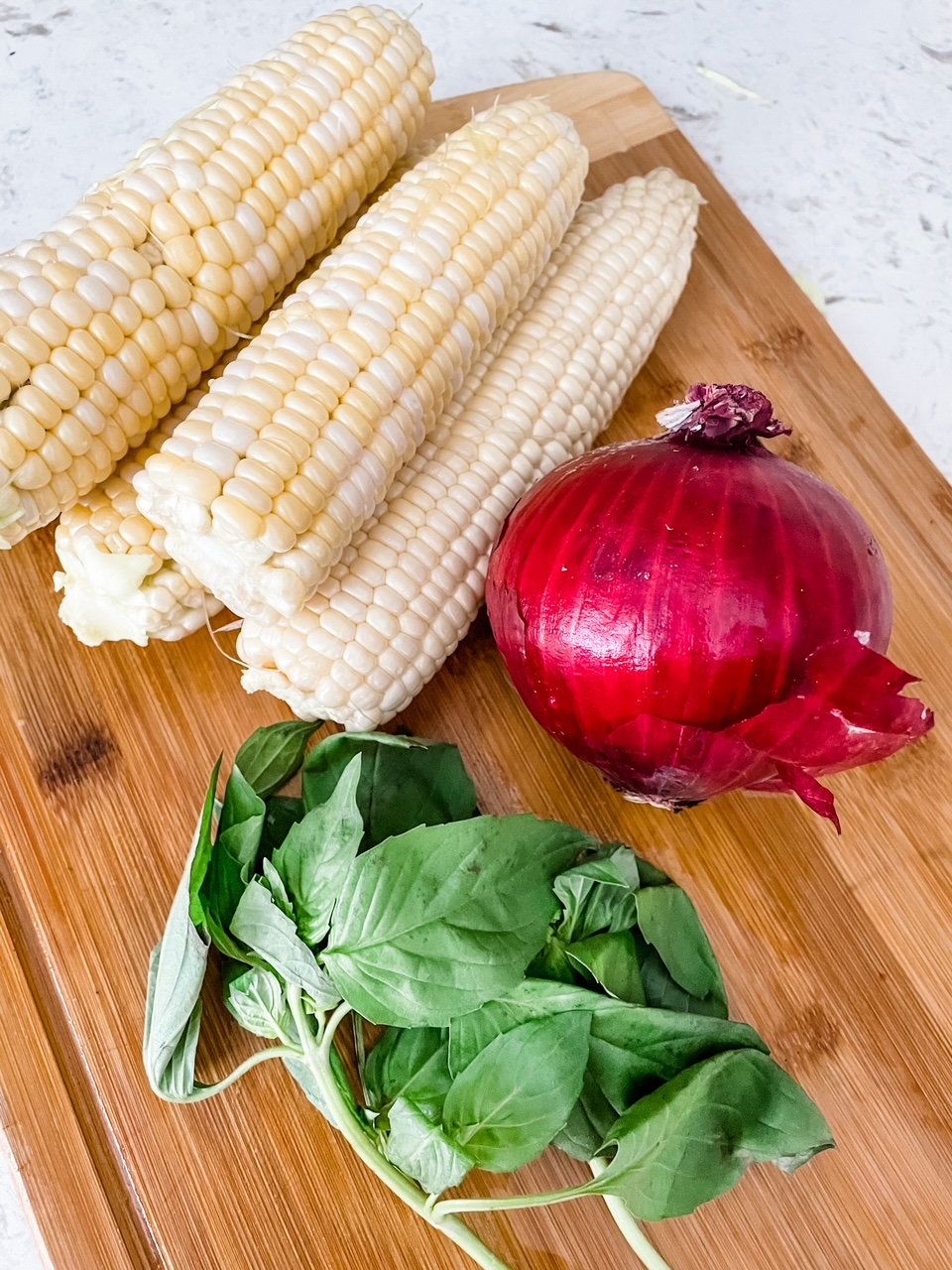 Apart from the fact that it tastes ahh-mazing, the thing I love about this corn and basil salad is its simplicity. If you don't count the salt and pepper, it only requires five ingredients – fresh corn, red onion, basil, cider vinegar, and olive oil.
That's it!
Even people who hate to cook can make this recipe and earn raves doing so. All you've got to do is boil the corn quickly, cut the kernels from the cob, throw in chopped onion and basil, and toss it with a simple oil and vinegar dressing.
Simple! (My only tip is to use the very freshest produce you can find. It makes a difference.)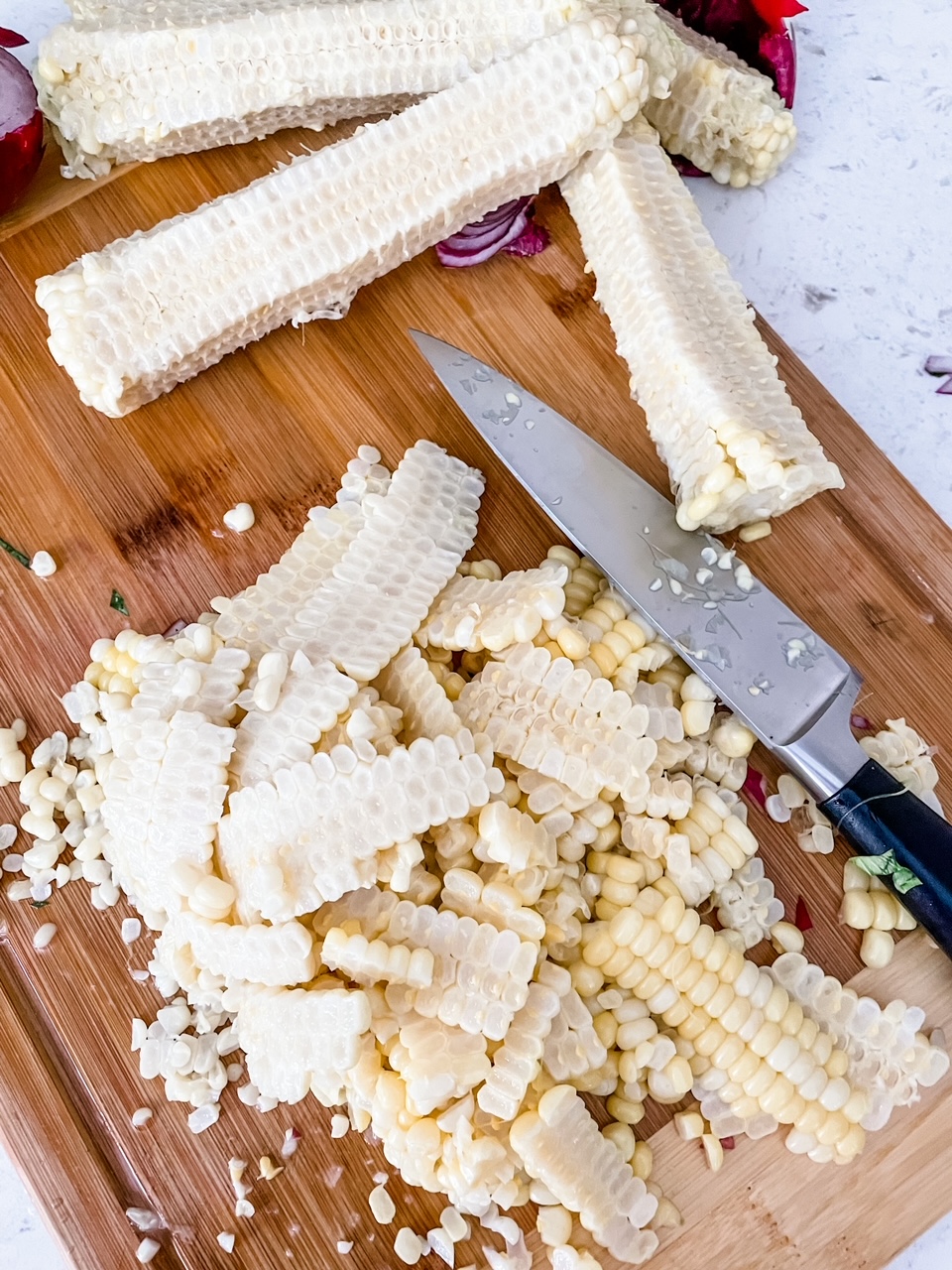 You wouldn't think that such a simple recipe would taste all that incredible but, believe me, it does. In fact, simplicity is what makes this the BEST corn and basil salad recipe you'll ever find.
In this preparation, the sweetness of the corn, the subtle sharpness of the onion, and the fresh, slightly grassy flavor of the basil all come through beautifully. And the light oil and vinegar dressing enhances the flavors instead of burying them.
With fresh corn at peak season, now is the ideal time to make this delicious corn and basil salad. It's one of my very favorite recipes. I bet it'll be one of yours too.
Print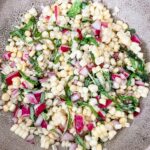 Barefoot Contessa's BEST Corn and Basil Salad
---
Author:

Yield:

4

-

6

servings

1

x
5

ears of fresh corn, shucked

1

small red onion

10

to

12

large basil leaves, sliced in chiffonade (small ribbons)

3

T cider vinegar

3

T good quality olive oil

½ tsp

kosher salt, plus extra for water boiling

½ tsp

fresh ground black pepper
---
Instructions
Put a large pot of salted water on the stove to boil.
While waiting for water to boil, dice the onion. (You'll need a half a cup). Set aside.
Layer the basil leaves on top of each other. Starting at the stem, roll into a cigar-like shape. Slice crossways into ribbons. (chiffonade). Set aside.
When the water is boiling vigorously, place the corn in the pot. Boil for three minutes, just to remove the starchiness. Remove cooked cobs from the pot and plunge into ice water. Allow the corn to cool, then slice the corn kernels from the cob. Place kernels into a salad bowl along with diced onion and basil ribbons.
In a small bowl, whisk together vinegar, oil, salt, and pepper. Pour over corn salad and toss to coat evenly. Taste and adjust seasonings. Serve. (If you're making ahead, don't add the basil until you're ready to serve.