This post may contain affiliate links. Full disclosure policy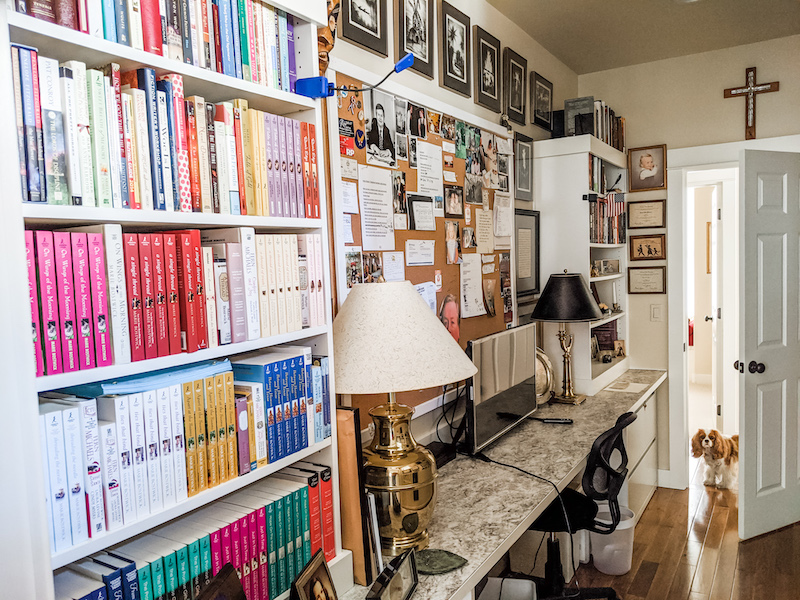 When my husband and I built our new house, we set out to strategically position our respective small workspace. For me, it was my craft room. For him, it was a small office. Seems easy enough on the surface, right? However, our new house was less than half the size of our previous one so creating offices with room for both of us was challenging.
Each of us has different workstyles and very specific requirements. I'm going to tell you more about my office solutions in a future post, but today I'll just tell you about my husband's office. I really think it turned out well!
His Space – His Needs
My husband is a consultant and often works from home. He needed room for his many, many files. Also, he's a guy who likes to spread out. Unless I was willing to give up the entire kitchen island to his papers, I needed to make sure his new office had lots of workspace. He's also a fairly social animal so his office couldn't be too far from the hub of family activity. At the same time, he takes a lot of calls and participates in conference calls – often putting the call on speaker. That meant that an office door was a necessity, both for his privacy and my sanity.
Our first thought was that he could work in one of the guest rooms. However, both rooms are efficiently compact and not really big enough for what he needed. Also, we get a fair amount of company. I didn't want to deal with the hassle of moving him out of his office every time we had a guest.
So what's a girl to do?
Build him an office in an otherwise useless hallway, of course!
Putting A Hallway To Work
The design of our home included a very long hallway leading to the master bedroom. Adding one extra foot of the hall allowed me to create an office that, though it's only 22 inches deep, gave my husband all the workspace he needed.
This office works because we took advantage of every inch of available vertical space. To the left and right of his work area, I tucked in two huge filing cabinets with four big drawers. The desk to ceiling bookshelves provided lots of room for business books and photographs to reflect his personality. But his favorite thing is the giant bulletin board in the middle – a perfect spot to pin calendar items, articles, and memorabilia. And there is PLENTY of room to spread out his papers. (As I sweetly remind him if they somehow migrate to my kitchen).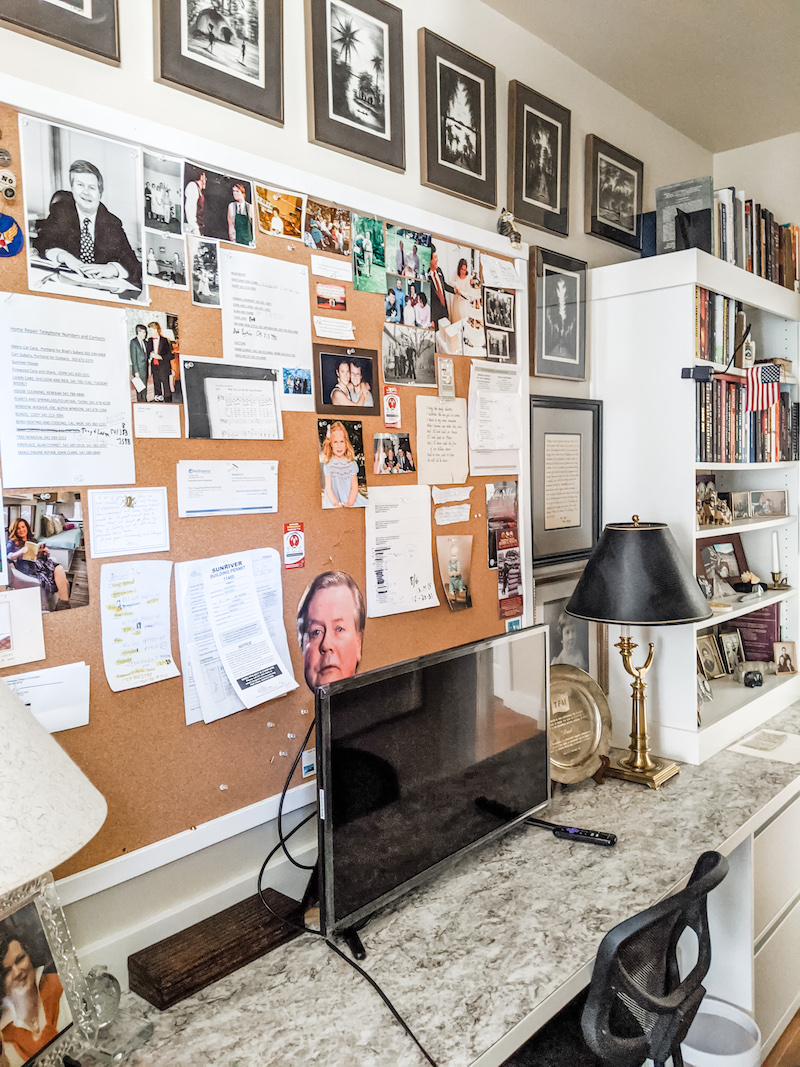 Custom Look Without A Custom Price
One of the things I am proudest of regarding my husband's office is that we created a functional, stylish workspace without blowing our budget!
We did need some help to build out the space; neither of us are people who should be allowed to handle a skill saw. But creating my husband's office was a project that someone with the right tools and some fairly basic carpentry experience could tackle.
The desk was created from sturdy plywood, cut 22 inches wide. Plywood braces at the bottom support the top and divide the desk area from the file cabinets. We topped the desk with an inexpensive but attractive marble-look Formica. Painting everything white helps give this narrow space a more open feel. Trimming the desk with painted molding gave everything a custom look.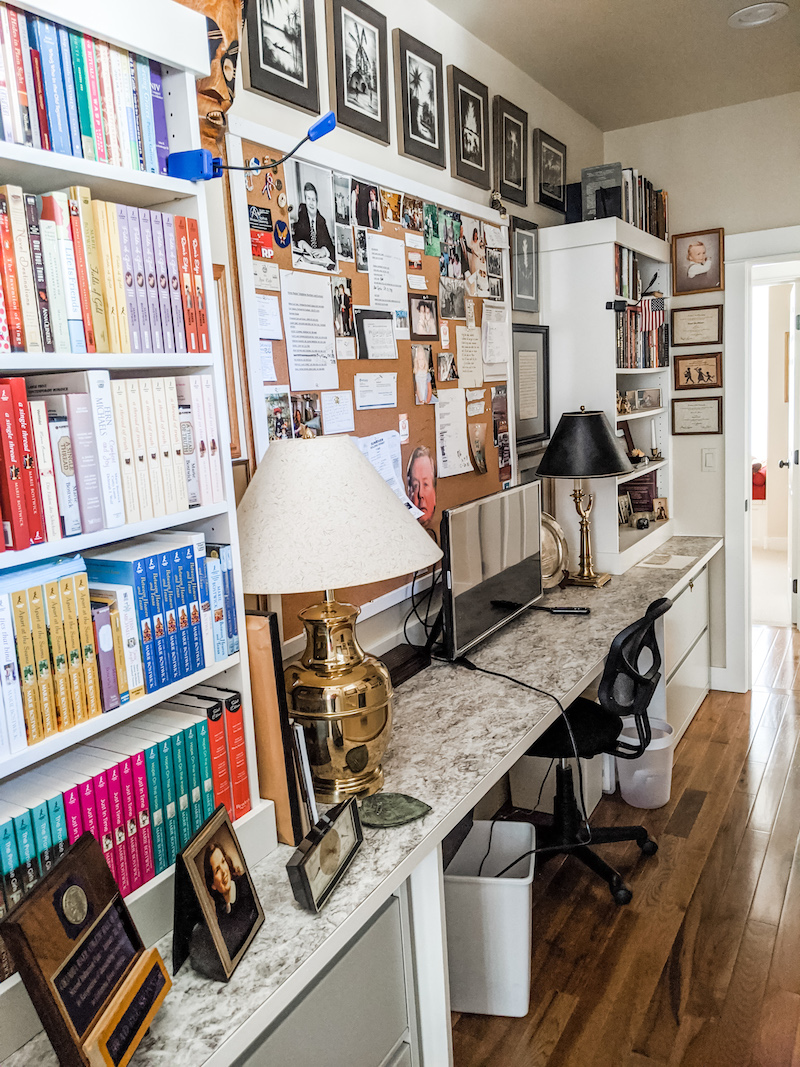 The bookshelves look custom too – thanks once again to a painted molding added at the finish. But they're really constructed from pre-drilled laminate shelving from the hardware store. These are inexpensive and easy to install. Trimming them out with molding makes them look really sharp.
The bulletin board started with more plywood, a lighter weight so it would be easier to attach to the wall. After gluing rolls of cork to the plywood, we trimmed it out with more painted molding. The bulletin board keeps clutter off the desk, makes organization easier, and takes advantage of what could have been wasted space.
The most expensive item in his office are the file cabinets. I purchased them first, spending around $800 for the two, and designed the rest of the office around them. It was a little tricky finding cabinets that were big enough but also light in color, but I kept searching until I got what I needed. They slid right below the desk area with just an inch to spare and blend right in.
Unfortunately, I didn't keep the receipts for this project, but I do know that the materials were well under $2000, including the file cabinets. That's not nothing, but it's thousands less than we'd have spent with a cabinet company or custom build-out.
In terms of home value, aesthetics, and marital harmony, my husband's office was a great investment!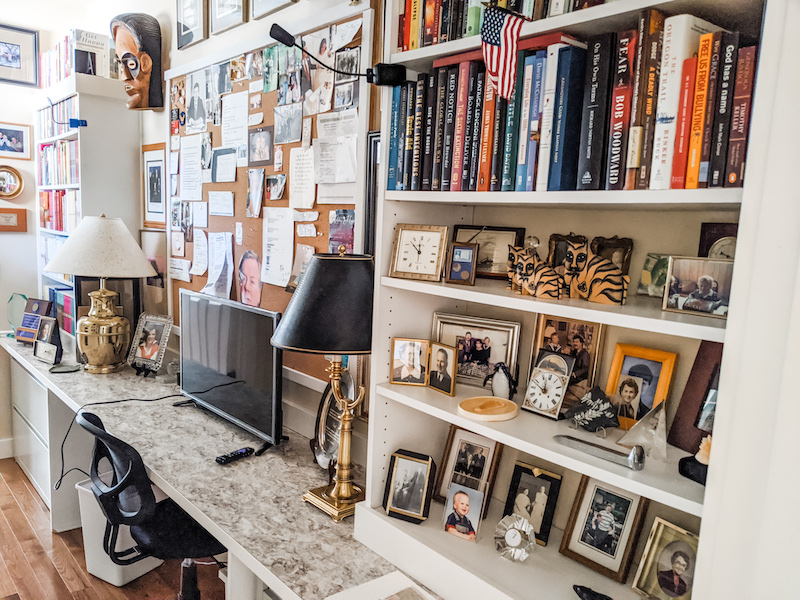 Creating Your Workspace
Looking to create a workspace for yourself but feel like there is no room in your house? I hope you'll take some inspiration from this post. Having a workspace of your own is important. If you start thinking outside the box, I believe that almost anyone can create their own space.
Getting Started:
Locate a spot: The hardest task on the list is deciding in fact what spot your workspace will be in. Don't feel guilty about taking up additional space in your already tight house. There is always a space in your house that could be used in a better capacity. That's what you're looking for. With the right kind of design, wasted space and become prime workspace real estate! What space in your home isn't being used? A hallway can work, but so can an underutilized guest closet, an alcove, spot under a stairway, or a corner in a guest room. This tiny desk in our equally tiny guest room is where I do my morning devotions. It suits the purpose perfectly. Where there's space there is a way!
Create a Look and Feel: Depending on the spot you choose, the look and feel could vary drastically. Before settling on your look and feel, take into account the spot you picked. If it's very small with little light you may want to choose lighter colors, to help brighten the space. A photo mural of the outdoors can transform a dark corner. If your work is chaotic and frantic, you may seek some zen by adding some indoor plants or a desktop garden. If you want it to be more of a dreaming and relaxing spot you could accent with a thick knit blanket or a plush chair. Your space should reflect your personality.
The Setup:
Keep it Organized: They say everything around us really has the power to affect our mood and productivity. Being unorganized is not the way we want to begin our relationship with our new space. We are all so lucky to have Target, HomeGoods, and even Amazon at our fingertips. There are so many wonderful organizational products you can purchase to keep clutter under control. Something to keep in mind is that building storage into your desk is important. You can build shelves, have a drawer or purchase organizers but having spots for all of your things really helps keep your love for the space. Nobody wants to work in a messy office!
Add some Fun: Nameplates are on trend currently and this is a fun way to make sure everyone knows whose spot this is. You can also add your favorite wall calendar, (mine is a quilting calendar, of course) and some personal pictures to your special space. I've added a few inspirational signs in my office. They lift my spirits on a hard day and help remind me of what I'm reaching for.
Small Space, Big Dreams
Even if you're retired or don't work from home, I think everybody needs a special, personal space to work, create, and dream. Start looking for wasted space or underutilized corners to create a workspace for yourself,
It doesn't have to be big to serve the purpose. It just has to be yours.