This post may contain affiliate links. Full disclosure policy
THIS POST MAY CONTAIN REFERRAL LINKS. IF YOU CLICK THROUGH AND TAKE ACTION, I MAY BE COMPENSATED, AT NO ADDITIONAL COST TO YOU.
In my recent post, Crafts and Creativity: The Secret Ingredient for a Life of Joy, Fulfillment, and Eternal Youth, I made a couple of blanket statements that I stand behind one hundred percent.
Human beings are hard-wired for creativity.
Crafting is good for the soul.
I truly believe this. If you've read my books, you know this is a theme I've explored more than once. I also believe that every creative woman (which, as I've explained above, means everybody. Including you.) needs a craft room of her own.
Spark Creativity
I'm using the word "room" a little loosely here. Not everybody has the space for an entire room dedicated to crafting and creativity.
Maybe your craft "room" will really be a craft closet, craft desk, or crafty she-shed. Maybe, like me, you have to share craft room with your home office. It doesn't really matter what it is or where, as long as it's yours.
The purpose of this post to provide inspiration for your craft room dreams and aspirations, showcasing ideas to help you turn your space, no matter how large or small, into a well-organized craft room that sparks your creativity becomes the crafting happy place you need and deserve.
The first stop on our Craft Room Tour is….Mine!
My Bright and Cozy Studio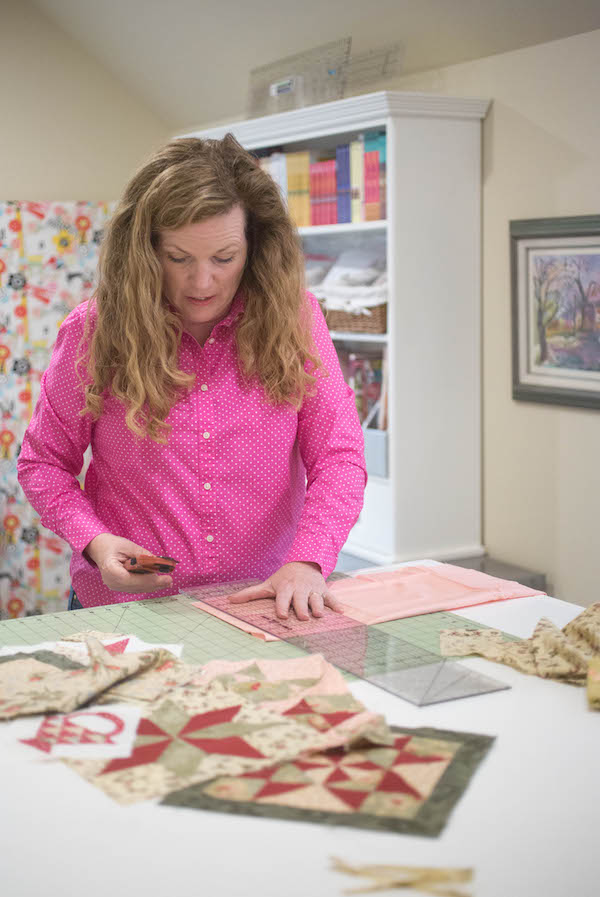 I really love my new home in Oregon. But I also loved my old home in Connecticut. Among the many things I love about it was that the entire daylight basement was all mine. I didn't have a craft room; I had an entire crafting suite.
When I agreed to move to a smaller home in Oregon, it was on two conditions. I wasn't moving without my piano. Or my fabric.
Fulfilling those conditions proved tricky but doable. Expanding a hallway into a music gallery gave us room for the piano. A space over the garage became my office and craft studio. Making everything fit in my studio was a lot tougher than making room for the piano.
But, after lot of planning, a couple of false starts, and yes, some weeding of my carefully curated fabric collection, I made it work.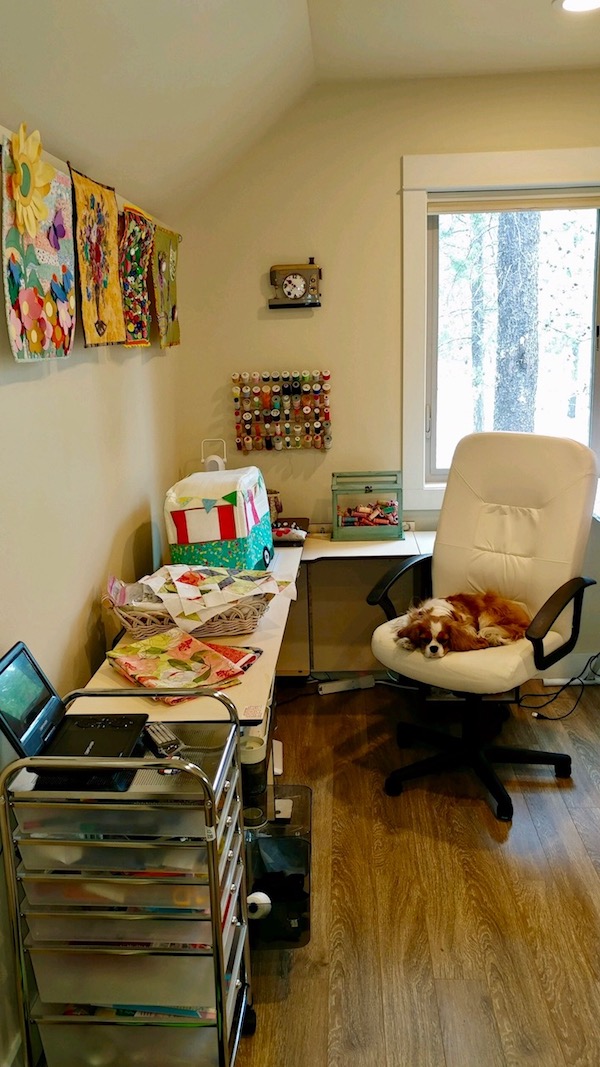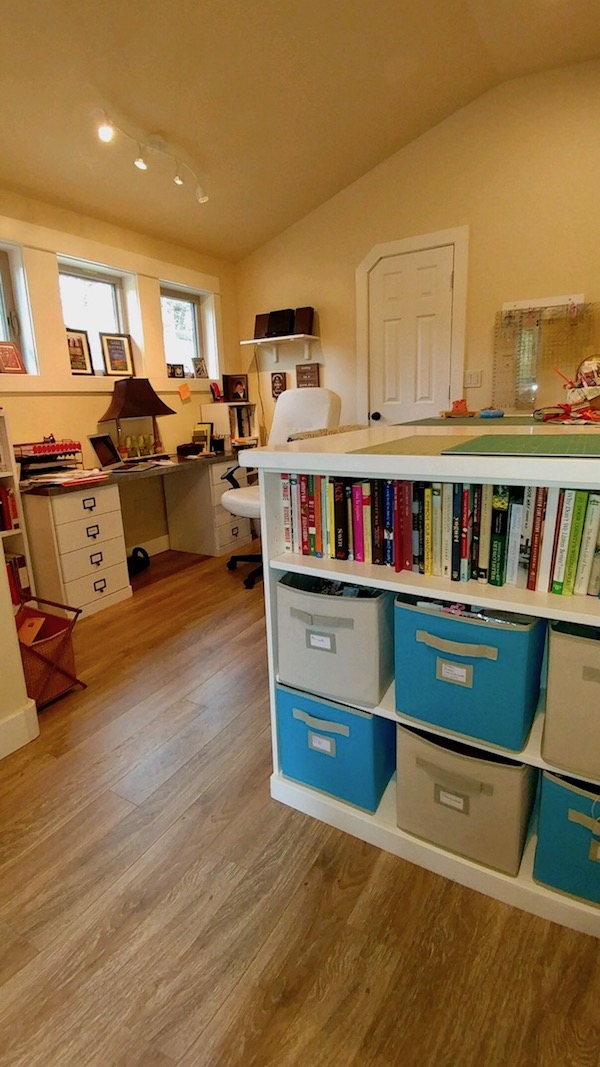 It's a delightful space, cozy and bright, but perhaps a quarter size of my old studio. Fitting both my writing office and craft room into one space that didn't feel crowded or cluttered wasn't easy!
Palette and Finishes
Painting the walls a light color and using all white furnishings – even down to the desk chairs (spaniel approved!) – made the room feel less cramped visually. The neutral palette provides a great background for my colorful and eclectic quilt display.
Gray, driftwood look laminate flooring gives a nod to the modern cottage style of the house. Wood laminate flooring is a fantastic, budget-friendly choice for craft rooms. Stray thread and scraps sweep up in a snap.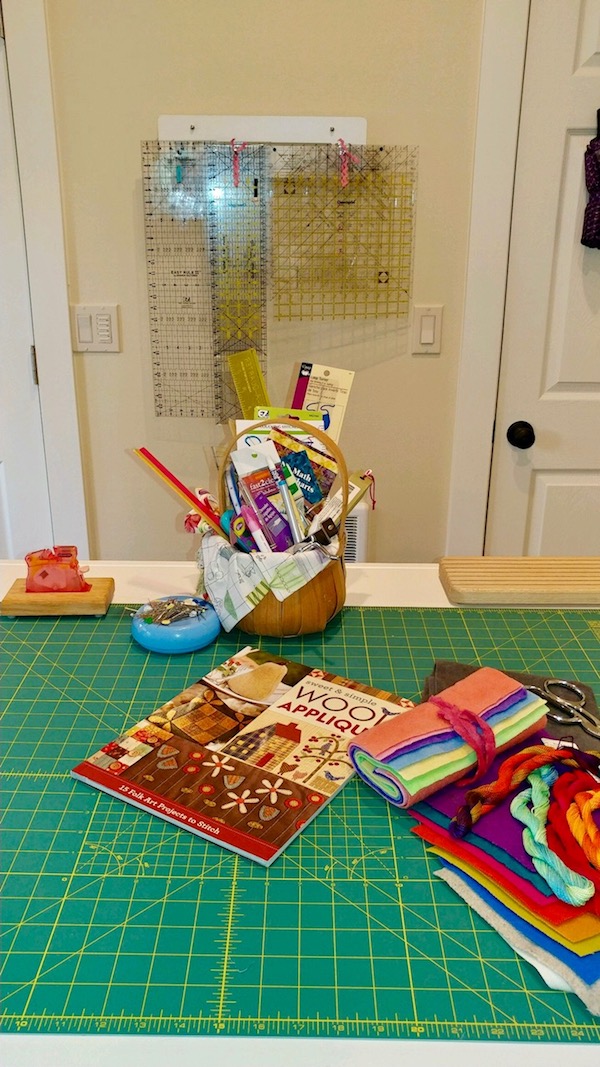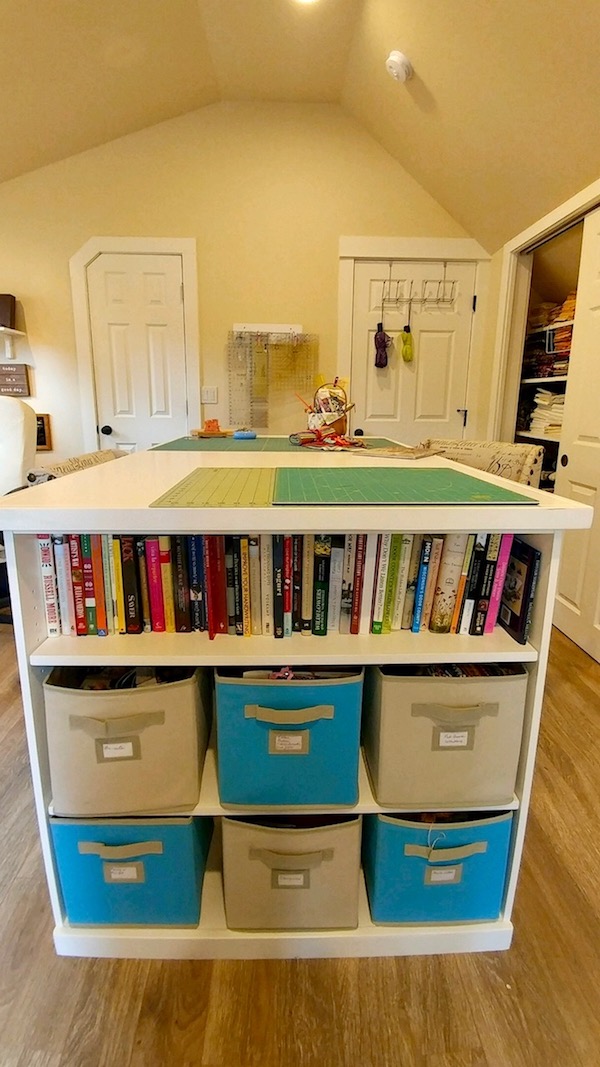 The low roofline in my craft room office gives it a homey, cozy feeling that I love. But the short walls really cut down on usable floor space and presented storage problems. Making everything fit meant maximizing every square inch.
My big, standing height desk does triple duty. Two upholstered stools on either side turn it into a partner's desk (great for meetings with my assistant or two-person craft parties). The large surface gives me plenty of room for cutting fabric and crafting. Shelving units on each end provide stable support for the desk and tons of space to store books and colorful cubes to hold ribbons, thread, and office supplies.
And quilters take note!! I must tell you about my latest find!
See that rack on the back wall? My 18 inch ruler rack required only two nails and ten minutes to install and stores 21 of my favorite quilting rulers within easy reach of my cutting table. Genius!
I think it's the greatest thing to hit quilting since the rotary cutter. My only regret is that I didn't buy the larger, 36 inch version. (I still might.)
My Fabric Stash!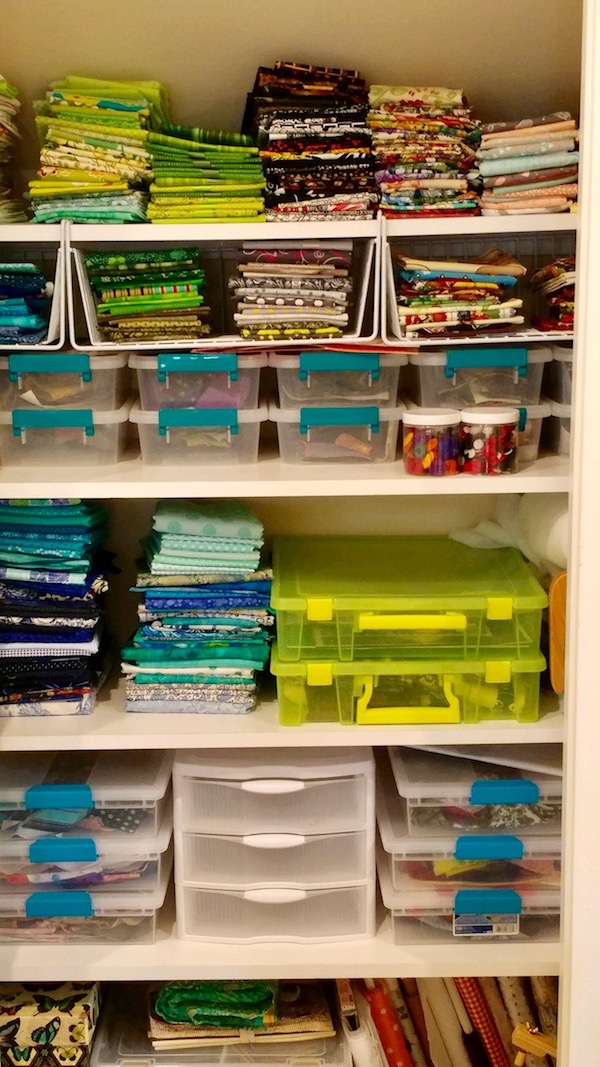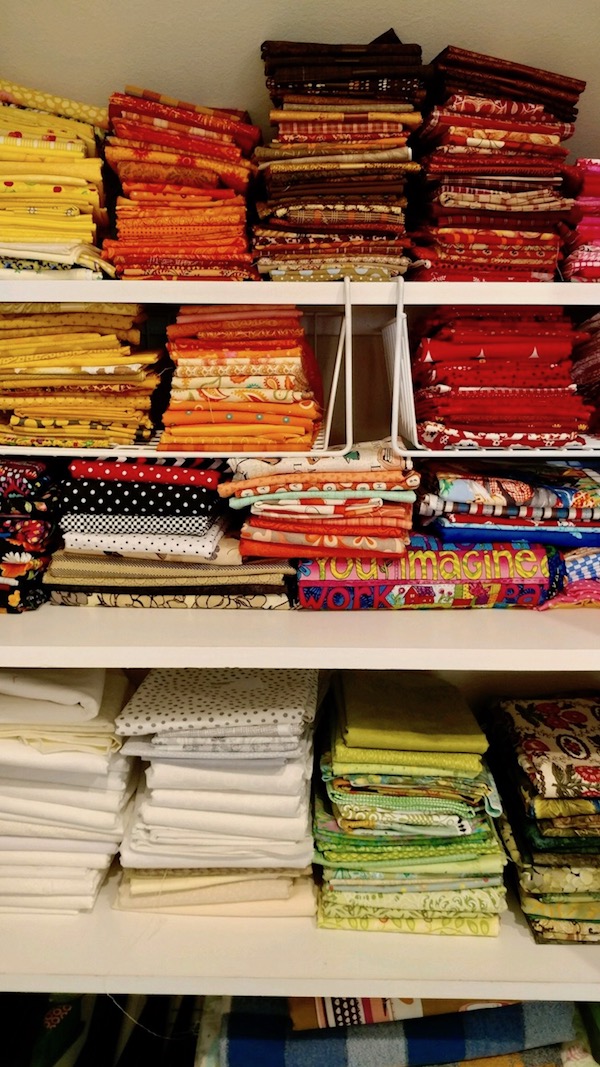 My biggest "Ah-ha!" moment in designing this space came when I realized that an 18-inch deep alcove with a low ceiling (too shallow for proper closet) was a perfect place to organize and store my fabric collection, crafting supplies, and projects in progress.
I love this closet! Opening the door and seeing fabric rainbow makes my creative juices flow and my heart go pitter pat.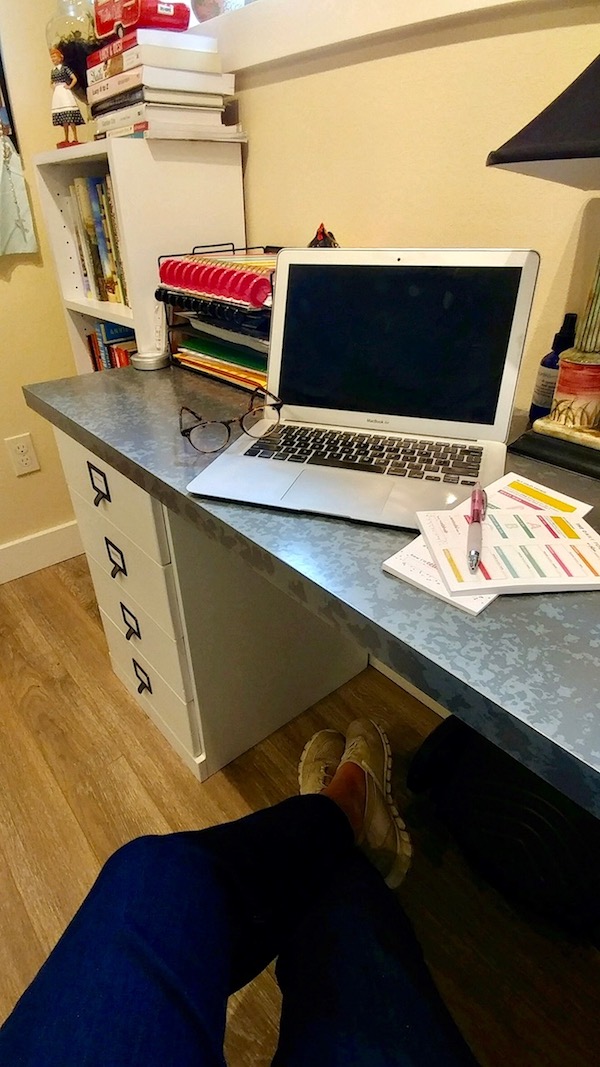 My writing desk, flanked by bookcases on both sides (no such thing as too many bookcases) fits perfectly under the windows. Having lots of natural light is important to my happiness!
Happiness and inspiration also come from having places to display art, family photos, and memorabilia. In my world, walls are the background for a personal collage and flat surfaces are foundations to display tchotchkes that make you smile – like an "I Love Lucy" bobblehead or a "Trailer Cash" bank.
The wall on opposite from my sewing machine, though only 68 inches high, was just tall and wide enough for a bank of very necessary filing cabinets, shelving for books and baskets of patterns, and a teeny coffeemaker (VERY important!).
These cabinets, as well as my writing and standing desk, all came from Ballard Designs. I've used this collection in a previous office and highly recommend it. These mix-and-match pieces are very sturdy, can be configured to fit any space, and come in lots of colors.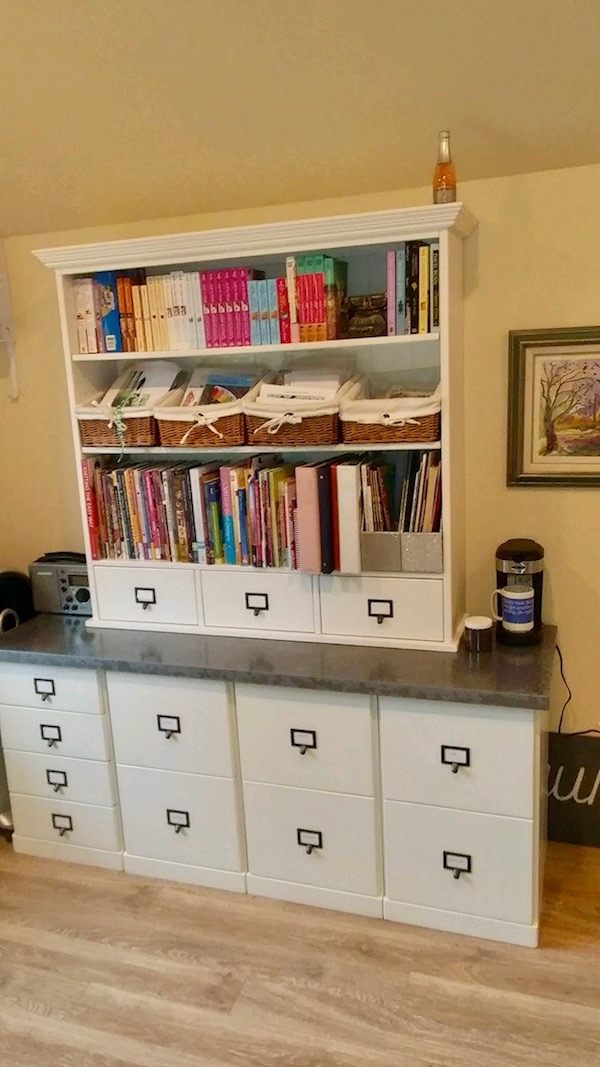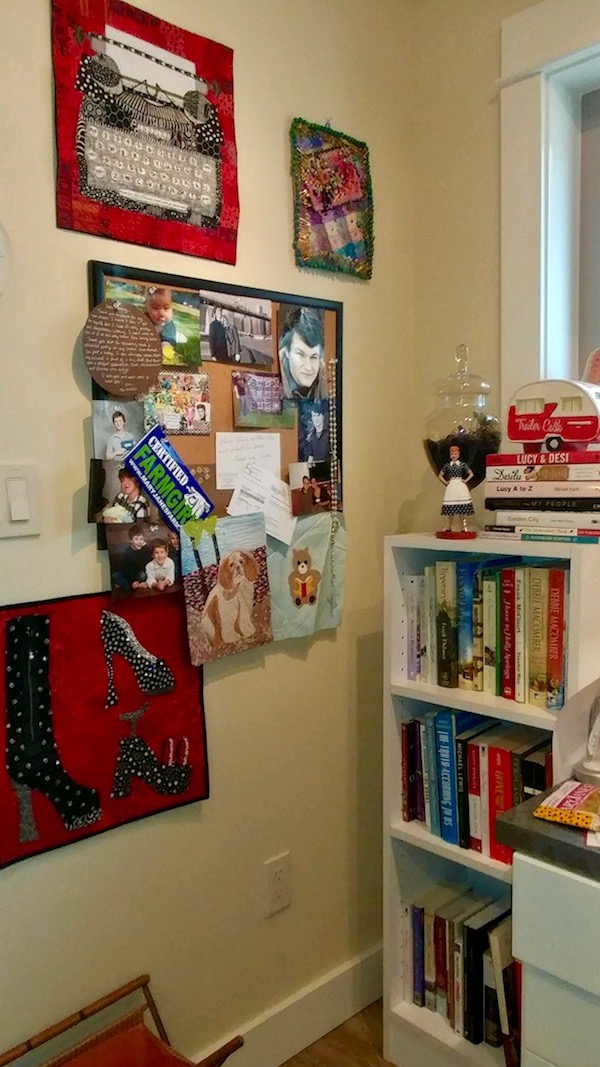 Well, that's my craft room/office!
With less than 250 square feet of usable floor space, I think I did a pretty good job creating a functional that reflects my personality. I hope you enjoyed the tour and maybe picked up a few ideas to use in your current or future craft room.
What Pinterest Dreams are Made Of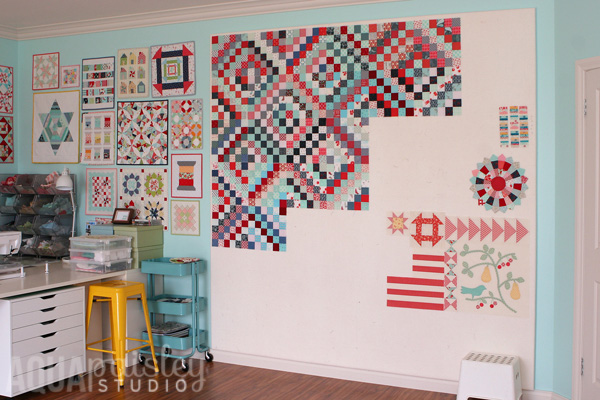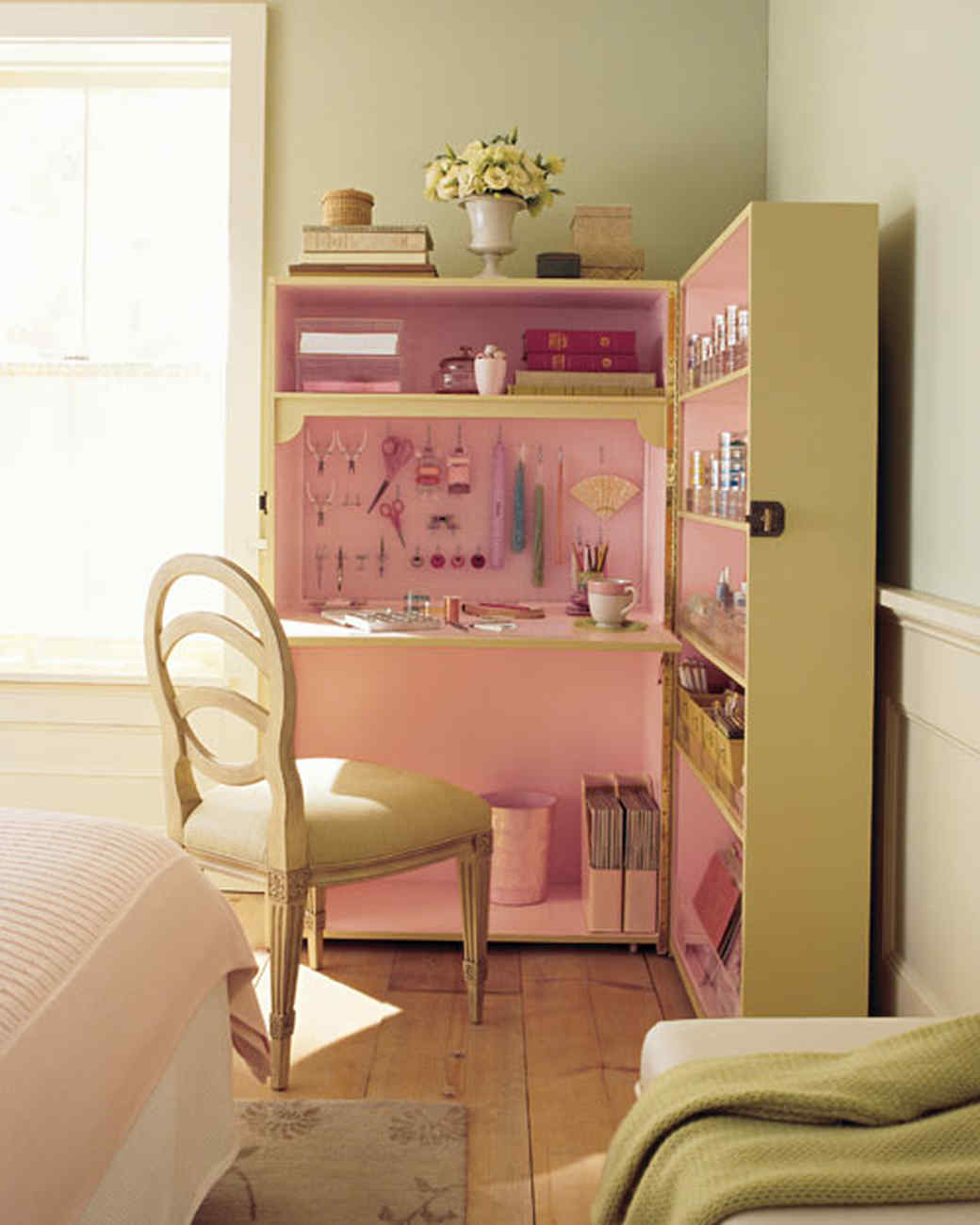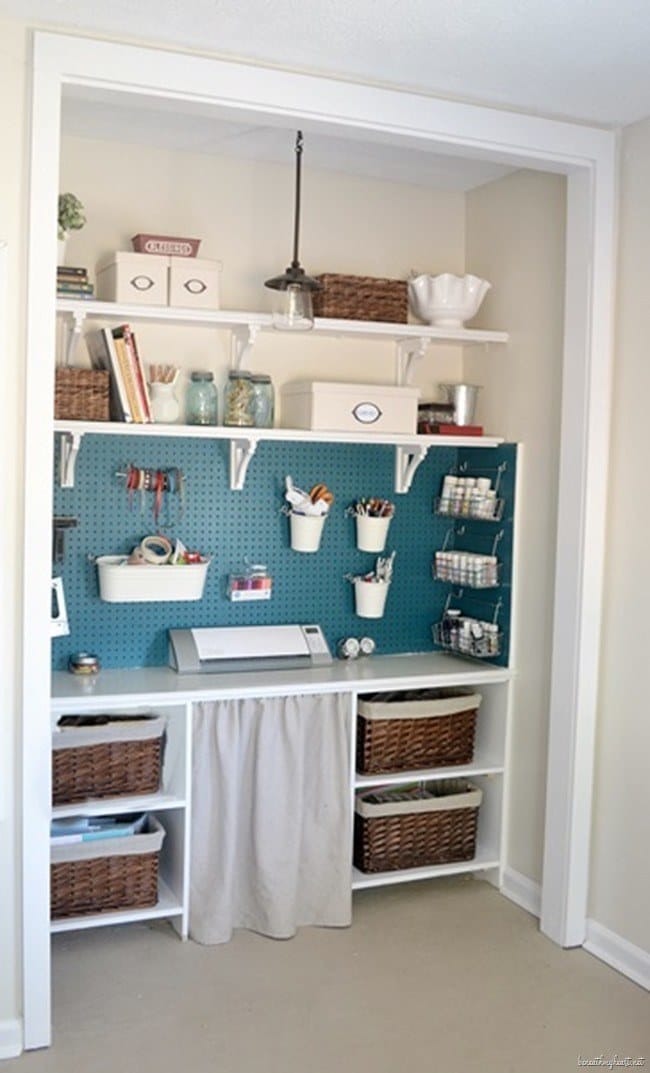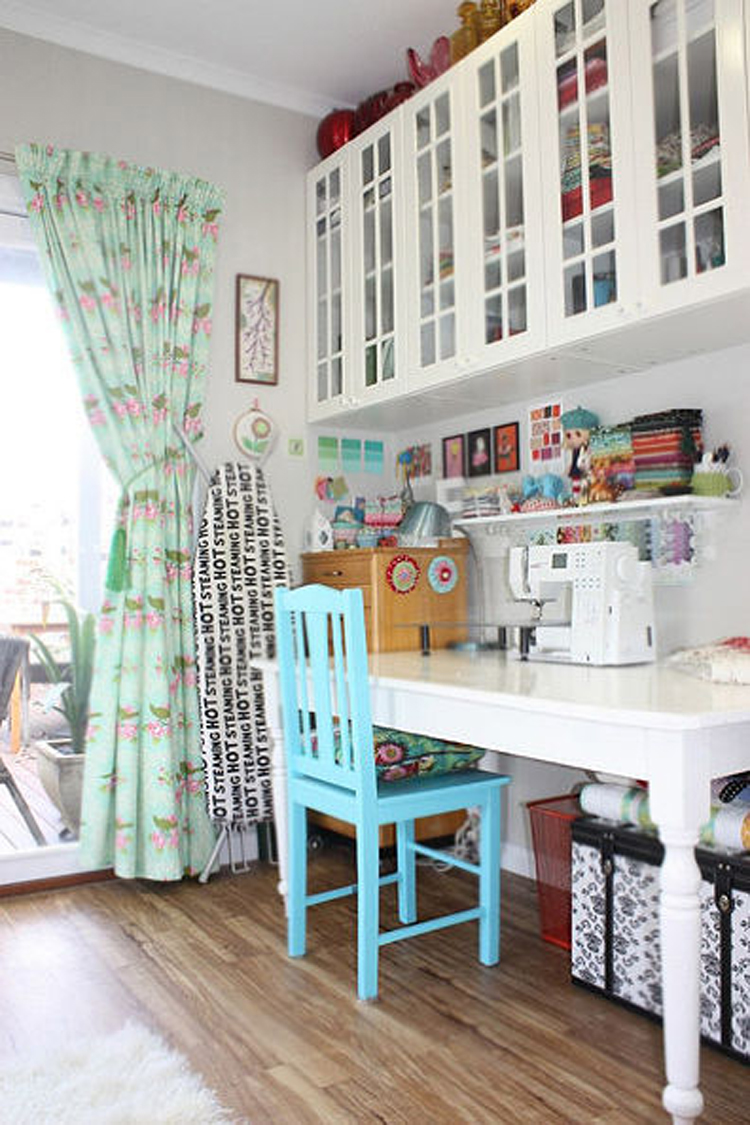 Still Need Help?
If you're having trouble getting started, Ali over at Cut, Cut, Craft! has an article all about analyzing and recreating the craft rooms that inspire you. Even if you don't have the same layout, equipment, or budget you can learn a lot from each picture that sparks a bit of joy within yo
The crafting genius Jennifer Maker has a 30 day challenge for getting your craft room in tip top shape. Because even if you have the most beautiful craft room in the world, it needs to function beautifully as well. Cut the clutter, be strategic about where you keep your tools and supplies, and don't let a big mess get in the way of your best creation yet!