This post may contain affiliate links. Full disclosure policy
If you're a quilter or fiber artist, chances are you've heard of the Sisters Outdoor Quilt Show. And if you haven't, you really should!
With more than 1,300 quilts on display, the Sisters Outdoor Quilt Show (SOQS) is internationally recognized as the largest outdoor quilt show and sale in the world. It's also one of the oldest. (2018 marked the SOQS's 43rd birthday.)
Every year during the quilt show, the streets of Sisters, Oregon, population 2,50o, quadruples with more than 10,000 visitors. People come to the SOQS from all 50 states and 27 foreign countries.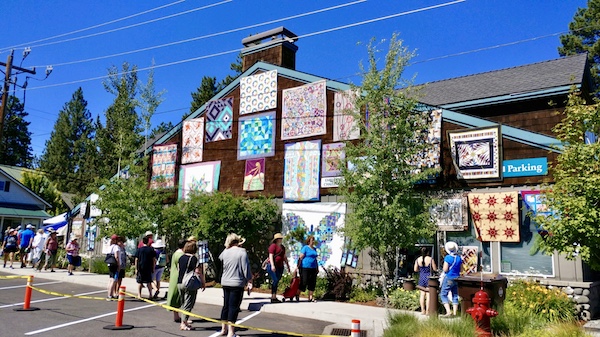 This year marked my fifth visit to the SOQS. I keep returning because it's such a unique experience.  There is something truly magical about seeing quilts displayed outdoors, in the bright sunshine of Central Oregon.  The colors are richer and more vibrant when seen in natural light.
Because many streets are blocked off during the show, there is plenty of room to breathe and roam. If you've ever attended one of the big national quilt shows, normally held in a convention center, you know how the claustrophobic feeling of overcrowded aisles can dim the experience.
Another unusual feature about the Sisters Outdoor Quilt Show is that it's absolutely free! Also its brevity.  The SOQS is up for only one day a year, from 9am to 4pm on the second Saturday in July, and there is a lot to take in.
That's why I thought it would be fun to create a "One Perfect Day At The Sisters Quilt Show" tour – either to help you plan a future Fierce Road Trip, or simply live vicariously and see the pretty pictures. It never hurts to dream!
BEFORE YOU GO
Planning for a visit to the SOQS should begin as early as possible, especially if you want to stay overnight in Sisters. Lodging fills up quickly, so the sooner you make reservations, the better.
If no rooms are available in Sisters, there are many hotels in nearby Bend or Redmond.  Central Oregon is a mecca for campers and outdoor enthusiasts so, if you have a tent or RV, camping is an option. Again, reserve your campsite as early as possible.
Though the SOQS only lasts one day, classes, workshops, and special events take place during the week prior to the show.  Registration for Quilters Affair classes, open several months before the show.  For more information, email stitchin@stitchinpost.com.
Finally, as you can imagine, it's not easy getting 10,000 plus people into a town with a population of 2,500. If you're driving to Sisters for the SOQS, be sure to get up early on the morning of the show and hit the road well before the 9am start time.  For more information about parking, directions, and overall logistics, go to the FAQ section on the SOQS website. 
So, with the housekeeping details attended to, let's go to the show.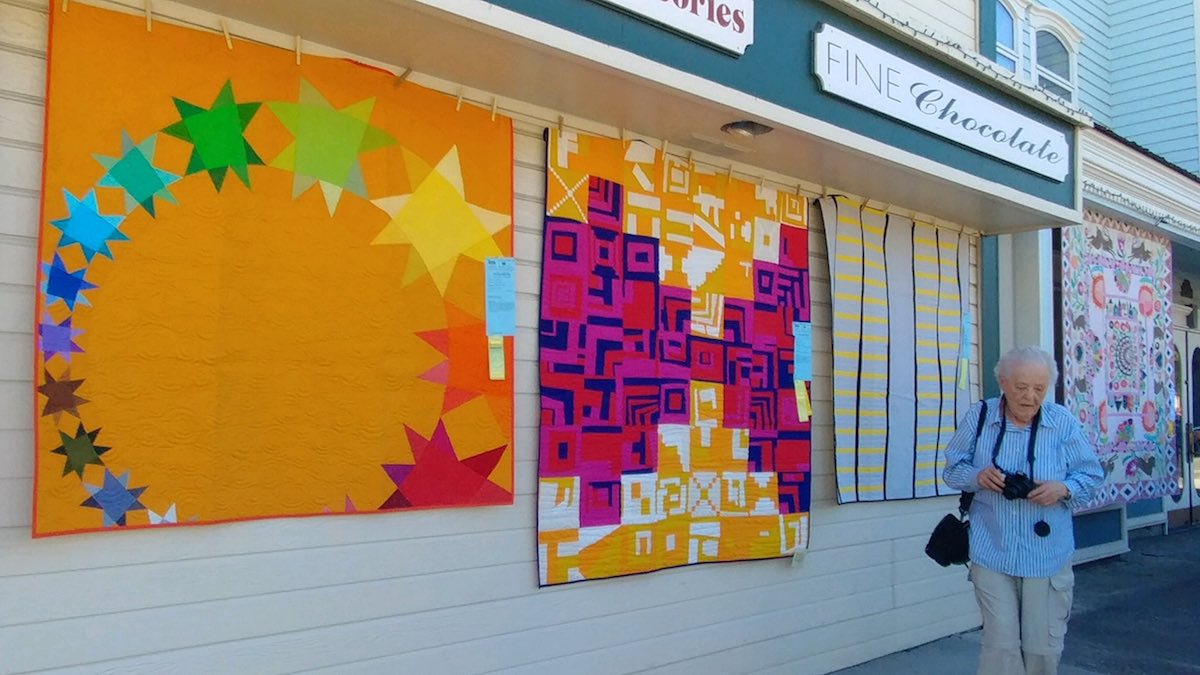 ONE PERFECT DAY AT THE SISTERS QUILT SHOW
Morning
If you're staying in Sisters or are an early riser, get to town around 7:30am, find a parking spot, and walk downtown to Sister's iconic quilt shop, The Stitching Post. If you're lucky, you'll be able to see local firefighters hanging quilts on the outside of the shop.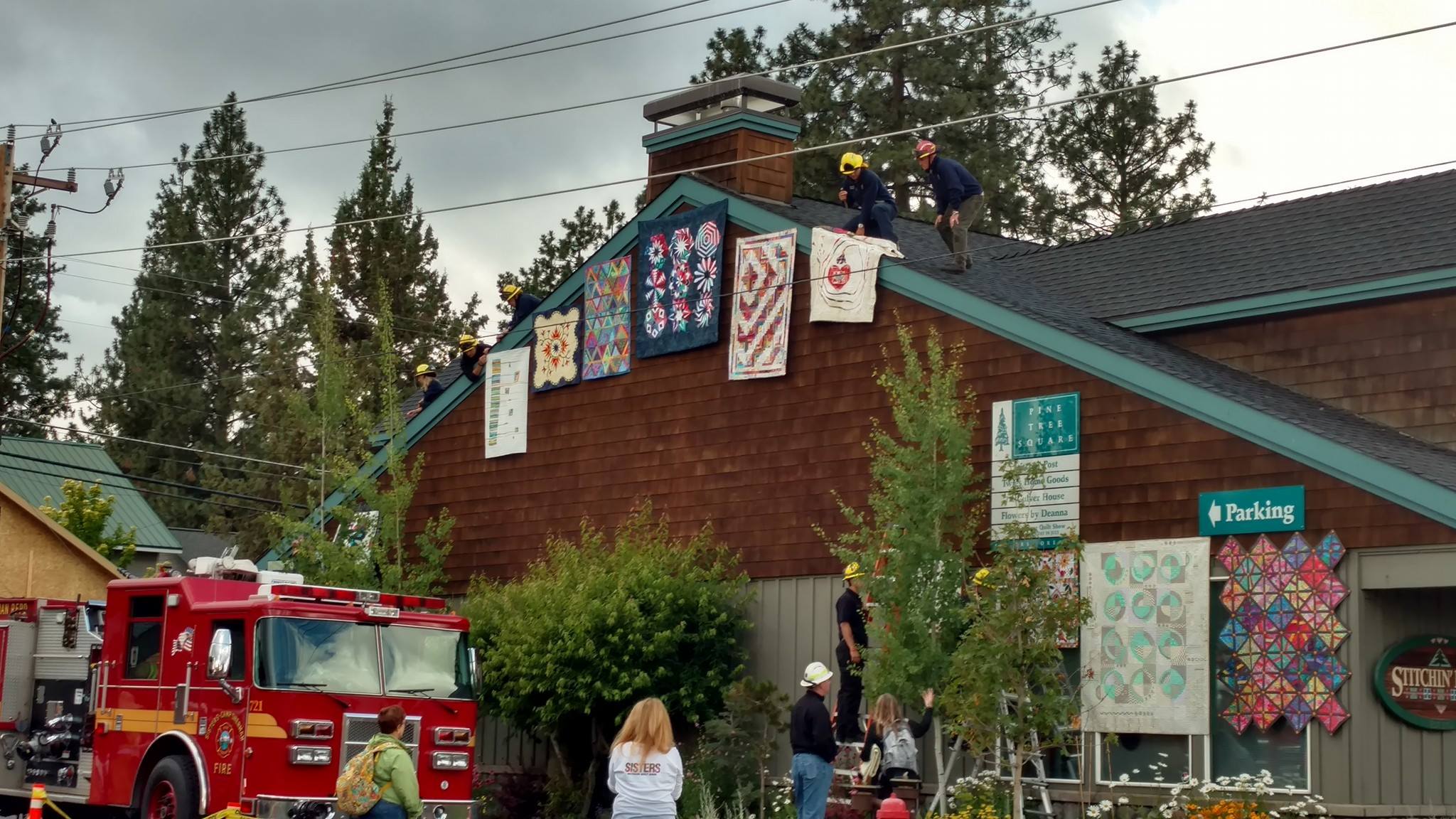 That's what I got to do in 2016, when I stayed at the charming Sisters Bunkhouse.  Looking out the window of my hotel room, I was able to snap this photo. It's fascinating to see how quickly the scores of volunteers hang well over one thousand quilts, transforming Sisters into a quilter's fantasyland in just a couple of hours.
Next stop, breakfast! It's going to be a long and busy day so be sure to fuel up. Stop by the Sisters Bakery for a delicious muffin or scone and a latte. The bakery is tiny but you'll find seating on an outdoor patio next to the bakery.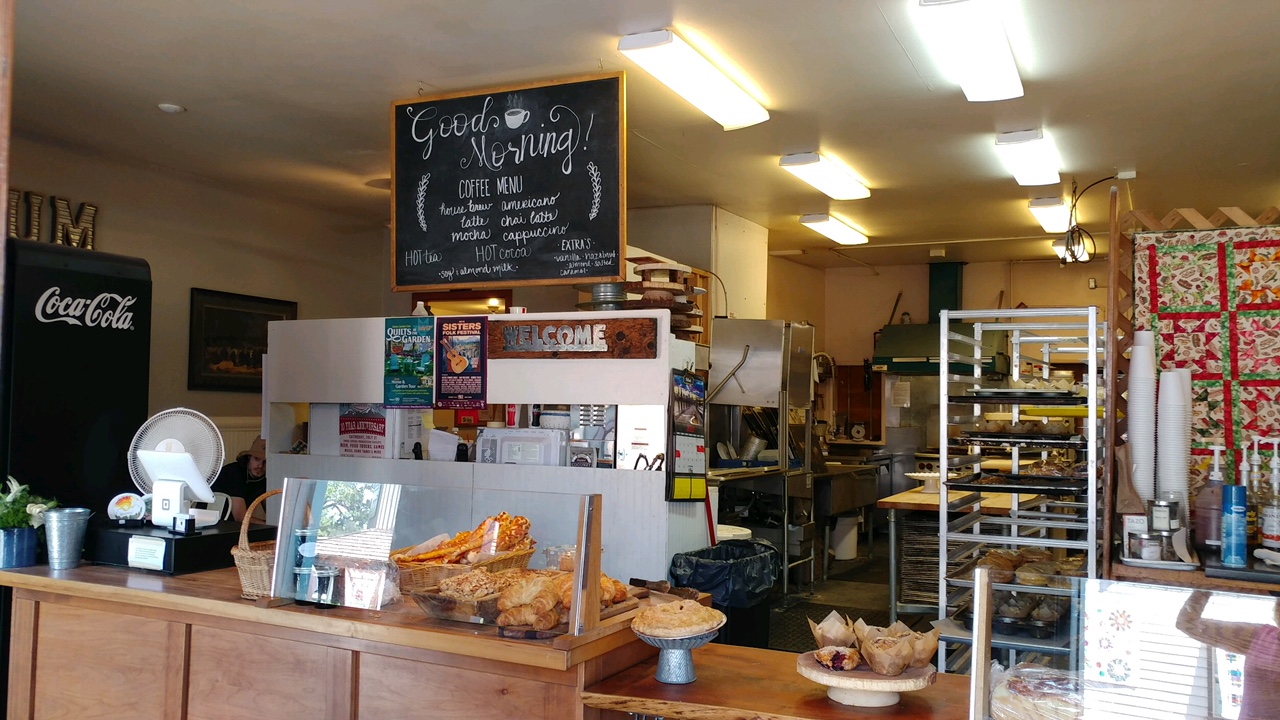 After breakfast, start walking around town and enjoy looking at all the beautiful quilts! You'll see them virtually everywhere you walk.  Central Oregon in July will likely be cool in the morning but it will heat up quickly, so it's a good idea to spend the morning outside, checking out the quilts.  Though the heat is Sisters is a dry heat, it can still be intense. Be sure to drink lots and lots of water.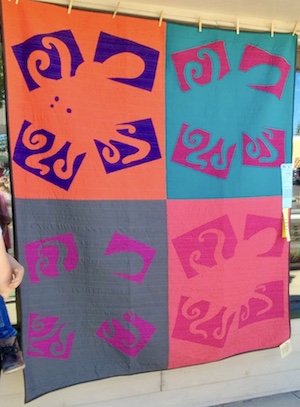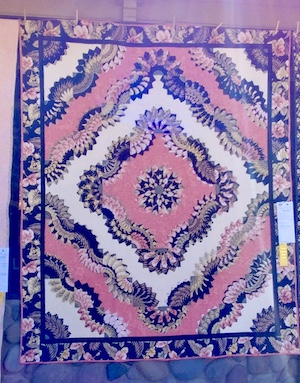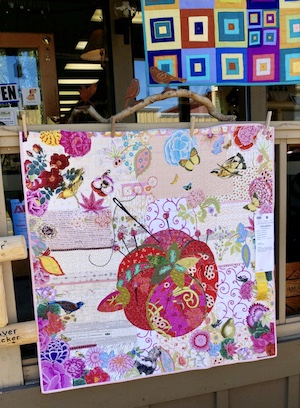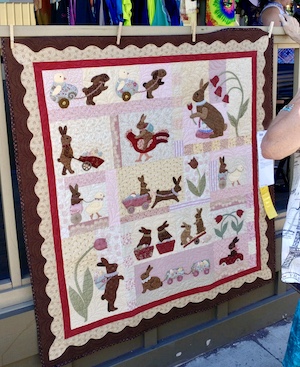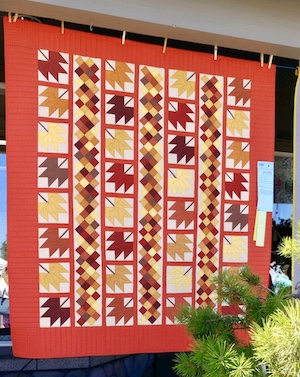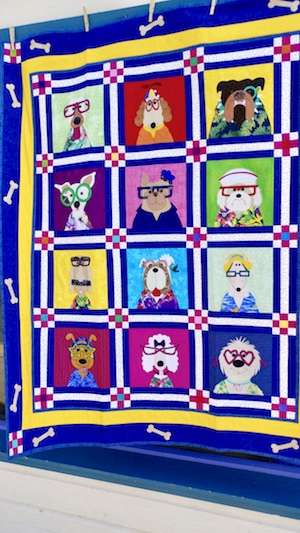 Visitors to the show aren't allowed to touch the quilts. However, you'll often find volunteers nearby who will be happy to show you the back of quilts.
Another unusual feature of the SOQS is that many of the quilts on display are actually for sale. Ribbons attached to the quilts will indicate the quilt's availability for purchase as well as the asking price.
Afternoon
Part of the charm of Sisters is the frontier town vibe.  When lunch time rolls around, mosey over to the Sister's Saloon. On quilt show day, they offer a delicious lunch buffet for about $15.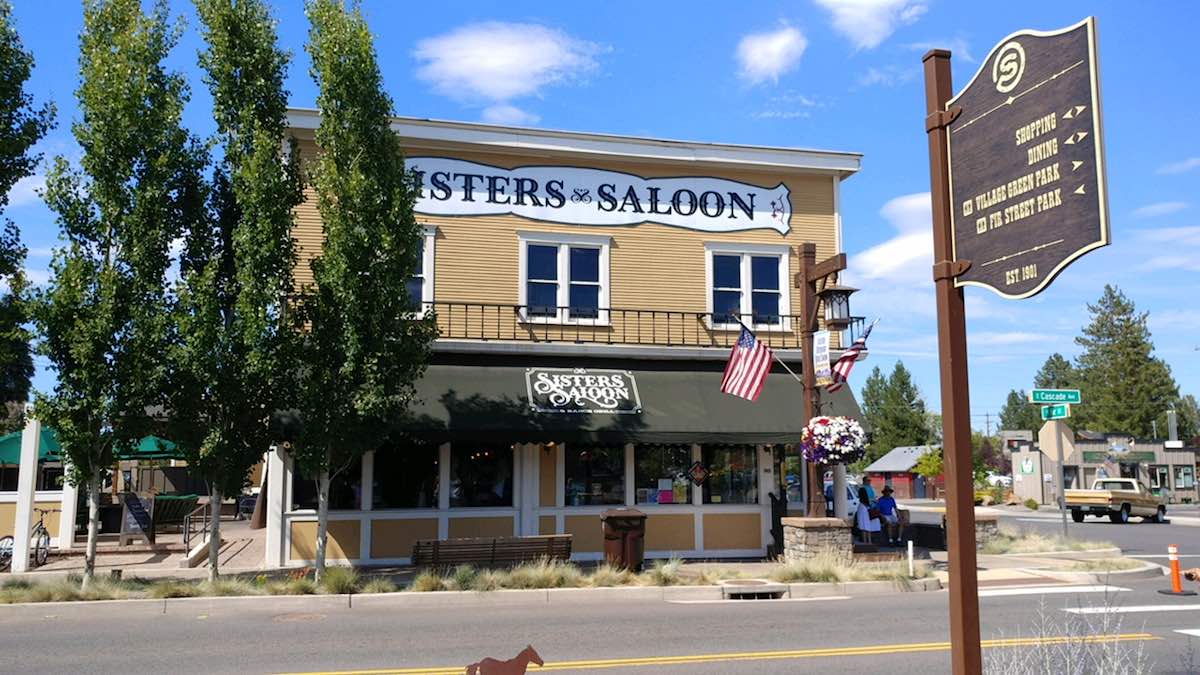 By the time you're finished, you may be feeling the need to indulge your inner cowgirl. Saddle up your horse and head down the street to Dixie's, where you'll find the cutest Western wear in town. If you're in the market for boots, Dixie's has a great selection.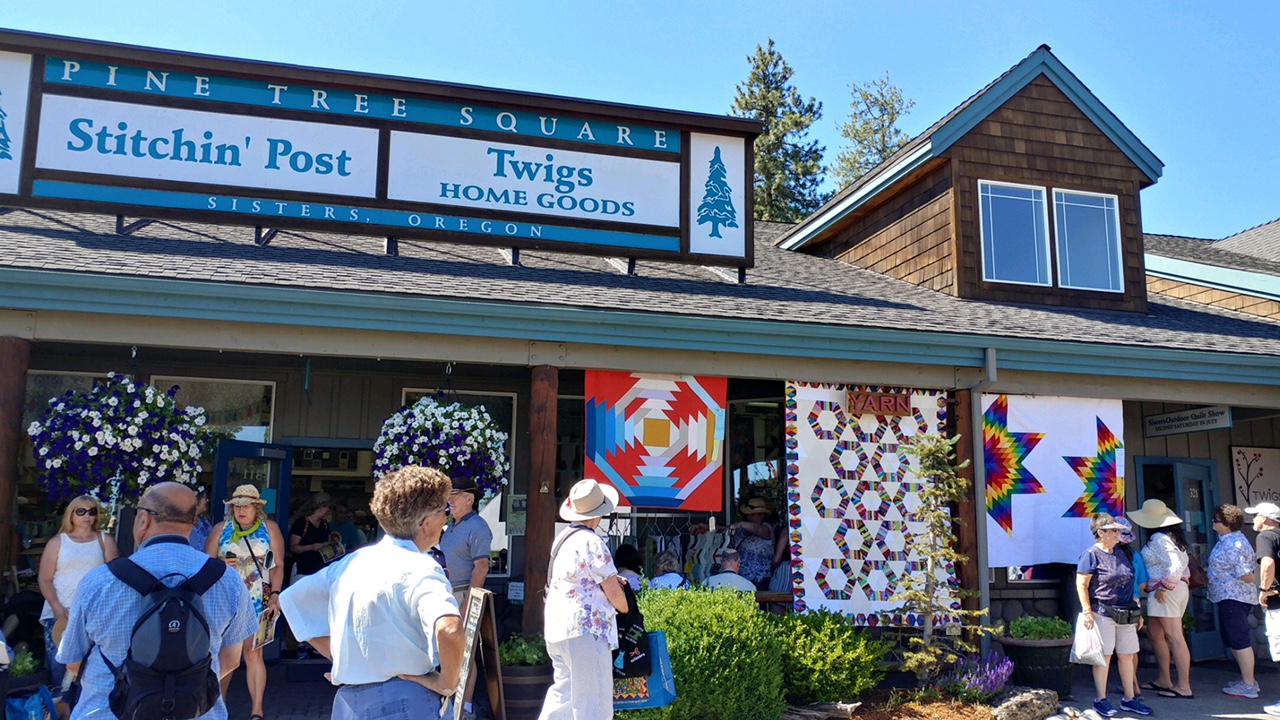 There are plenty of other unique boutiques, shops, and galleries in Sisters. Spending the afternoon shopping is a good way to beat the heat.  Now would be a great time to stop into Stitching Post. After seeing all those beautiful quilts, you'll undoubtedly be feeling inspired and will need a fabric fix.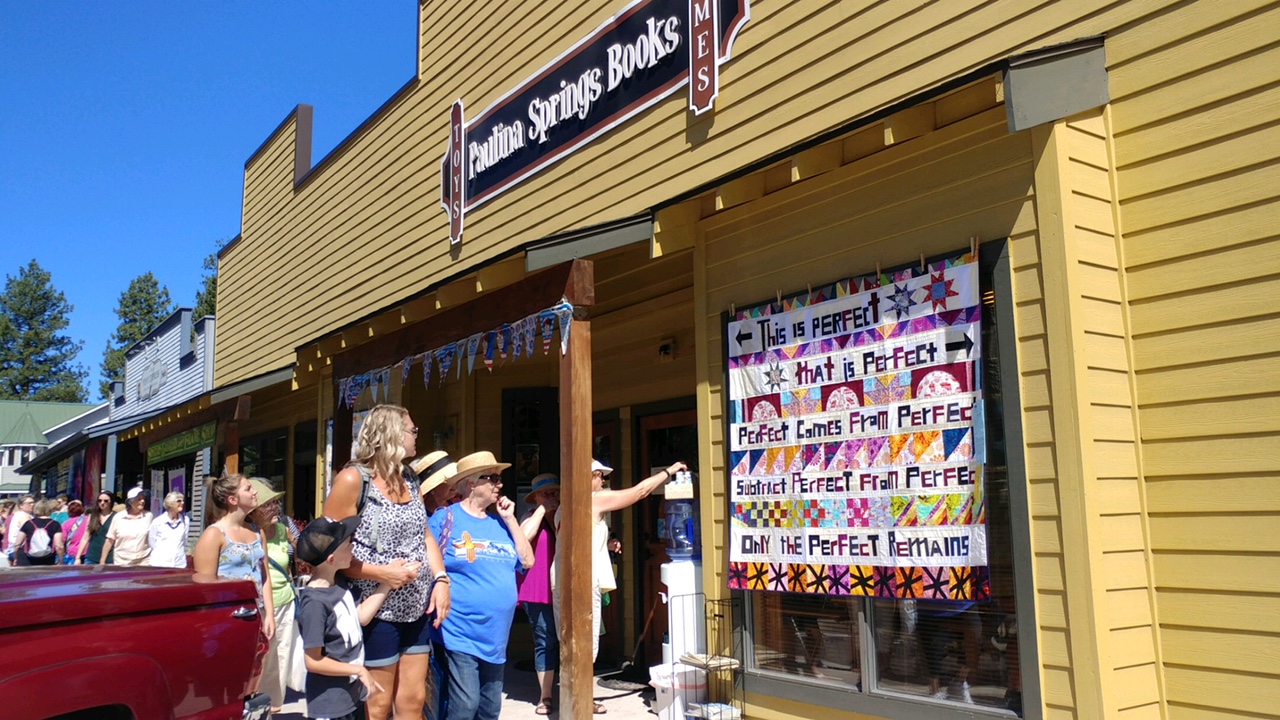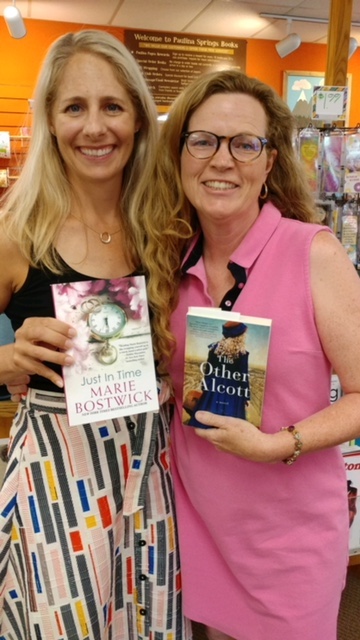 Another must-stop shopping spot is Paulina Springs Books, a truly delightful local bookstore. If you arrive at the right time, you might even have a chance to meet an author or two and get a signed book! I've signed at Paulina Springs several times over the years. This year, while signing copies of my latest book, Just in Time, I was joined by Elise Hooper, author of The Other Alcott.
Though most of the quilts are hung outdoors, you'll find some special exhibits inside some of the municipal buildings. Afternoon is a great time to pop into the air conditioned comfort of the library and city hall to see more gorgeous quilts.
As the day is winding down, fill up your water bottle for one more walk around town to see any quilts you missed earlier.  When the clock strikes four, the annual Sisters Outdoor Quilt Show will be over for another year. Within an hour, volunteers will have taken down the quilts and the streets will be open to traffic again.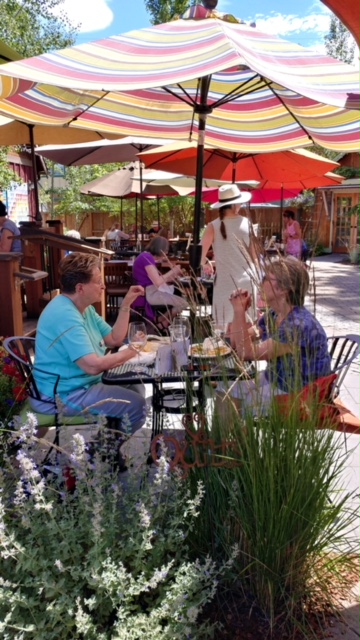 Finally, head over to The Open Door, a combination art gallery, wine bar, and restaurant with fresh and creative northwestern cuisine in a unique setting.  This is a popular spot, so it's a good idea to make reservations.
Ask for a table in the charming garden adjacent the restaurant, then order a good glass of wine, an artisan cheeseboard, relax, and reflect on your perfect day in Sisters, Oregon.