This post may contain affiliate links. Full disclosure policy
THIS POST MAY CONTAIN REFERRAL LINKS. IF YOU CLICK THROUGH AND TAKE ACTION, I MAY BE COMPENSATED, AT NO ADDITIONAL COST TO YOU.
There's almost nothing not to love about July – warm weather, picnics, concerts in the park, eating amazing peaches and the first of the locally grown corn.  And since I generally finish writing my book in July, I actually have a chance to enjoy all these delights.  Basically, it's a perfect month.
The only possible downside to July is the disconcerting realization that the year is half over.
Six months gone? Whoa! How did that happen?
Realizing that the year is half over can be alarming, but July is the perfect month to reexamine your goals, reassess your priorities, and make some mid-course corrections.
That's exactly what I did last week and I'm so glad.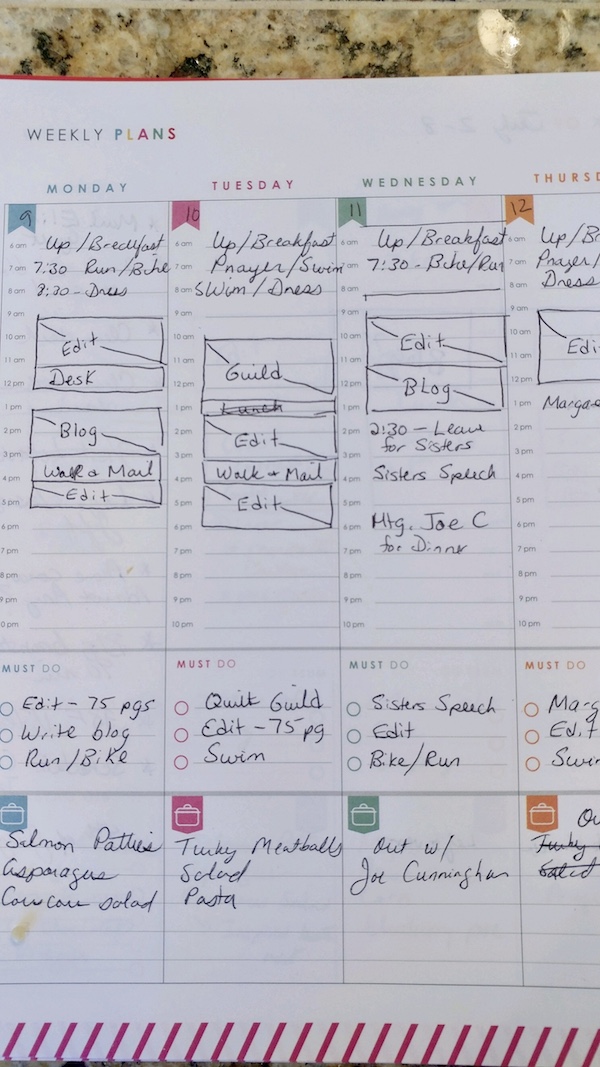 MY LIFE, THE JUGGLING ACT
As I've mentioned before in my blog about making this year your most productive year yet, I am a huge fan of the Living Well Planner.  Just yesterday, while I was at quilt guild, someone said they don't know how I manage to do all the stuff I do – write books, write a blog, train for a triathlon, sew quilts, etc.
Honestly, I'm not always sure how I do it either but I do know that this planner is part of the reason. It helps me sort out my priorities and goals and come up with a practical, doable plan achieve them. It's the mother of all to do lists.
So when I wanted to see how I'm progressing on those goals mid-way through the year, the first thing I did was reach for my planner.  Much of what I saw was actually pretty encouraging!
My biggest, most important goal for the year was to finish writing my 2019 book.  Hooray for me! I did it! Sure, it was about a month later than I'd hoped but I got to the finish line. That's what counts.
Since January, I was also able to tick several other items off my list of goals.  I launched this blog and wrote three posts per week (most of the time.). And I wrote a new PowerPoint presentation and delivered it several times at speaking engagements. I completed a pretty extensive book tour. On top of that, I kept up with my triathlon training.
All in all, not bad! It felt good to see all I've accomplished in the last half year.
However, when I looked at my start of the year goals, I was able to see that a number of them had been neglected, if not outright ignored.
It was definitely time for a mid-course correction.
What does that entail? I'm so glad you asked.
HOW'S THAT BEEN WORKING FOR YOU SO FAR?
First, dig through your papers, journals, notebooks, or planners to see what goals or resolutions you set for yourself at the start of the year.  (By the way, if you didn't set any goals for yourself back in January, it's not too late. Click here and get my free Goal Planning Workbook.)
Were you able to meet any of your goals so far? Or have you made progress toward doing so?
If so, give yourself a big pat on the back! And possibly a piece of dark chocolate. Even if you've only gotten partway to your goal, any steps in the right direction are cause for celebration. Yay, you!
If you haven't made progress on those goals, don't beat yourself up. Seriously, don't.  It's not going to accomplish a thing.
In fact, it might make you feel so hopeless that you completely give up.  Don't do that either.  You've still got six months to make something happen this year. The fact that you're even taking time to assess those goals says that you're serious about doing so.
A huge percentage of success involves simply showing up. Okay, sure, maybe you're a little late to the party. Let's just celebrate the fact that you're here. Dark chocolate for everybody!
IS THIS STILL A GOOD IDEA?
Now that you have a handle on what you did or didn't accomplish in the first half of the year, it's time to figure out what matters most in the last half of the year.
Are the goals you set for yourself then still your biggest priority? Has a change in life circumstances or focus altered your idea of what matters most right now?
Six months is a long time so, chances are good that you want to reassess your priorities mid-way through the year, or even set some completely new goals. You also might just need to tweak some of your original goals, altering the focus slightly or finding different path to get where you'd planned to be.
For instance, when I went through my mid-course correction, I saw that I'd accomplished a lot in terms of professional and physical goals. However, I'd definitely let some of my relationship goals slide.
For the last half of the year, I'll be putting more emphasis on family and friends. Also, while my professional goals are still important, I need to adjust them to focus more on strategic planning and vocational education going forward.
A GOAL WITHOUT A PLAN IS JUST A DREAM
Once you've reassessed your goals and figured out the appropriate mid-course corrections, it's time create a road map that will get you from here to there.
Break your goals down into concrete, measureable steps and set deadlines for yourself.  What do you have to do this month, this week, and this day to make progress toward your goal?  How will you celebrate when you do? (That's important!)
There are many ways to go about doing this. Over the years, I'm sure I've tried most of them. But, in my experience, if you're serious about setting and reaching your goals, nothing beats the Living Well Planner.
If you don't have one yet, it's definitely not too late. After all, you've got a six whole months left in this year!  One of my very favorite features about the Living Well Planner is that the tabs of the months are left blank so you can start using it anytime.  Even in July!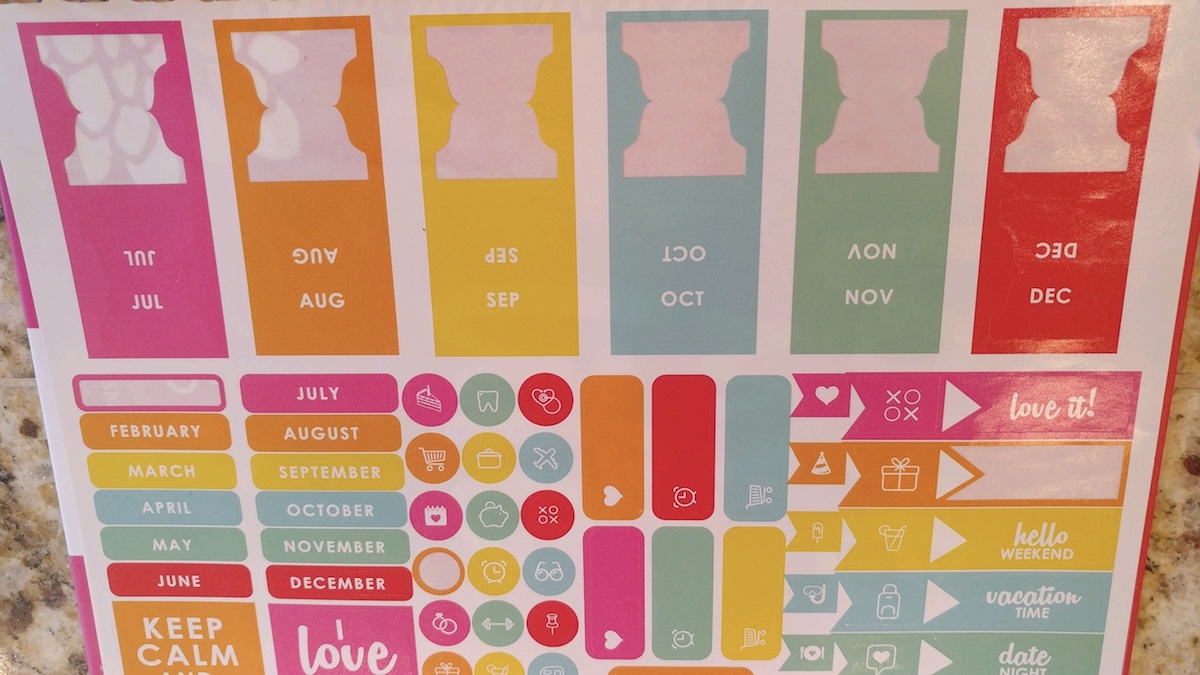 Just peel one of the stickers from the back, add it to the tab, write in the date numbers in the calendar and you're good to go.  With the Living Well Planner, it's never too late to start setting goals and making the most of every minute.
Seriously, this planner has been life changing for me. If I could, I've give one to every single one of my Fierce Beyond Fifty Friends.  Unfortunately, that's not possible. But I'm very excited about sharing something that's almost as good.
GET A JUMP ON NEXT YEAR NOW
You can never be too prepared, right? Sometimes looking ahead can really help with your priorities in the present. I know  2019 seems forever away, but it really isn't. End of summer trips, then football season, then your cat's half-birthday, then the holidays, and BOOM, a new year will be here before you know it.
That's why I am really excited that new Living Well Planner is available for pre-orders! Here's the link. 
The newest edition of the Living Well Planner will begin shipping on or before August 31st, but when you pre-order now, you can take advantage of Early Bird pricing and get it for just $39, $10 off the regular price of $49, (that the lowest price they've ever offered!)
I got so excited about the pretty new floral pattern and bold stripe that I bought three! (Not only am I going to be organized, I've already got a jump on my holiday gift-giving).
Another reason I decided to pre-order now is the two great bonuses. Along with with my planner, I'll get the Weekly Wizard (an $8.50 value) and Daily Do It (a $9.50 value) sticky notes for free! These are two more tools I use to be more productive during those crazy-busy weeks that make my head spin.
Look, we all know that life is a lot more than to do lists and getting your ducks in a row. But isn't crossing things off your list and admiring your aligned ducks just so much fun?
More importantly, having a plan helps me turn dreams into goals, goals into accomplishments, and make the most of these amazing and fierce years beyond fifty.
You can't do everything. Nobody can. But you can do the important things.
So let's get started. Let's bring in the last half of the year with a bang! (And yes, a piece of dark chocolate.)