This post may contain affiliate links. Full disclosure policy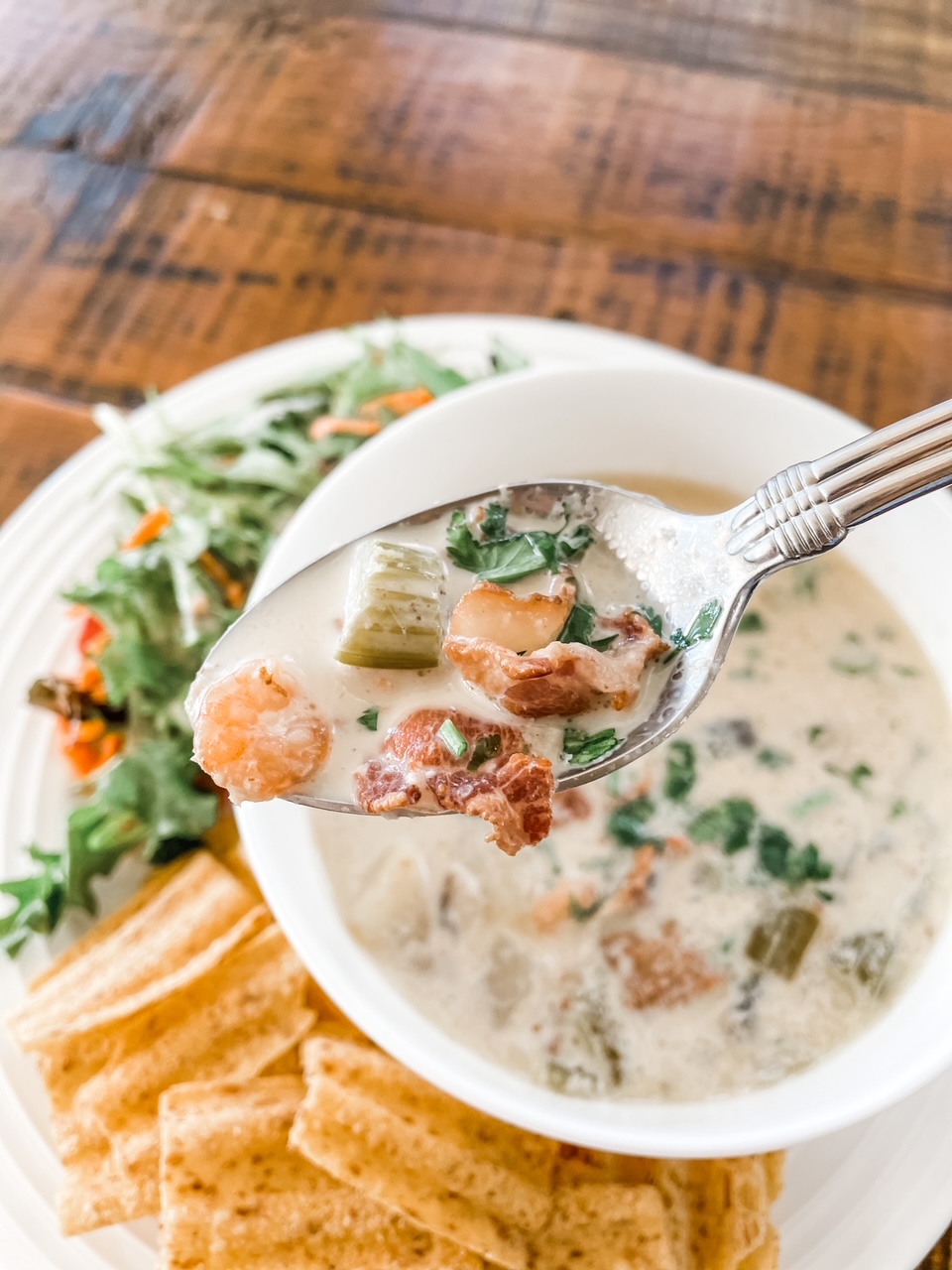 My Quick and Creamy Seafood Chowder is a comfort in a bowl, loaded with yummy seafood and veggies in a flavorful, creamy broth. And best of all, it's ready to serve in about thirty minutes!
Even When There's No Time, There's Still Time for My Quick and Creamy Seafood Chowder
I'm on a deadline for my next novel. At the end of the week, I have to deliver the draft to my editor. That's means I'm burning a lot of midnight oil now and have zero time for basically anything that isn't writing.
But the thing is, no matter how busy I am or how tight my deadline, everybody around here still wants to eat. (I guess hunger is the great equalizer, right?)
Deadlines happen around here every year. It's always stressful and always a photo finish when I finally turn in the draft. Normally, my husband is able to help out when I'm on deadline. He's not a great cook but he can make sandwiches, omelets, spaghetti, and the like.
However, he's in a wheelchair since breaking his ankle in early March. So this time, it's all on me.That mean I'm all about quick and easy meals right now, things I can prepare in a half-hour or less that are also nutritious and taste great.
Quick and Creamy Seafood Chowder ticks off all the boxes!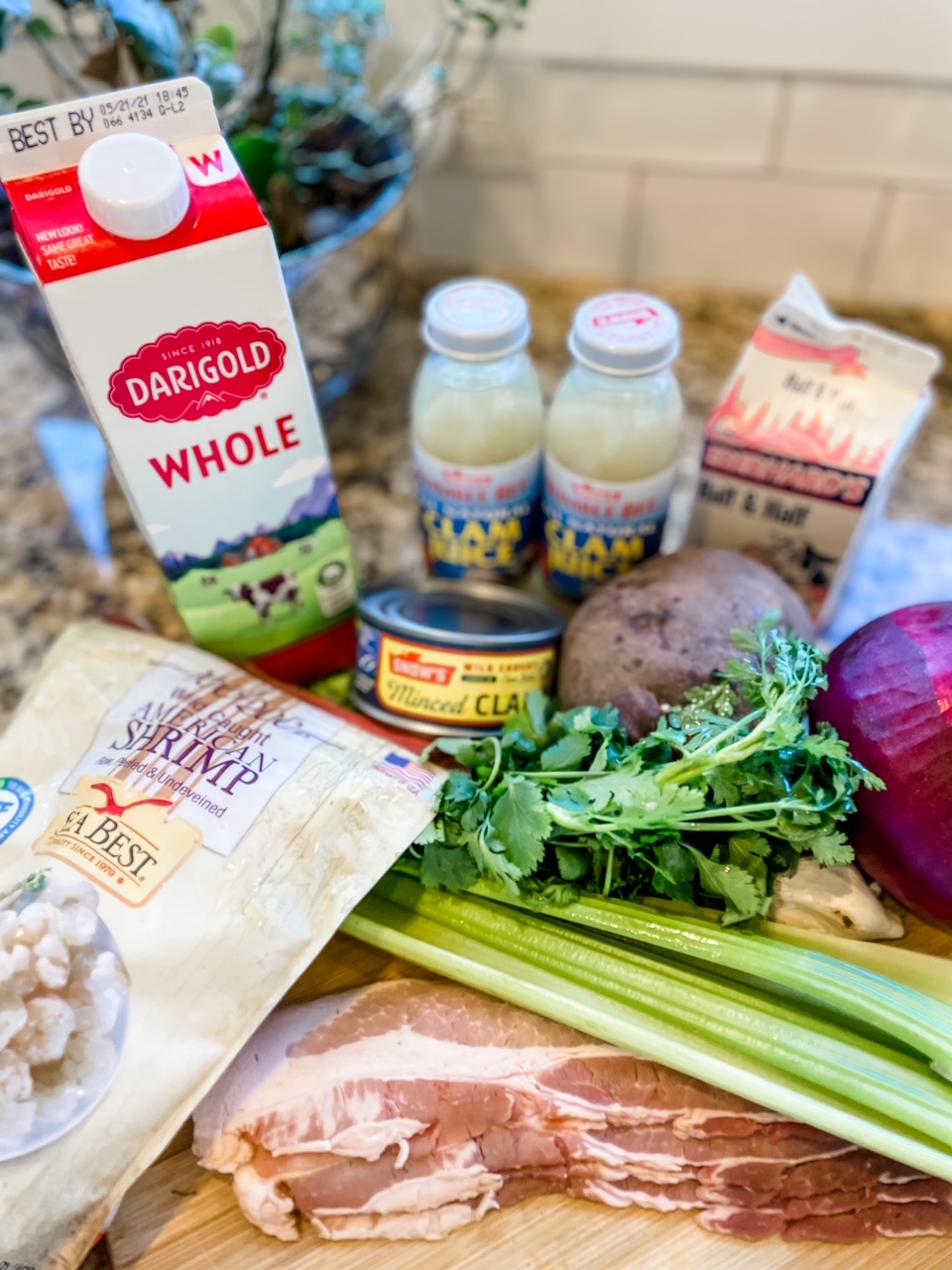 Classic Chowder Flavor, Creamy But Not Too Creamy
Before we get to the details I want to acknowledge that people have strong feelings about chowder.
I am one of them.
In my opinion, many recipes go overboard in the quest for creaminess. When I'm making chowder, I do want it to taste rich and creamy. However, I do not want it to cross the line from creamy to thick. Thick is good quality for pudding. Or possibly a homemade facial mask. But for chowder?
Not so much.
When chowder crosses the line from creamy to thick, the seafood flavor tends to get disappear.
My Quick and Creamy Seafood Chowder strikes a perfect balance between flavors. In each spoonful, you'll taste the cream, the bacon, and the seafood in perfect proportion. No one flavor will overpower the others.
That's a good thing. Because if you can't taste the seafood, why would you make Seafood Chowder?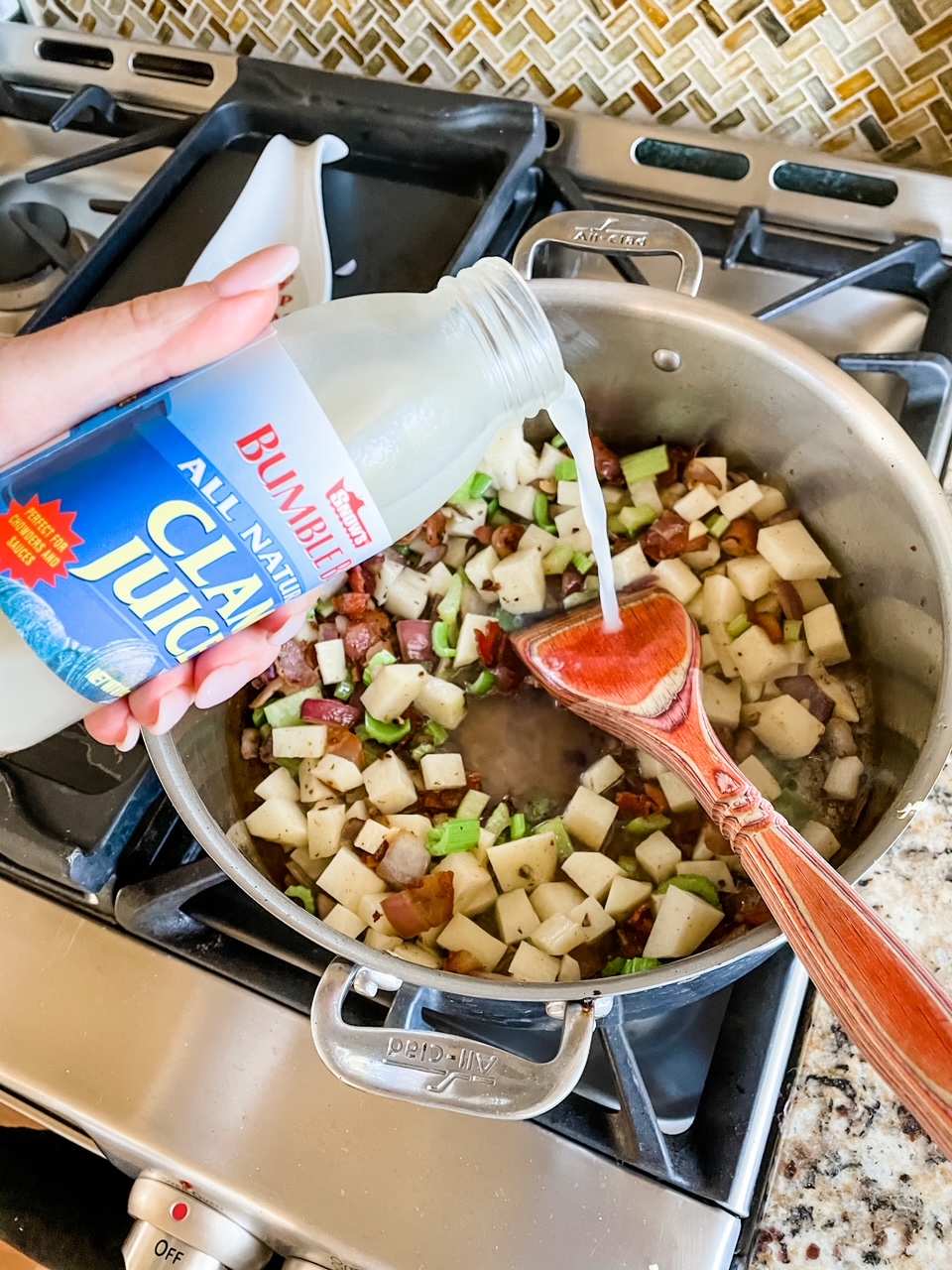 Quick and Creamy Seafood Chowder – Have It Your Way
Of course, just about everybody loves clam chowder, including me. If you want to make clam chowder, you could replace the seafood mixture in the recipe with just minced clams.
But I think it's fun, and tasty, to mix it up.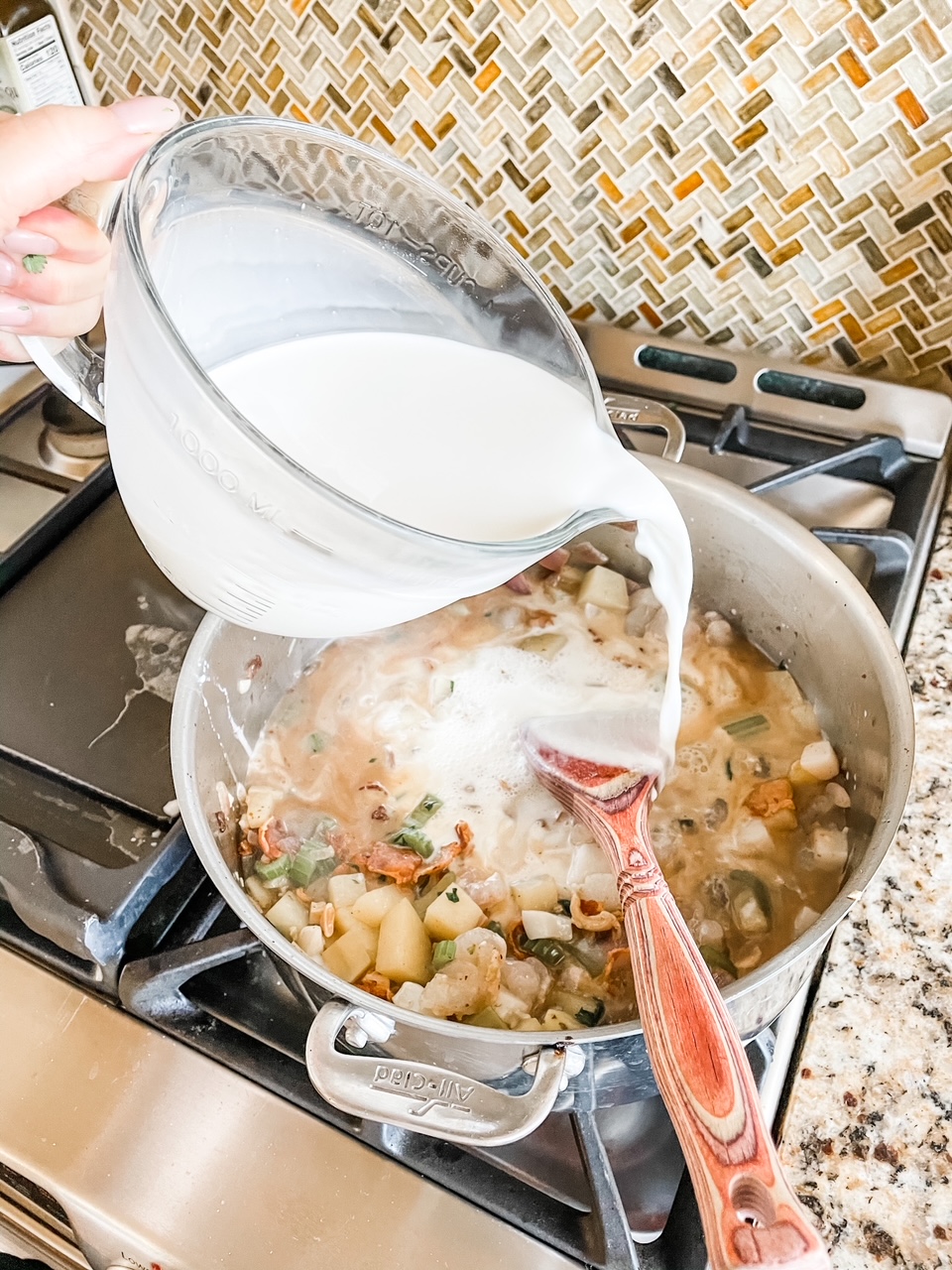 My Quick and Creamy Seafood Chowder uses a mixture of minced clams, shrimp, and chopped scallops. But you would really use just about any mixture of seafood in whatever proportions you want.
And you don't have to limit yourself to shellfish. Salmon, cod, or any firm-fleshed fish would work well in this recipe. It's really up to you.
Tips for Quick Chowder
Though it tastes like you cooked all day, this creamy seafood chowder can be made in about half an hour. But you need to do a couple of things to make that happen.
Little pieces of food cook faster. So be sure to chop the bacon and onions into small pieces. That way, they'll cook more quickly.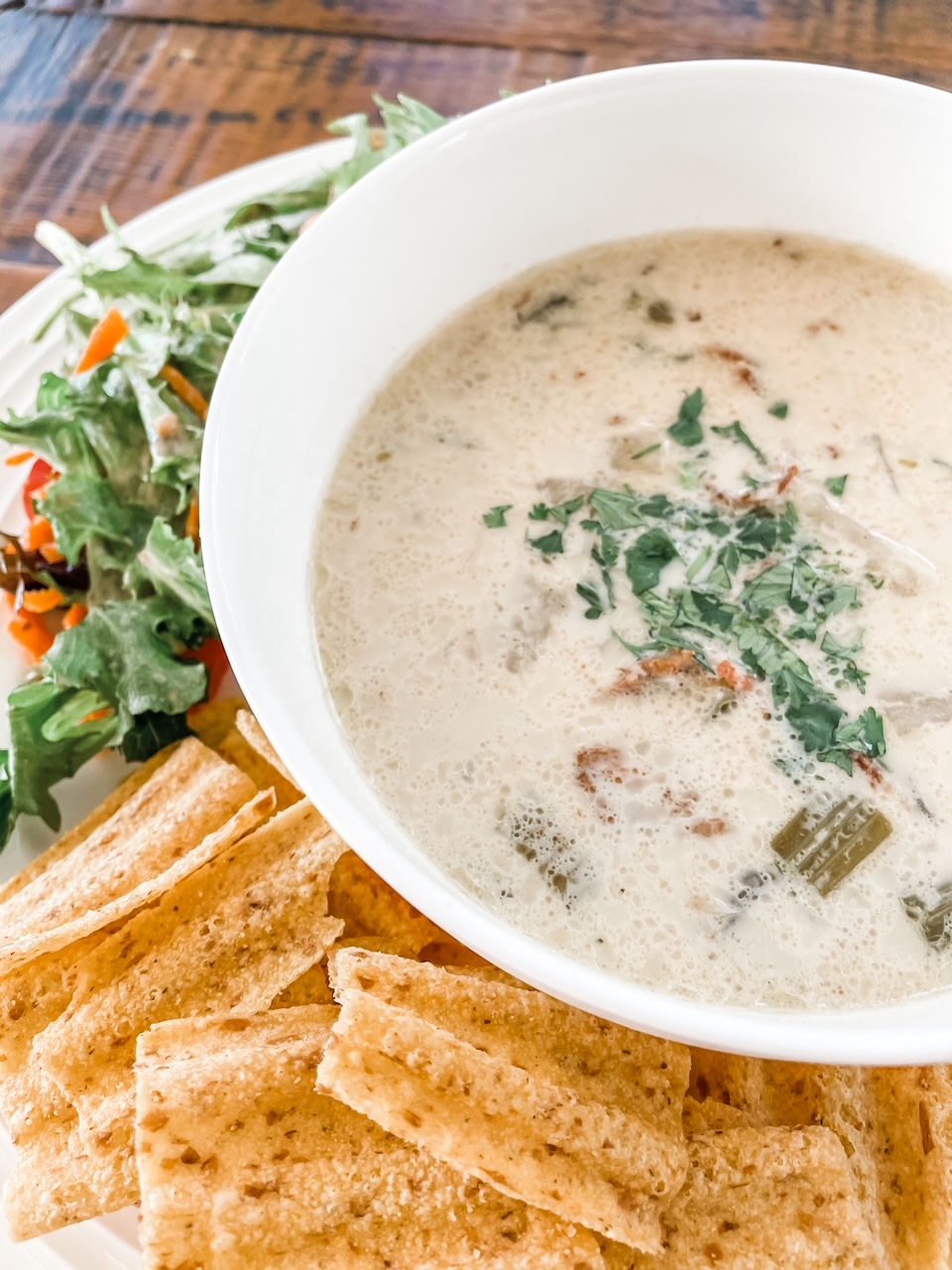 The potato will take longer to cook than any other ingredient. Be sure to dice it into cubes the that measure no more than three-quarters of an inch. If you're really rushed for time, a half-inch dice is even better.
My Quick and Creamy Seafood Chowder is a dinner-time winner during those times when time is short. Or really, anytime all. Give it a try this week!
Print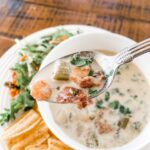 Quick and Creamy Seafood Chowder
---
Cook chopped bacon in a heavy bottomed stockpot over medium high, until crisp. Add diced onion and cook in bacon fat until soft, about 3 minutes. Add chopped celery, cook for additional minute. Add garlic, cook for one minute.
Add potatoes, parsley, and clam juice to pot. Using a wooden spoon or spatula, scrape up any browned bits of bacon from the bottom of the pot.
Bring pot just to a boil, then turn lower heat and simmer chowder for 10 to 15 minutes, until potatoes are cooked.
Add seafood, milk, and half and half or cream to pot. Simmer for an additional 3-5 minutes.
Add salt and pepper. Taste to adjust spices. Serve.
---
Instructions
4 slices bacon, chopped
1 cup onion in small dice
3 stalks celery, chopped
2 small cloves garlic, minced
1 medium potato, peeled and chopped into ¾ inch dice
2 T chopped parsley
16 oz clam juice
1 ½ cups assorted seafood, cut into small piece
1 cup half and half or cream
4 cups whole milk
½ tsp salt
½ tsp fresh ground pepper