This post may contain affiliate links. Full disclosure policy
THIS POST MAY CONTAIN REFERRAL LINKS. IF YOU CLICK THROUGH AND TAKE ACTION, I MAY BE COMPENSATED, AT NO ADDITIONAL COST TO YOU.
About once a year, usually on the 4thof July, I make blueberry pie.
At the risk of blowing my own horn, it's good. Really, really good. Like biblically good.
So, what makes a biblically good blueberry pie?
Official Criteria for A Biblically Good Blueberry Pie Recipe
To begin with, it should taste like blueberries – not sugar flavored with blueberries, or blueberry pudding.  The berry flavor should be bright and fresh, like summer on your tongue.
The filling should hold together well, so that when you cut into the pie and place a slice on a plate, the filling will keep it's shape, not ooze out of the crust into a soupy blue mess.
The crust should be buttery, flaky, golden, and light.  When you sneak little piece off the edge, it should break away cleanly, almost like breaking a crisp cookie.
My blueberry pie, I am pleased to say, checks off all the boxes above.
Now, let me say upfront, I don't always make the prettiest pie. The problem with only making pie a couple of times a year is that my pastry handling skills aren't all they could be. But hey, if the pie is too pretty, how will your guests know that you went to all that trouble to make it yourself, right?  (No stock images of magazine perfect pie in this post! This is the real deal!)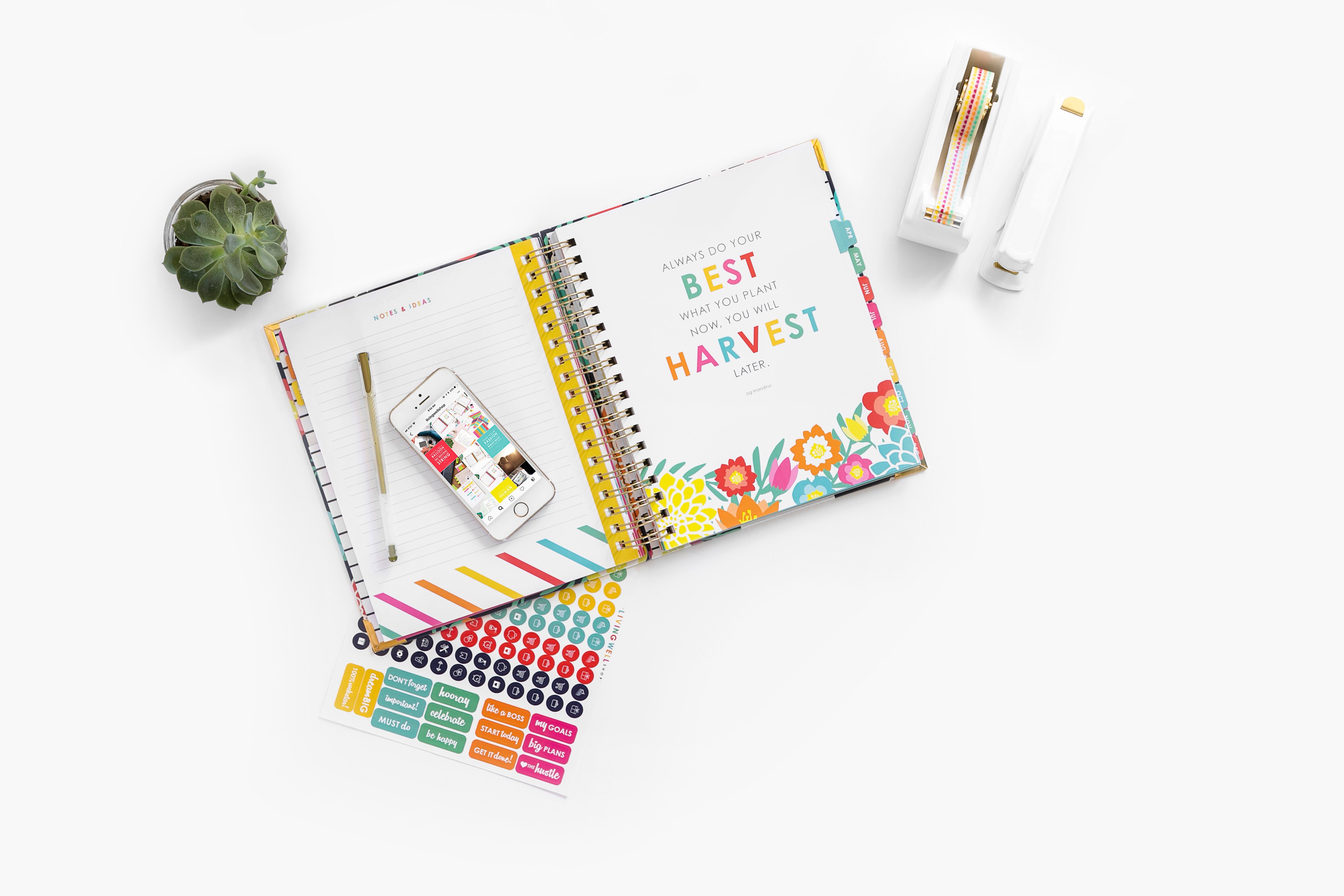 Besides, taste is what really matters in pie. And when it comes to taste, you'll have to go a long way to find one better than mine.
It wasn't always like that.
My blueberry pies used to be pretty sad.  The crusts were either soggy, or doughy, or both. The filling tended to be soupy. Either that or so infused with thickeners that the blueberry flavor was overwhelmed.
And they were usually way too sweet.
All that changed about ten years ago.  I found a recipe from Cooks Illustrated that showed me the secret to pie perfection, with three surprising ingredients that make all the difference.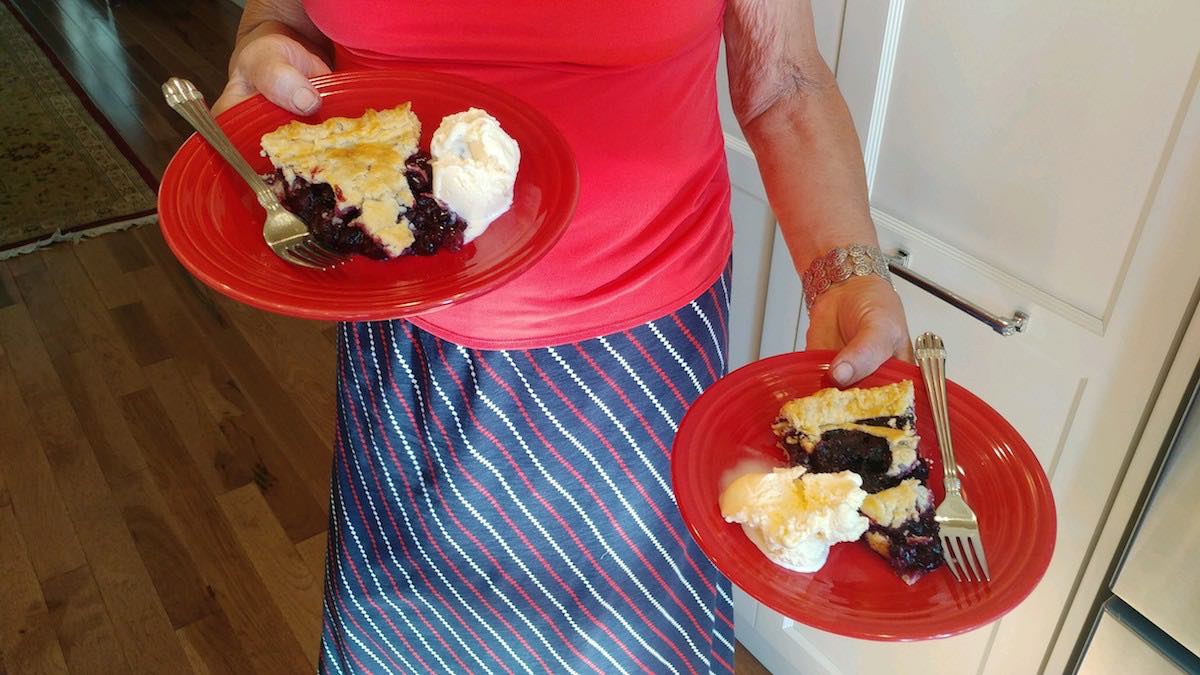 The Three Unconventional Ingredients That Upped the Ante
Tapioca, apple, and vodka.
Yes, you read that right, vodka. In pie.
But before we go there, let's talk about the first two secret ingredients to perfect pie. Tapioca isn't such a surprising ingredient.  Lots of blueberry pie recipes use tapioca as a thickening agent.  The problem is, they usually use too much.  Tapioca will definitely help your pie filling keep its shape. But achieving the proper consistency usually means adding so much tapioca that the blueberry flavor gets lost, tasting like blueberry pudding instead of pie.
My recipe uses a small amount of tapioca and a grated Granny Smith apple. Why? Apple has naturally occurring pectin, a thickening agent that will be familiar if you make jam or jelly.  Adding the apple to the filling makes it hold together without sacrificing flavor.  The blueberries come forward perfectly; you won't taste the apple at all.  (Also, the addition of a little lemon juice and peel keeps the flavor bright and not overly sweet.)
Genius!
But let's get back to that other surprising ingredient – vodka.  (If you're wondering; it goes into the pie. Not the baker.) Vodka is tasteless and evaporates quickly at high heat. That's why a little bit of vodka – just a quarter cup – is the secret ingredient to flaky crisp piecrust. During the baking process, those little drops of alcohol will evaporate, leaving little pockets of air behind. All those air pockets will give you a beautifully flaky crust.
More genius!
With these three secret ingredients and good pastry handling practices, you're halfway home to making the best blueberry pie ever.
BEST BLUEBERRY PIE RECIPE
Notes: I like fresh blueberries in my pie but frozen can work too. I used tapioca flour in my recipe. You can substitute 2 tablespoons instant tapioca or 5 teaspoons pearl tapioca, just grind to a powder in a spice grinder or mini food processor first.  
When making pastry, everything needs to be as cold as possible – the ingredients and your hands. Make pastry in the morning, when the kitchen is cool. Don't overwork the dough. If it gets too warm while you're working, pop the dough back in the refrigerator for a half and hour or so, then keep going.
Pie Dough
Ingredients
2.5 cups unbleached, all purpose flour plus extra for work surface
1 t. salt
2 T sugar
12 T cold butter, cut into quarter inch slices
½ cup cold vegetable shortening, cut into pieces
¼ cup cold vodka
¼ cup ice water
Blueberry Filling
Ingredients
6 cups blueberries (about 2 lbs)
1 Granny Smith apple (peeled and grated on box grater)
2 t. grated fresh lemon zest (use a rasp like this one)
2 t. fresh lemon juice
¾ cup sugar
1.5 T tapioca flour
2 T unsalted butter, cut into quarter inch pieces
Pinch of salt
1 egg, lightly beaten with a teaspoon of water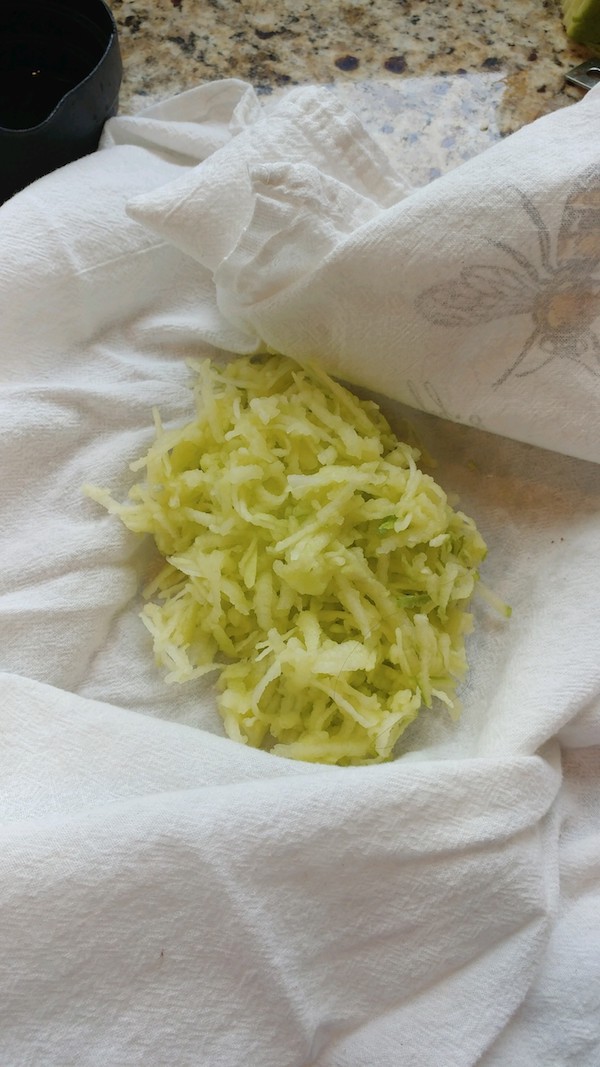 Instructions
Place half the berries into a saucepan on stove, medium heat.  Use potato masher to smash berries. (Skip mashing if you're using frozen berries).
Cook, stirring and mashing occasionally, until the berries are thick and reduced by about half. About 8 minutes. Cool slightly. Put grated apple into clean kitchen towel and squeeze to get out as much juice as possible.
Put apple, remaining berries, zest, juice, sugar, tapioca flour, and salt into a big bowl. Add cooked berries and stir to combine.  Pour blueberry mixture into prepared piecrust, dot with the cut pieces of butter.
Making the Dough
Place 1.5 cups of flour, sugar, and salt in food processor. Pulse quickly to combine.
Add butter and shortening to bowl. Pulse for about 10 to 15 seconds, until the mixture looks like coarse crumbs or cottage cheese.
Add remaining cup of flour and pulse to mix, just 4 to 6 times (don't overmix!) Empty flour mixture into a bowl. Sprinkle vodka and water over mixture, then fold in with spatula until the mixture is slightly tacky. (You might need to press the spatula down to get everything to stick. It's not a very wet dough).
Divide the dough into balls, shape into 2 flat discs, about 4 inches in diameter. Wrap each disc in plastic wrap and put in the refrigerator for at least 45 minutes. (Will keep up to 2 days if you're making the dough ahead).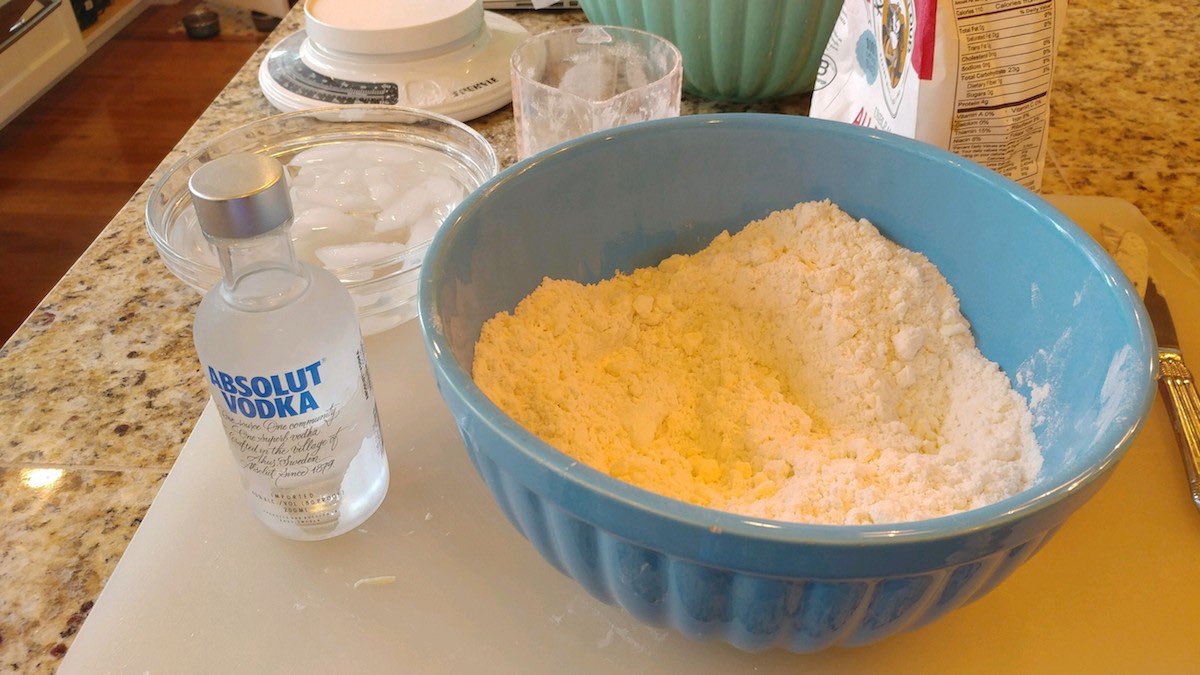 Remove one disc from refrigerator and roll out on floured surface into circle shape, about an eighth inch thickness.  Place rolled dough into pie plate, leaving an overhang of about an inch. Place back in refrigerator while you make filling.
Adjust oven rack on lowest position.
Put rimmed baking sheet on rack. Preheat oven to 400. Roll out second disc of pie dough.
Cut out vents or decorations if desired. (I just used a small glass to cut some holes). Place on dough on top of pie.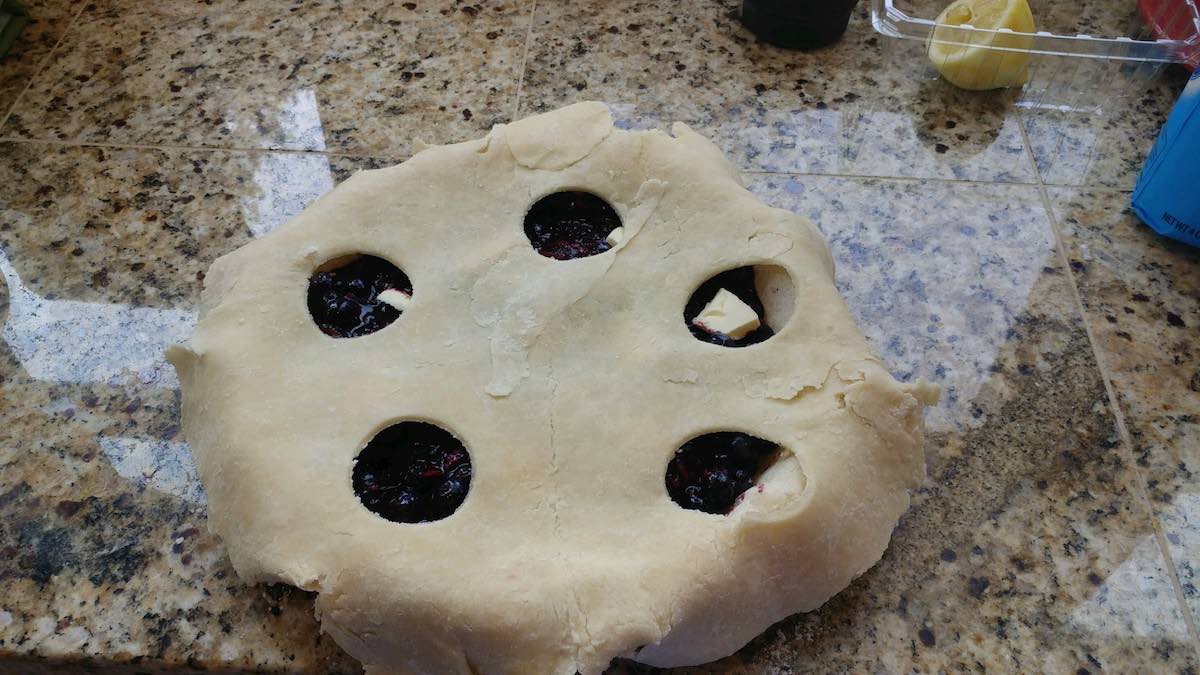 Trim edges so they are even with lower edge of crust.  Roll edge to top of pie pan and crimp to seal.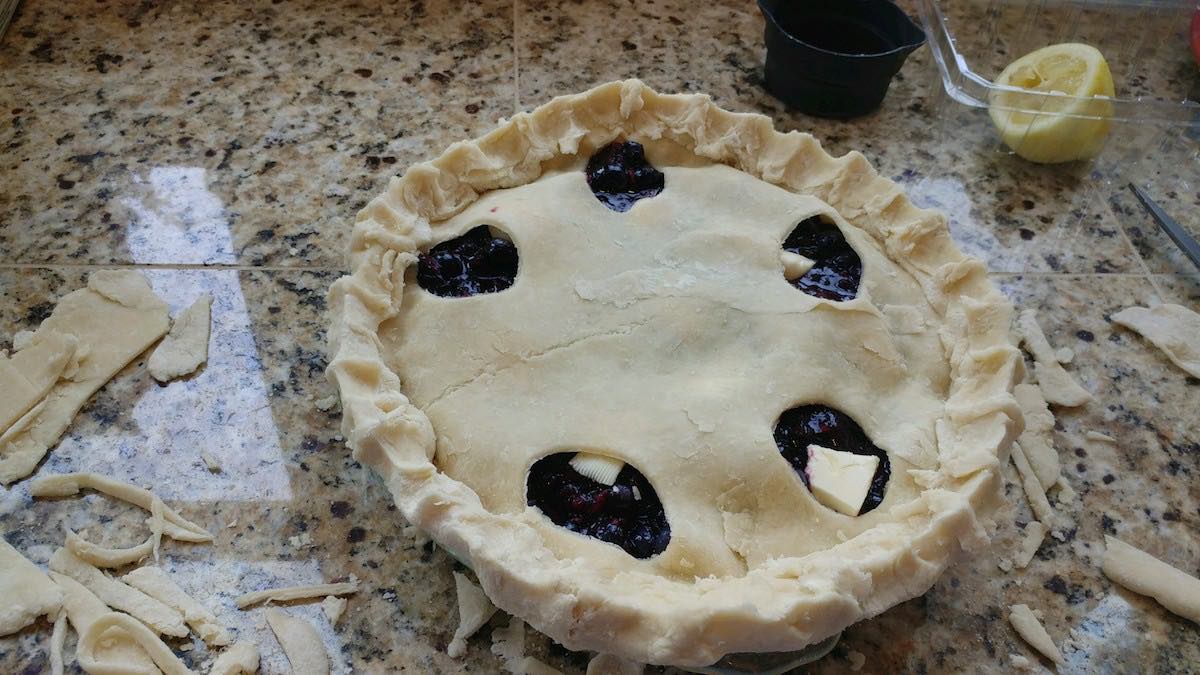 Brush egg and water mixture over the piecrust to help it brown. Place pie on heated baking sheet and bake 30 minutes.  Reduce temperature to 350 degrees and bake an additional 30 to 40 minutes.
Remove pie from oven. Let cool on wire rack to room temperature, about 4 hours, before serving.