This post may contain affiliate links. Full disclosure policy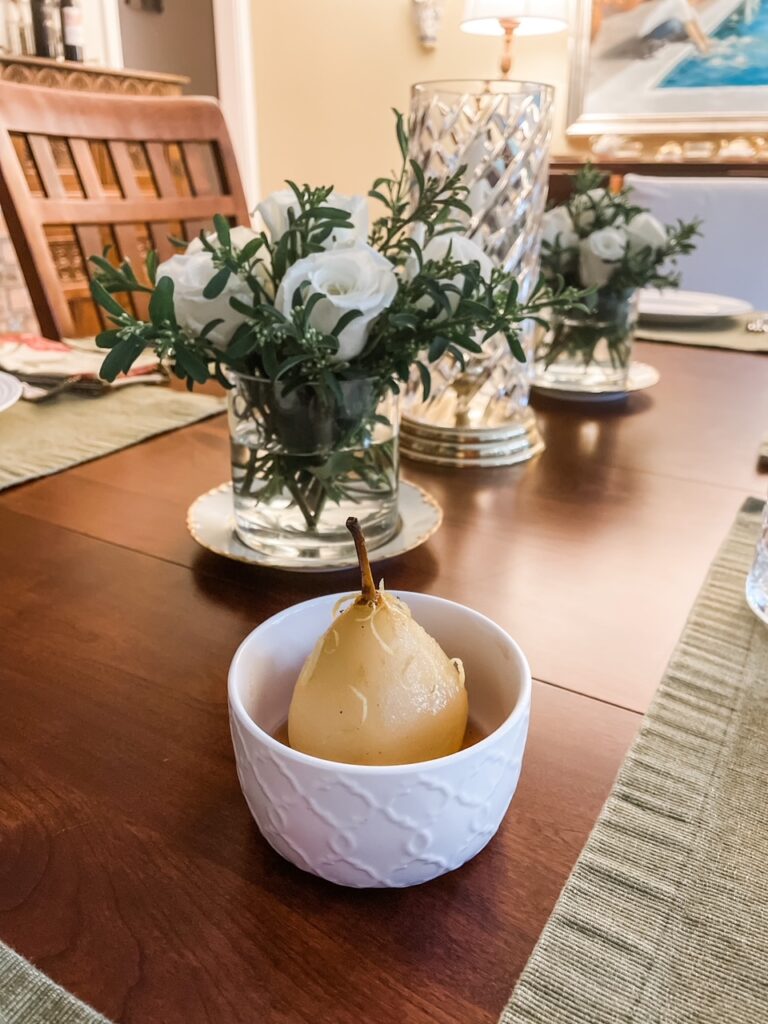 Poached Pears with Marsala is a deliciously light, elegant dessert that's surprisingly simple to make! Fragrant spices and a Marsala wine reduction bring out the flavor and natural sweetness of the pears. The perfect way to finish a special family meal or dinner for company.
Poached Pears With Marsala – A Light And Luscious Dessert
In the weeks that follow holiday the annual holiday indulgences, it seems like everybody is trying to watch what they eat. So, trying to figure out what dessert to serve at a recent dinner party initially had me stumped.
However, I do tend to design my menus around whatever is in season at the time. Not only does the produce taste better, but it's also usually more affordable. When I walked into my local market and saw they were having a sale on bags of the most adorable little pears you've ever seen, I knew I had the makings of a really delicious dessert.
Poached pears really are a classic, and there's a reason for that.
The tender but still slightly firm flesh of the pears, poached with spices in a just sweet enough sauce simply melts in your mouth. So luscious and light that no one – not even guests who're watching their waistlines – will be able to resist.
Not only do these Poached Pears in Marsala taste amazing, they look fabulous too! And best of all, this impressive dessert is incredibly simple to make.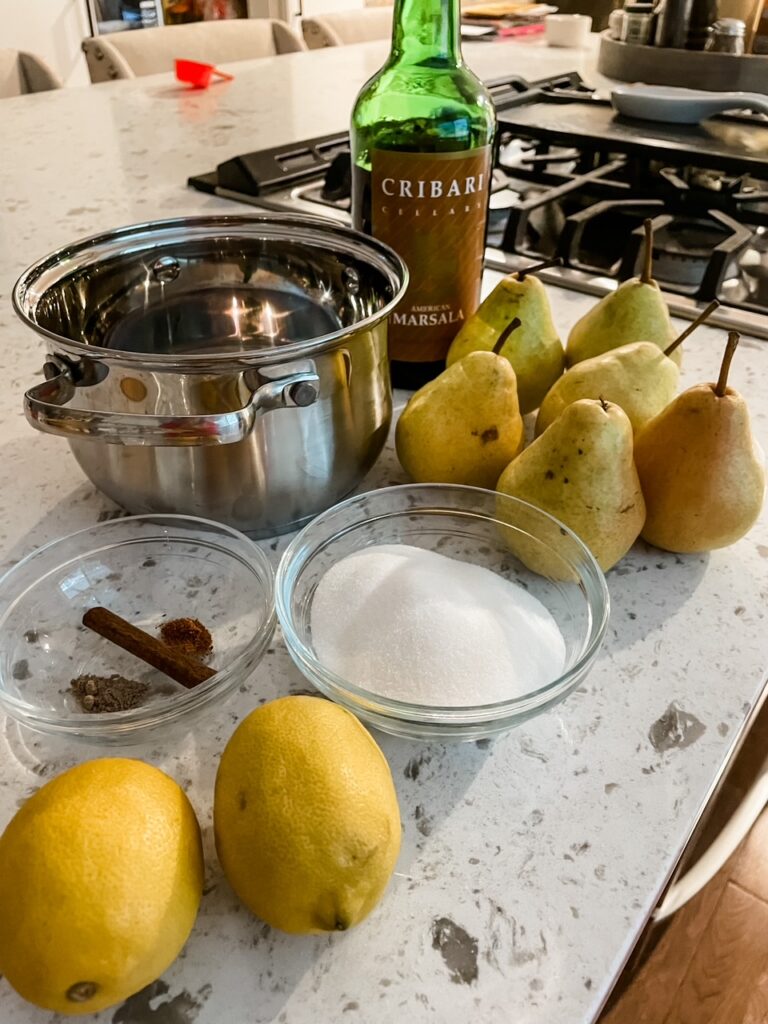 Poached Pears With Marsala – Choosing The Pears
The first step in making poached pears with Marsala is choosing the pears. You want pears that are small to medium in size. That will reduce the cooking time and make it easier to fit the pears into the pot during poaching. Also, I think the smaller pears just look nicer.
Use pears that are slightly underripe so they don't become mushy during the poaching. If the skin of the pear indents easily when you push it with a finger, it is too ripe. Choose pears that are firm but give just slightly if you push the skin with your fingers.
How To Make Poached Pears With Marsala
When you're ready to cook, slice about a half inch off the bottom of each pear. That will help them stand up more easily in the pot and on the plates when served.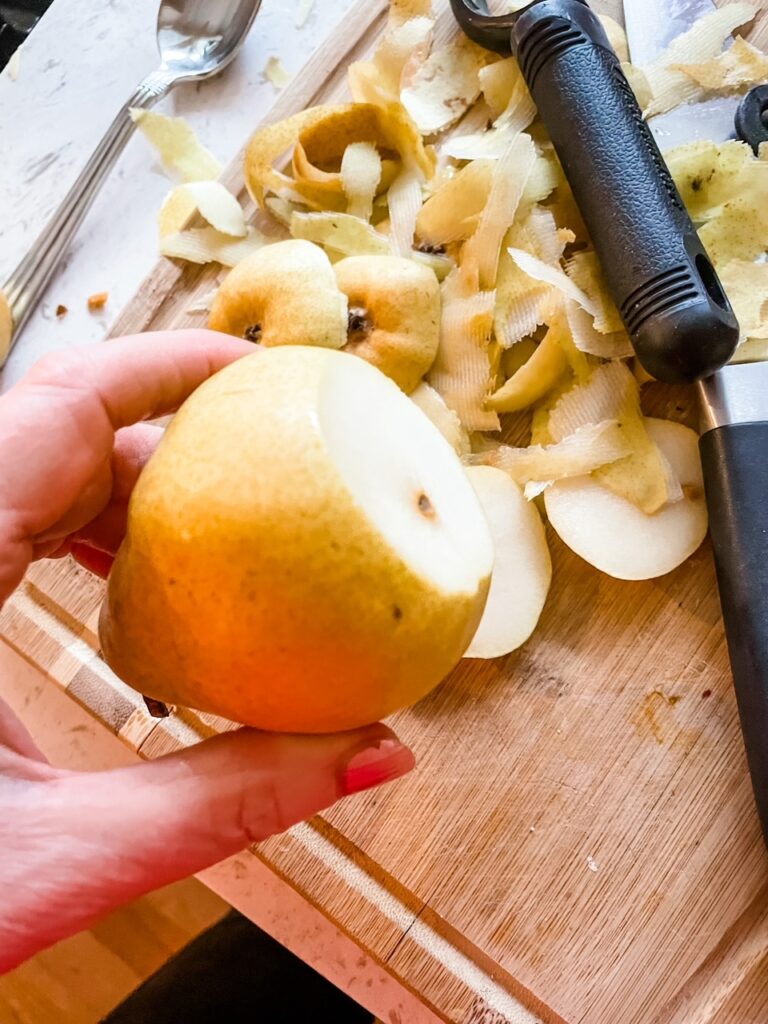 Next, peel the pears but leave on the stem. It makes the pears easier to remove from the pot and looks pretty too. Some people cut the pears, but I must prefer to poach them whole. It just looks so elegant that way.
With the pears prepped, you'll make the poaching liquid. Let's talk about what goes into it.
A lot of poached pear recipes call for red wine. That blush of red the wine imparts to the pears is very attractive, but I find the taste to be a bit sharp. As far as I am concerned, Marsala is the absolutely best wine for poached pears.
Marsala is a fortified Italian wine produced in Sicily. It's light in color and has a sweet, almost caramel flavor that intensifies when boiled into a sauce or reduction. If at all possible, use a proper sweet marsala purchased from a liquor store or wine shop. It's not expensive and is much more flavorful than the marsala cooking wine from the supermarket.
To the Marsala, you'll add some sugar, fresh lemon juice, and spices, and bring everything to a simmer before adding the pears to the pot.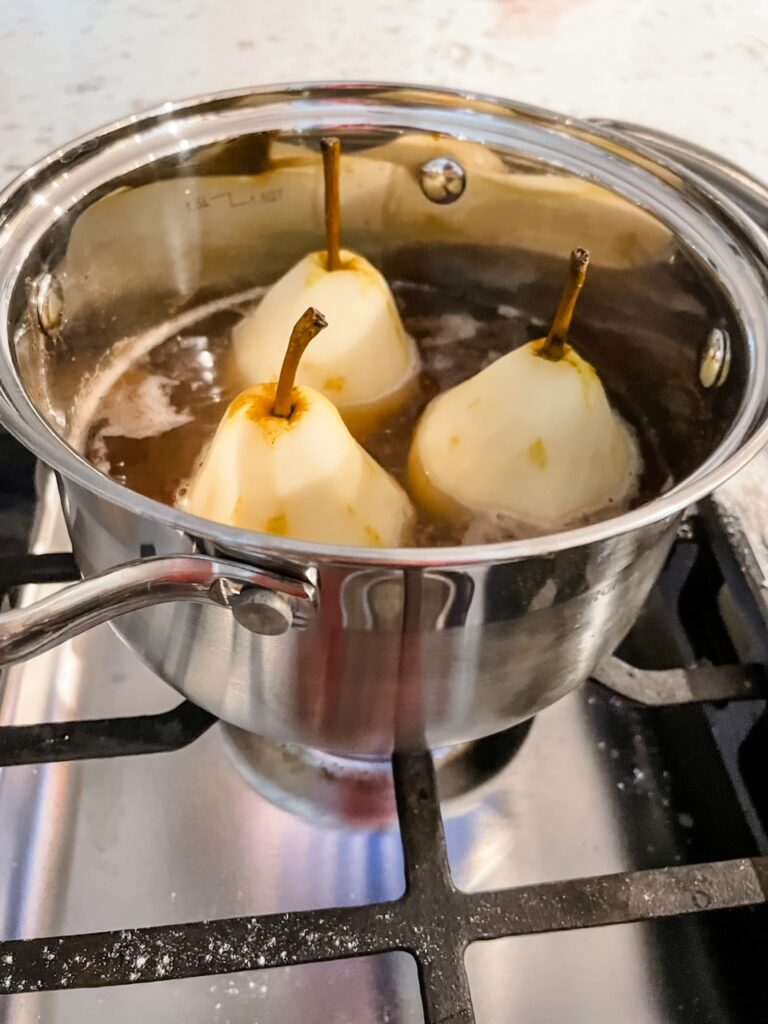 Depending on the size and firmness of the pears, you'll poach them for 10 to 20 minutes. I like to leave the pears upright in the pot for the first few minutes, then push them onto the side and turn them gently every couple of minutes so they poach evenly.
Test for doneness by piercing the pears with a fork. They should pierce easily but still feel slightly firm. You don't want a mushy pear!
When the pears are cooked, remove them from the liquid and set aside. Then let the poaching liquid continue to simmer until it becomes syrupy, thick enough to coat a spoon lightly.
How To Serve Poached Pears With Marsala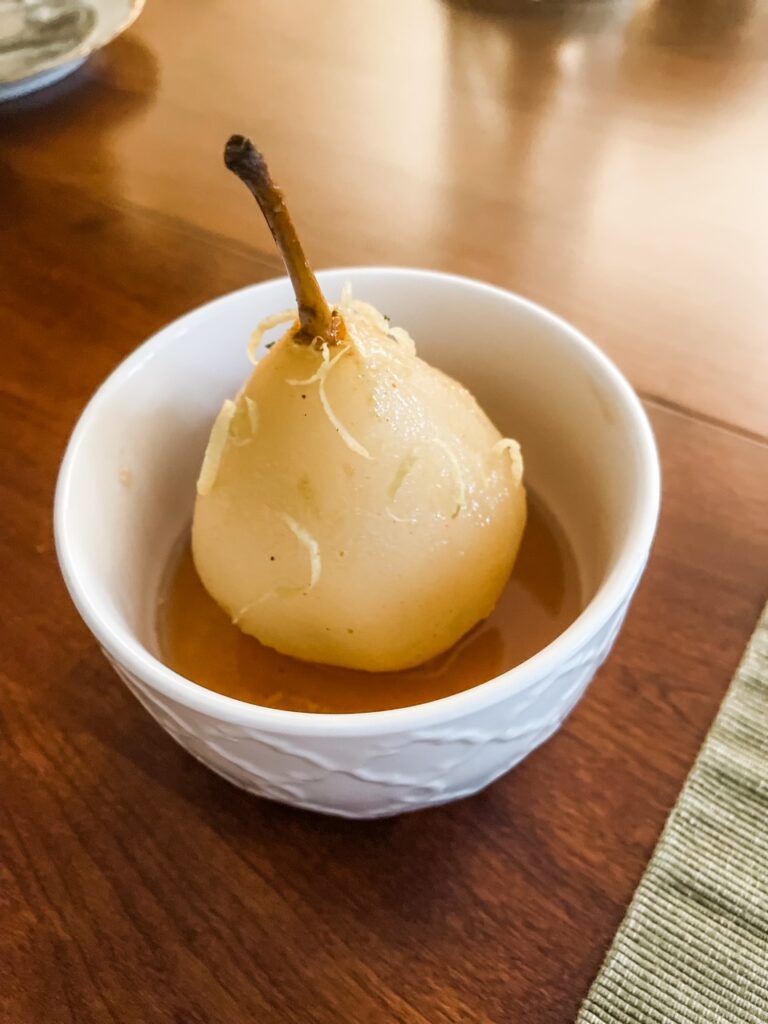 Poached pears can be made ahead of time and served at room temperature or while still warm.
When it's time to serve, place the pears on individual plates or shallow dessert dishes, spoon the Marsala syrup over the top, and then garnish with lemon peel. It's a simple but very elegant presentation.
You could also drizzle a little bit of cream or even melted chocolate over the pears if you'd like. Vanilla or cinnamon-flavored ice cream will also be an excellent accompaniment to Marsala poached pears.
Print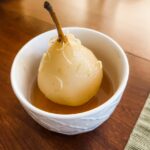 Poached Pears with Marsala
---
Author:

Yield:

6

servings

1

x
6

small to medium, slightly underripe pears

1.5 cups

sweet Marsala wine

½ cup

sugar

1

large, fresh lemon – (

2

T juice for poaching liquid, peel for garnish)

1

cinnamon stick

¼ tsp

ground cloves

¼ tsp

ground cardamom
---
Instructions
Slice approximately half an inch from the bottom of each pear, so they still stand up flat. Peel the pears whole, leaving the stems on.
Remove the zest from the lemon (just the yellow part of the peel, not the pith) with a zester or peeler and set aside.
Put the Marsala, sugar, spices, and 2 tablespoons lemon juice into a deep-sided pot over medium high heat until it just begins to boil.
Add the pears and reduce the heat until the poaching liquid is simmering. Poach the pears for 10 to 20 minutes, until they are still slightly firm but can be easily pierced with a fork. Remove the pears from the poaching liquid and set aside.
Increase the heat on the stove, bringing the poaching liquid to a low boil. Stirring frequently, reduce the liquid until it become somewhat syrupy, thick enough so the liquid will lightly coat a spoon.
Pears can be served warm or at room temperature. Place pears on individual plates or dessert bowls. Evenly divide sauce and spoon over pears. Sprinkle pears with lemon zest and serve.