This post may contain affiliate links. Full disclosure policy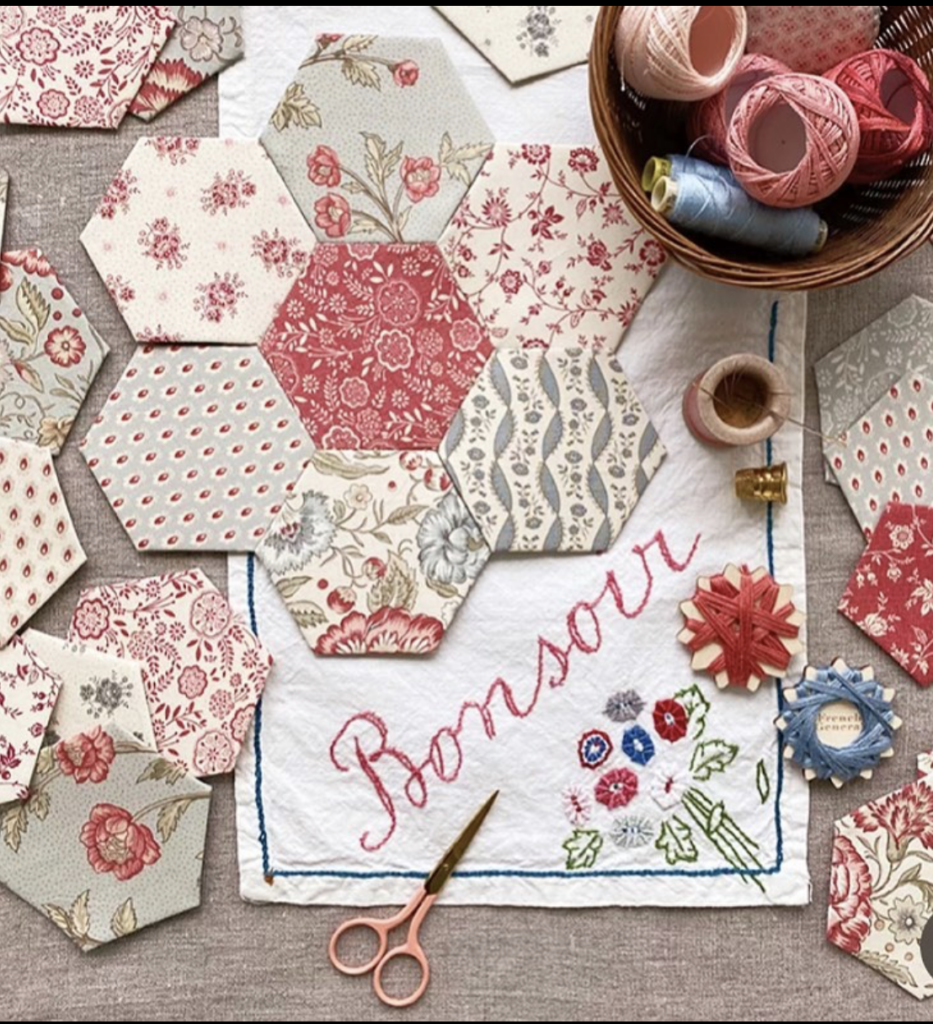 Who's my favorite French General? I'll give you three guesses. Nope, it's not Charles de Gaulle. It's not Napoleon Bonaparte, either. Here's a hint – my favorite French General stocks some of the most delicious fabric you've ever laid eyes on! Recently, we had a nice long visit.
My Bucket List Visit to French General
If you love quilting and crafting as I do, chances are good that you know precisely what "French General" I visited recently.
French General is a company that designs and sells simply gorgeous, French-inspired fabrics, as well as a vast variety of vintage notions, beads, buttons, jewelry kits, embroidery supplies and kits, unique vintage papers, and an ever-changing supply of "Found in France" ephemera that will make the heart of crafters thrum with delight.
Before I go any further, you may be wondering why I would devote an entire blog post to French General. It's not because I will make any money if you decide to buy anything from them. I'm not affiliated with the company in any way, shape, or form.
This is just me wanting to share a good thing with my readers. As you'll see when you read on, French General is a VERY good thing indeed!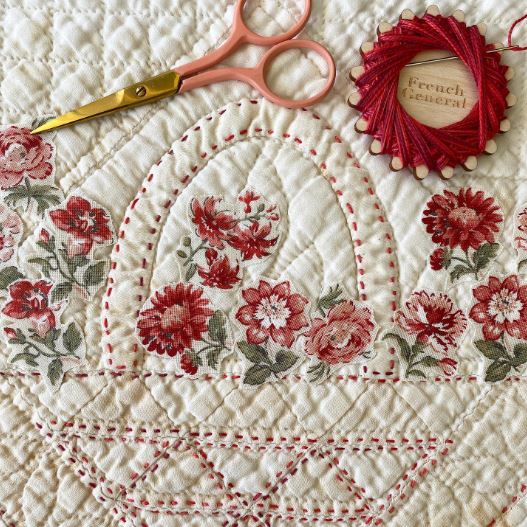 I've been buying French General designed quilt fabric and embroidery for years, mostly from local quilt shops or at quilt shows. I've also bought supplies online from the French General website.
But a visit to the brick-and-mortar French General store located in Los Angeles has been on my bucket list for a long, long time. Just a couple of weeks ago, I finally got my chance. It was all I hoped for and more!
Logistics and A Very Understanding Husband
You might wonder why a trip to a retail store would make my bucket list. I mean, sure. It is located in Los Angeles, but with all my traveling, you might wonder why I hadn't found a way to visit French General before now.
So, here's the deal. The French General retail store is only open on Saturdays from 11 am to 4 pm. It's also located in a part of LA that's a bit off the beaten path. Getting there takes some effort and advanced planning.
Lucky for me, I've got a very understanding husband. As you may know, we recently drove from Washington to the Palm Springs area to get a break from the gloomy Pacific Northwest winter.
When I told the Chairman that I really, really wanted to visit French General, he juggled our driving schedule and braved the LA freeway system so I would visit the store in that brief, five-hour window.
Is he a keeper, or what?
My French General Visit – So Much Crafty Eye Candy!
Okay, okay. Enough with the talking and explanations. What you really want to see is the inside of the French General store, am I right? And maybe what I bought on my visit? (The answer to the second question is…probably more than I should have. But I don't regret it one bit!)
Fair enough. Let's get to it.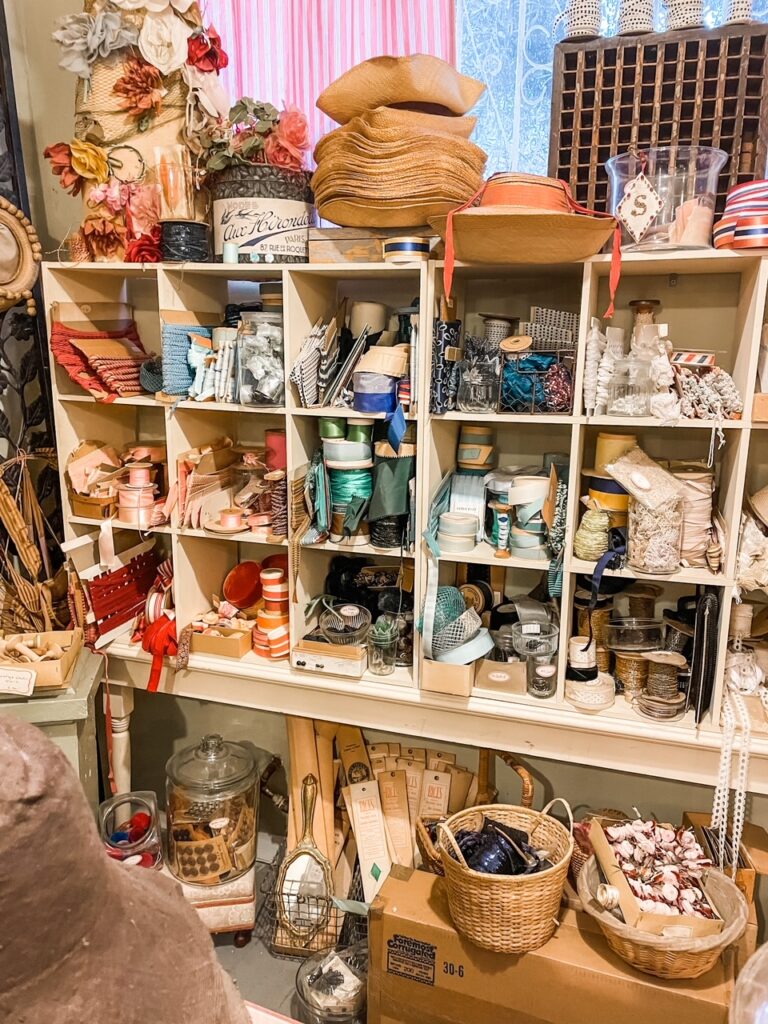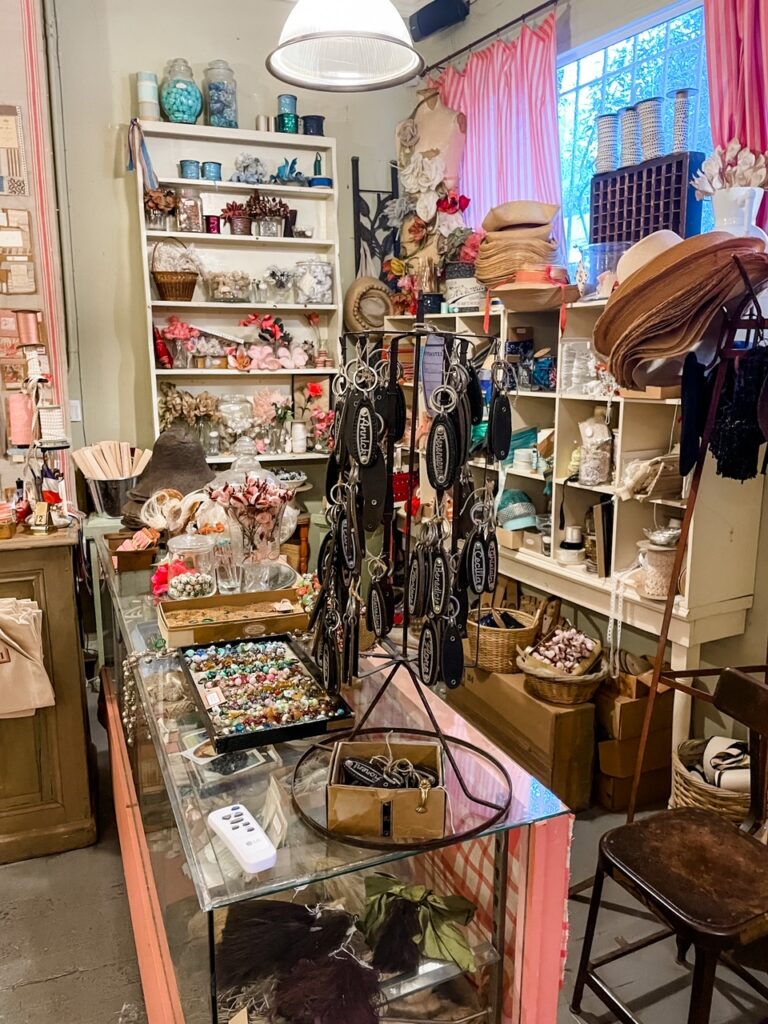 As you can see, the interior of French General is a delightful, perhaps even slightly messy, mélange of ephemera and crafty treasures. There's so much to see that it's hard to know where to look first!
The wall of hats, ribbons, trims and fabric flowers had me thinking about embarking on a second career as a milliner. But only a moment later, I saw the item that holds first place in my craft-loving heart, lots of gorgeous quilting fabrics.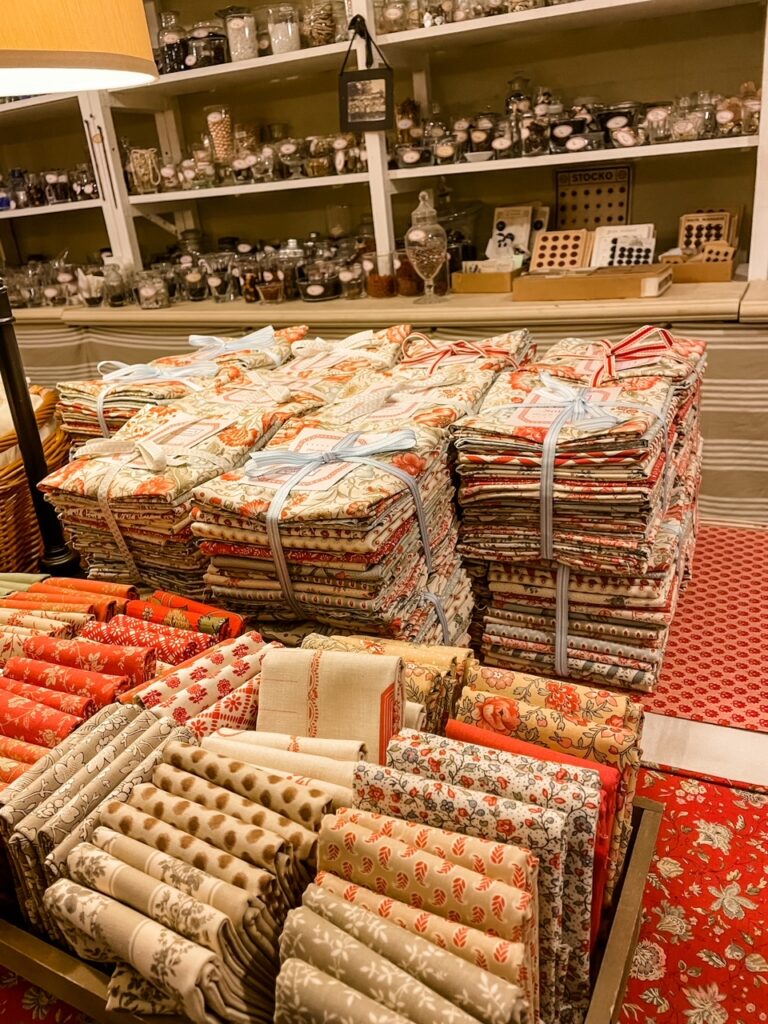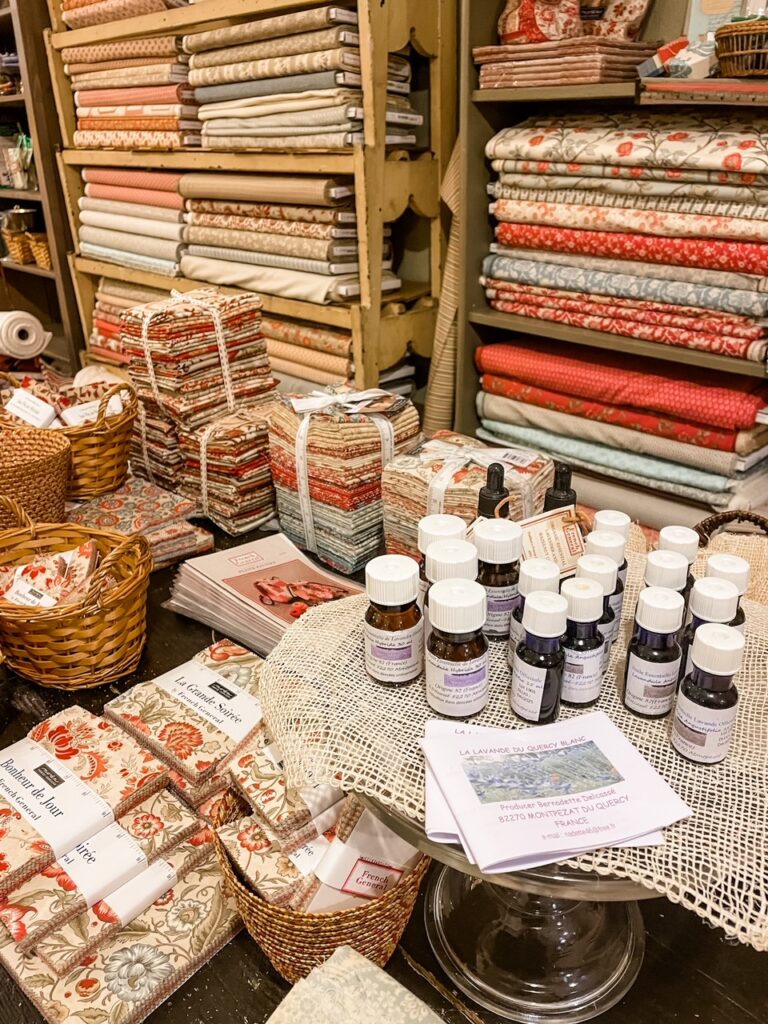 Isn't it gorgeous! These homey but oh-so-elegant French-inspired prints just made my heart go pitter-pat.
And not only do they look beautiful, they feel amazing! French General quilting fabric is 100% high-quality, high-thread count cotton. The weave is tight, so there's no fraying when you sew, and the feel is soft and smooth.
My biggest problem was choosing which print collection to purchase. And the problem got even bigger when I noticed the beautiful collection of solids and stripes!
It's hard to explain without seeing them first-hand, but these are not your average solids. The colors are rich and unique, and there's a very subtle tone-on-tone quality to the weave. I know it's going to add so much to my quilts.
But if you visit French General, unique finds that will up your craft game can be found in every corner.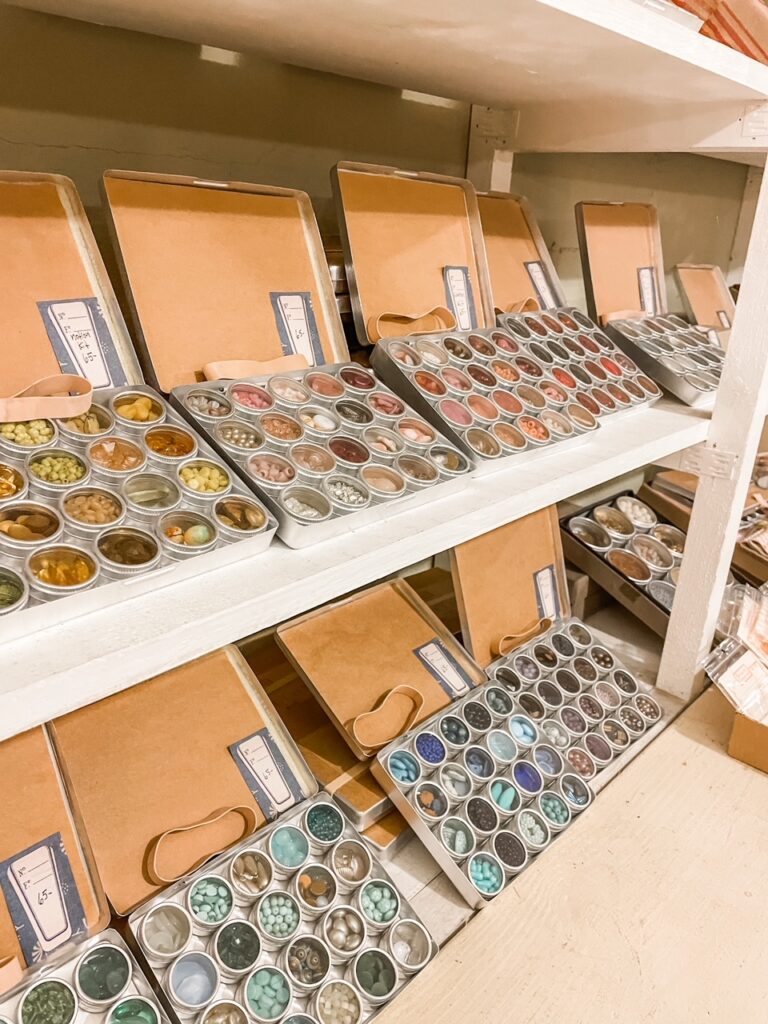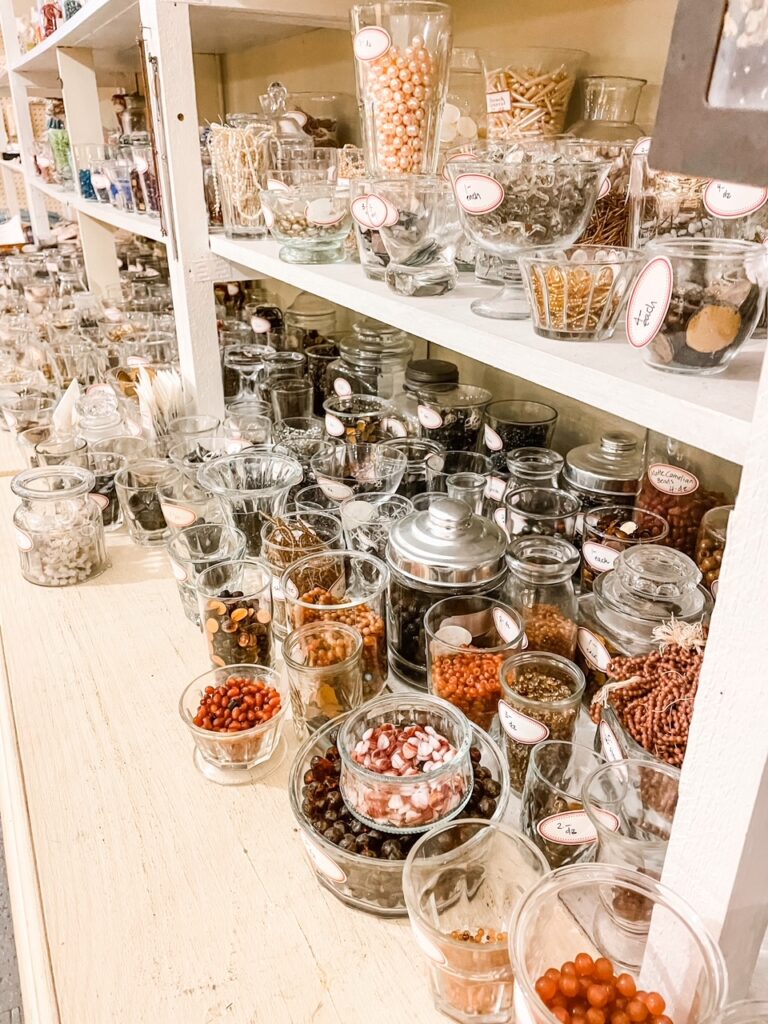 Jewelry makers and crazy quilters will drool with delight as they peruse through the selections of beads, baubles, and buttons.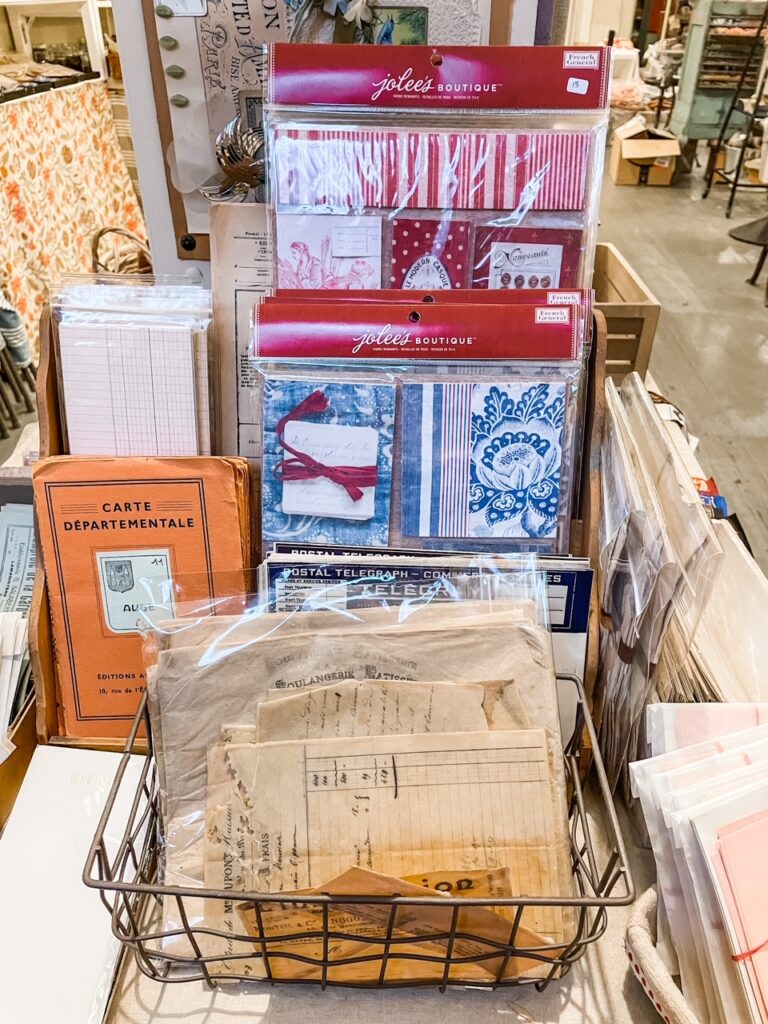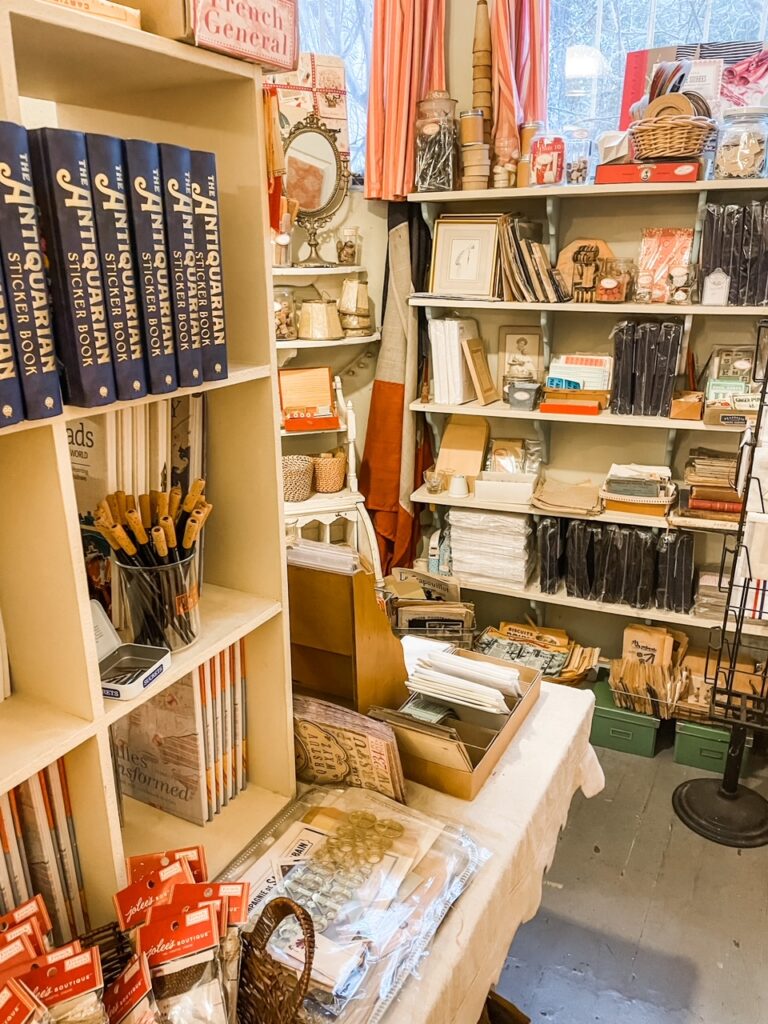 And mixed-media artists, scrapbookers, junk journal makers, and crafters of all sorts will swoon with happiness as they rifle through their collection of specially printed papers and unique, vintage paper goods – everything from actual letters and postcards to antique ledger pages and vintage sheet music.
Their online store does carry a good selection of their available products. But it pales in comparison to what you'll find if you have a chance to visit French General's brick-and-mortar store. It's not a huge space, but every inch of it is packed with delights.
The bottom line is this – my bucket list visit to French General more than lived up to my expectations! The only tricky part was trying to decide what to buy and bring home.
After more than an hour of perusing, I made my choice.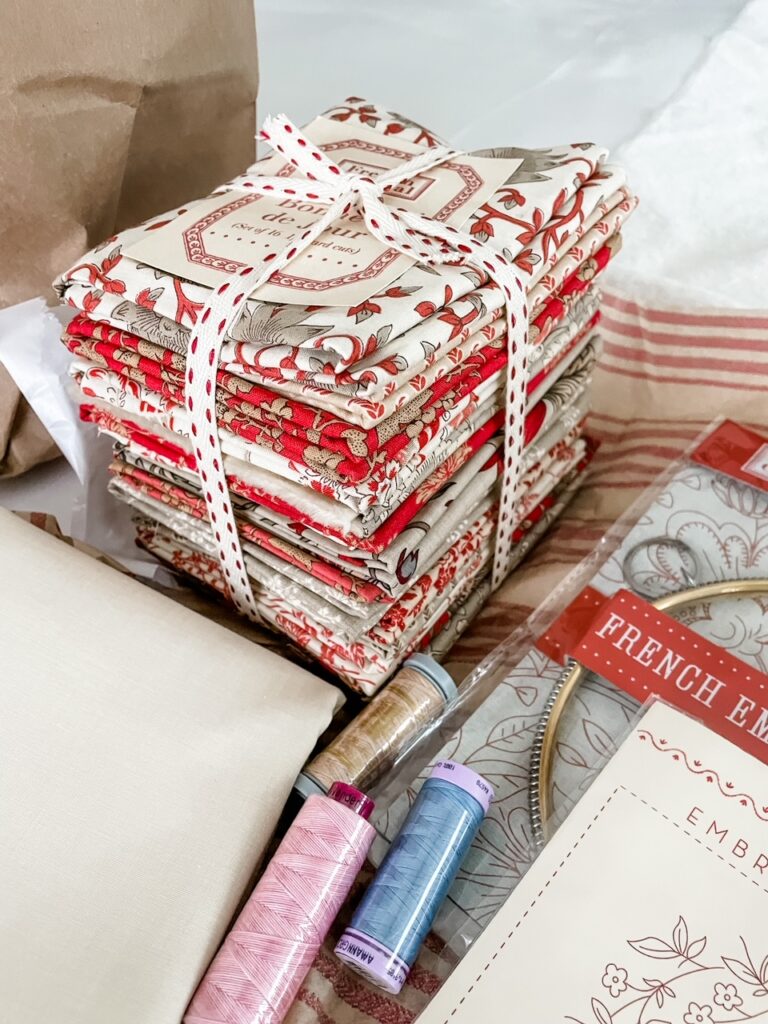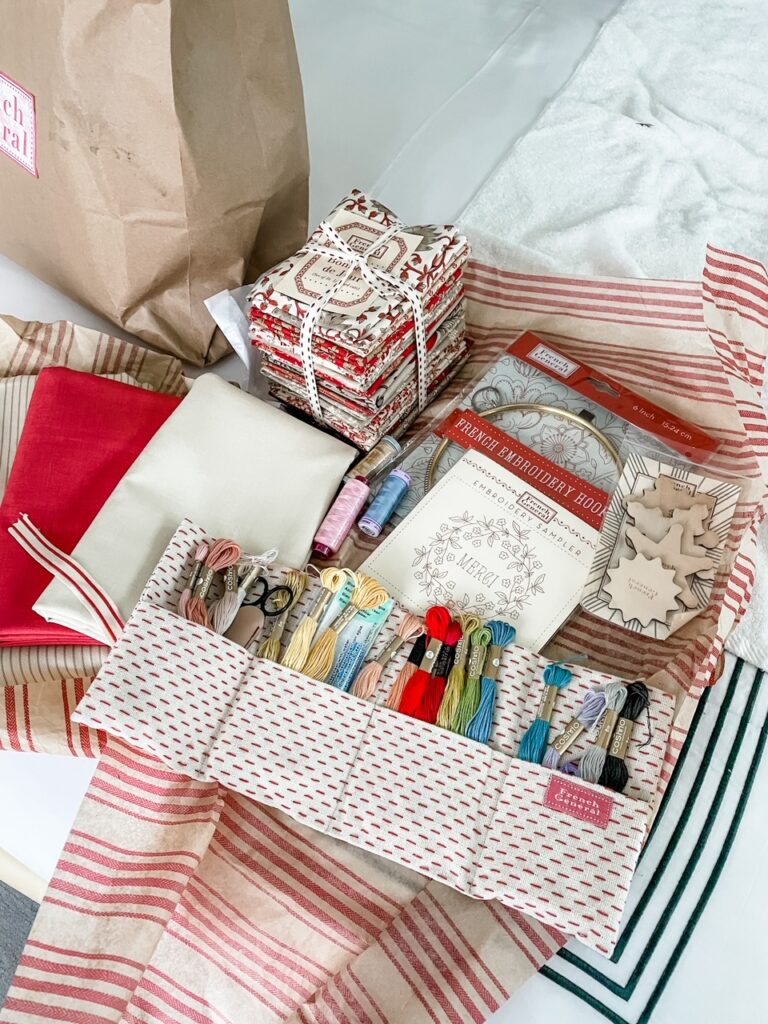 Finally getting to visit French General really was a dream come true. I'm so glad I went, and I can't wait to start putting my purchases to good use. I also can't wait to go back!
As you can see, I was all about the red fabric on this trip. But next time, and there will definitely be a next time, I think I'll get the blue.