This post may contain affiliate links. Full disclosure policy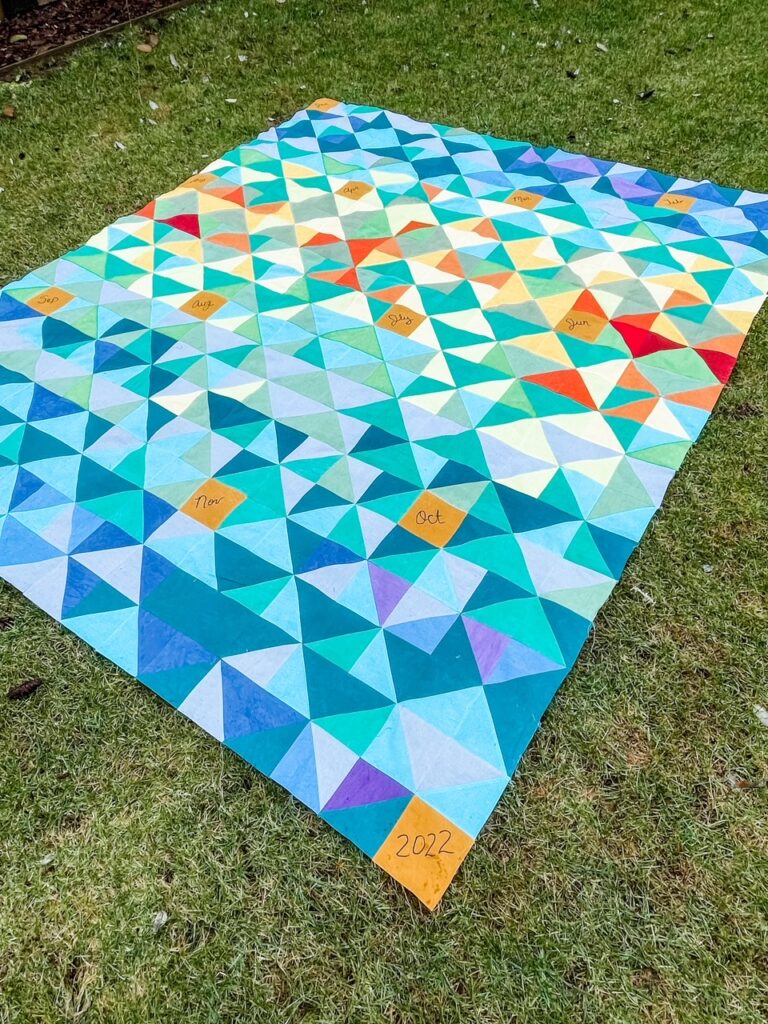 Well, I did it. I finished my 2022 temperature quilt. And I'm not the only one! As I was finishing this long and enjoyable journey, a few people sent me pictures of their completed projects.
If you're interested in making a temperature quilt this year, this post is for you! Read on for information, inspiration, and temperature quilt images from me AND a few of my friends!
Temperature Quilt Update – Let's Start At The Very Beginning
Before we get down to the temperature quilt images and updates, let's go back and see how I got started on this project. Because as anyone who has ever seen "The Sound of Music" knows, the very beginning is a very good place to start.
In case you weren't aware, temperature quilts are quilts in which a chosen color represents a particular range of temperatures. Though there can be variation, usually each block in the quilt records the daily high and low temperature for a specific place over. The completed quilt gives a visual record of the weather over the course of the year.
Late in 2021, I started hearing about temperature quilts. Since I had moved from the high desert of Oregon to temperate Western Washington a few months before, I thought it would be fun to mark the occasion by making a temperature quilt of my own.
And since the idea was to make one small block every day of the year, I also thought it would encourage me to get in at least a little sewing time each day.
If you haven't checked it out before, it would be a good idea for you to read my original post on How to Make a Temperature Quilt. That will give you information on the nuts and bolts of what temperature quilts are. And how to get started making one of your own.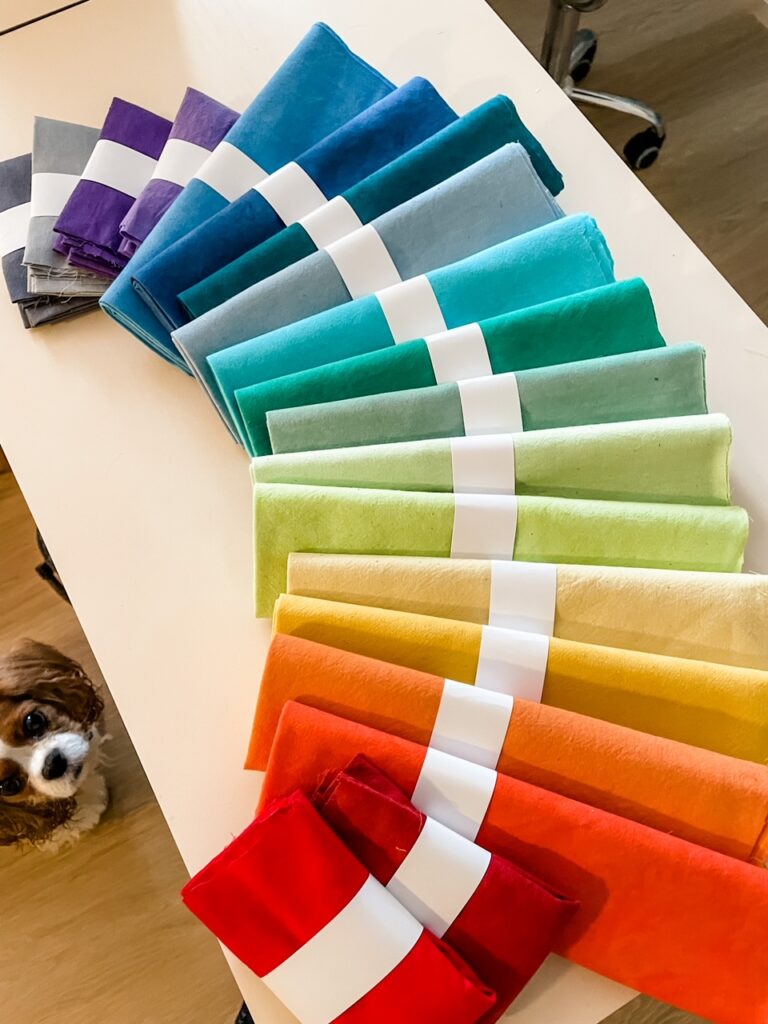 Temperature Quilt Update – What I Learned And An Faq
People were intrigued when I began my 2022 quest to make a temperature quilt! Quite a few wrote with encouragement and questions.
The most frequently asked question that came my way was, "How much fabric should I buy for my temperature quilt?"
Answer: I don't know. No one does.
Because they're based upon the weather and no one, not even meteorologists, can predict the weather next year, there is absolutely no way to tell how much fabric you'll need for your temperature quilt. You've just got to make your best guess.
That was part of why I used Cherrywood Fabrics in my 2022 temperature quilt: I knew I'd be able to order more later if I needed it. The dye lot might be off a bit, but I figured it would be close enough.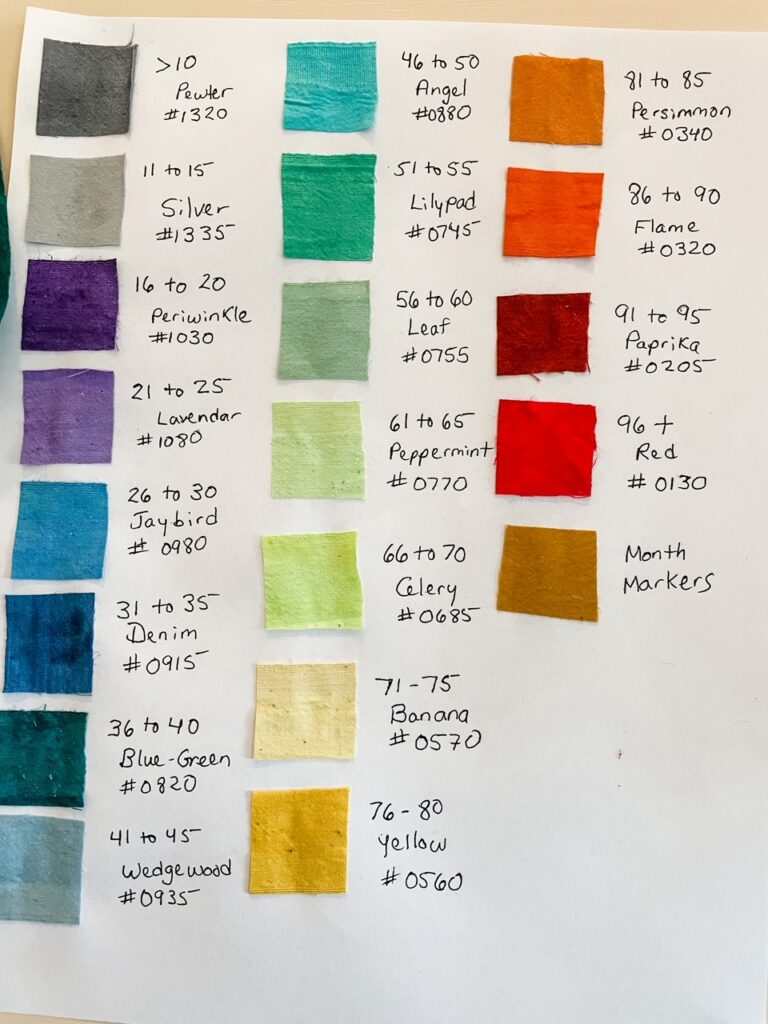 (The other reason I picked Cherrywood is that it has a vast range of colors, and I love the fact that it's hand-dyed cotton that looks like suede.)
I ordered fat quarters for the highest and lowest temperature ranges because I knew I wouldn't need much of those colors. For the middle ranges, I bought half and whole-yard cuts. Sure enough, I did end up having to order more of certain fabrics over the course of the year.
So, if there is one thing I learned from this experience, it's that I would have been wise to buy a bit more fabric than I thought I needed for the more common temperature ranges.
Caution in Colors
The other thing I learned is to put more focus on making sure that I really love a particular color than I do on making sure the colors in my "rainbow" graduate in a logical sequence.
There was the one grayish green that I wasn't super crazy about but which looked right in the sequence of cool to hot colors. Of course, that ended up being a color I had to use a LOT of because we had a wet, cool winter last year.
My temperature quilt still turned out well, but I think I would have liked it more if I'd picked another shade of green for that temperature, even if it didn't transition quite as evenly as one that was bit more vibrant.
However, as I said, it still turned out nicely. Would you like to see it?
Temperature Quilt Examples and Images from Around the Country
Ta-dah! This is my quilt, representing the temperatures from January 1st to December 31st, 2022 in Gig Harbor, Washington.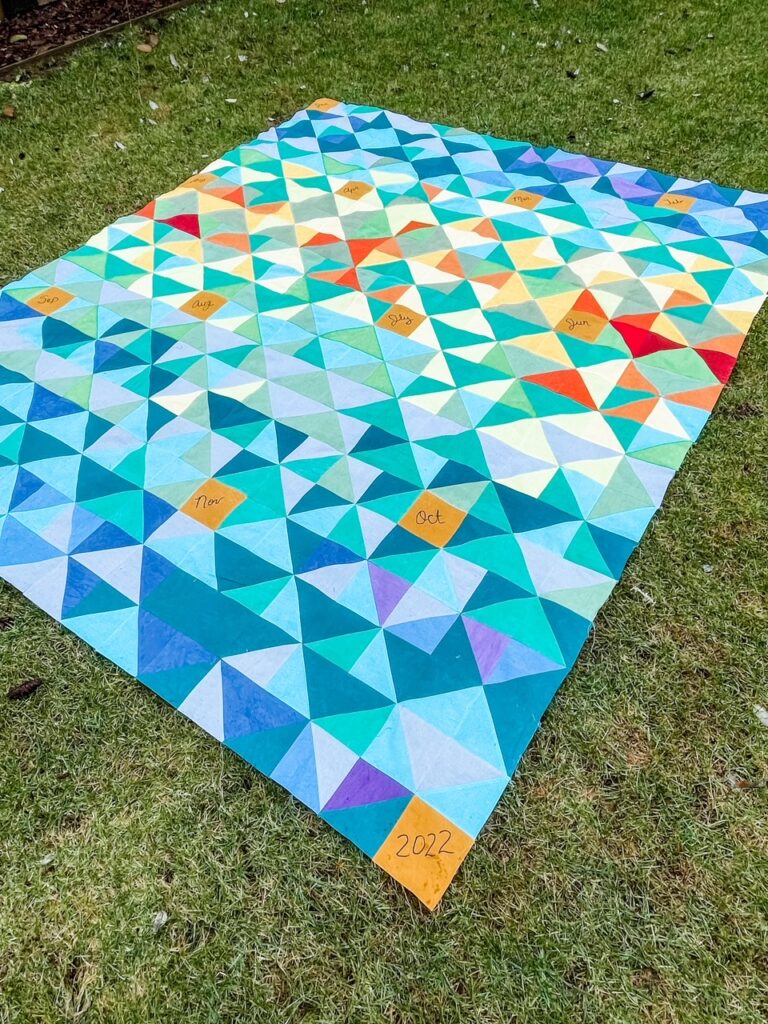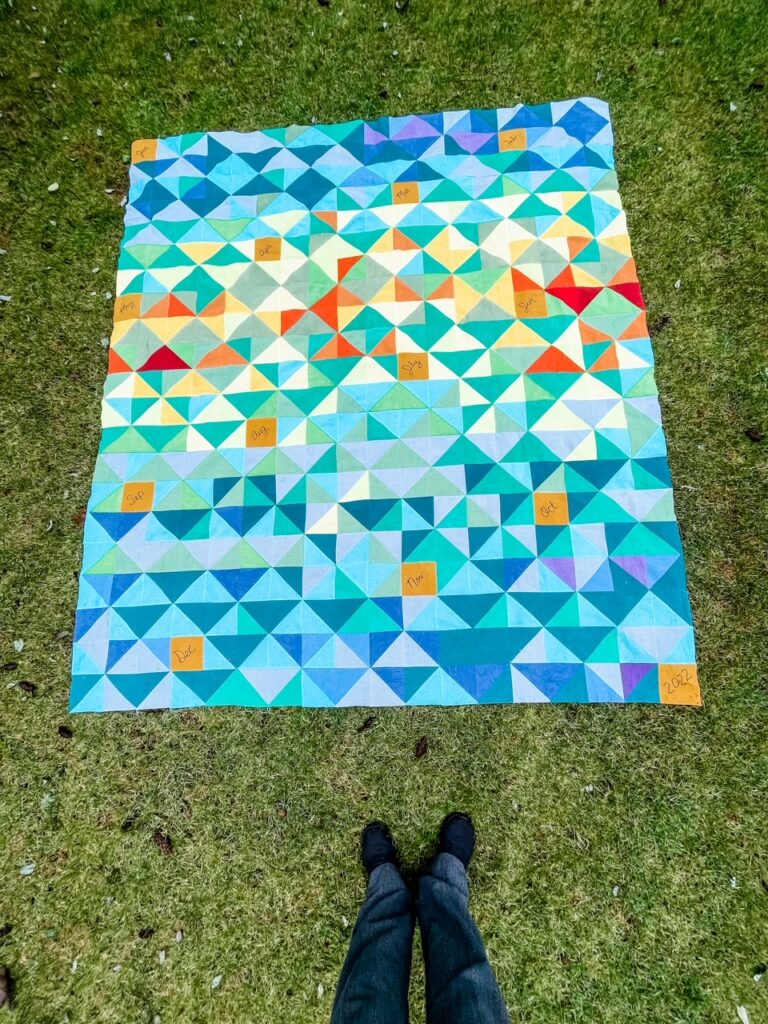 Obviously, it's not quilted yet, and I still want to hand embroider the months and year, but I like the end result. The pattern isn't fancy, but this will be a good utility quilt to snuggle under and an excellent memento of our first year in our new area.
And as I said before, I wasn't the only one who made a temperature quilt last year! Quite a few readers joined me in this project. Some of them sent me photos of their finished quilt tops and were kind enough to let me share them with you.
Betty Sazama Of Maricopa, Arizona
Betty Sazama used the same pattern that I did for her quilt. I think it turned out just beautifully! Isn't it interesting to see how the different locations and corresponding temperatures impact the finished quilt?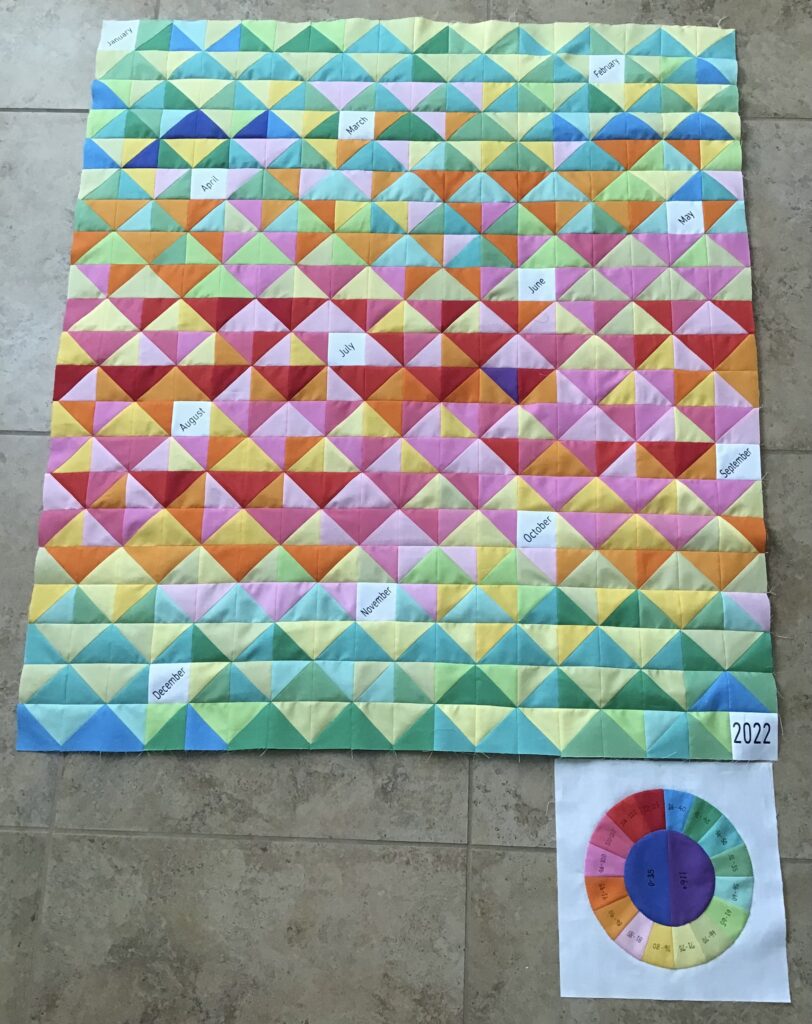 I love that Betty stitched a legend with her quilt's different colors and temperatures. I might just need to add one to the back of my quilt as well.
Donna Wright Of Virginia Beach, Va
As you can see, this quilt by Donna Wright is an absolute stunner! It's also a little different than some other temperature quilts. Rather than starting in January, Donna's quilt goes from July to July, which is her birthday month.
Also, as she explained to me in her note, "The legend on the tan flower on the bottom left shows that the top starts with Monday, goes around clockwise and ends with Sunday in the middle. It is the high temperature of each day. I called it "The Highs of my Year."
SO much work went into this quilt, but the results were sure worth the effort!
Allison Woolen Of Indianapolis, In
Like mine and Betty Sazama's, the next two quilts were made with the same pattern but represent different locations.
(In case you're wondering, the pattern they used was from Canuck Quilter Designs. Looks like you can get the pattern for free if you sign up for their newsletter.)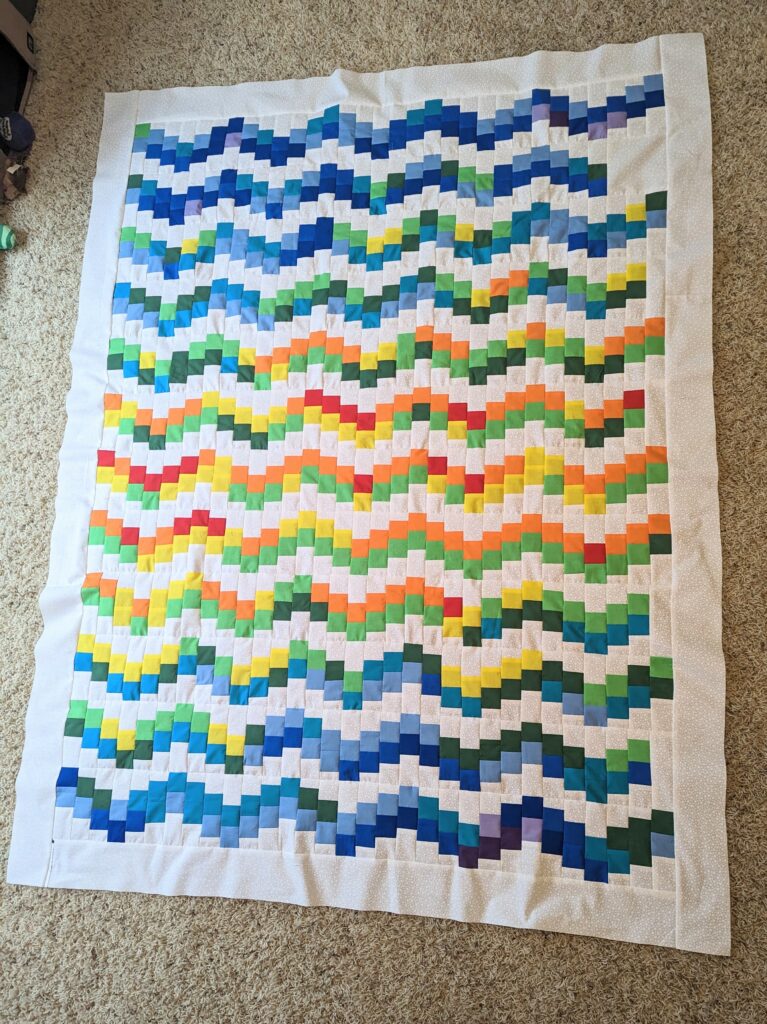 I just love the stark contrast of color in Allison Woolen's beautiful temperature quilt. One look and you know that winter in Indianapolis is cold, really cold, and that summer comes on hot and fast!
Judy Papoff Of Orange County, California
And take a gander at this quilt from Judy Papoff of Southern California. It's the same pattern and just as pretty but because of the climate, it's got a very different look!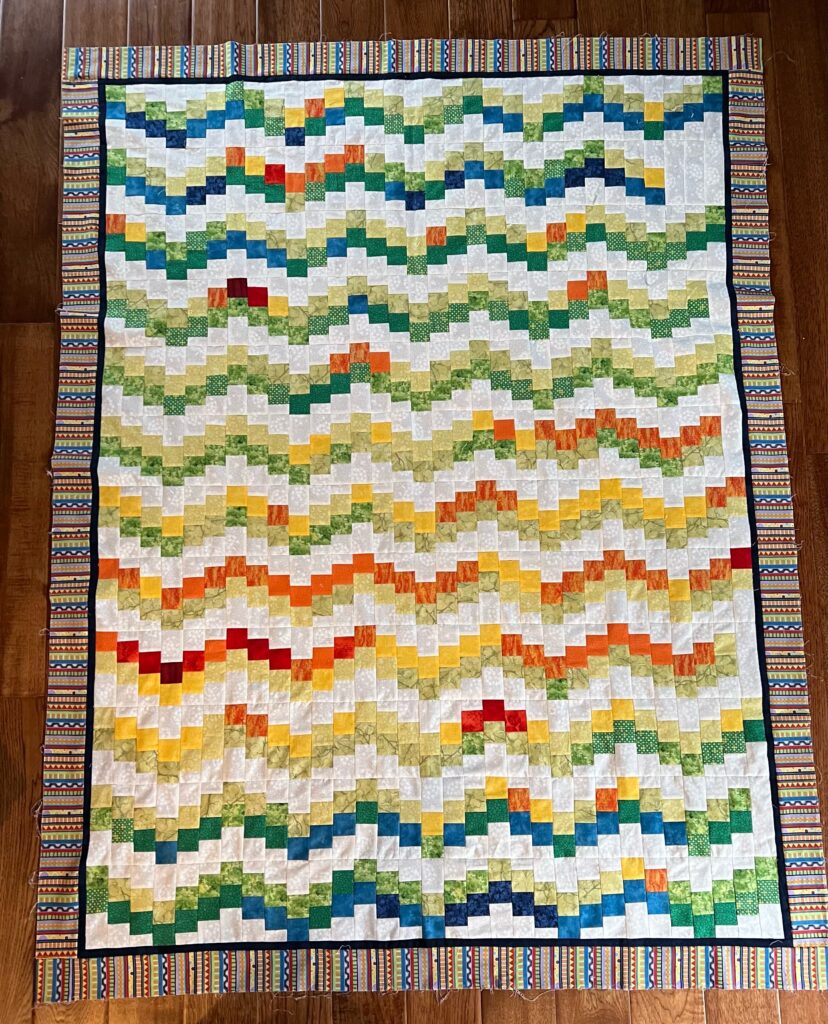 Don't you love that striped border? I don't know about you, but all these warm colors in this quilt make me think it might be a good idea to "fly south" for the winter.
Bottom Line – Temperature Quilts Are Fun!
I really enjoyed making my 2022 temperature quilt. When I started this project, and until it was finished, I thought it would be a one-time .
But you know how these things go, don't you? I woke up with an idea on January 2nd, The next thing I knew, I hopped in the car and drove to my local quilt shop.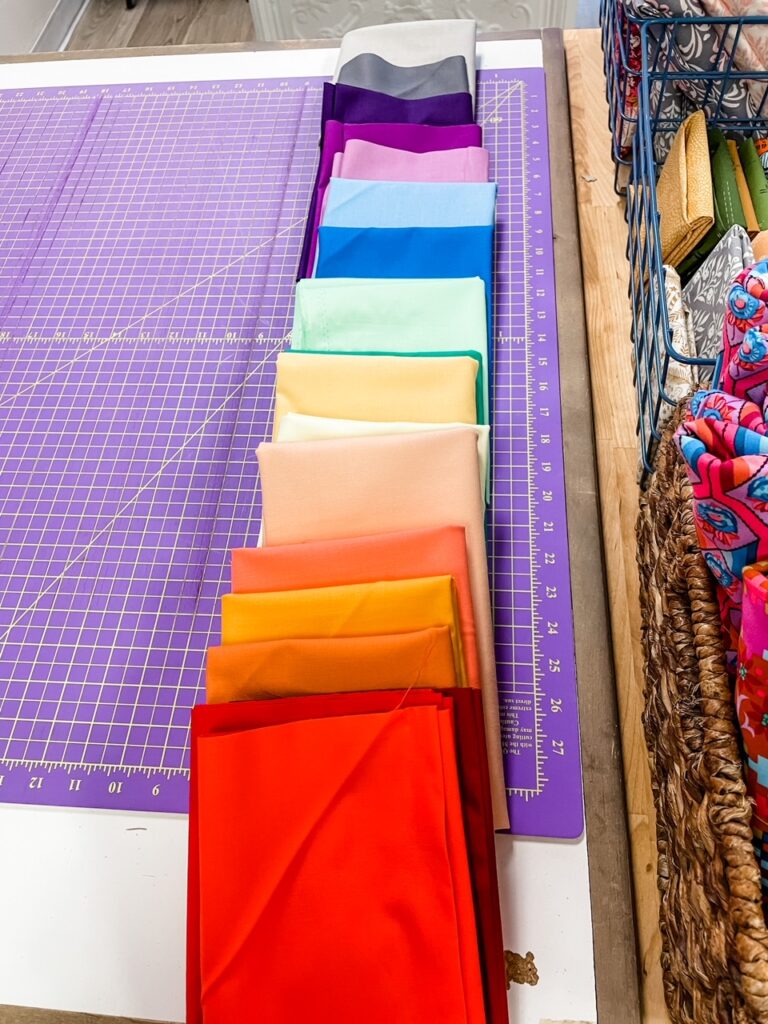 I'm going with a different pattern this year, based on my own version of a basic rail fence block. But I'm already having a lot of fun working on my 2023 temperature quilt.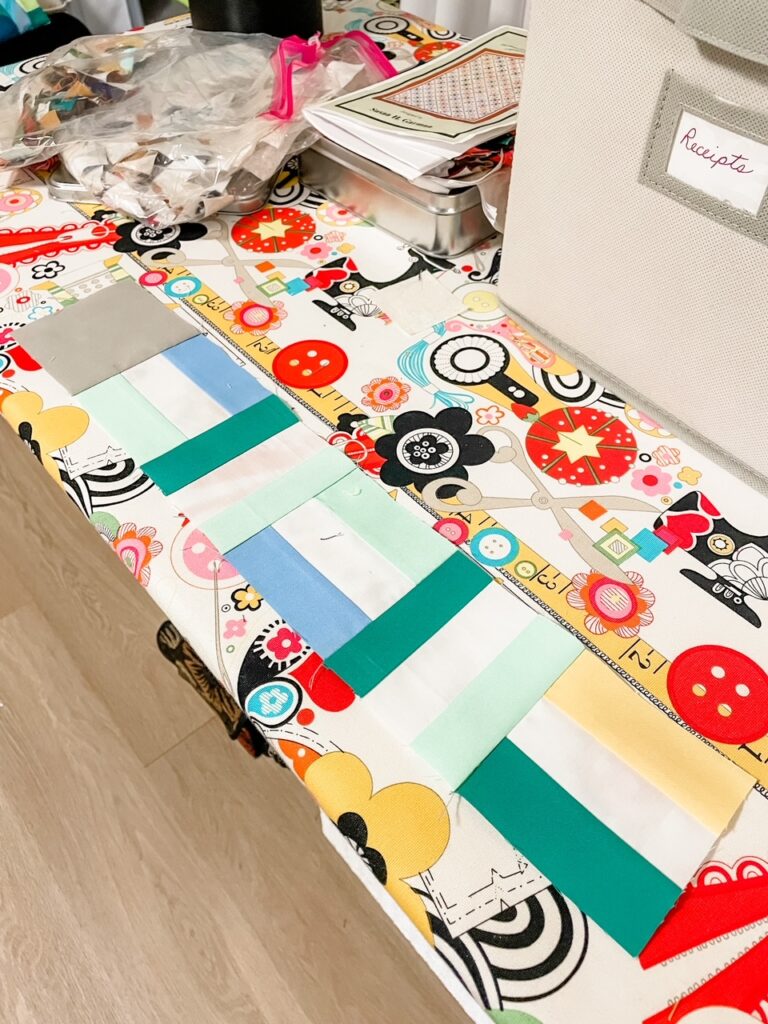 Will this become an annual thing for me? Probably not. But…you never know. One thing I do know for sure is that making temperature quilts is fun!
Maybe you'll join the party this year?