This post may contain affiliate links. Full disclosure policy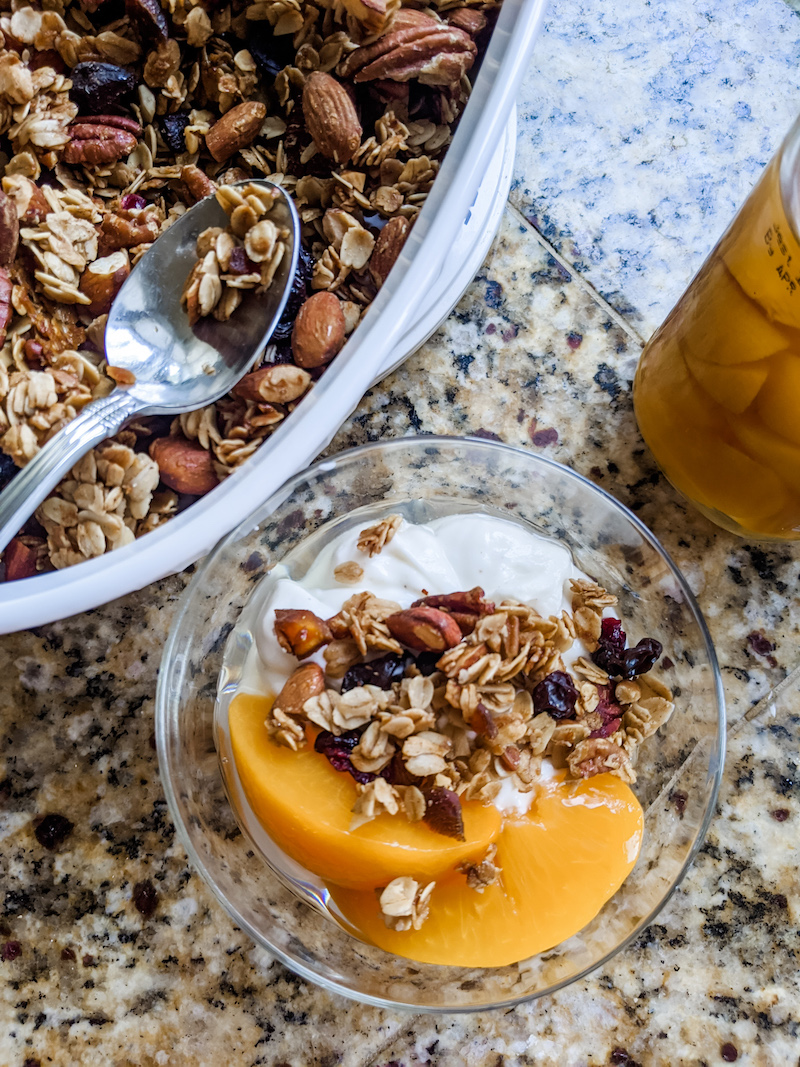 In my house, granola is considered a pantry staple.
I often sprinkle some over fruit or yogurt to add a deliciously decadent crunch to a healthy breakfast. (You may remember that granola played a starring role in the Brunch Board I served at Easter.) I also like to grab a handful for as an on-the-go snack. Sometimes, I even toss a little into my cookie batter.
Granola is tasty, healthy, and there are so many ways to use it. That's why I almost always have a box on hand.
Almost always.
A GRANOLA EMERGENCY
You see where I am going here, right? Yes, friends, this week the unthinkable happened! When I went to get some granola to stir into my yogurt, the cupboard was bare! Horrors!
Okay, the cupboard wasn't completely bare. But we didn't have any granola. Obviously, this situation was unacceptable and needed to be rectified immediately. I made a list of other items we needed, washed my hands, donned my face mask, and walked to our neighborhood market.
Our little store is very well stocked for its size and they did have granola…and it was $10.99 a box.
$10.99! For granola! Are you kidding me?
THE STICKER SHOCK SOLUTION
I do realize that my little neighborhood store has to charge a bigger markup than larger grocery stores in order to make a profit. I've got no problem with that. And this was fancy, schmancy gourmet granola with organic everything. But still…
They wanted almost eleven bucks for a twelve-ounce package of granola? Unless it's made with unicorn tears (and maybe not even then) there is no way I was paying nearly a dollar an ounce for granola.
Friends, like everyone else, I will be so very, very happy when the world starts moving back to normal and we can all be safe at home or away.
But I always try my best to find the silver lining in every situation. And as I stood slack-jawed in the grocery aisle, struck dumb with sticker shock at the thought of buck-an-ounce granola, it occurred to me that one of the silver linings in our current situation is that we've had to become more self-reliant.
And the silver lining inside the silver lining?
Granola is really, really easy to make yourself.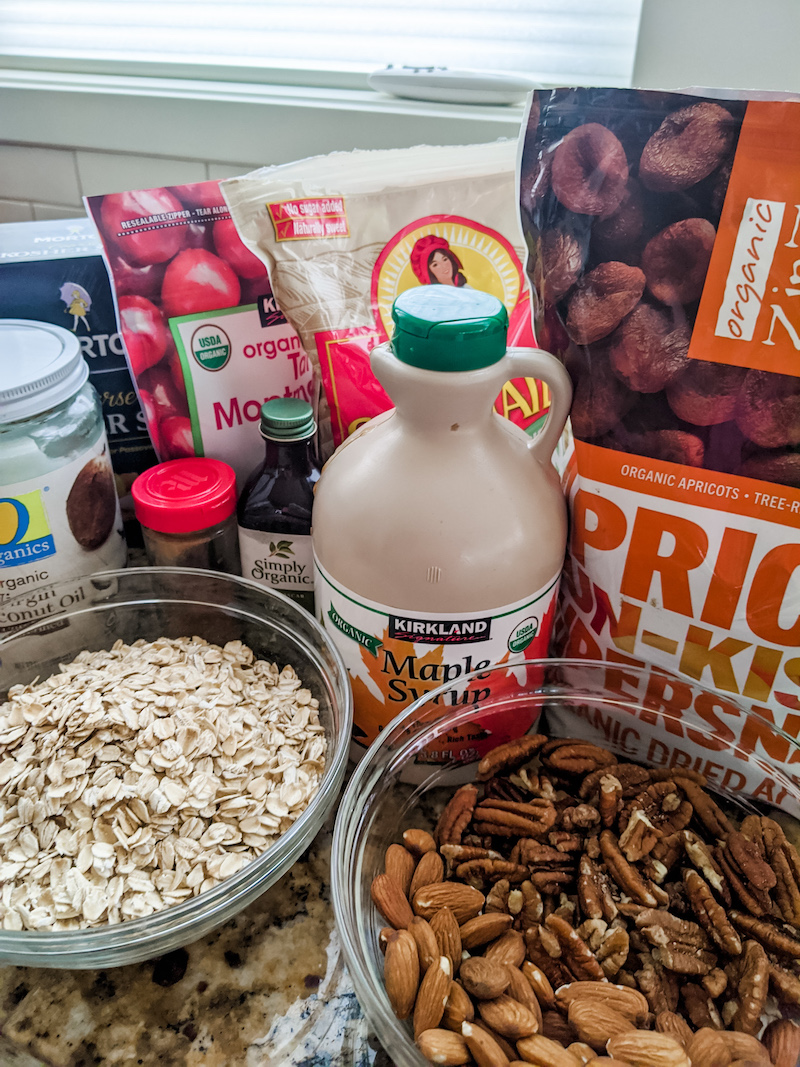 EASY, HEALTHY, AND FLEXIBLE
I've got nothing against convenience. Sometimes, that convenience is absolutely worth the price. For example, though I can make mayonnaise myself, I almost never do. It's just too much work and there are too many ways it can go wrong.
Homemade granola is not like that. It's super easy. You simply toss some dry ingredients in a bowl, mix in some wet ingredients, bake it, cool it, and mix in a few more ingredients. That's all there is to it!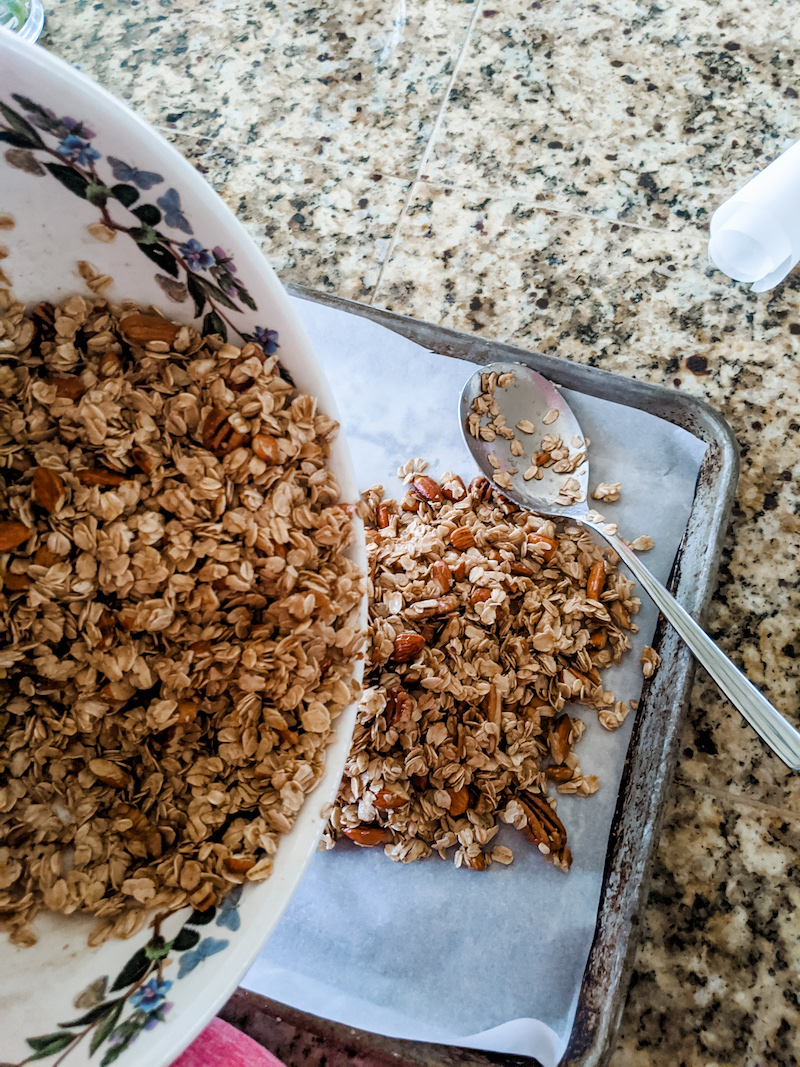 When you make it granola at home, you'll know it's healthy because you'll know exactly what is in it. No chemicals, no additives – healthy ingredients, and only as much sugar as you want.
But my favorite thing about homemade granola is its flexibility. You can change up the ingredients and amounts in countless ways and still get a great result.
My Easy Homemade Granola recipe uses coconut oil and maple syrup. However, it would also work fine with vegetable oil or even olive oil (as long as it's light olive oil – some varieties might have too strong a flavor). If you don't have any maple syrup on hand, honey would work just fine. You could even use corn syrup in a pinch.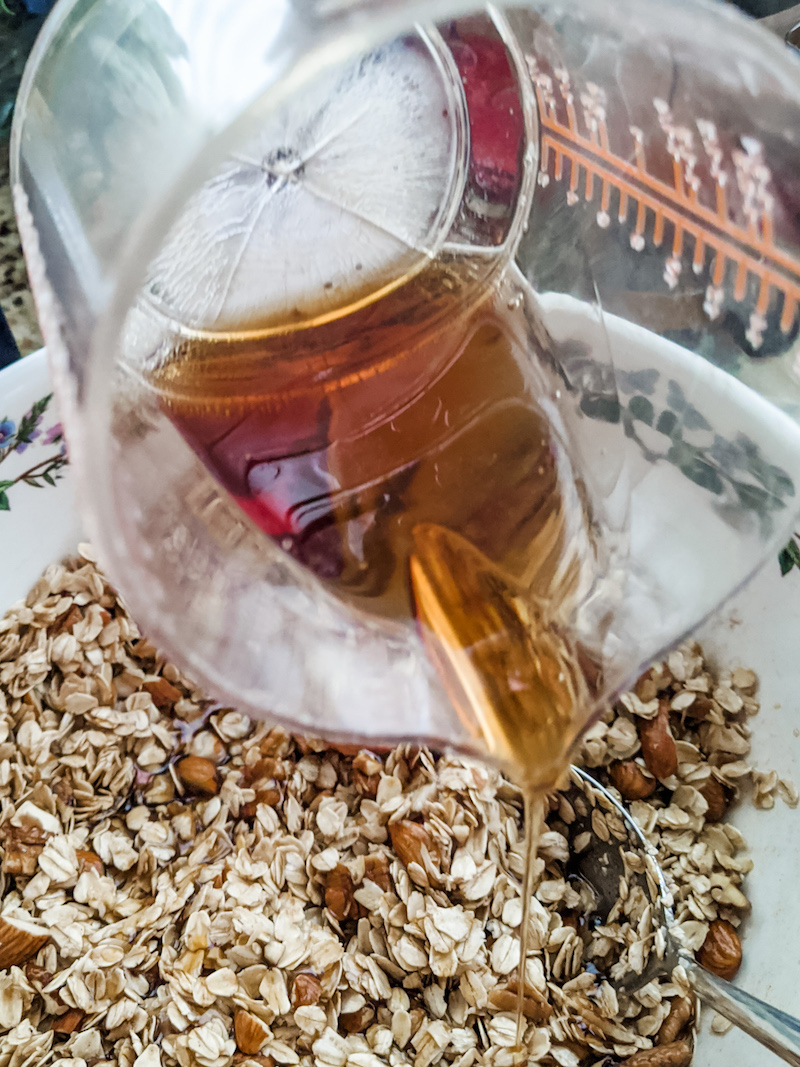 SEE? FLEXIBLE!
Nuts and dried fruit give my Easy Homemade Granola a healthy punch of protein, vitamins, and a wonderful flavor. I used a combination of pecans and almonds. However, just about any type of nut in any combination will work – walnuts, cashews, peanuts, pistachios, or even pepitas.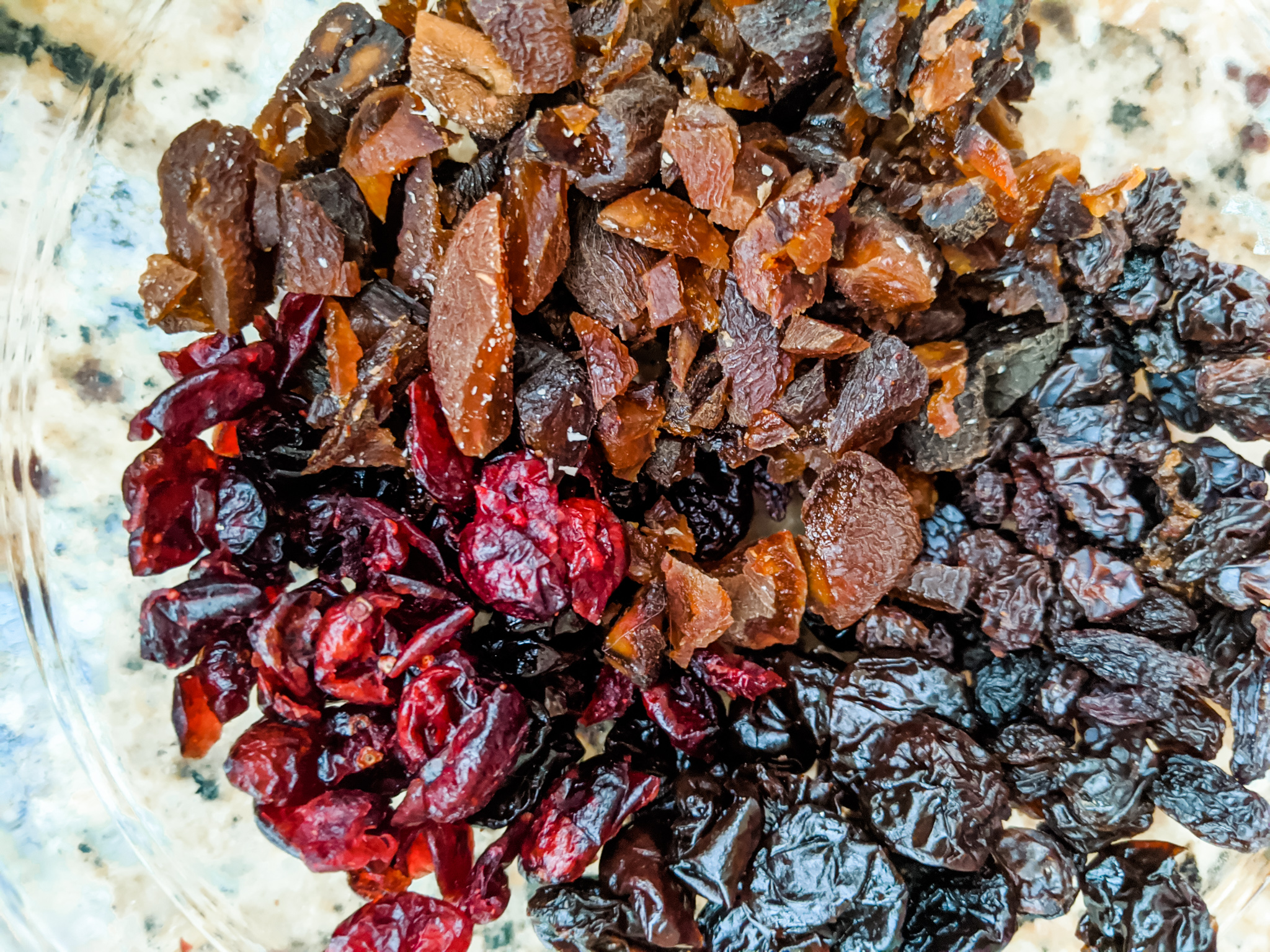 The same principle applies with fruit. Today, I tossed five different types of dried fruit into my granola. I used raisins, dried apricots, cranberries, cherries, and the last of the blueberries I dried last summer. Using a combination of dried fruit gives this Easy Homemade Granola an even more delicious, complex flavor. It's also a good way to use up those little bits of this and that you've got left in the pantry.
CHEAPER AND TASTIER TOO!
Old-Fashioned oats are the base for my Easy Homemade Granola. They're available everywhere and are inexpensive. Purchasing oats in bulk, like I do, makes them even less expensive.
Nuts, dried fruits and oils are definitely pricier ingredients, but you'll still save money by making granola at home. I don't really know much it cost me to make a big batch of granola today, but I am sure it was less than eleven dollars. And instead of twelve ounces, my recipe made nearly two pounds of Easy Homemade Granola!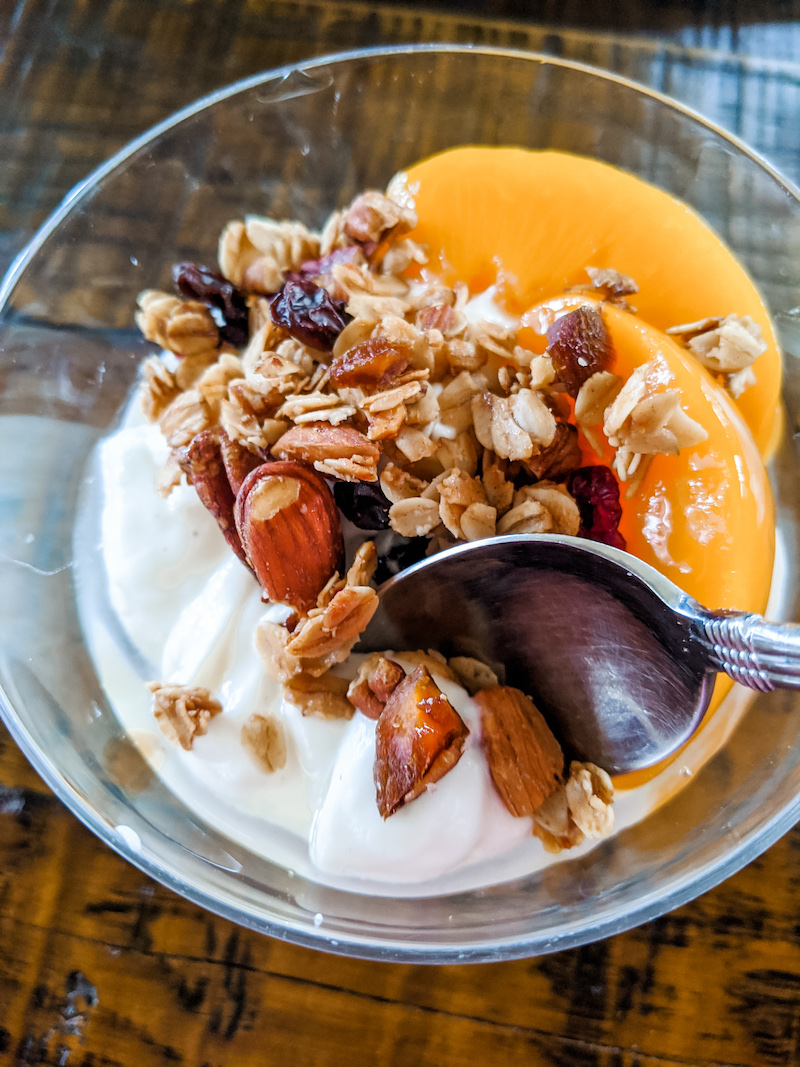 Making granola at home is definitely a money-saver. Best of all, it tastes better than anything I could buy in the grocery store. Now that I remember how simple granola is to make myself, and how good homemade tastes, I doubt I'll ever buy it again.
See for yourself! Make a batch of Easy Homemade Granola today!
Print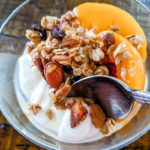 My Easy Homemade Granola
---
4 cups

of old-fashioned oats

½ cup

coconut oil (vegetable or light olive oil can be substituted)

½ cup

real maple syrup (honey or corn syrup be substituted)

1

t. vanilla extract (almond or orange extract can be substituted)

1

t. ground cinnamon

1

t. kosher salt

2 cups

nuts of your choice, coarsely chopped *

1 ½ cups

dried fruit of your choice **
Optional additions ***
*(I used pecans and almonds. Any combination of walnuts, cashews, peanuts, pistachios, or pepitas, etc.  will also work.)
**(I used apricots, raisins, cherries, cranberries and blueberries. Any combination of apples, dates, peaches, berries, mango, banana, papaya, etc. will also work.)
*** (After the granola is completely cooled, you can stir in optional ingredients such as: ¼ cup flaked or shredded coconut, ¼ cup chocolate or butterscotch chips, 2 t. orange or lemon zest)
---
Instructions
 Preheat oven to 350 degrees. Line a large metal baking pan with parchment paper and set aside. Melt coconut oil in a saucepan over low heat and set aside.
Pour oats, nuts, salt, and cinnamon into a large bowl. Stir to combine.
Pour melted coconut oil, maple syrup, and vanilla extract over the oat/nut mixture. Stir thoroughly, making sure the liquids are evenly distributed throughout the mixture.
Spread the uncooked granola onto the prepared baking pan in an even layer. Place baking sheet in a preheated oven.
Bake granola for 25 minutes, until golden brown, stirring halfway through the baking. Remove the pan from oven and allow granola to cool for at least one hour.
Using the back of a wooaden spoon or spatula, break up the granola, which will have crisped as it cools. Stir dried fruit and any optional additions you've chosen into the cooled granola.
Serve granola or place in an airtight container and store in a cool, dry place for up to two months. For longer storage, place granola in a plastic zipper bag and freeze.