This post may contain affiliate links. Full disclosure policy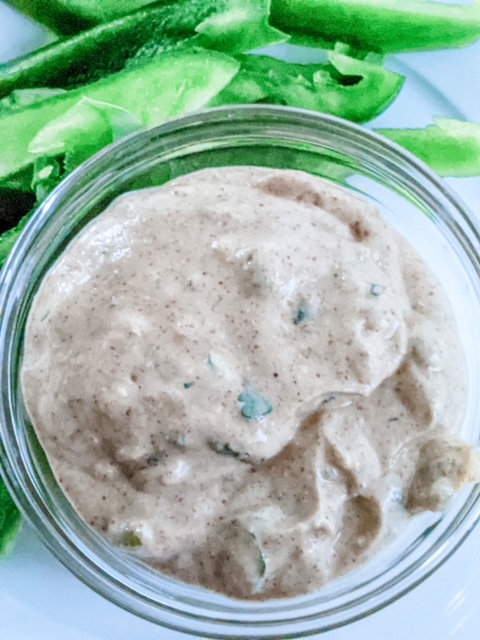 My version of a Lighter Southwestern Buttermilk Ranch Dressing is bursting with south of the border flavors that will make any salad taste muy bueno! It's so rich and creamy that no one will guess it's low fat!
The Pitfalls of Salad
With the advent of the new year, a lot of us are trying to shed a few pounds or develop healthier eating habits.
Putting more salads on the menu is a great way of meeting that goal.
But too often, our well-intentioned attempts at eating take a nosedive the second we pour on the dressings, dousing those healthy greens with fat and calories – especially if we love ranch dressing.
And let's be honest; is there anybody who doesn't love ranch dressing?
Lighter Southwestern Buttermilk Ranch Dressing – to the Rescue!
Don't get me wrong, I do enjoy a good vinaigrette. But if fat and calories weren't an issue, I'd choose buttermilk ranch as my salad dressing of choice a lot more often.
A delicious ranch dressing just makes eating salad seem like more of a treat, a meal I'll really look forward to eating. And finding a way to make salad more of a treat means I'll want to eat salad more often.
With that in mind, my recent kitchen experiments focused on creating a version of lighter ranch dressing with a lot less fat and calories that still tasted great.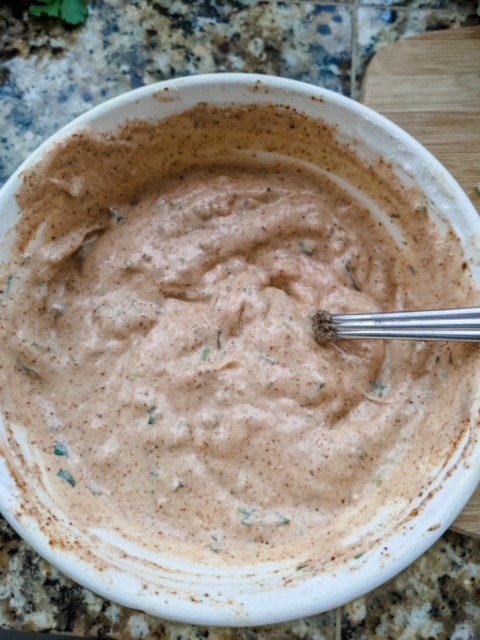 Lower Fat – But Just as Good
One of the primary ingredients for pretty much every kind of salad dressing is some kind of fat, usually sour cream, oil, or mayonnaise, which uses a lot of oil. That's definitely the case with most ranch dressings, which include lots of mayo and sour cream.
Including the right kinds of fats in moderation is important for heart health and helping us feel satisfied when we eat. But it can be easy to go overboard on fat, especially when we're talking about salad dressings.
That's why, when it comes to ranch dressing, low-fat ingredients are our friends.
Using low-fat mayonnaise and low-fat sour cream helps keep the fat and calories of my Lighter Southwest Buttermilk Ranch Dressing under control but still provides a rich, satisfying taste and creamy texture. Any low-fat mayonnaise will work in this recipe. But if you're trying to up the good cholesterol in your diet, look for a reduced-fat olive oil mayo. Kraft makes a good brand.
I really do recommend low-fat mayo and sour cream rather than the no-fat versions. We need some fat in our diets and using the low-fat ingredients will do that while creating a dressing that's delicious and super satisfying.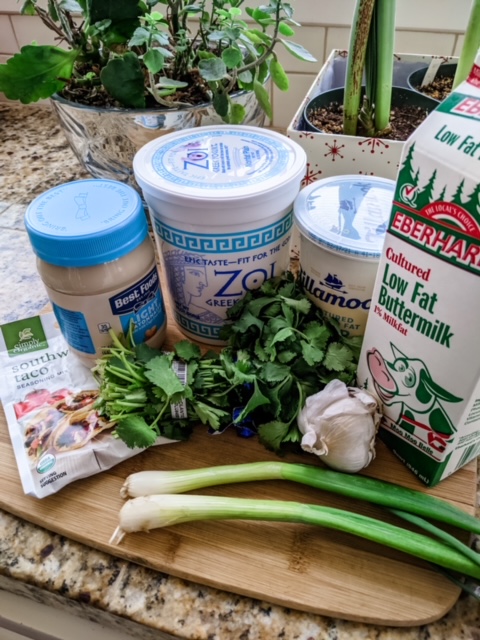 Just for Comparison's Sake
When WeightWatchers started using 3 different programs, I stopped publishing the WW points for my recipes – it just got too complicated for me to keep up with.
However, for comparison's sake, I thought you'd want to know that standard ranch dressing is normally 5 WW blue points for a 2-tablespoon serving. When I did the math on my Lighter Southwestern Buttermilk Ranch Dressing, it came in at just 2 WW blue points per 2-tablespoon serving.
That a pretty big difference! But what's not different? The taste. My Lighter Southwestern Buttermilk Ranch Dressing just as delicious as its full-fat cousin. And a lot better for you.
Tangy and Tasty!
Another essential ingredient in my Lighter Southwest Buttermilk Ranch Dressing is – you guessed it – buttermilk. Low-fat buttermilk has less fat and calories than milk or cream but adds a tangy richness to the dressing that really wakes up your taste buds.
I also used one of my very favorite ingredients that works in so many recipes, nonfat Greek yogurt. Like the buttermilk, it has a delicious tangy flavor but helps create that thick and creamy texture without adding fat.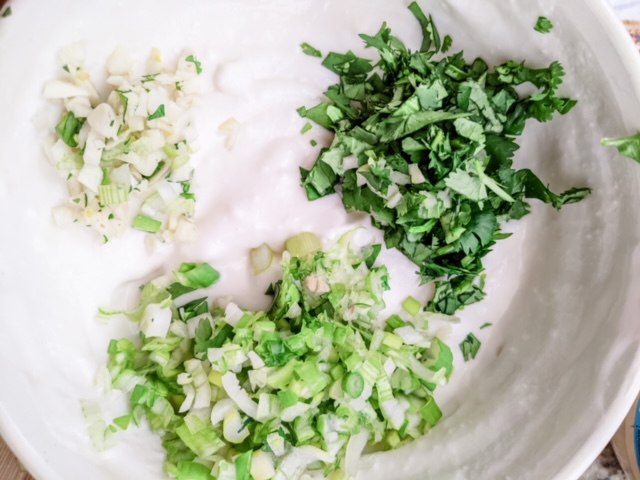 Say Yes to Southwestern Flavor
When I was working on this dressing, I spotted a packet of taco seasoning on the pantry shelf and decided to give it a try. And I'm so glad I did!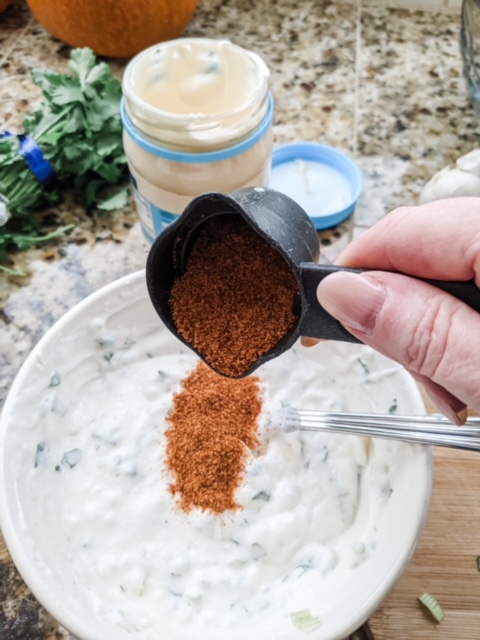 Adding a couple of tablespoons of taco seasoning is an easy way to give this buttermilk ranch a punch of delicious southwestern flavor without adding a lot of calories. So, so good!
Give my Lighter Southwestern Buttermilk Ranch Dressing a try on your next salad, or use it as a dip for crudites. I know you're going to love it!
Print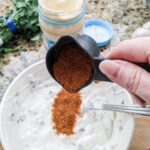 Lighter Southwestern Buttermilk Ranch Dressing
---
Author:

Yield:

Makes approximately

15

servings, 2 tablespoons per serving

1

x
1/3 cup

light mayonnaise

1/3 cup

light sour cream

½ cup

lowfat buttermilk

½ cup

nonfat Greek yogurt

2

green onions, white and green parts, minced

2

T minced fresh cilantro

1

small glove garlic, minced fine

2

T packaged taco seasoning

1

T lime juice

½ tsp

salt
Fresh ground pepper
---
Instructions
In a small bowl, whisk together light mayonnaise, light sour cream, lowfat buttermilk, and nonfat Greek yogurt until all ingredients are well combined and smooth.
Stir in minced green onions, cilantro, minced garlic, taco seasoning, lime juice, salt, and pepper.
Can be used immediately but the flavor will improve if allowed to sit for several hours or overnight. Store covered in the refrigerator. Dressing will keep up to two weeks.