This post may contain affiliate links. Full disclosure policy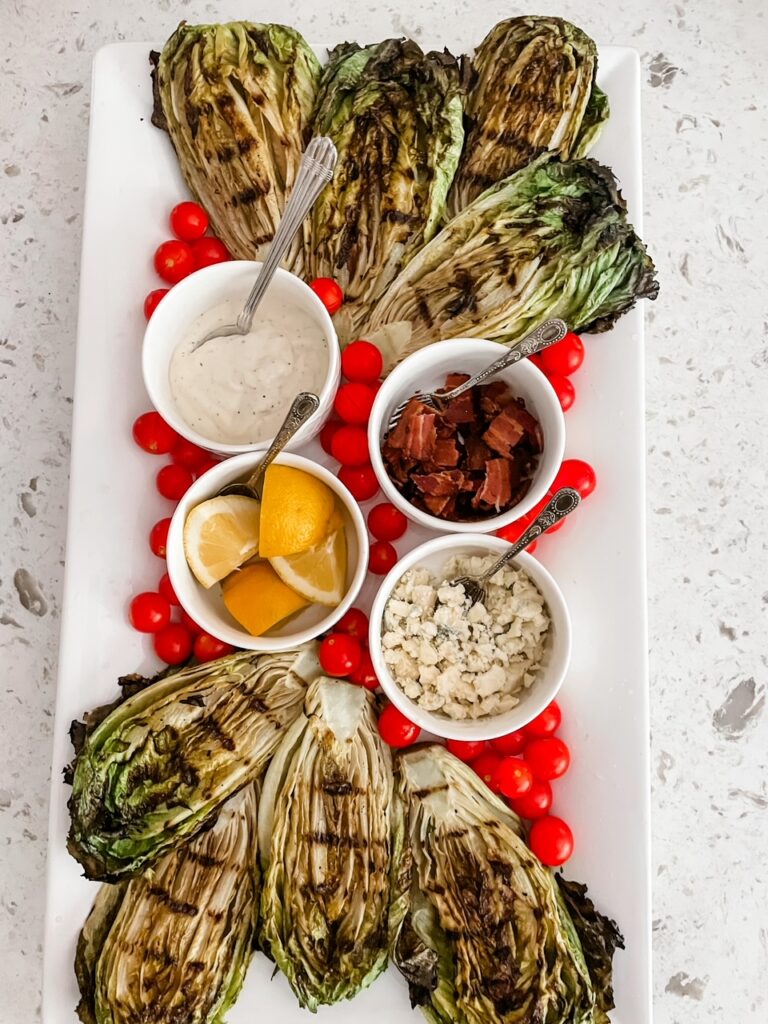 I hadn't planned on posting new grill recipes after Labor Day. But this Grilled Romaine Salad Board is too good not to share! Gorgeous, grilled romaine halves served with a smorgasbord of delicious toppings. A sumptuous repast that will up your salad game and delight your guests!
Grilled Romaine Salad Board – Antecdote To The Same Old Salad
Let me ask you a question. When was the last time you got excited about salad?
Yeah. Me too.
I mean, I enjoy a nice green salad as much as the next person. And some of my salad recipes, such as my Arugula, Feta and Blueberry Salad or my Kale Superfood Salad, are terrific.
But unless it's topped with shrimp, crab, or steak, we don't generally think of a salad as the star of the show. And definitely not the kind of thing that's going to elicit oohs and ahhs from your family and friends, right?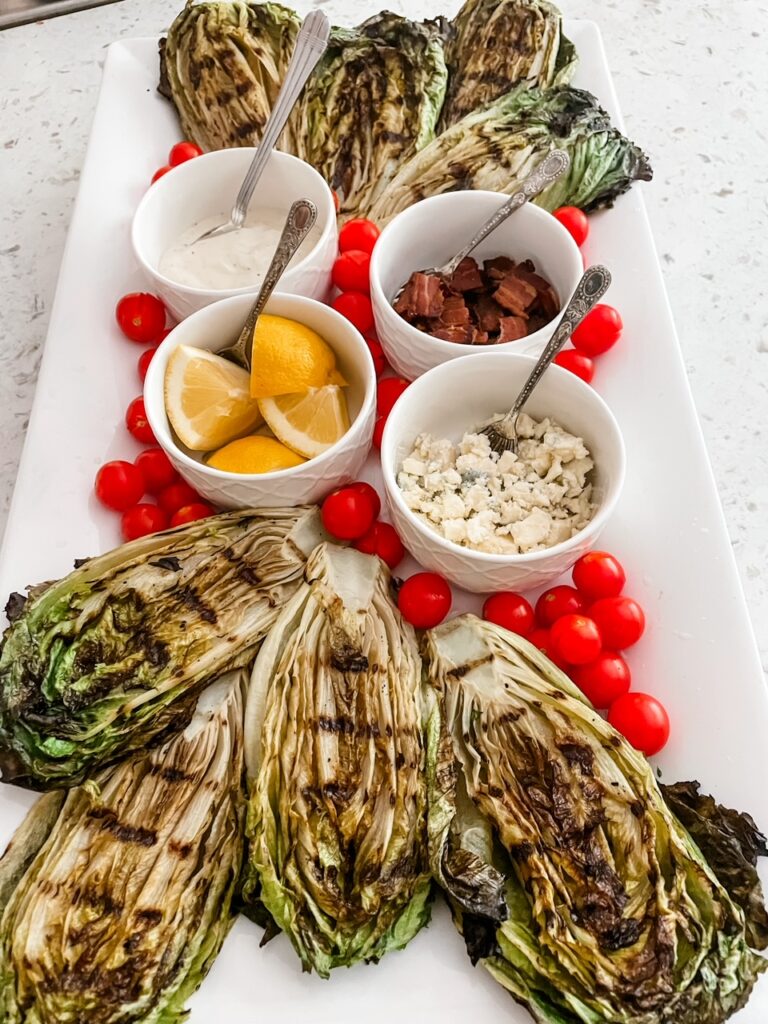 Well, this Grilled Romaine Salad Board might just change that!
Last week, I hosted four of my author friends for lunch. I served some yummy marinated shrimp skewers and my Lemon Herb Rice Pilaf. Both dishes are pretty and tasty. Still, it was the salad that made my friends exclaim, "Wow!" and "That looks so good!"
Can you blame them? I mean, look how gorgeous! But good looks are just the beginning.
This beautiful Grilled Romaine Salad Board lets your family or guests choose their favorite toppings for a bespoke salad with everything they love and nothing they don't. (Parents and grandparents of picky eaters, take note!)
On top of all that, grilled romaine is crazy simple to make.
Finding And Choosing Your Lettuce
The only things you'll need to make your grilled romaine are the romaine lettuce, olive oil, a little salt and pepper, and a nice hot grill. But before we get to the technique, let's talk about the lettuce.
My inspiration for this board started in the chilled produce department of my local Costco when I spotted a five-pack of artisan Romaine. Each head was compact and tight, the perfect size for one or two people to share.
Romaine is a fairly sturdy lettuce, so I wasn't worried about five heads being too much. I knew that I'd have no trouble using them up before they wilted. Also, I was expecting company. But you can also buy romaine hearts individually or in smaller packs at most supermarkets.
I do recommend buying romaine hearts rather than a regular head of romaine. They'll withstand the heat of the grill without falling apart.
My recipe serves six to eight. If you want to serve only one or two, or a small family, just grill fewer heads of romaine and arrange your salad or a plate or platter instead of a board.
How To Grill Romaine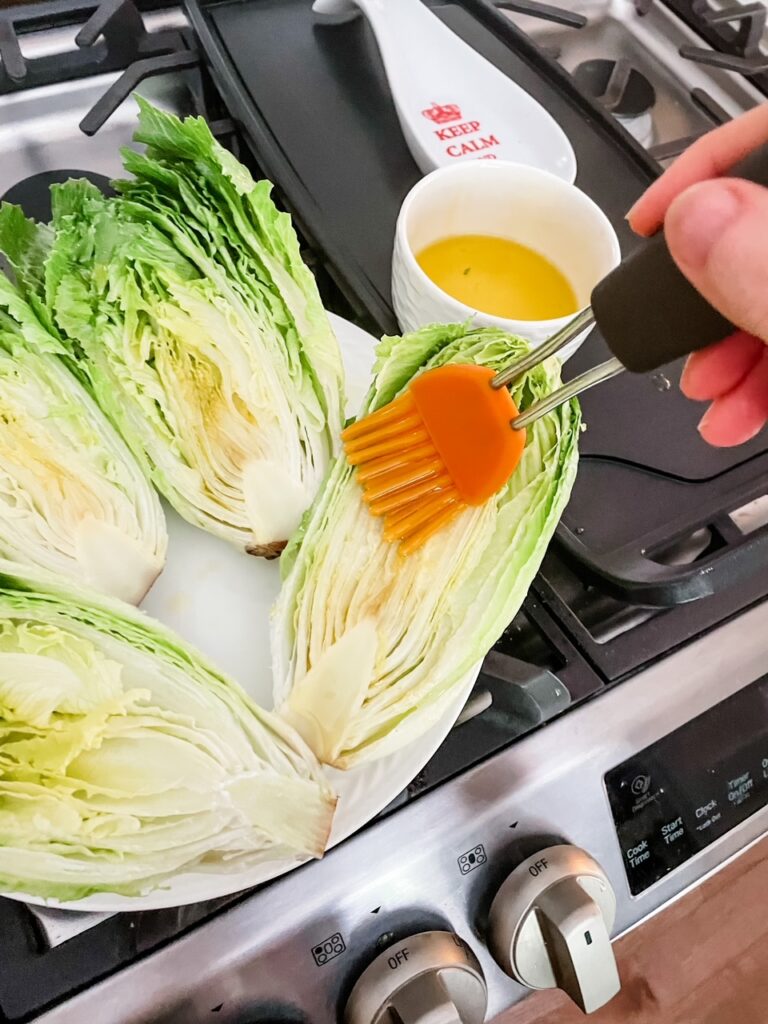 Now that you've got your romaine let's talk about how to grill it.
Preheat your grill before you begin. You want it nice and hot, at least 400 degrees. Five hundred would be even better. That way, you'll get those beautiful grill marks.
Slice each head of romaine in half lengthwise. It's important that you keep the core intact; otherwise, the lettuce won't hold together. So, resist the urge to trim the stem.
Brush the cut side and the outside of the romaine head generously with olive oil. Place each head on the preheated grill with the cut side down.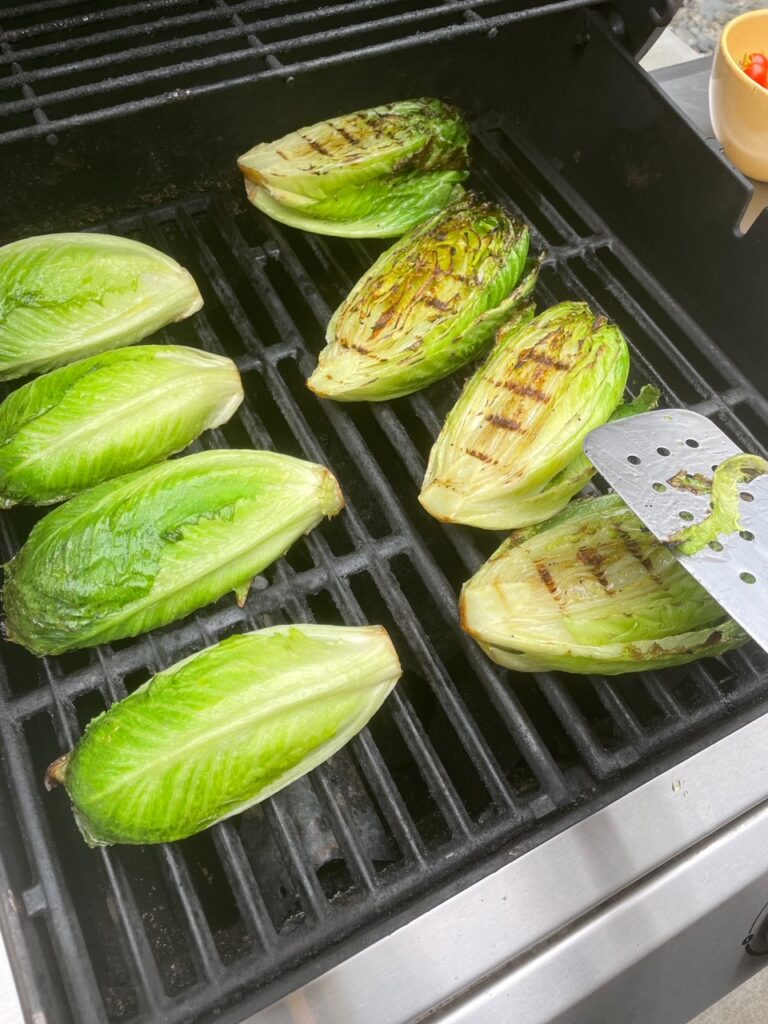 Use a metal spatula or tongs to press down on each half-head of romaine for a few seconds so the grill marks will sear into the lettuce. Grill for about 3-4 minutes, then flip the romaine heads and repeat the process on the other side.
When the lettuce is ready, sprinkle the cut side with a little Kosher salt and a good grind of fresh pepper.
That's all there is to it!
What To Serve On Your Grilled Romaine Salad Board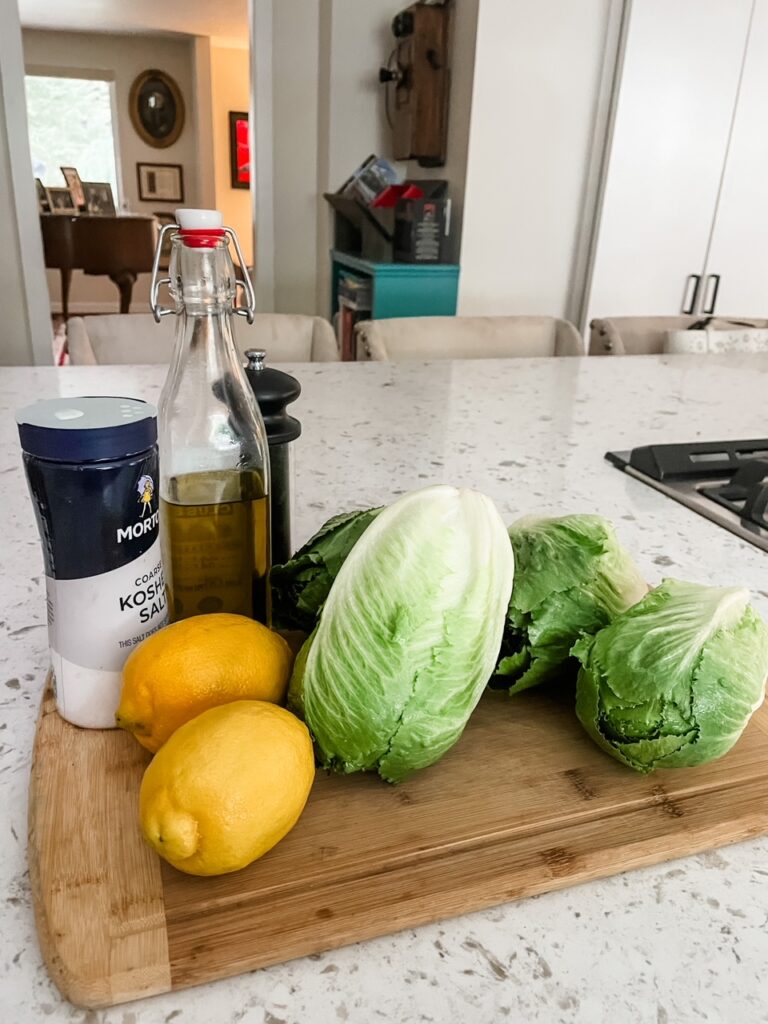 Once your lettuce is ready, remove it from the grill and arrange it on your board, then add a selection of your favorite toppings. Mine included…
Caesar dressing
Lemon wedges
Blue cheese crumbles
Bacon crumbles
Cherry tomatoes
Some other ideas for your board could include…
Croutons
Sunflower seeds
Shaved parmesan
Crumbled feta cheese
Assorted salad dressings
Sliced green onions
Chopped herbs
No matter what toppings you choose, a big, beautiful Grilled Romaine Salad Board is a showstopping dish your friends and family are sure to enjoy!
Print
Grilled Romaine Salad Board
---
Author:

Yield:

6

-

8

servings

1

x
4

head of artisan romaine or romaine hearts

3

–

4

tablespoons olive oil
Kosher salt
Fresh pepper
Toppings of your choice (see post for ideas)
---
Instructions
Preheat the grill to between 400 and 500 degrees.
Rinse the outer leaves of each romaine head and pat dry with paper towels. Cut each head in half lengthwise, leaving the core (or stem) intact. Brush the cut side and outside of each head generously with olive oil.
Place the prepared romaine head on the preheated grill, cut side down. Use a metal spatula or tongs to press each head down to sear in grill marks. Close the lid of the grill and allow the romaine to cook for about 3-4 minutes.
Flip the lettuces over. Press down again with the spatula, then close the grill and cook for another 3-4 minutes.
Remove the grilled romaine from the grill and arrange on the board, along with the toppings of your choice.