This post may contain affiliate links. Full disclosure policy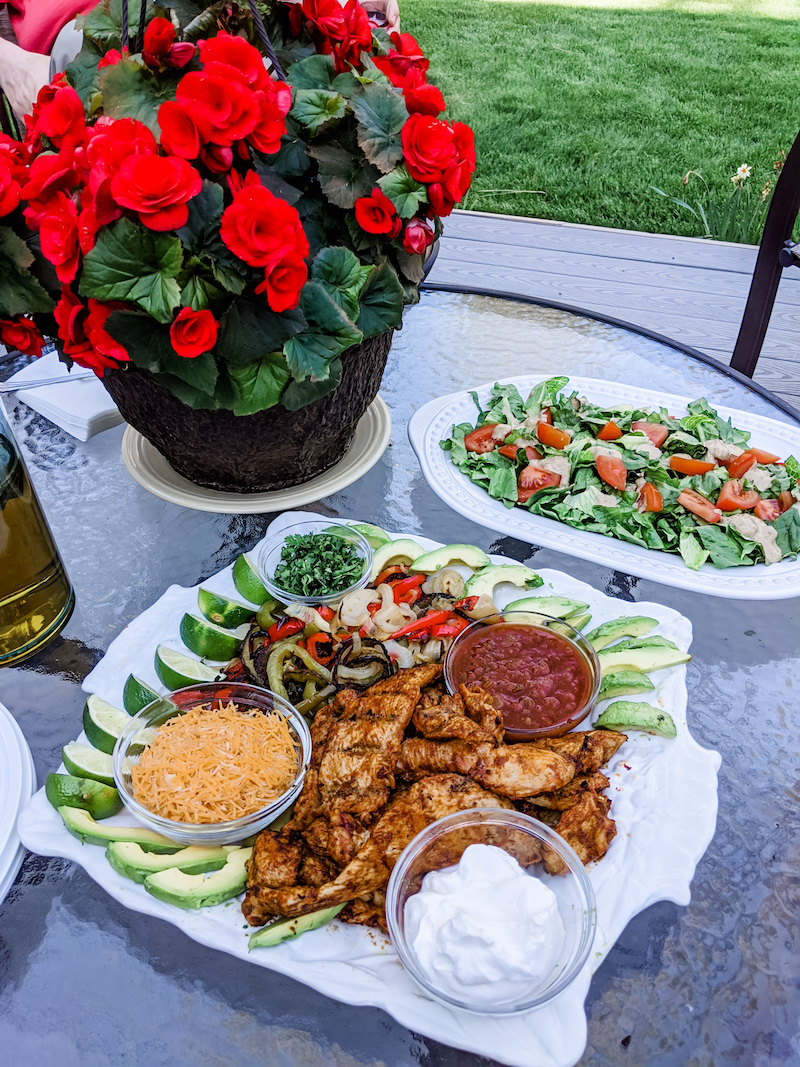 Grilling season is in full swing here. And not a minute too soon! After being cooped up at home for so many weeks, there is a particular joy in dining and cooking al fresco. It brings a whole new meaning to the phrase "eating out". And since I'm working hard at shedding my "COVID-10" weight gain, grilled chicken breasts are high on my list of food favorites just now, such as with my Sweet and Smokey BBQ rub.
But when it comes to recipes, being lean isn't enough – especially when it's a dish I'm going to serve to family and friends. Those chicken breasts have to be delicious too. And what's more delicious than some grilled chicken fajitas? Not much!
My Favorite Grilled Chicken Fajitas
When my youngest son and daughter-in-love came for a visit last week, I made good use of our grill. But of all the meals I prepared while they were in residence, my grilled chicken fajitas were definitely a favorite – scrumptious, healthy, and so colorful. My grilled chicken fajitas are practically a party on a platter. (This turned out to be timely because my son was offered a fulltime job that afternoon, so we were definitely celebrating!)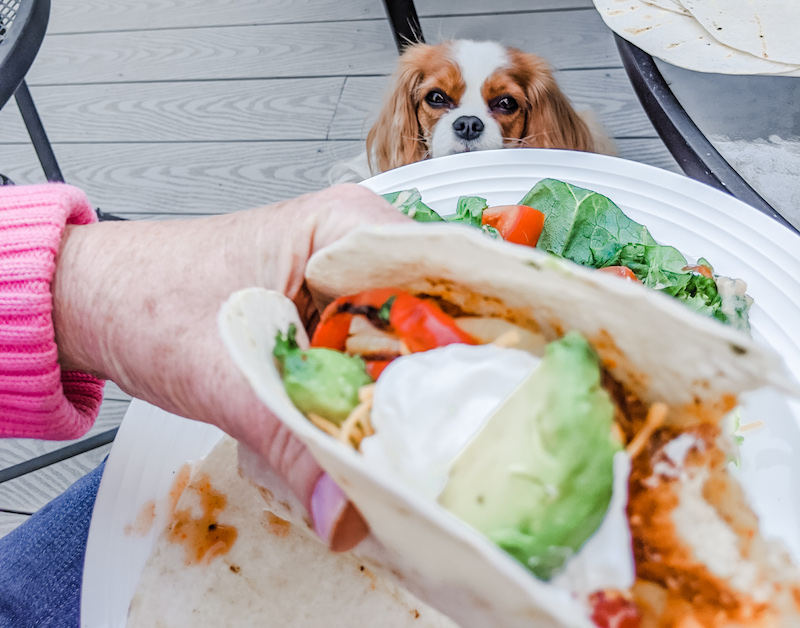 These chicken fajitas are tasty, healthy, and absolutely beautiful. Don't be intimidated by the ingredient list! It's really just chicken, some grilled vegetables and condiments – and chances are you have a lot of the ingredients on hand. This is an amazingly flexible meal that you can adjust to your own preferences.
I really do love "choose your own adventure" dinners, where people can pick their favorites foods and fix their own plates just how they want them. It's fun for guests and easy for the cook. It's also a nice option when you're dealing with different dietary restrictions.
For example, my daughter-in-love can't digest dairy. But that was no problem. She just took a pass on the cheese and sour cream when fixing her chicken fajita but added more salsa, grilled veggies, and slices of heart-healthy avocados. Each of us got to have our chicken fajita on the grill our way, with the ingredients we wanted in just the right amount. Maybe that's why this dinner was such a hit? For a few minutes, all I heard was chewing and occasional murmurs of, "these are so good" when somebody reached for another tortilla to fill.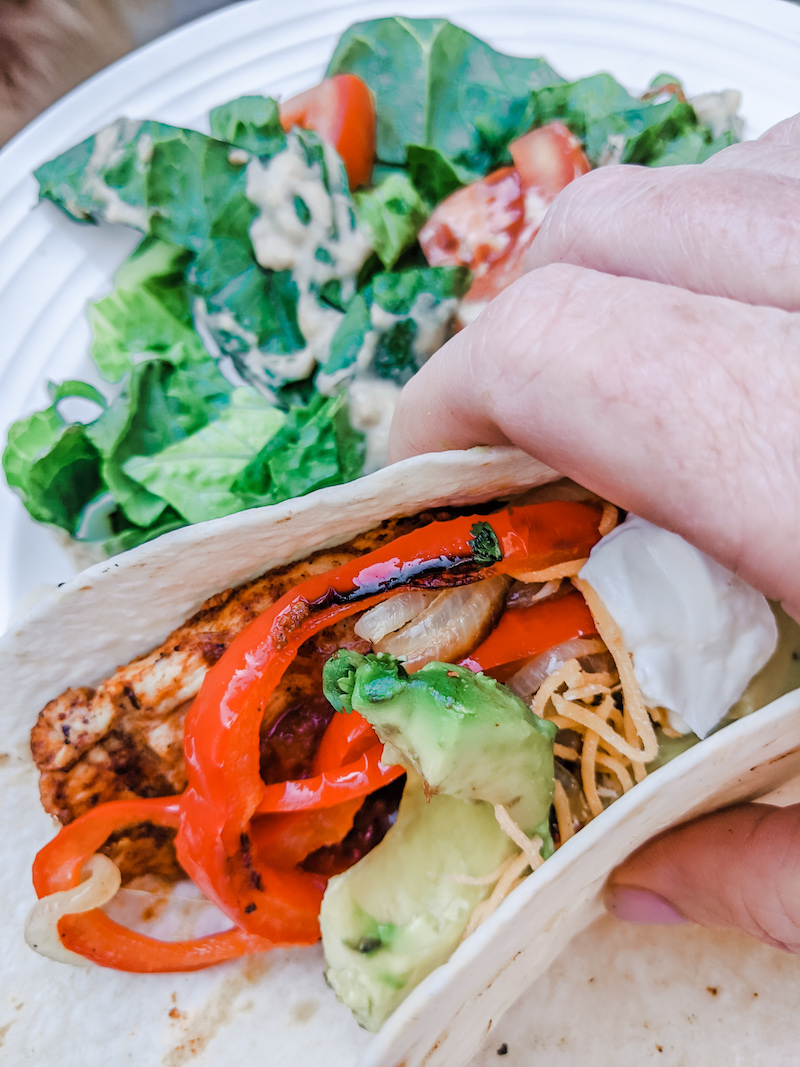 The Proof is in the Filling
When it comes to condiments and add-ons for my grilled chicken fajitas, the sky really is the limit. I had salsa, cheddar cheese, sour cream, avocados, chopped cilantro, and grilled onions and peppers on my platter. I also included slices of fresh lime so people could add an extra squeeze of juice to their fajitas. But you could always try some other garnishes as well.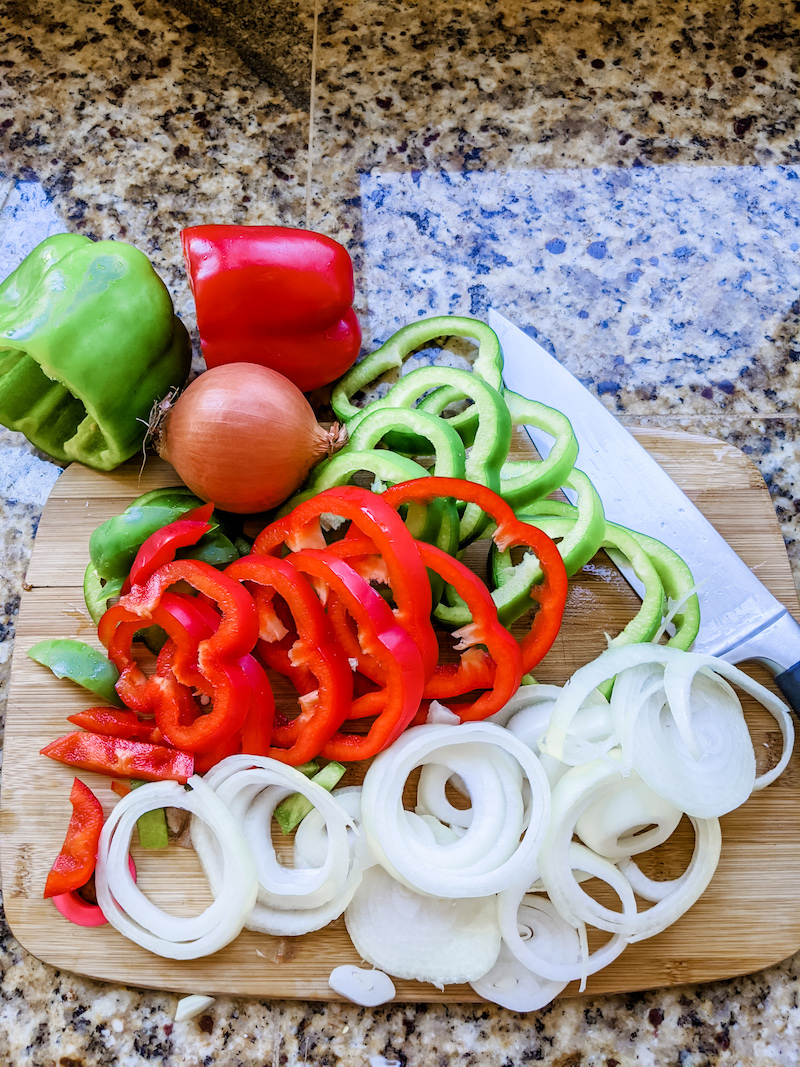 Other kinds of cheeses would be great, including cotija, a fresh white cheese that's common in Mexico. And when it comes to salsa, there are so many options – from mild to tongue blistering. Fresh chopped jalapeno peppers or jicama, or cooked corn sliced off the cob could be good too. It's really up to you.
But when it comes to chicken fajitas, the grilled peppers and onions are a must. Normally, I prefer to prepare mine on the grill as I'm cooking the chicken. But I couldn't find my vegetable grilling basket, so I oven roasted the vegetables instead.
Oven Roasted Goodness!
If you've never done it before, oven roasting vegetables is incredibly easy. Just turn the oven on broil and line a baking pan with foil. Next, thinly slice your vegetables and toss with some olive oil, kosher salt, and pepper. Place the pan in the oven, about 3-4 inches below the broiler, and cook until veggies are soft and just beginning to blacken. Mine took about 10 minutes but it's a good idea to check on them every few minutes so they don't burn.
Grilled veggies add so much that is good to this recipe. But the real star of my grilled chicken fajitas is the marinade. The combination of lime juice, chili powders, smoked paprika, cumin, onion powder, and garlic are the "secret sauce" of this dish. This lime-and-spice marinade makes plain old chicken breasts grilled at home taste just as good (and maybe even better) than chicken fajitas from your favorite Mexican restaurant.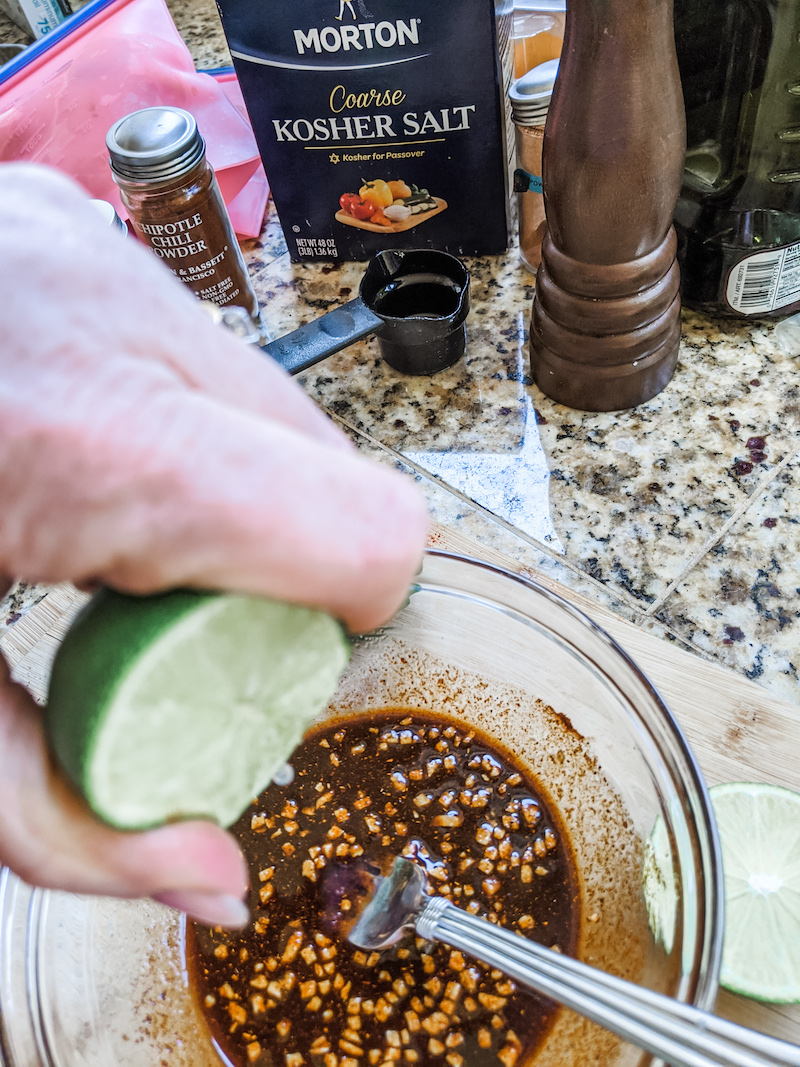 The official kick-off to summer is still a few weeks away. But I'm already sure that these grilled chicken fajitas will be one of my favorite recipes of the grilling season. Seriously, they're that good! Give them a try.
Print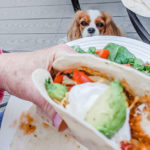 Grilled Chicken Fajitas
---
Author:

Yield:

6

servings

1

x
2

lbs boneless, skinless chicken breasts or

ten

ders

12

flour tortillas

2

onions, peeled and thinly slices

2

green peppers, seeded and thinly sliced

2

red peppers, seeded and thinly sliced

1

T olive oil
Salt
Pepper
Salsa (your choice)
Shredded cheese
Sour cream
fresh cilantro, chopped

2

small avocados, seeded and sliced

1

lime, sliced into wedges

1

recipe marinade (see below)
Marinade ingredients
¼ cup

olive oil
Juice of

3

limes

1½

T chili powder

¼

to

½

t chipotle chili powder (more if you like it spicier)

2

t onion powder

1

t cumin

1

t smoked paprika

2

t. fresh minced garlic

1½

t salt

¼

t pepper
---
Instructions
Prepare marinade. Mix olive oil, lime juice, garlic, and all spices in a small bowl.
If using whole chicken breasts instead of tenders, slice breasts into strips and place in to a large bowl or pan. Pour marinade over chicken, stir to thoroughly coat each piece of chicken. Cover chicken and place in refrigerator to marinade for at least one hour and up to four hours.
Slice onions and peppers, toss with 1 T olive oil, salt and pepper to taste. Cook on the grill or oven roast ahead of time. (See instructions on oven grilling vegetables in blog post.) When vegetables are ready, set aside.
Cook marinated chicken strips or tenders on grill until thoroughly cooked (interior temperature should be 165 degrees). This will take about 4-5 minutes on each side, depending on the grill temperature.
Remove chicken from grill. Serve with tortillas, vegetables, salsa, cheese, sour cream, cilantro, avocados, and fresh lime.