This post may contain affiliate links. Full disclosure policy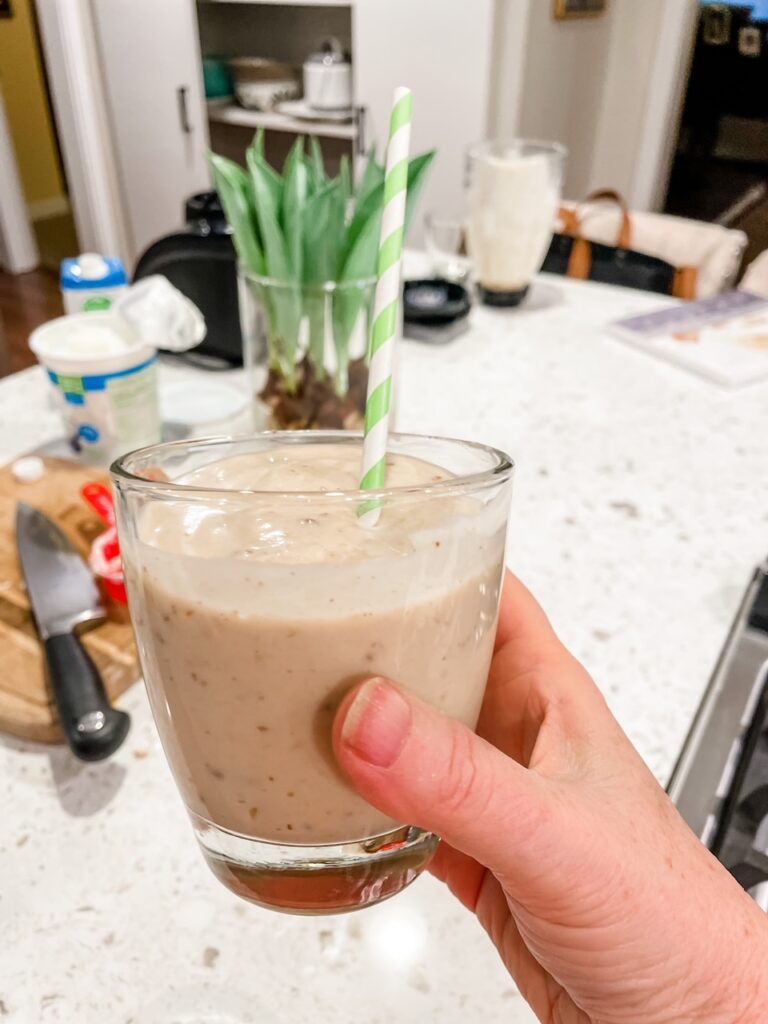 Naturally sweet and packing plenty of protein, this no sugar added Date and Banana Protein Smoothie is great for breakfast or lunch on the go or as a sweet-tooth-taming snack. Just six ingredients!
California Inspiration for a Date and Banana Protein Smoothie
Did you know that date shakes are a thing? I had no idea until my recent stay in California's Coachella Valley. But apparently, they are.
As soon as word of our SoCal sojourn got out, I started receiving messages from friends who'd been there before, saying that The Chairman and I simply had to get ourselves a date shake. That it was required.
Honestly, they didn't have to twist my arm very hard. No, I'd never had a date shake. But I'd also never had a shake I didn't like, so I figured they'd probably be pretty good.
It was better than good, way better.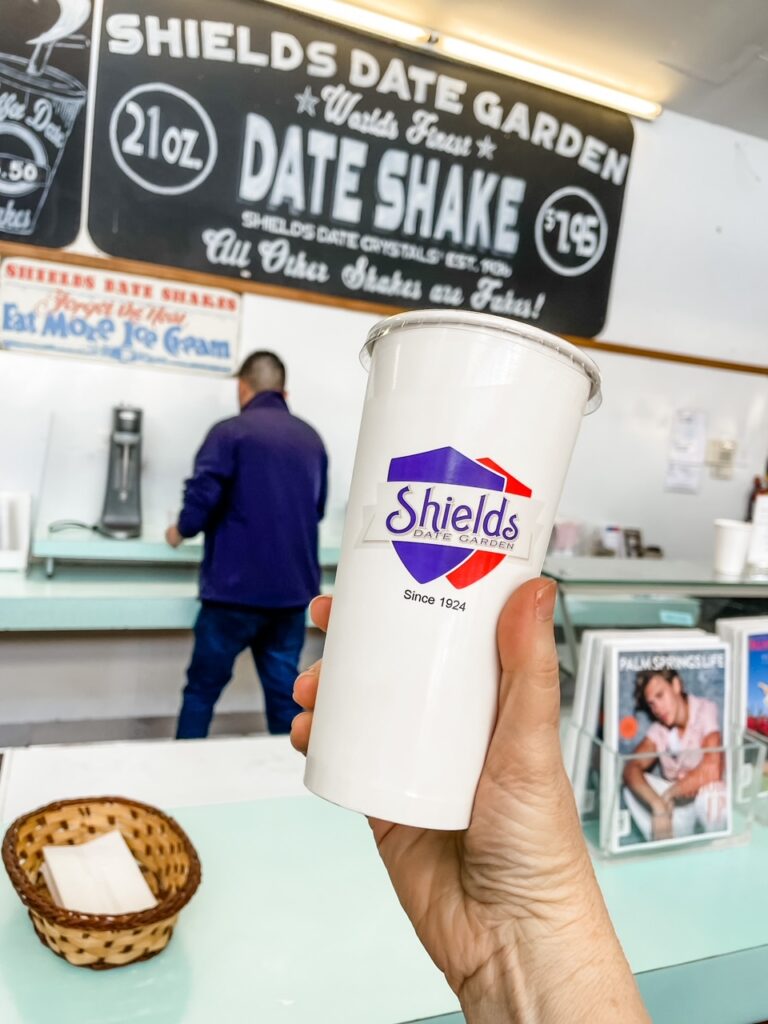 But since the date shakes from Shields in Indio, California come in only one size – ginormous – I decided ahead of time that I'd only drink half. However, when I hopped out of the car to enter the drugstore a bit later, leaving the shake behind, I returned to an empty cup.
The Chairman, who had declared a dislike of dates and ordered a strawberry shake for himself, drank all of his shake, plus my leftovers.
"I just thought I'd taste it," he explained. "It was really, really good!"
Yes, it was. And now I can't stop thinking about it.
But even if date shakes were a thing here in Washington, it's not the kind of treat I can indulge in very often. That's where the idea for making a date and banana smoothie came in.
Date and Banana Smoothies – Plenty of Protein and No Added Sugar!
Look, I'm not going to kid you. Date and Banana Smoothies aren't nearly as sweet as date shakes. But they're really tasty and healthy enough so that I can enjoy them on a regular basis.
Naturally sweet dates and frozen bananas make these smoothies a terrific way to tame my sweet tooth without kicking healthy eating to the curb. Recently, my DIL made date and banana smoothies for the granddarlings and even the pickiest of her picky-eaters loved them!
And with plenty of protein from non-fat Greek yogurt and an optional dab of peanut butter, Date and Banana Smoothies are terrific for a quick lunch or breakfast on the go! If you want to boost the protein even more, you could blend in a scoop of vanilla flavored protein powder.
What Do You Need to Make Date and Banana Protein Smoothies?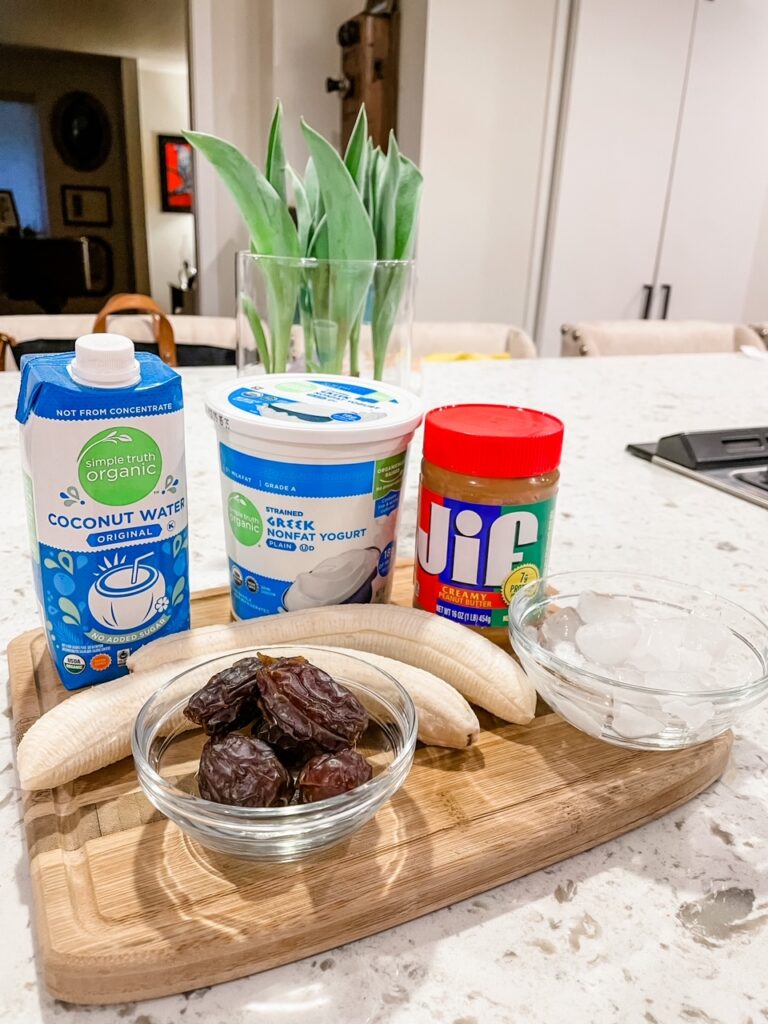 Just six simple ingredients…
Dates (I like Medjool but any large, pitted date will do. Add extra if you want a sweeter smoothie.)
Banana (frozen ahead of time)
Non-fat Greek yogurt (can sub low or full fat if you prefer)
Peanut butter (you can leave it out if you're allergic or are watching calories)
Coconut water (you can also use almond, soy, or regular milk, or even water)
Ice cubes
How To Make Date and Banana Protein Smoothies
I wish all recipes were as easy to make as these Date and Banana Smoothies.
All you have to do is put the ingredients in the blender and press a button. A couple of minutes later, you'll be in smoothie heaven.
The blending will go more quickly if you put the ice and liquid ingredients on the bottom, then the yogurt, then the other ingredients on top.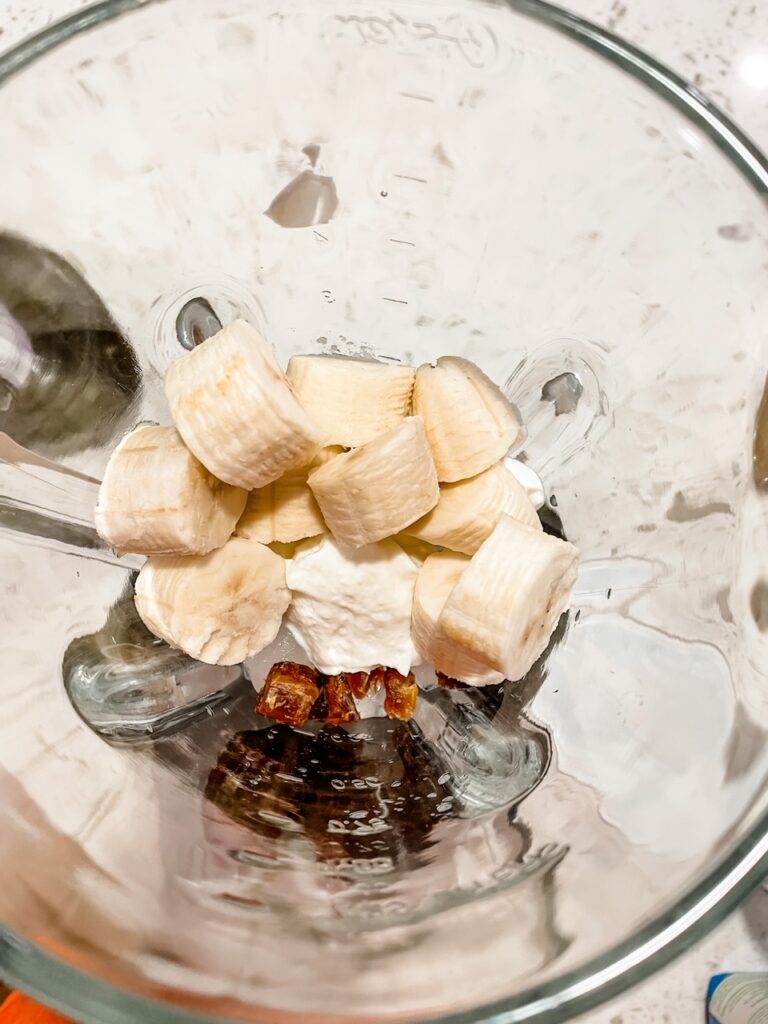 I find that my blender's pulse feature works well for smoothies. If things get stuck, turn off the blender, stir the ingredients, and pulse again. You might need to do this a couple of times before your smoothie gets…well, smooth.
Give my Date and Banana Smoothies a try soon. They're healthy, easy to make, and so good!
Print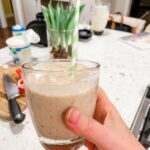 Date and Banana Protein Smoothie
---
Author:

Yield:

1

serving

1

x
1 cup

ice cubes

½ cup

coconut water (can sub almond milk, regular milk, or plain water)

½ cup

nonfat Greek Yogurt

1

T peanut butter (optional)

3

Medjool dates, cut into small pieces (additional if you want a sweeter smoothie)

1

medium frozen banana, cut into slices
---
Instructions
Place the ice cubes and coconut water in the bottom of the blender jar. Add the yogurt and peanut butter on top, then the date pieces and frozen banana slices.
Pulse the ingredients in the blender (stop the blender and stir my hand if ingredients get stuck, then blend again) until the ingredients are well combined into a thick smoothie.
Pour smoothie into a glass and enjoy immediately.