This post may contain affiliate links. Full disclosure policy
THIS POST MAY CONTAIN REFERRAL LINKS. IF YOU CLICK THROUGH AND TAKE ACTION, I MAY BE COMPENSATED, AT NO ADDITIONAL COST TO YOU.
It took its sweet time getting here but I say, "Hooray for Spring!"
I don't know about you but I am more than ready for sunshine and flowers. The sunshine is definitely here but the flowers have proven a bit trickier.
Though our new neighborhood is surrounded by forests and plenty of common space, the lot is much smaller than our old one, really too small to put in a proper garden.  Even if it were otherwise, the hordes of deer that populate the surrounding forests seem to think of gardens as their personal salad bar.
But deer or no deer, acres of land or gardens the size of a postage stamp, it's spring. I want to plant flowers. I need to plant flowers.
A Quest for Deer Resistant Flowers
I decided to scratch the itch with a couple of patio planters, hopefully deer proof.  I have a theory that the deer would be hesitant to walk across the deck to snack on my planters but I'm honestly not sure.
The deer around here are bold and fairly militant. They travel in packs. I wouldn't be surprised to look out the window one day and see that they're sporting gang colors and team jackets. The unfamiliarity of decking might deter them, but not for long.
My stepmother, an avid gardener, advised planting yellow flowers. According to her, deer don't like them.
Armed with this knowledge, I headed to the local garden center in search of anything sporting yellow petals.  There wasn't much to choose from. Apparently, everybody else here in deer country was on a similar quest.
I spotted a woman with some bright yellow French marigolds in her shopping basket, asked where she got them and explained why I needed them.  She pointed me in the right direction saying, "Oh, these always do the trick for me.  Deer hate the smell. If you plant a few in each pot, you can put in other colors of flowers as well."
Happy that I wouldn't have to limit my color palette just to yellow, I found the marigolds, put few in my basket, and struck up another conversation with another woman. (Gardeners are a chatty bunch.)
"Marigolds?" She made a sputtering sound. "Those won't keep the deer off. Not around here."
"No? But the other lady said they really work."
More sputtering, accompanied by the rolling of eyes.
"The only thing that keeps deer away is deer repellent. I garden for a living so I know what I'm talking about.  A good dose of deer repellent is your only hope."
Deciding to take no chances, I kept the marigolds but also got a bottle of Liquid Fence. Then I chose the rest of my flowers – pink dwarf snapdragons, white avalanche sandwort, and purple pincushions.
While waiting the checkout line, another gardener engaged me in conversation.
"Deer repellent? Marigolds?" she scoffed. "Those won't work around here, not with our deer.
"The only thing that works around here is garlic. Buy it in bulk. Peel it, put it in the blender, and then mix it in with the soil. That'll keep the deer off," she said with convincing confidence. "They hate the smell of it."

Digging Deeper with a Master Gardener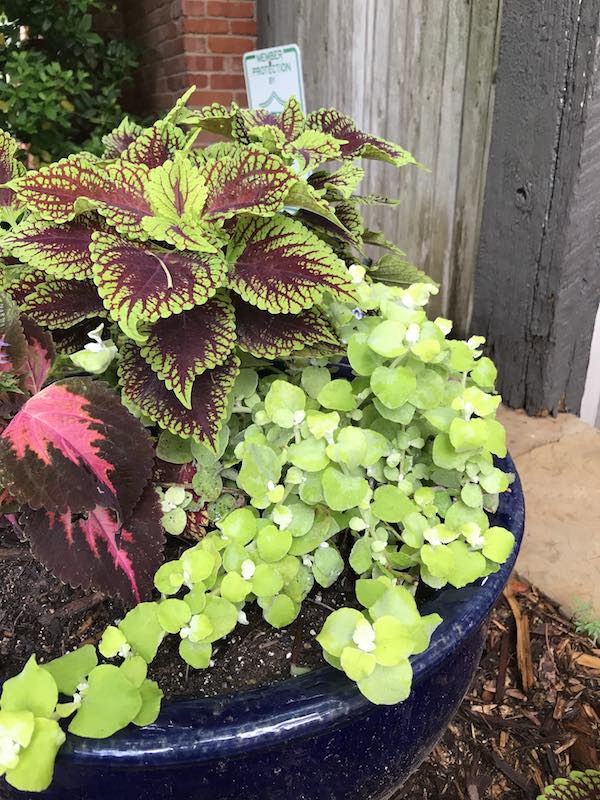 Overwhelmed (because, yes, this is a real-life problem!), I called up my fierce Master Gardener friend, Suzanne. She, too, struggles with nibbling deer despite being in a totally different part of the country. She had a few tips I wanted to pass along.
What didn't work last year: Impatiens and hibiscus, two of the main showpieces in Suzanne's pots last year, were devoured be deer.  So were her sweet potato vines, a common choice for cascading pops of lime green.
What she's trying this year: Begonias, Pentas, licorice plant, Super bills, petunias, dianthus, trailing verbena, and Dusty Miller. She's also using tall, columnar planters to display the plants that deer love most –like her New Guinea impatiens, hoping that the height will discourage them from ruining the blooms. Very clever!
Elements of a Pretty Pot, According to a Master Gardener
Suzanne shared her three tips for making beautiful flower pots. Every pretty planter needs: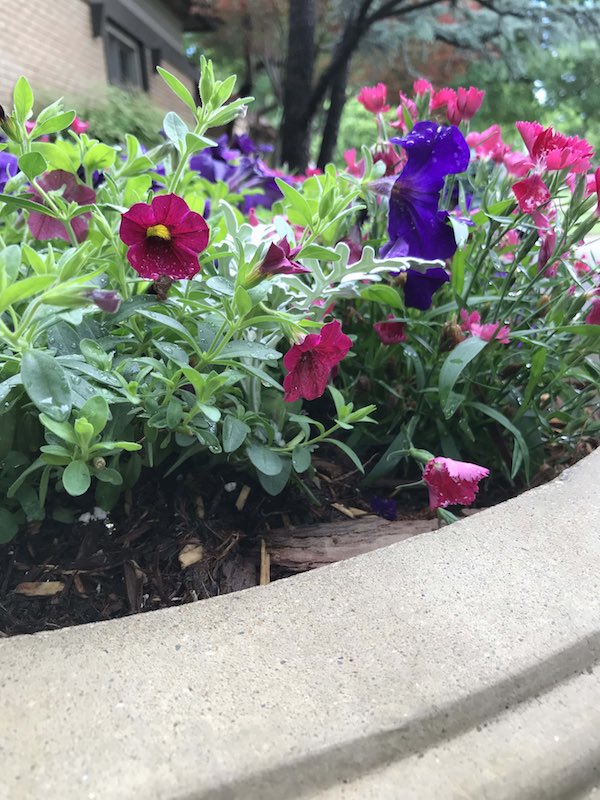 Something that stands tall: Choose something that has a little height, like purple spike plants.
Something that cascades down: Use plants like licorice, trailing verbena, or sweet potato vines (although sweet potatoes can get a little invasive if you're not careful). Super bills are a small petunia-looking flower that will elegantly tumble over the side of the pot with pretty, punchy blooms. The photo to the left shows these up close, but they haven't yet grown enough to show their cascading properties.
Pop of color: Choose a color palette that complements the rest of your garden. It can even be fun to go completely monochrome, but for the most dramatic effect, she likes to include a little something to break up the bright colors, like Dusty Miller.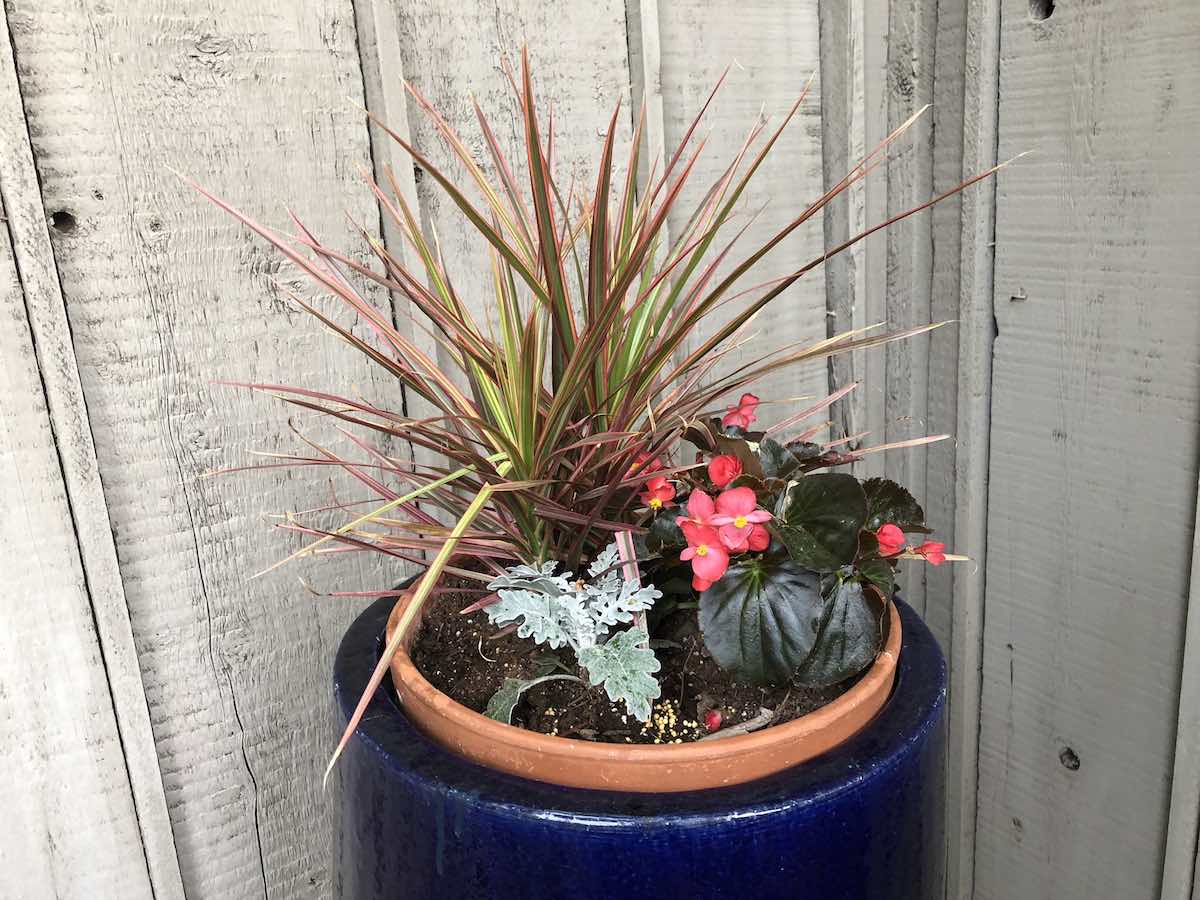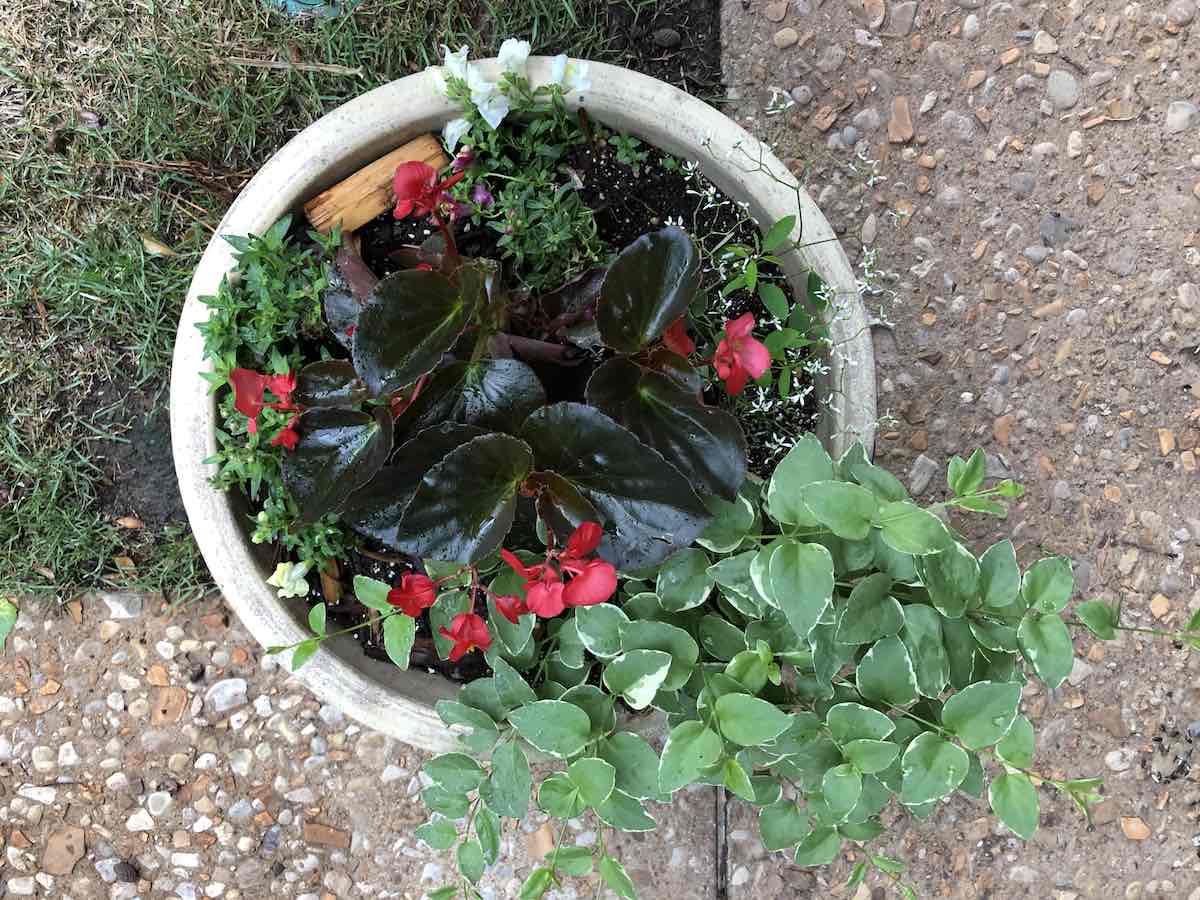 The Final Product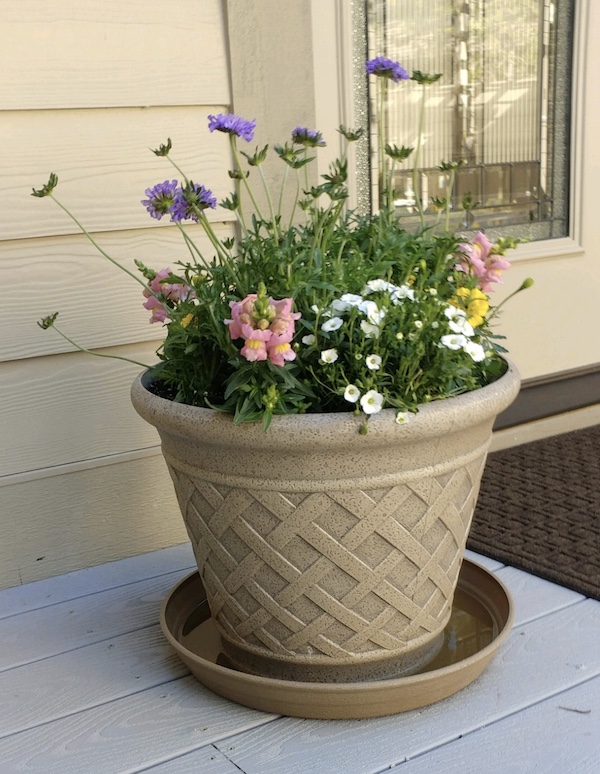 So, my Fierce Friends, here they are…my very pretty, very smelly (decided to go for the garlic, just in case it really does help) patio planters.
I love them. Hopefully, the deer won't. I'll keep you posted. But, no matter the outcome, I do feel better for trying.
When spring arrives, the urge to dig in the dirt is irresistible!  For those of us without much space for gardening, patio pots are the answer.
Happy planting!