This post may contain affiliate links. Full disclosure policy
Like everybody else, I'm trying to limit my trips to the grocery store these days. That means building meals around staples I usually keep in the pantry.
I'm also trying to make meals that are healthy, flavorful, and interesting to share on the blog. At our house, everybody seems to be doing a lot of stress eating. I'll make a dish that I think should last for two meals only to end up with an empty platter at the end of dinner!
I get it. There's a reason somebody came up with the phrase "comfort food". Because when life seems out of control, tucking into a hot meal really can be comforting.
Adding Some Flavor with an Easy Vegetable Curry
I don't know how things are at your house right now, but here we all seem to be looking forward to dinner more than we ever have. Maybe it's because the days have such a sameness to them? My husband keeps saying he feels like we're all living in the movie "Groundhog's Day", where life just seems to be on a continuous loop. When every day seems like every other, having something different for dinner seems to help break up the monotony.
But when you're cooking out of the pantry, it can be easy to fall back on the same, familiar recipes day after day. That's why, this week, I decided to make something a little more exotic than my usual – a flavorful Easy Vegetable Curry.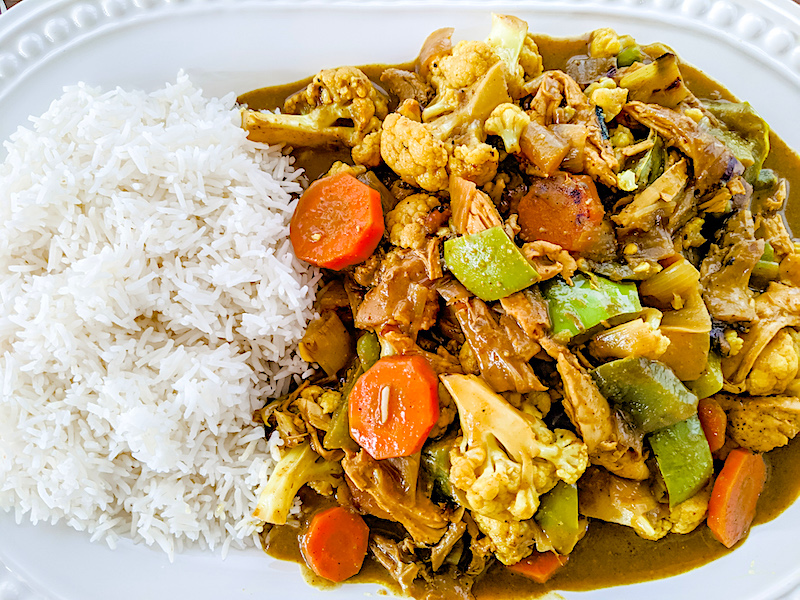 Healthy, Flavorful, and Varied
One of the plusses to making vegetable curry is that you can use just about any vegetables you've got on hand. My recipe calls for cauliflower, onion, carrots, and green peppers, but don't feel like you have to use those. Broccoli, peas, sweet potatoes, white potatoes, and even spinach or kale are delicious in curry. Use whatever you have on hand!
I also added a couple of cups of shredded chicken to my recipe, but you can keep it vegetarian by adding a can of chickpeas. Beef, pork, or shrimp would be good too. (If you use shrimp, add it at the very last and cook just until the shrimp turns pink).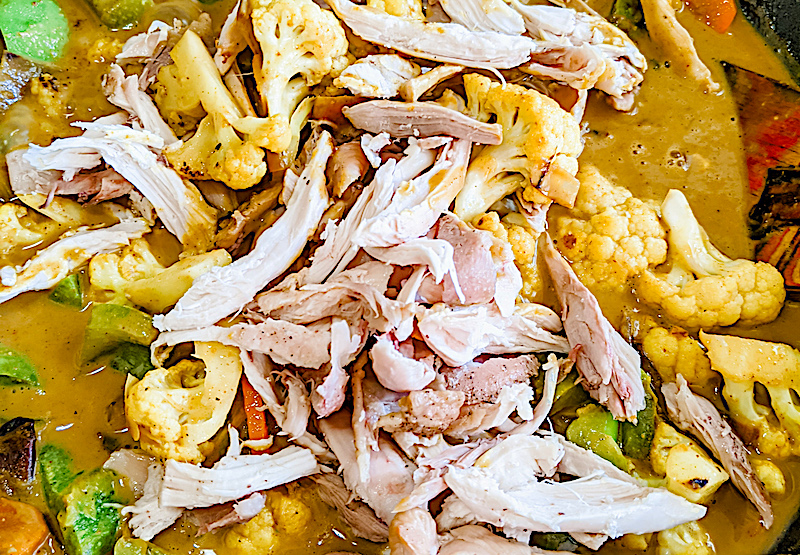 What Makes a Curry?
What you do need for my Easy Vegetable Curry are curry powder and coconut milk. It really isn't curry without them. I always have these on hand but if you don't, you should have no problem getting them with your next grocery pickup or delivery. These are items that are in stock just about everywhere – from Wal Mart to WholeFoods.
The vegetables and lean protein make this a pretty healthy dish, and if you prefer, brown rice will be just as good as white. However, coconut milk does have a lot of calories and fat. If you're watching your weight, you might want to opt to use 2 cans of light coconut milk. Or, you can do what I did and use one can of regular coconut milk and one can of light. Using one of each made a rich, satisfying curry that had plenty of flavor without going too far overboard on fat.
When it comes to the spices, you really need to taste and adjust as you go along. Start with one tablespoon of curry powder and then decide if you want to add more. You can also add a bit more spice by a sprinkling a touch of cayenne, or make the flavor more complex by adding in additional spices such coriander, or garam masala. Make it yours with your own personal touches!
Adding the Finishing Touches
The thing that makes curry really fun is the condiments you add at the end! I used chopped almonds, shredded coconut, mango chutney, and raisins. Those are all fairly traditional additions but feel free to use your imagination and explore what you may have at hand.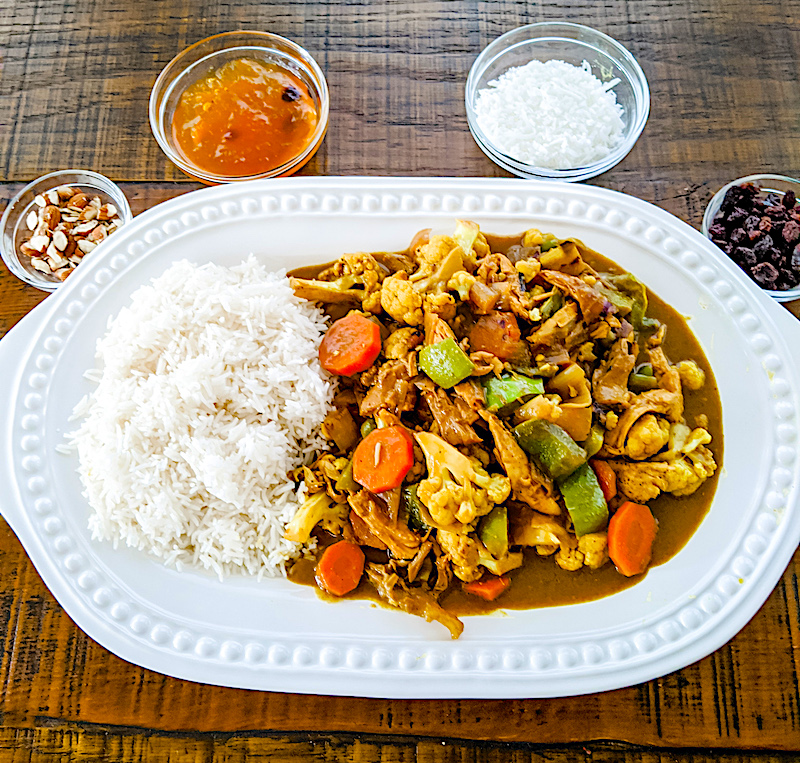 Other options could include chopped dates or apricots, fresh apple chunks, sliced green onions, or even a sprinkle of fresh mint. Curry is definitely a "choose your own adventure" kind of dish! And couldn't we all use a little adventure right now?
Give my Easy Vegetable Curry a try today! And don't be afraid to put your own spin on it!
Print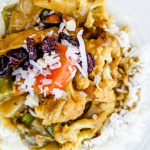 Easy Vegetable Curry
---
Author:

Yield:

6

Servings

1

x
1 T olive or vegetable oil
1 small head cauliflower, chopped into florets
1 green pepper, diced
1 large onion, diced
2 large carrots, peeled and sliced into coins
2 cups shredded chicken (optional – see post for more protein suggestions)
2 cans coconut milk (I used 1 light and one regular, use your favorite combination)
1–2 T curry powder (See post for additional spice suggestions)
1 t ground coriander (optional)
1 t garam masala (optional)
Salt and pepper to taste
3 cups cooked rice, white or brown
Optional condiments (see post for ideas)
---
Instructions
Heat tablespoon of oil over medium/high heat in large skillet or wok. Add carrots, onions, and peppers to pan and stir fry for about 4-5 minutes, until onions begin to soften and appear translucent.
Add cauliflower to pan and cook for an additional 3 minutes.
Add curry powder (and coriander and garam masala, if using). Stir to coat vegetables cook for an additional minute, stirring constantly.
Add coconut milk with pan of curry coated vegetables. Stir thoroughly, so coconut milk takes on the curry color. Turn heat down to low and simmer 5 minutes.
Taste curry, adjust spices, adding salt and pepper any additional curry or other spices as needed. (See post for suggestions).
Add chicken, if using, and simmer curry for additional 10 to 15 minutes.
Serve over hot rice and with condiments as desired