This post may contain affiliate links. Full disclosure policy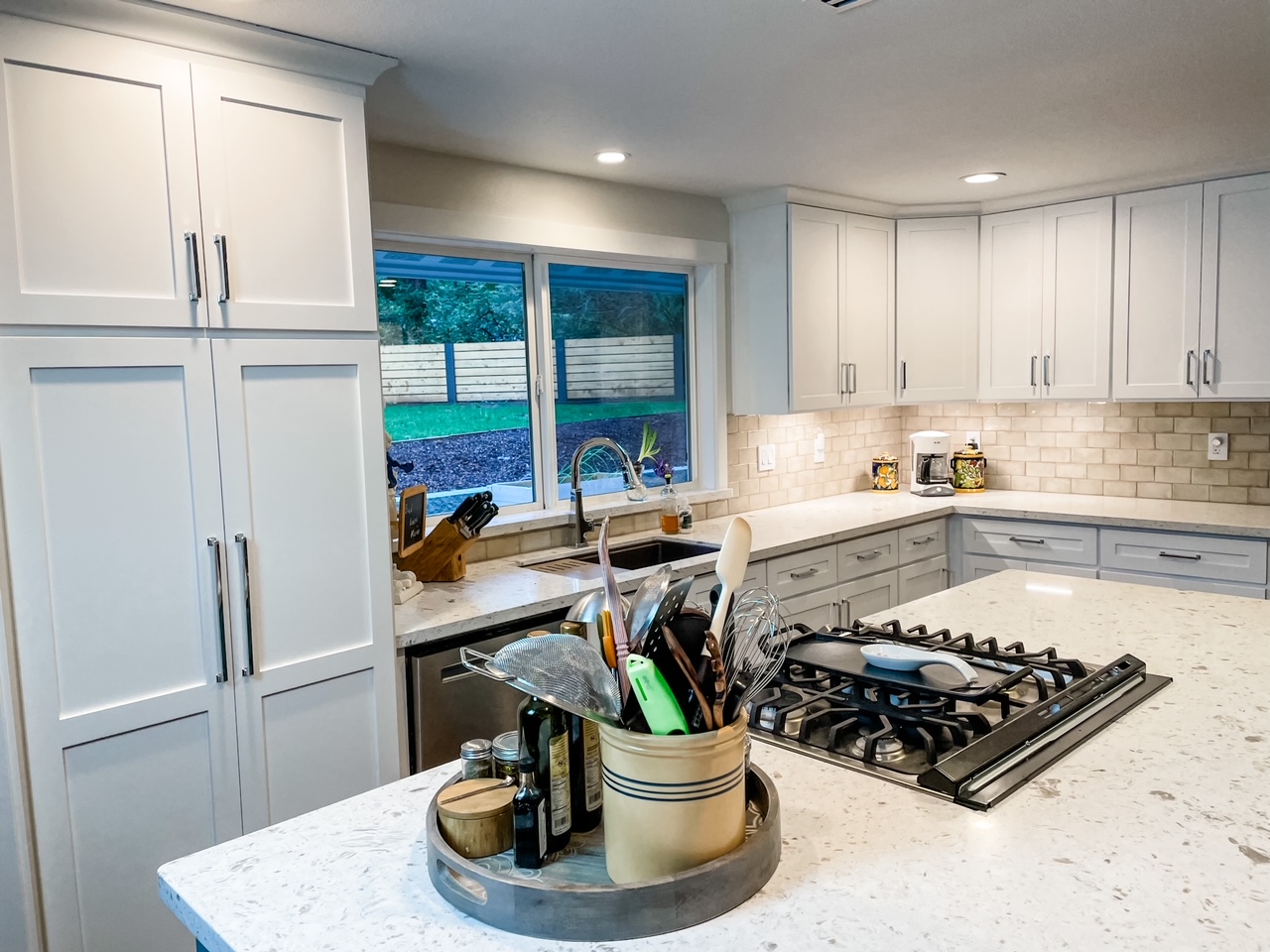 Last week, I published the Before and After post of our kitchen remodeling project. It was a big and fairly expensive undertaking. However, giving your kitchen a new fresh look doesn't necessarily require a bank loan and a sledgehammer. Read on for my DIY Budget Kitchen Upgrades!
Learning from Experience DIY Budget Kitchen Upgrades
People don't always believe me when I tell them that I've lived in eight different states and had well over twenty addresses since I married my husband, but it's true. Moving frequently was necessary for my husband to do his job, advance his career, and keep taking on new challenges.
But whether we were there for eight months or eight years, I saw it as my job to create a comfortable home for us. Consequently, I've done a lot of remodeling over the years and even built a couple of houses from the ground up.
More often, turning a house into a home was a matter of giving our new digs a bit of paint and polish. Over the years, I learned quite a few tricks for remodeling without breaking the bank, especially ways to give my kitchen a facelift on a budget.
Some of these DIY Budget Kitchen Upgrades can be accomplished for under a hundred dollars. Others might require a few hundred, or even a thousand or two, depending on the project and size of the kitchen.
However, compared to a full-scale kitchen remodel – which can require many tens of thousands – these DIY Budget Kitchen Upgrades are an affordable alternative.
1. Replace Your Kitchen Drawer Handles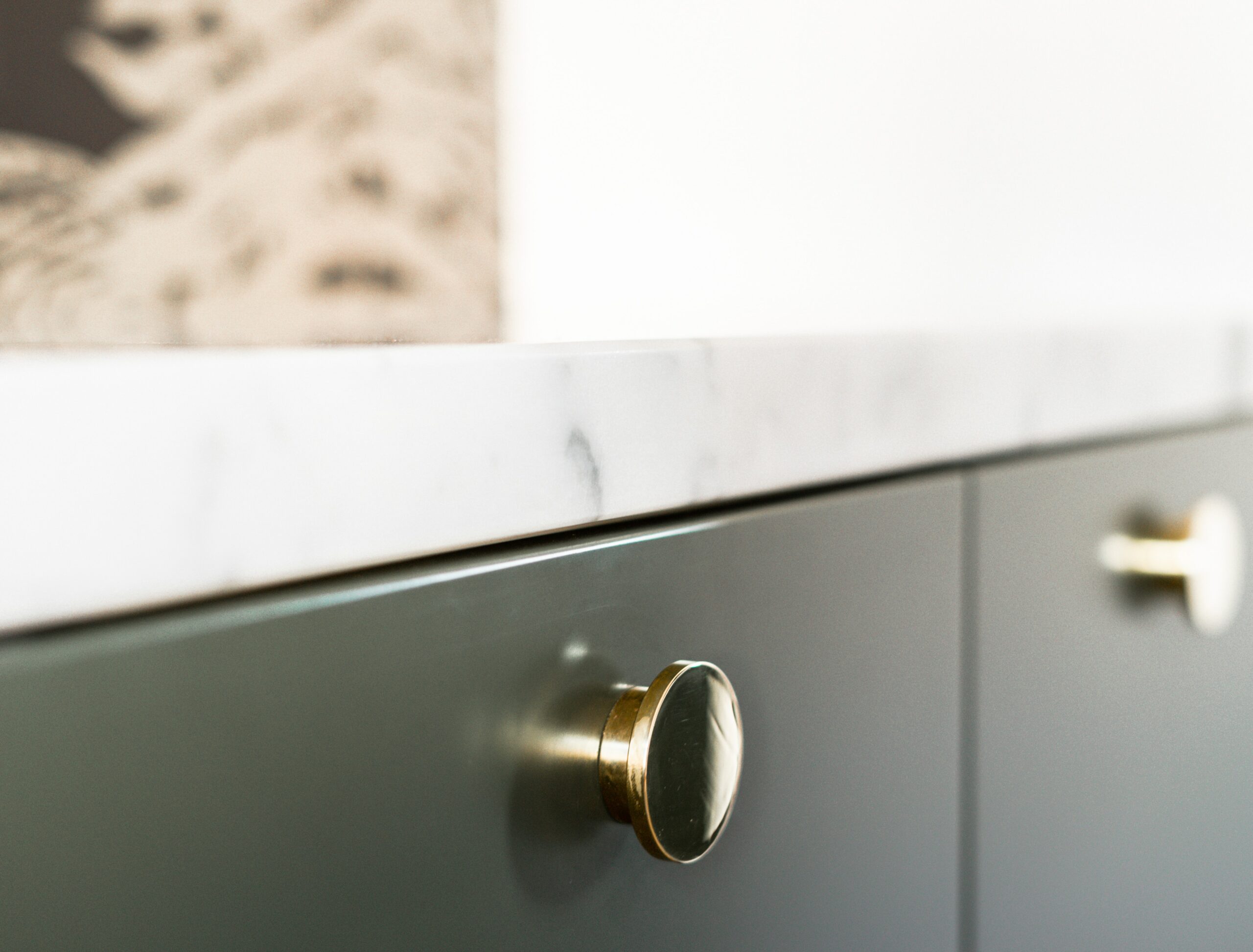 Replacing dated, unattractive, or simply "not your cup of tea" knobs or handles on kitchen drawers is one of the quickest, easiest, and most affordable kitchen facelifts. And you don't need to hire a contractor to get it done. If you use a screwdriver, you can replace drawer knobs or handles on your own.
To keep things really simple be sure that any replacement handles have the same distance between holes as your current hardware. And to keep your project on budget, shop around! Kitchen drawer hardware can be very expensive, but it doesn't have to be. Check your local hardware store and online retailers such as MyKnobs and compare prices. Also, check for closeouts or discontinued styles at high-end retailers. In my last house, I found some discontinued cabinet hardware I loved from Restoration Hardware for half price.
2. Replace the Backsplash
Putting in new countertops might be a bigger, more expensive project than you can handle. However, replacing a tired, dated, or just plain ugly backsplash is an easy and affordable kitchen facelift project that can give your old counters a new lease on life!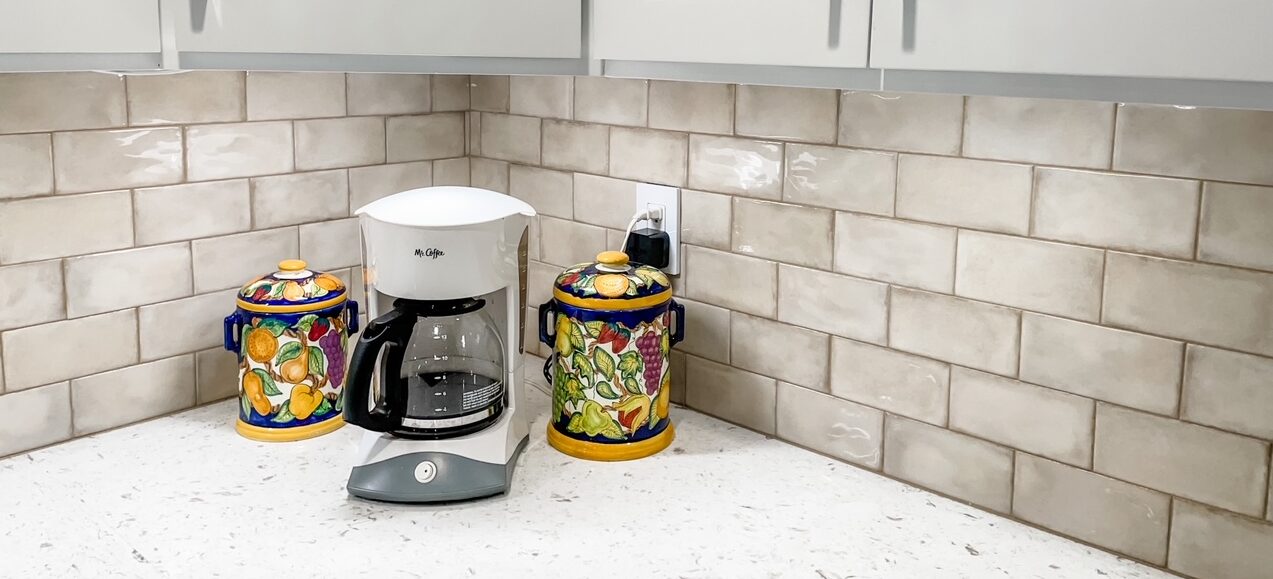 3. Alternative Countertop Ideas
If you've priced countertops lately, you know that putting in new counters is one of the most expensive parts of remodeling a kitchen, especially if you're looking at solid surface materials. Unless you've got superior DIY skills and an uncle who owns a granite quarry, this is not a project you can do on a dime. However, there are ways to get beautiful countertops for less.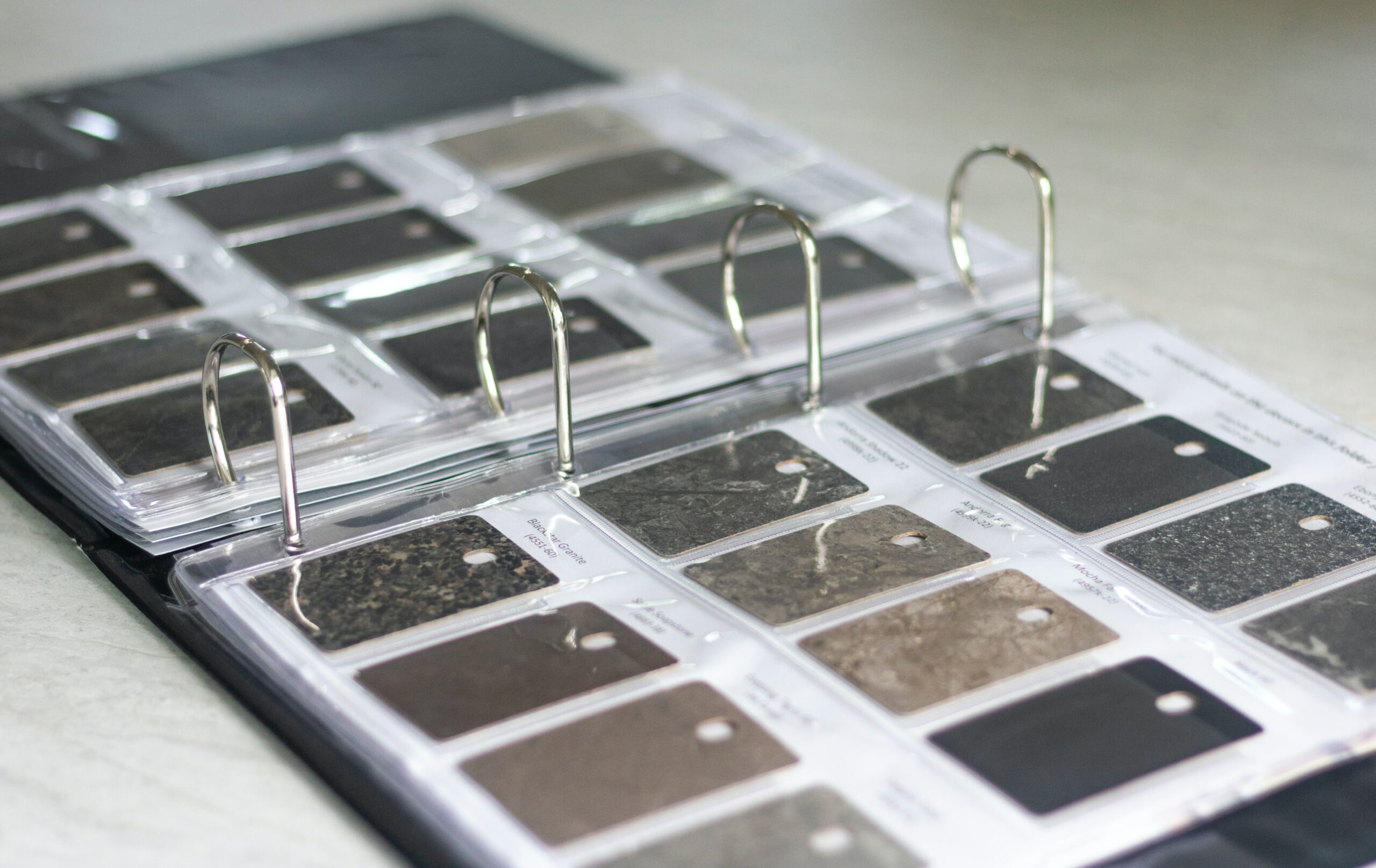 My recent kitchen remodel included replacing all existing counters with solid surface quartz. It wasn't an inexpensive undertaking, but I saved a few thousand dollars by choosing an in-stock, locally available 2 centimeter counter versus a standard 3cm countertop.
In the huge kitchen we built in our last home, I had wanted to install granite counters but changed my mind after getting the estimate. I could have bought a car for what it was going to cost! Instead, we installed 12-inch granite tiles in a zero-grout setting. It was a durable, attractive, and very affordable alternative.
4. Replace Cabinet Doors
If the quality and layout of your current cabinets are okay but you just don't love the look, consider replacing the doors.
There are companies that will build new, custom-sized cabinet doors in a range of styles and finishes that can fit many budgets. One company I really like is Oregon-based Barker Doors. Depending on the size of the kitchen, replacing cabinet doors can still cost you a good chunk of change but it's a much cheaper than putting in new cabinets.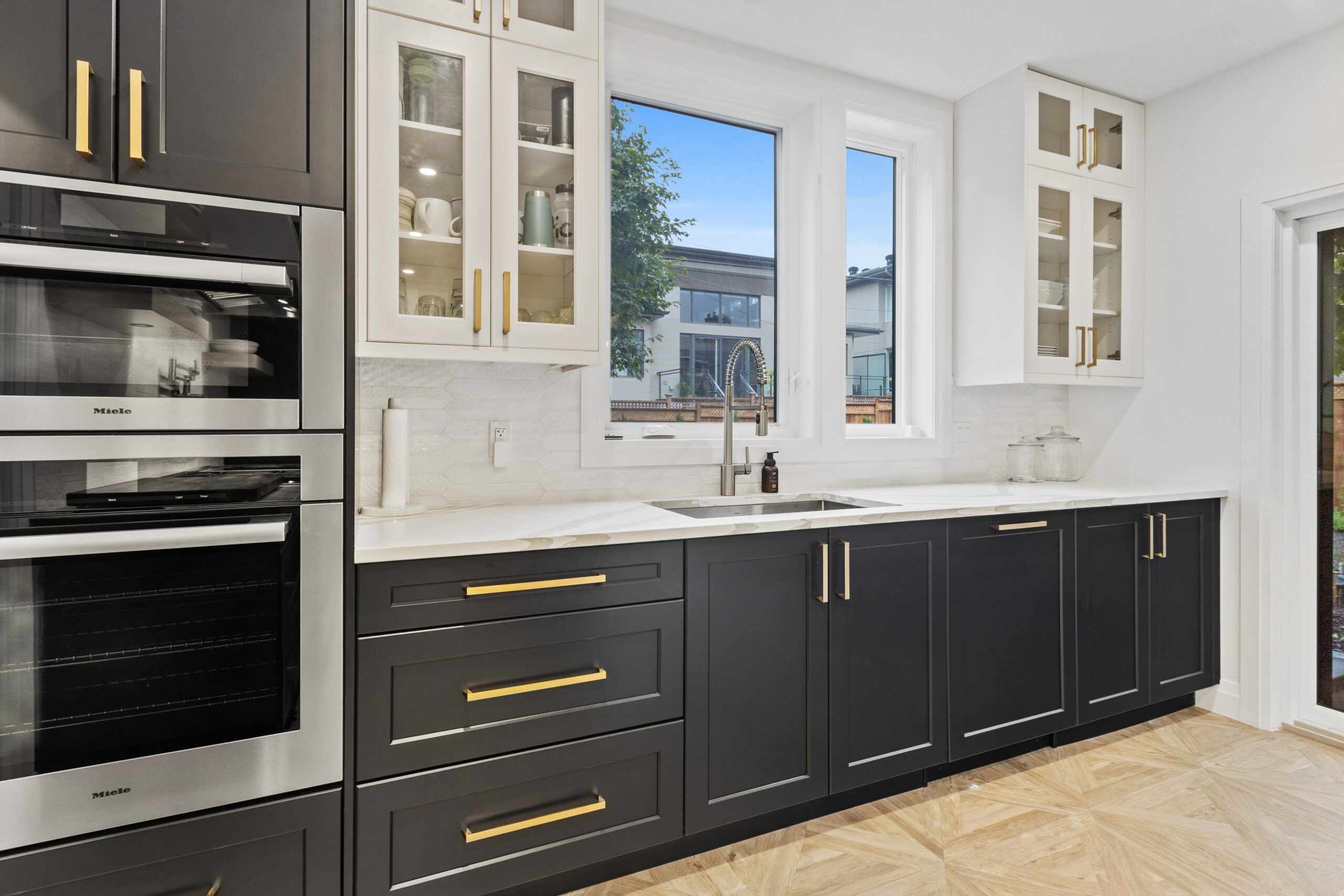 (Also, we used Barker cabinets when I built my kitchen in Oregon and I was very impressed. We had to assemble the cabinets on site but doing so drastically cut down on our costs and the quality was amazing. If you are replacing cabinets, I'd give them a look. And just so you know, I'm not an affiliate of Barker. This is just me sharing a good thing.)
5. Install Floating Shelves
If you need some extra storage and have some open wall space, installing some floating shelving is an easy and affordable way to give your kitchen a facelift. There are lots of styles available – modern, industrial, shabby chic – with or without brackets. I particularly like this corner model. It's a great way to get some extra storage and add some style to a potentially useless corner of the kitchen.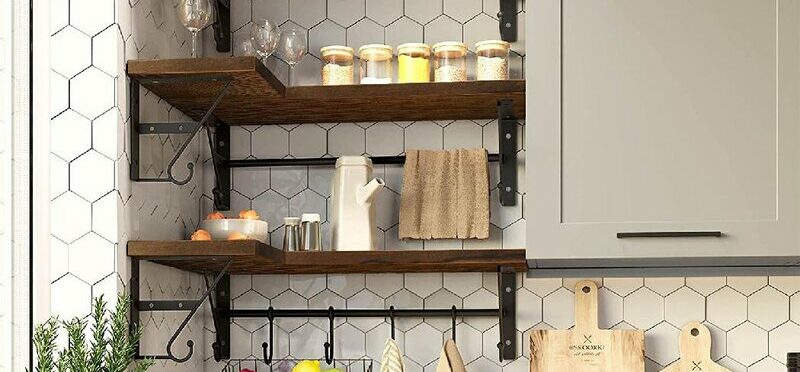 If you've got a few dollars and even basic DIY skills, adding floating shelves is a practical and attractive way to give your kitchen a refresh.
6. Paint a Wall (or Four)
No matter what room you're redecorating, painting a wall is always the easiest and most inexpensive way to refresh a space. Giving an accent wall – or all the walls – a fresh coat of paint and a pop of color is a satisfying and easy way to give your kitchen a facelift on a budget. In the right space, a wallpaper accent can also be gorgeous in a kitchen!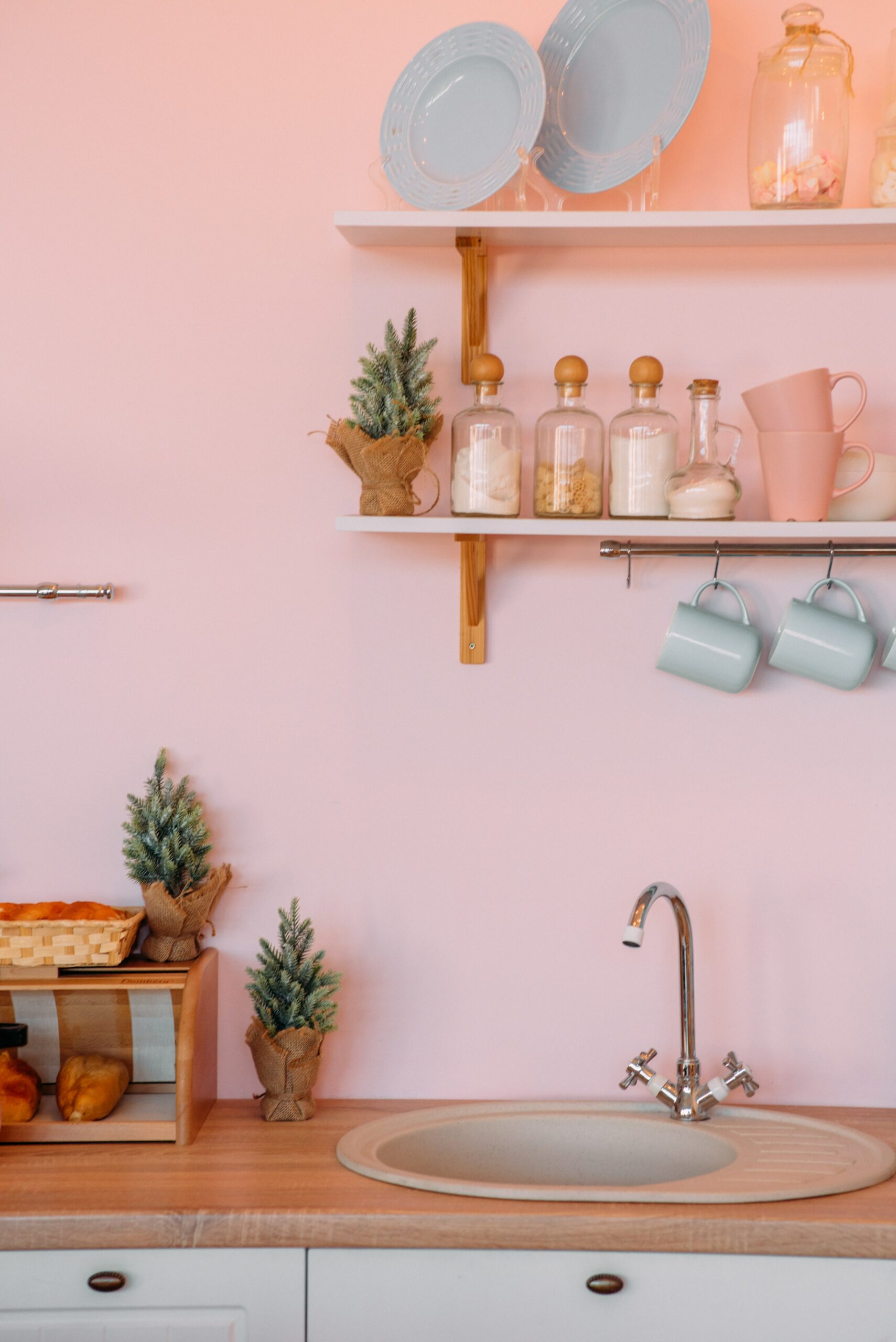 7. Buy a Freestanding Island
I'm a huge fan of kitchen islands and have installed them in more than one of my houses. However, building or buying a permanent island for your kitchen is definitely a big-ticket item. If a new island isn't in your budget but you still want to make the most of wasted space in the middle of the kitchen, consider buying a freestanding island.
Again, there are tons of styles, sizes, and finishes available. This 48-inch model gives you tons of storage and workspace, plus counter seating for two.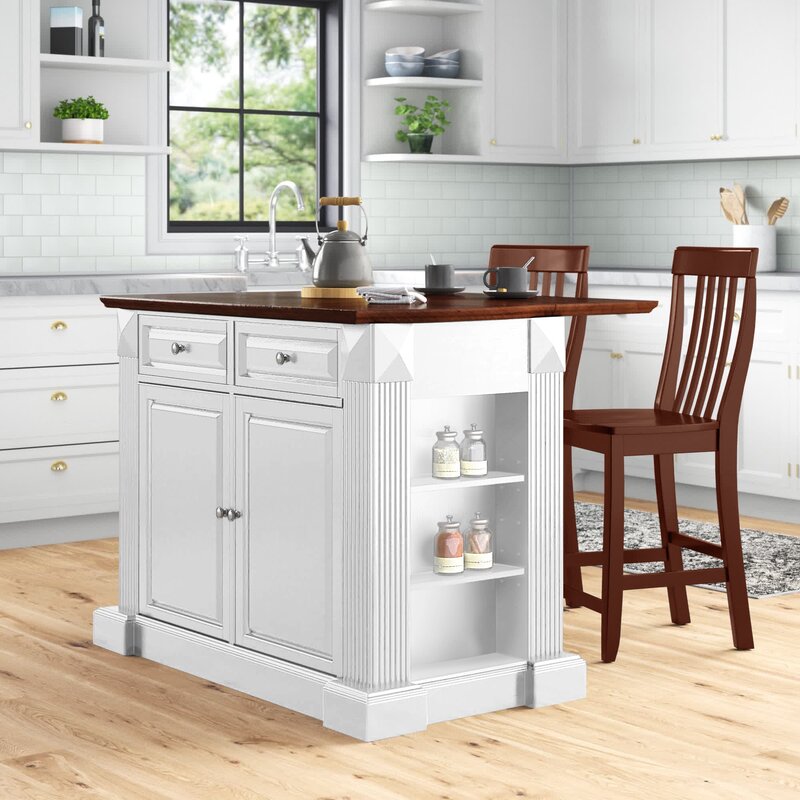 And if you love color as I do, this gorgeous 48-inch island will make your heart go pitter-pat. It comes in this beautiful blue but 23 other colors as well! Everything from basic black to burnt red (which is SO pretty!), and aquamarine to a yummy wood finish called European Ash. Check it out!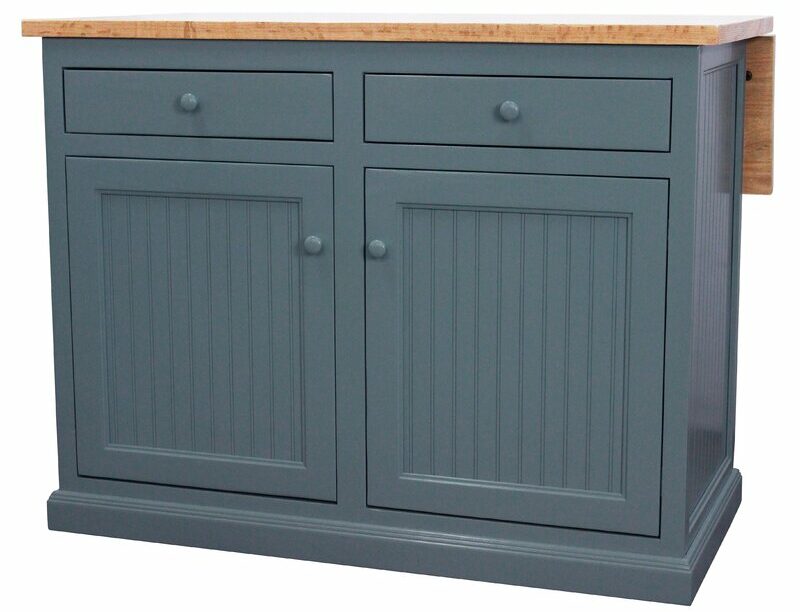 This is a good option if space and budgets are tight. You'll get some extra storage and a nice workspace that rolls out of the way when not in use.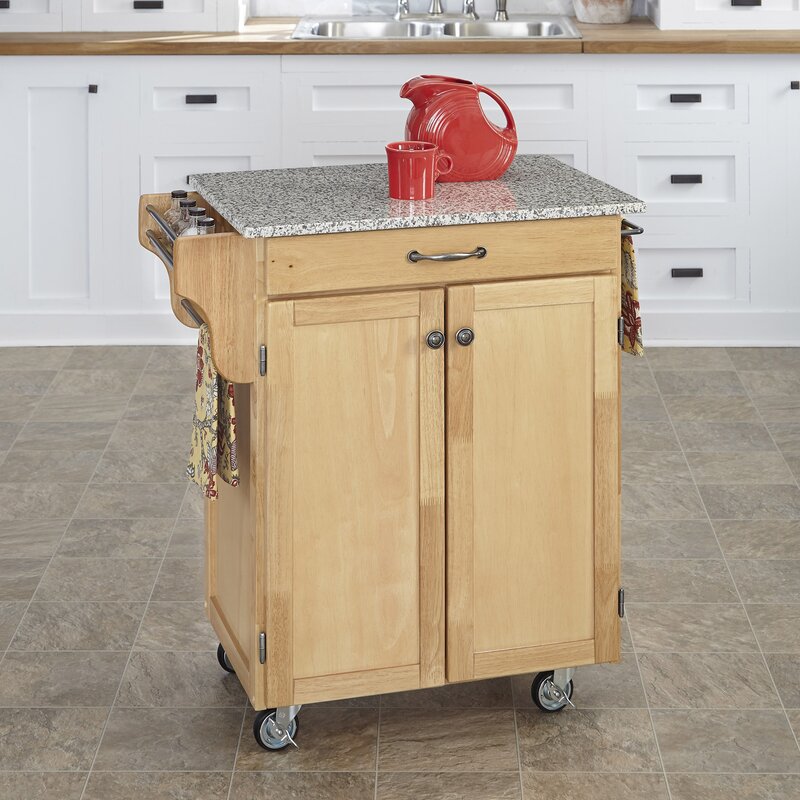 8. Install Some Pull-Outs
Another practical project to give your kitchen facelift on a budget is making the most of the space you already have. Installing pull-out drawers, caddies, or shelves makes getting your hands on previously hard-to-reach items a breeze!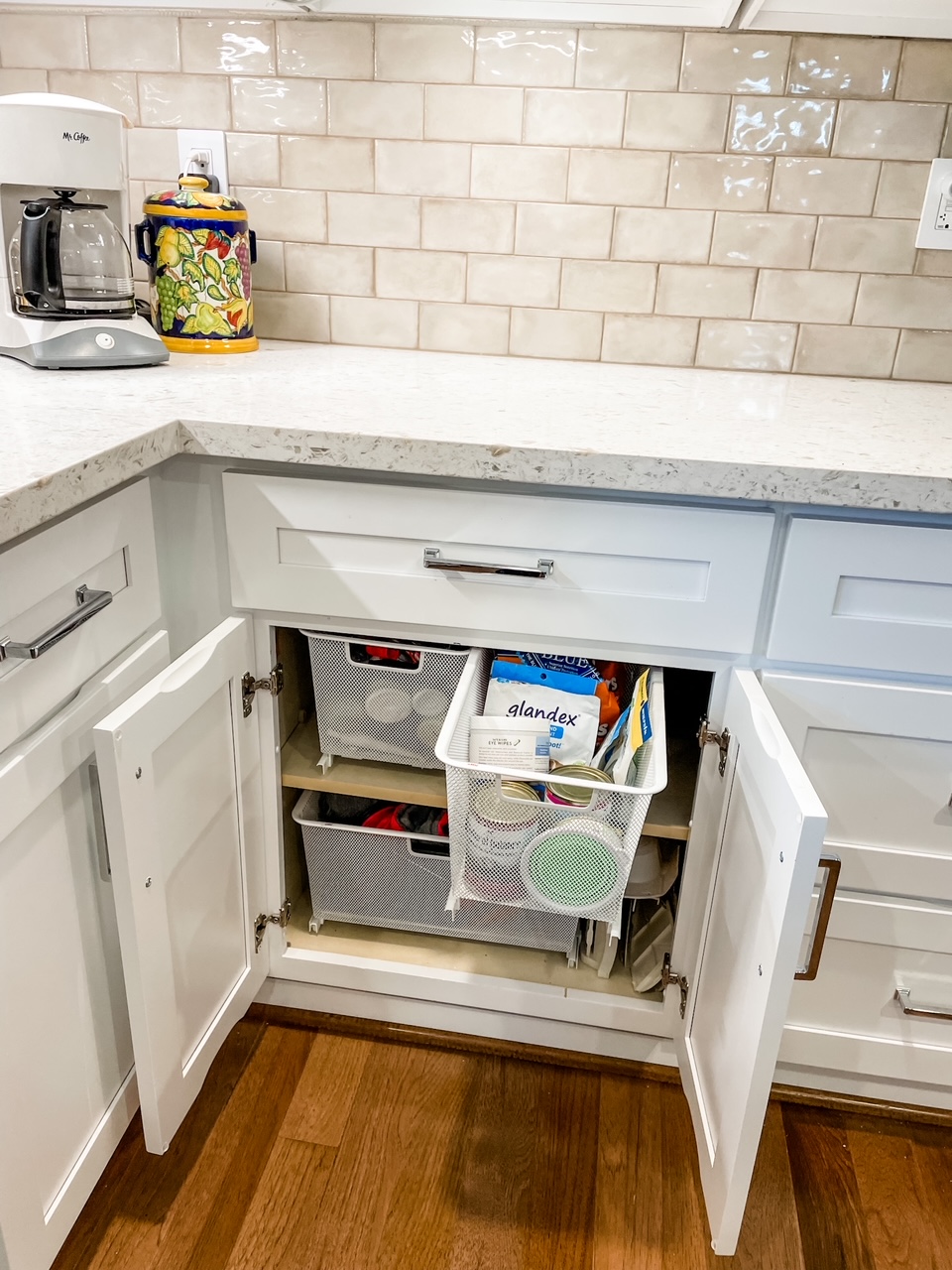 I recently installed these pullout drawers mesh drawers in a lower kitchen cabinet and I love them! I'm also a fan of this pullout garbage can.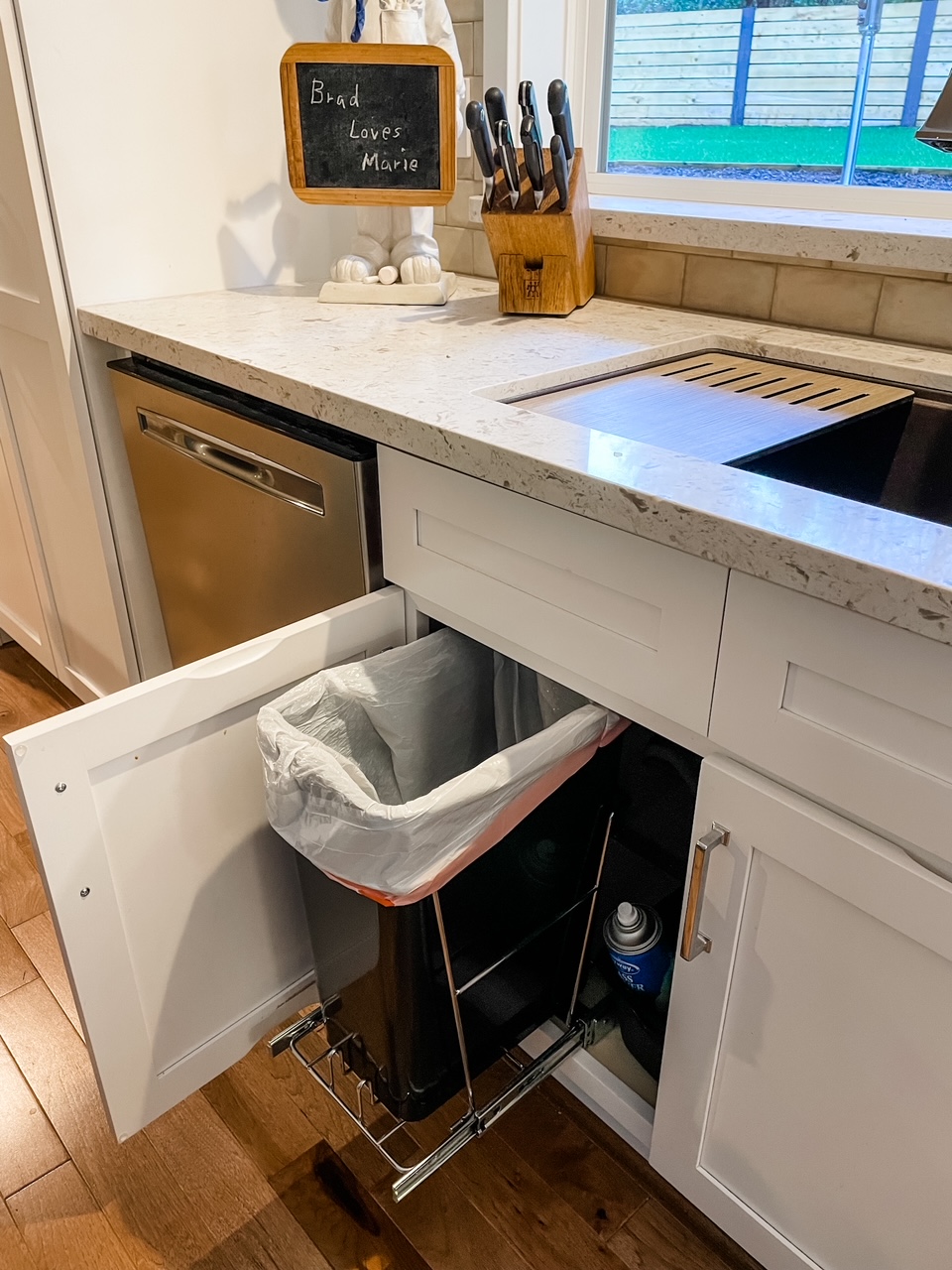 9. Reorganize Your Pantry
One way to give your kitchen a facelift without spending a dime is to invest some time in reorganizing your pantry. Making sure pantry items are tidy and easy to see makes cooking so much more enjoyable!
I like to store a lot of my dry goods, such as beans and grains, in old jars and then add a label. (A P-touch label maker is one of the things I wouldn't want to live without!). Glass jars really do work well for storing so many items. But if you've got a little money to spend, I find that places like HomeGoods or TJ Maxx are great sources for inexpensive storage containers.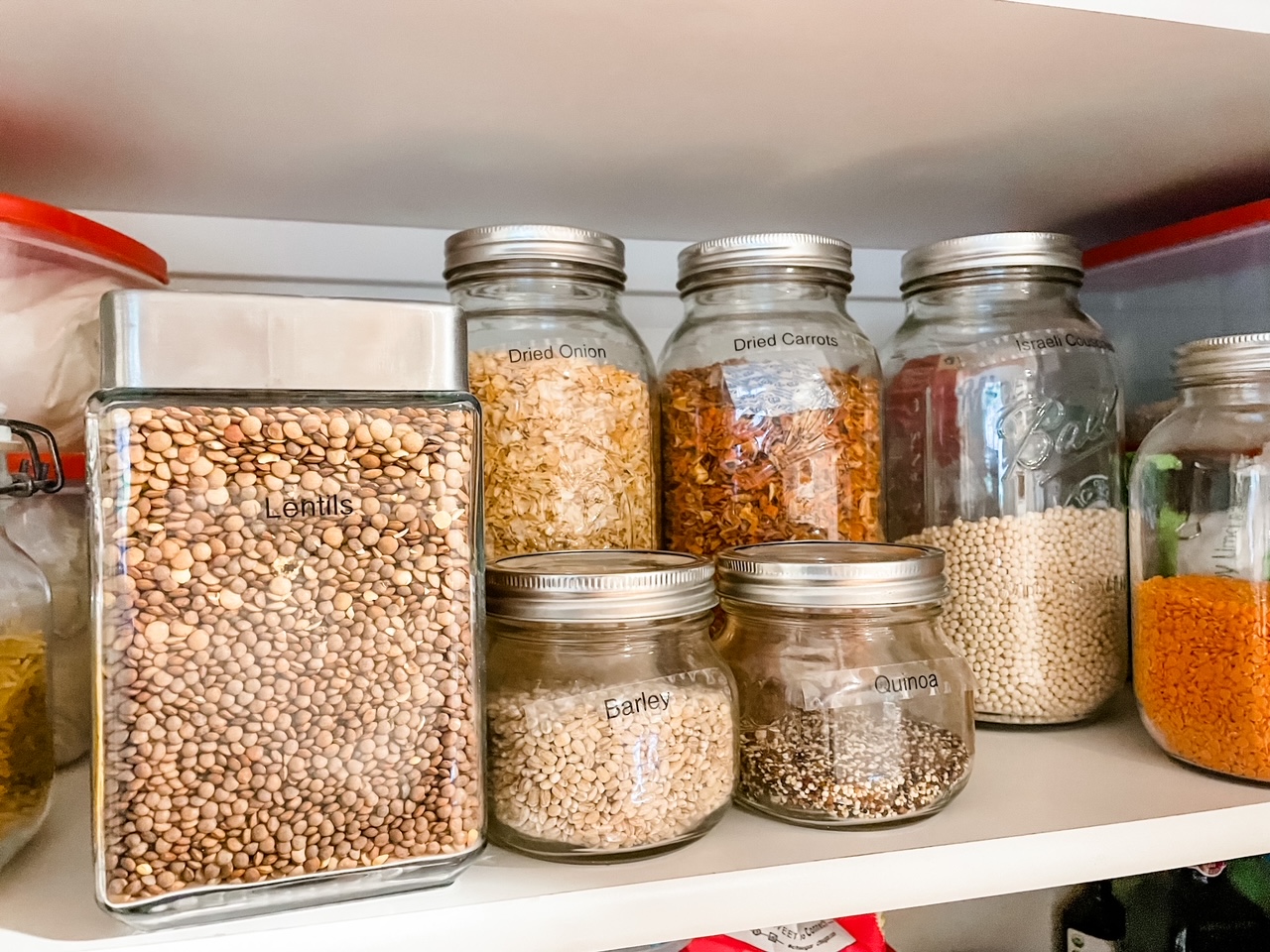 I've been getting a lot of mail from people who want to know where I got the big, handled containers I used to store my rice, flour, sugar, and oats. Honestly, I've had them for years so I'm not sure where I bought them. But I found these online. No blue handles but otherwise, they're very similar. They hold 21 cups, look just as sturdy as mine, and have a pour spout, which comes in very handy.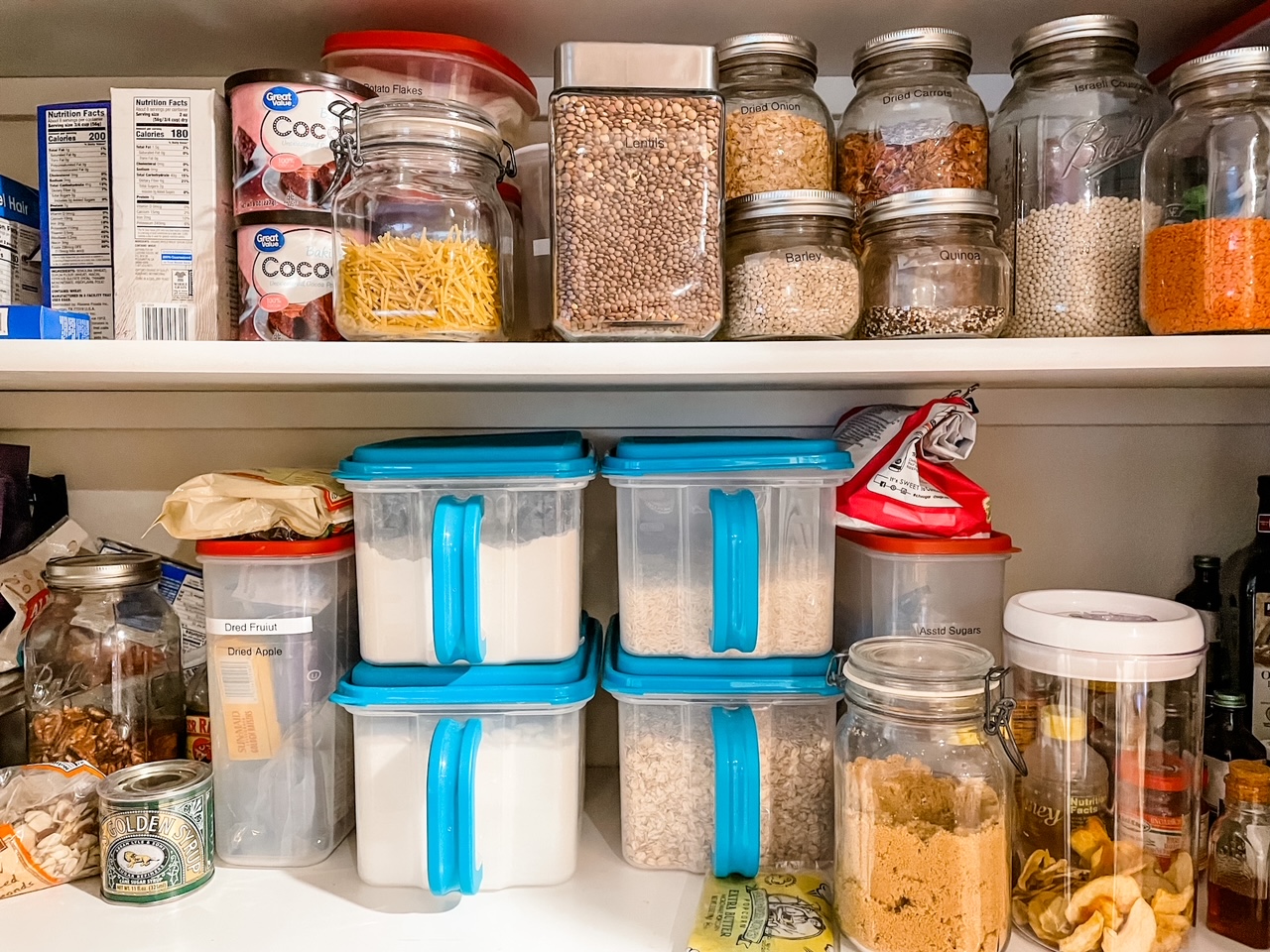 10. Replace Light Fixtures
Light fixtures are one of those things that go in and out of style very quickly. Replacing fixtures that are dated or which you simply don't like can be a relatively easy and affordable part of a kitchen facelift. Yes, you can spend a small fortune on light fixtures but you don't have to. There are plenty of budget-friendly options out there.
I think that light fixtures are one of those things you really need to see in person if at all possible, so take a trip to your local lighting or hardware store. But if that's not an option, online sources such as Lamps Plus has huge variety of styles at all kinds of price points.
11. Add Some Textiles
I spent much of last week sewing ceiling to floor grommet draperies for our guest room. Though it was definitely a big job and took some time, it actually wasn't that difficult. Doing the sewing myself saved me at least a thousand dollars. It also reminded me that adding texture and color via textiles can truly transform a room!
With that in mind, my final idea for kitchen facelifts on a budget is to add some textiles. If you've got a sewing machine and know how to use it, make a valance, shade, or café curtain for the kitchen window. (Of course, you can buy them too.) Consider recovering the seats on your old counter stools, or getting a bright and colorful cushion for counter stools with wood or metal seats. It'll be more comfortable and prettier too!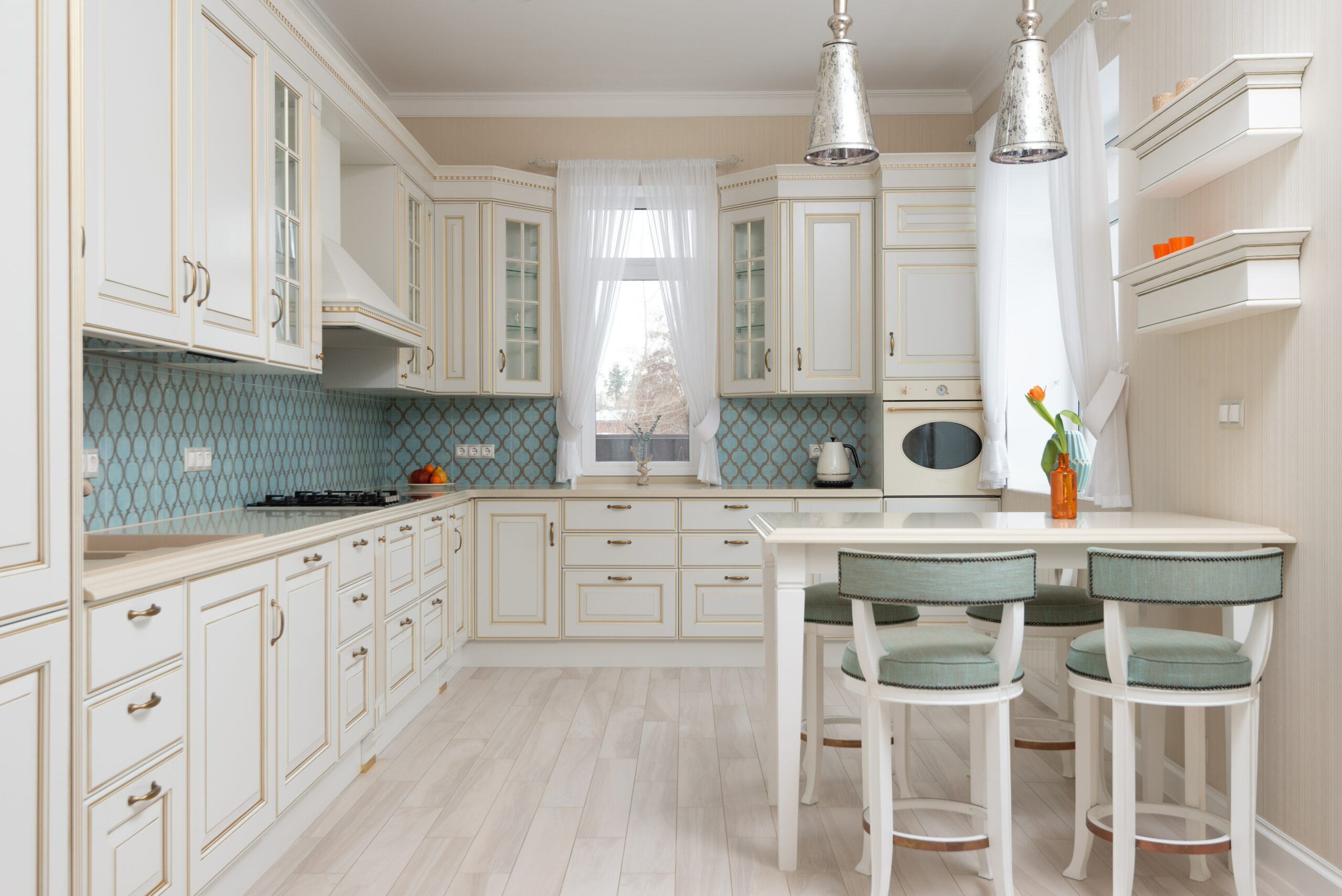 If you don't like your kitchen floor but can't come up with the scratch to replace it, consider bringing in a new runner or rug.
Until recently, I probably wouldn't have recommended that because I'd be worried about spills. However, Ruggable has changed my mind. We recently bought an entry runner from Ruggable and I love it! I can't toss it into the washing machine anytime it gets dirty and it comes out looking great.
They've got a ton of colors and styles, but I think this would be especially pretty in a kitchen. That pop of color adds so much personality to the room!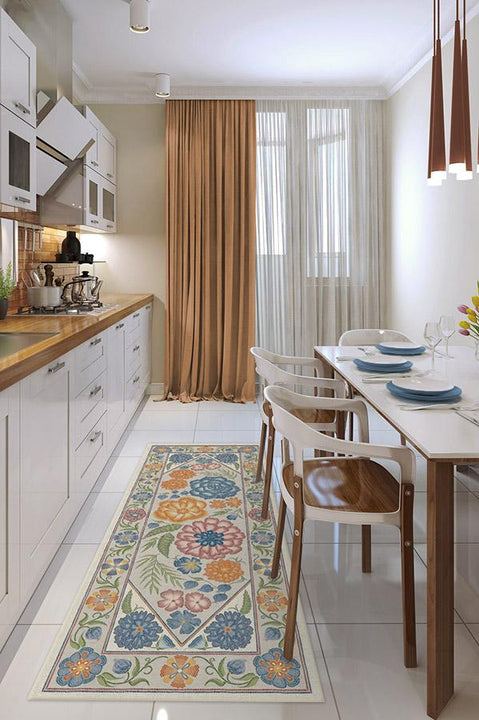 DIY Budget Kitchen Upgrades – It is Possible!
When a complete kitchen remodel isn't an option, you can still give your kitchen a bright, fresh look by investing a little time and a few dollars into DIY Budget Kitchen Upgrades. I hope this post has given you some good ideas of how to get started.
If you've got other ideas or pictures of your own kitchen facelift, pop me an email. I'd love to see what you've done!