This post may contain affiliate links. Full disclosure policy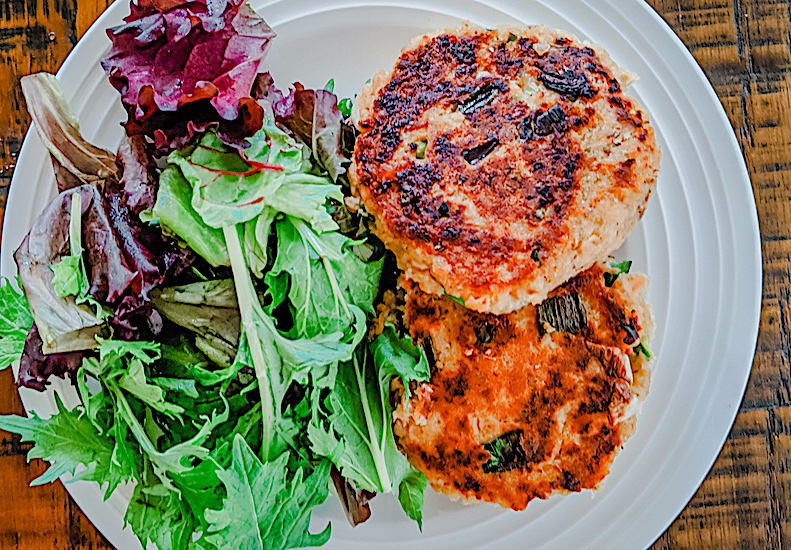 If you've been reading the blog lately, you'll notice I've been sharing a lot of pantry-friendly, comfort food recipes. Given the current situation, all of this makes sense. During these long weeks when the only thing that seems to distinguish one day for the next is what's for dinner, we need comfort food!
I'm going to continue to share those kinds of recipes in the coming weeks – simple, delicious recipes you can make from easy to find ingredients you may already have in stock. But I've gotten a few emails this week from readers who are worried that all this comfort food might lead bring on a few extra pounds.
It's an absolutely legitimate concern!
Fish Cake Recipe for Good Friday – and Weight-Watching
That's why I decided to add an extra recipe post to the blog this week. My Favorite Fish Cake recipe is just the thing for battling stay-at-home weight gain. And since Good Friday is just around the corner, a day when many of us serve fish for dinner, the timing seemed right.
But, before I get to the recipe, let's spend a little more time talking about how we can keep in shape even when we're stuck at home. It's really a challenge, isn't it?
Even though I've been working hard to make sure I get some daily exercise, I've got a little more padding than I did when all this started. Just a pound or two, but I do want to keep an eye on the situation. If you're in the same boat, there are a couple of things you can do to keep unwanted pounds at bay during this difficult time.
GET SOME EXERCISE
Get at least 20 to 30 minutes of exercise every day. If you're able to get outside (Safely! Keep at least 6 feet away from others), a brisk walk will do wonders for your spirits as well as your waistline. If that's not an option, create an indoor workout. I've been jumping rope and doing calisthenics in the garage. My Mom has been doing some free chair aerobics workouts I found on Amazon Prime. Or maybe just turn up the music and have a dance party in the kitchen. It really doesn't matter what you do, as long as you move.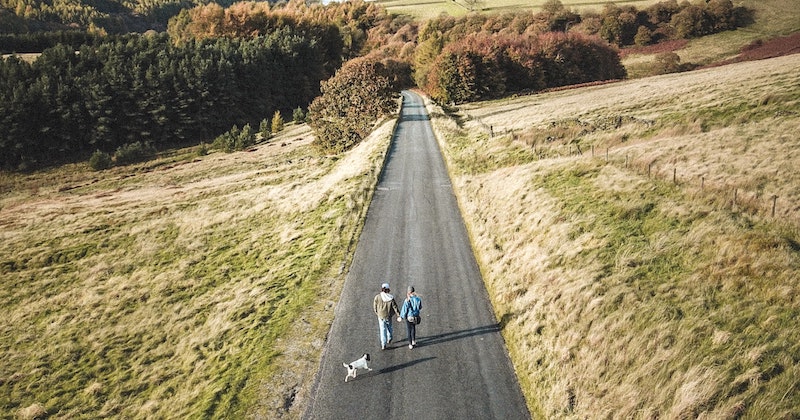 HAVE HEALTHY SNACKS ON HAND
As someone who has worked at home for years, trust me when I tell you that constant proximity to the refrigerator can sabotage your weight loss plans. Some of you who are working at home for the first time are starting to understand what I mean, right?
Look, when your office is next to the kitchen (or IN the kitchen), you're going to grab some snacks. That's just reality. And a lot of us are stress eating right now, so that makes unscheduled snacking an even bigger issue. You may not be able to keep yourself from snacking but you can be more proactive about what you're snacking on. Put a fruit bowl on the counter so you can grab an apple, mandarin orange, or handful of grapes when you're walking past instead of a cookie. Cut up some celery, carrots, or other veggies to keep in the refrigerator. They're delicious with some hummus or a tablespoon of low-fat salad dressing.

PLAN MEALS AHEAD OF TIME
This is a big one! Planning healthy meals ahead of time will keep you from indulging in less healthy options on a whim. Make sure that you're getting plenty of vegetables with each meal, and limiting the amount of fat in your recipes.
Another important factor in healthy meal planning is making sure you're eating plenty of good, lean proteins. Beans, legumes, chicken, and fish are all great choices. Our family loves fish. Under normal circumstances, I serve fish twice a week. But fresh fish really does need to be eaten right away.
Speaking of Fish, Introducing My Favorite Fish Cake Recipe
Since we're not going to the market very often, I've fallen back on one of my family's favorite dinner time recipes, delicious fish cakes made from canned salmon or tuna.
These savory, delicious, easy to make fish cakes really tick off all the boxes for me right now! They're quick to prepare, pantry friendly, waistline loving, and absolutely qualify as comfort food. What more could you ask? (Answer: Nada)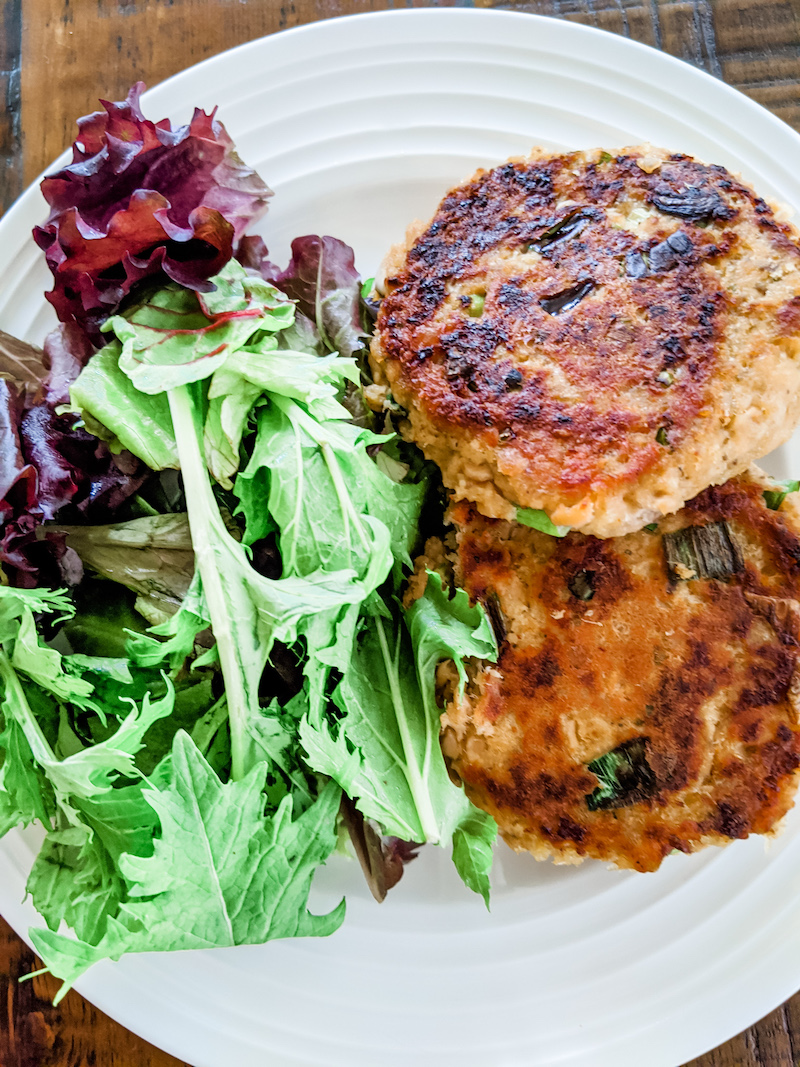 An Easy, Pantry-Friendly Dish
Our Favorite Fish Cake recipe only has seven ingredients and cooks up very quickly. I make these often when I'm short on time. Pair them with a salad and a little rice or pasta, and dinner is done! And if you make a little extra, they'll be terrific for burgers and served on a toasted bun the next day. Yum!
I like to use Old Bay Seasoning for my Favorite Fish Cake recipe. You really don't need any seasoning beyond that. However, if you don't have any on hand, try this combination: 1 T. celery salt with a 1/8 t. of paprika, and a pinch of black pepper, cayenne, mustard, and nutmeg.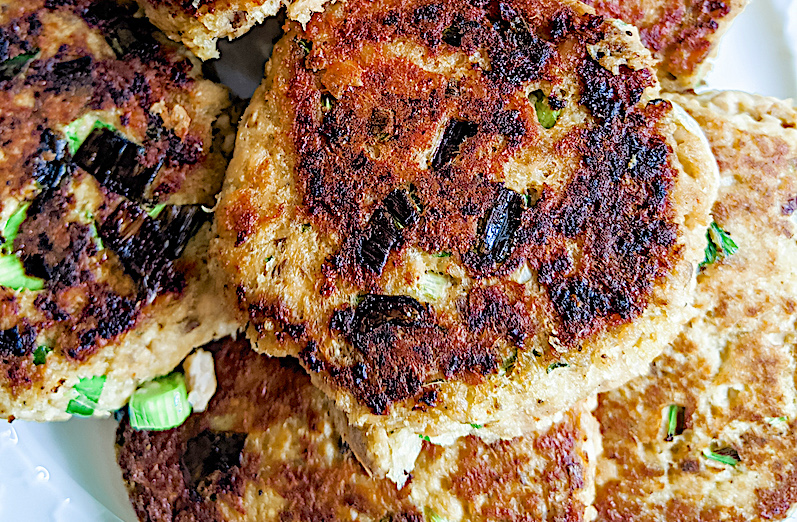 I really do like the addition of the green onions and parsley or cilantro. It adds quite a bit to the flavor and color. However, if you don't have any on hand, toss a tablespoon of fine diced white or yellow onions and some dried parsley or even a little dried basil. It'll still be good.
If you're trying to watch your weight while staying close to home, you really can't go wrong with my Favorite Fish Cake recipe. Give them a try soon. They're the perfect addition to your Good Friday dinner table!
Print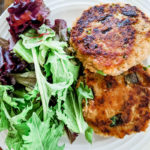 Favorite Fish Cakes Recipe
---
Author:

Yield:

2

servings (2 cakes per person)

1

x
2– 6oz cans of salmon or tuna (preferably packed in water)
1 egg
1 T Old Bay Seasoning
3 scallions, sliced
2 T chopped cilantro or parsley
1/3 cup panko bread crumbs
4 t olive oil for frying
---
Instructions
Drain liquid from each can of fish and place in a medium sized bowl. Flake with a fork.  Add eggs and stir to combine. Add Old Bay Seasoning (or alternate spice mix, see blog post), plus scallions, and cilantro or parsley. Stir to combine.
Stir in bread crumbs until just combined.   Divide fish cake mixture into four equal balls. Using hands, press balls firmly to create four patties.
Heat 2 t. of olive oil in ceramic or nonstick pan over medium high heat. Place fish cakes in pan and cook until golden brown, 3 to 4 minutes.  Add remaining 2 t. olive oil. Flip fish cakes over and cook for an additional 3 minutes.
Remove from pan and serve immediately. (Delicious with a squeeze of fresh lemon juice!)