This post may contain affiliate links. Full disclosure policy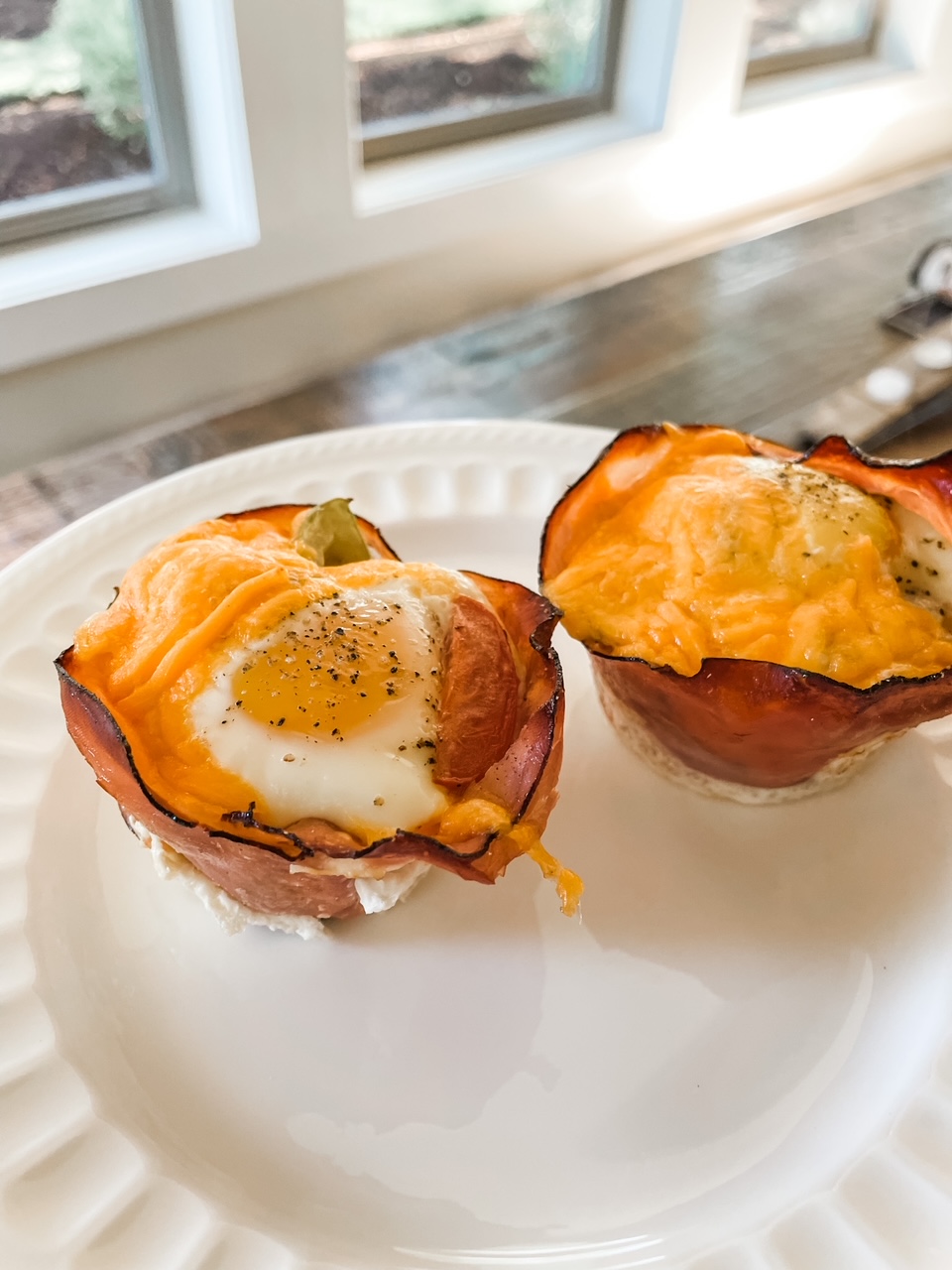 These delectable little ham and egg cups taste as good as they look. An ideal breakfast, brunch, or lunch entrée. My Easy Ham and Egg Cups are healthy, tasty, and easy to make. Only one pan to clean!
Easy Baked Ham and Egg Cups are Great for Guests
A few weeks ago, I had the pleasure of being an overnight guest at the home of an old friend.
This friend is a superb hostess and has that particular gift of being able to make people feel like honored guests and members of the family all at the same time, simultaneously pampered and completely at ease.
One of the ways my friend manages to pull off this magical feat is by serving delicious, beautifully presented meals that don't require her to spend tons of time in the kitchen, which means she can spend more time enjoying her guests.
As part of this, she made baked ham and egg cups for our breakfast and I absolutely loved them! So, so good but so easy to make. And if that weren't enough, they look pretty too – like little baskets of deliciousness on a plate.
As soon as I bit into one, I knew that these Baked Ham and Egg Cups were destined to become part of my regular breakfast rotation for overnight guests.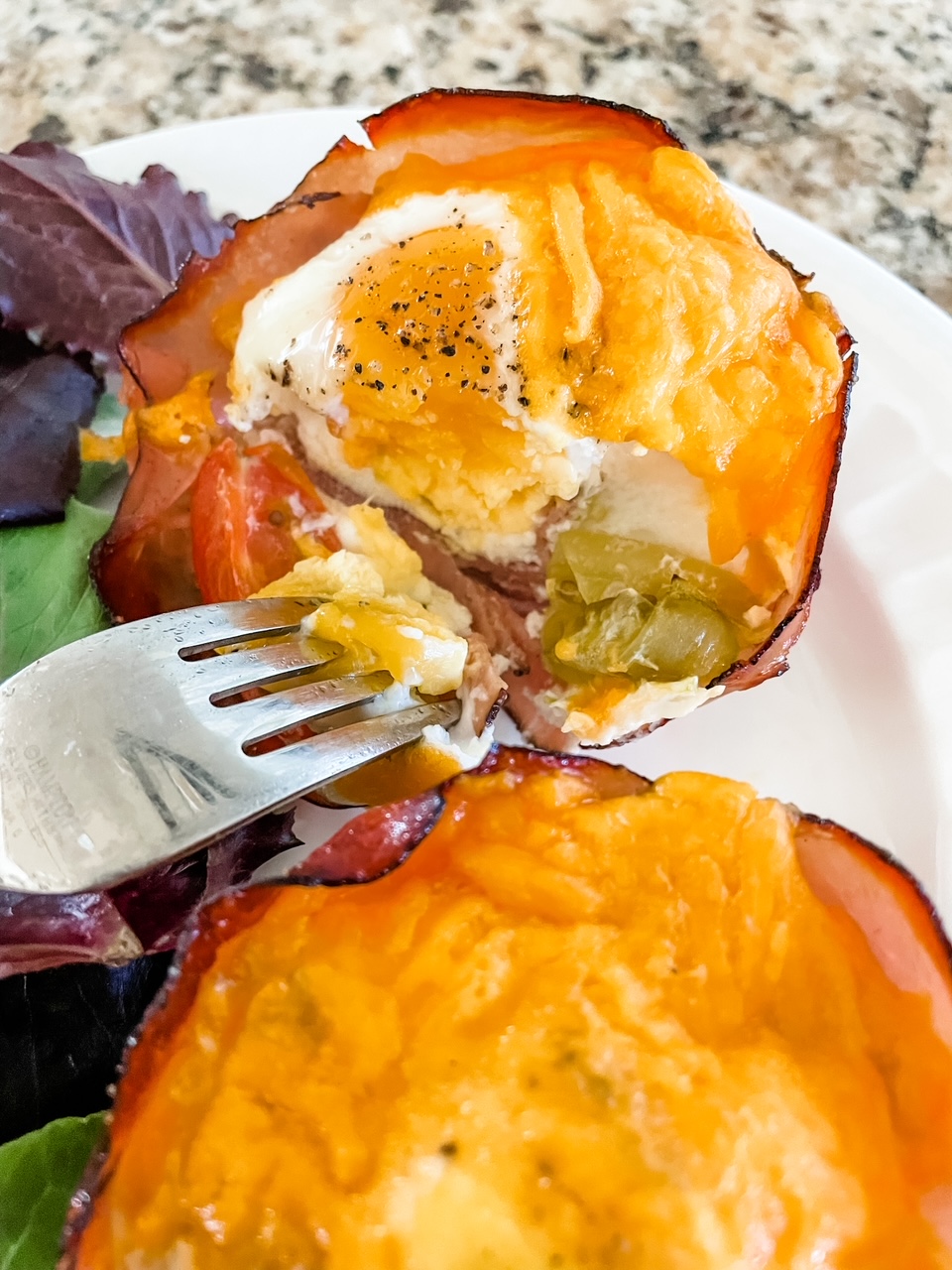 Good for Your Family
But when I started making my own recipe for these Easy Baked Ham and Egg Cups and submitted them to my resident taste tester, my husband, I realized that they're just as good for a family meal as they are for company.
My husband went on and on about them and was thrilled when I served them again the next day. "Oh, good! You made those egg things again!"
A good breakfast gets the day off to a good start. Serving my Easy Baked Ham and Egg Cups makes it easy – SO easy. These delicious little bites are baked in a muffin tin, so there's only one pan to clean.
And Good for You Too
Best of all, my Easy Baked Ham and Egg Cups are a healthy, high-protein meal. I did the calculations and it turns out that each cup is just two points on the WW blue and purple programs (4 points for the green program).
If you want to make a version that is even lower in points, just leave out the cheese. They'll still look and taste great, and each will only be 1 WW point on blue or purple, 3 on green.
How Do You Make Easy Baked Ham and Egg Cups?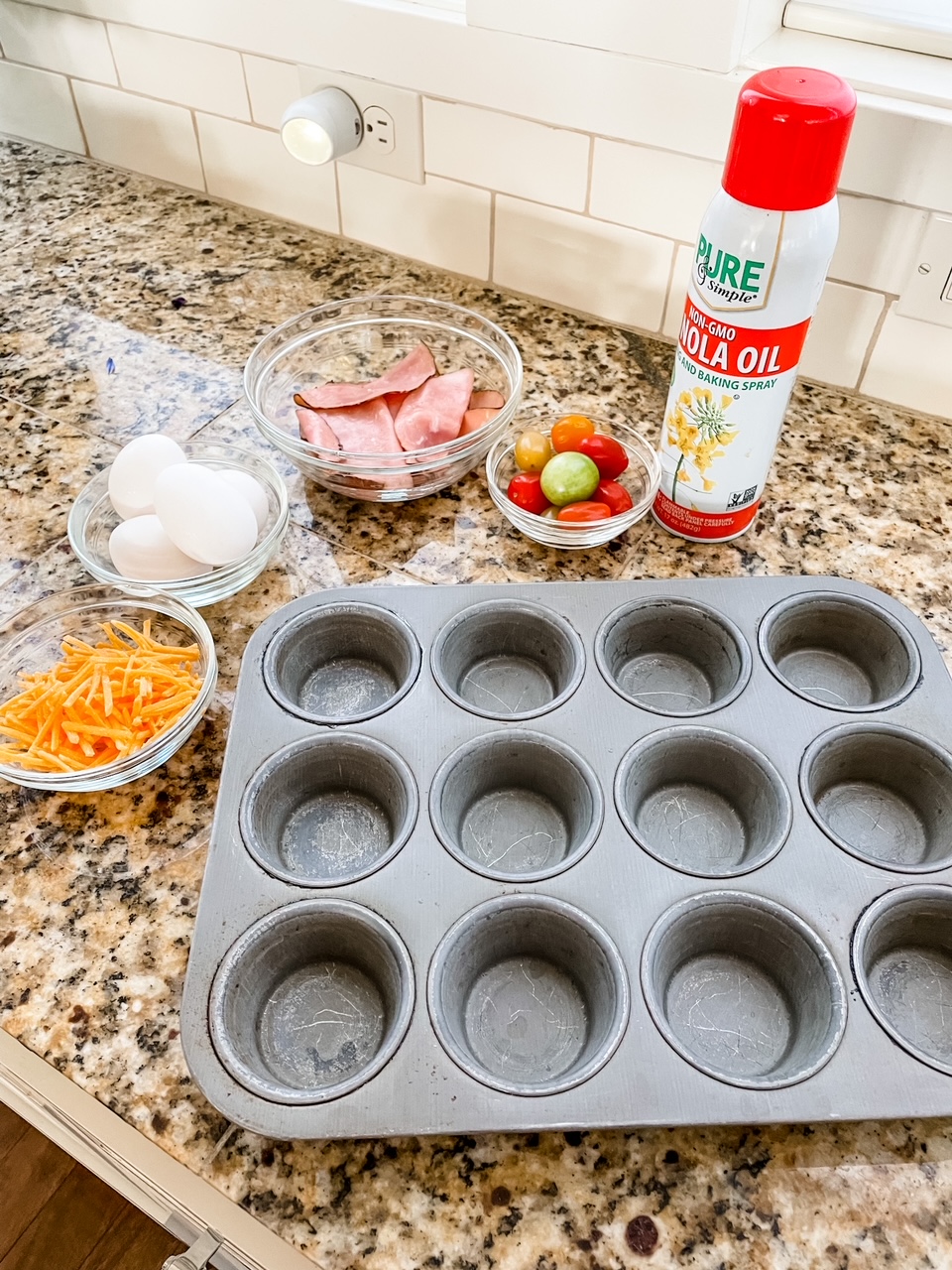 The ingredient list for my Baked Ham and Egg Cups is short and sweet. You'll need…
Eggs
Ham (the thin-sliced, prepackaged kind you use for sandwiches)
Cheese
Cherry Tomatoes
Salt and Pepper
Cooking Spray
That's it! However, you can also vary the ingredients somewhat. A little salsa would work well in place of the tomato. I've also made them with a little chopped green onion. A sprinkling of fresh herbs would be nice too. Fresh dill, basil, or parsley would all work well in this recipe.
Making the Protein-Filled Cups
The actual making of the Easy Baked Ham and Egg Cups couldn't be easier.
After coating a muffin tin with cooking spray, you'll line the muffin cups with slices of ham, creating a little basket to hold the egg and other ingredients, and bake. The cooking time varies depending on how you like your yolks – fifteen minutes for a fairly soft yolk, seventeen for medium, and twenty minutes if you prefer a hard yolk.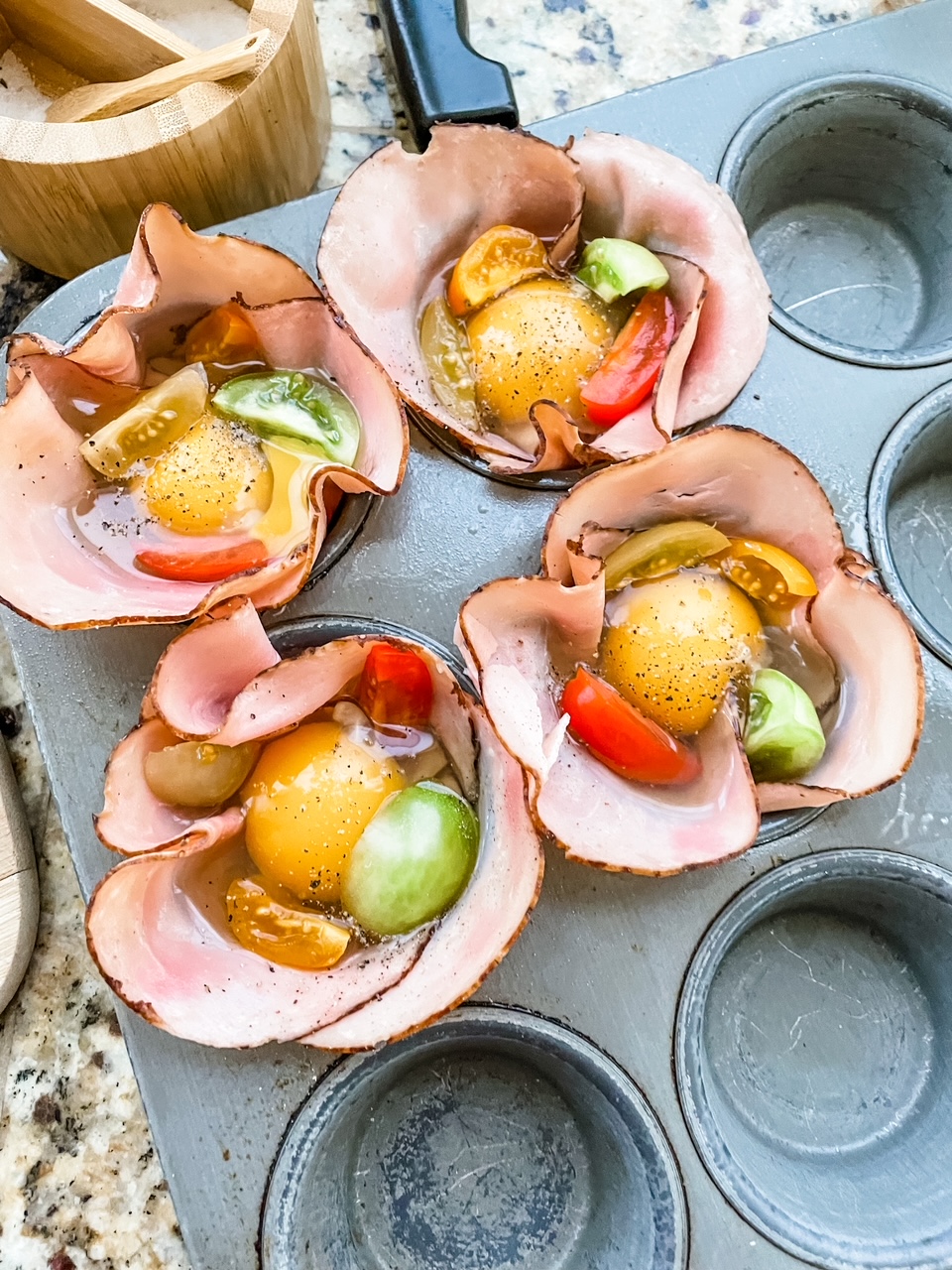 The ham slices will shrink during baking, so be sure to leave a good bit of ham extending over the edge of the cup. I love a generous grind of pepper on the eggs but go easy on the salt. The ham is already fairly salty, so you won't need much.
Really, that's all there is to it. Give my Easy Baked Ham and Egg Cups a try this week. You'll be glad you did!
If you're looking for other healthy breakfast recipes, be sure to check out my Miracle Muffins (Only 1 or 2 WW points!), my Crepes with Ricotta and Orange Sauce, or these High Protein Oat Waffles from SkinnyTaste.com!
Print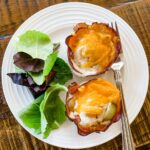 Easy Baked Ham and Egg Cups
---
Author:

Yield:

4

servings

1

x
4

eggs

12

thin slices of prepackaged ham (such as Oscar Meyer)

4

cherry tomatoes, quartered

4

T shredded cheese
Salt and pepper to taste
Cooking spray
---
Instructions
Preheat the oven to 425 degrees.
Spray 4 cups of a muffin tin with cooking spray. Line each cup with three slices of ham to create a little basket. The ham will shrink during cooking, so be sure to leave plenty overlapping the edges of the muffin cups.
Crack an egg into the center of each of the ham-lined muffin cups. Sprinkle with pepper and salt to taste. Top each of the raw eggs with 4 quarters of tomato and one tablespoon of shredded cheese.
Place prepared muffin tin in the preheated oven and bake. 15 minutes for a soft yolk, 17 for a medium-soft yolk, 20 minutes for a hard yolk.
Remove tin from oven, allow to cool slightly before removing egg cups from the tin and serving.