This post may contain affiliate links. Full disclosure policy
THIS POST MAY CONTAIN REFERRAL LINKS. IF YOU CLICK THROUGH AND TAKE ACTION, I MAY BE COMPENSATED, AT NO ADDITIONAL COST TO YOU.
The prediction I'm about to make is somewhat surprising, possibly even audacious. So I want you to remember that you heard it here first.
I believe that letter writing is about to make a comeback.
Yes, I know. Email is so much faster, easier, and more efficient than writing a letter.  And social media is even faster and easier than that. If email is the communication equivalent of lightning speed, social media gets the message out at ludicrous speed. And for the low, low price of 140 characters!
But that's kind of the problem with electronic communication, isn't it?  It's just so easy.
Maybe too easy?
Emails and instant messaging are faster than letter writing, no doubt about it. Neither of them is going away anytime soon and I'm happy about that. At this point, I can't imagine running my life or business without them.
And I appreciate a good, gossipy, newsy email from a friend as much as anyone. But there is something so special about receiving a real letter written on real paper.
When I open the mailbox and see a hand-addressed envelope from someone I care about, I feel a bit like a kid on Christmas morning. I can't wait to open my treasure and see what's inside!
COMMUNICATION THAT COSTS SOMETHING – AND MEANS SOMETHING
When someone goes to the trouble of sitting down and putting in the time and effort required to write a letter, then springing for a stamp, and trekking to the mailbox of post office to send it, you can be sure they have something meaningful to say.  It's also a pretty good bet that they are sincere in their sentiments. Otherwise, why would they go to all that trouble?
As the pace of life gets faster and more chaotic and the effort required to communicate becomes ever "cheaper", the sending and receiving of letters becomes even more valuable.
When I take the effort to write a letter, I do so because I care about that person enough to spend some of my most precious currency upon them – my time.  When I send a letter, I'm sending far more than words on paper. I'm sending regard, respect, friendship, and love.
Regard, respect, friendship, and love.  Aren't those all things we long for? Things that, as human beings, we need?
That's why I think that letter writing is poised to make a comeback.  Because there is a part of us that needs and longs for a slower, more mindful, more meaningful way to communicate.  It's part of how we're wired.
ME AND MY PEN PAL
Almost a year ago, I was involved in an online discussion of this very topic.  Some of us were saying how much we miss writing and receiving letters. One of the participants – a woman from Australia – said she'd love to have a pen pal. I sent a message saying I'd love to exchange letters with her.
We've been writing ever since and it's been a wonderful experience.  Because of the distance, it usually takes several weeks between the time I send a letter and when I receive one, but that's part of what I like about it.  It gives me something to look forward to!  My pen pal is an excellent correspondent. Though we've never met in person and have no plans too, I feel like I've really gotten to know her.
Our letters are fairly long; sometimes I will write over the course of several days. We share openly about our lives in a way that I doubt we would if we were exchanging emails.  There's something about actually putting pen to paper that forces me to slow down and really think about what I want to say.
I savor both the experience of writing to my pen pal and the pleasure of reading her letters. Often, I'll save them to read in the evening, as a treat to myself at the end of a long day.  That's really how I've come to think of her letters, as a treat.
ANOTHER TREAT? BEAUTIFUL STATIONERY.
Deciding to take up letter writing again was easy. Finding paper to write those letters on was tougher.
Sure, you can find note cards just about anywhere.  But if you're really going to write long, satisfying letters (as opposed to notes) you need real stationery with multiple letter sheets. A few independent bookstores still carry stationery but it can be hard to find.
Part of the pleasure of letter writing is doing so on beautiful stationery. The weight of good pen in your hand and the way it moves across a piece of high quality letter paper is one of life's small luxuries.
If you're looking for beautiful stationery, consider a few of my favorites: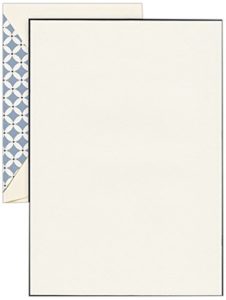 Mr. Boddington's Heritage Writing Sets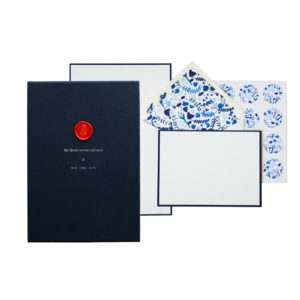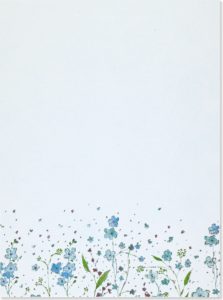 OKAY, YOU CONVINCED ME. WHO SHOULD I WRITE TO?
My return to the lost art of letter writing began with my grandchildren.
If you've got little ones in your life, I think that's a fantastic place to start. Kids today receive so little actual mail that they really get a thrill out of getting a letter.
I kicked things up a notch by moving from letters to enrolling my granddarlings in Grammy's Craft of the Month Club. That's been a big hit with them and great fun for me. I love sharing my love of crafting with the kids and they love getting a crafty package from me every month.
The only downside of writing to my granddarlings is that it tends to be a one-way street, communication wise.  They're too little to write proper letters, at least right now.
If you want to experience the full joy of writing and receiving letters, you're going to need a pen pal.
You might do what I did; put out a call for pen pals in your online community.  Another option might be to start exchanging letters with a relative or old friend who lives far away – someone you feel confident will write back.  The plus side here is that you'd be writing to someone you already have a connection with, so there's less anxiety about sharing personal information with a stranger.
If you'd like to combine the writing of letters with the doing of good deeds, consider getting a senior pen pal.
Pen Pals for Seniors matches volunteer correspondents with senior citizens who would like a Pen Pal from their area.  There is a screening and background check for volunteers and the seniors, which helps alleviate security concerns.  I love the idea behind this nonprofit. They're still pretty new but have already helped bring the joy of human connection into the lives of thousands of seniors.
WRITE. JUST WRITE.
Whoever you find to write to write to, I urge you explore and embrace the lost art of letter writing.  When life moves too quickly and words come cheap, letter writing is a simple, pleasurable, mindful way to engage in meaningful communication.
And it's about to make a comeback.
You heard it here first.