This post may contain affiliate links. Full disclosure policy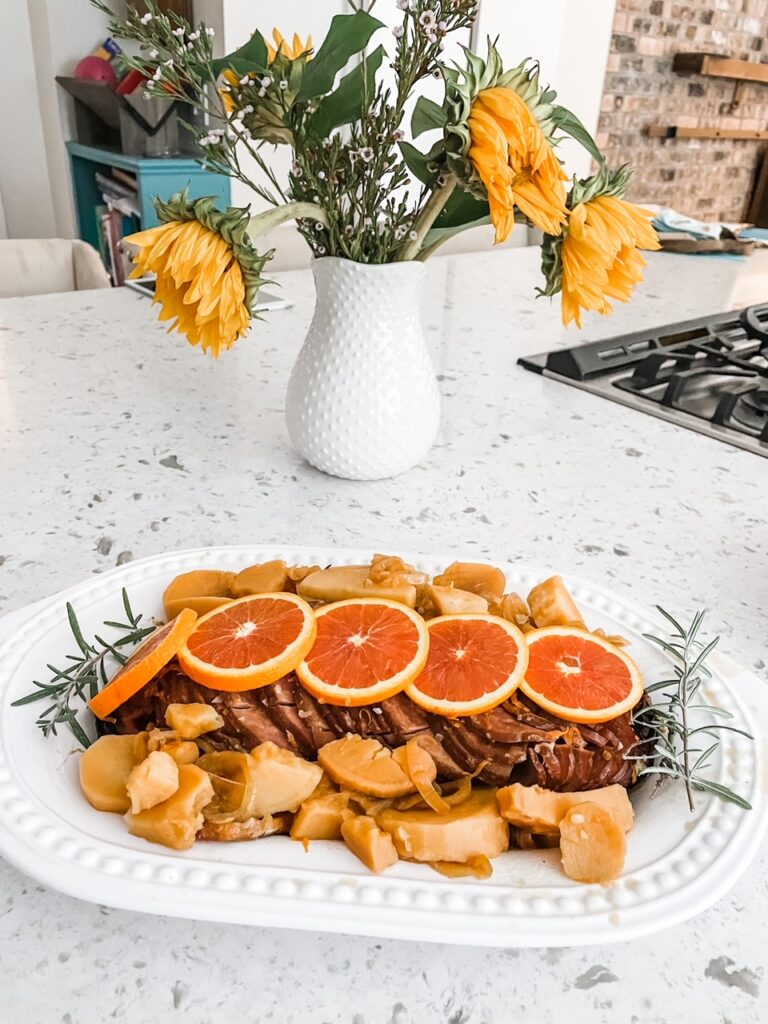 Juicy slices of tender ham slow-cooked in a sweet, savory, citrusy sauce. It's a dish the whole family will love and the easiest holiday dinner you'll ever make. So good! And so simple!
Citrus Slow Cooker Ham – For Easter or Anytime
Whenever I serve ham, I think of my dad.
There were four foods that Dad couldn't get enough of – shrimp, waffles, potato salad, and ham. We served all four at his celebration of life. Yes, it made for an unusual menu but I'm sure Dad would have approved.
But ham really did top the list of my father's favorite foods. And although Dad never had the chance to try my recipe for Citrus Slow Cooker Ham, I know he would have given it two thumbs up.
The citrusy, savory, not too sweet sauce goes just beautifully with the smoky ham. Utilizing the slow cooker helps make the ham really moist and tender, and brings a lovely, subtle flavor to every scrumptious bite.
Oh, and the other big plus about Citrus Slow Cooker Ham? It's incredibly easy to make.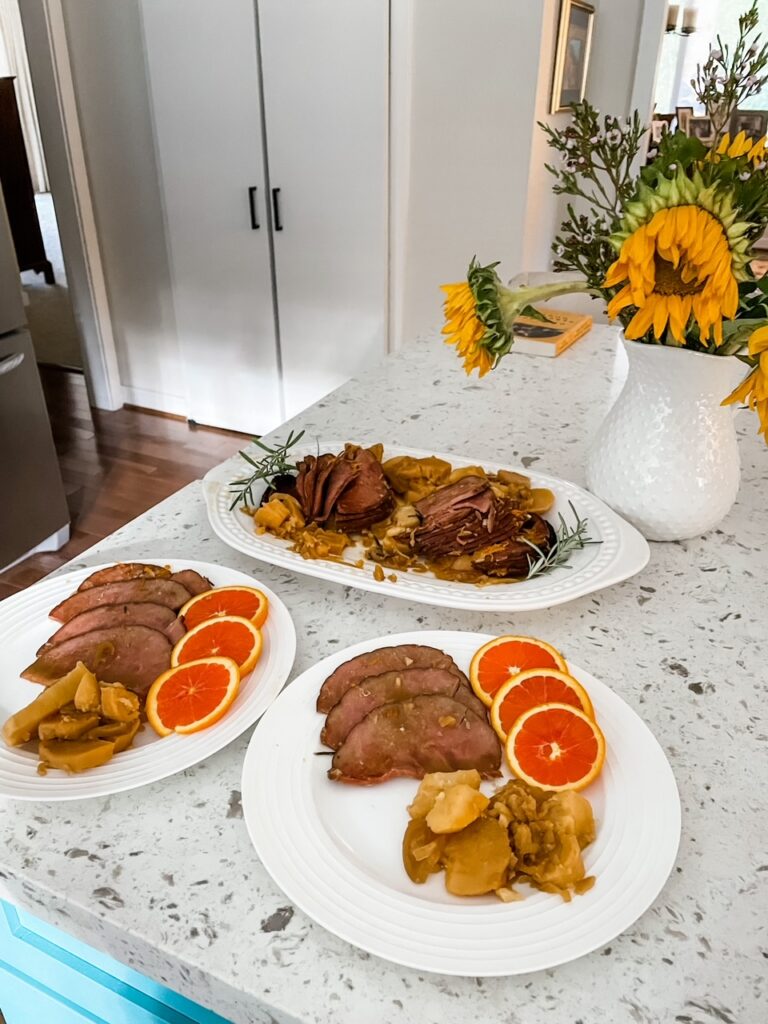 Citrus Slow Cooker Ham for A Stress-Free Holiday
If you're looking for a "fix it and forget it" recipe for Easter dinner, you've found it.
The slow cooker really does all the work here. All you have to do is some peeling, chopping, zesting, and stirring to pull the sauce together.
Once that's done, you'll place the ham on a bed of sweet potatoes and shallots, pour on the sauce, and go your merry way. A few hours later, dinner will be served. The only thing you'll need to do is put it on a plate and collect compliments.
Even so, I do have a couple of thoughts to share with you. Let's start with the oranges.
Citrus Slow Cooker Ham — Tips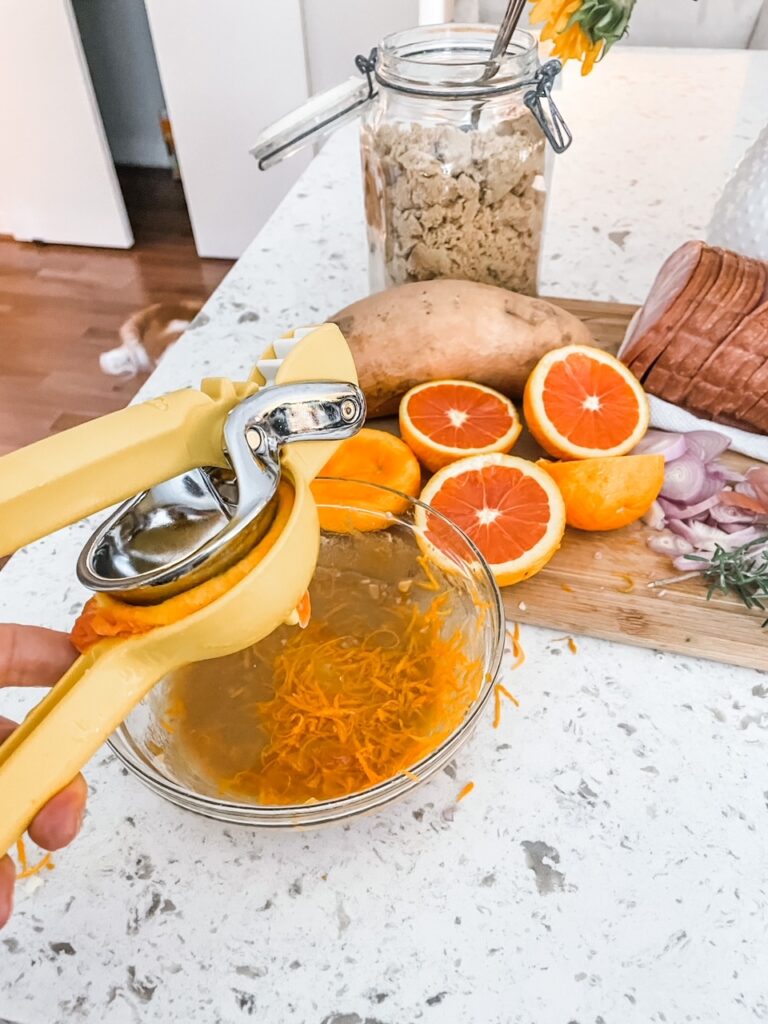 You really do need to use fresh oranges in this recipe. The orange juice is the basis for the sauce, and fresh just tastes so much better! But you're also going to use the zest from all three oranges.
I know that probably sounds like a lot of orange zest. But when you're using a slow cooker, you need to go big and bold on your flavors. Using the zest from all the oranges gives the ham a lovely, citrusy tang, even after a few hours of low and slow cooking.
If you must, you could use onions in place of the shallots. But I really prefer shallots because the flavor is a bit less sharp and more mellow than onions. They provide a subtle, savory taste that is noticeable but not overpowering.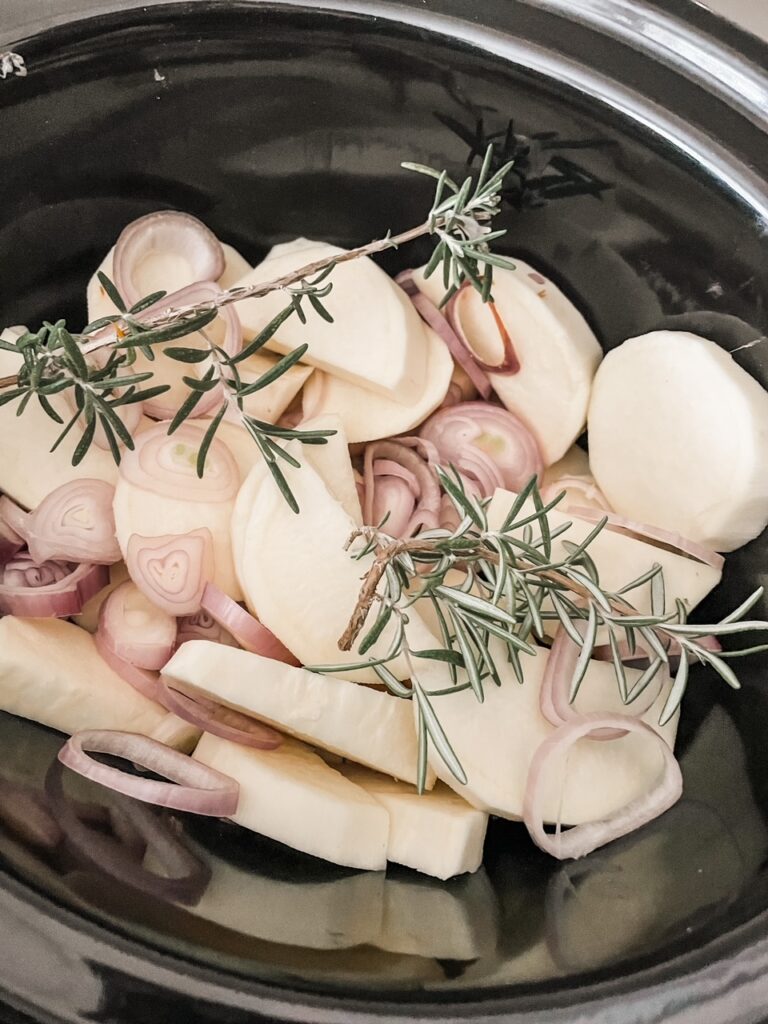 Not everyone loves mustard, so use either one or two tablespoons, depending on your preferences. But if you're concerned about the sauce getting too sweet, definitely go with the larger amount.
Rosemary is one of my very favorite herbs. I placed a sprig on the potatoes and shallots and then one on top of the ham. It adds a very subtle flavor and smells amazing. But if you don't care for rosemary, leave it out. You could also consider substituting fresh thyme.
You'll notice I added some nice big sweet potato slices to the recipe. They're not absolutely necessary to the ham, so you can leave them out if you want. But it does give you a yummy, instant side dish.
However, one reason you might want to leave out the potatoes is it would give you more room to make a bigger ham.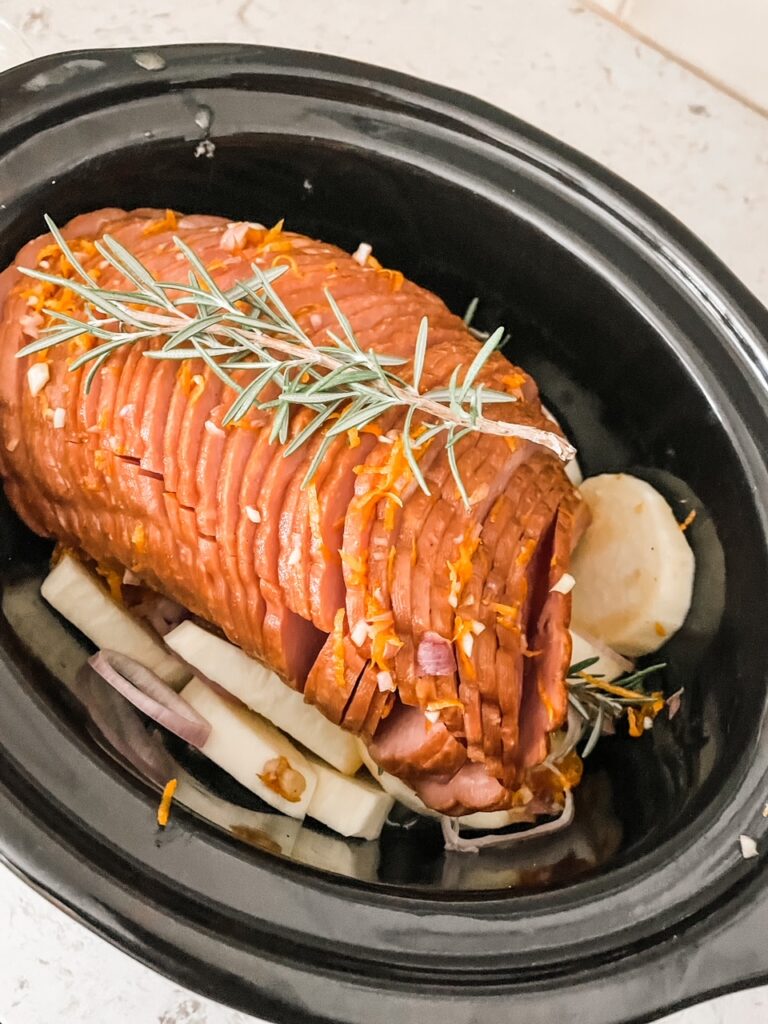 A Hearty Recipe for Easter
My recipe calls for a 2-3 pound sliced ham. That's all my slow cooker would hold, but you can use a bigger ham if you have a larger slow cooker. There is plenty of sauce already, so I don't think you'd need to make extra, even if you use a bigger ham.
Because the ham is already cooked, you'll use the low setting on your cooker. I accidentally had mine turned to high, which is why the end result was a little darker than I had planned.
But thanks to the slow cooking and that yummy sauce, it still tasted terrific and was moist and tender. A full proof recipe! Who doesn't love that?
Print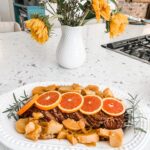 Citrus Slow Cooker Ham
---
Author:

Yield:

4

-

6

servings

1

x
2

–

3

lb sliced cooked ham

3

oranges (additional orange for garnish optional)

2

large shallots, divided

2

cloves garlic, minced

1

–

2

T Dijon mustard

¼ cup

brown sugar

1

large sweet potato (about

1.5

lbs), peeled and cut into thick slices or chunks

2

fresh rosemary sprigs (optional, can use extra for garnish)
kosher salt
pepper
---
Instructions
After rinsing off the oranges, use a zester or sharp paring knife to remove the orange zest and set aside. (The zest is just the bright orange part of the skin, leaving the white pith in place.) Cut the zested oranges in half. Squeeze out to the juice and set aside. You should get about ¾ cup of juice.
Mince one half of one of the shallots and set aside. Slice the remaining shallots. Place the sweet potatoes and sliced shallots in the slow cooker and stir together. If using, place one sprig of rosemary on top of the potato mixture.
Add minced shallots, Dijon mustard, minced garlic, and brown sugar to a medium sized bowl. Stir together to make a thick paste, then slowly pour in the orange juice. Add salt and pepper to taste.
Place the sliced ham in the slow cooker, on top of the potato mixture. Pour the sauce of the ham, spooning it between the ham slices. If using, place another sprig of rosemary on the ham.
Place the lid on the slow cooker. Cook the ham on the low setting of the slow cooker for 3 to 5 hours. Remove the ham and potato mixture from the low cooker. Discard the rosemary.
Place the ham and potatoes on platter. Garnish with extra orange slices and rosemary if desired.