This post may contain affiliate links. Full disclosure policy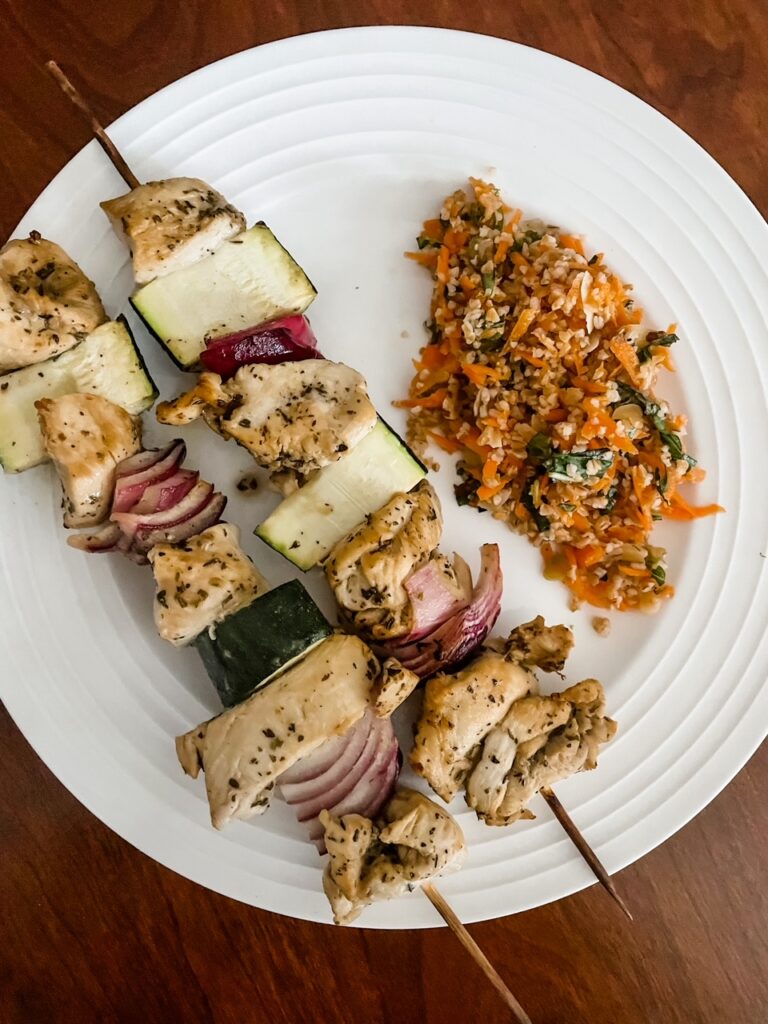 Skewers of tender chicken in a lemony herb marinade paired with colorful fresh vegetables, these Easy Mediterranean Chicken Skewers are a deliciously healthy dinner loaded with lots of Mediterranean-inspired flavor!
Easy Mediterranean Chicken Skewers – Because We're All About the Mediterranean Diet
Over the last few months, it felt like I couldn't open my news feed without finding an article on the health benefits of the Mediterranean Diet.
(In case you didn't know, the Mediterranean Diet is less like a diet than a style of eating. It includes lots and lots of vegetables and fruit, whole grains, legumes, and olive oil as a fat, a modest amount of dairy, fish, and poultry, with red meats, refined flour, and sweets consumed rarely.)
I've been hearing about Mediterranean eating for a while now. However, a new study linking it to significantly lowered levels of the plaque and brain tissue tangles associated with Alzheimer's really got my attention. That was enough to convince me to nudge my cooking more toward a Mediterranean style of eating.
And boy, am I glad I did! Because dishes like my Mediterranean Chicken Skewers aren't just good for you, they taste terrific!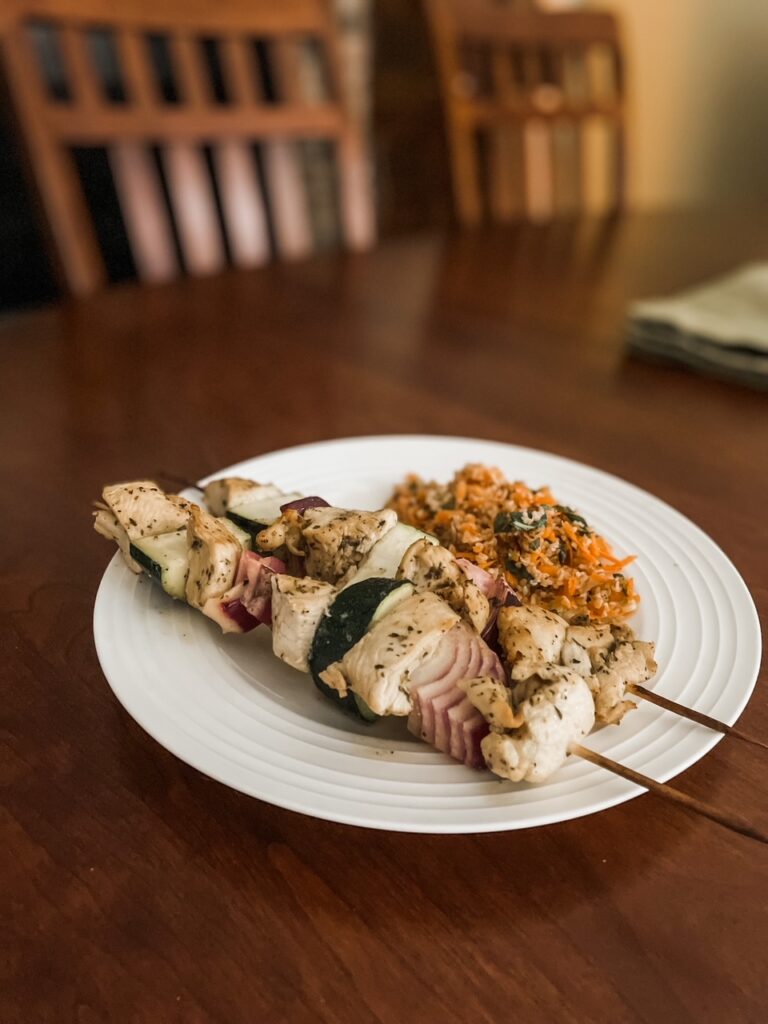 Easy Mediterranean Chicken Skewers – Because They Taste Amazing (And Kababs Are Fun)
Too often, recipes featuring skinless chicken breasts taste like something you eat because it's good for you, rather than something you eat because it tastes good.
But thanks to a super lemony marinade that includes olive oil and lots and lots of wonderful herbs, these Easy Mediterranean Chicken Skewers are the opposite of that. The marinade helps to tenderize the meat and infuse it with exquisite flavor.
In short, this is the chicken breast you'll want to eat. And because the recipe includes plenty of fresh vegetables, my Mediterranean Chicken Skewers aren't just healthy and delicious; they're filling and very satisfying.
One more selling point? All that tender marinated chicken and veggies are skewers, sometimes known as kababs. There's nothing not to love about that. Because eating stuff off a stick is just kind of fun!
How To Make Easy Mediterranean Chicken Skewers
Another mark in their favor is the fact that these easy Mediterranean Chicken Skewers are crazy simple to make – just like the name implies.
All you have to do is whisk the marinade ingredients together in a bowl, then put the chicken and the marinade in a plastic zipper bag and leave it to sit in the refrigerator for 2 to 4 hours.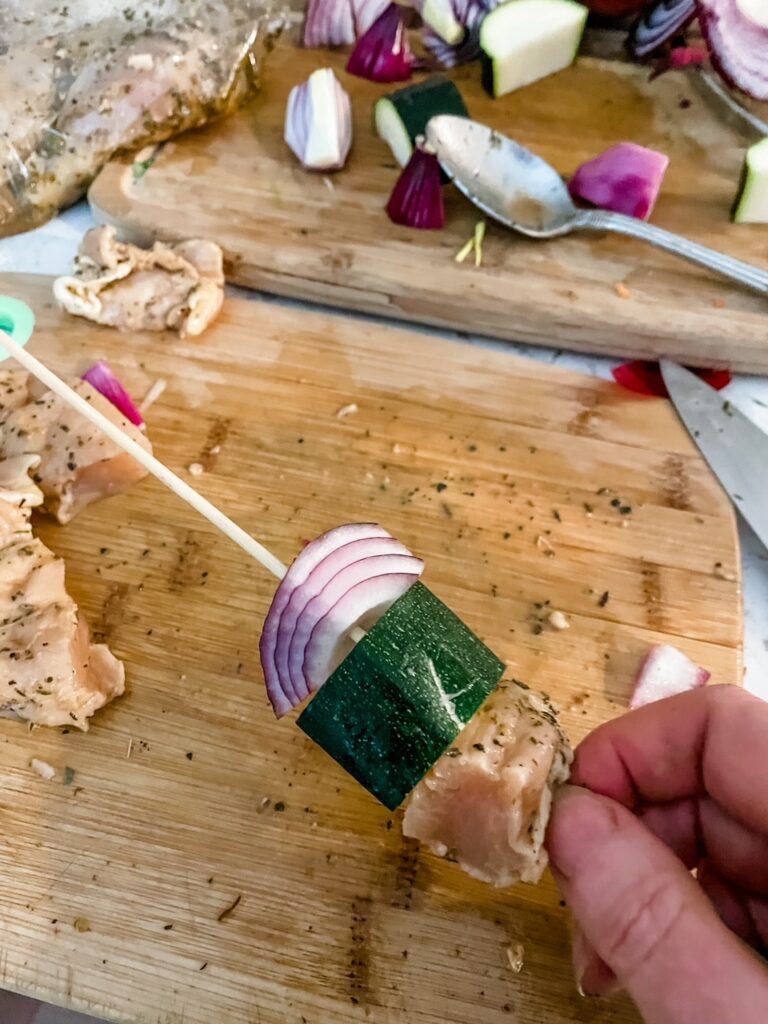 After that, you'll thread chunks of marinated chicken and vegetables onto skewers (bamboo or metal) and either broil them in the oven or cook them on the grill.
I've got a feeling this will be one of my go-to recipes this summer. But it's still a little too chilly to break out the grill yet, so I'm using my broiler for cooking these little beauties right now. Either way, they're oh-so tasty and super simple to prepare.
Easy Mediterranean Chicken Skewers – Tips, Subs, And Serving
Let's talk about the marinating time for this recipe.
There's quite a lot of lemon juice here. If you're not careful, the acid in it can sort of "cook" the chicken before you even get it into the oven, making the meat tough instead of tender. So, if you're going to cut the chicken into chunks, I would leave it in the marinade for no more than 2-4 hours.
But let's say you want to prep the recipe morning, let the chicken marinade during the day, and cook your skewers when you get home from work.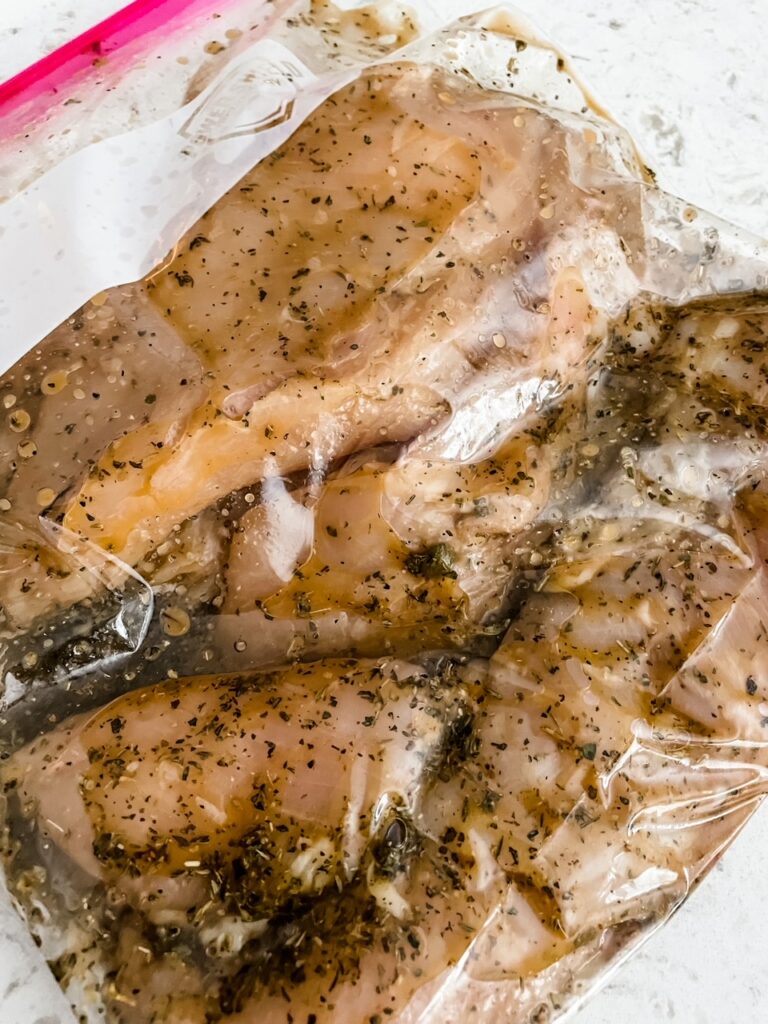 In that case, leave the breasts whole while you're marinating – as I did in the photos. Using larger pieces of chicken will keep the marinade from permeating the meat so much that it makes it tough.
When it comes to the vegetables, I used zucchini and red onion, but you can substitute whatever you like best and have on hand.
Red, yellow, and green bell peppers would be great here. So would other types of onions and squash. You could even use green onion, cutting the stalks into two-inch pieces and then threading them crossways onto the skewers.
If you want to toss the veggies into the marinade, you can, but I just poured a little extra over the top before cooking, and it worked well.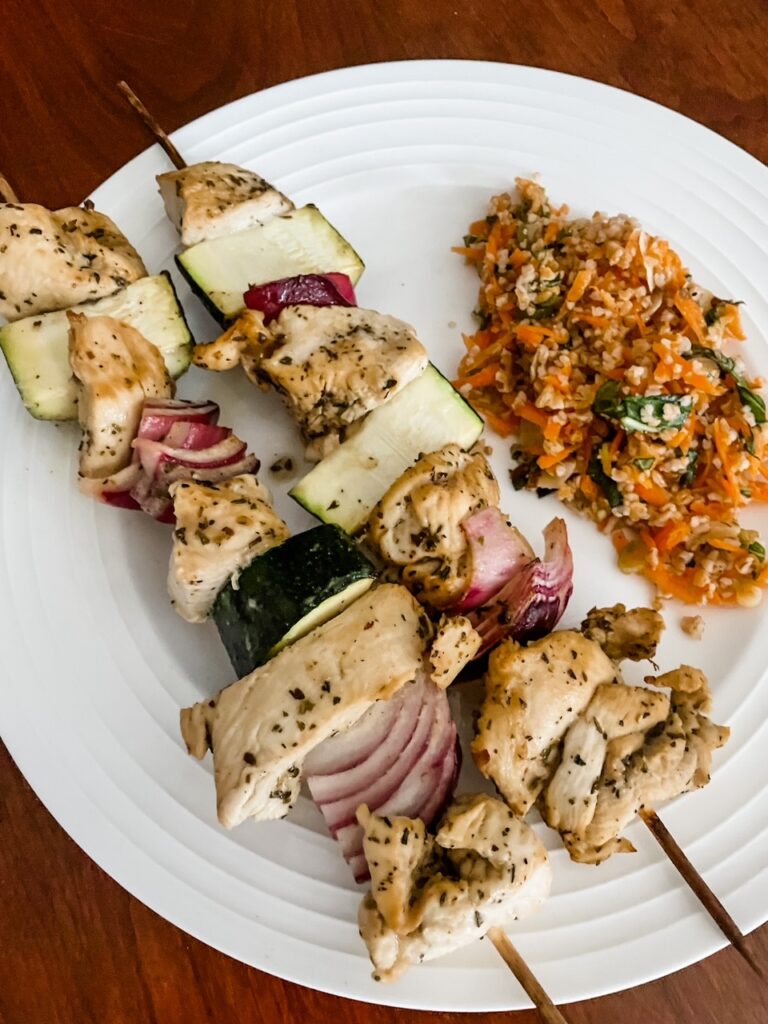 My recipe calls for two pounds of chicken, which would make eight servings. If you're a small family, couple, or single, you may want to half recipe. But I like to use part of the chicken for skewers and save the extra to toss onto salads. The cooked chicken should keep covered and refrigerated for 3 to 4 days.
These yummy Easy Mediterranean Chicken Skewers are pretty much a meal on a stick. Plate them with seasoned rice or couscous, and dinner is served!
Print
Easy Mediterranean Chicken Skewers
---
Author:

Yield:

Makes

8

skewers (approx.

4 oz

chicken per skewer)

1

x
For the marinade:
3

T olive oil

1

lemon, zested and juiced (you'll need about a quarter cup of juice)

1

T tamari or low sodium soy sauce

2 tsp

Dijon mustard

4

garlic cloves, peeled and minced

1 tsp

dried basil

1 tsp

dried oregano

1 tsp

dried thyme

1 tsp

Kosher salt

¼ tsp

fresh ground pepper

2 tsp

small capers with juice (optional)
For the skewers:
2

lbs boneless, skinless chicken breast (see instructions regarding preparation)

1

–

2

red onion, cut into chunks

2

small zucchini
---
Instructions
Whisk all the ingredients for the marinade together in a bowl, then pour into a plastic zipper bag.
Place the chicken the bag with the marinade, turning to coat the pieces. Push as much air out of the bag as possible, close the zipper, and place in refrigerator. If you cut the chicken into chunks (about 2 inches) beforehand, marinate for 2-4 hours. Whole breasts can be left in the marinade up to 12 hours, then cut into chunks before cooking.
If cooking skewers in the oven, preheat the oven (low broil) and position oven rack about 5-6 inches under the broiler. Line a large rimmed baking sheet with foil. (Skewers can also be grilled.)
Thread about 4 oz of marinated chicken onto bamboo or metal skewers with vegetables, alternating chicken chunks with the veggies.
Place skewers onto prepared baking sheet, drizzle extra marinade over the skewers. Put the pan with the skewers in the oven and broil around about 8-10 minutes, turning halfway through, or until the chicken reaches 165 degrees interior temperature. Grilled skewers should cook about 4-5 minutes per side, until chicken reaches 165 interior temperature.