This post may contain affiliate links. Full disclosure policy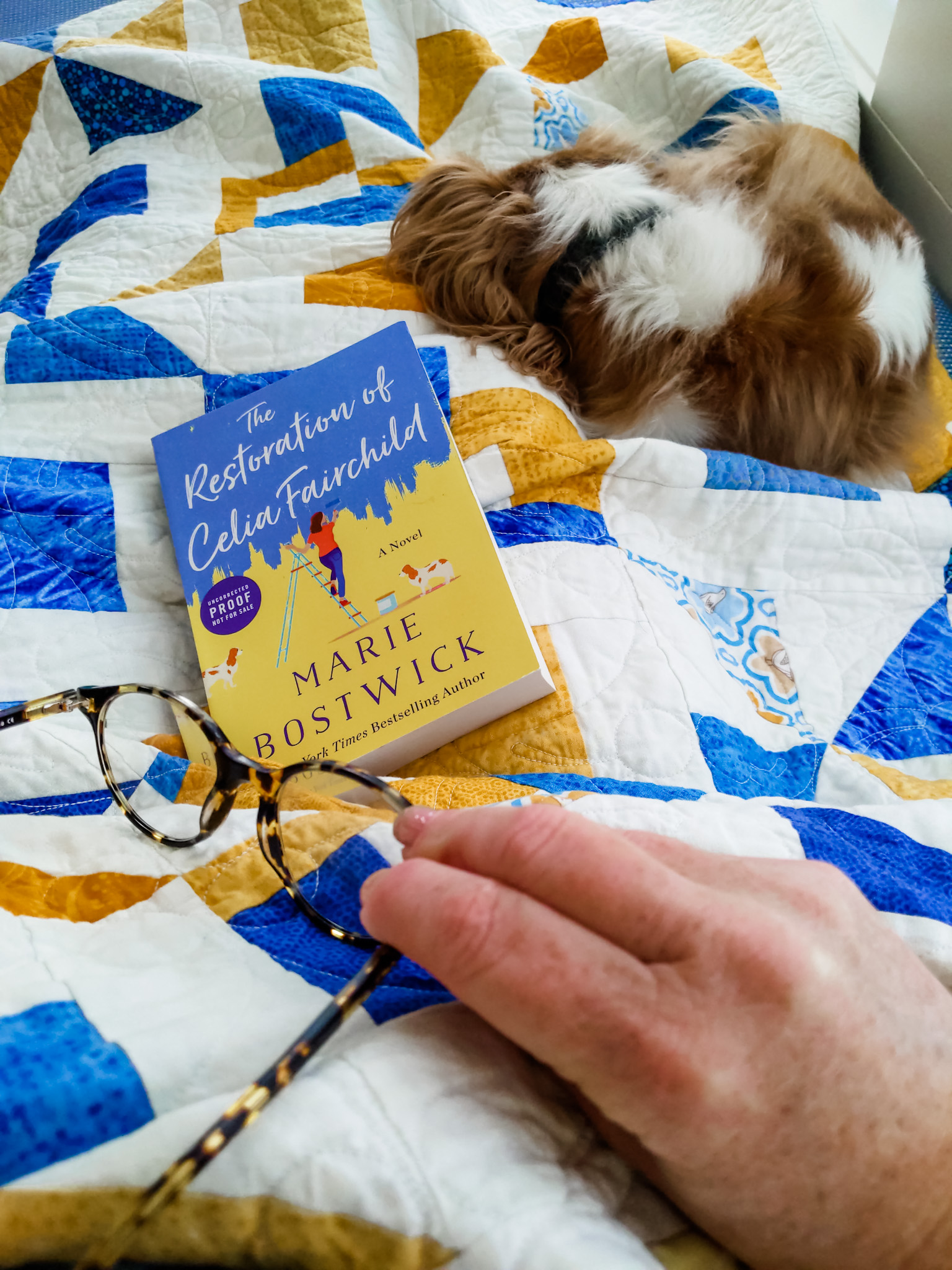 Today is March 1st. You know what that means, don't you? And why I'm so excited about it?
Because it's the start of a new month? No.
Because we've only got to wait seventeen days for an excuse to drink green beer and eat corned beef? No.
Because there are only six weeks until our taxes are due? Well…yes. Technically. At least, for Americans. But that upcoming date with the IRS is definitely not the source of my enthusiasm (Really, is anybody excited about doing their taxes?)
No, the reason I'm so over the moon, hopping up and down thrilled is that March 1st means that there is only one more day until The Restoration of Celia Fairchild will be released!
Releasing The Restoration of Celia Fairchild
Oh, my friends! I have poured two years of my life and a whole lot of myself into crafting this book. And now, at long last, the day of its release is almost here. I'm so excited, I really don't know how I'm going to sleep tonight.
And from the kind email and messages that have been coming in over the last few weeks, I know that many of you are just as impatient to meet Celia as I am to introduce you to her. With that in mind, I asked my publisher if I could share the first chapter of The Restoration of Celia Fairchild with everyone here, and my publisher has kindly agreed.
I realize that it's only a chapter, one that I hope will leave you wanting more. If you've already ordered the book, hopefully this will tide you over until tomorrow so you can fall asleep knowing that your questions about Celia's future will be answered in the morning.
And you haven't yet ordered The Restoration of Celia Fairchild, perhaps this glimpse into Celia's story will pique your interest? If so, you can get a copy from your local bookstore tomorrow, or by ordering here…or here…or here.
And now, my friends, it is my pleasure to introduce you to my dearest new imaginary friend, Celia Fairchild.
Chapter One of The Restoration of Celia Fairchild
The stage lights were blinding, not in a metaphorical way.
When the emcee introduced me and the audience began applauding, I exited from the wings, teeth bared in what was meant to be a smile but felt more like a grimace, squinting and blinking like a groundhog emerging from hibernation. I couldn't see a thing, including the black electrical cord that snaked from the front of the stage to the podium.
When I tripped and tumbled forward, I flailed frantically, like a cat who'd misjudged the distance from the balcony to the ground. If the quick-thinking emcee hadn't caught me under the arms, I'd have ended up doing a face-plant in front of seven hundred people who'd paid sixty dollars a head to eat chicken marsala and hear me talk.
Well . . . they didn't come to hear me. They came to hear Calpurnia, which isn't quite the same thing.
Against my better judgment, I'd worn a pair of five-inch heels to the fundraiser, hoping to stave off the inevitable comments of "Somehow I thought you'd be taller" that always followed fan meet-and-greets during my infrequent personal appearances. As many times as it's happened, I still never know what to say to that. I mean, what can you say? Sorry to disappoint you? I'll try harder? I drank coffee as a child and it stunted my growth?
I stand five foot four in my bare feet: not tall but not short either. In fact, it's the average height for American women. But that's not enough for Calpurnia's readers. They expect her to be above average in every way. And that (as well as the fact that I'm not really that famous and therefore not that deeply in demand) is why I almost never make personal appearances; after meeting me, people are bound to leave disappointed.
But how can you say no to a really good but sorely underfunded after-school program serving at-risk kids of single parents? You can't. Besides, my therapist said it was time for me to get out there again and she was probably right. So I squeezed into my only pair of Spanx and the glittery red evening dress that wasn't quite so tight only a few weeks ago, strapped on a pair of stupidly tall stilettos, and got out there.
Somewhere between tripping and tumbling, one of the heels broke off. After the emcee set me back on my feet, I hobbled toward the podium like Quasimodo.
A murmur of laughter rippled through the crowd. When my prayer for the floor to open and swallow me up went unanswered, I did what Calpurnia would have done: I brazened it out.
Gripping both sides of the podium, I leaned forward so my mouth hovered just in front of the microphone, and drawled, "Well. What can I say? I always did like making an entrance."
The crowd laughed again but this time they laughed with me instead of at me. I smiled. "Guess I don't need these anymore, do I?" I reached down, slipped off one shoe, then the next, and tossed them to a fifty-something man in the front row who, thanks to the sparkly green vest he wore under his tux, was the only person I could actually see. "Here you go, sugar. They're just your size."
The crowd went crazy, howling with laughter and applauding for at least a full minute. Honestly, I think that a lot of them thought I'd planned the whole thing, that this was just part of the show. And I guess it was, in a way.
But that's why I hate these things, because it's all a show. That's also why—only sometimes and only a little bit—I kind of hate my fans too. Because they aren't really mine, are they? They don't want me; they want the show. They want Calpurnia.
After I'd made brief remarks about the important mission of the program and how the money raised today would impact the lives of kids all over the city, somebody finally lowered the stage lights so I could see the audience and take questions. The man in the sparkly vest, still clutching my broken stiletto, was first to the microphone.
"This is really more of a comment than a question," he said. "But I'm a big fan. I feel like I know you and I wanted to say, well . . . I just love you."
See what I mean?
How can he love me? He doesn't even know me. And I've had enough of that!
Sorry. Deep breath.
Look, I get it that we are dealing with hyperbole here and that love is maybe the most overused word in the English language, the second most overused being hate. Sparkly Vest Man doesn't love me. He likes me or, more accurately, he likes what I write. It's a compliment. I get it. Sparkly Vest Man doesn't love me and I don't hate him. But I do find him irritating, more now than I would have even a few months ago.
It only took five thousand dollars and four months of counseling with a slightly cruel therapist for me to understand that the reason I keep getting my heart broken is that I am desperate, too desperate, to regain what was taken from me so many years ago. Desperation will make you do dumb things, like ignoring red flags and the warnings of too-frank friends.
But none of that was Sparkly Vest Man's fault, so I smiled and said the only thing I could say, "Well, I love you too, sugar," then took the next question, and the next, and the next.
They asked me about finances and fiancés, former wives, wished-for careers, and thwarted dreams. But really, they were all looking for the same thing, hope and a way forward. As they came up to the microphone to tell their stories, irritation gave way to tenderness, and then to admiration. Their vulnerability was touching and, as I thought about it, really kind of brave.
If I were as brave as they were, maybe I would have lifted up my hand, stopped them mid-question, and told them what a mess my life is, what a mess I am. But I'm not that brave. Even if I were, how does knowing that help them?
I did my best. I listened to what they were saying—and what they weren't saying—and tried to be the Calpurnia they were counting on, pointing them in the right direction. It's crazy that talking should be so exhausting but it is. I was grateful when the emcee said that we'd run out of time. The audience started to applaud once more. I smiled, and waved, and walked into the wings in my bare feet with the hem of my glittery red evening dress dragging behind me, carving a dusty trail on the black stage floor.
Backstage, the executive director of the program found me a pair of flip-flops, the thin, flimsy kind you wear for pedicures, then put me into a cab for the ride back to my apartment. The driver was kind of chatty but I deflected his questions and closed my eyes, making it clear I wasn't up for conversation. The only thing I wanted to do was get home, take off the glittery gown with the dirty hem, extricate myself from the boa constrictor death-grip of the Spanx, and go to bed.
I was tired, so tired that I thought about letting the call go to voicemail. But no matter how hard I try, even when the screen says "Number Unknown" or even "Possible Spam," I cannot ignore a ringing phone. There's this part of me that always thinks, or maybe just hopes, it'll be good news. Or bad?
Either way, I can't stop myself from wanting to know.
Months would pass before the verdict was in on Good vs. Bad. But from the moment I answered that call and a voice said, "Ms. Fairchild? This is Anne Dowling. I'm an adoption attorney," my life would never be the same.
Don't forget!
Order your copy of The Restoration of Celia Fairchild here!