This post may contain affiliate links. Full disclosure policy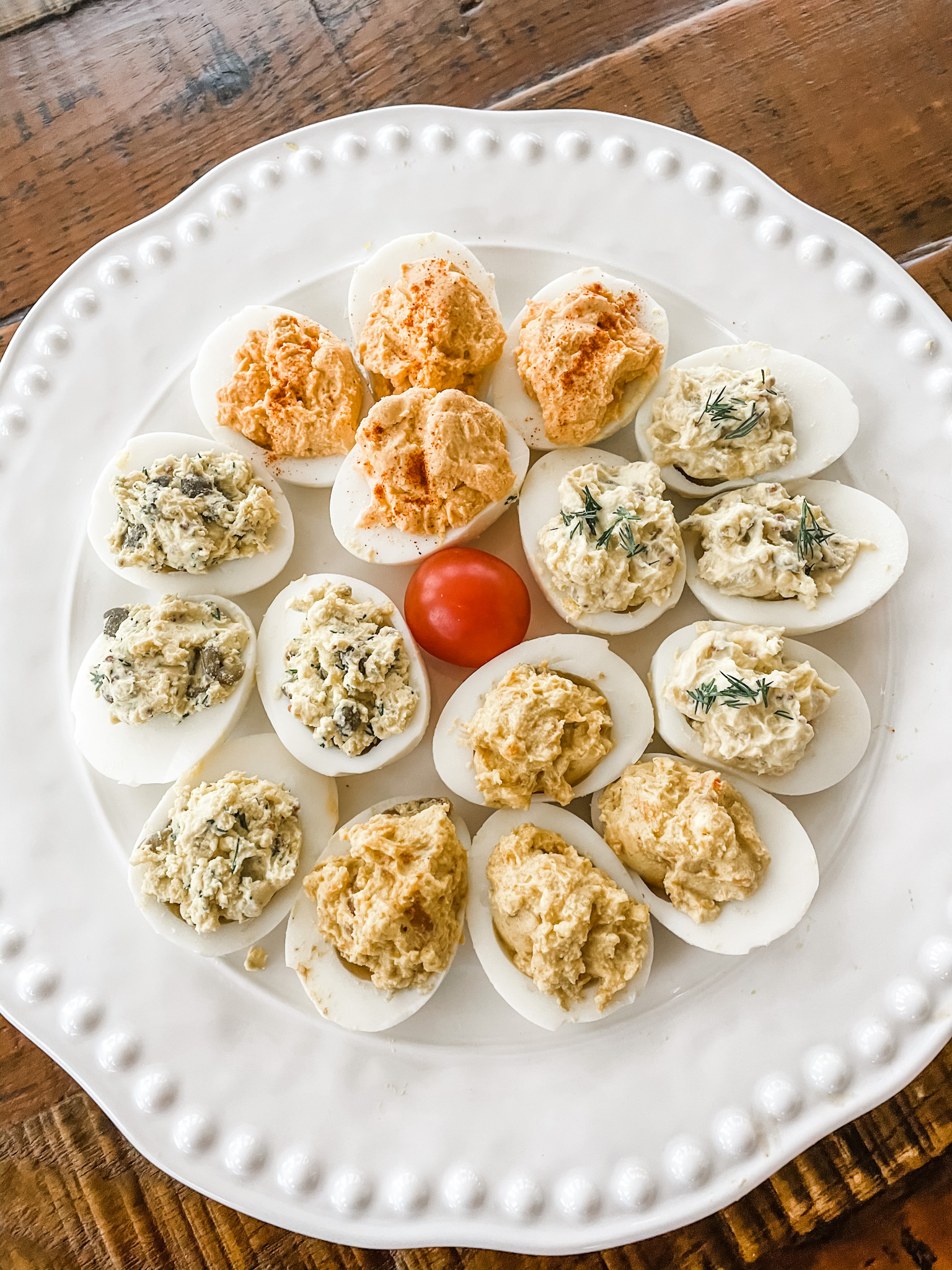 Those classic deviled egg recipes we grew up with are a great way to use up your leftover hard-boiled eggs. My Lighter Deviled Eggs are a healthier take on the classic with four different, delicious, easy-to-make versions!
The Post-Easter Problem
Easter is on the way!
That means lots of egg dyeing and fun Easter egg hunts! But what happens when the hunt is over and the eggs have all been found? What are you going to do with all those hard-boiled eggs?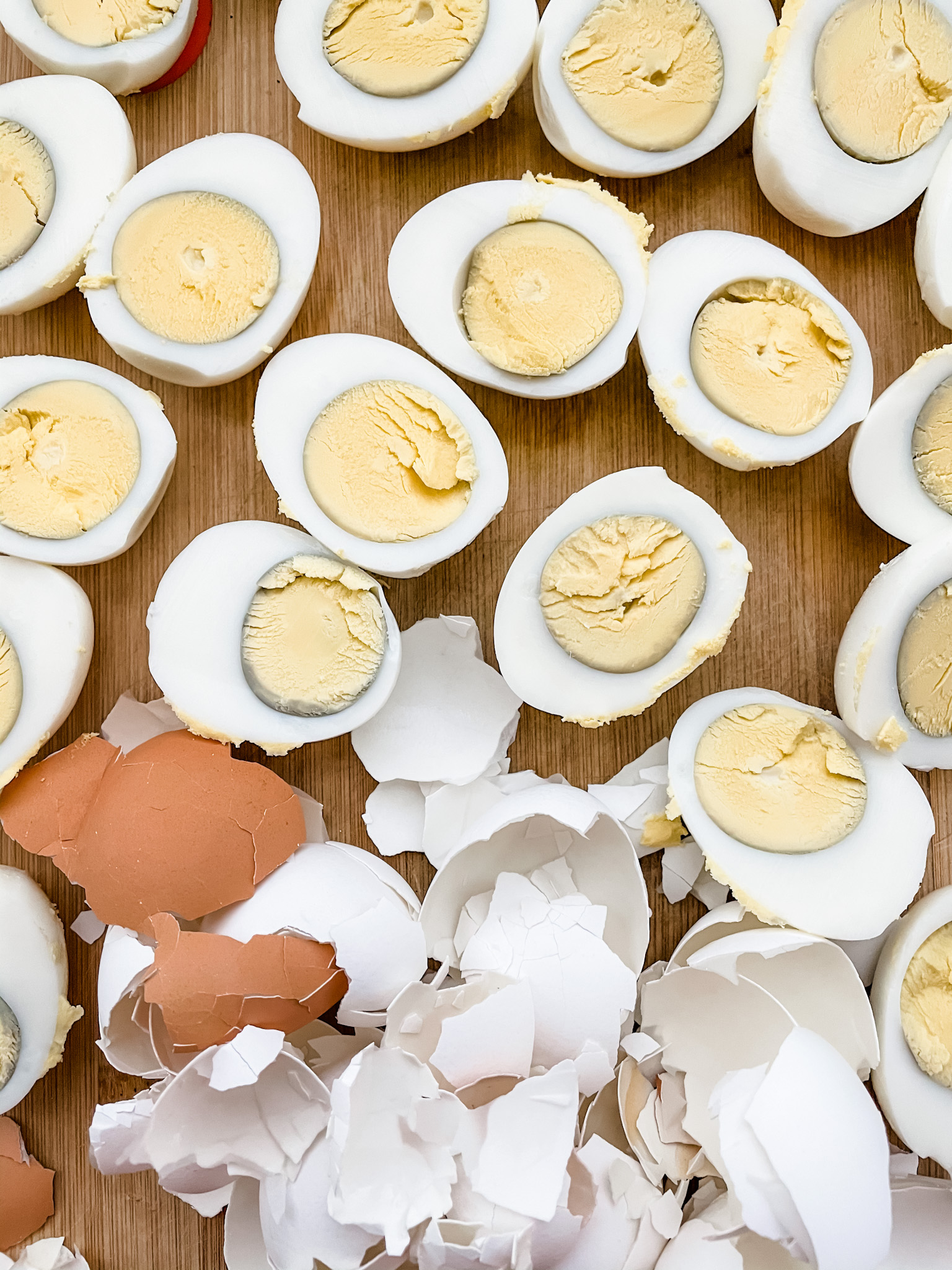 Not to worry, friends. I have a solution.
My recipe for Lighter Deviled Eggs Four Ways is just what the doctor – or maybe the Easter Bunny – ordered. And a deliciously easy way to make sure those eggs don't go to waste.
A Lighter Take on a Family Favorite
I really like a good deviled egg. And my husband? He absolutely LOVES them.
But there's only one problem with those delicious deviled eggs we all grew up eating – they're often made with a LOT of mayonnaise. And a lot of mayonnaise adds up to a lot of fat and calories.
Fortunately, there's an easy secret to creating healthier deviled eggs. And it involves a couple of my favorite, go-to ingredients for making lighter versions of so many classic recipes.
So Good You Won't Miss the Mayo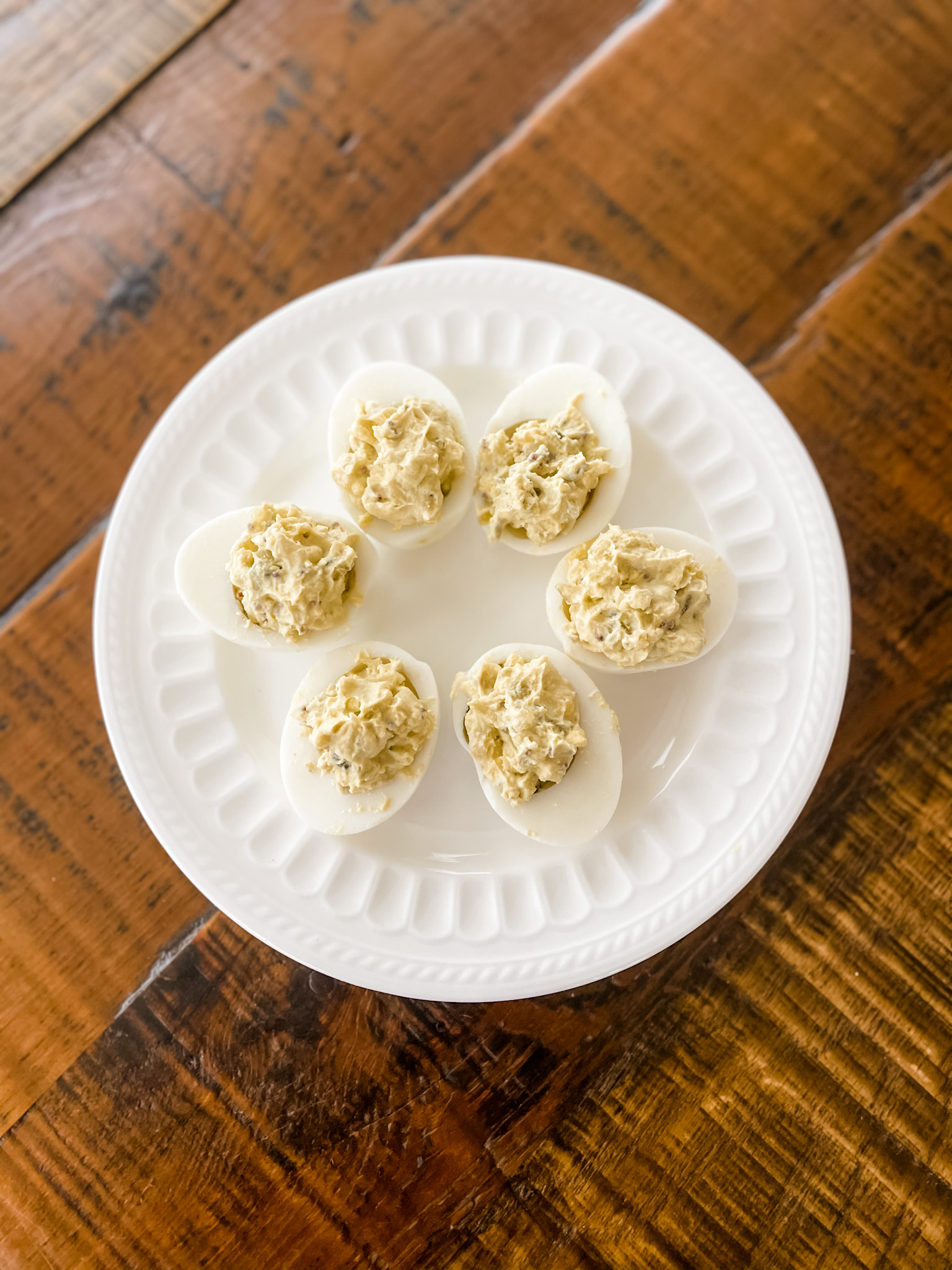 Non-fat Greek yogurt is kind of a miracle ingredient in my book. It's thick, creamy, tangy, and high in protein. Best of all, it's "non-fat".
As in…there's NO FAT in it. Genius!
Non-fat Greek yogurt can be a great stand-in for so many of its higher fat cousins – like regular or sour cream and, yes, mayonnaise. At least in part.
For my first attempt at creating lighter deviled eggs, I tried substituting just non-fat Greek yogurt for all mayonnaise. It was okay but not great. A really yummy deviled egg does require a little bit of fat. But not as much as you might think.
Adding just two teaspoons of light mayonnaise to one tablespoon of non-fat Greek yogurt gave me a satisfyingly creamy result that tasted very similar to the traditional, mayonnaise-laden recipe I've used in the past.
With that problem solved, I turned to the issue of jazzing up the recipe and creating some fun and tasty versions of deviled eggs.
When Did Lighter Deviled Eggs Become Fashionable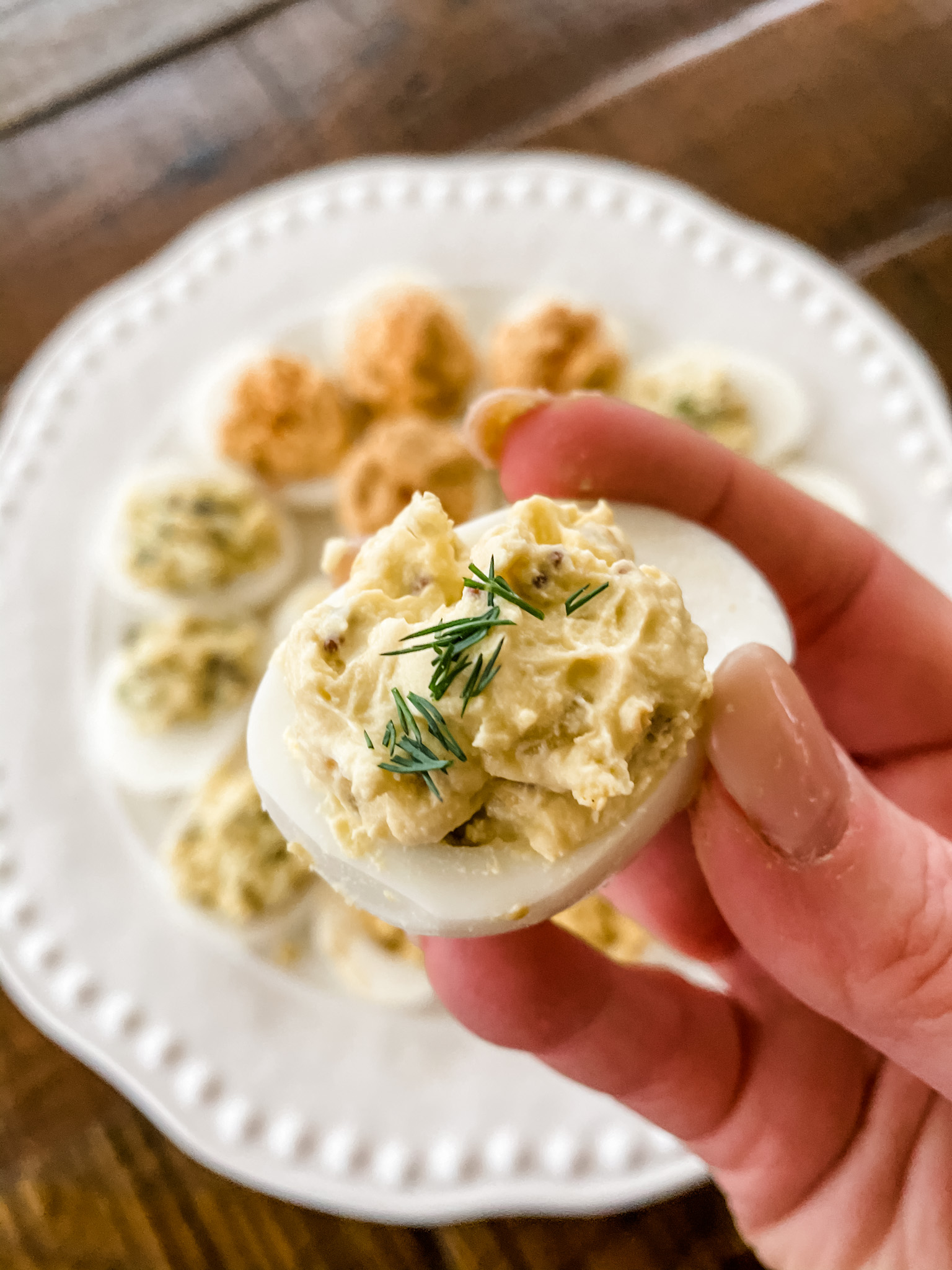 I don't know if you remember but a few years back, deviled eggs got to be a thing. Suddenly, every upscale restaurant I walked into had deviled eggs on the appetizer menu.
But these weren't just any deviled eggs. Oh, no.
These were super fancy deviled eggs, made with Russian caviar and French truffle oil and Unicorn Tears and Flakes of Real Gold!
Okay, I never actually saw unicorn tears or gold on the menus. But I have to assume that they were in there. Because how else could they justify charging fifteen bucks for a deviled egg?
Delicious Lighter Deviled Eggs Four Ways! Choose Your Own Adventure!
My Lighter Deviled Eggs Four Ways don't include unicorn tears or gold. But they're absolutely delish. And super easy to make.
I started with the same basic recipe for each version, using non-fat Greek yogurt and a little low-fat mayo to create a deliciously smooth and creamy filling for the deviled eggs.
Then I created four different tasty versions. By adding a few different ingredients to the basic recipe, you can make Traditional, Smokey and Spicy, Curried, or Dilly Deviled Eggs. They're all really good, but you might want to experiment with the different types to find your favorite.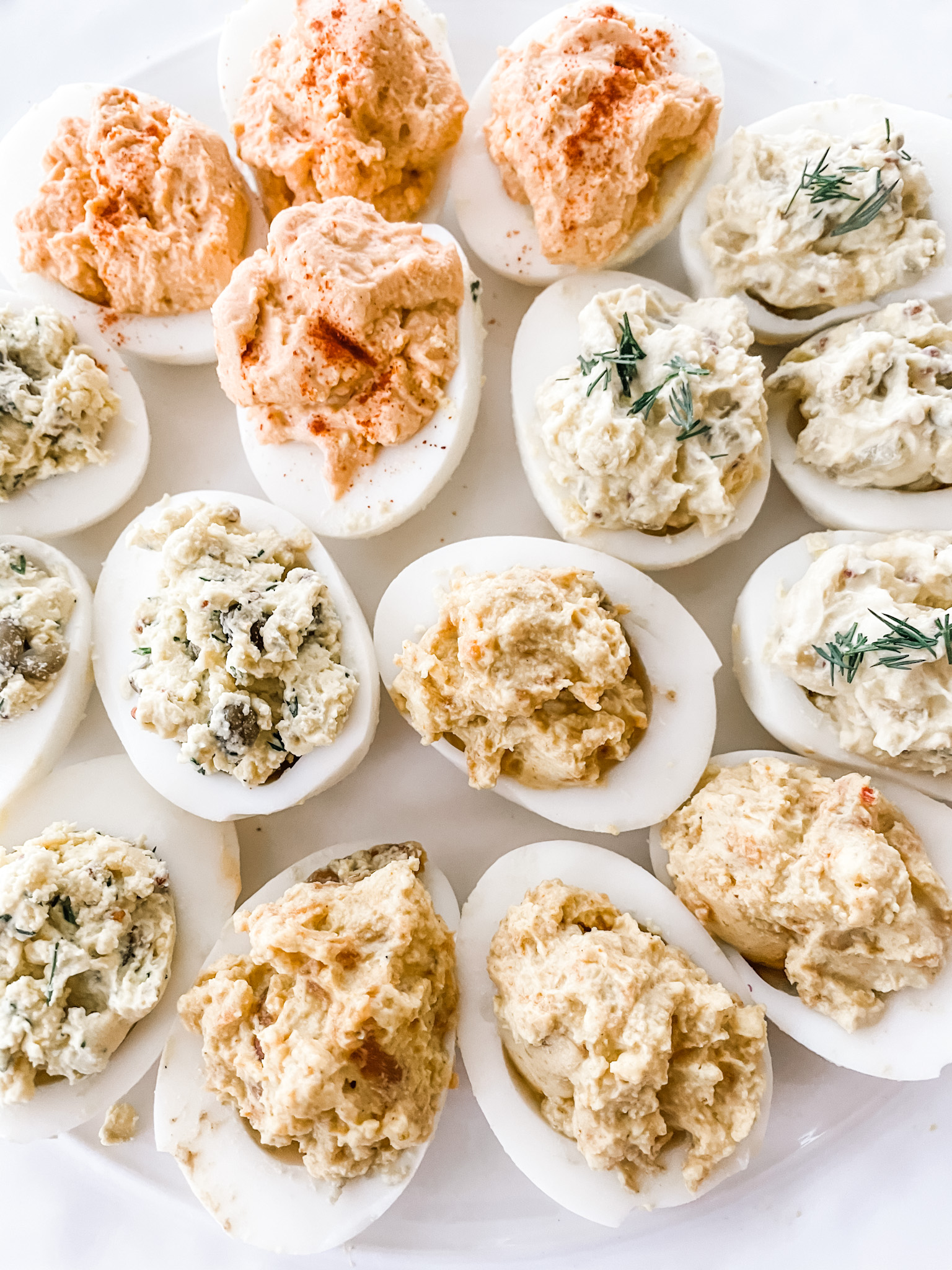 Easter is Coming – And So Are the Eggs!
My basic recipe for Lighter Deviled Eggs uses three boiled eggs, which makes a nice appetizer for two or three people.
But if you've got a lot of post-Easter boiled eggs on hand, you might want to use a dozen eggs and make all four versions. After all, deviled eggs are a family favorite. And serving a whole smorgasbord of these beautiful deviled eggs would be a wonderful treat for family or guests.
They would also make a terrific appetizer to bring to a potluck or party. I guarantee you, you'll come home with an empty platter. Give them a try!
Print
Lighter Deviled Eggs – Four Ways
---
3 hard boiled eggs
3 T plain, non-fat Greek Yogurt
2 T light mayonnaise
salt and pepper to taste
Basic Recipe:
Scoop egg yolk from center of each boiled egg half and place in a small bowl. Set egg whites aside on a plate.
Add yogurt, mayonnaise, and salt to the bowl. Using the back of a fork, mash egg yolk and other ingredients (including ingredients from the various versions if using) together until smooth.
Stuff egg whites with the mashed egg yolk mixture and serve.
Traditional Deviled Eggs
To the basic recipe, add

1 tsp

Dijon mustard

2 tsp

sweet or dill pickle relish
Smoky and Spicy Deviled Eggs
To the basic recipe, add

1

–

2

tsp hot sauce, such as Cholula brand

½ tsp

smoked paprika
Dilly Deviled Eggs
To the basic recipe, add

2 tsp

capers, roughly chopped

1 tsp

Dijon mustard

1 tsp

fresh chopped dill, plus more to sprinkle on top
Curried Deviled Eggs
To the basic recipe, add

2 tsp

prepared chutney

½ tsp

mild curry powder
---