This post may contain affiliate links. Full disclosure policy
When the temperatures rise over a certain degree, I switch from my regular hot mug of coffee to cold brew I make at home. I just heap ground local coffee into my French press, fill with cold water, and let it sit overnight. It is a summer treat that I look forward to every morning when Showgirl wakes me up. I rise giddy and excited knowing that I don't have to wait the two minutes for my hot coffee to brew. It's like I've gotten ahead of the game. 
Have you heard of the book When you Give a Mouse a Cookie? I must confess that I'm a bit like that too. If you give me an ice-cold glass of cold brew, I'm going to want a muffin. Now there's my one-point miracle muffins, or my fiesta miracle muffins, but the ones I really crave in the summer are old fashioned strawberry muffins. And as luck would have it, I am the keeper of the best strawberry muffin recipe in all of the world.
I usually make a dozen and pop them in the freezer so I can enjoy one at a time. That's the key phrase here: one. at. a. time. The other strategy I employ often is to share them with neighbors. This is a win for everybody.
Sure, brown butter is a little on the indulgent side. But the amount per serving isn't anything to raise your eyebrows about, so don't get too worried! Plus, there's no sugar – just honey. Whole wheat flour makes these a little more health forward as well. And there's some Greek yogurt in this recipe too, and eggs, and almond milk so…you know, protein.
See how I am talking myself into it? These muffins are basically health food. This is what I tell myself.
On the other hand, when the berries are ripe and luscious and oh-so-sweet, do we really need justification? I don't think so.
Making the Most of Strawberry Season
This time of year, no matter where you live, it seems that supermarkets, farmer's markets, and roadside stands are just brimming with the ripest, juiciest strawberries. They are really the best you will get all year. So why not make the most of it? I usually go for all the greatest hits, like my strawberry margaritas or my effortlessly adorable mason jar strawberry shortcakes.
When it comes to strawberries, there's something for everyone, especially on Pinterest. With my extra strawberries this year, I've been eying this strawberry balsamic chicken from Gimme Some Oven and this strawberry salsa from Closet Cooking. Something about using them in a non-traditional, savory way that really has piqued my interest. Who knew they were so versatile?
Ok, enough daydreaming about food. Here's the best strawberry muffin recipe ever. I'm sure you will love them as much as I do!
Print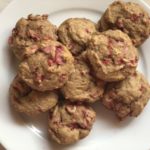 The Best Strawberry Muffin Recipe
---
Author:

Prep Time:

10

Cook Time:

15

Total Time:

25 minutes

Yield:

12

muffins

1

x
10 oz

. chopped fresh strawberries

1/4 cup

all purpose flour

4

TB unsalted butter

1/4 cup

non-fat plain Greek yogurt

1/2 cup

almond milk (I use unsweetened vanilla but just use the milk of your choice)

1 tsp

vanilla

2

eggs, beaten

1 tsp

baking powder

1/2 tsp

baking soda

1/2 tsp

salt

1 cup

whole wheat flour

1/2 cup

white flour
nonstick cooking spray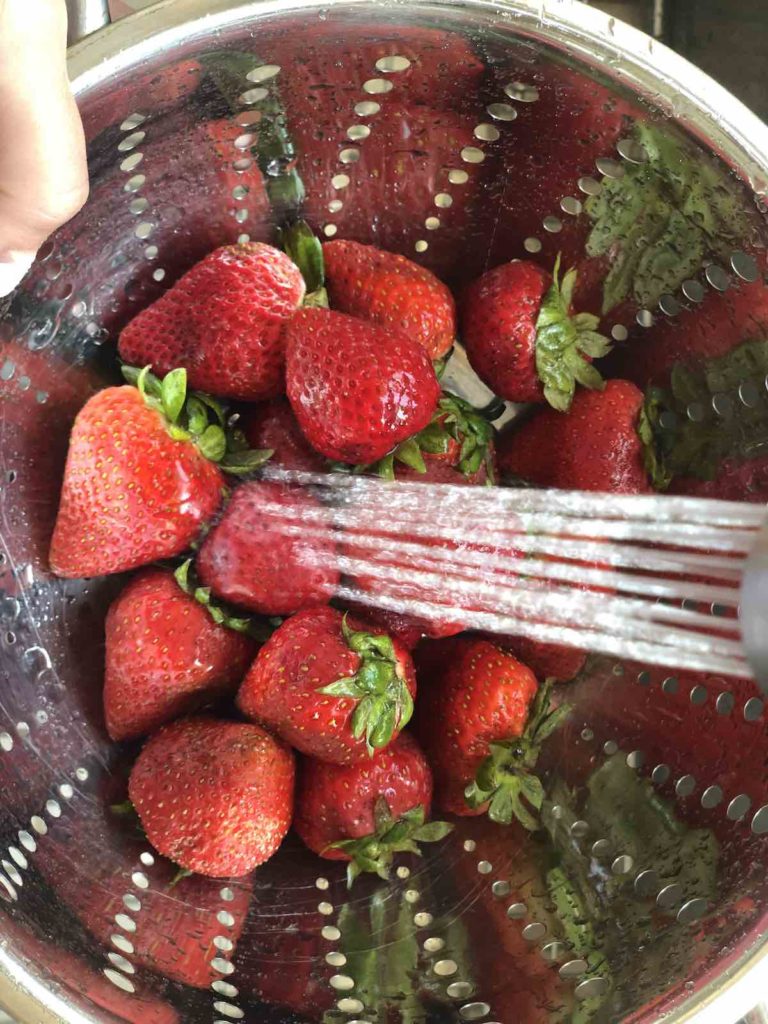 ---
Instructions
Preheat oven to 375 degrees F.
To make the brown butter, melt 4 TB of butter in a medium saucepan and heat over medium, stirring occasionally. Let it cook until it darkens to a golden brown color with a toasty smell, about 5 minutes. Let it cool before adding to the recipe and makes sure to scrape the brown bits out of the pan! That is going to give these muffins some serious personality.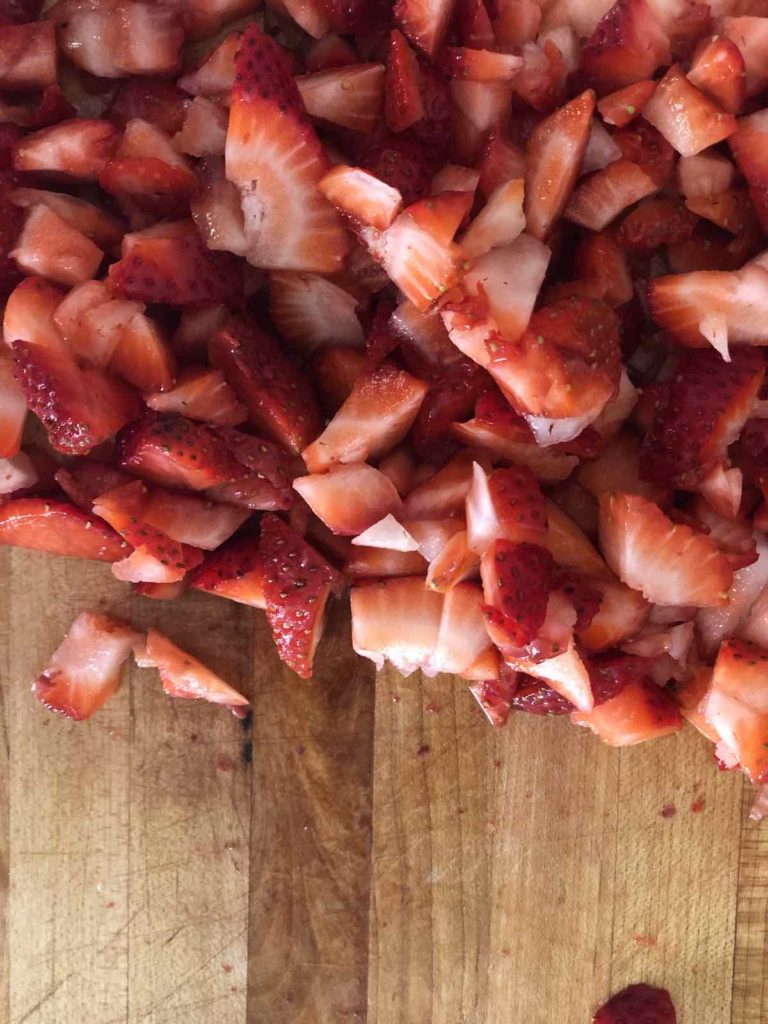 In a medium bowl, combine fresh strawberries with 1/4 cup flour. Toss to coat.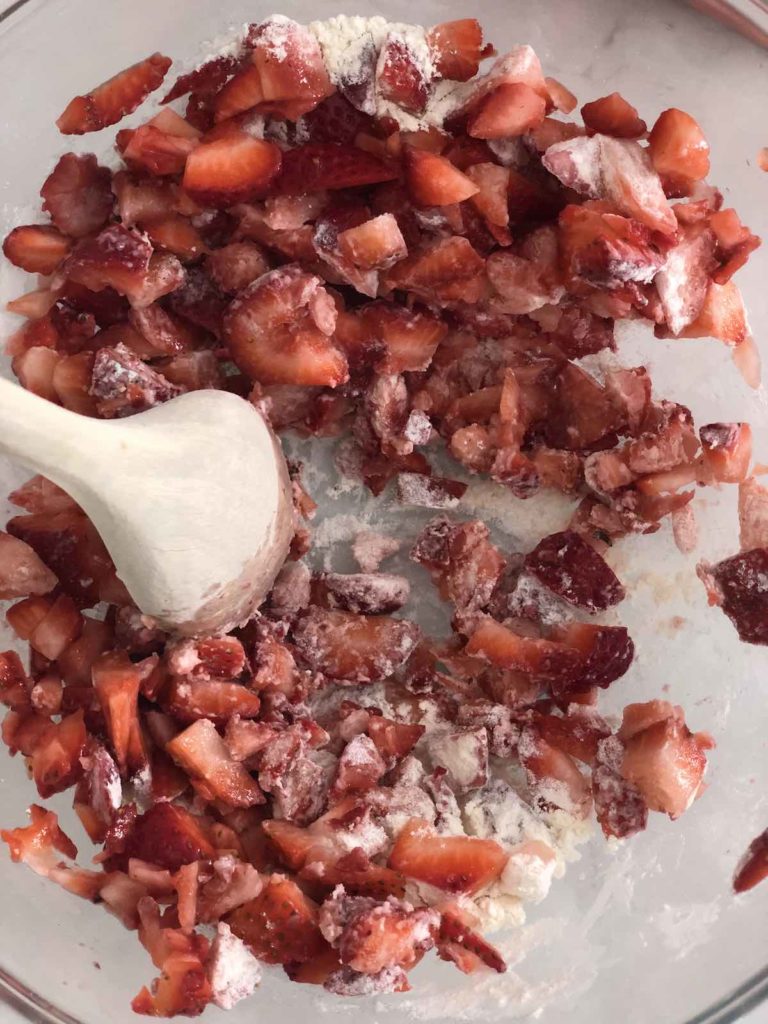 In a separate bowl, combine the wet ingredients – the cooled brown butter along with the Greek yogurt, almond milk, vanilla, and eggs. Whisk until smooth.
In a large bowl, combine the dry ingredients – the whole wheat and white flour, baking powder, baking soda, and salt. Mix well.
Add the wet ingredients to the dry. Be careful not to overmix here.
Carefully fold in those juicy bursts of strawberries.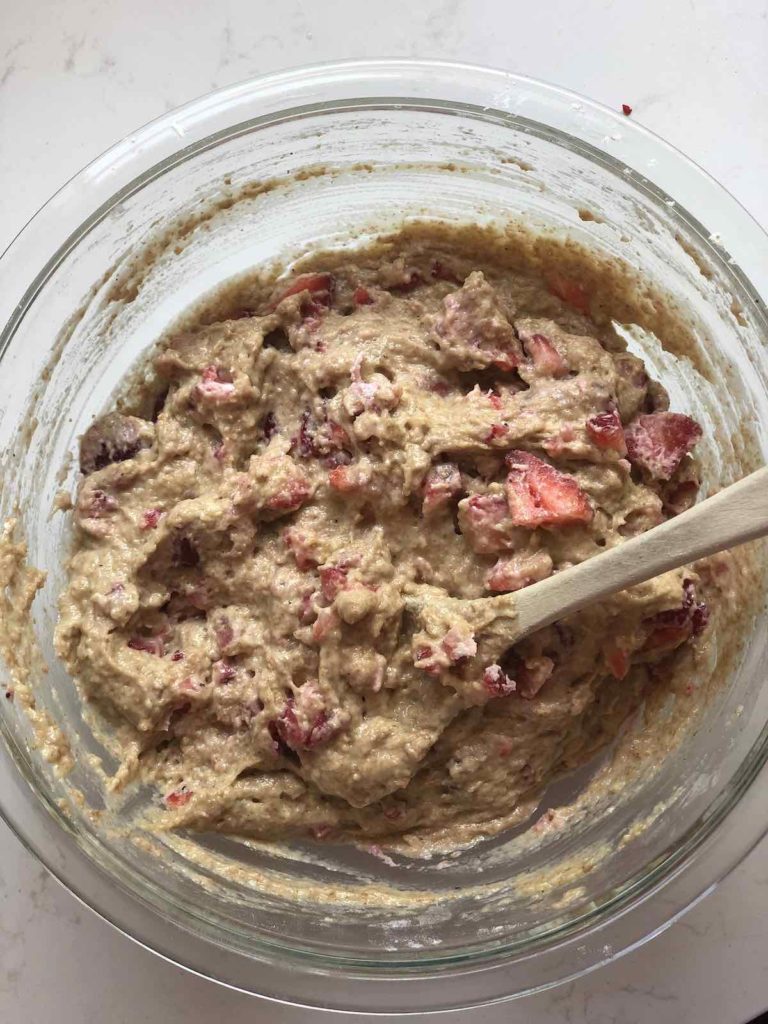 Using either paper muffin liners or non stick spray to avoid muffins sadly sticking to your muffin tin, prepare your muffin tin for the batter.
Divide batter evenly in muffin tin.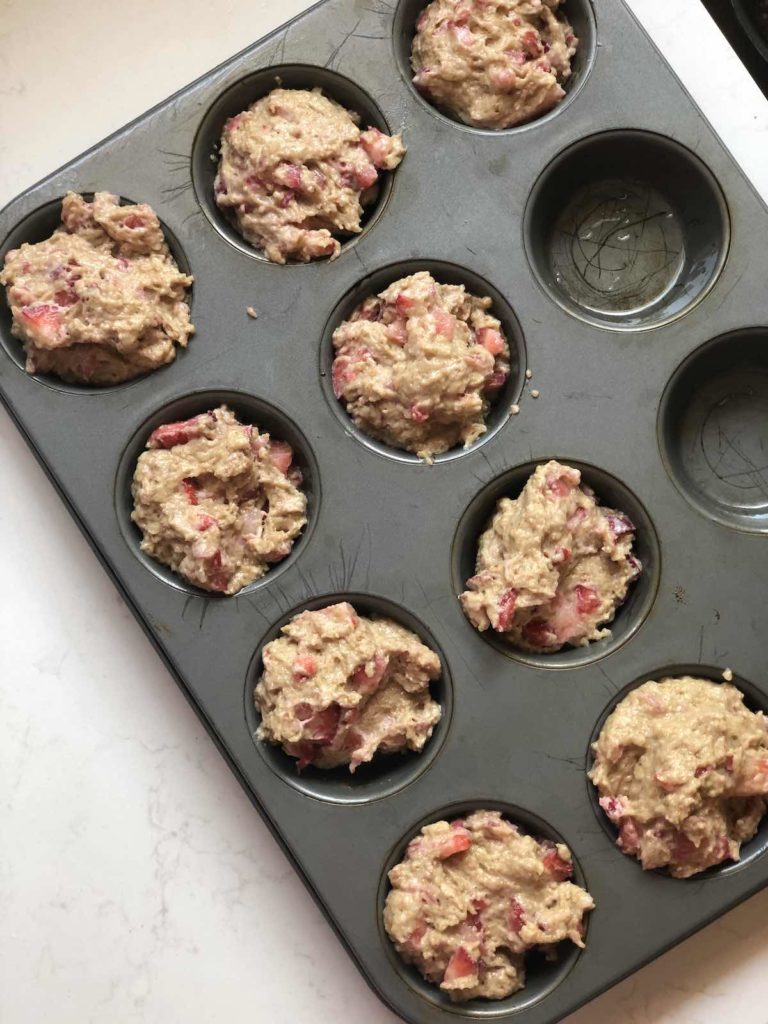 Bake for 15 minutes or until a toothpick comes out clean.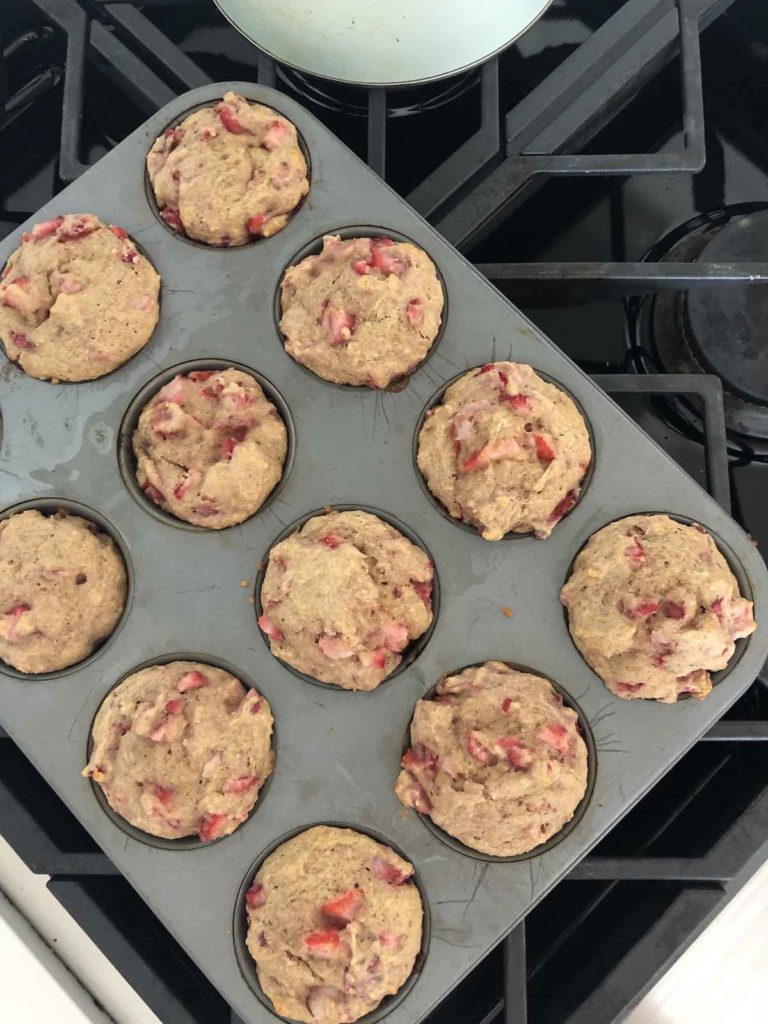 Enjoy and share with friends!
Keywords: brown butter, whole wheat, fresh strawberries, muffins, breakfast ideas