This post may contain affiliate links. Full disclosure policy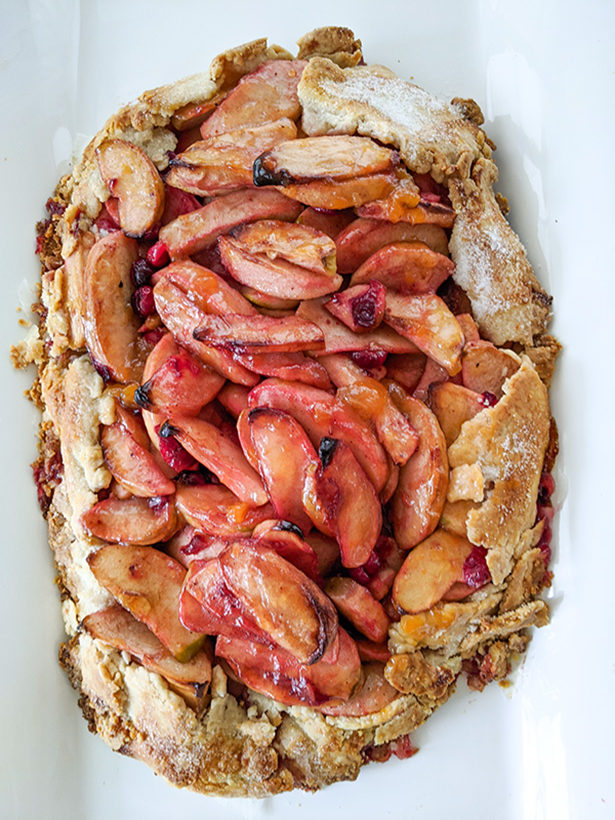 Tarts have always been a favorite of mine. Unlike other bakes, such as muffins, cookies, or cakes, they're versatile yet forgiving when it comes to experimenting with different fillings and crusts. And they make the perfect dessert for the holiday season. From the fruity smells that fill the kitchen while they bake to the steaming hot mug of coffee to go alongside a slice, tarts are a hallmark of Christmas. (Speaking of which, a slice goes along perfectly with a good old fashioned Hallmark movie, perhaps even my book's adaption.)  They also serve as a gorgeous centerpiece – something I can't say about my other pastry work! 
Still, the absolute best thing when it comes to tarts is how they show that the whole is truly greater than the sum of the parts – and my Rustic Apple and Cranberry Tart with its easy crust is no exception. 
APPLES, AND CRANBERRIES, AND APRICOTS, OH MY!
My rustic apple and cranberry tart combines a whole medley of fresh and preserved fruits and even a dash of lemon juice to cut the sweetness. With two varieties of apples – granny smith and honey crisp in this case but feel free to select your own favorites – a sprinkling of cranberries throughout, and just a touch of apricot preserves, it also features several different textures. The apples soften yet remain firm during the baking process while the cranberries acquire an almost jelly-like consistency.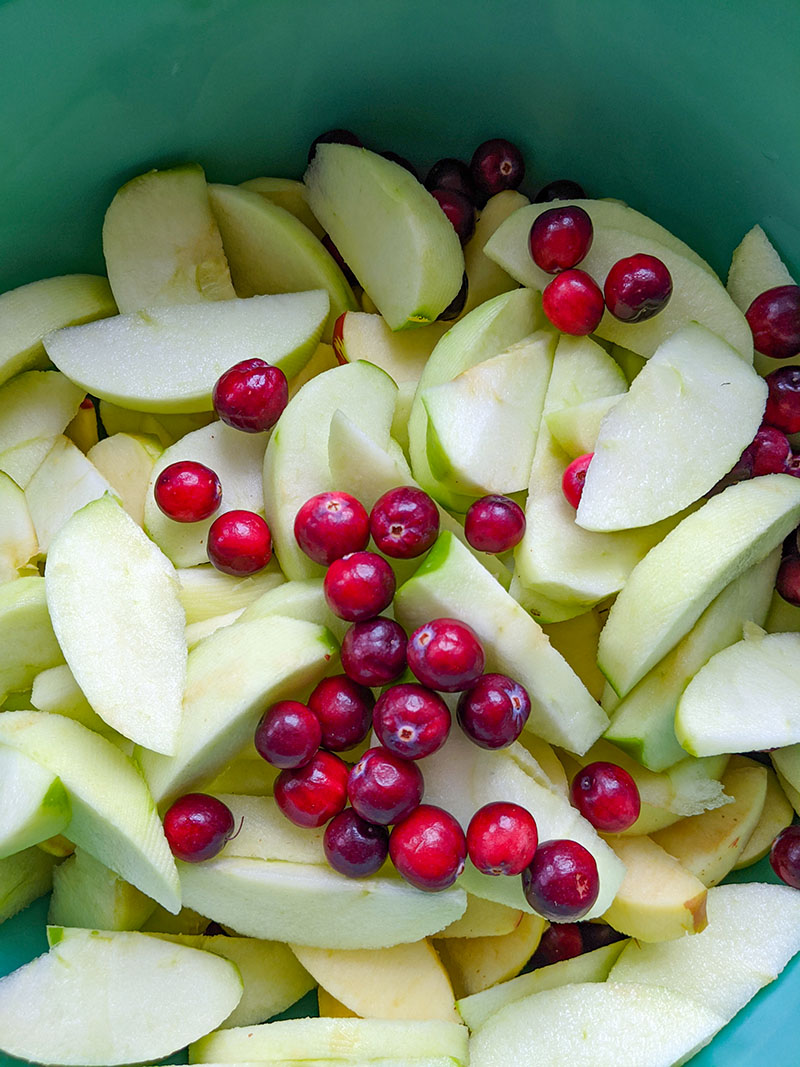 Combined with its crumbly crust, this all makes for a sweet and tangy tart with different flavors and textures all within just one bite – a welcome contrast to the gluey texture and taste I often find with baked fruits. 
SPEAKING OF CRUSTS…
No need to fuss around with this one! This tart simply calls for any pie crust recipe you have on hand, or, if you must, a store-bought one, and has you quickly hand-raise it around the tart filling in a matter of minutes without worrying about looks. Since tarts are mostly open-faced, the fruits and glaze are what stand out rather than any fancy pastry design. This really brings in the rustic and homemade nature of the recipe. And remember what I mentioned about experimenting? I highly recommend trying different variations of apples or fruit preserves to give this recipe your own twist.
Still looking for a go-to pie crust? Tune in here to see a live demonstration of my own secret recipe and how I bring it all together – just in time for Christmas!
Here's the recipe, you're going to love it. 
Print
Rustic Apple and Cranberry Tart
---
Author:

Yield:

8

servings

1

x
2 T unsalted butter
¼ cup brown sugar
3 T granulated sugar
1.5 pounds of Granny Smith apples, peeled, cored, and sliced
1.5 pounds of Honey Crisp apples, peeled, cored, and sliced
½ cup fresh cranberries
2 t lemon juice
1 t ground cinnamon
¼ t ground nutmeg
1 t ice water
1 t granulated sugar
1 T apricot preserves
Dough for one piecrust
---
Instructions
Melt butter in a large skillet over medium-high heat. Add brown sugar and white sugar granulated sugars and cook until they dissolve. Stir in apples, cranberries, lemon juice, and spices. Cover, reduce heat to low, and cook 20 minutes or until apples are tender, stirring occasionally. Remove from heat; cool to room temperature.
Preheat oven to 400 degrees.  Place chilled piecrust onto a large piece of parchment. Roll dough out into a large oval shape. Place rolled out crust and parchment onto a baking pan.  Heap cooled apple cranberry mixture into the center of the crust. Fold crust edges up around loosely over sides of tart and press gently to seal, only partially covering the apples. Brush 1 t. ice water over crust and sprinkle with 1 t. sugar. 

Place tart in preheated oven and bake for 45 minutes, until golden brown. Remove from oven.

Place apricot preserves in small bowl. Stir in 1 teaspoon water and microwave for 20 seconds. Brush apricot glaze over the apples.  

Serve warm or cold. Lovely with a little vanilla ice cream.