This post may contain affiliate links. Full disclosure policy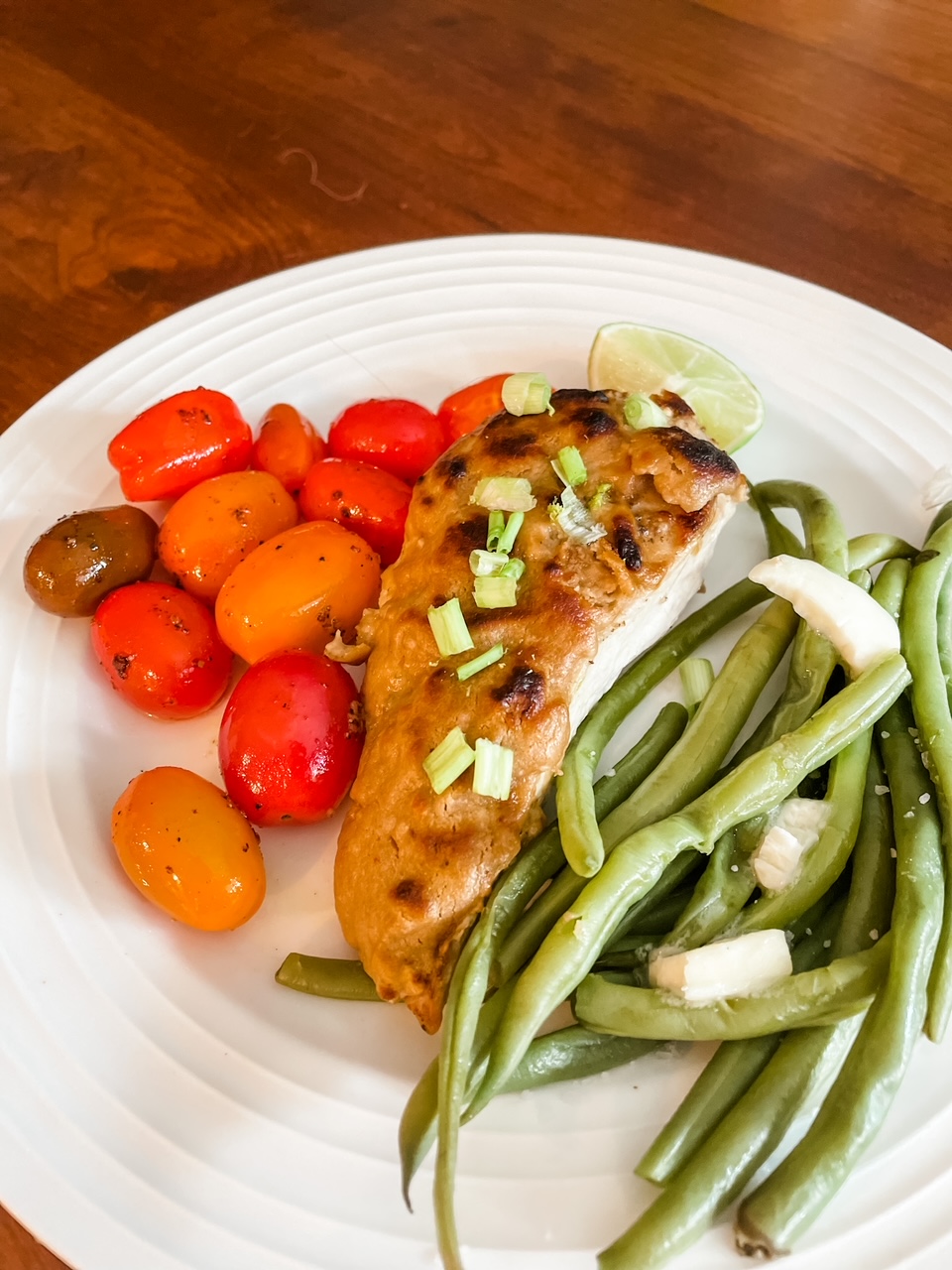 Super easy and super delish! 5 Ingredients Peanut Chicken (adapted from a Jamie Oliver recipe) is a terrific way to add lots of flavors and a tangy zing to broiled chicken breasts.
5 Ingredient Inspiration!
I've had a crush on Jamie Oliver for quite a while now. And why not? In addition to being cute as a button and having an adorable British accent, the man is a terrific cook. If he knew how to quilt as well, he'd basically be perfect.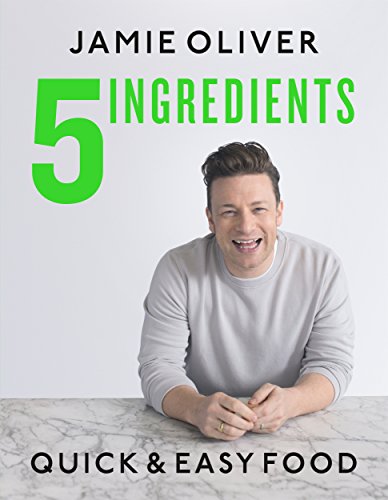 However, I recently found more reasons to crush on the adorable Mr. Oliver. A couple of months ago, while making the rounds of Seattle-area bookstores with another writer friend, I came across this cookbook and bought a copy for myself.
In case the title hadn't tipped you off already, "5 Ingredients: Quick & Easy Food" features recipes that use no more than five ingredients. They're also designed to be prepared in 30 minutes or less.
So, here's the thing.
Yes, I love to cook. But, like everybody else, I don't always have time to cook a really complicated meal. On weeknights after a long workday, I'm looking for a simple way to get a tasty, healthy meal on the table as quickly as possible.
Jamie Oliver's 5 Ingredient cookbook has been a good addition to my collection. I've tried a few recipes from this cookbook and enjoyed most of them. After a couple of adaptions, the peanut chicken recipe has become one of my favorites.
5 Ingredient Peanut Chicken – Really? Only 5?
Okay, if you're going to get technical, my 5 Ingredient Peanut Chicken recipe actually includes more than 5 ingredients.
But Jamie doesn't include a few staples such as olive oil, red wine vinegar, salt, or pepper as part of the ingredient count and neither do I. When I say 5 ingredients, I mean not counting the olive oil, salt, or pepper. If you cook at all, you should already have those on hand.
Apart from that – yes, no kidding, this peanut chicken recipe only requires 5 ingredients. Chances are good that you already have them on hand right now.
This means, if you're reading this 5:12pm and are in a panic about what to make for dinner, the problem could be well and deliciously solved before 6pm.
Genius!
But With Only 5 Ingredients, Does It Even Taste Good?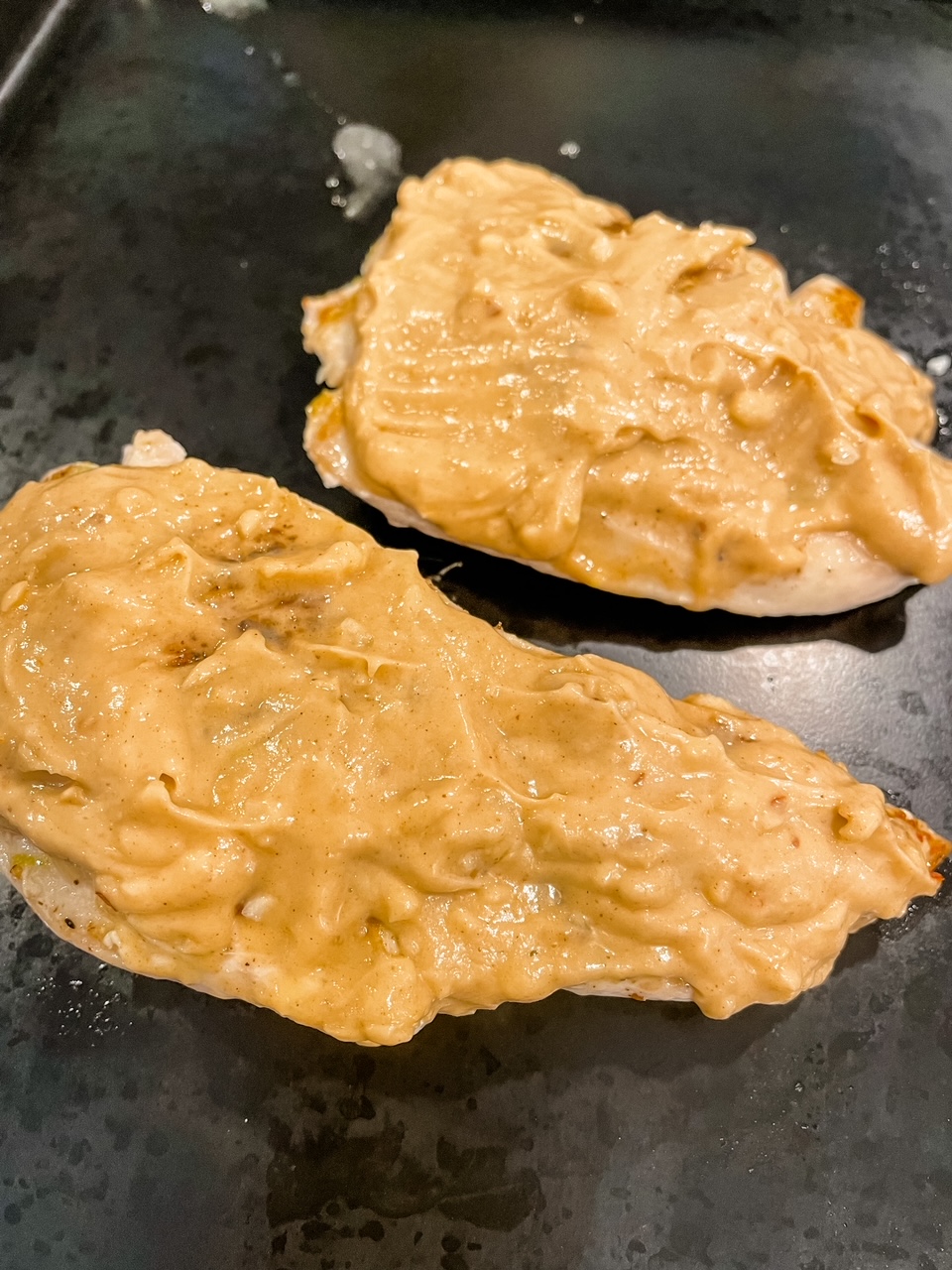 In a word, yes. Even with just 5 ingredients, this peanut chicken tastes really, really good.
How is that possible? Because although the list of ingredients used in this recipe is small, the combined flavor profile is huge!
Lime juice, peanut butter, garlic, and dried red pepper flakes cook up into a savory, tangy topping that transforms broiled chicken from boring to beautiful.
My Adaption into a 5 Ingredient Peanut Chicken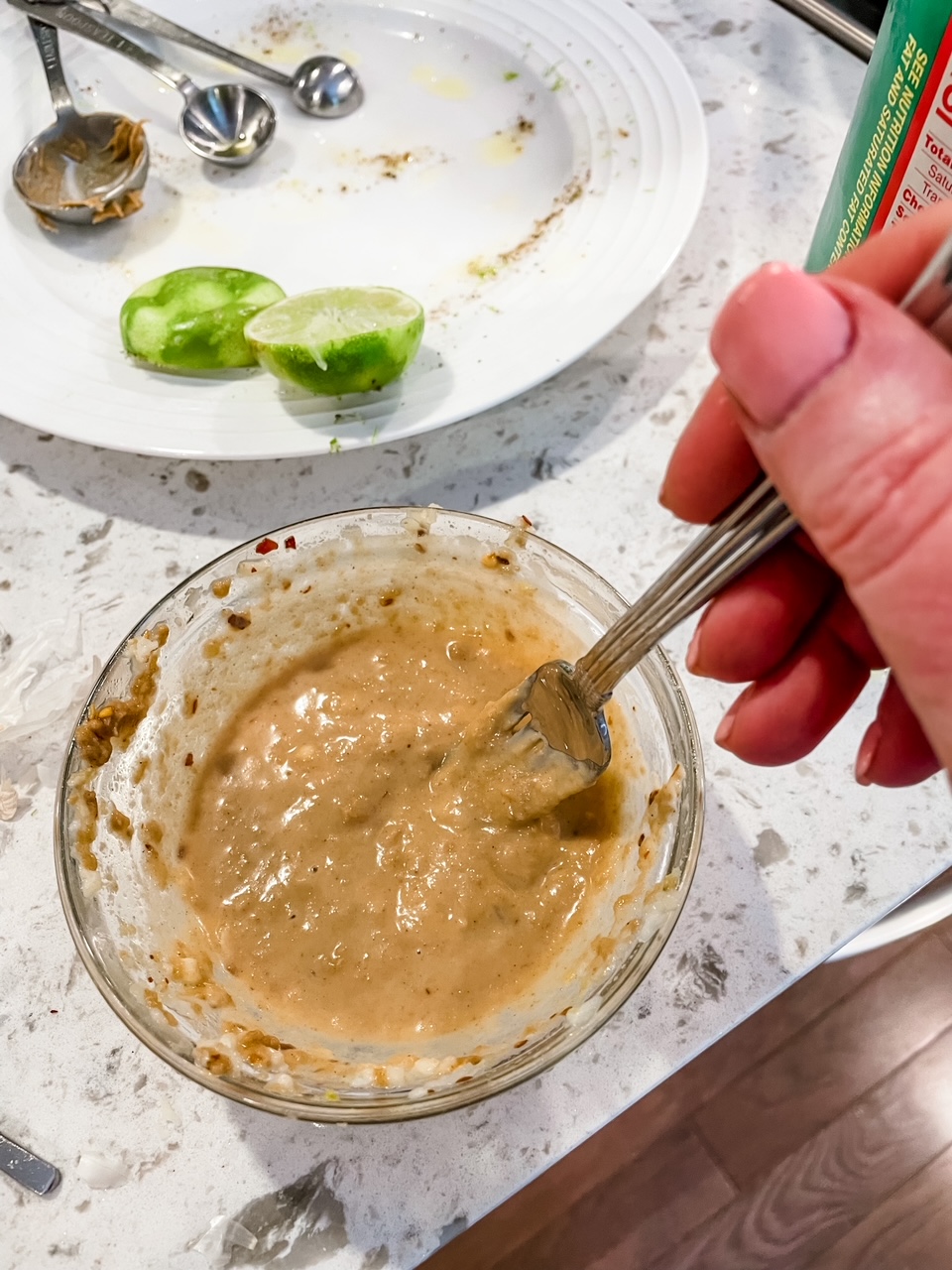 Even though Jamie Oliver's recipe is simple, I still made a couple of adaptions.
The original recipe called for more lime juice than I cared for. Don't get me wrong, I love lime. But to me, it was just a little too tart. Also, the lime was really overpowering the peanut flavor. Dialing it back by a third tasted a lot better to me.
Also, the original recipe used fresh red chiles. That's not something I keep on hand normally, so I substituted red pepper flakes. It makes the dish more pantry friendly and allows me to keep the heat under control.
What to Serve with My 5 Ingredient Peanut Chicken?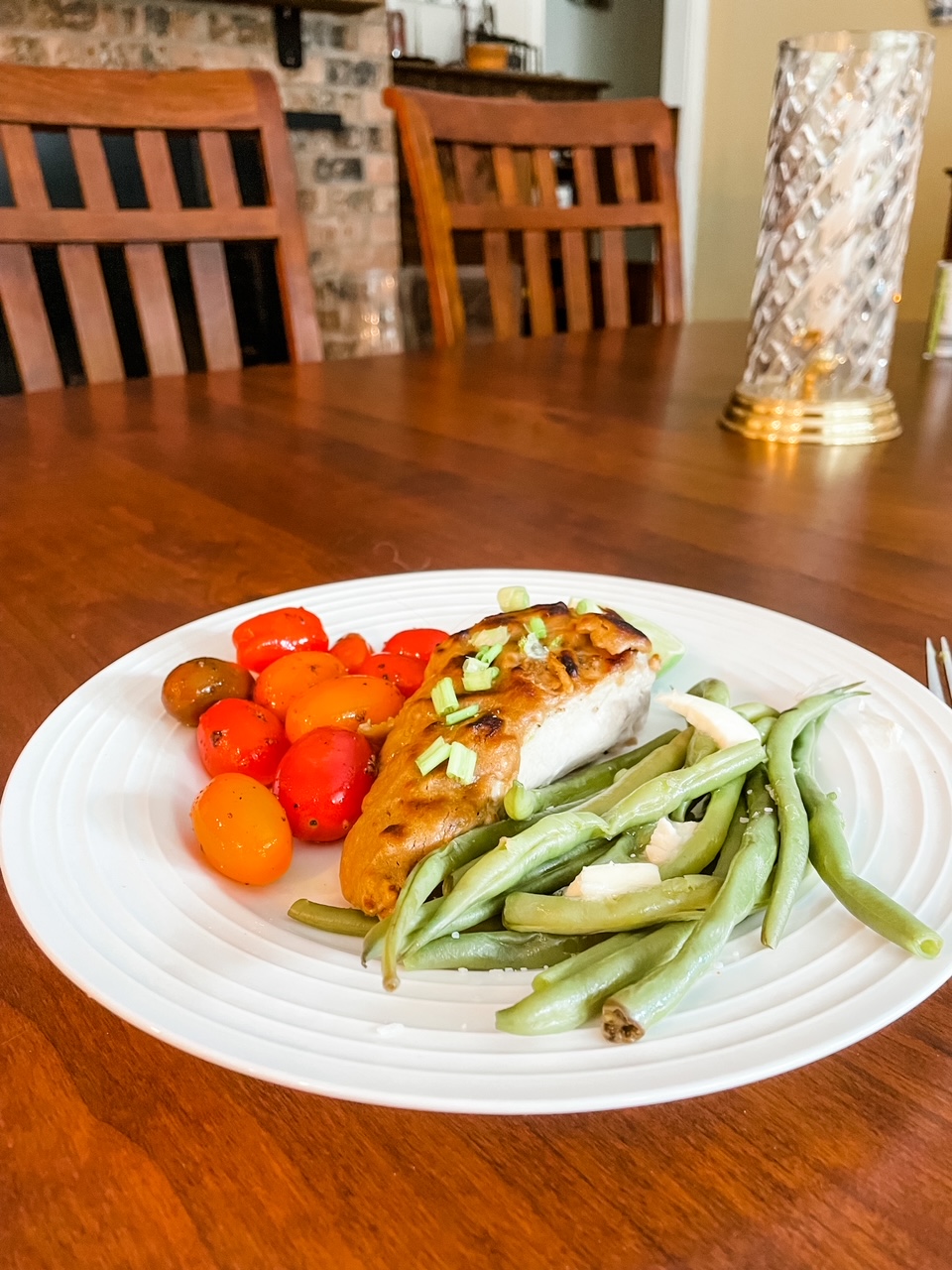 My weeknight go-to for just about every grilled meat, poultry or fish is a fresh green salad and a little seasoned rice.
However, I got a little more adventurous here.
Blistered cherry tomatoes go beautifully with this dish, as do steamed green beans. Both are easy to make while the chicken is cooking.
Just place the trimmed green beans in a steamer over boiling water, cover, and cook for about 5 minutes. Serve with a little butter and salt.
Blistered cherry tomatoes are almost as easy. Place the cherry tomatoes and a teaspoon of olive oil cooked in a pan the stovetop until the skins start to blister. Sprinkle with a little salt and pepper.
Whether you use my suggested sides or your own, 5 Ingredient Peanut Chicken is a delicious, quick, and easy dinner. Try it this week!
Print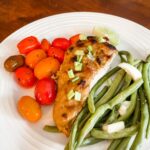 5 Ingredient Peanut Chicken
---
Author:

Yield:

2

servings

1

x
2

boneless skinless chicken breasts, 4 to 6 ounces

1

lime

4

cloves garlic, minced

2

T peanut butter

½

to

1

tsp dried red pepper flakes (adjust amount according to your preferred heat)

1

T olive oil, divided
Salt and pepper
---
Instructions
Preheat the broiler.
Rinse the chicken breasts and pat dry with paper towels. Make criss-cross cuts about ½ inch deep over the chicken breasts. Brush one teaspoon of oil over each Sprinkle with salt, pepper, and the zest from one of the limes (save a little of the lime zest for garnish)
Place the chicken in a cold, non-stick, ovenproof frying pan with the cut side down. Turn the heat on medium-high and leave to cook while you make the peanut sauce.
Put the minced garlic and peanut butter into a small bowl. Squeeze the lime juice into the bowl. Mix vigorously with a fork, adding water by teaspoons until you get it to a spoonable consistency. Stir in the red pepper flakes. Taste and adjust seasoning as necessary.
Turn the chicken over and spoon the sauce on top. Place the pan under the broiler about 4 inches from heat. (If you don't have an ovenproof pan, then transfer the chicken to a broiler pan before spooning sauce on top and placing pan in the oven).  Broil for 4 to 5 minutes.
Remove pan from broiler. Drizzle 1 teaspoon of olive oil over the cooked breast. Sprinkle with reserved lime zest. Serve immediately.