This post may contain affiliate links. Full disclosure policy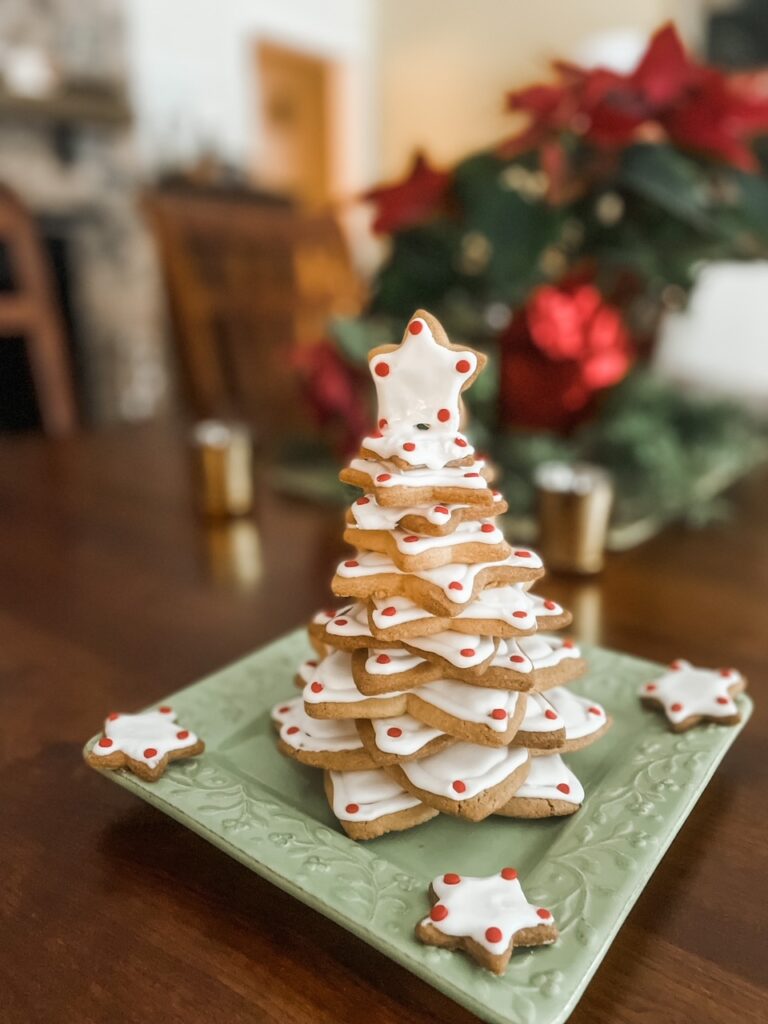 This showstopping Sugar Cookie Christmas Tree Stack is deceptively simple to make. Impressive as a holiday centerpiece, tasty and eye-catching for a cookie exchange. A fun project to make with kids!
Sugar Cookie Christmas Tree Stack – Pretty Holiday Treat
Christmas and cookie baking just go hand in hand. There are so many delicious sweet treats that we enjoy during the holidays. But for me, sugar cookie cutouts are a Christmas classic. I've always admired people who can make elegantly and delicately frosted sugar cookies.
However, I am not one of those people.
Fortunately, absolutely anyone can make these pretty, tasty, and impressive-looking Sugar Cookie Christmas Trees. Even me! Even you!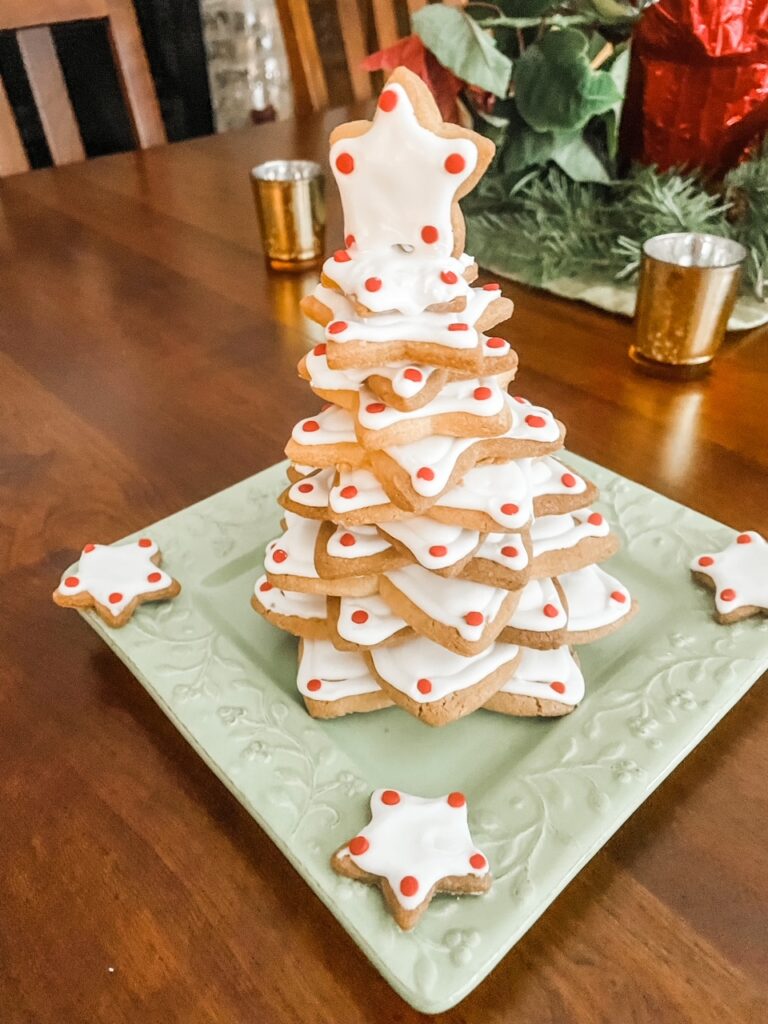 What Do You Need to Make a Sugar Cookie Christmas Tree Stack?
Nesting Star Cookie Cutters – I used an inexpensive set with six sizes of stars. It worked really well. There are some 10-star cutter sets available but if you want to make a big tree for a centerpiece, the six star set works fine if you make two or even three of each size. (I made two.) One of each will do for individual treats- perfect to bring to a cookie exchange.
Icing – If you want to make your own icing, you'll need something that can be flooded onto the cookie that will dry to a reasonably hard finish. Royal icing is perfect. This recipe from Preppy Kitchen is good and doesn't require any unique ingredients. If you're too busy to make the icing (I was), just buy some at the market. I used Betty Crocker Cookie Icing, which was great because the pouches come with built-in tips. Two seven-ounce packets were plenty to make my Sugar Cookie Christmas Tree Stack.
Decorations – I used red sprinkles for my tree, but there are plenty of other options. Mini M&Ms could be cute – and yummy. Silver sugar pearls would provide a very elegant finish to your Sugar Cookie Christmas Tree.
Sugar Cookie Cutout Dough – Any good sugar cookie cutout dough will work. Feel free to use your favorite. Don't have a favorite? Here's a good one from Cookies and Cups.
How to Make Your Sugar Cookie Christmas Tree Stack
Preheat the oven to 375. Line a baking sheet with parchment.
Roll the sugar cookie dough out to about a quarter inch and cut out the star shapes. If you're making a centerpiece, cut two or even three stars for each size. Cut out one additional star of the smallest size to use as the tree topper. If you're making individual trees, cut one star for each size, multiplied by the number of little trees you want to make.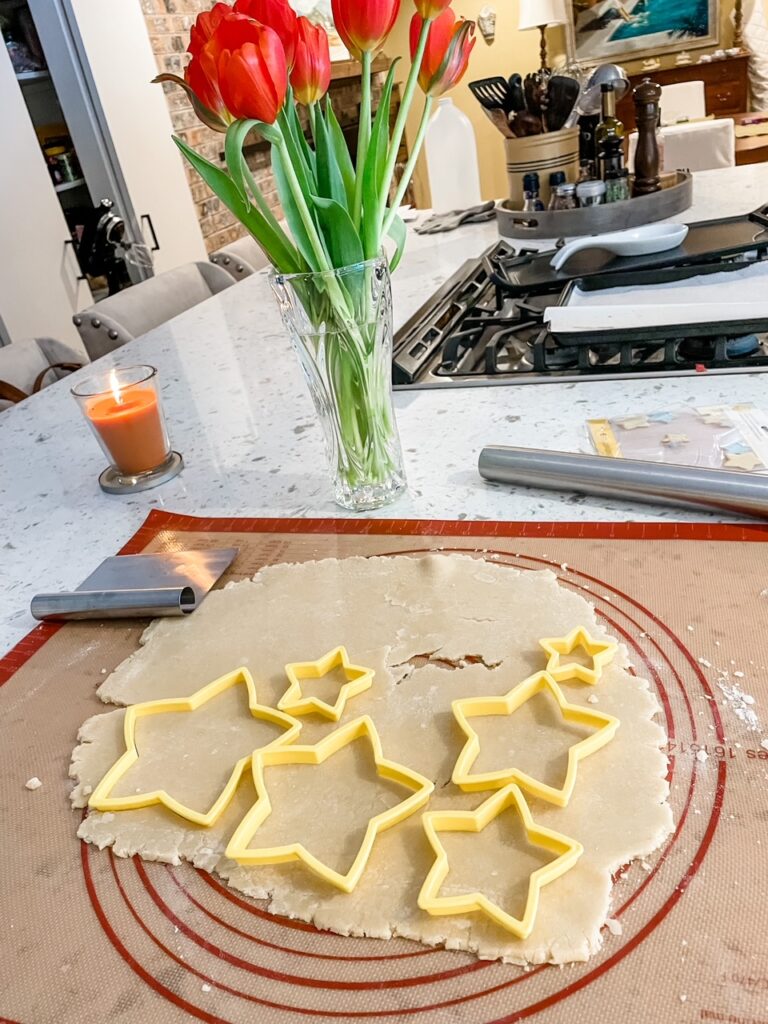 Place the cutouts onto the prepared baking sheet. Place into the preheated oven and bake for 9 to 11 minutes, until just beginning to turn a light golden color.
Remove cookies from the oven to cool. Flood the cookies with icing up to (but not over) the edges. Place a decoration on each tip of each star.
Allow the icing to cool and harden. Attempting to assemble the tree before the icing dries can cause the stars to slide and your tree to fall! (Don't ask me how I know this…)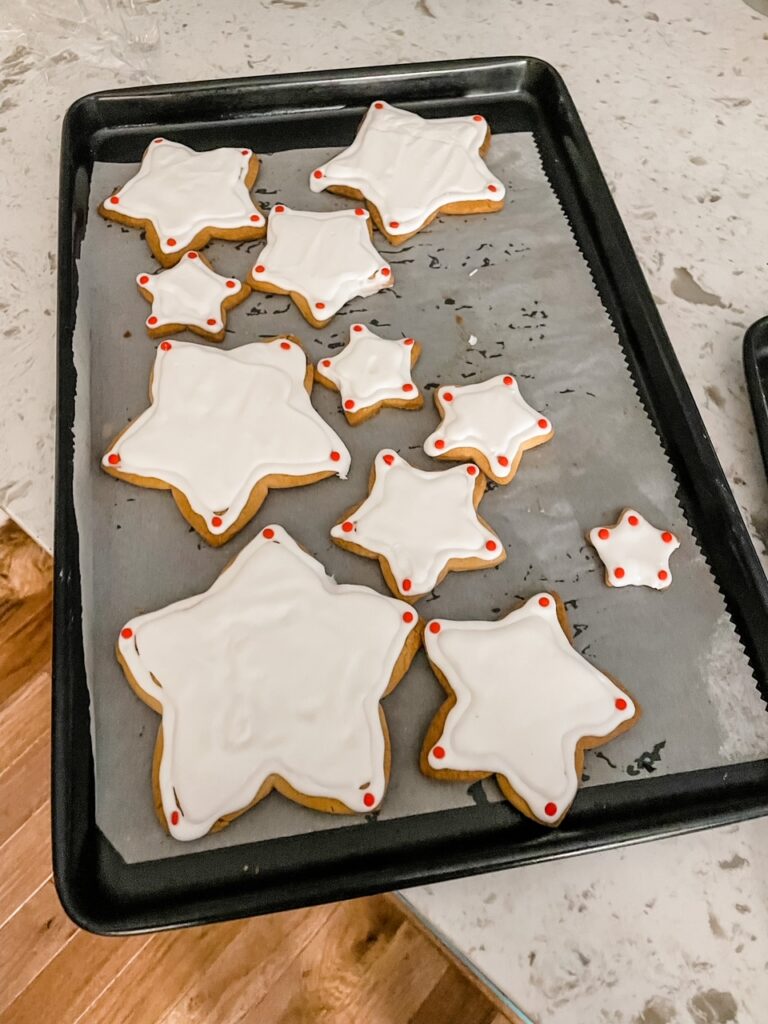 Stack the stars on a plate or other base, starting with the largest. Position the points of each star midway between the points of the star below it. Continue stacking from the largest to the smallest, leaving off one small star.
Place a dab of frosting onto the star at the top. Place the final small star upright in the icing to create a topper for your tree. Hold it in place for about a minute to allow the icing to harden up enough to keep the star upright.