This post may contain affiliate links. Full disclosure policy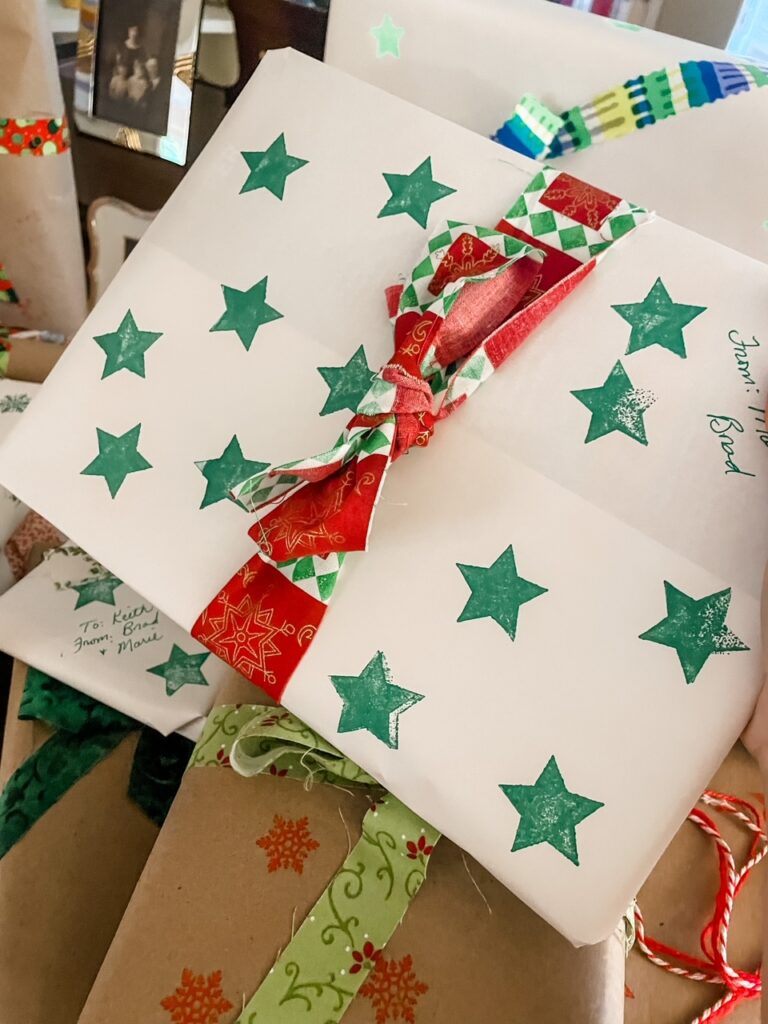 This Homemade Sustainable Gift Wrap decorated with reusable ink stamps and tied with scrap fabric or yarn gives homemade holiday gifts a sweet, festive, homespun look. Affordable and fun!
Homemade Sustainable Gift Wrap – Earth-Friendly, Inexpensive, and Charming
Reading an article in my favorite magazine, Mary Jane's Farm, got me thinking about gift wrap in a way I never had before.
It turns out that the coating and microplastics in most gift wraps mean they can't be recycled. The same is true of ribbons. So, unless you save it from year to year, your holiday gift wrap is a single-use product bound for the landfill.
Bottom line, holiday gift wrap isn't very earth-friendly. And it's not very affordable either. If you've got a big family and give a lot of gifts on holidays or birthdays, the wrapping bill can really add up!
But here's the good news. Homemade sustainable gift wrap is easier on the earth and your wallet and looks absolutely adorable. It's also a lot of fun to make. And chances are good you've got a lot of what you need to make your own on hand already.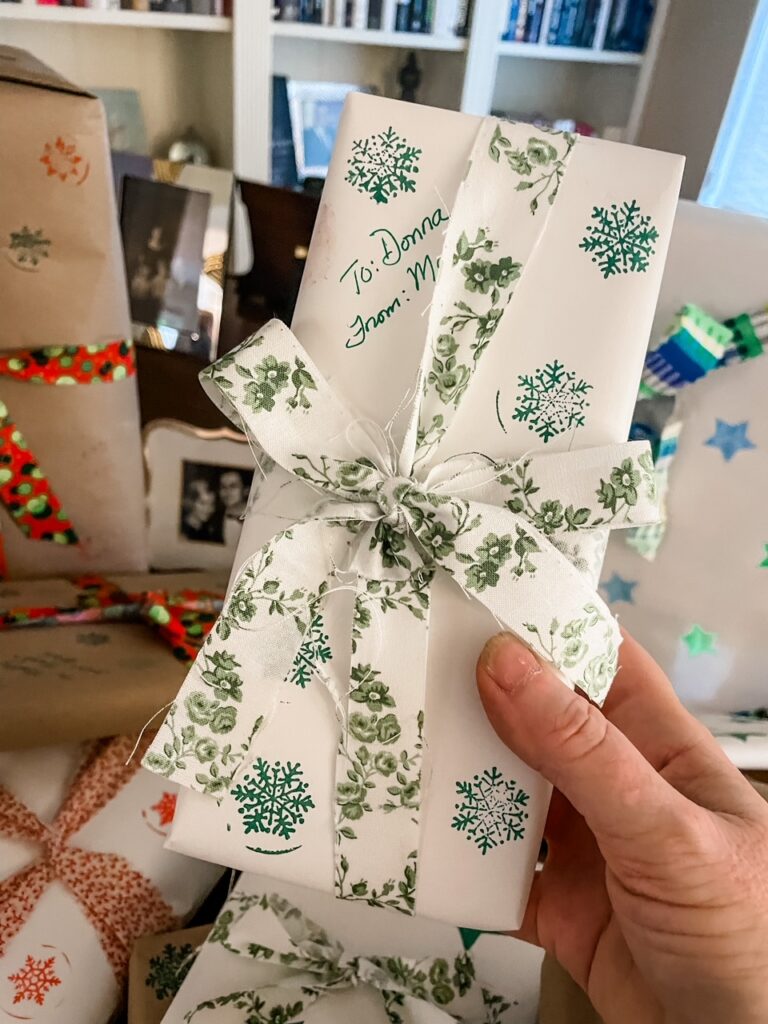 Homemade Gift Wrap – Let's Talk Paper
The first place to look for wrapping paper might be under your kitchen sink or closet. If you're somebody who saves their paper grocery bags, you have a great source of free wrapping paper on hand already.
All you need to do is cut the bags apart, flatten them out, and you're good to go.
Since I bring reusable bags to the grocery store, that wasn't an option for me. But I did find some big rolls of uncoated, white and natural-colored paper at Michael's for about eight dollars each.
When I say big, I mean it. Even with my large circle of friends, family and many grandkids, this is enough paper to get me through the holidays and a whole year's worth of birthdays.
And since the paper itself was neutral in color and undecorated (so far!) I could use customize it for any person, holiday, or occasion.
Using Stamps to Decorate Homemade Gift Wrap
If you're artsy or have kiddos that love drawing, breaking out crayons, watercolors, or colored pencils could be a terrific way to decorate your wrapping paper. It could also be a fun family project!
Right now, though, I don't have little in residence at this point. Well…except for Showgirl.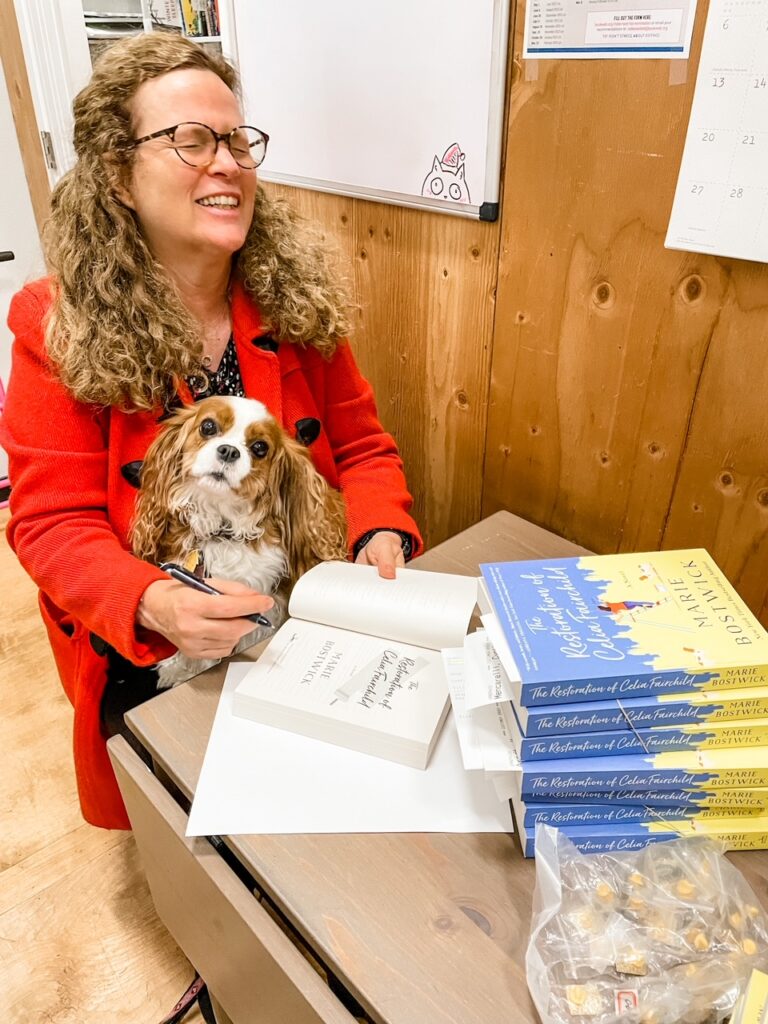 And while I'm sure she has the soul of an artist, a lack of opposable thumbs makes it difficult for her to express it. And though I do possess opposable thumbs, drawing has never been my strong suit.
That's why I used stamps to decorate my homemade gift wrap.
Stamps can be a bit of an investment. But since you can use them again and again, that investment pays off over time.
I bought a simple star stamp from Michael's, a shape I can use for almost any occasion. For my holiday wrapping, I bought a collection of six pretty snowflake stamps from Amazon for about $6.
I also found a wonderful collection of 15 different 3 x 2-inch ink pads on sale for about $14.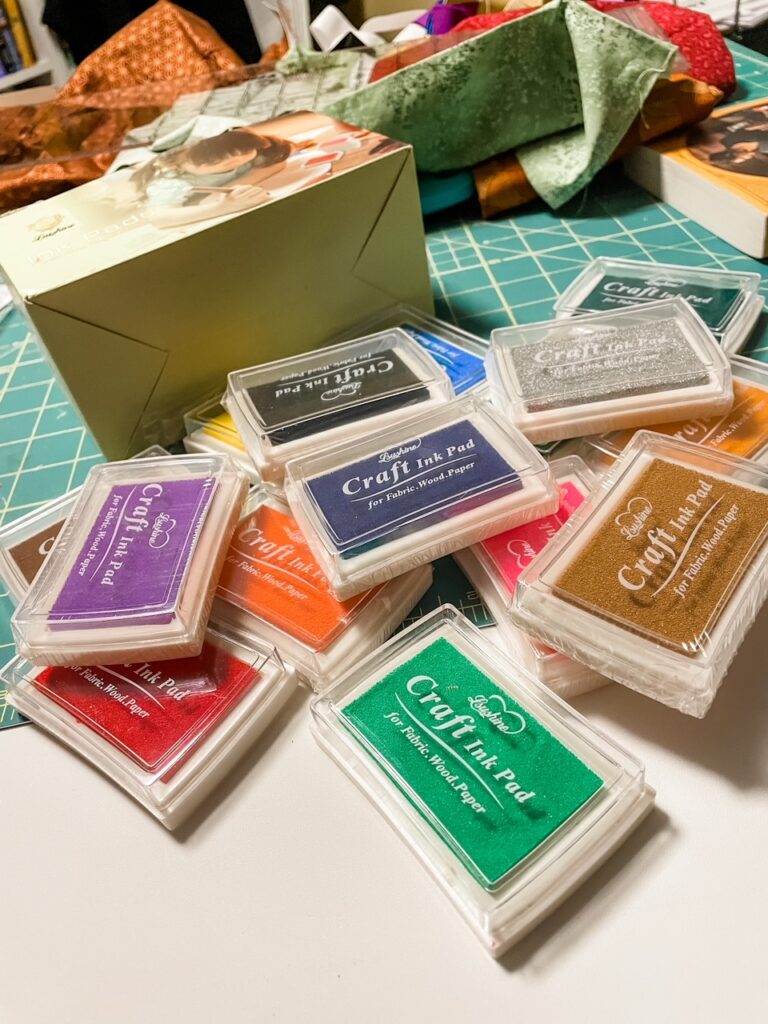 That seemed like a pretty good deal. And with so many colors, I'll have the perfect shade for every occasion and no trouble coordinating my stamps with my ribbons.
Speaking of ribbons…
Fabric, Yarn, Or Twine: A Pretty Final Touch for Homemade Sustainable Gift Wrap
If you're the least bit crafty, you've probably got no end of options to make beautiful ribbons from scraps of old projects.
Leftover lengths of colored twine or raffia are great options for ribbons. So are those colorful – and often very expensive – lengths of extra yarn that knitters and crocheters always have lying around.
My first stop in ribbon making was my fabric scrap bin. I dug through the bin, looking for colors I liked in strips that were a foot or more long, and cut them into strips.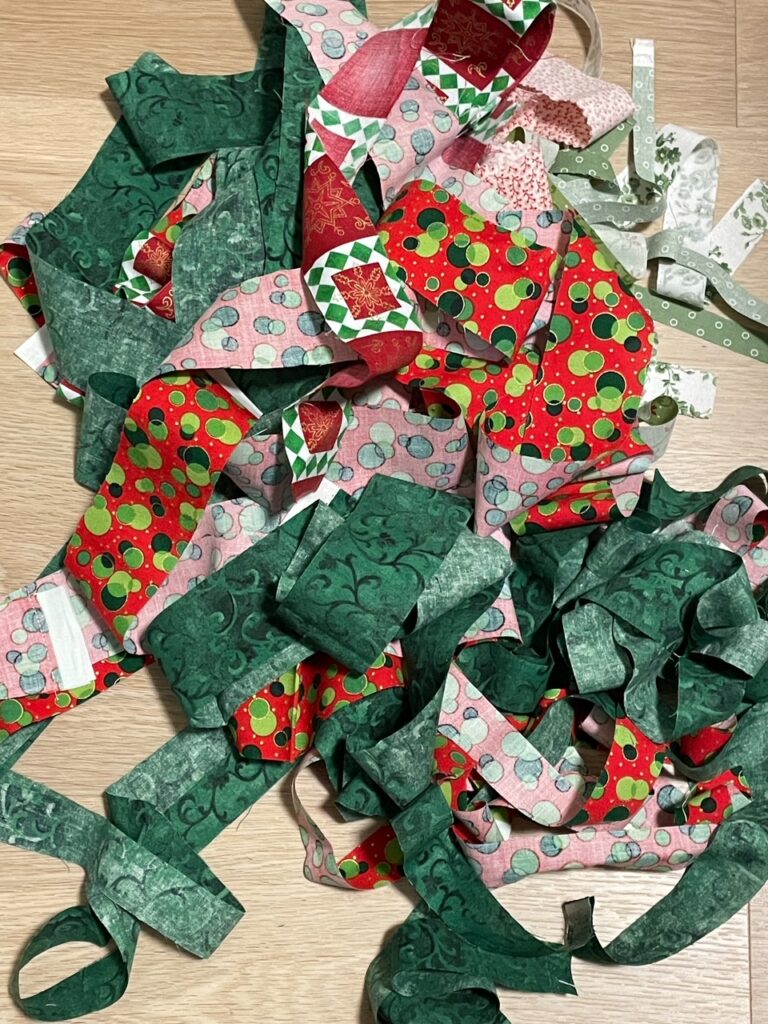 Since twelve inches isn't enough to use for anything except very small gifts, I sewed the strips end to end, and ironed opened the seams, creating long lengths of ribbons I could cut to the size I needed.
Some of my gifts were tied with basic bows, others with a simple square knot. I tied big, showy double bows for some, including my grandson's birthday present. (That way, he'll know that his gift was wrapped with double the love.)
Making homemade wrapping paper was such a fun project. I love the charming, homespun look.
Even more, I love the fact that everyone who gets a present from me this year will know that I put a lot of myself and my heart into the wrapping.